Paldi is place in Ahmedabad from where one can get busses to all the major places around Ahmedabad.
We took a bus from Paldi in Ahmedabad at around 10 at night on friday and went to Diu. It was an overnight journey. The bus was sleeper so we went sleeping comfortably. We boarded the bus at around 10 and slept. The roads were a bit wobbly as some repair works were going on so the sleep was not very deep.
Next morning at around 6 we reached Diu. We rented a Hero Splendor bike for daily charge of Rs. 400 and filled petrol of Rs. 100 which sufficed us for the whole day.
Next, we went to Diu Fort which is located very close to the bus stand. One can even walk to the fort front he bus stand. But since we had the bike so we reached there in a jiffy.
The fort is superbly located. It has a beautiful lighthouse and many vantage points to take stunning pics.. The jail located right in the middle of the sea is also great to watch. Isthmus like projections of land, blue sea and blowing winds present a beautiful ensemble.
Along the route to Nagoa Beach we encountered the Naida caves. These are some real artwork of Nature. These are some really beautiful depressions formed by sea water. I felt that these are a real sight to behold and if advertised properly, it has the potential to become a prominent place on India's tourist circuit. We had sev puri and lemon soda at the gates of the cave served to use by a charming teenage industrious boy and his sister.
Thereafter we went to Nagoa Beach. It is the most famous and apt Beach for taking a dip in Diu. We took hearty dips into the Arabian Sea. The beach has many eateries and changing room on the beach which helped us enjoy the place even more. The sea is blue but the tides are naughty so it was even more fun playing with the sea waters. We had lunch at Nagoa Beach. One staff at Gangasagar restaurant is quite rude so we skipped taking lunch at that restaurant and had it at another restaurant which was ok ok sort of.
Then we went to see the famous Gangeshwar Mahadev Mandir where the sea waves themselves do the jalabhishek of the Lord. It is located at a Very pristine and magical location. The benches placed along the edge of the cliff provide a stunning view of the sea and also provide ab excellent place to just ponder over the life and give sa deep thought to life. The beating of waves to the base of the cliff provides the perfect music for the mind soothe it give it some चैन के पल।
From there we whirred our bike to INS Khukri memorial which is also the most famous sunset point in Diu. This was perhaps the best part of our stay in Diu. This place is quite, serene and mesmerizingly beautiful. It was just 3 kms from Nagoa Beach. When we reached there it was afternoon around 3. We decided to spend some time at the cliff close to the memorial and just see the game play of the waves and adore the vastness of the water body. We also close clicked some pics with the INS Khukri memorial and just sat there. The view was such that when a few hours passed we couldn't realise. Then when people started coming to watch the sunset we realised that it's getting towards the end of the day. The show stopper. So we quietly shifted to the poetically beautiful beach close to the memorial and sat there adoring the paintwork played by the gods on the sky above the sea. We also got a chance to take a round on the dirt bike who was present on the beach. He allowed is to enjoy the bike ride at a very reasonable price of Rs. 50 for a round.
And then we sat at the beach and the sun started going below the horizon. And as it went lower it presented so many beautiful guess that I hadn't seen such colours even in wallpapers or movies. Some of the clicks we had were truly exquisite.
The beach was not thronged by many and only 2 or 3 couples were present there apart from us. Each sound of nature and each of it's colors were vividly visible for us. I thoroughly enjoyed the peace and beauty and it will stay etched in my mind for a long time. It was a true unwind for me. To better explain the beauty I will urge u guys to see the pictures as it is rightly said that a picture speaks a thousand words.
When it became dark we started our journey back. We were feeling sad on leaving such a beautiful place but we had to. We went back to return our bike as the time to return was 8 o clock in the evening and we were close to that deadline.
We reached the bike shop and returned the bike and got our security money of 1500 rupees and we paid the rent of the bike.
Then we checked into a hotel that we had booked online and after freshening up went out for dinner. There are many cosy eateries in Diu which provide decent food at reasonable price. We had some street food also and then we had full fledged dinner.
After that we walked back to our hotel to lie down and call it a day as we had to catch a 9:30 bus to Somnath the next day, that is on sunday.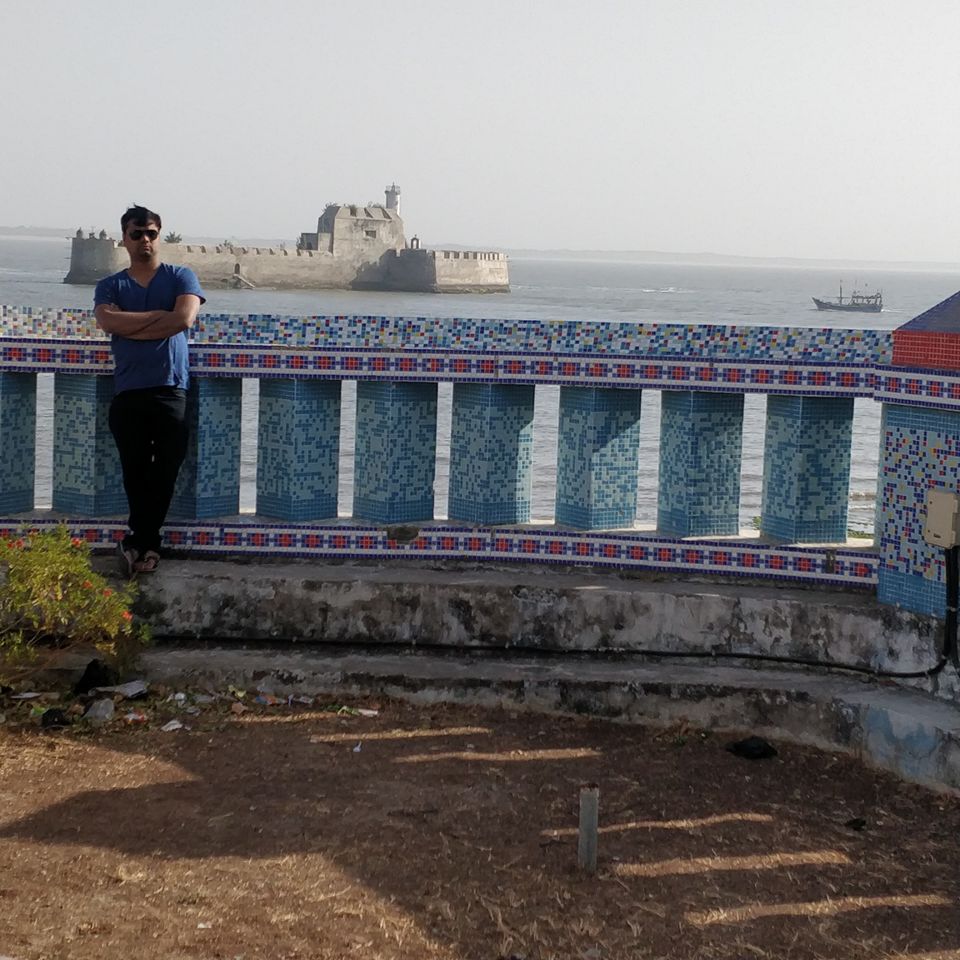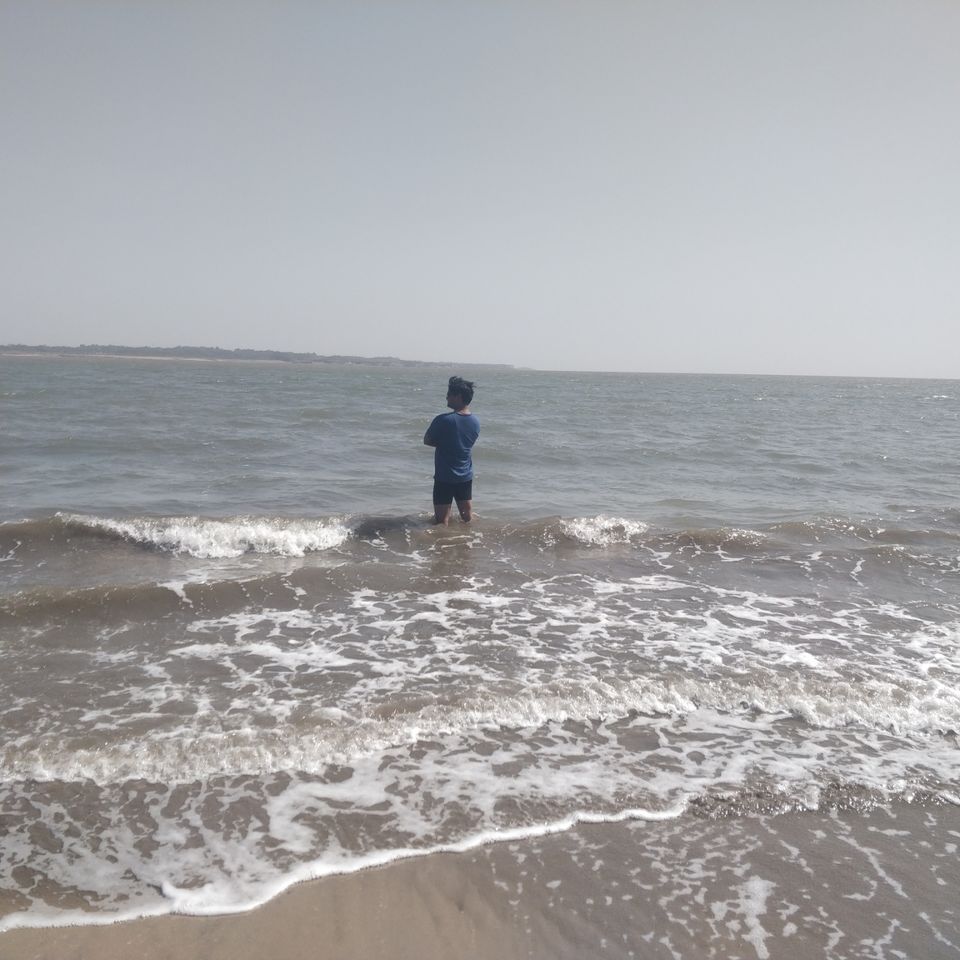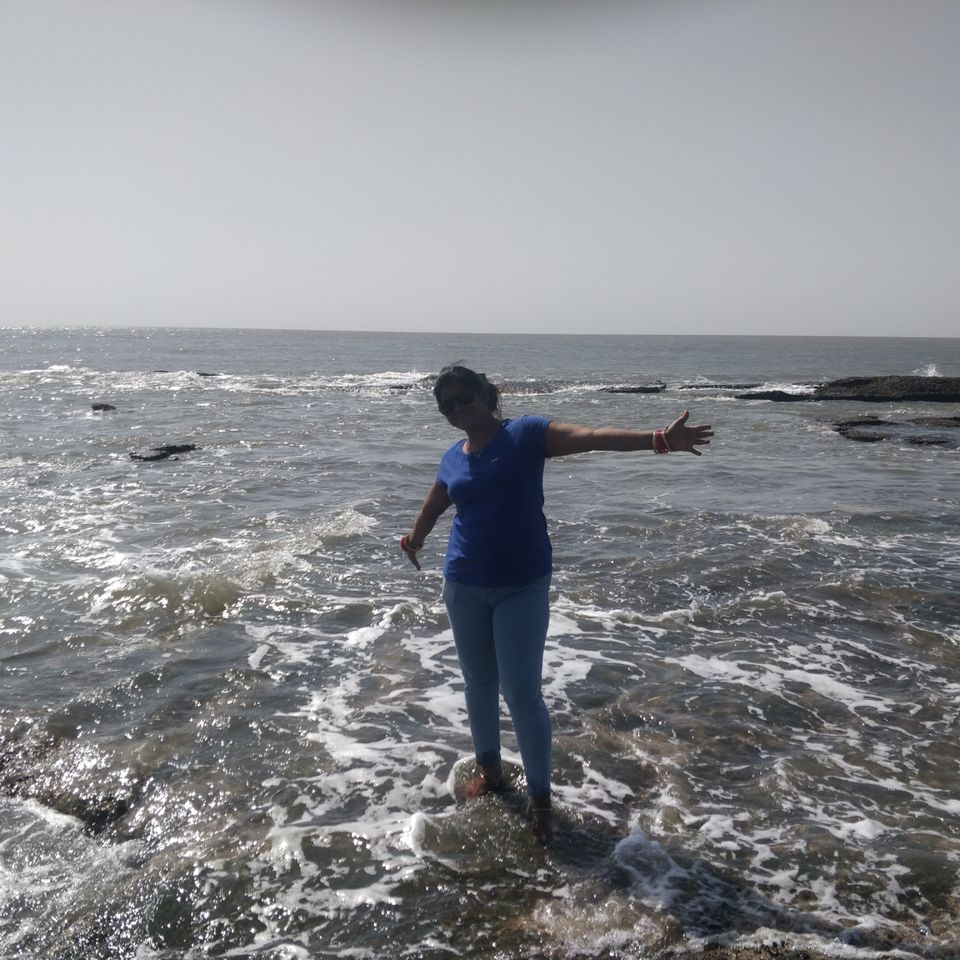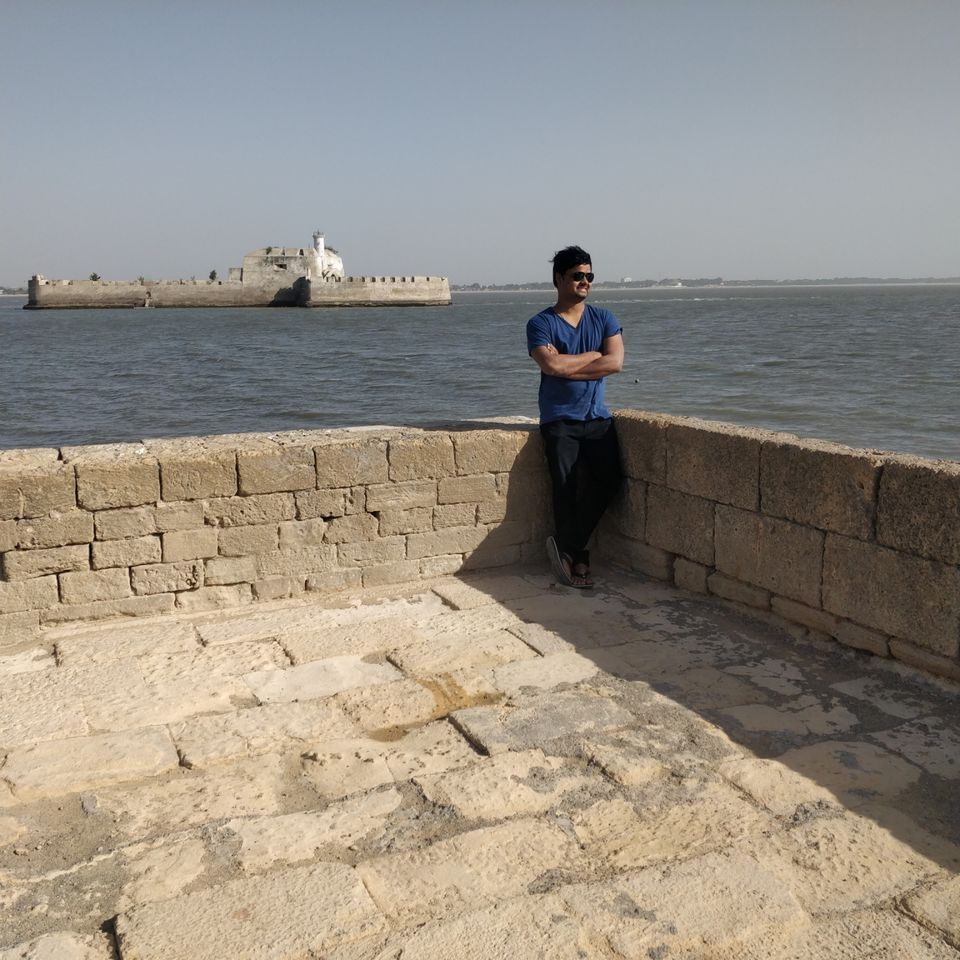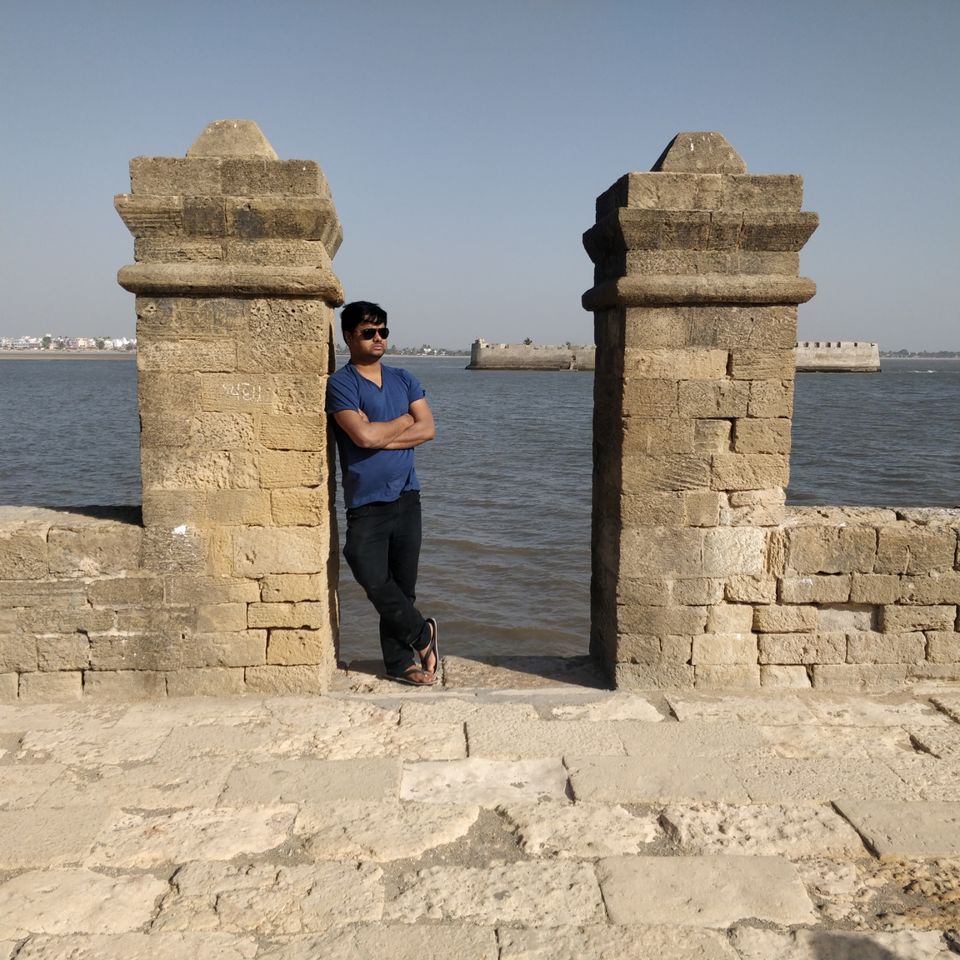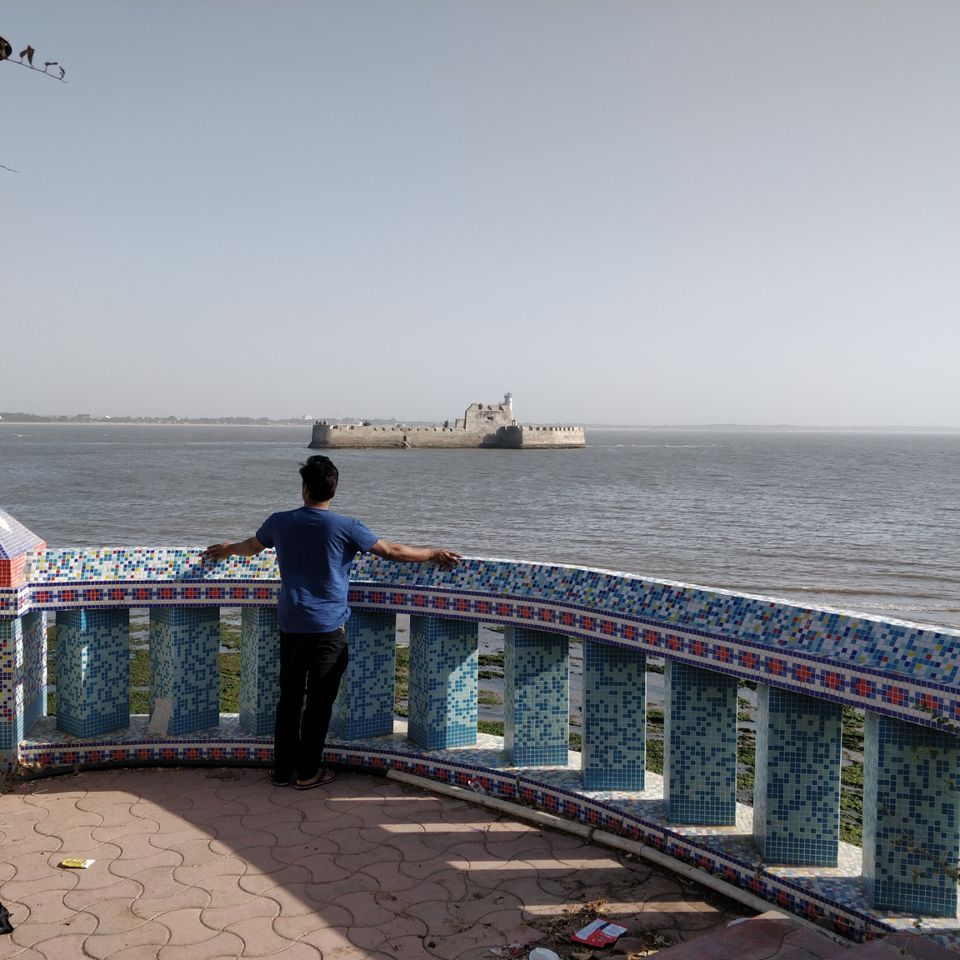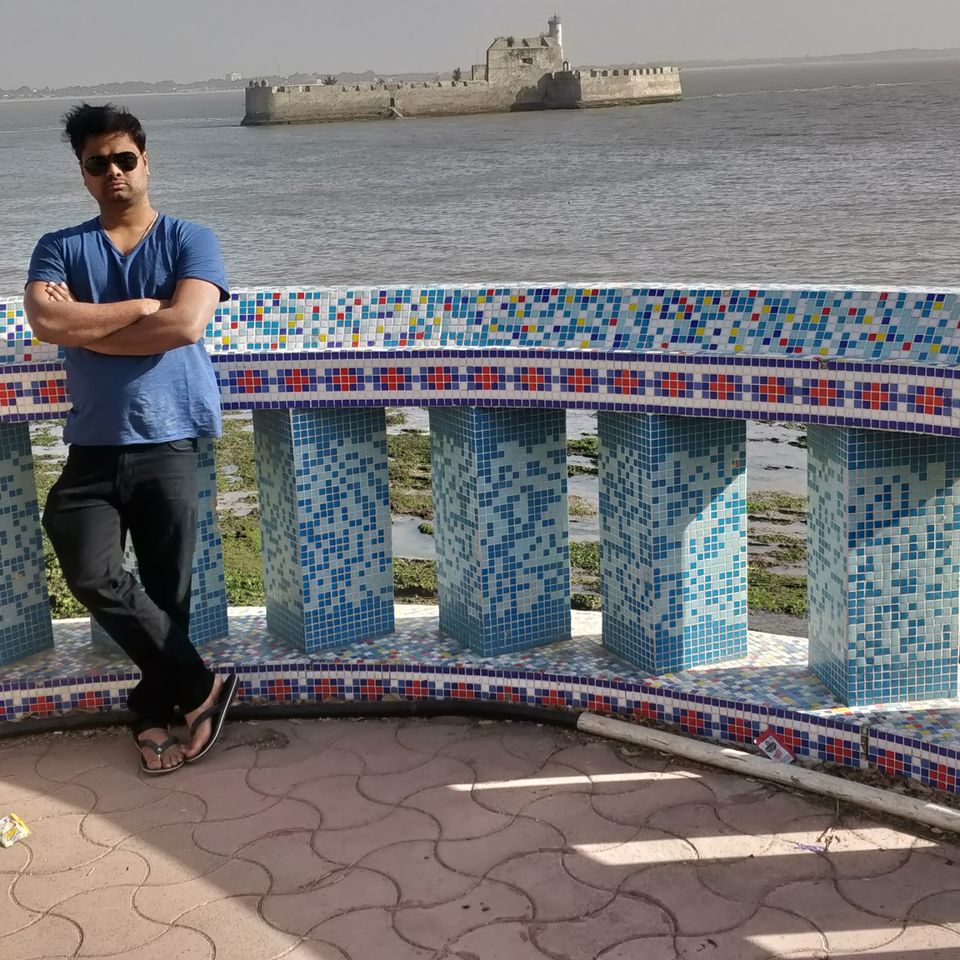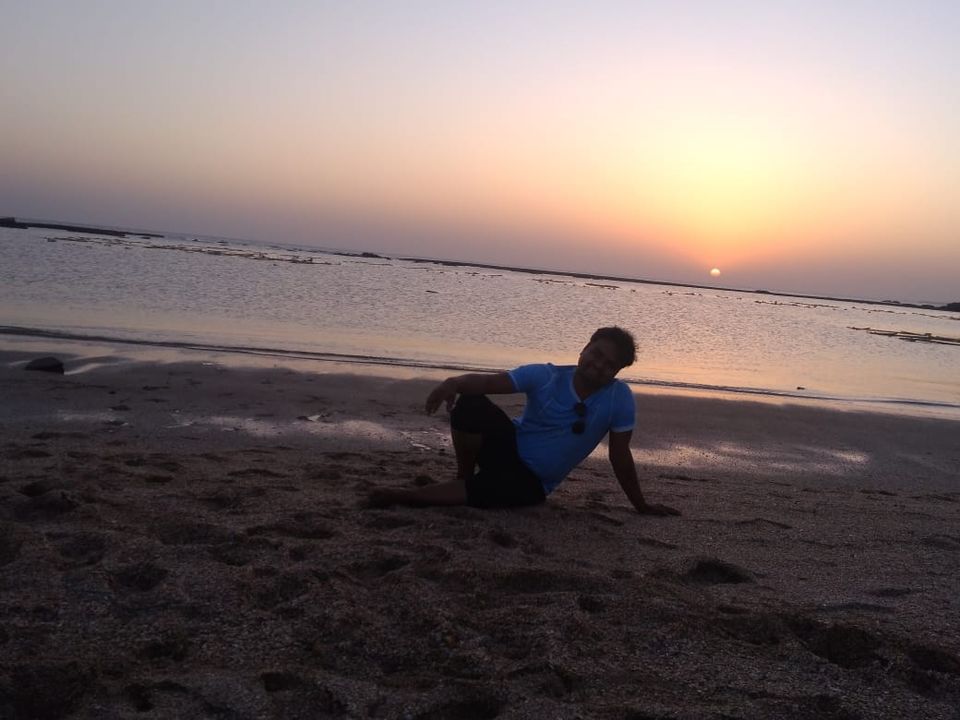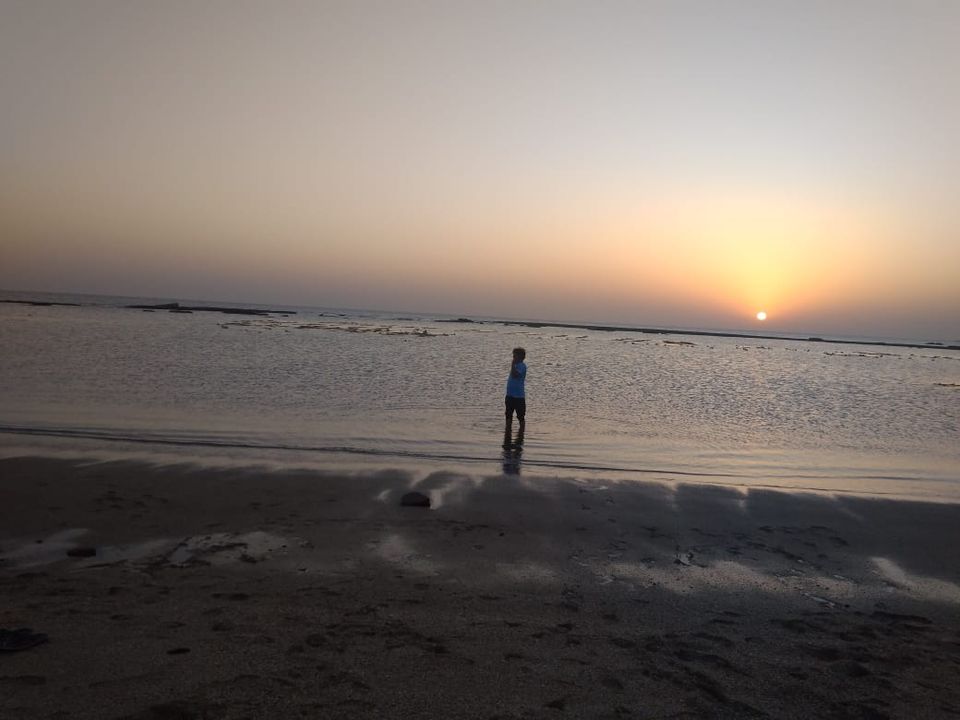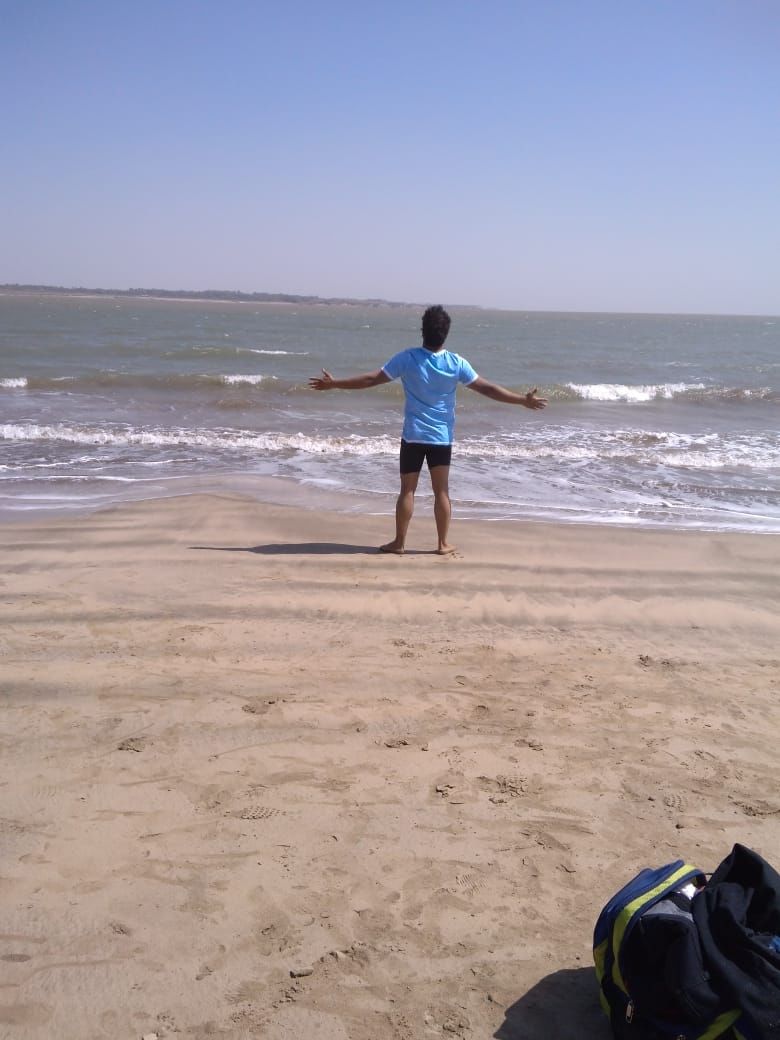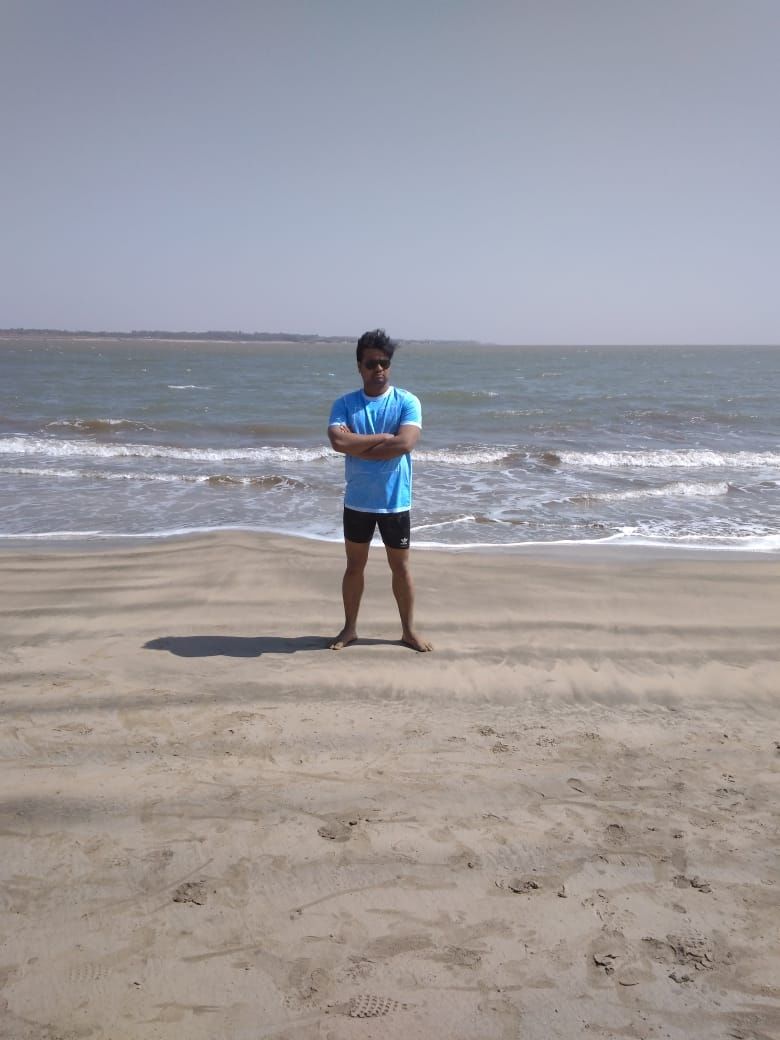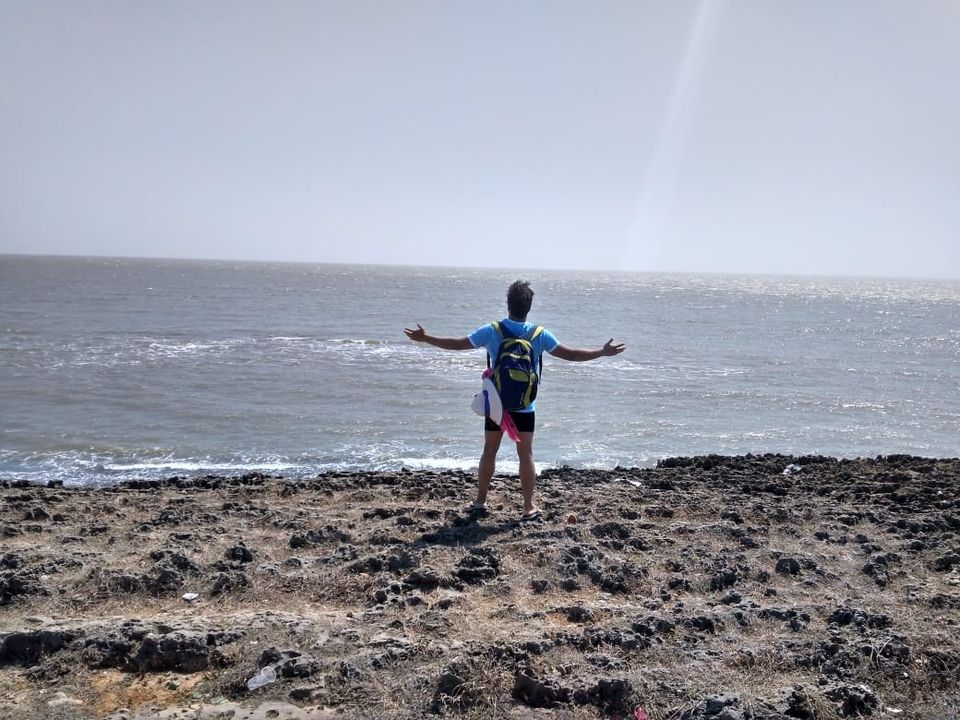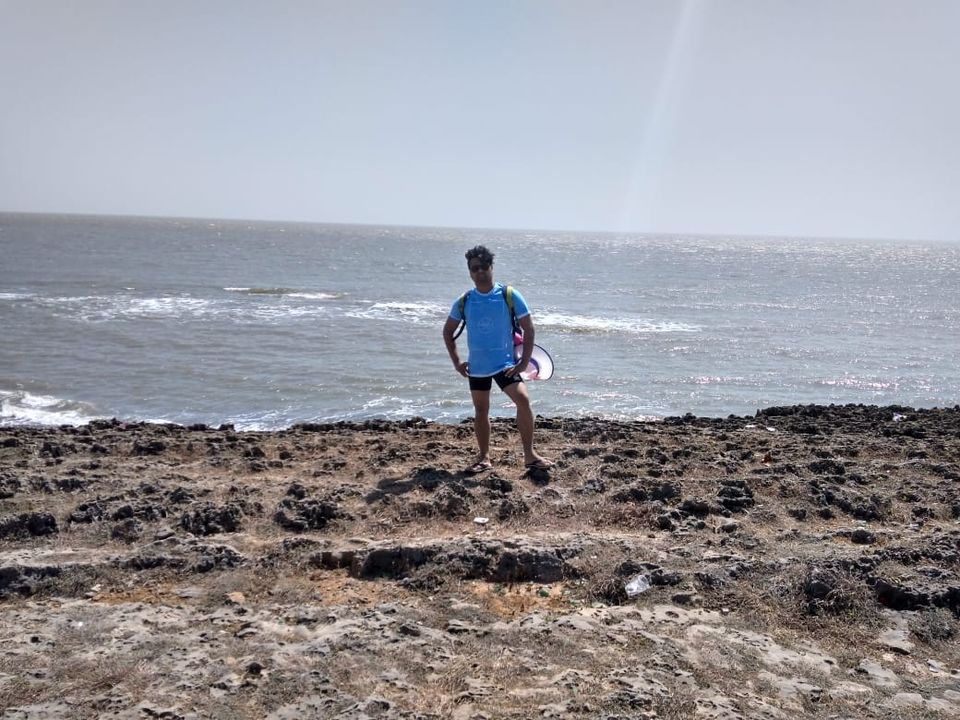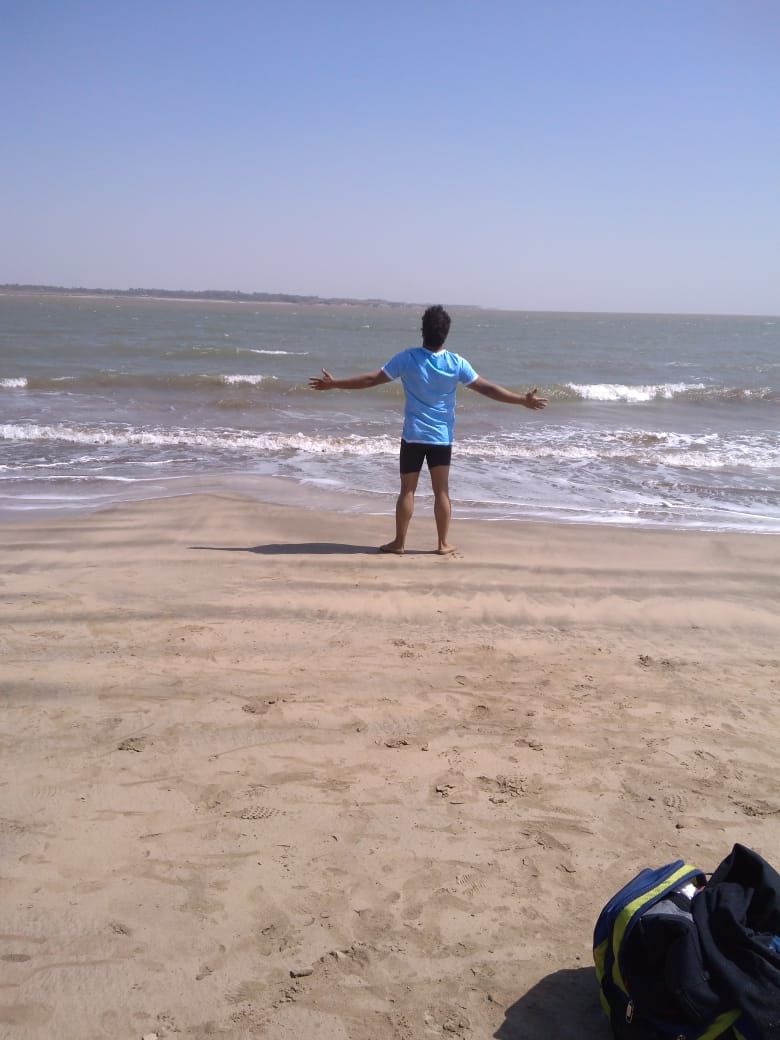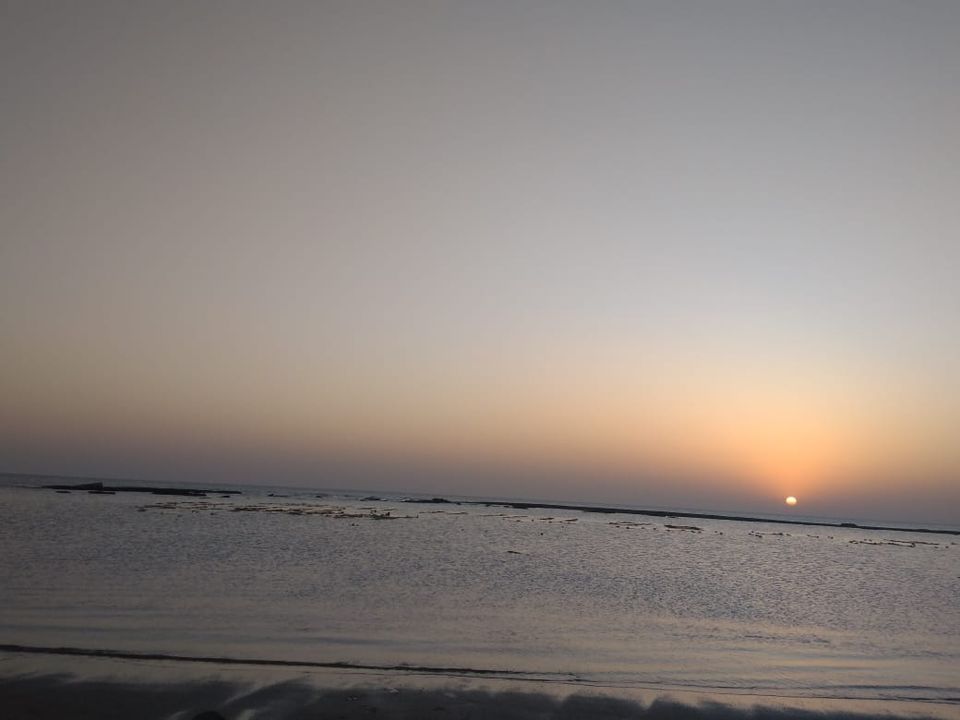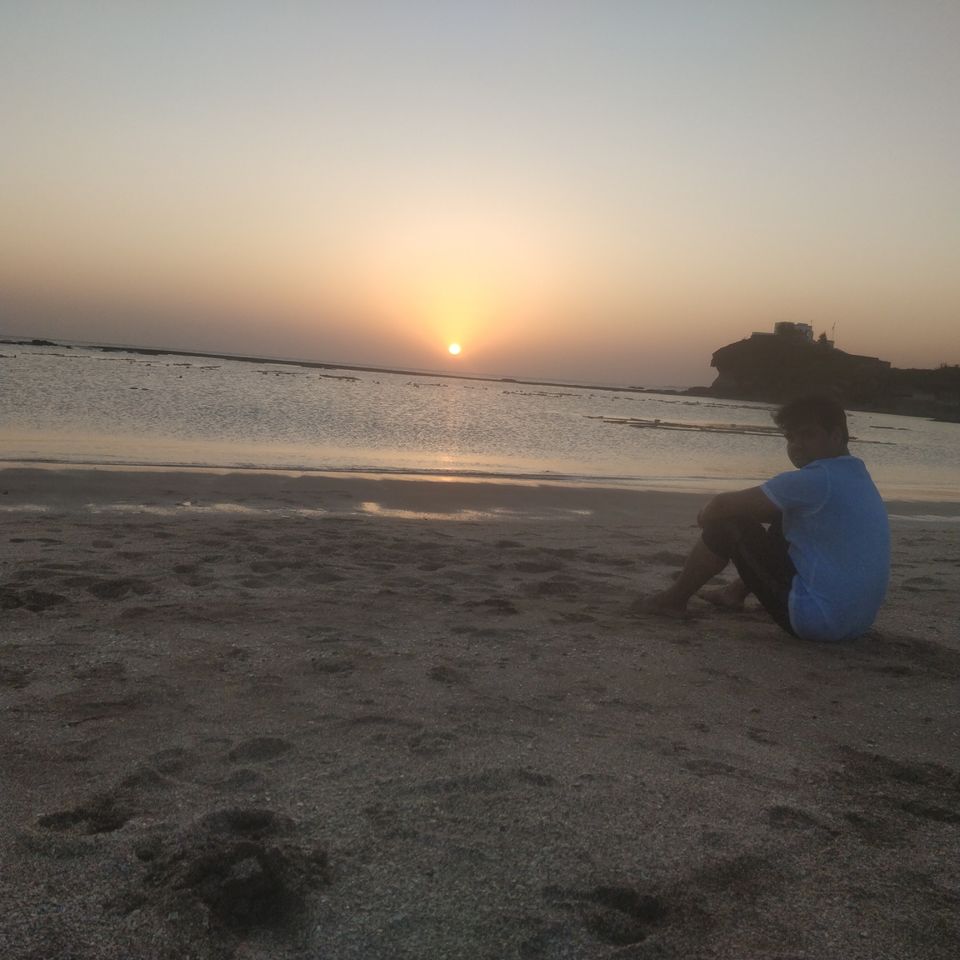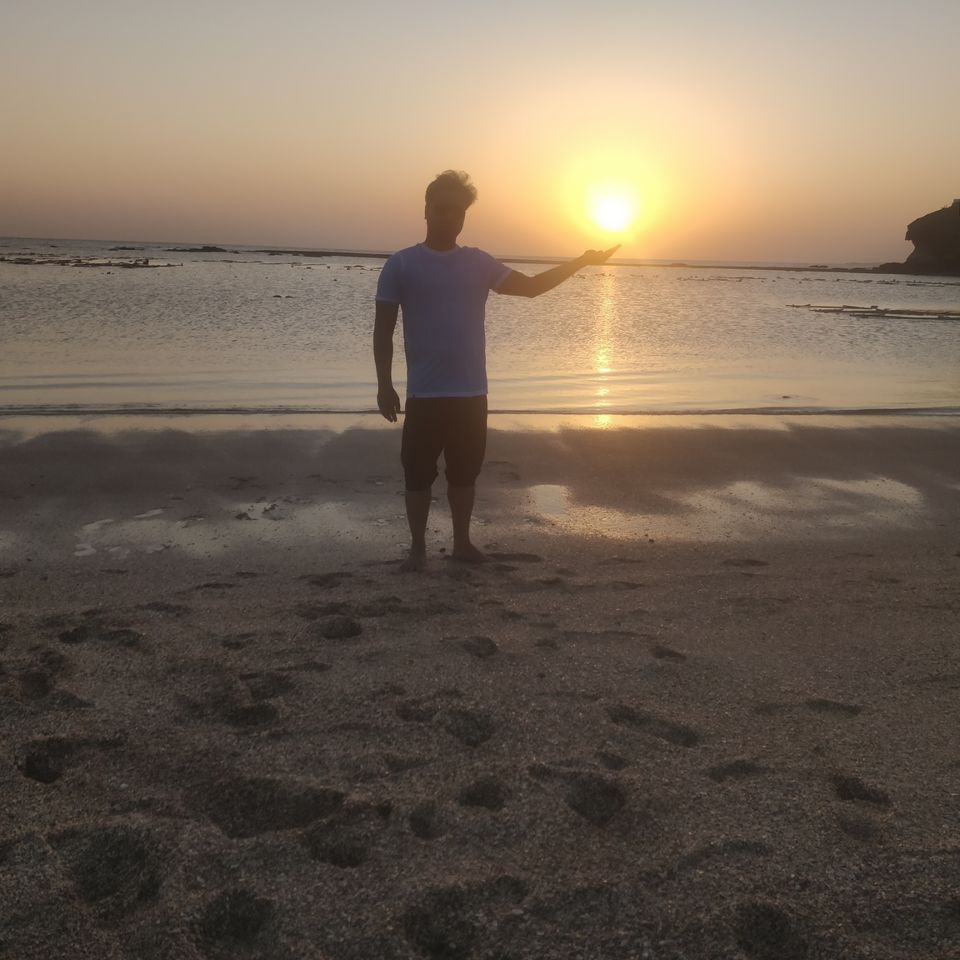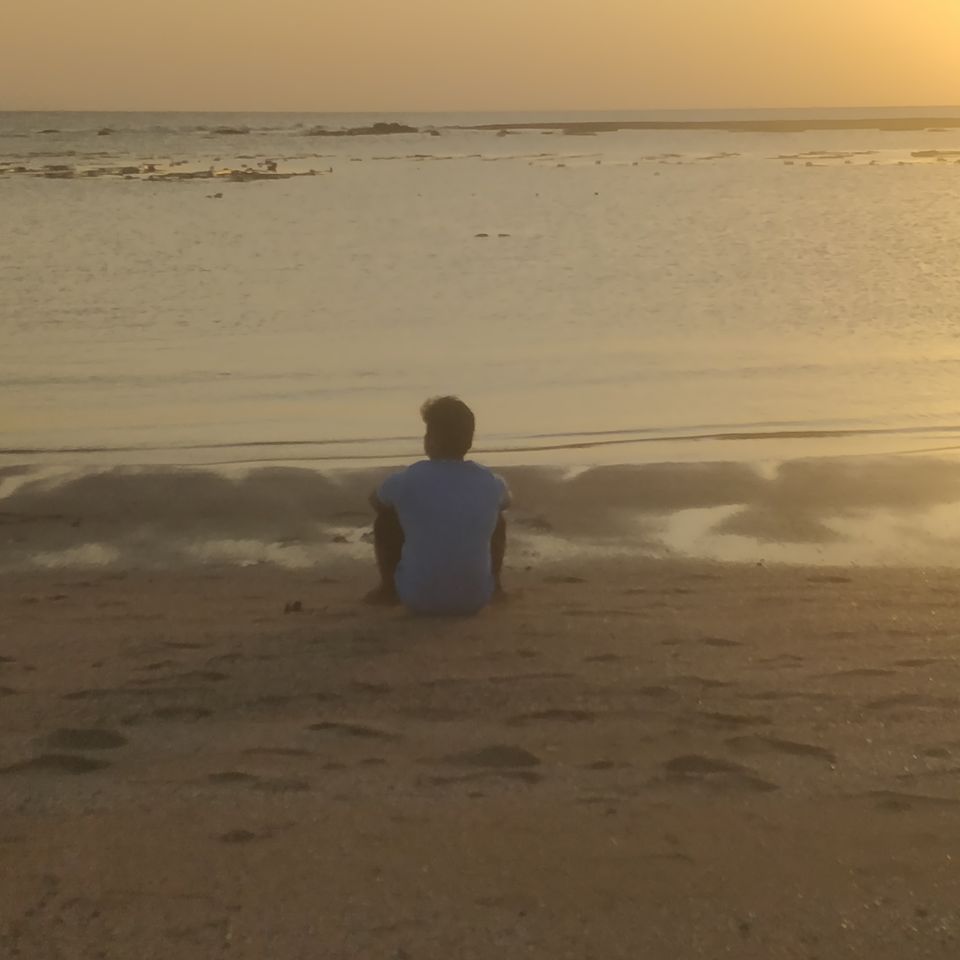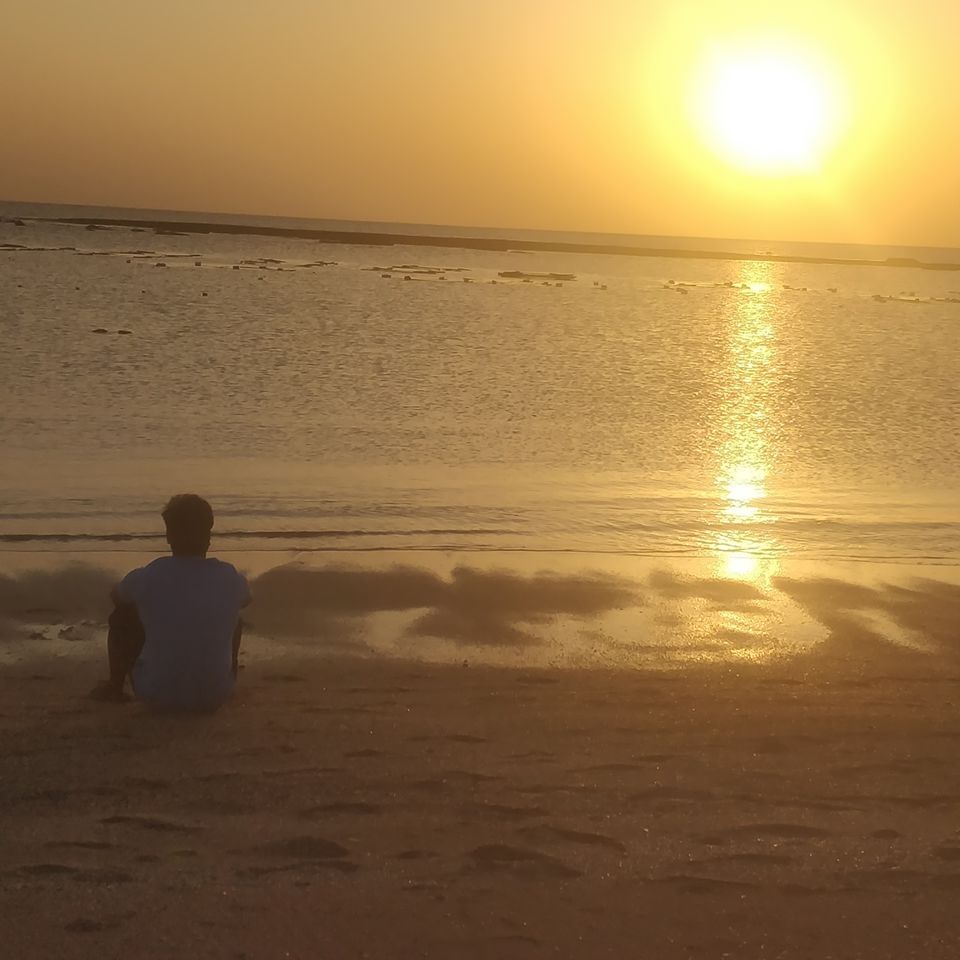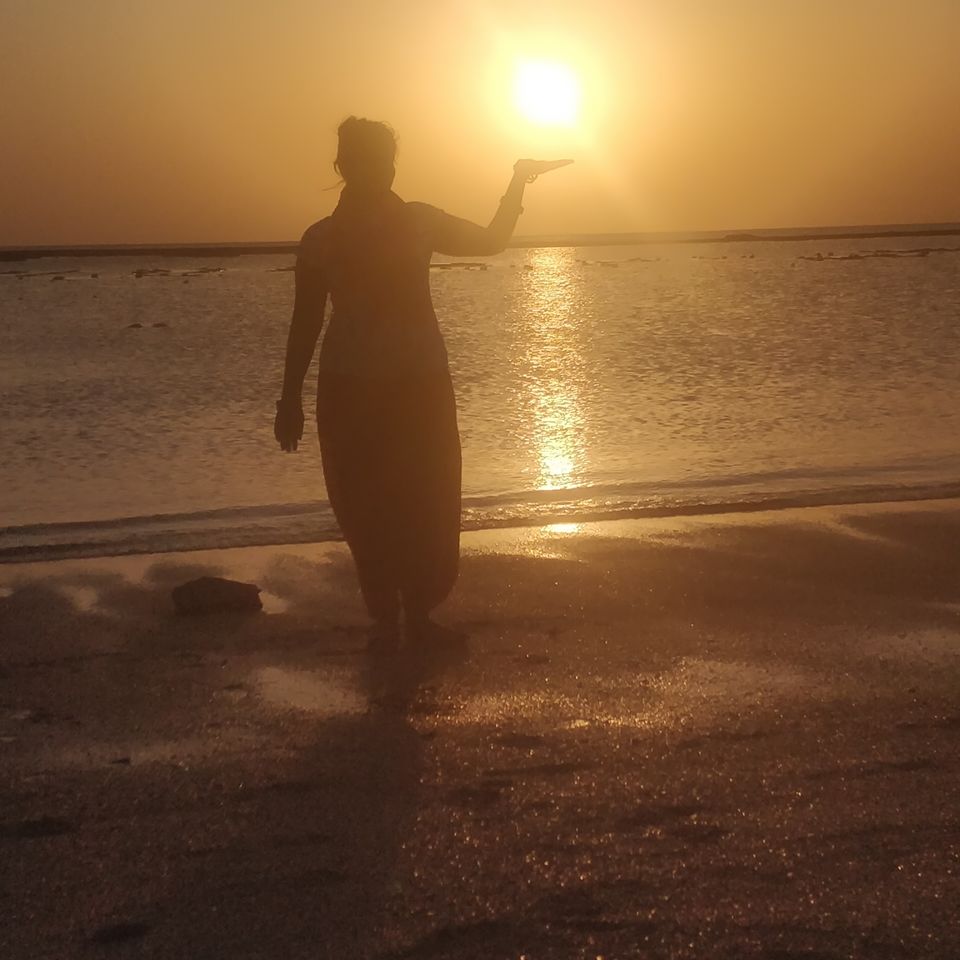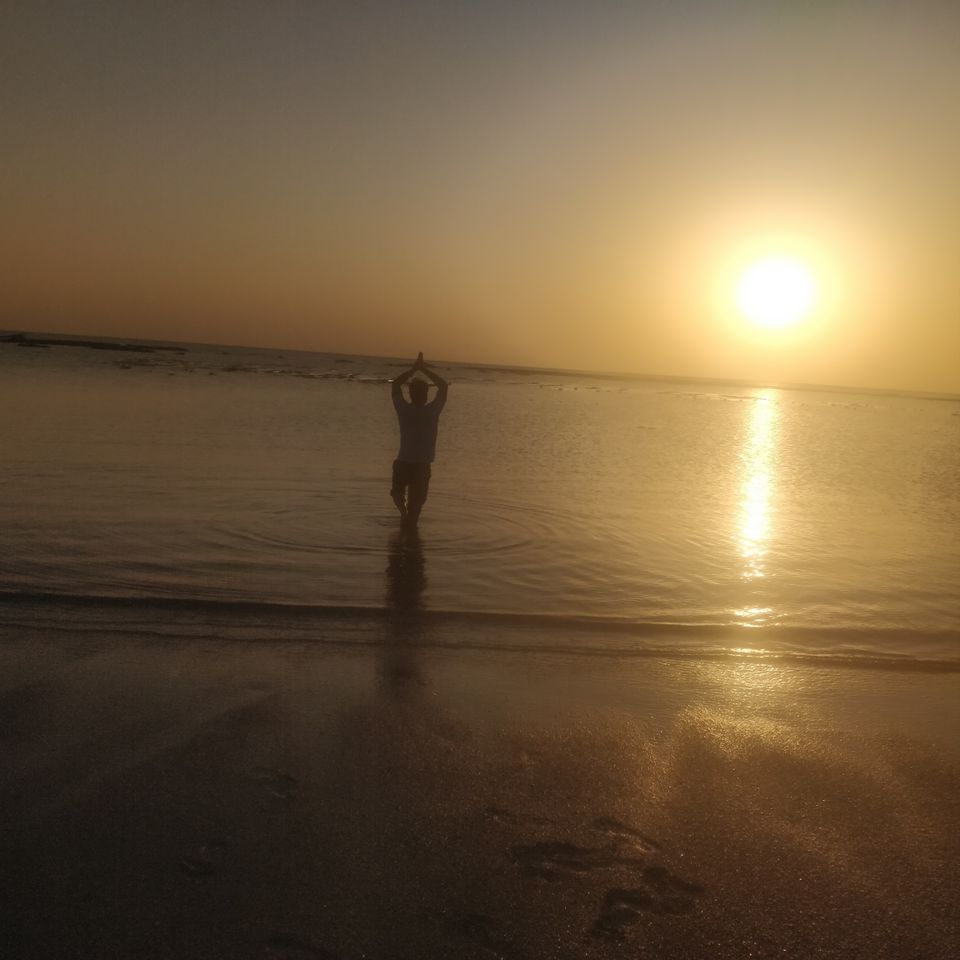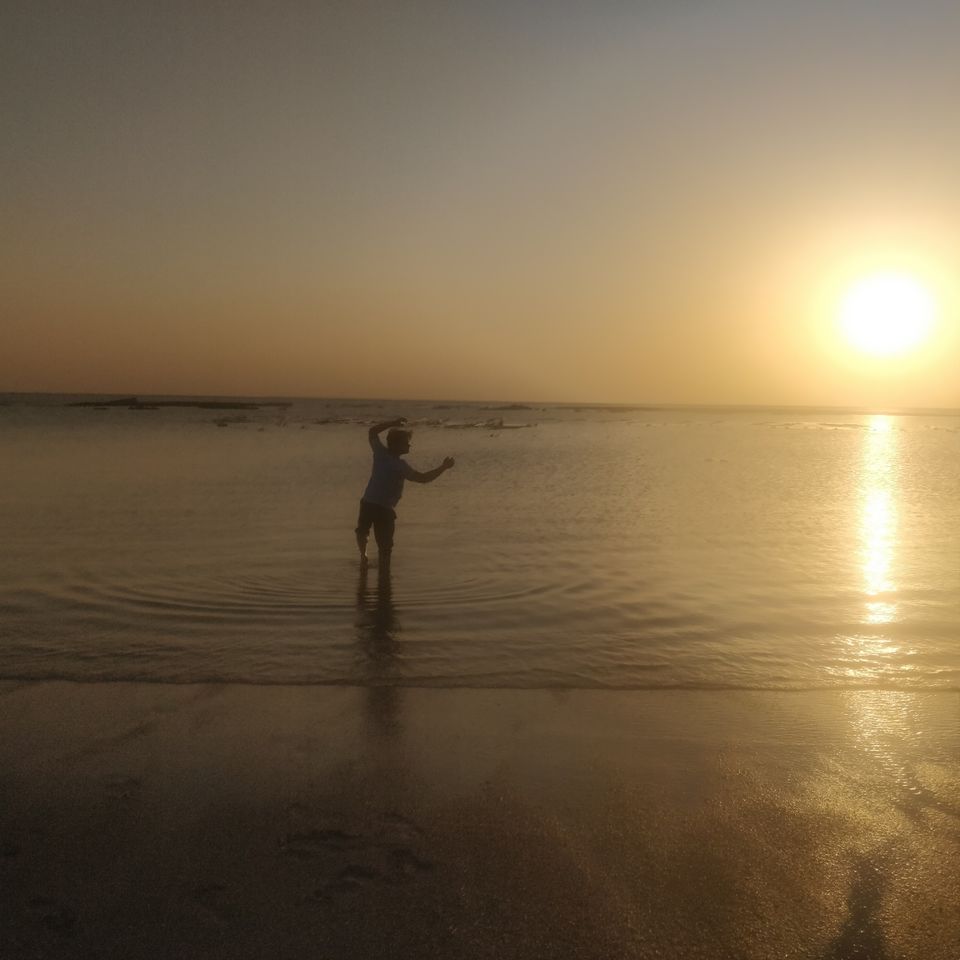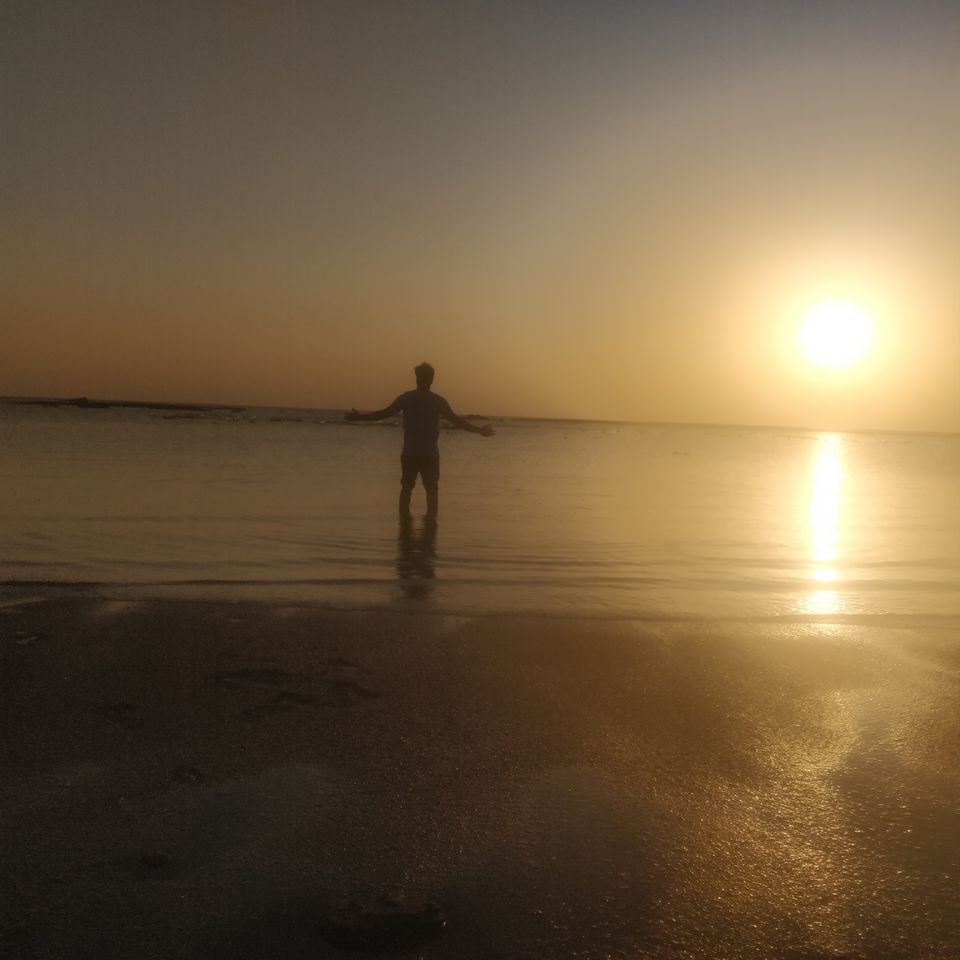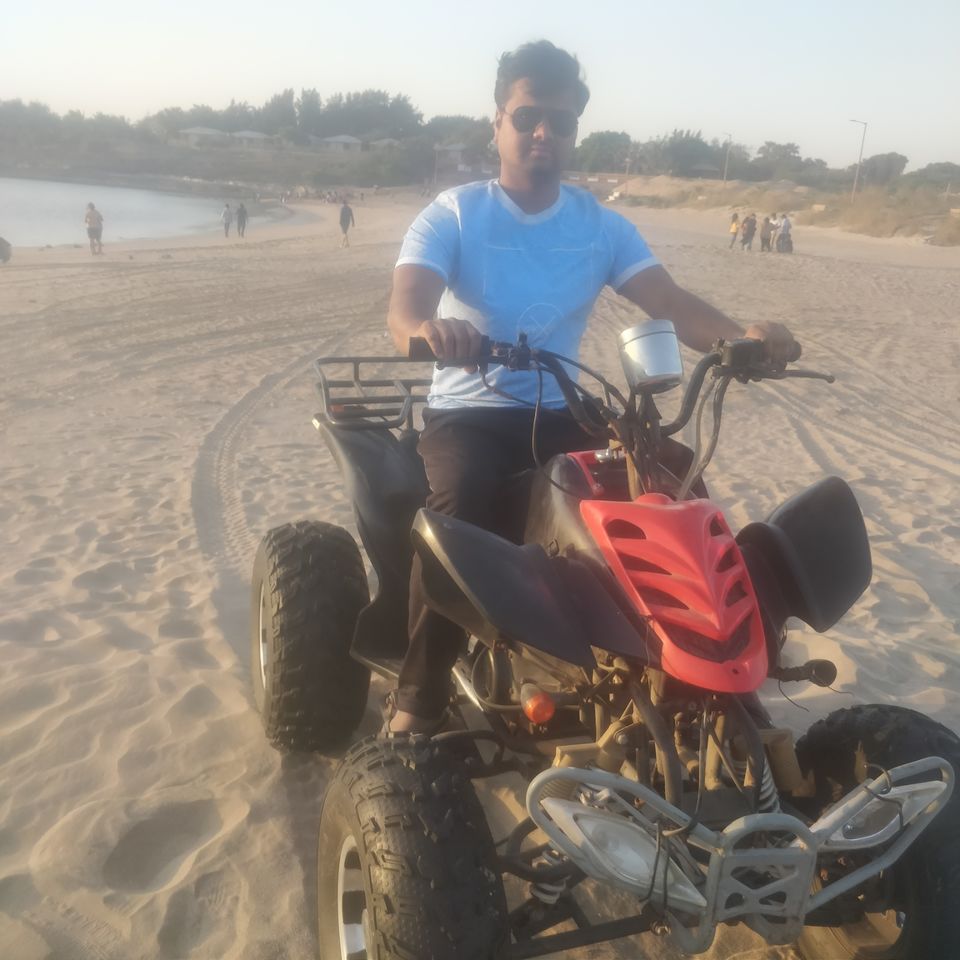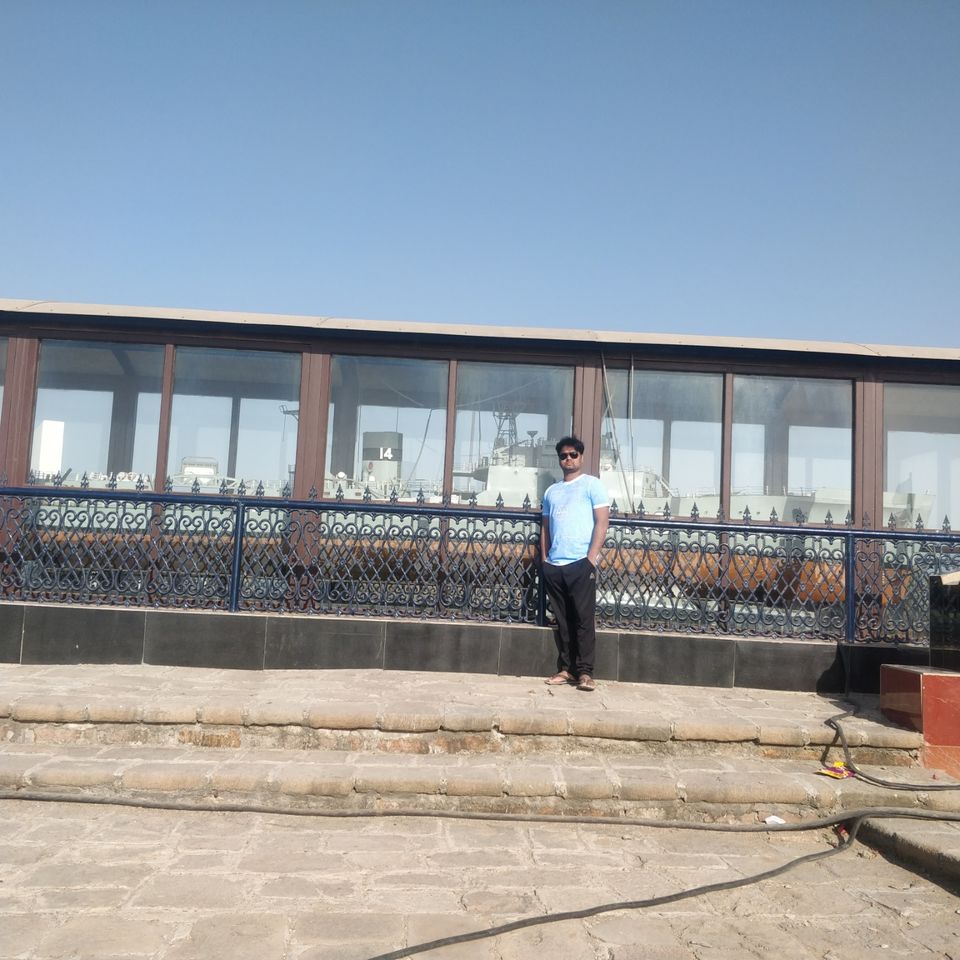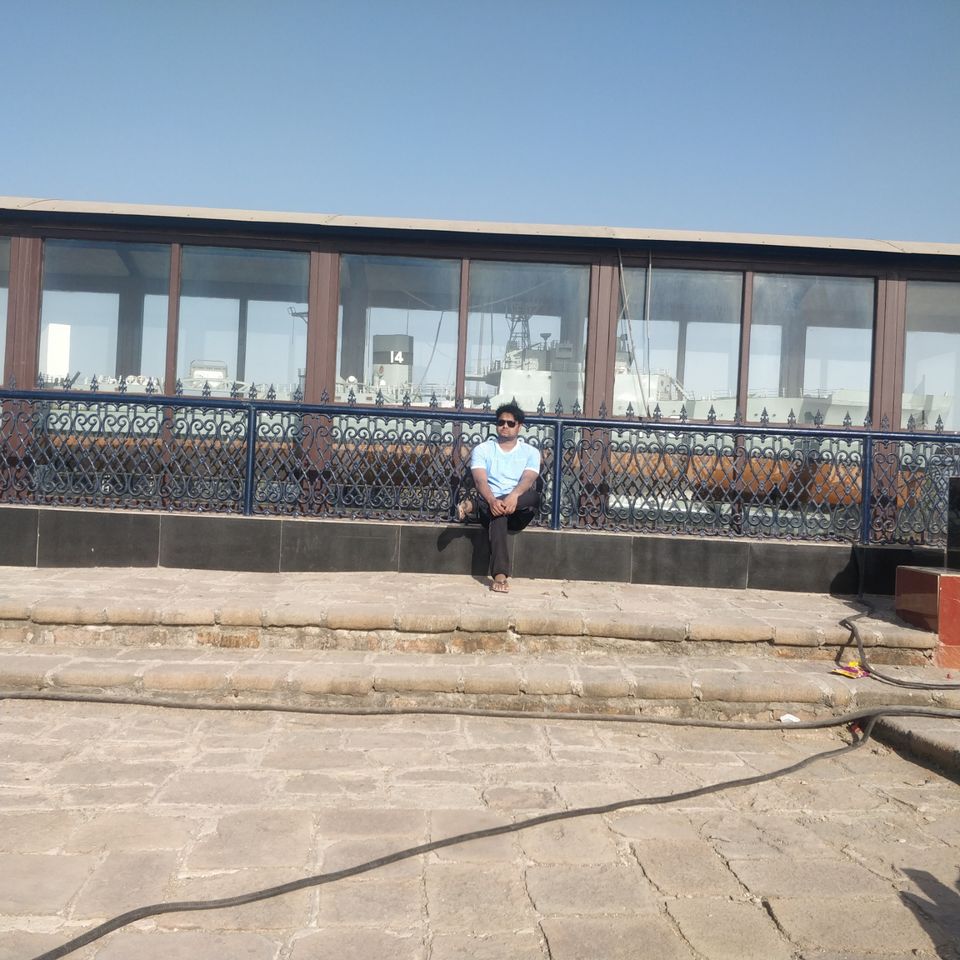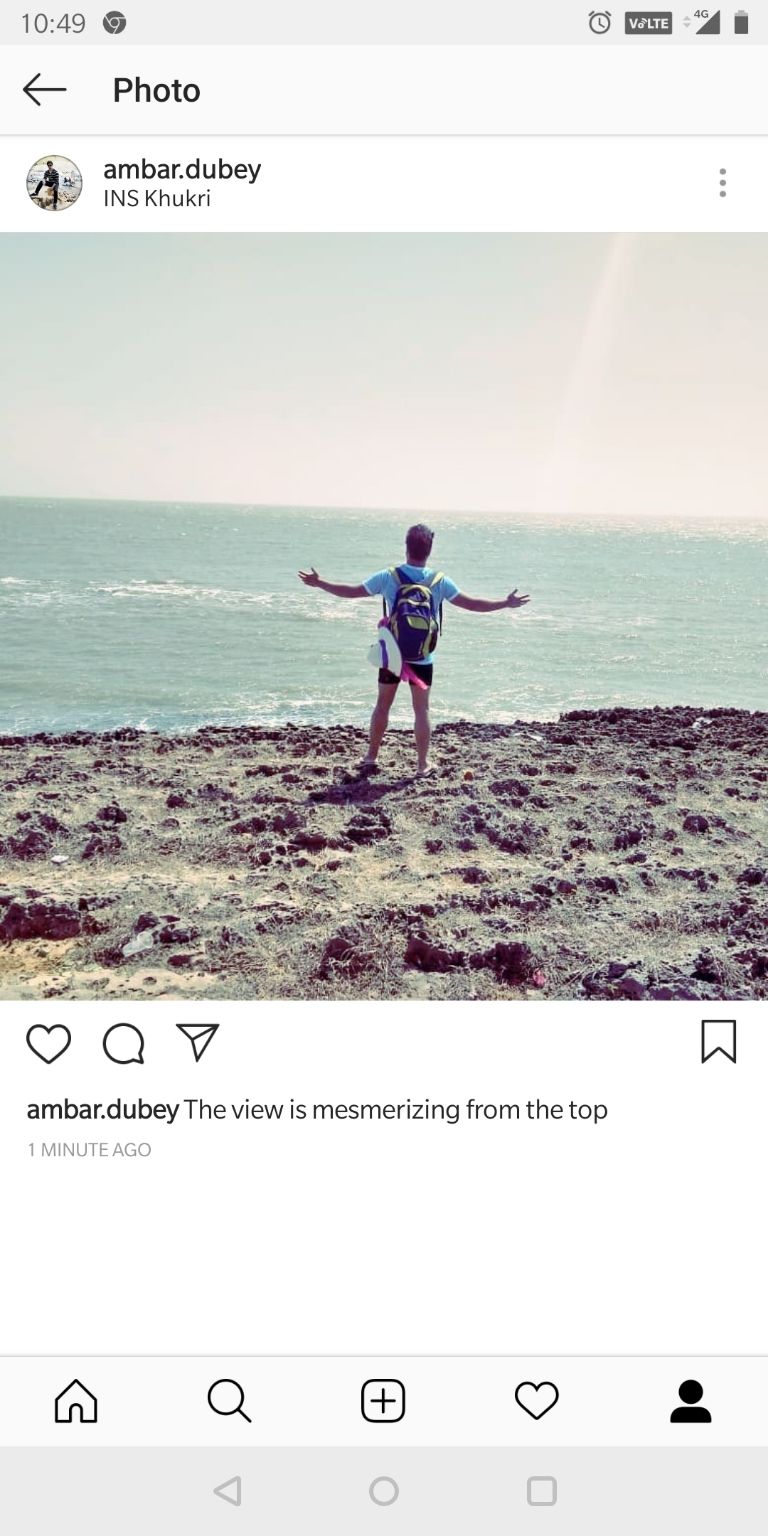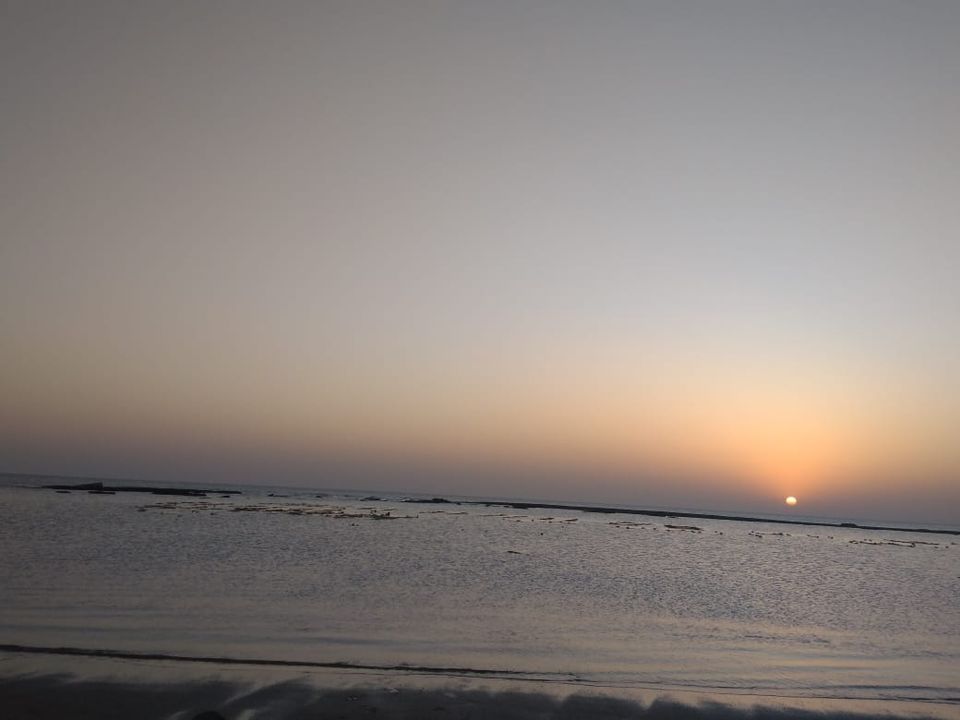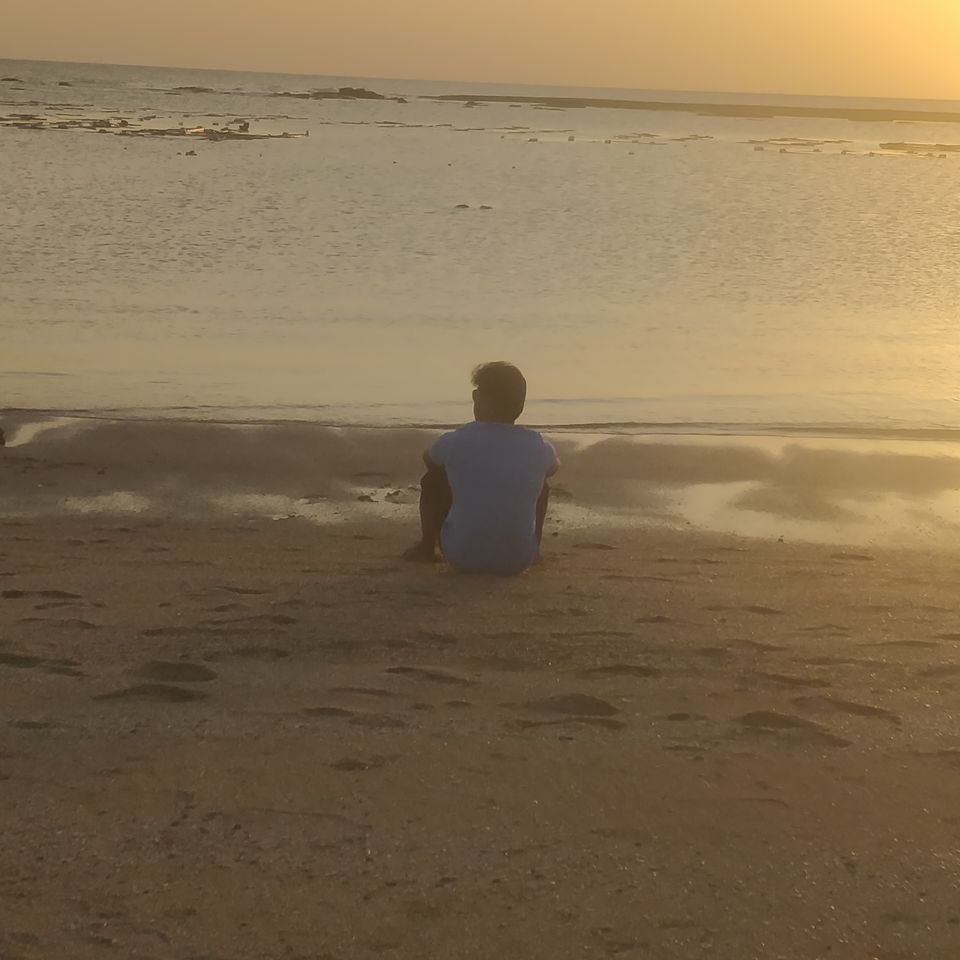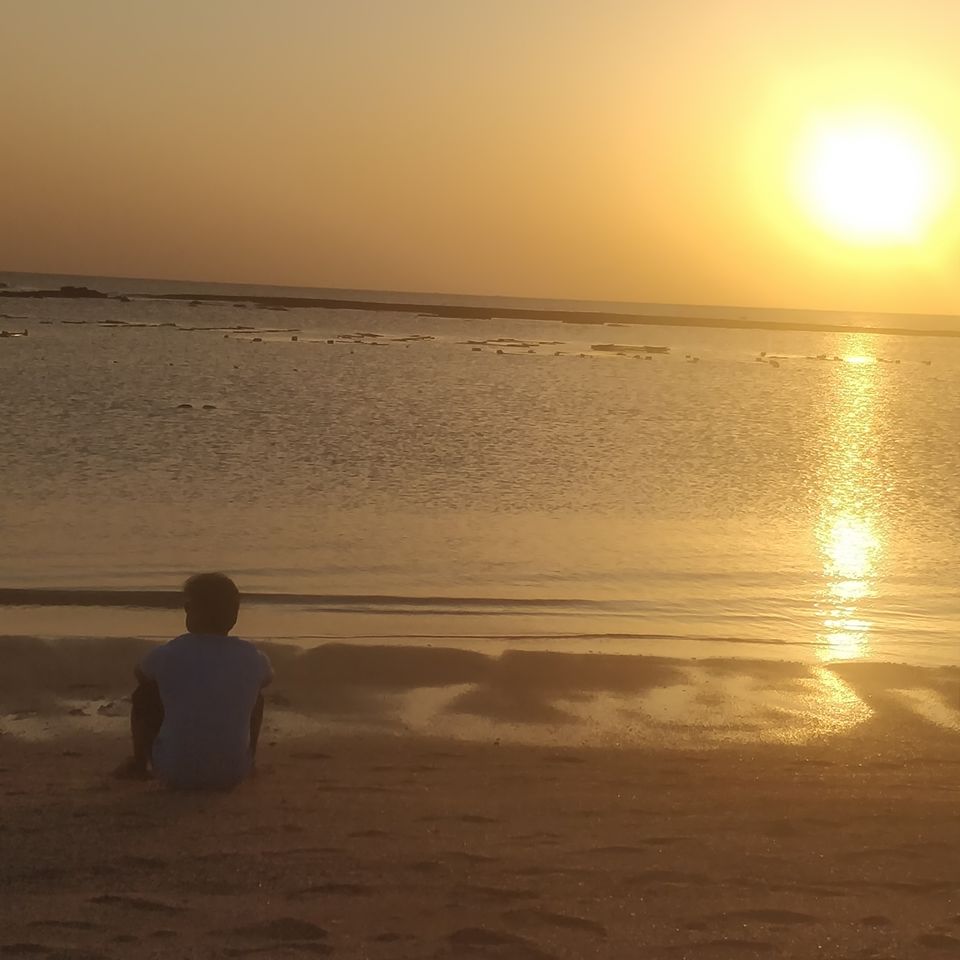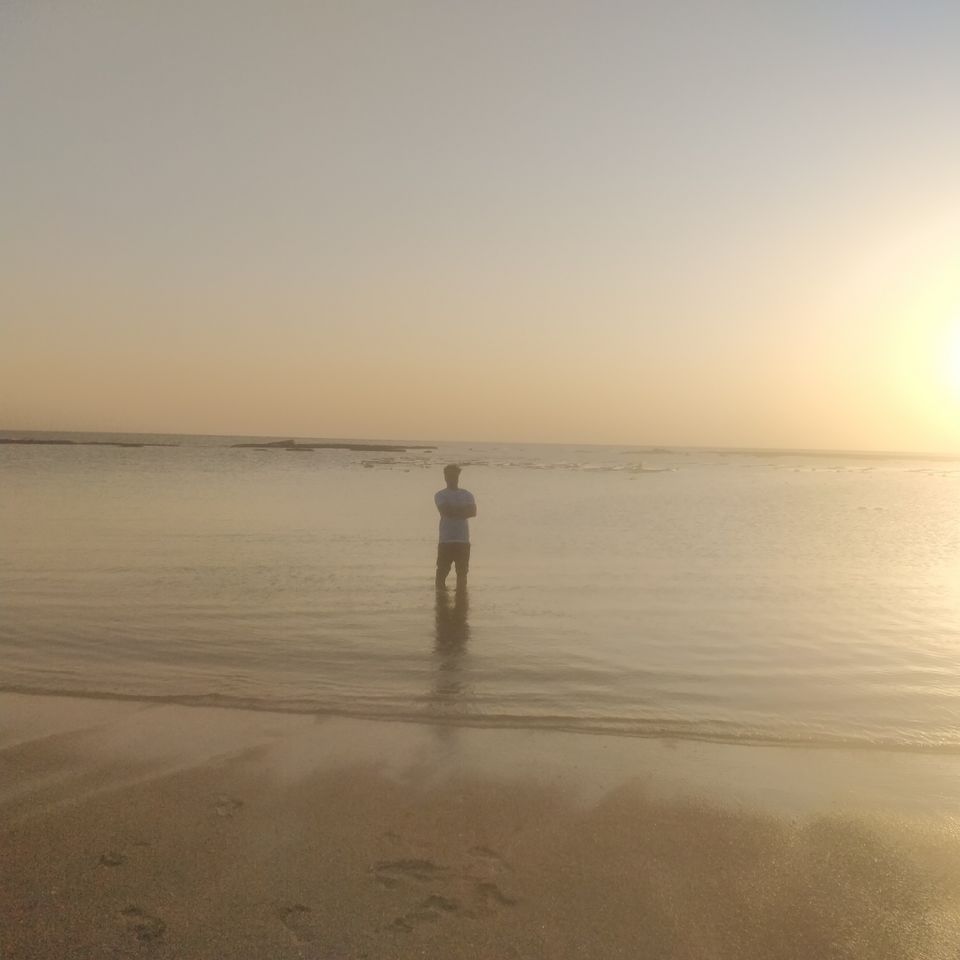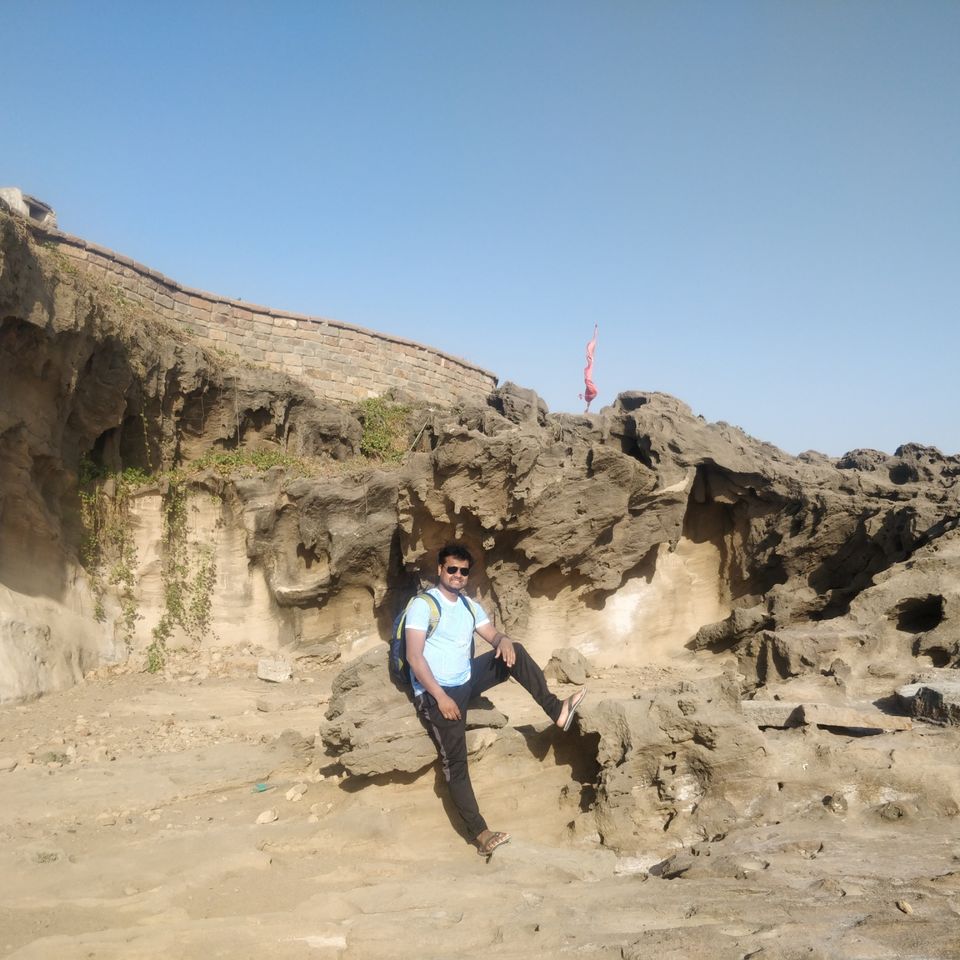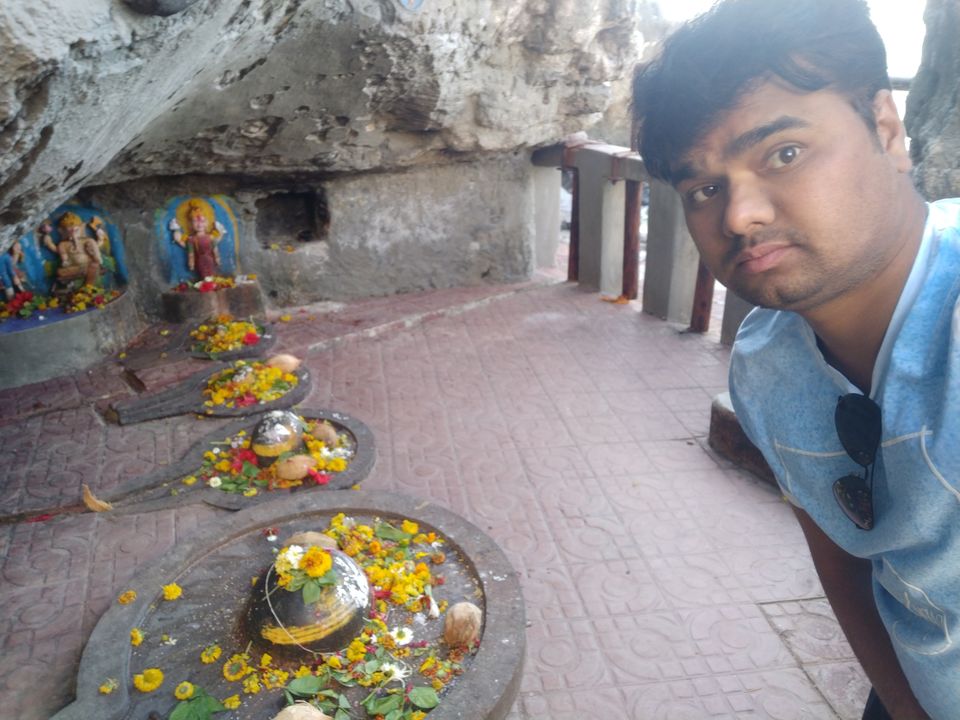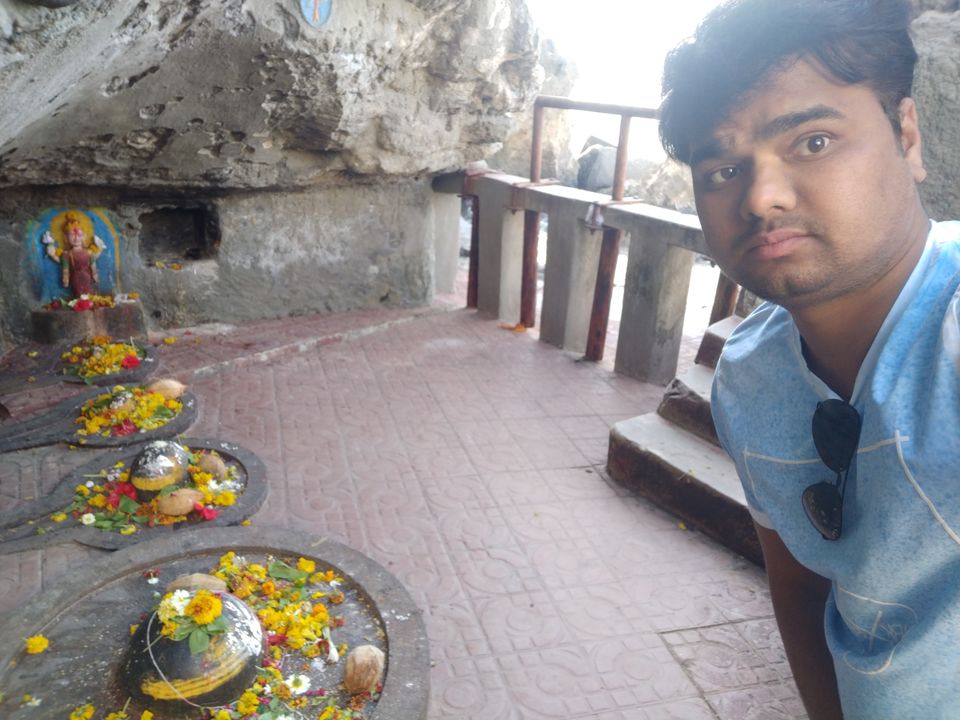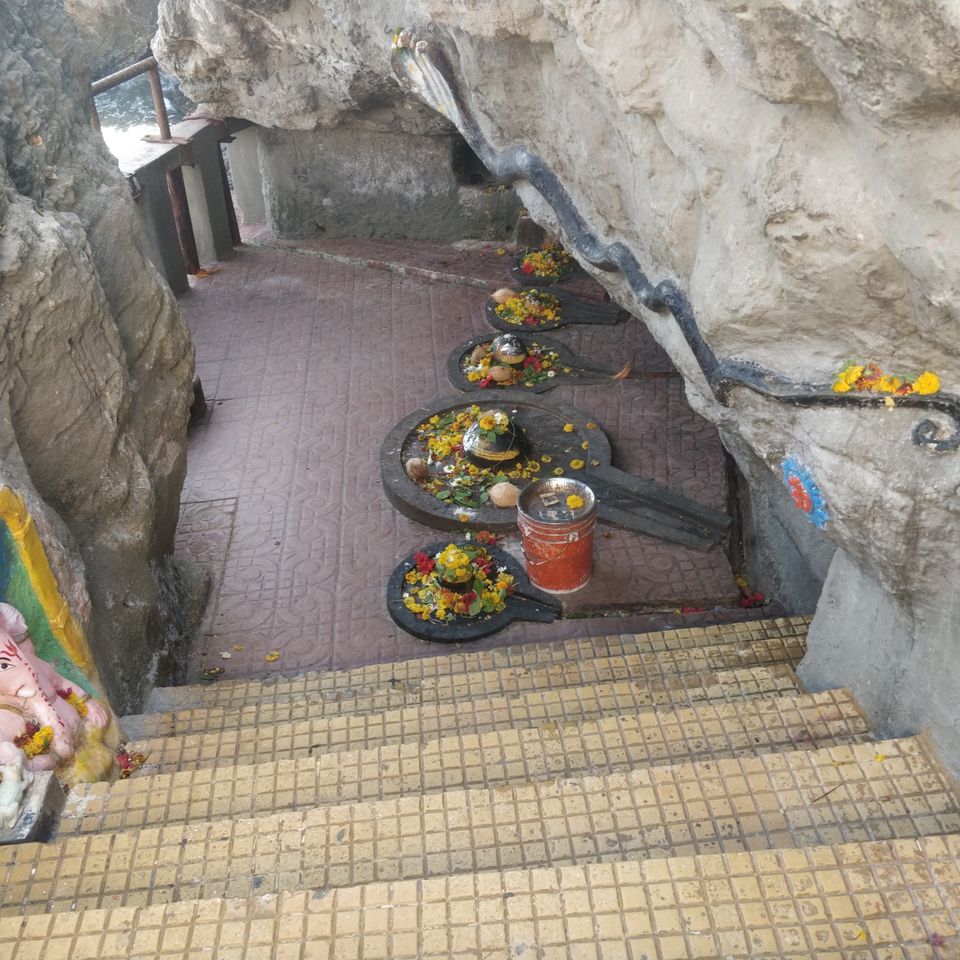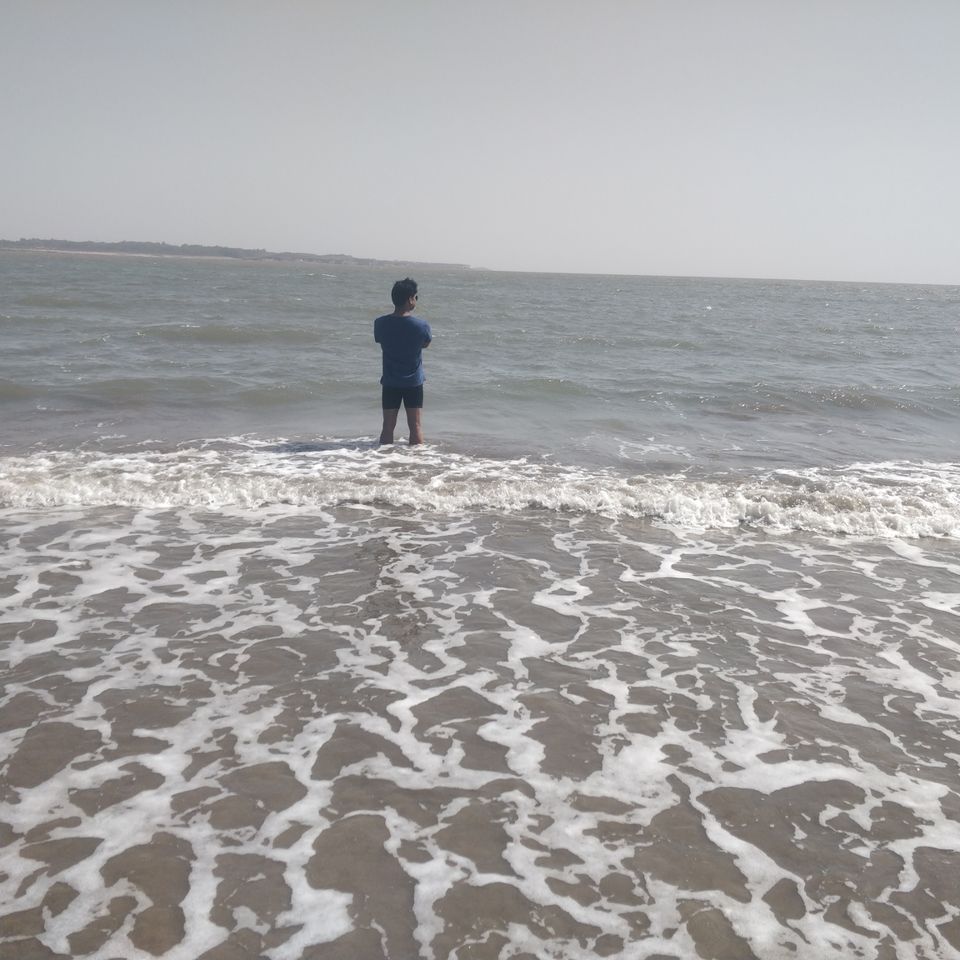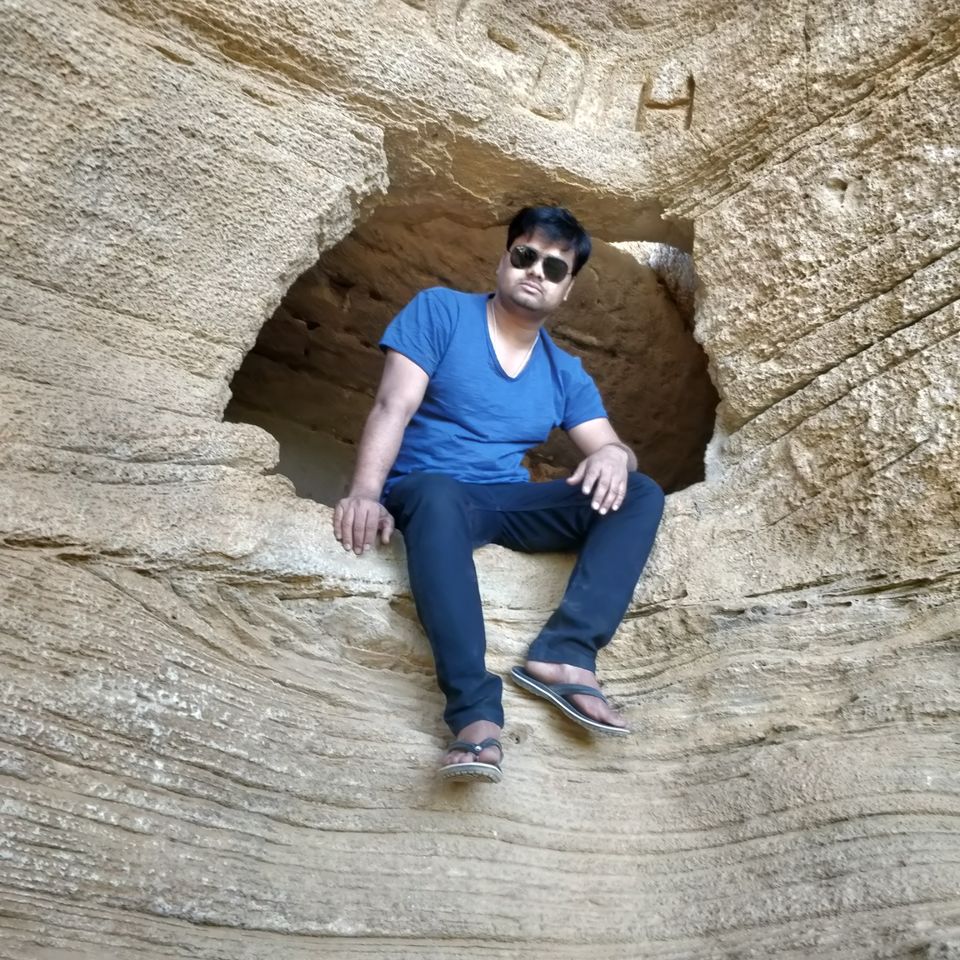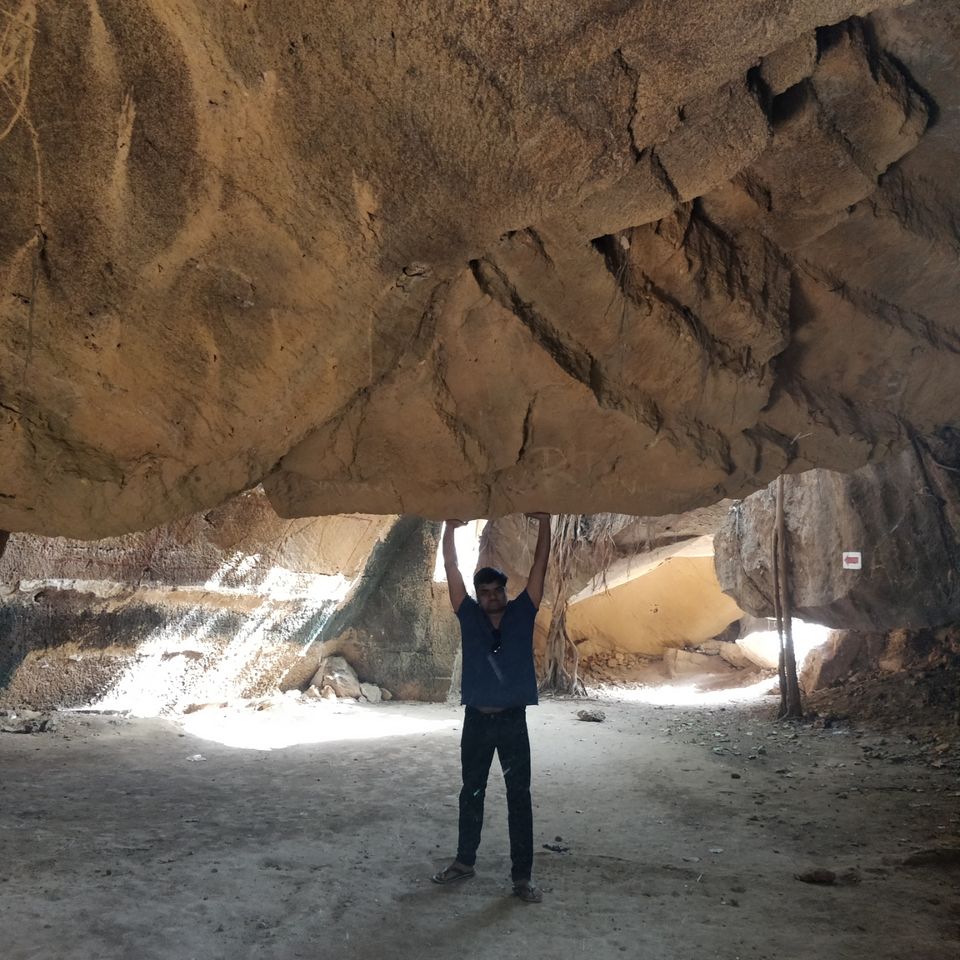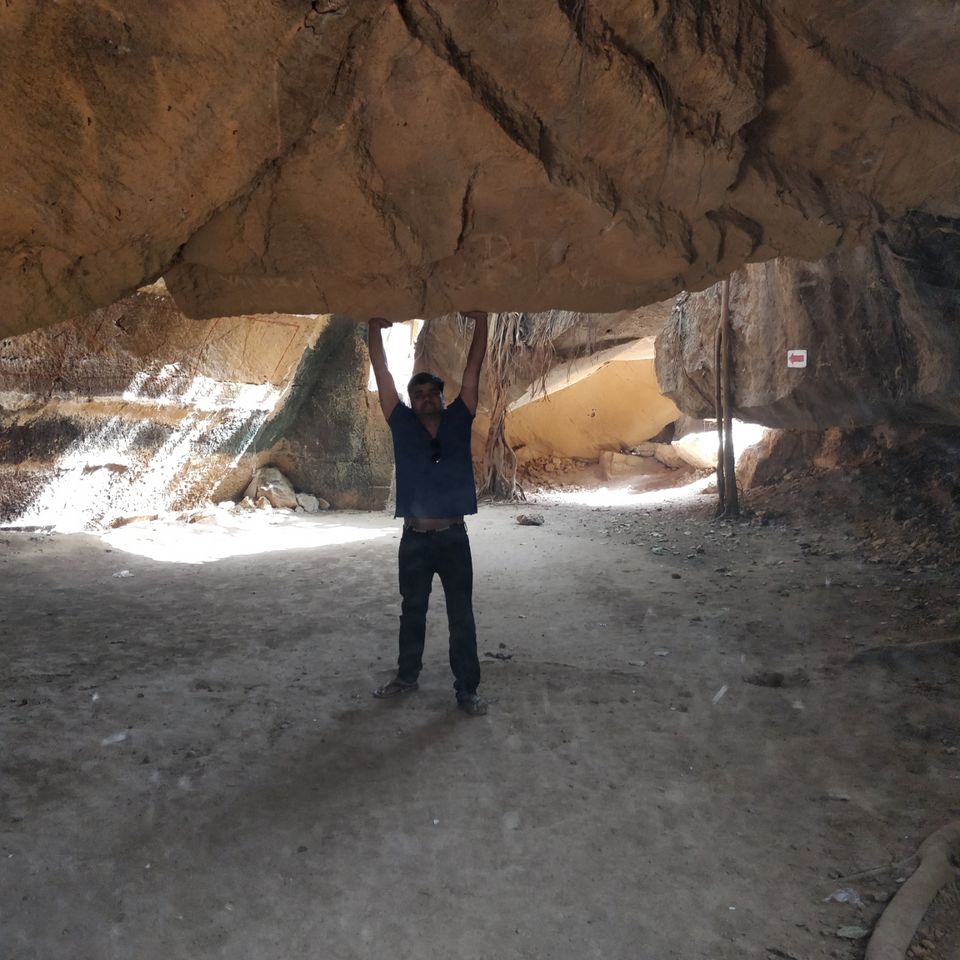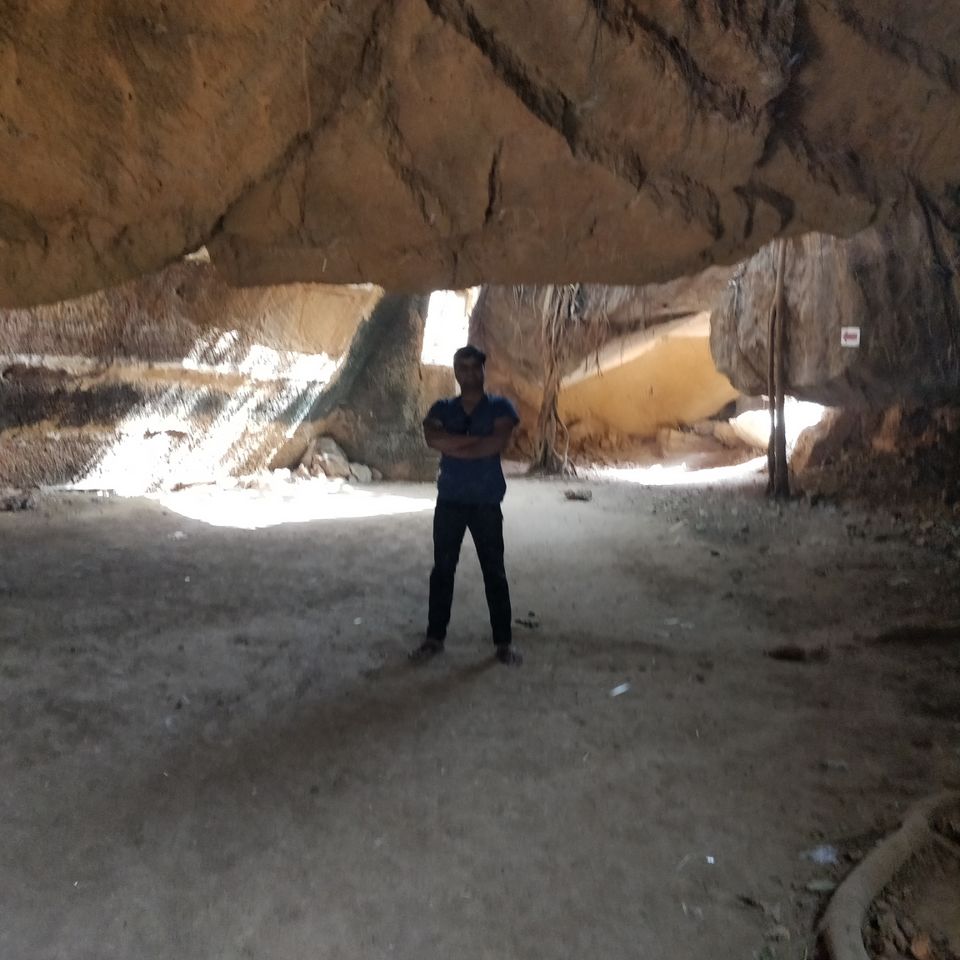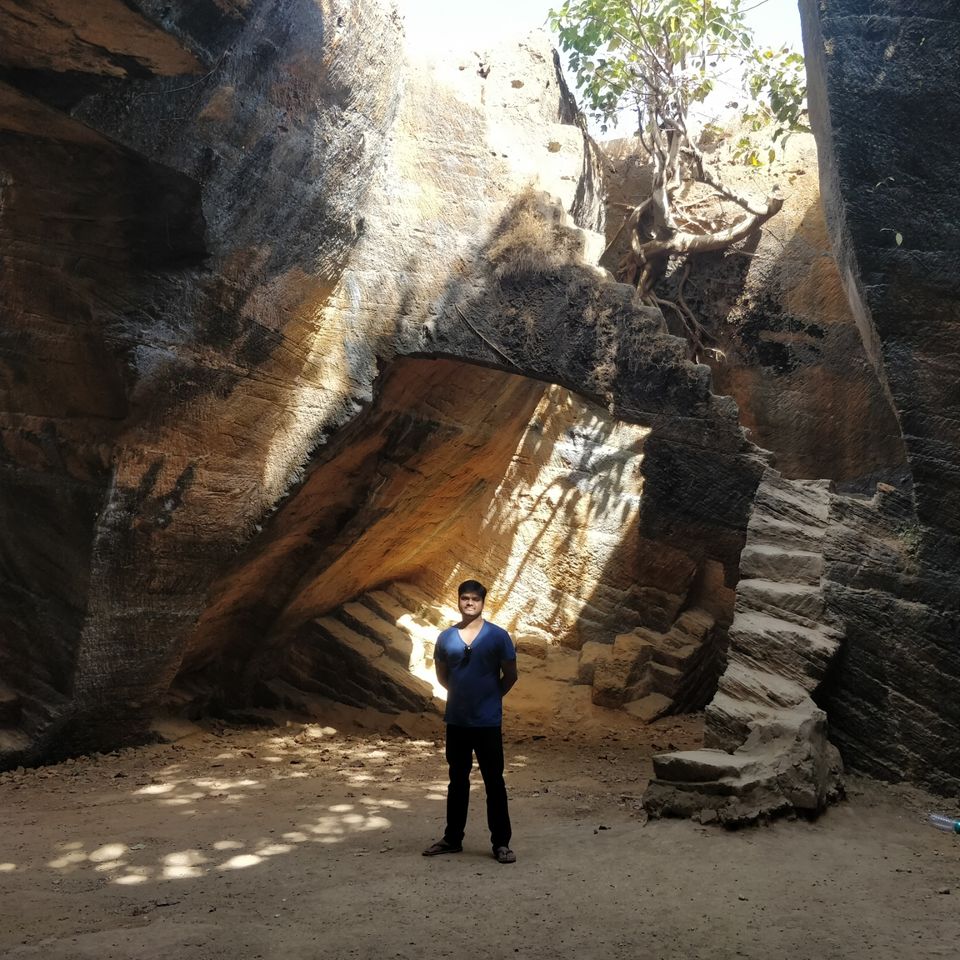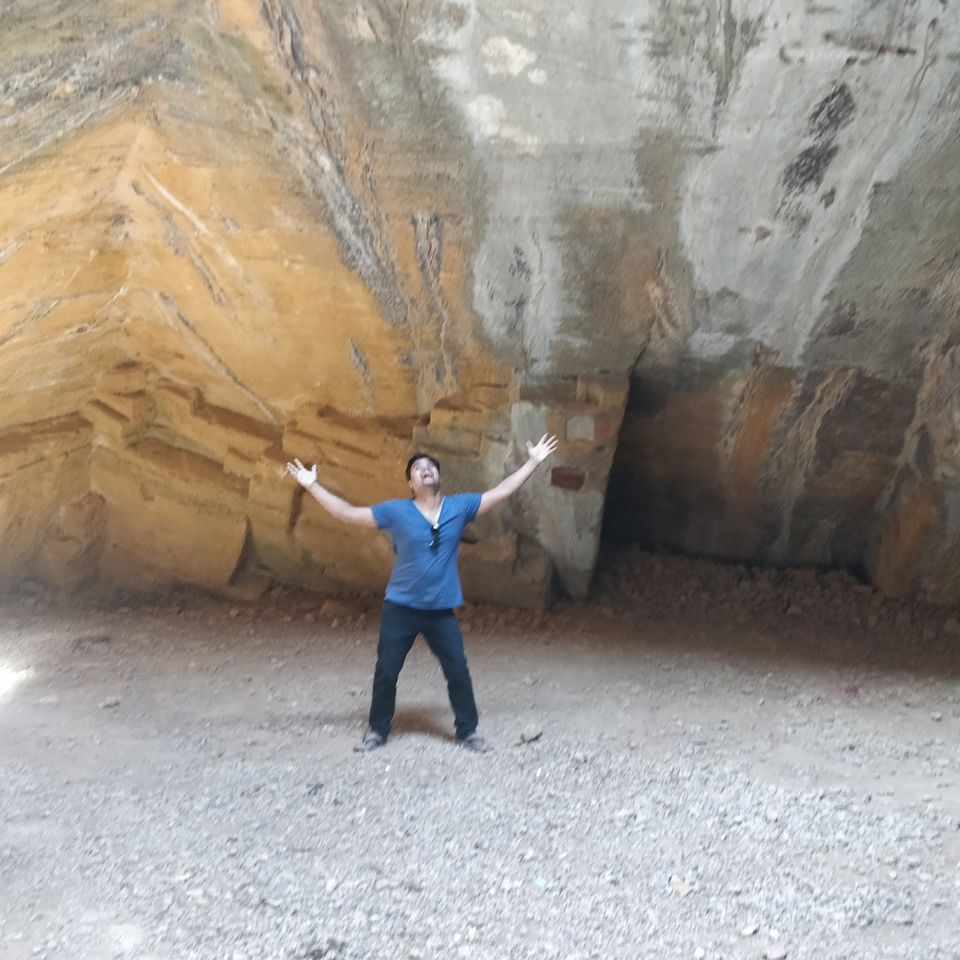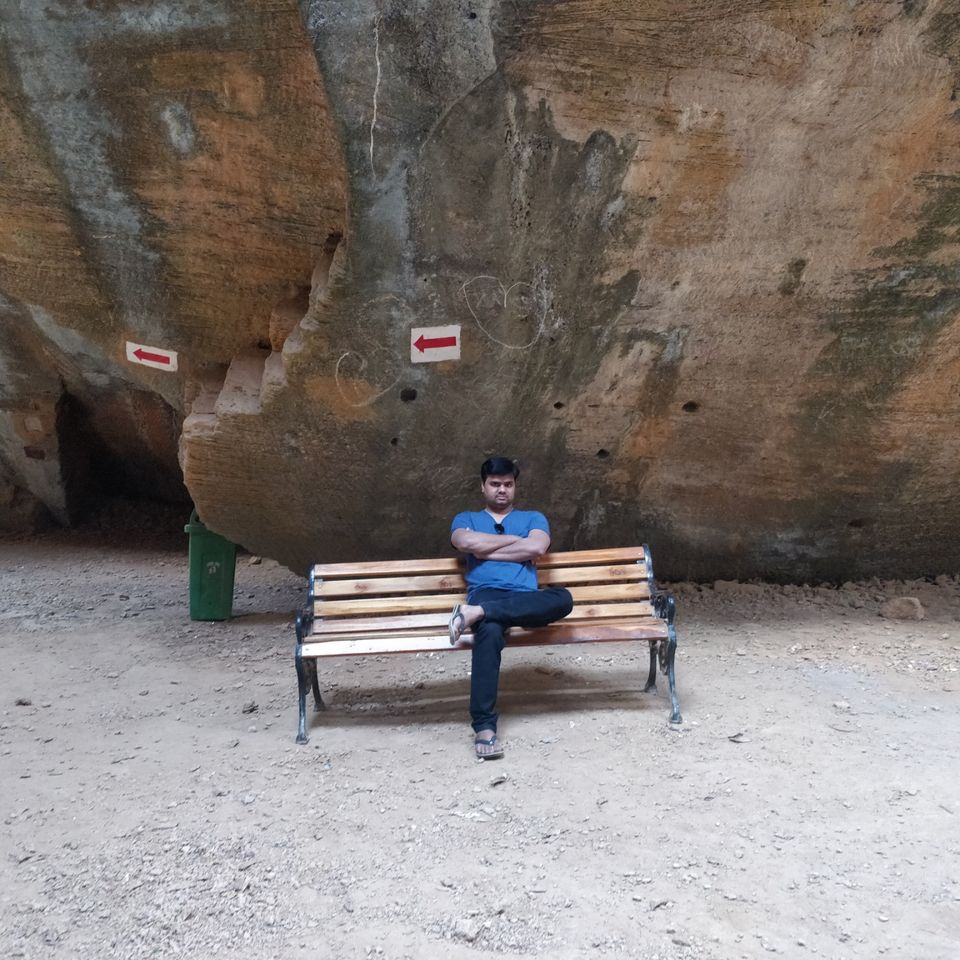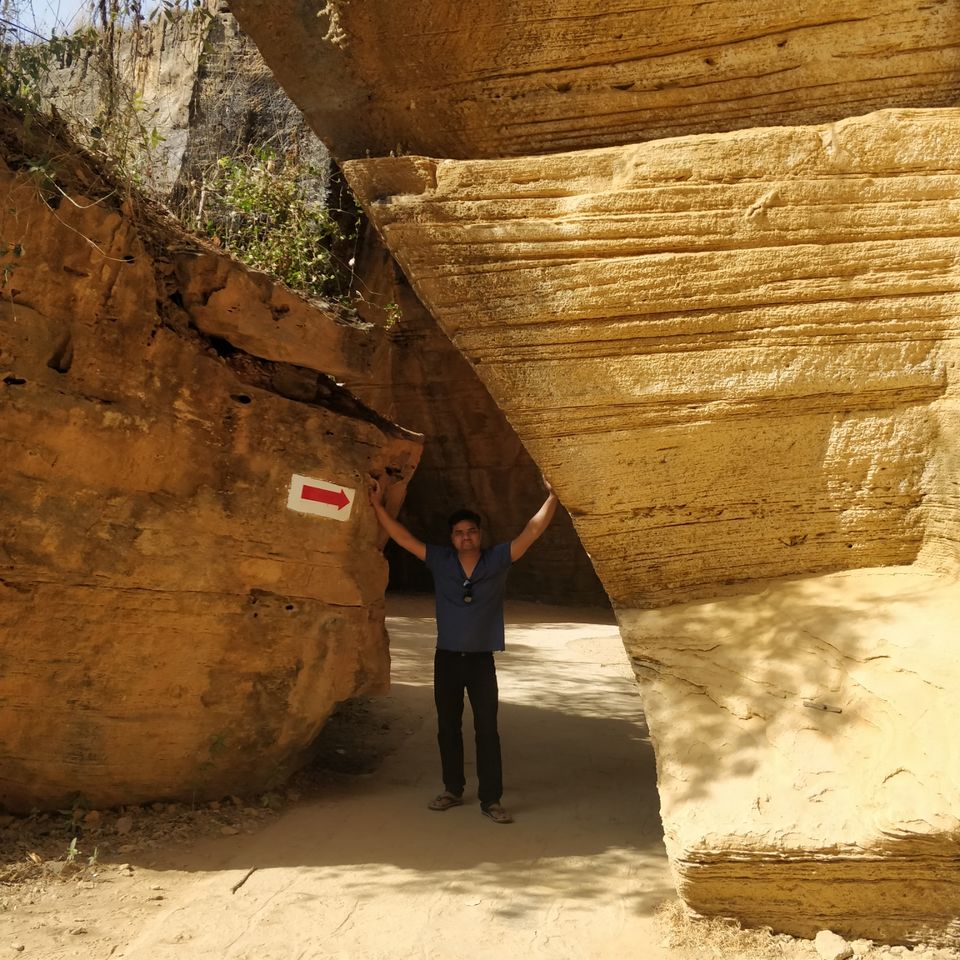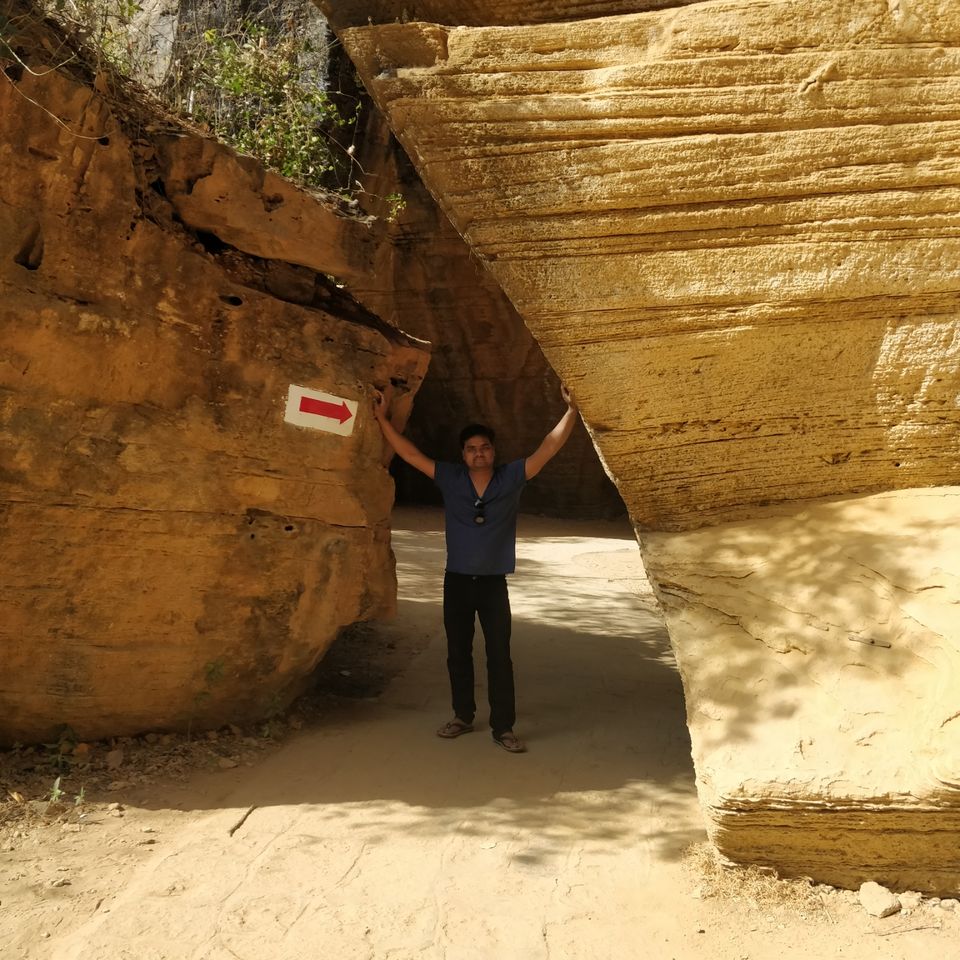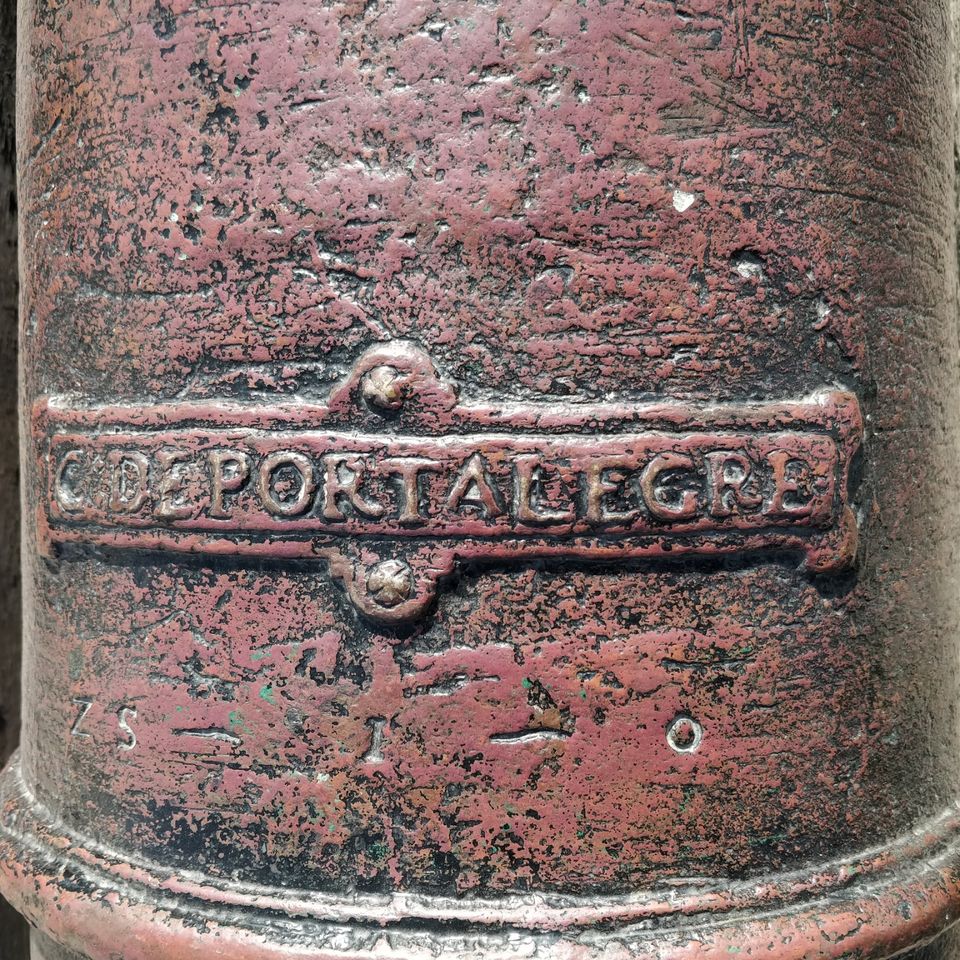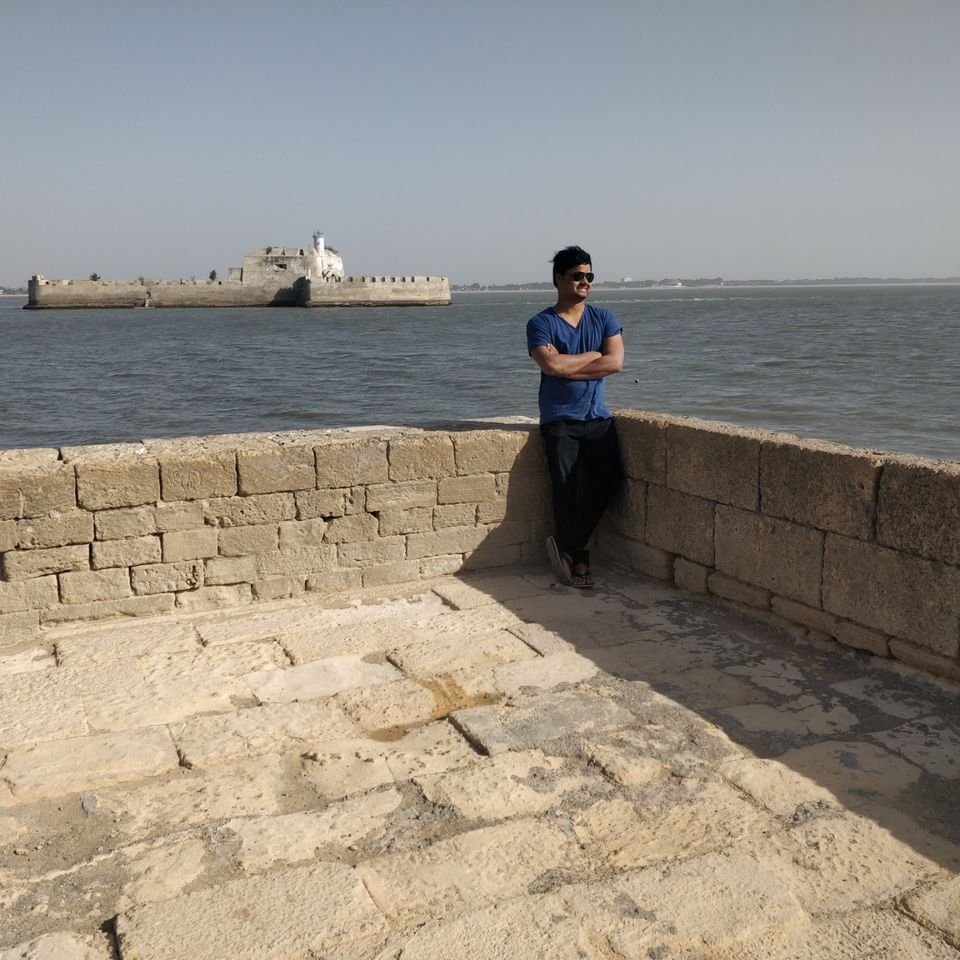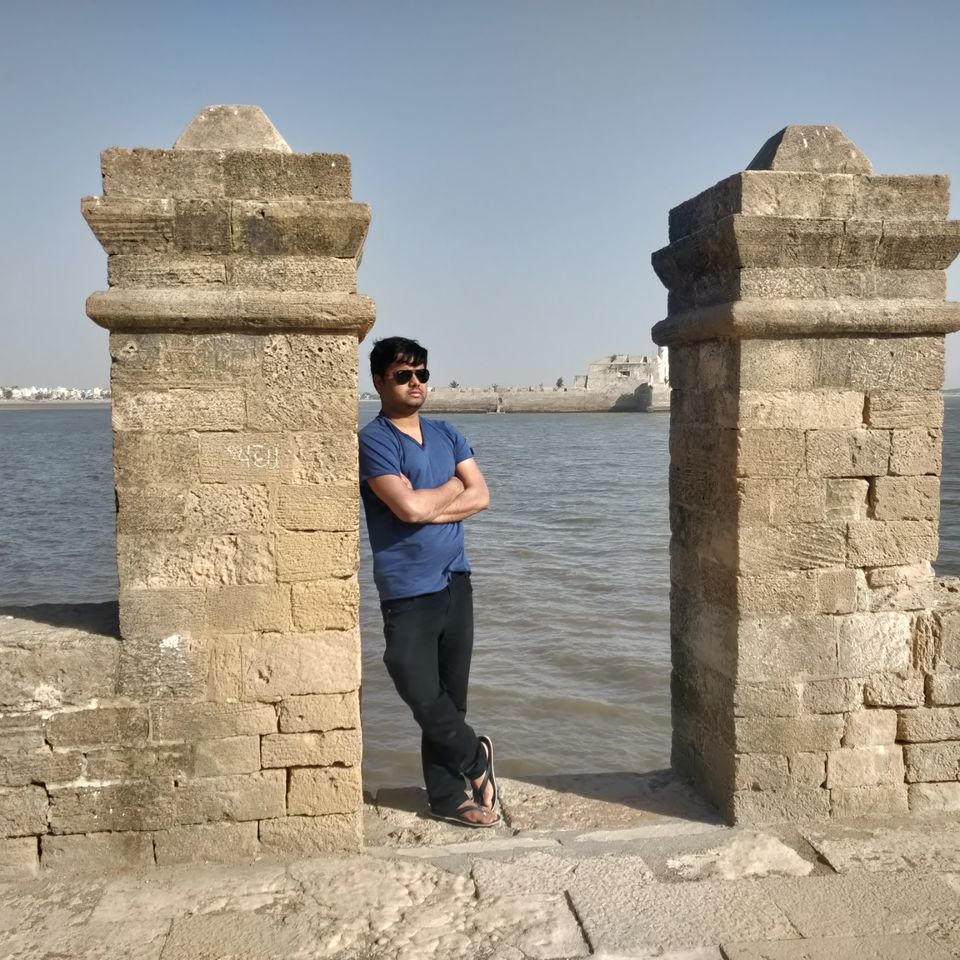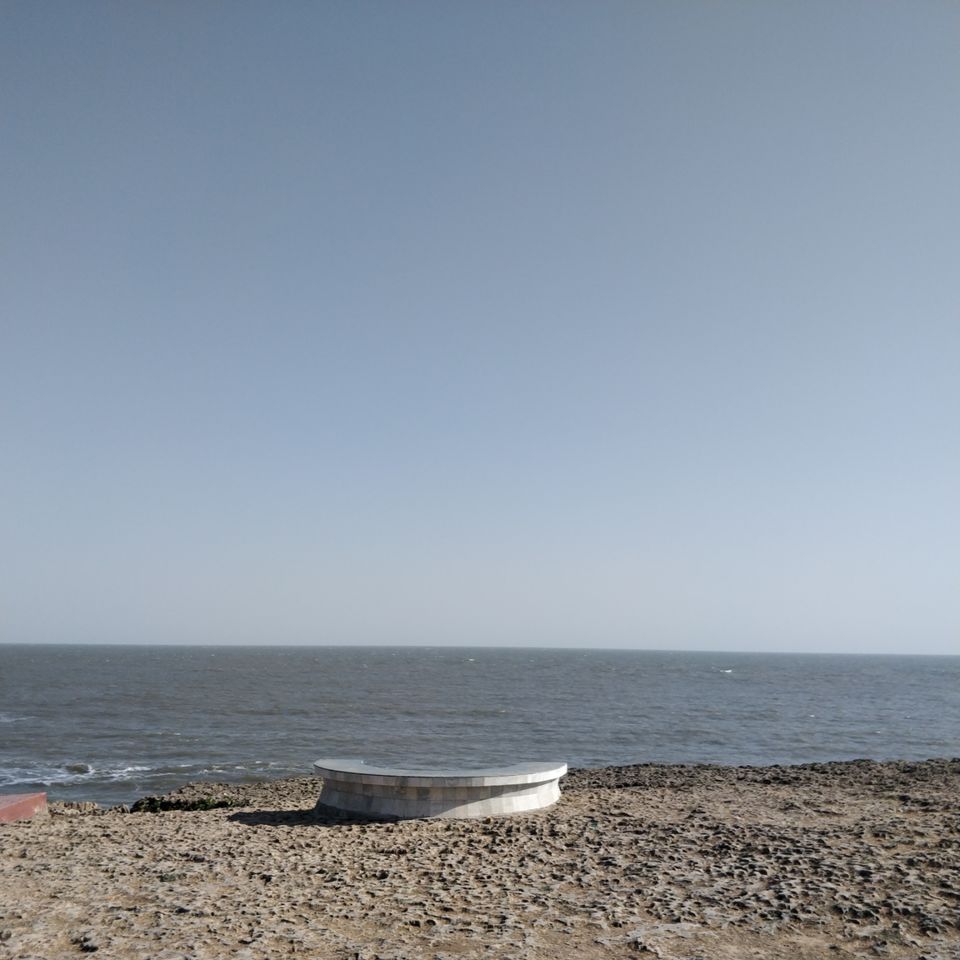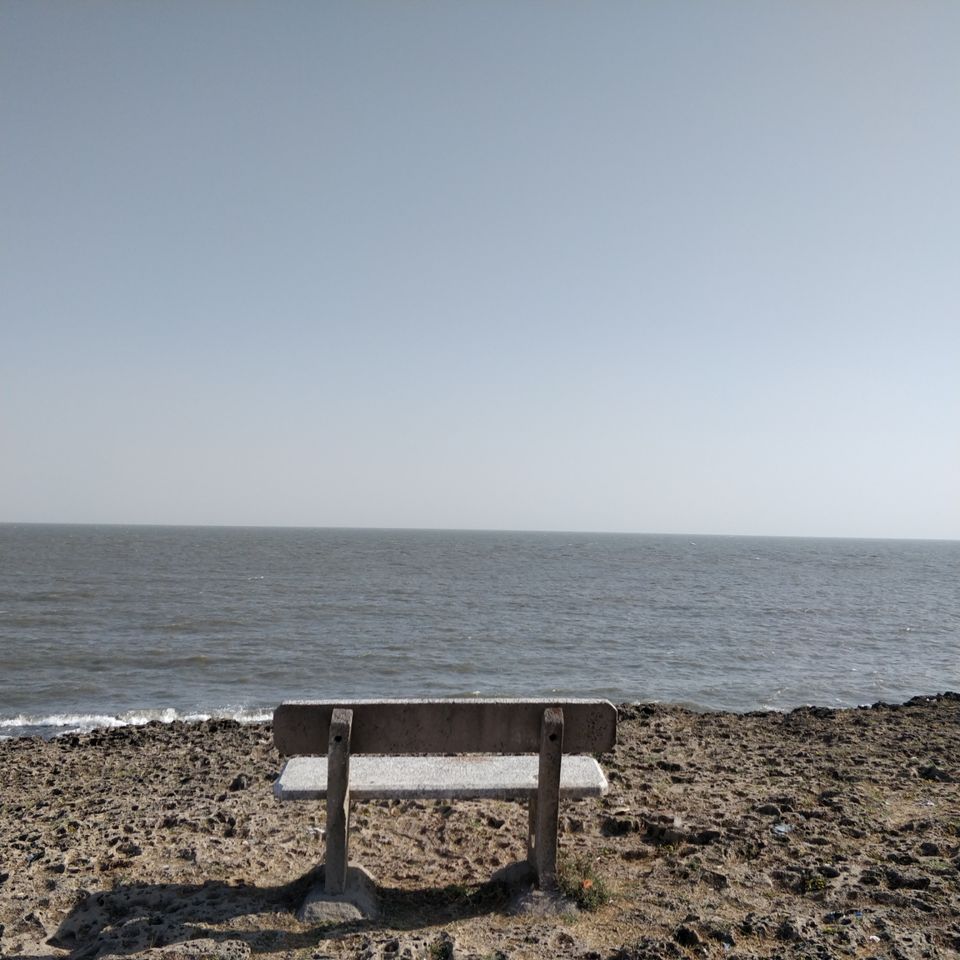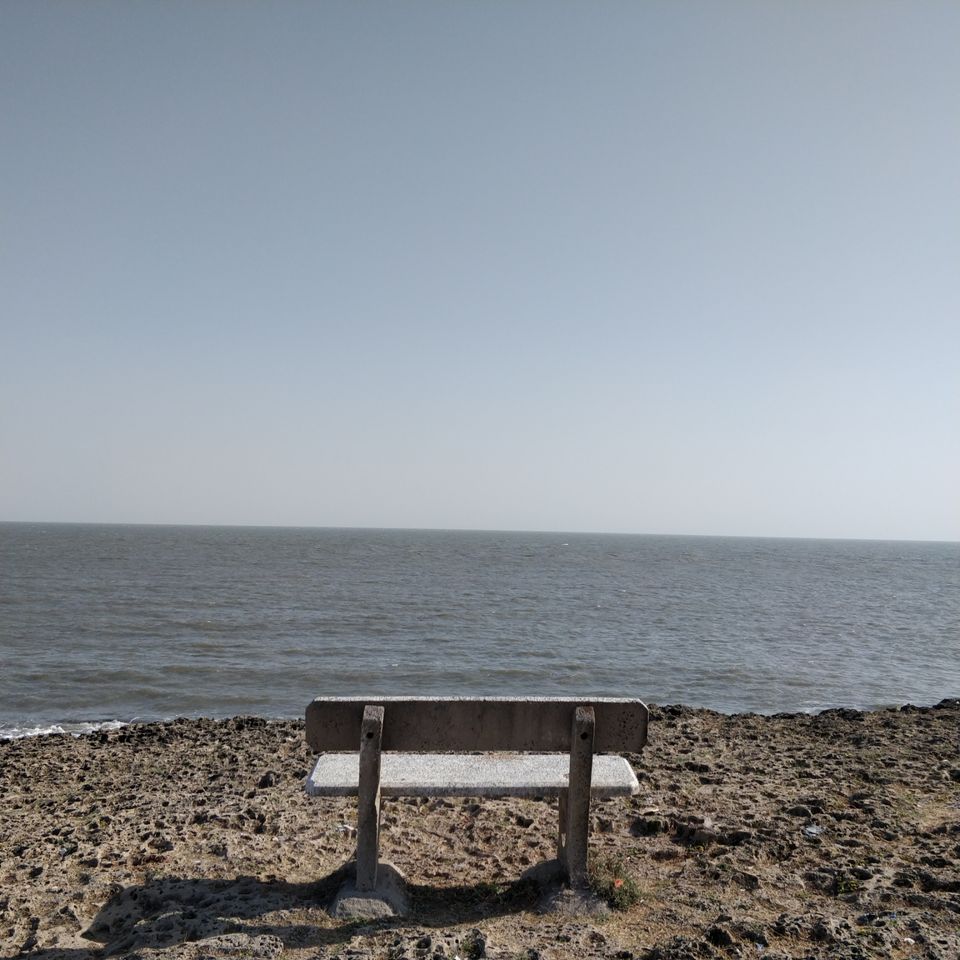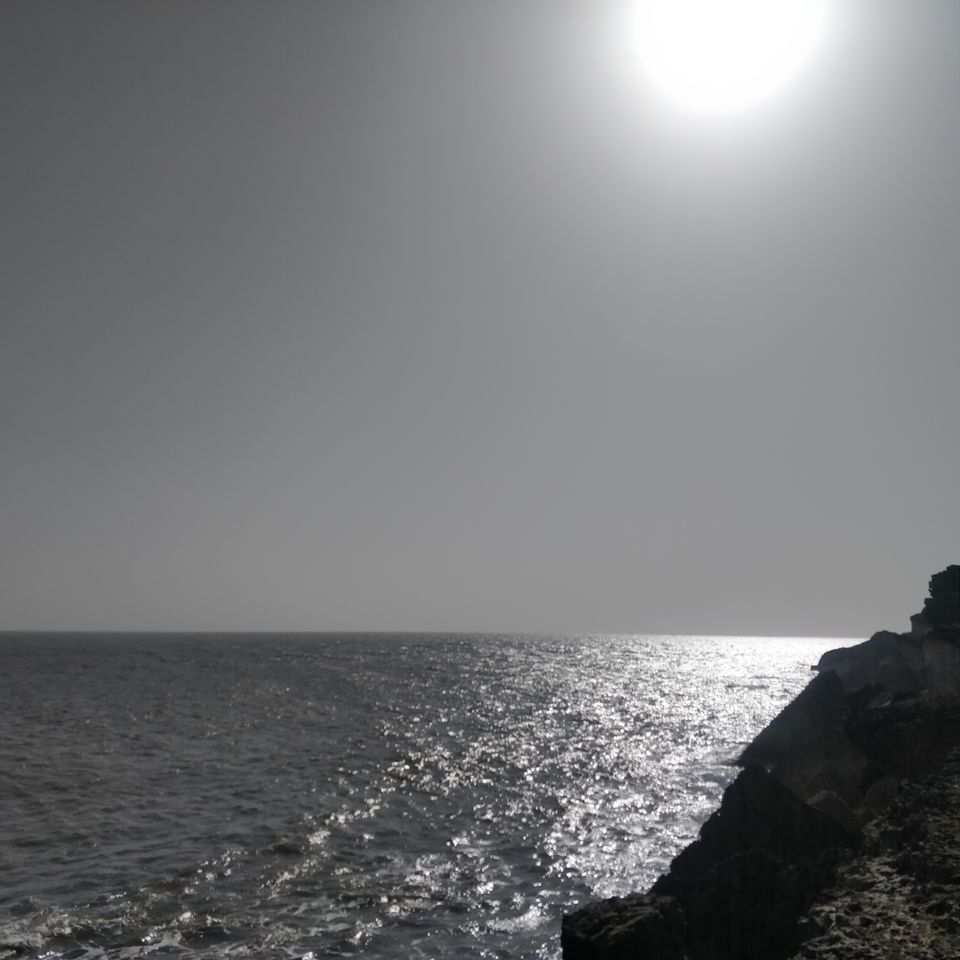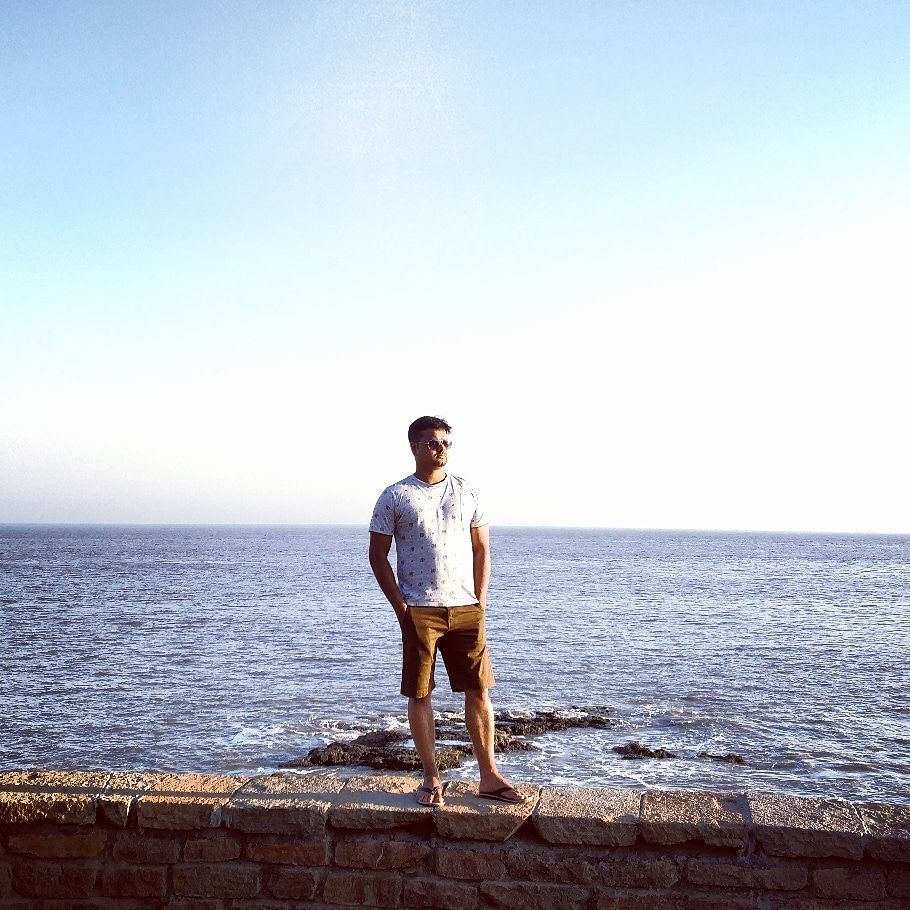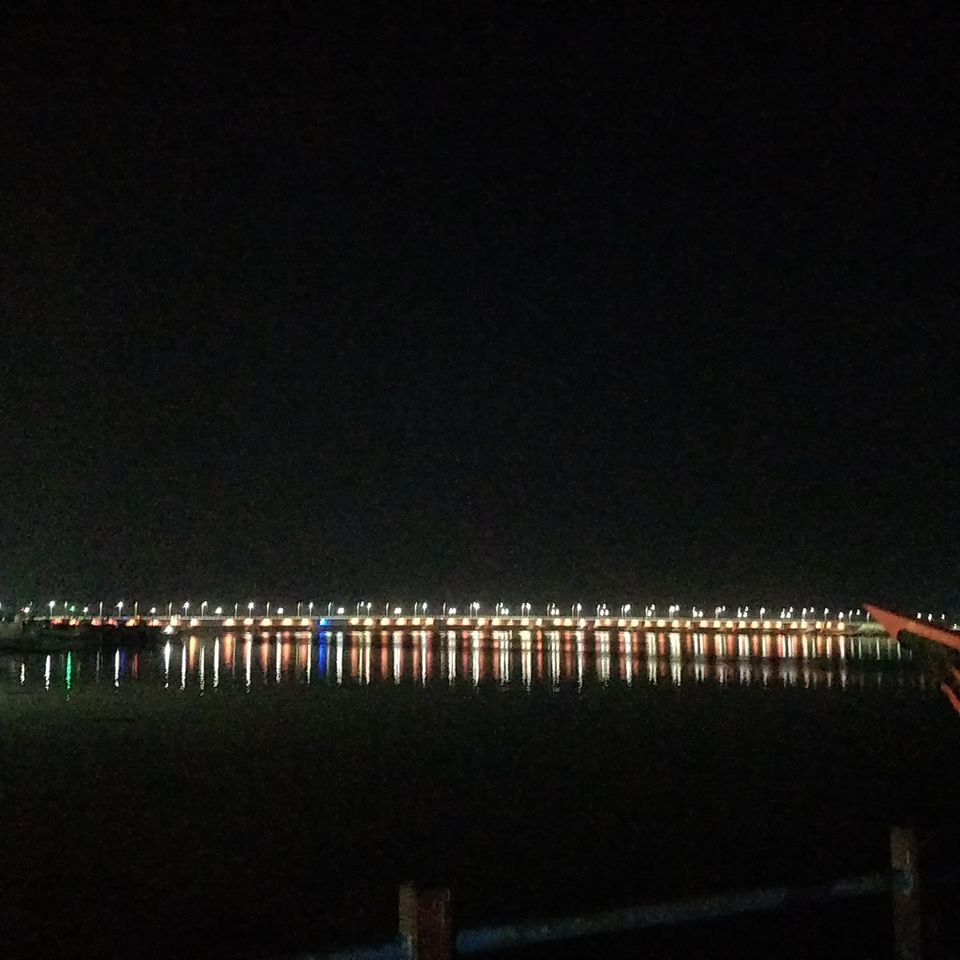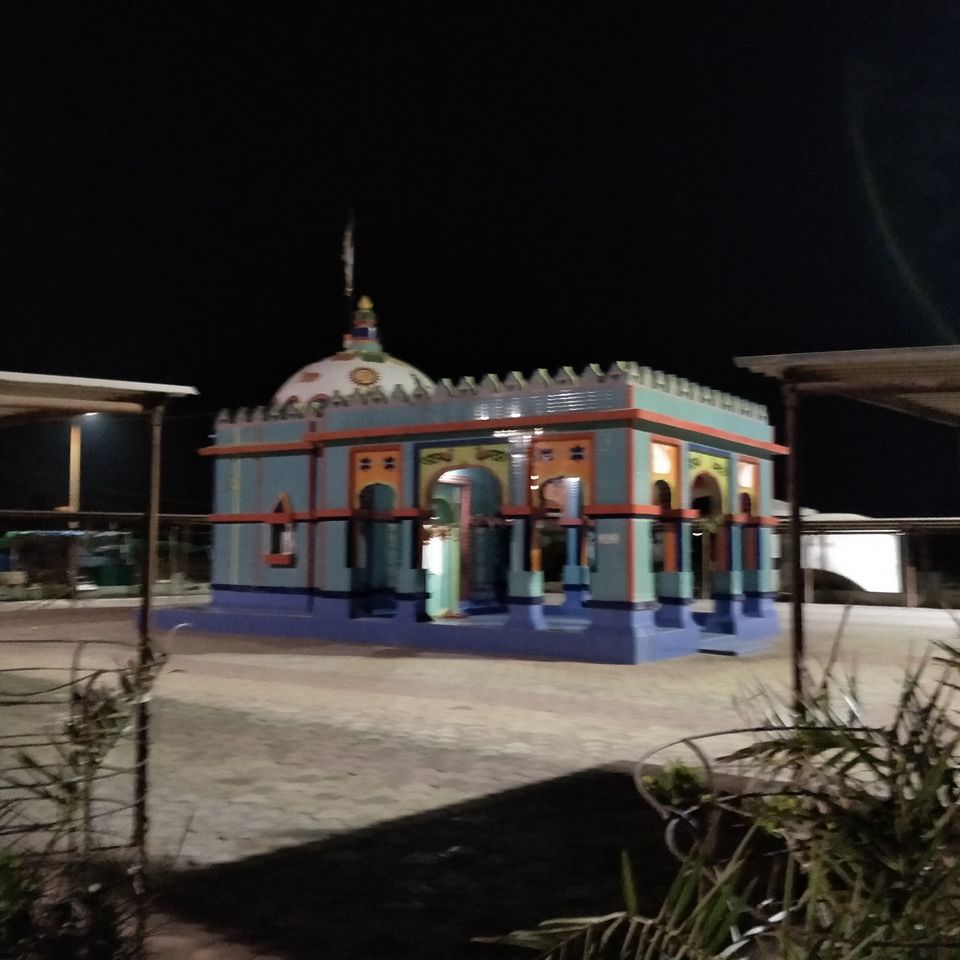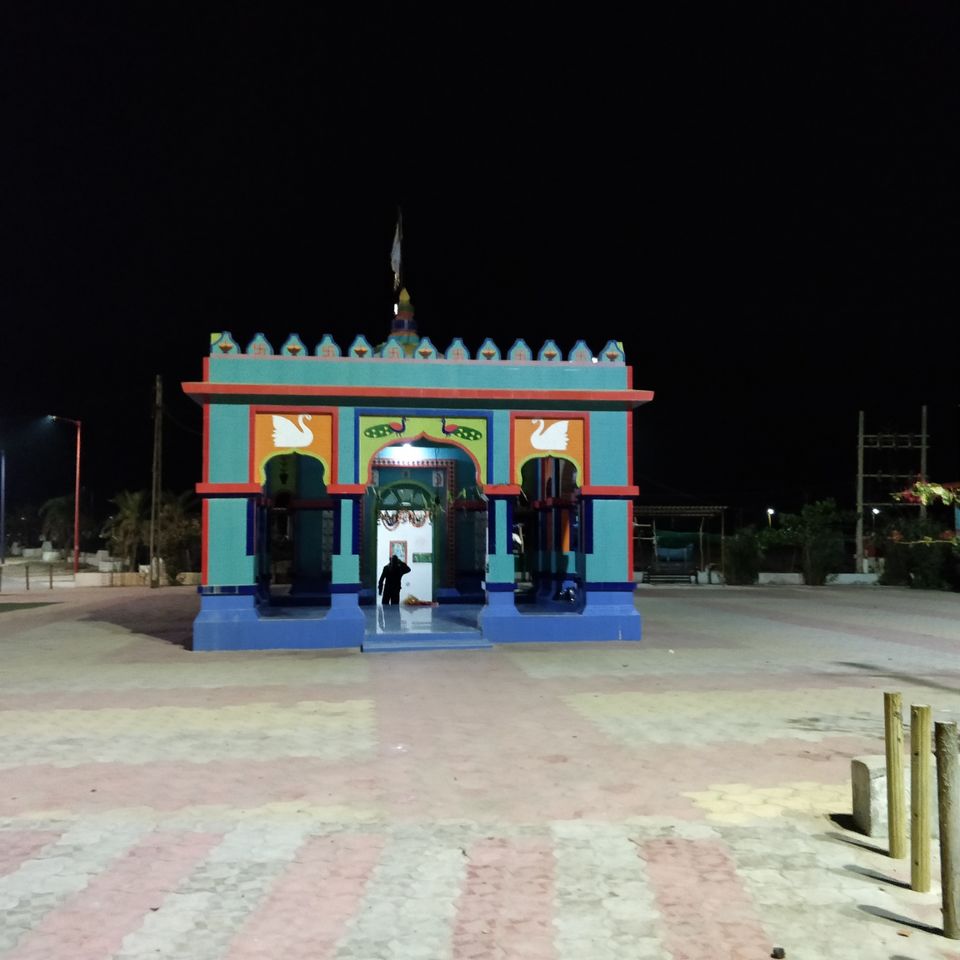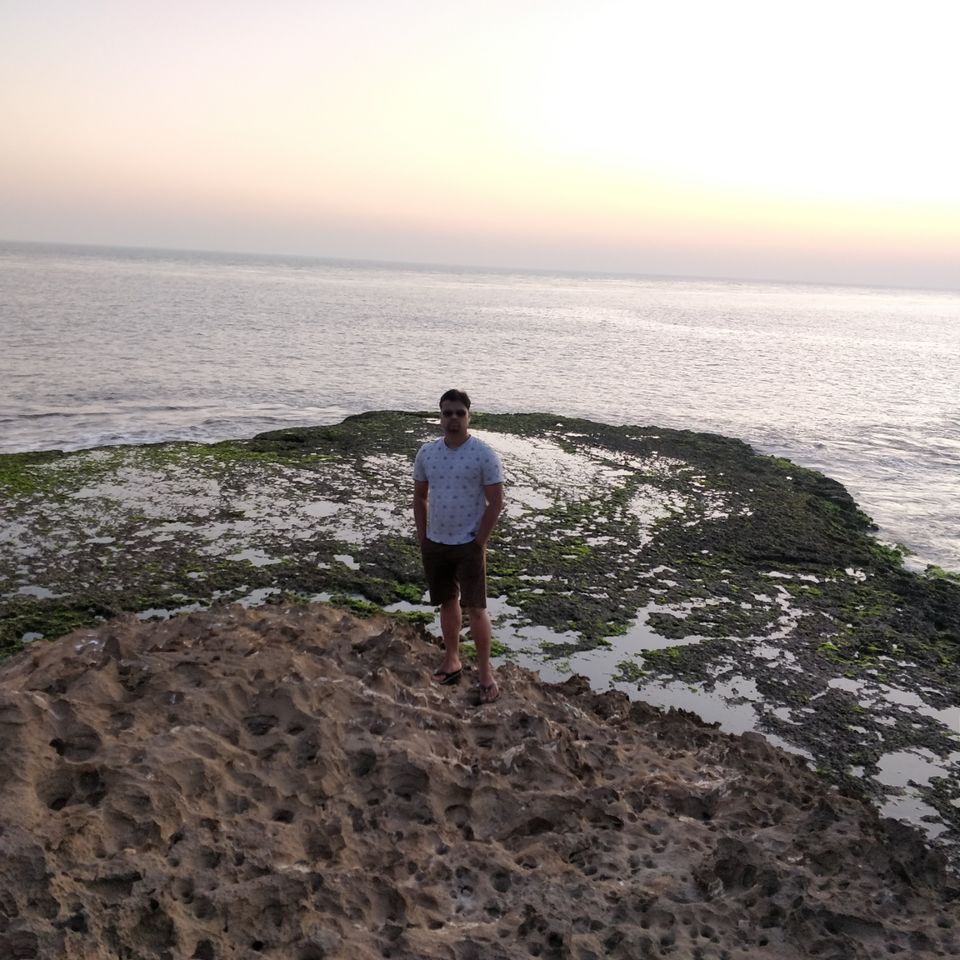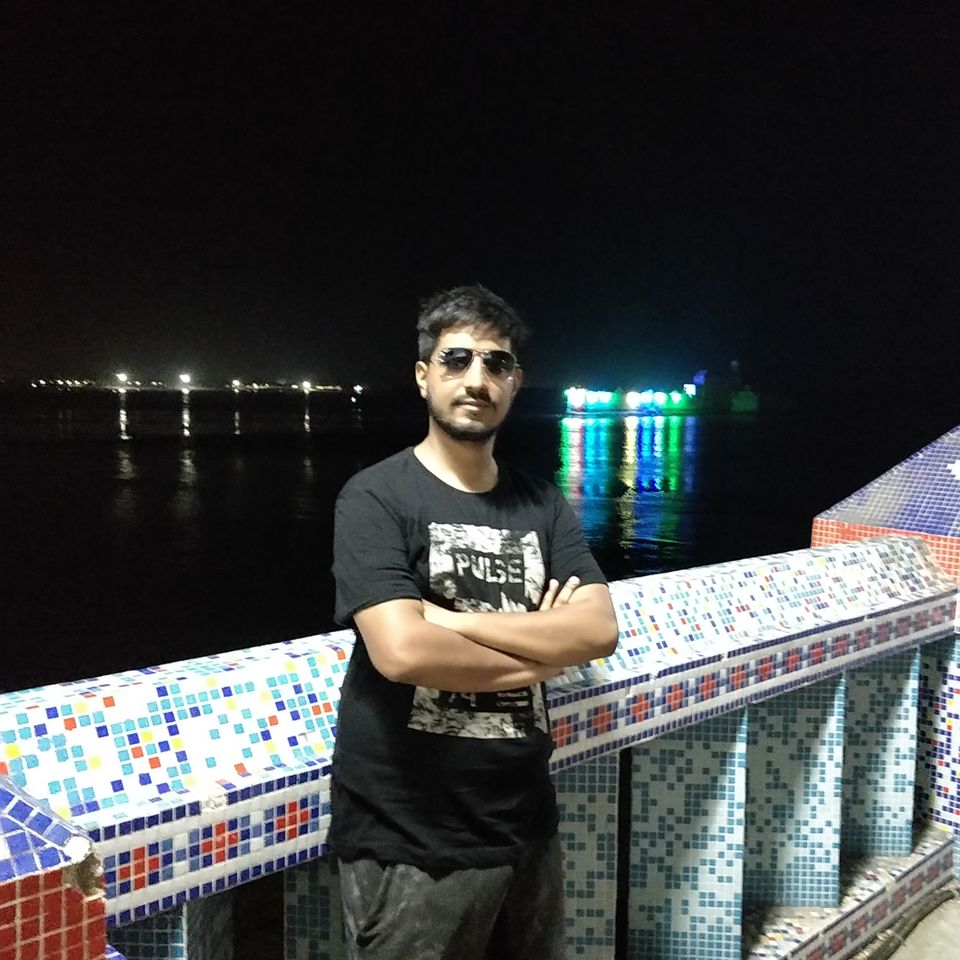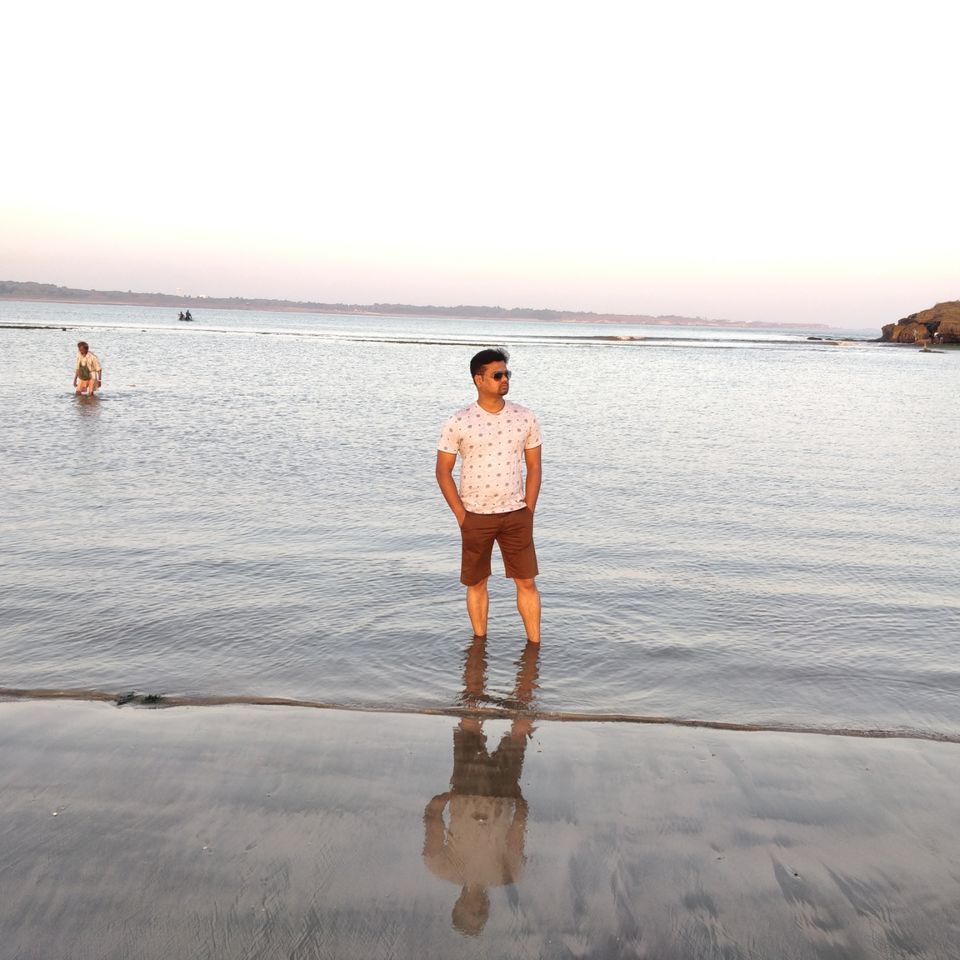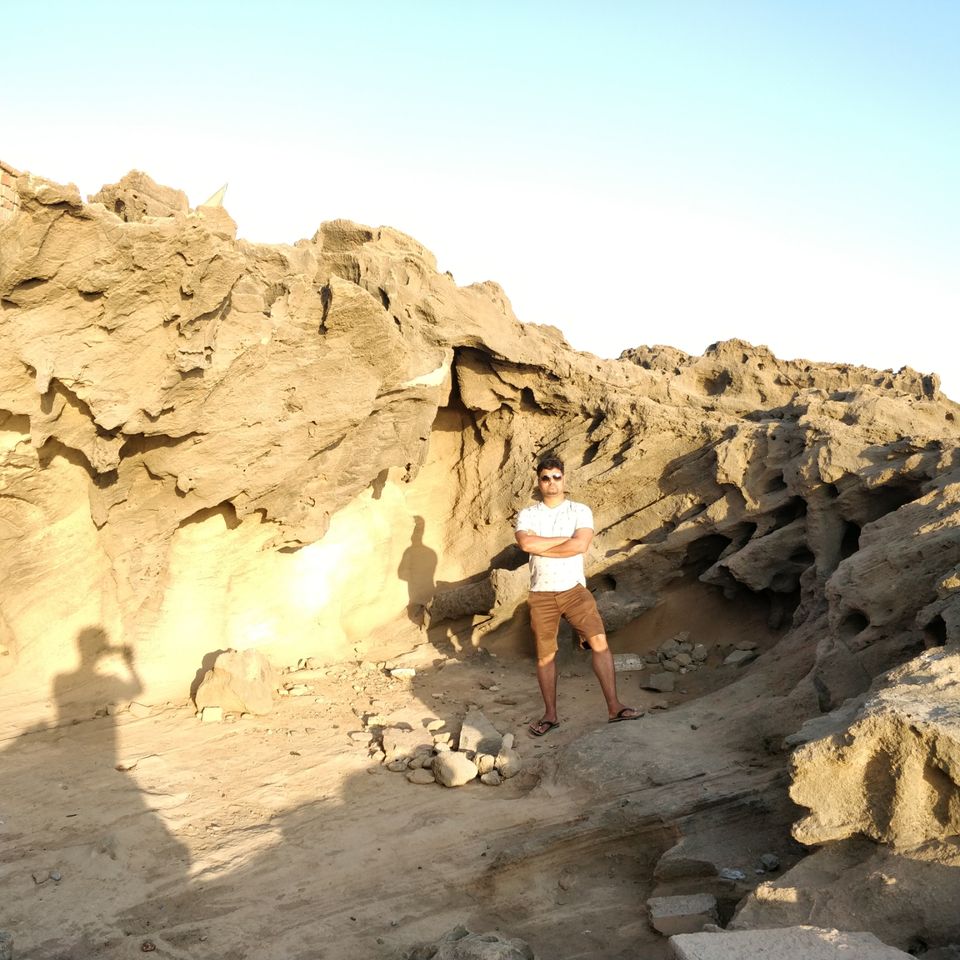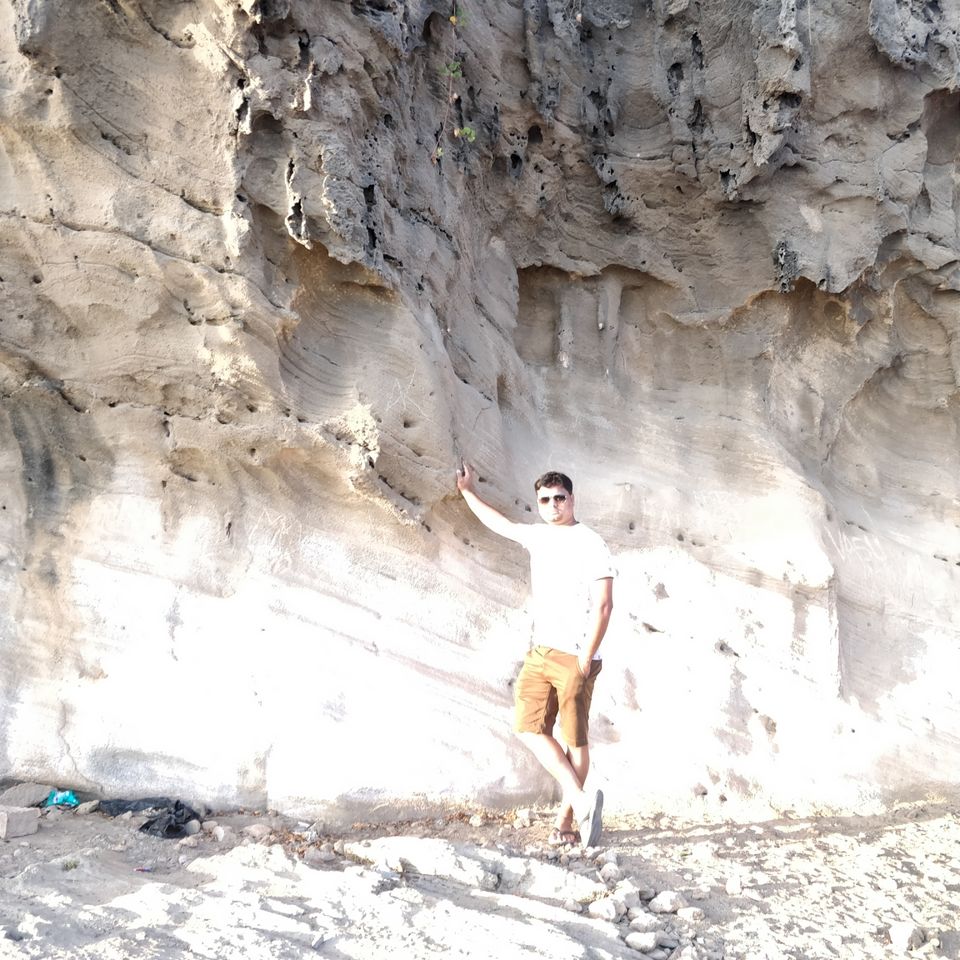 Next morning we woke up and took the bus to Somnath Ji. As we woke up late so we caught the bus to Somnath at around 10:30 and reached there at around 12:30. As soon as we set foot in Somnath an auto driver approached us and offered us to drop us to Somnath temple for a paltry amount of Rs. 10 as the place was close by. We refused and said that we could walk but he insisted so we hopped on to his auto. While chatting with him along the way he told us that best time to go to Somnath temple is in the morning and evening when aarti takes place. Since we had missed the morning aarti we decided to visit the temple in the evening at the time of aarti at 7 PM.
He told us that there are many beautiful places to see in Somnath where we could pass our time and have fun till 7 PM. He said that he could take us to all those places and drop us back to Somnath temple on time for a sum of Rs. 300.
Thus we began our Somnath explore. First, the elderly driver took us to a place where three Shiv Lings were beautifully places in the Arabian Sea. It was a real sight to behold. People were taking bath in the blue waters and then offering Jalabhishek to the Lord. A vendor was also selling shankh and other sea related artefacts to interested tourists. We also washed our hands and offered the jal to the Lord. We also close clicked some pics which were worth saving for a lifetime.
Then we went to Krishna Paidi. This was the place where Lord Krishna was hit by a poisonous arrow by a hunter. There is a beautiful temple and Krishna Ji statue in the temple depicting the incident.
From thereon we went to Gita Mandir. It is an extremely beautiful temple located on the banks of a beautiful river where there were many white birds. We did darshan of the Lord and then went to
Thereon we went to Pandava Cave, Surya Mandir and Shankaracharya Cave. These are revered temples. Out of all these Pandava Cave which is a temple of Hinglaj Mata is an extremely narrow cave where one has to slide on their backs to enter the shrine. It was really a great experience. We also went to a kund and then to Shankaracharya Cave where it is said that Shankaracharya Ji meditated for quite a while. We also had some real tasty coconut water and Mmalai for just Rs. 20 here.
Then we went to Sangam. It is a place where there rivers meet. It is full of natural beauty and birds. You can feed birds here and they will literally cover you from all sides asking for their share. At first one might get intimidated by their sharp beak but soon you will realize their friendly nature and soon would love feeding them over and over again. It is once in a lifetime experience. I enjoyed this very much. The place also offers some real picturesque sites for pics.
We also had ganne ka juice here which was very tasty and we relished it.
Then our auto driver left us at the doorstep of Somnath Mandir. We were very happy with the way he helped us utilise our time so we paid him Rs. 400. He was also quite happy and gave us his phone number and asked us to contact him if ever we come again to Somnath.
We had lunch at a restaurant near Somnath. Unlimited Gujarati thali was served to is for Rs. 80. We had our heartful and then went to the beach beside Somnath for passing time till it is 7.
But the view that welcomed us was truly a sight to behold. The sea was clear navy blue with wild waves beating the shore's white sand line. Absence of any land nearby gave the sea a truly majestic look. One can see the sea rise due to curve of the Earth's surface and meet the sky at the horizon. We enjoyed camel ride and when the camel owner made it run then it was a true bumpy ride which had us burst out laughing in fun and joy. Other rides offered here were horse ride, dirt bike ride and some tourists were even seen parasailing on the beach with the sail tied to a jeep. We also took some stunning photographs of the sun seting beyond the sea. After it was time we went to the temple for the darshan and aarti.
Somnath is a beautifully managed temple. The temple is located at an amazing location. Just after entering the premises one can feel the presence of an overwhelming superpower. The view of the sky when the sun sets with almost all the colours of the rainbow on full display is a view that can only be captured in mind as cameras are not allowed in the campus. The aarti was truly heavenly and it was a surreal experience. After the aarti we also did darshan of the Purana Somnath Mandir and Shivling. Then we went to have dinner and did some shopping in the mall close to the Mandir. We bought some panchdhaatu ki moorti and some other authentic stuff.
Our bus was to be boarded from a stop around 500 metres from the temple. We bought some juice and chewing gum for the journey and boarded the bus at around 10:30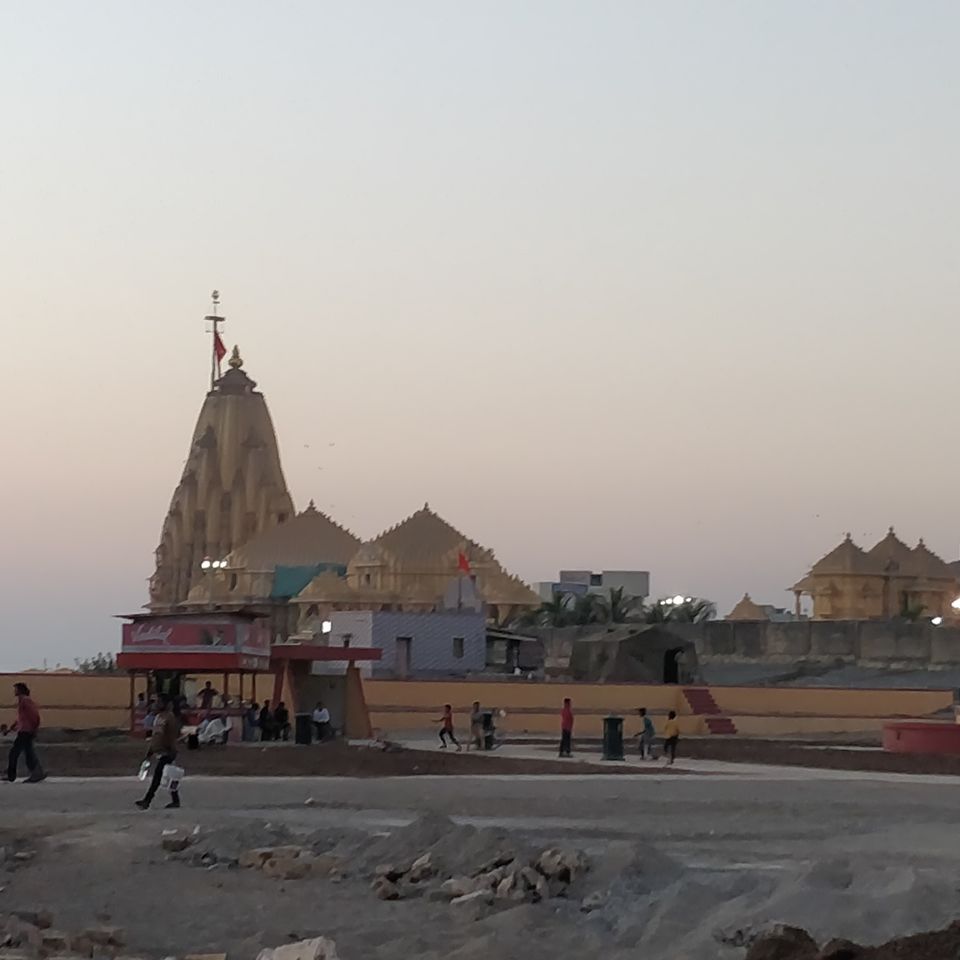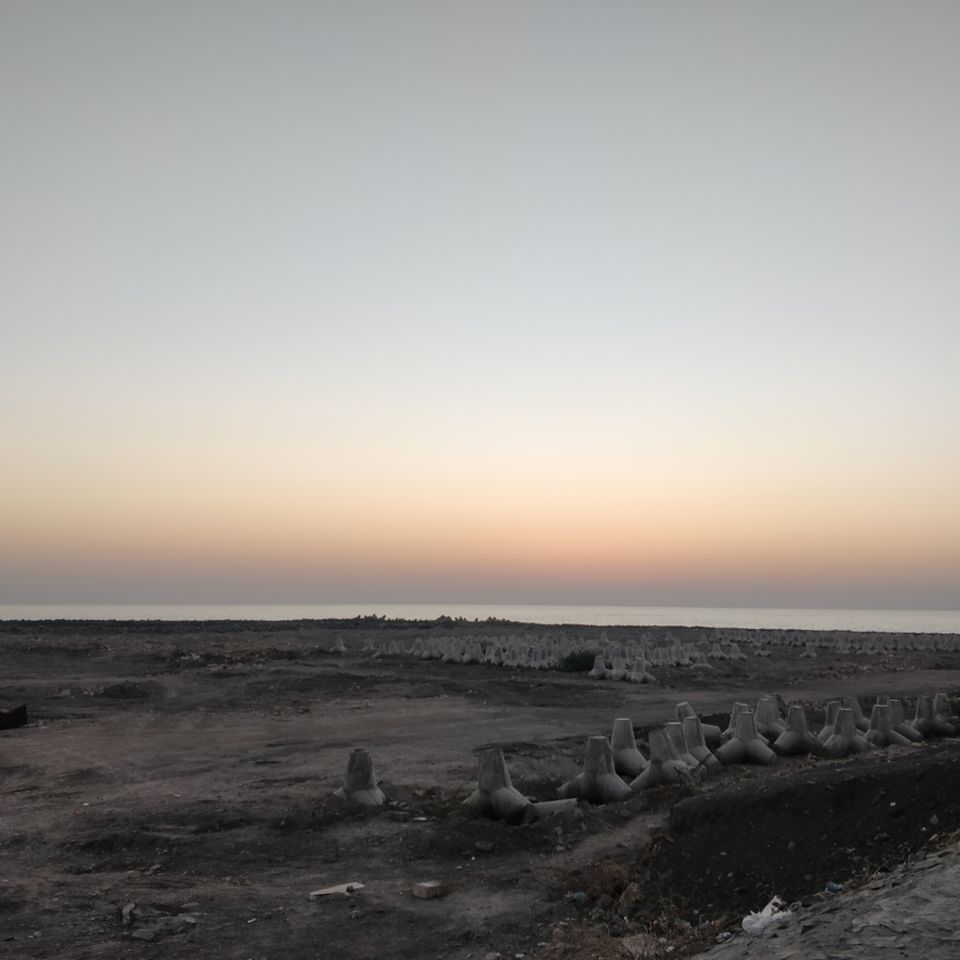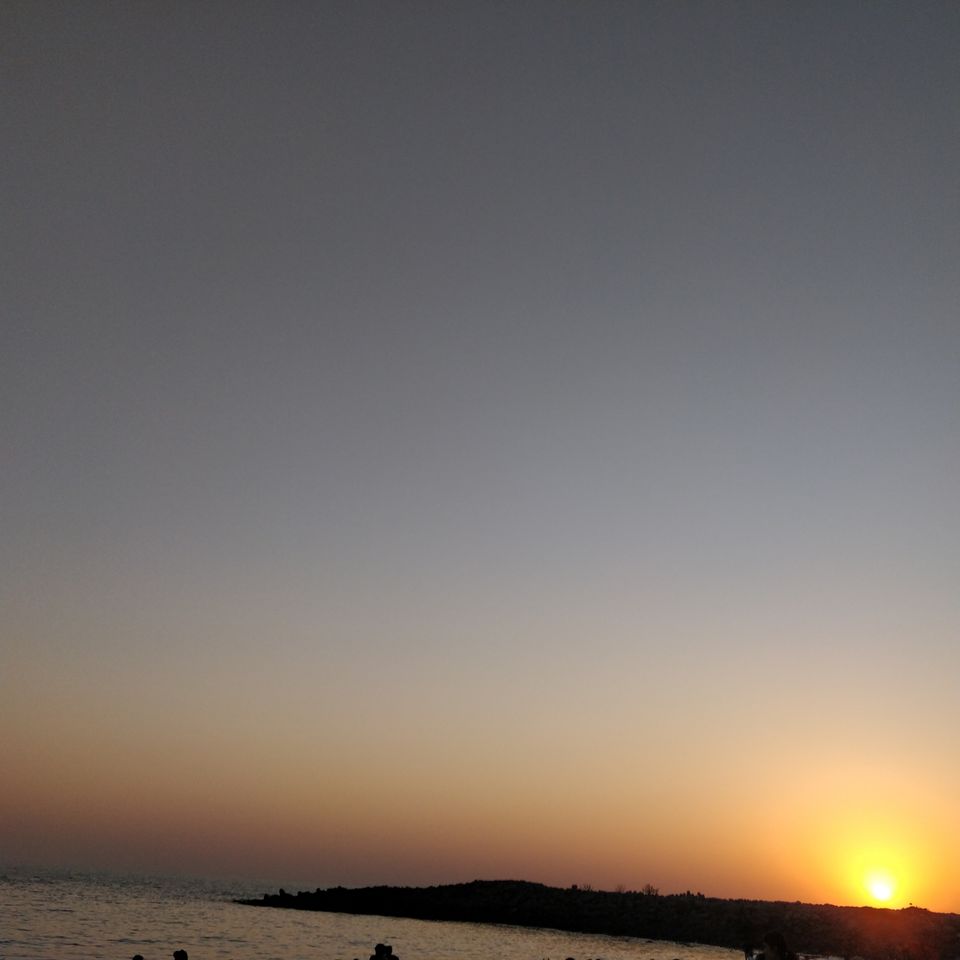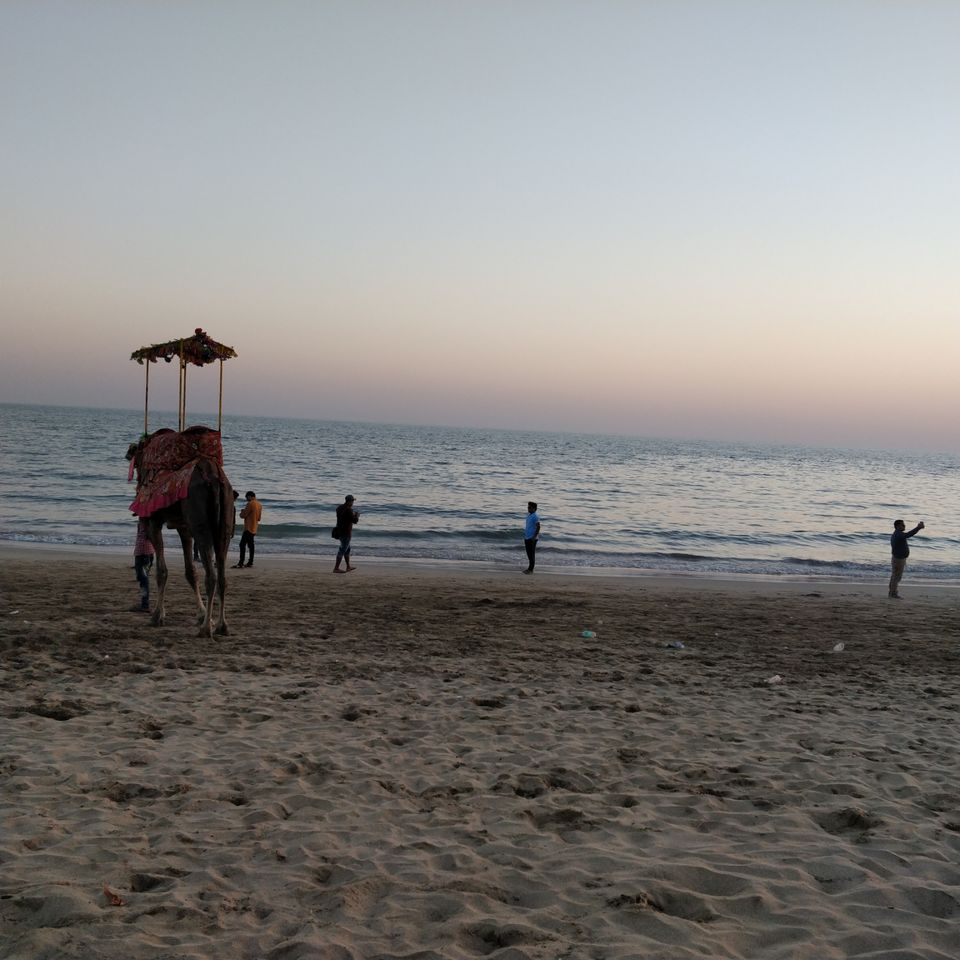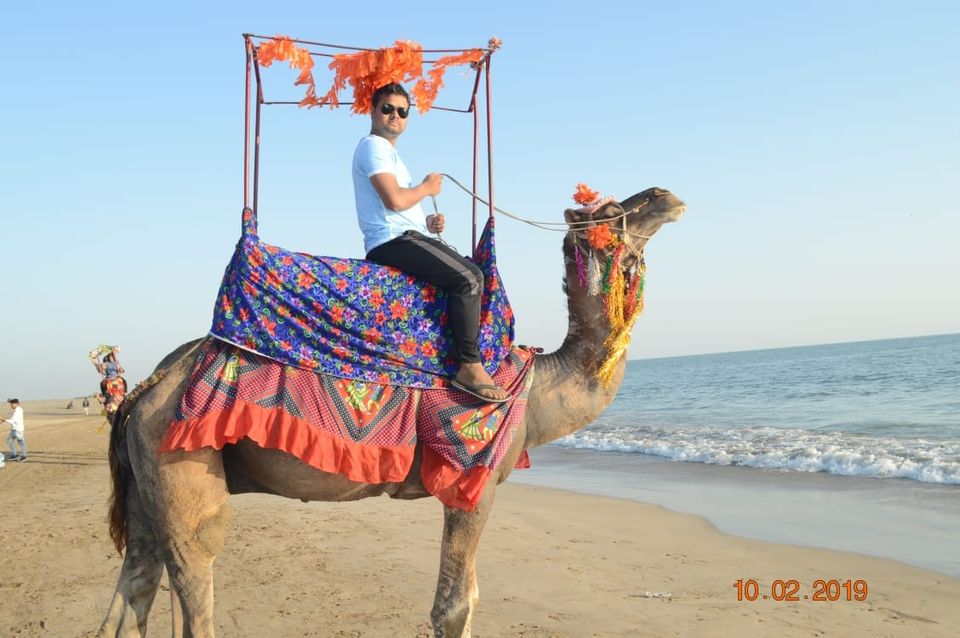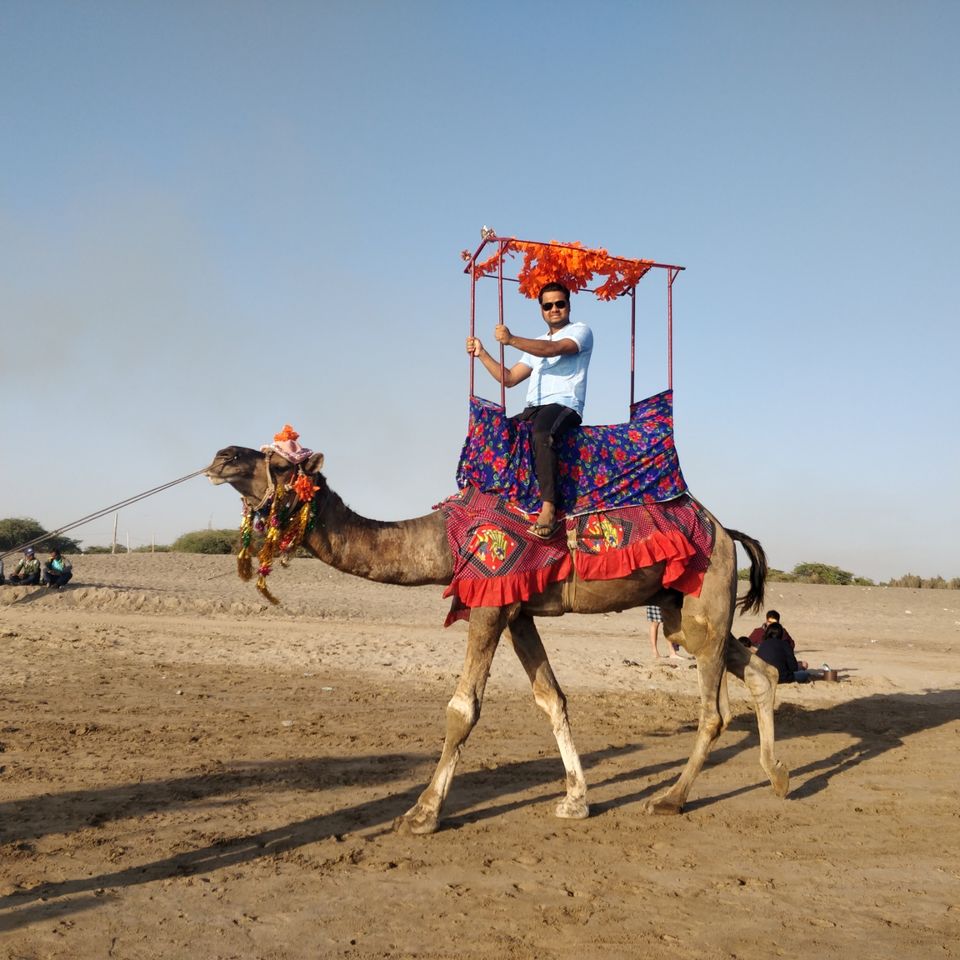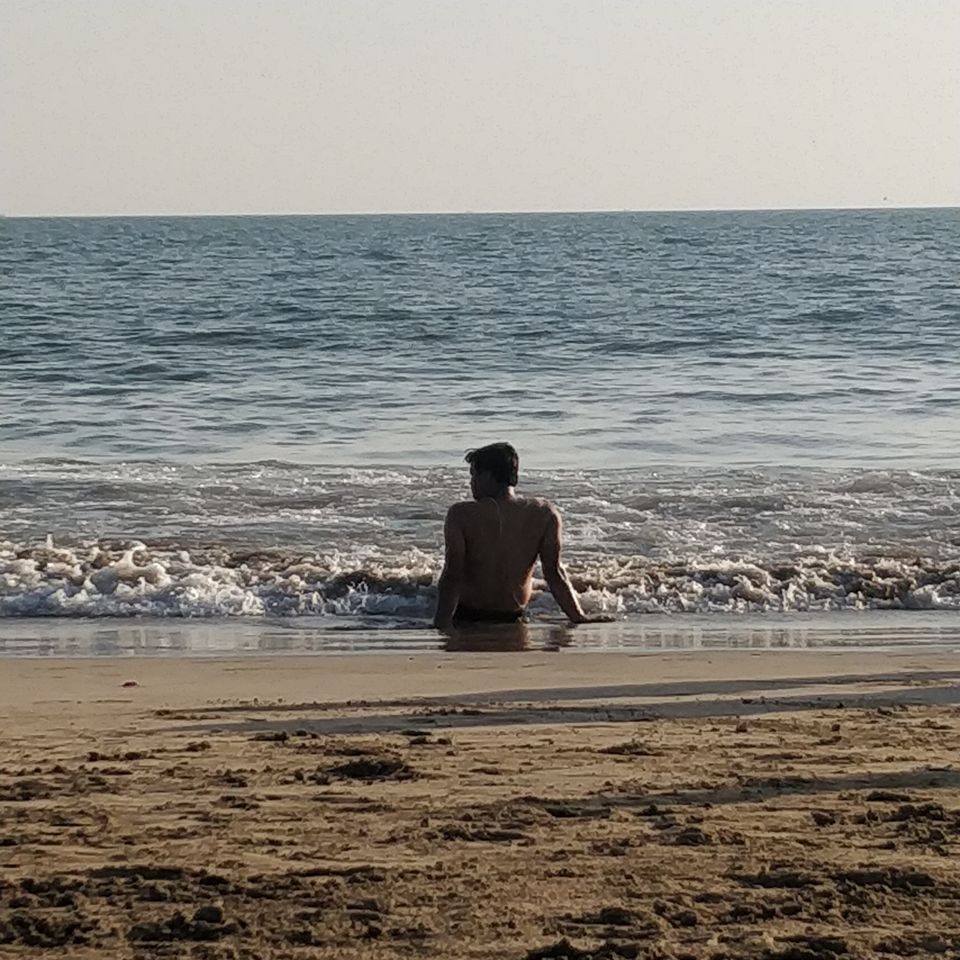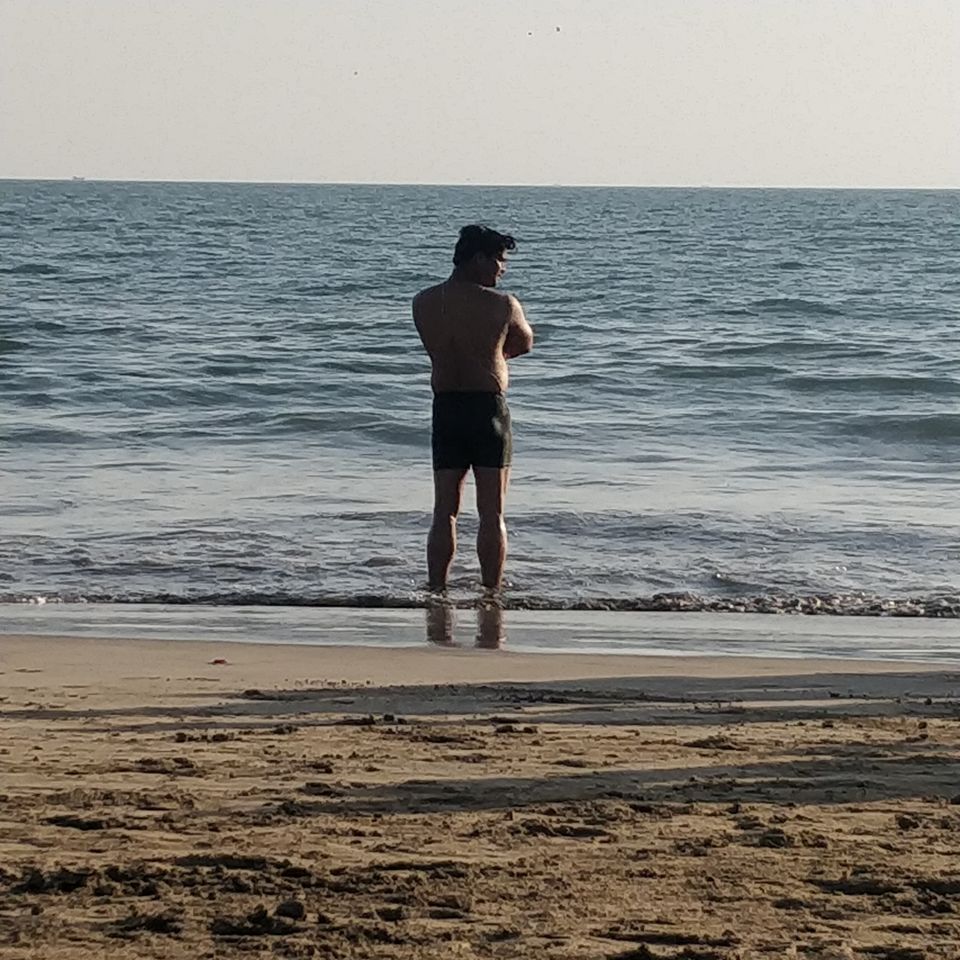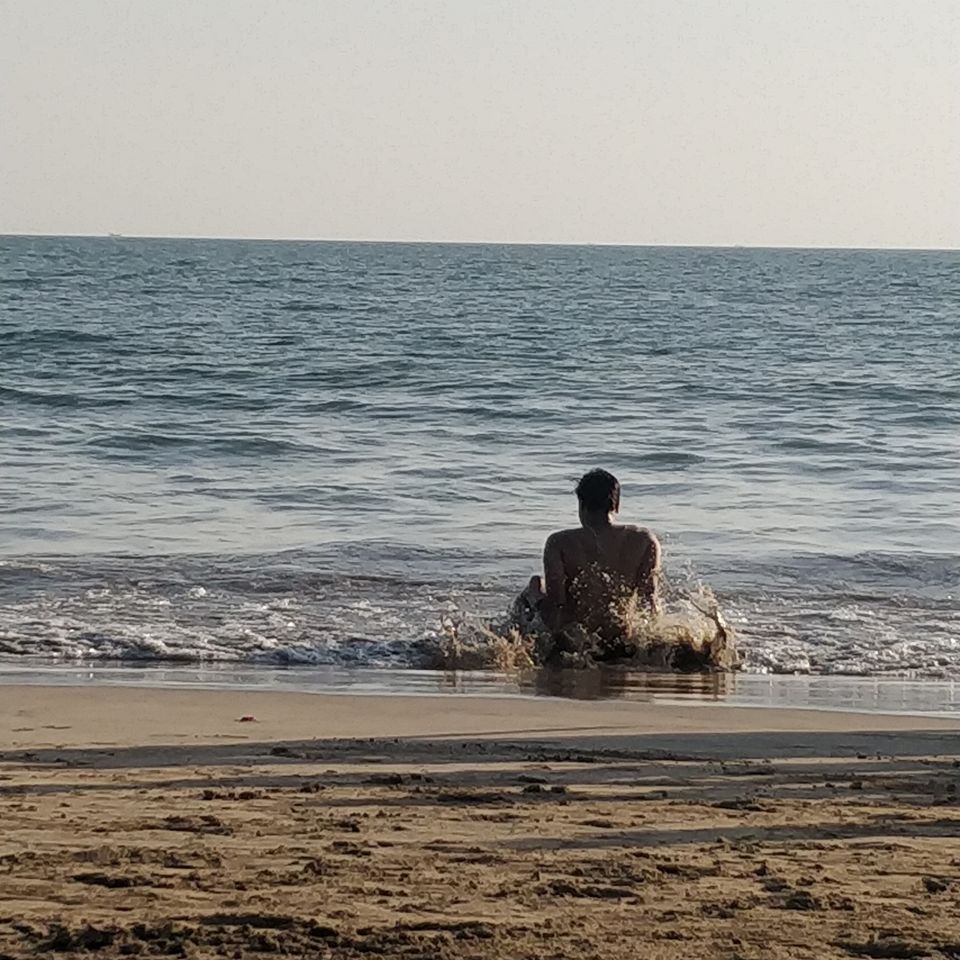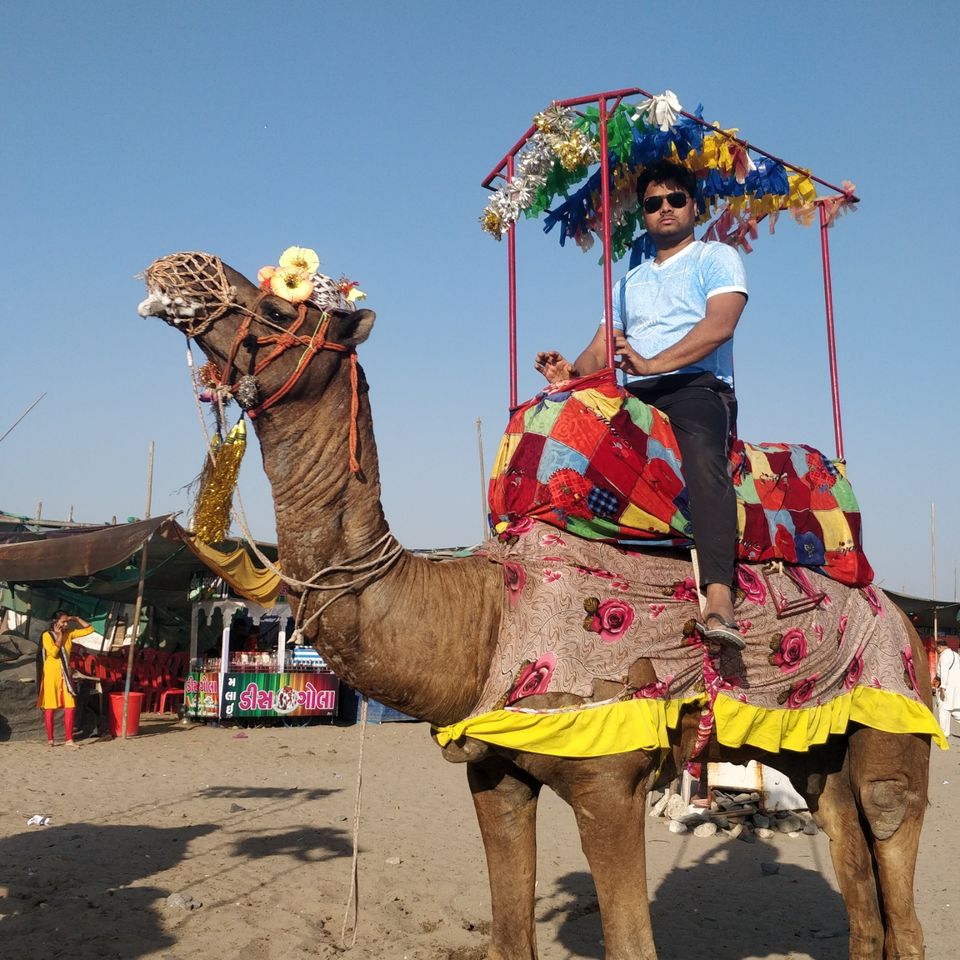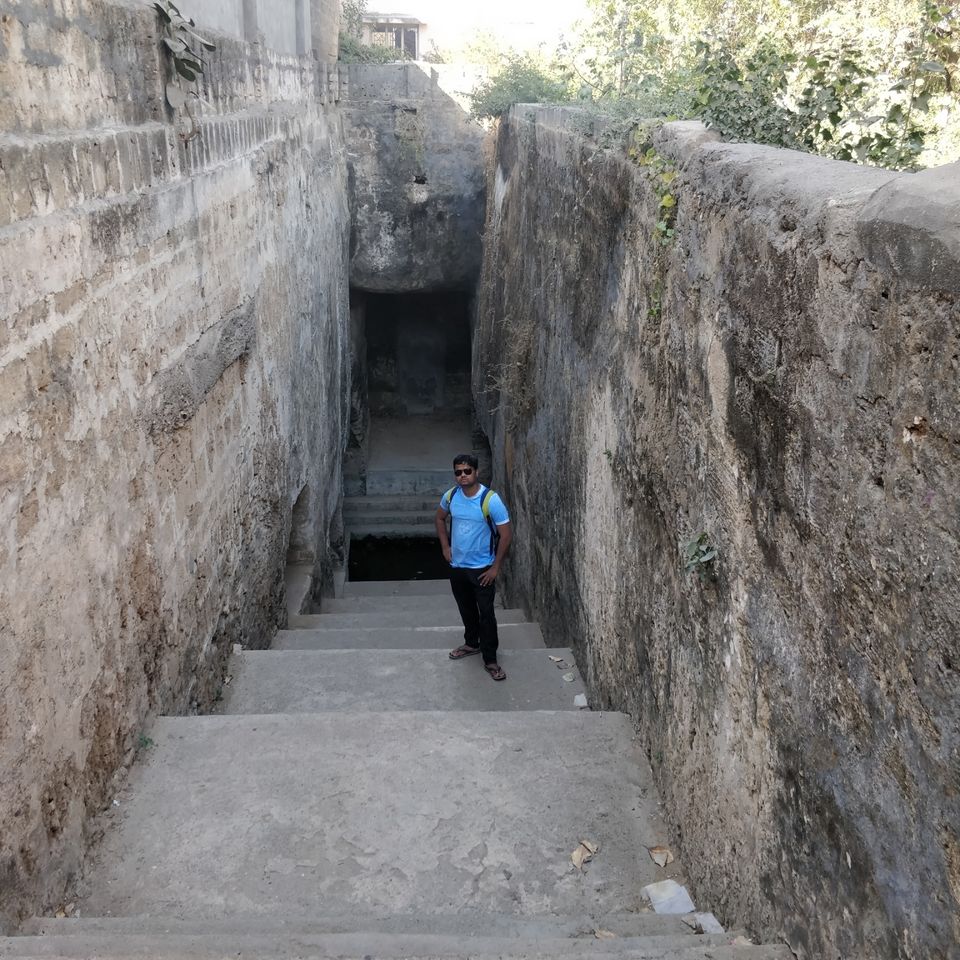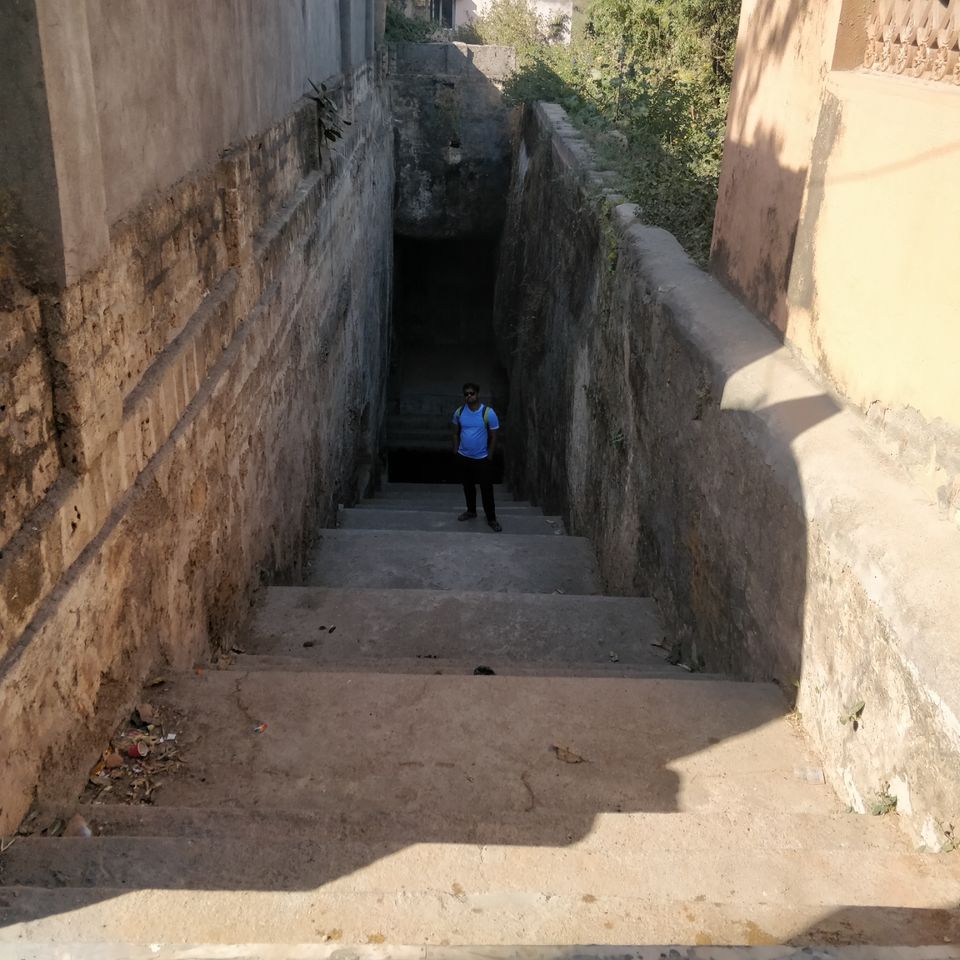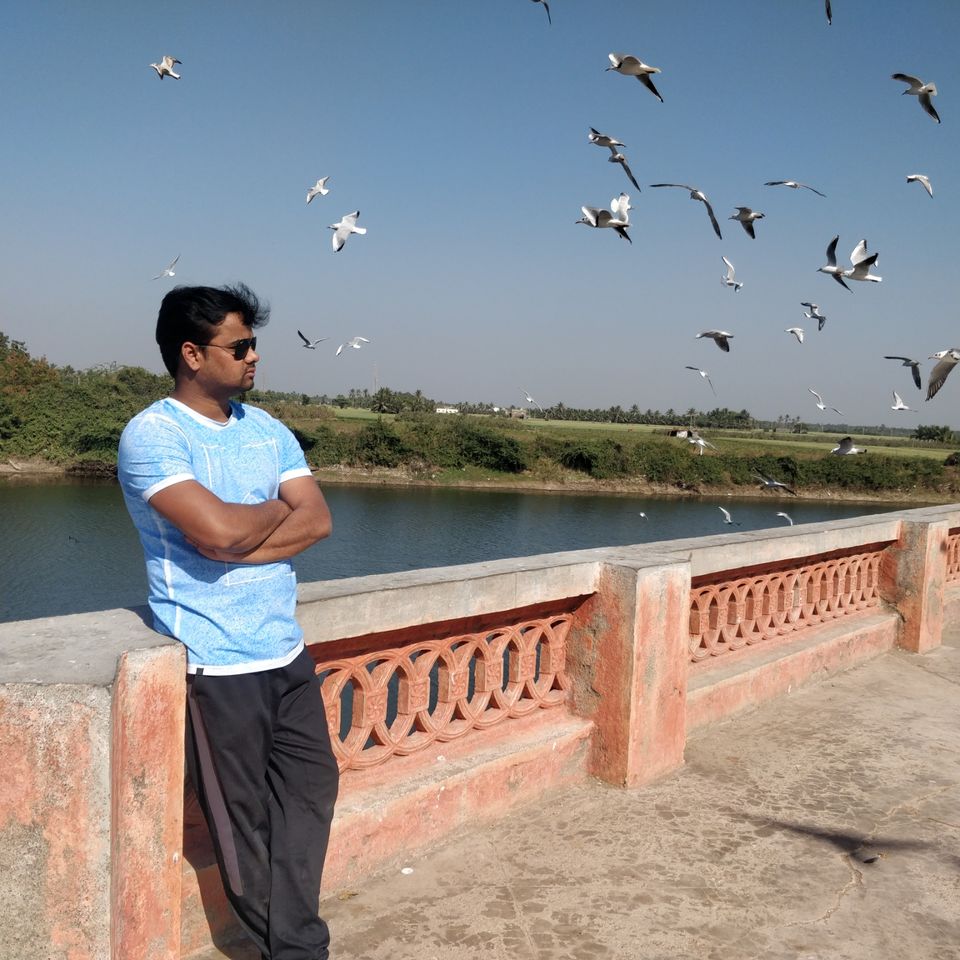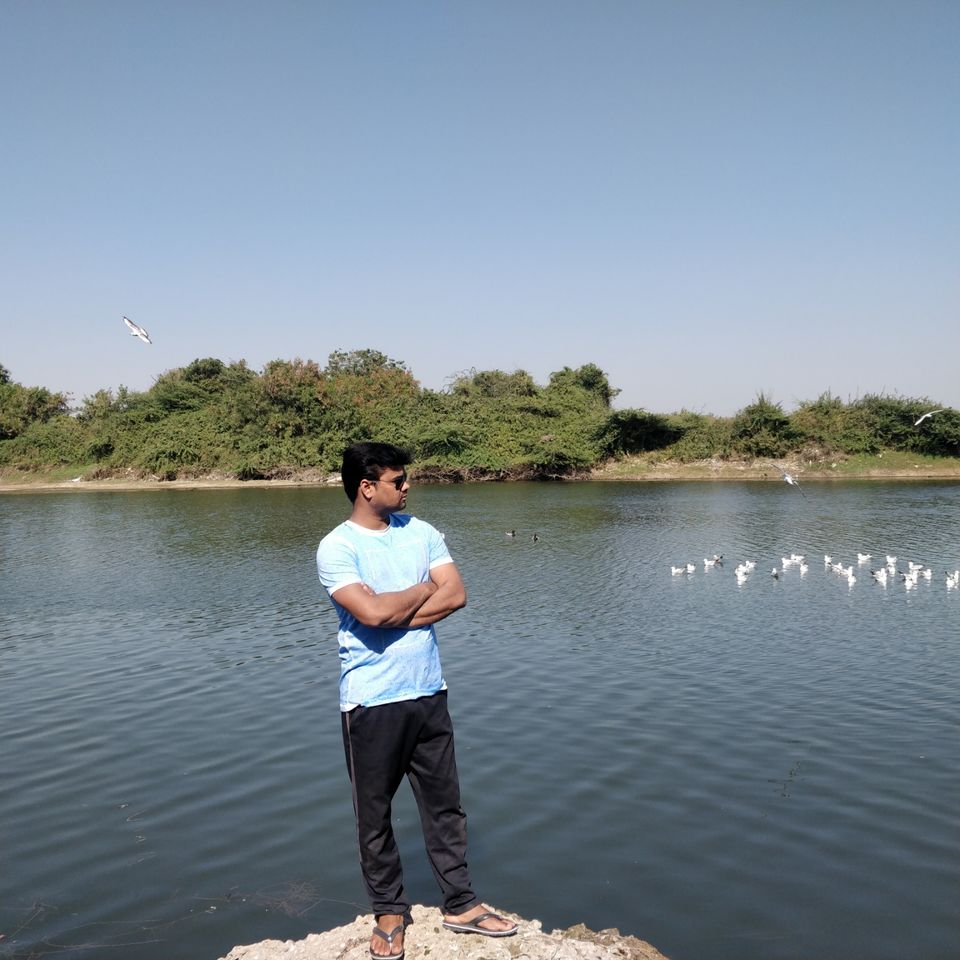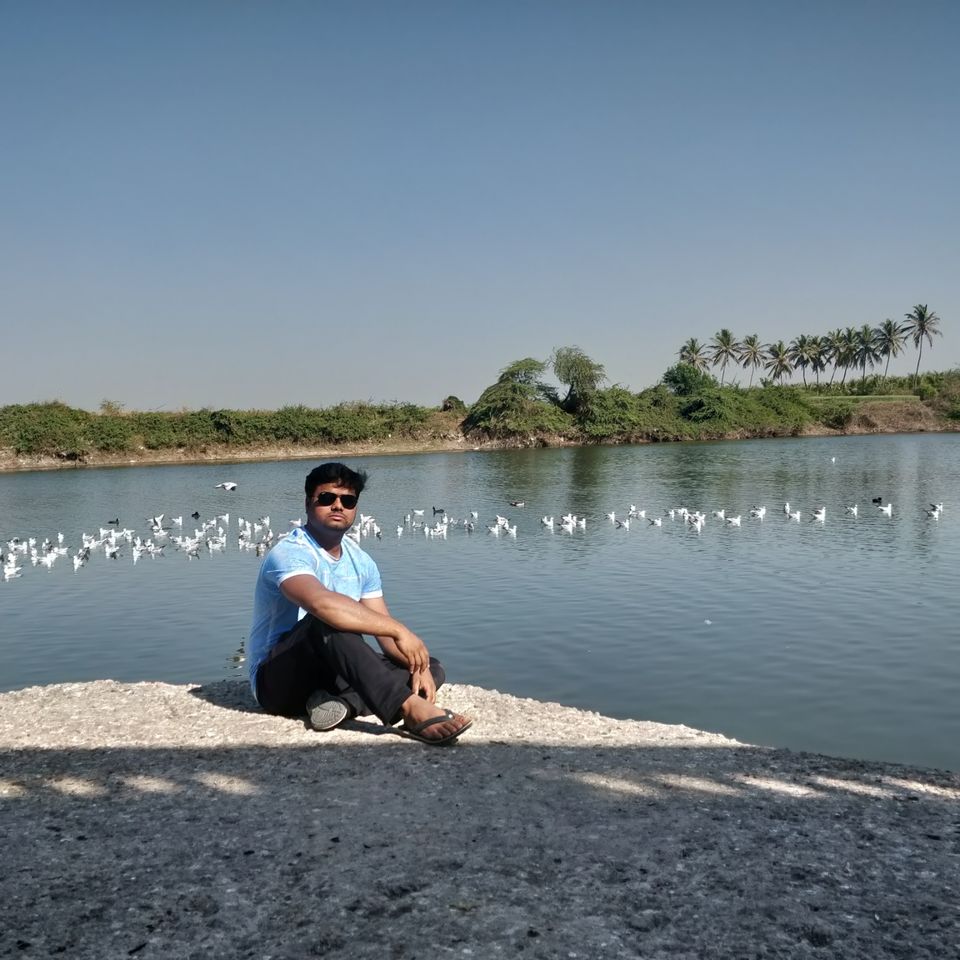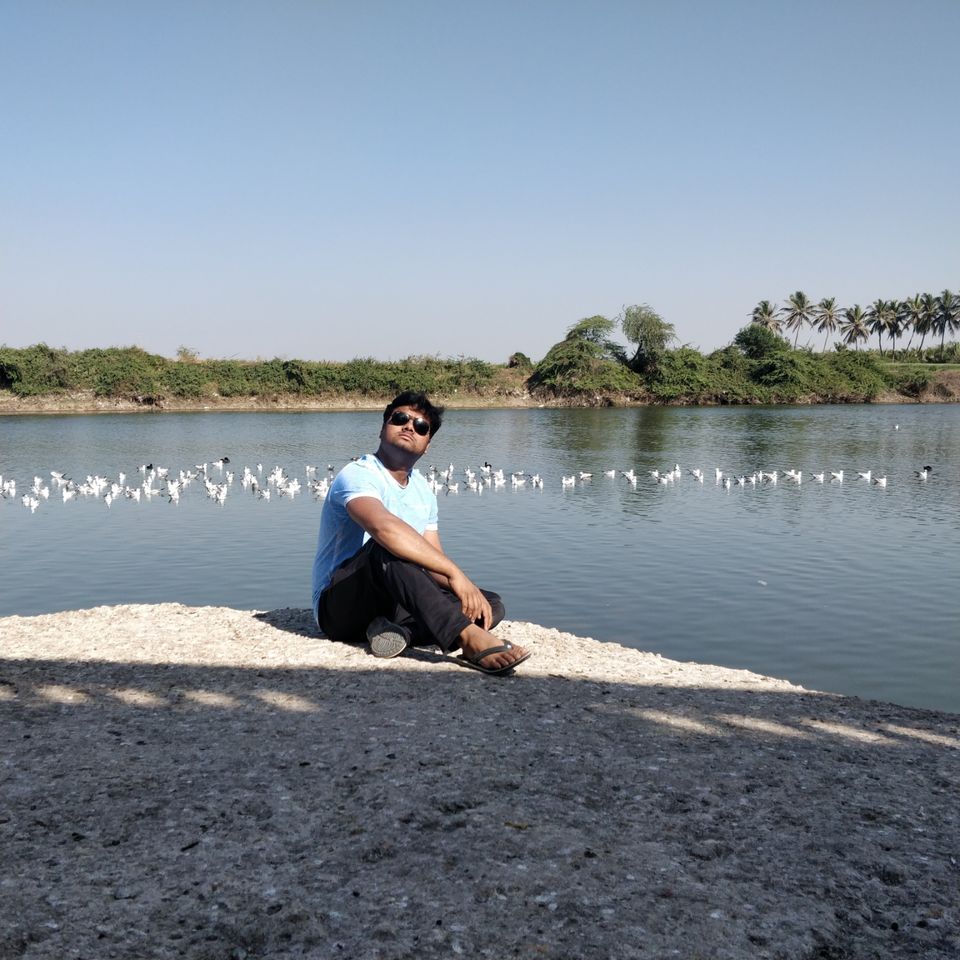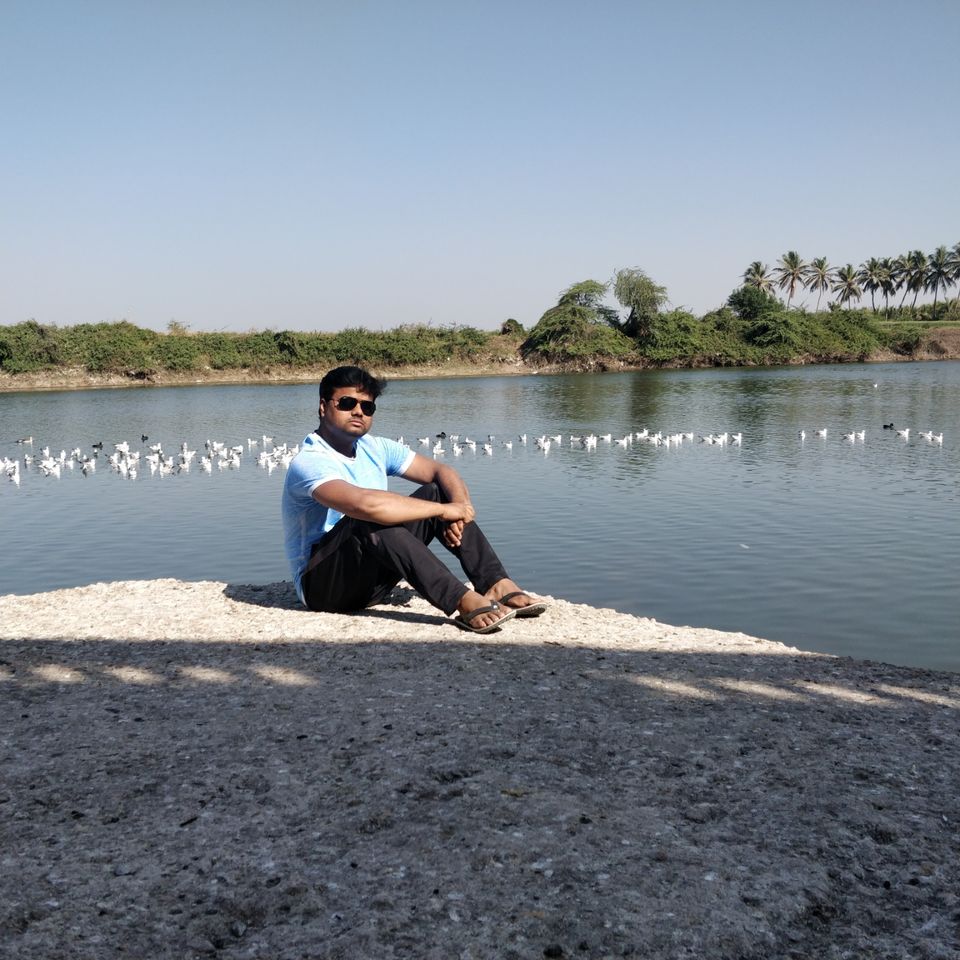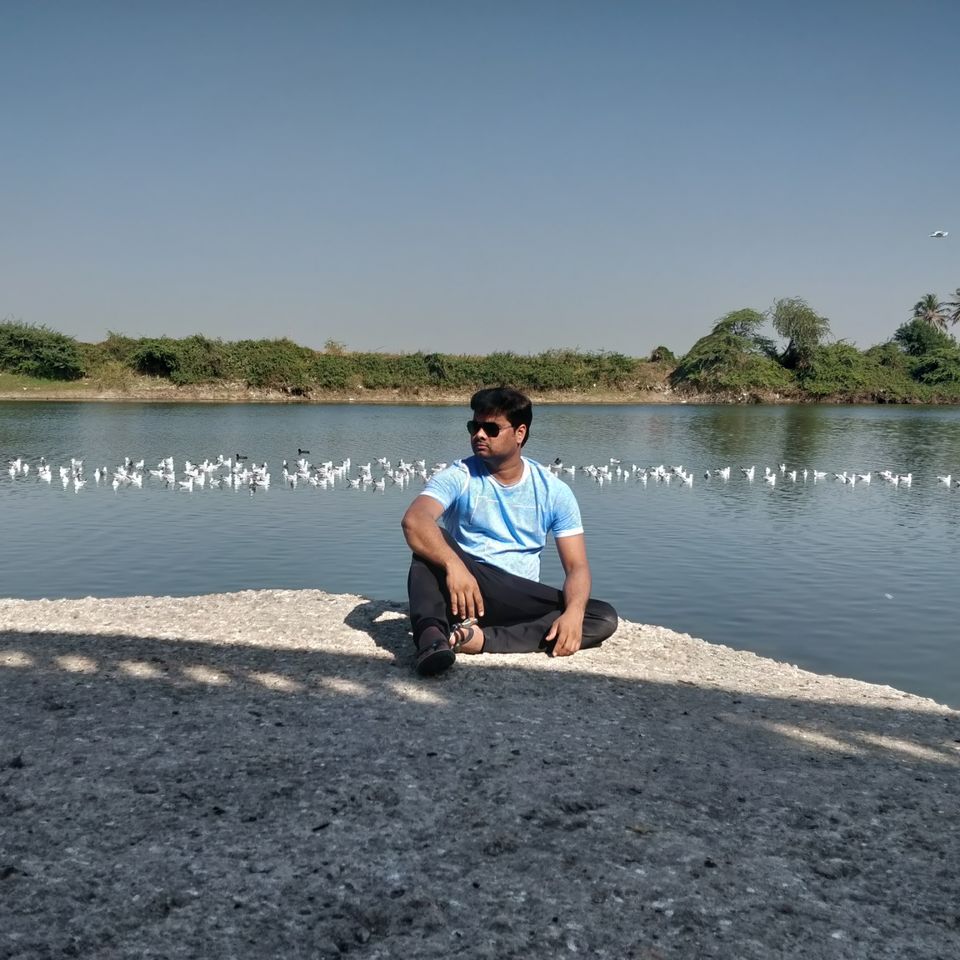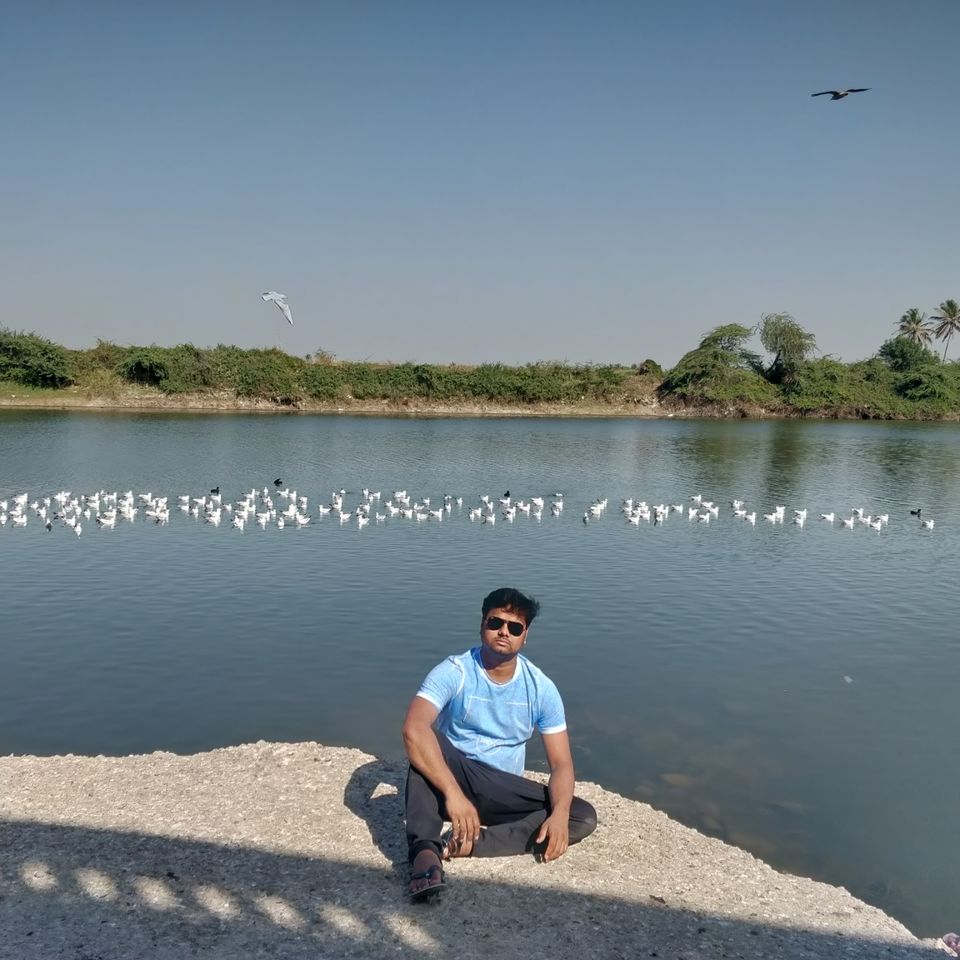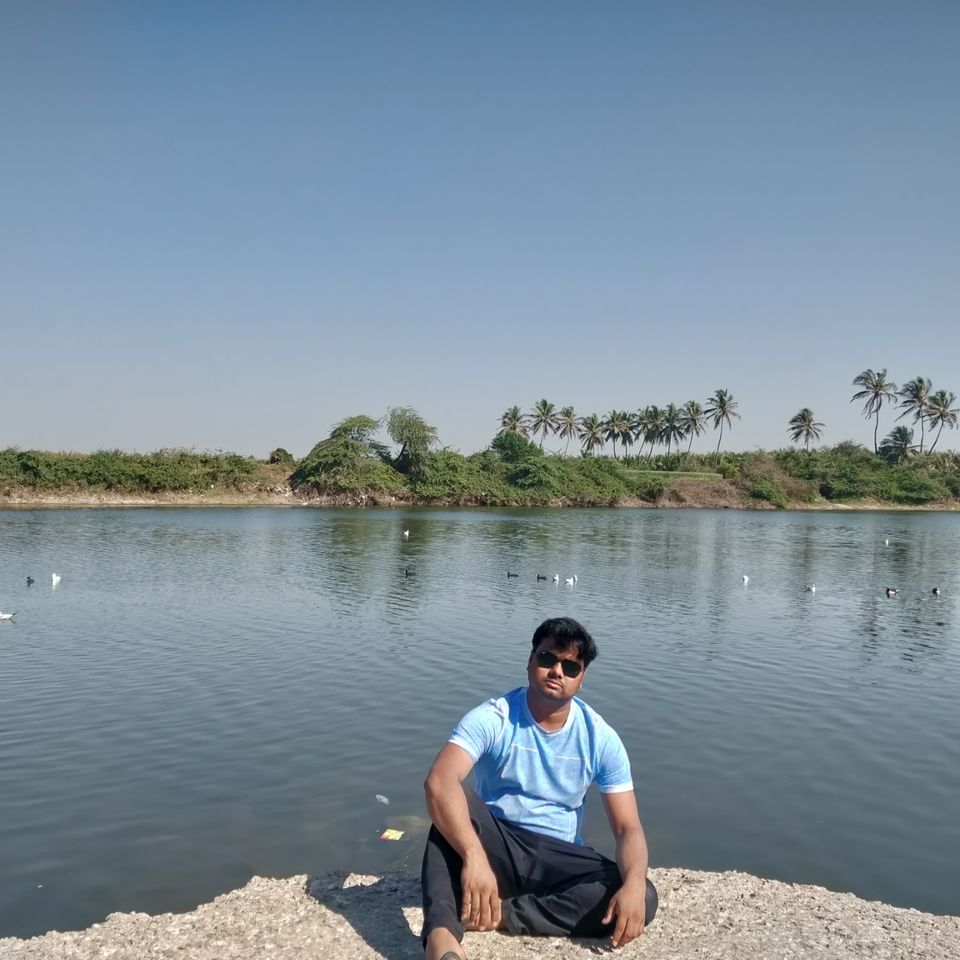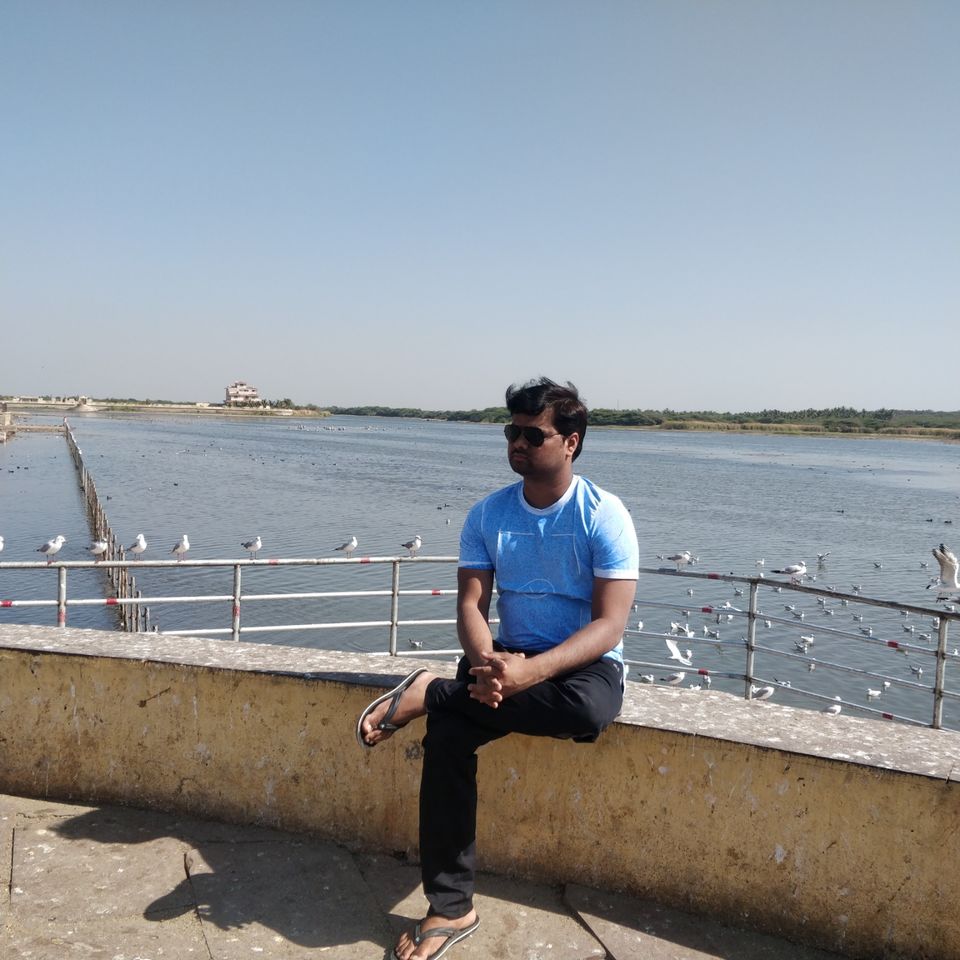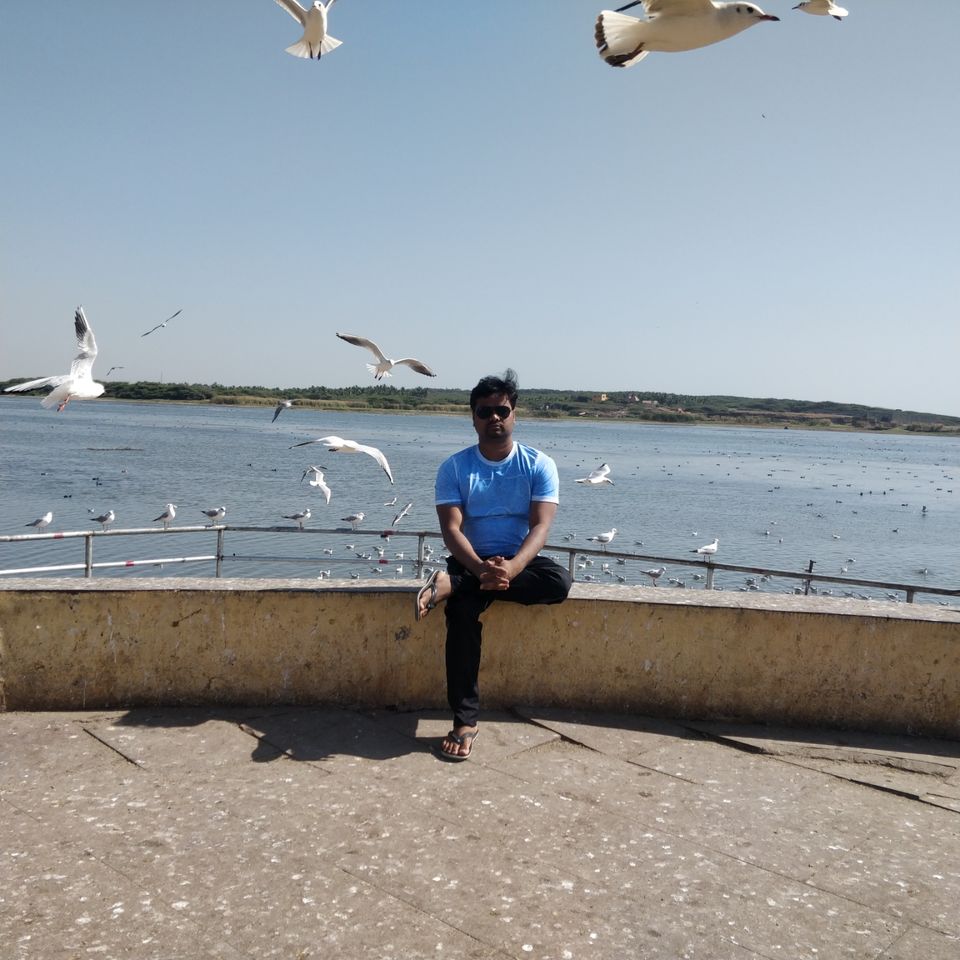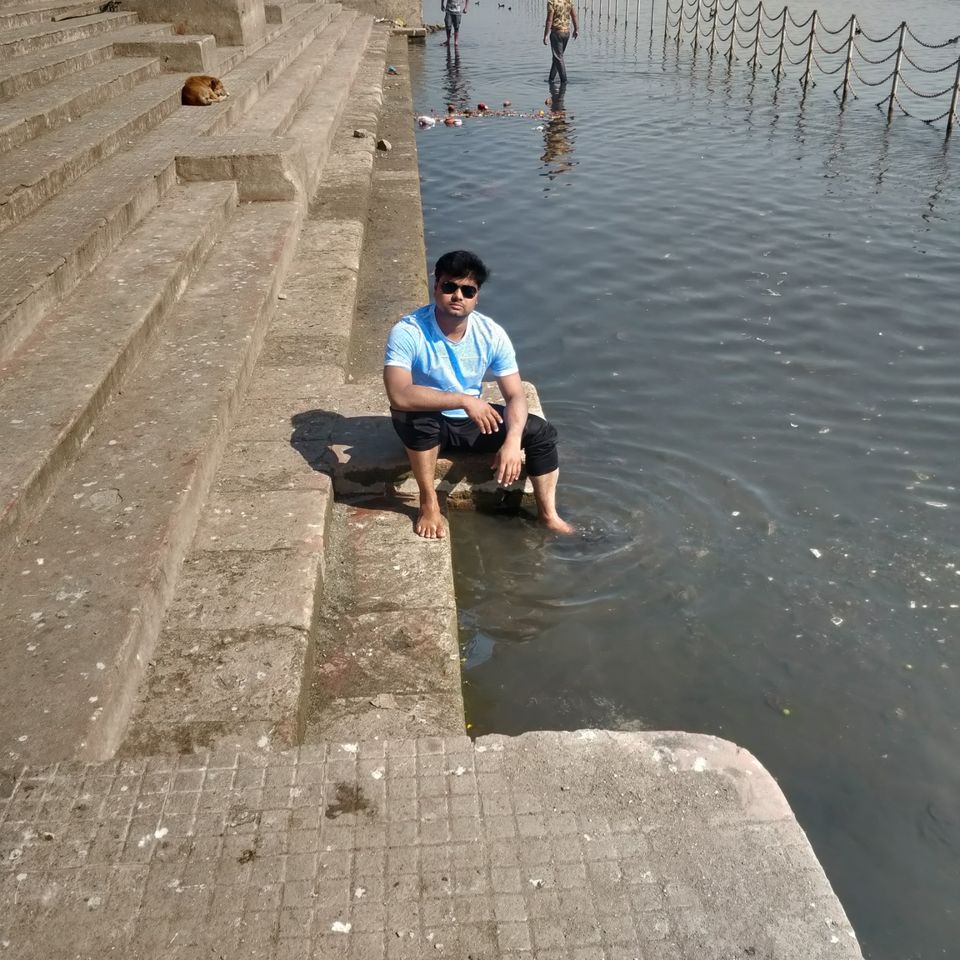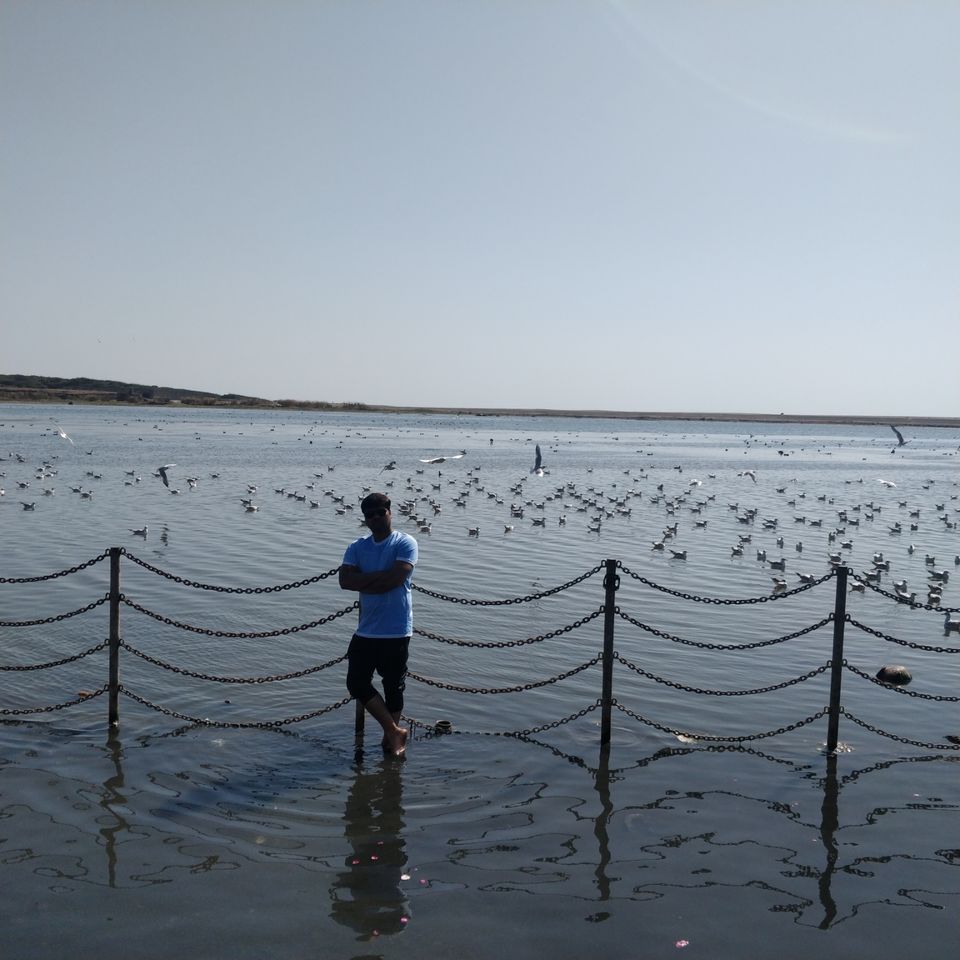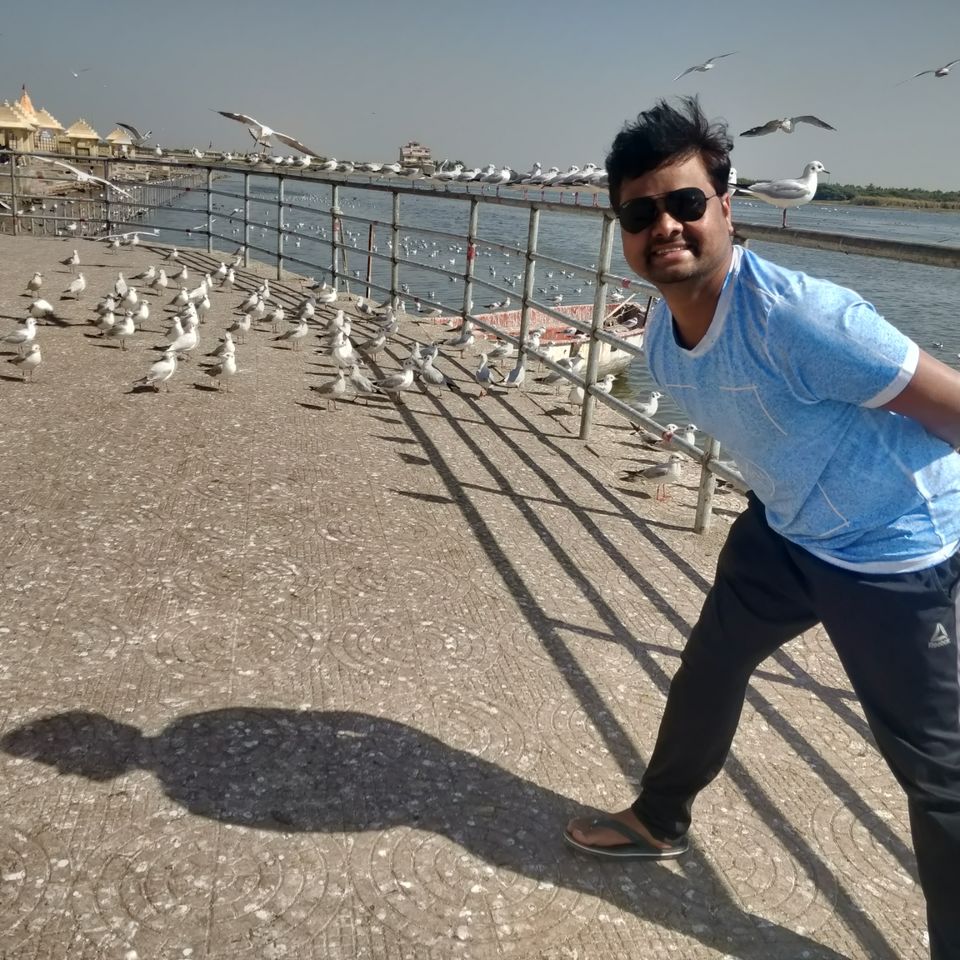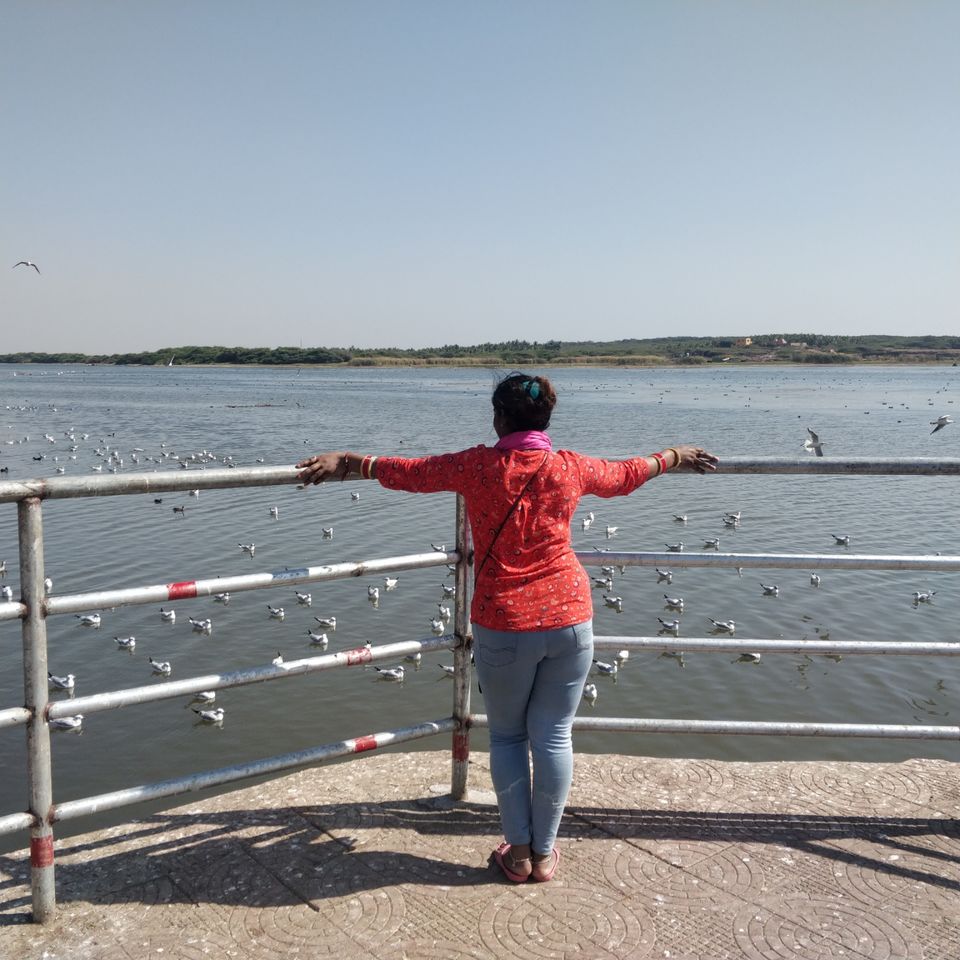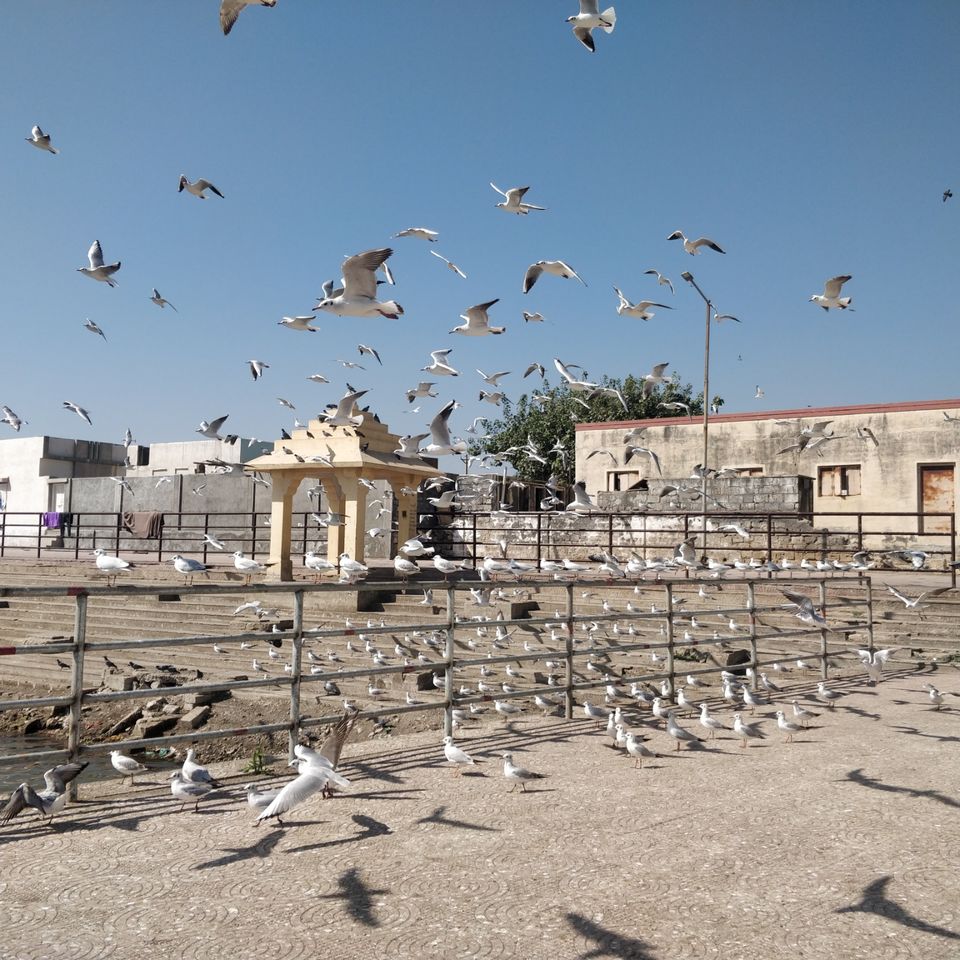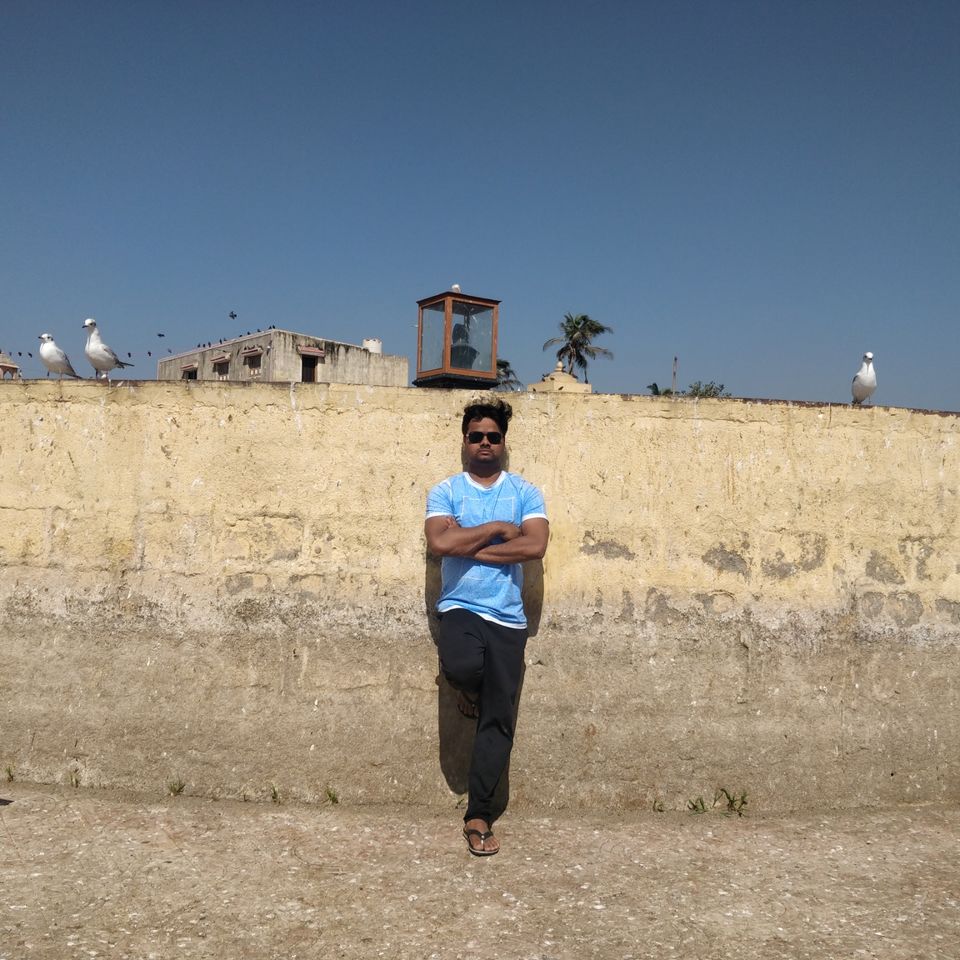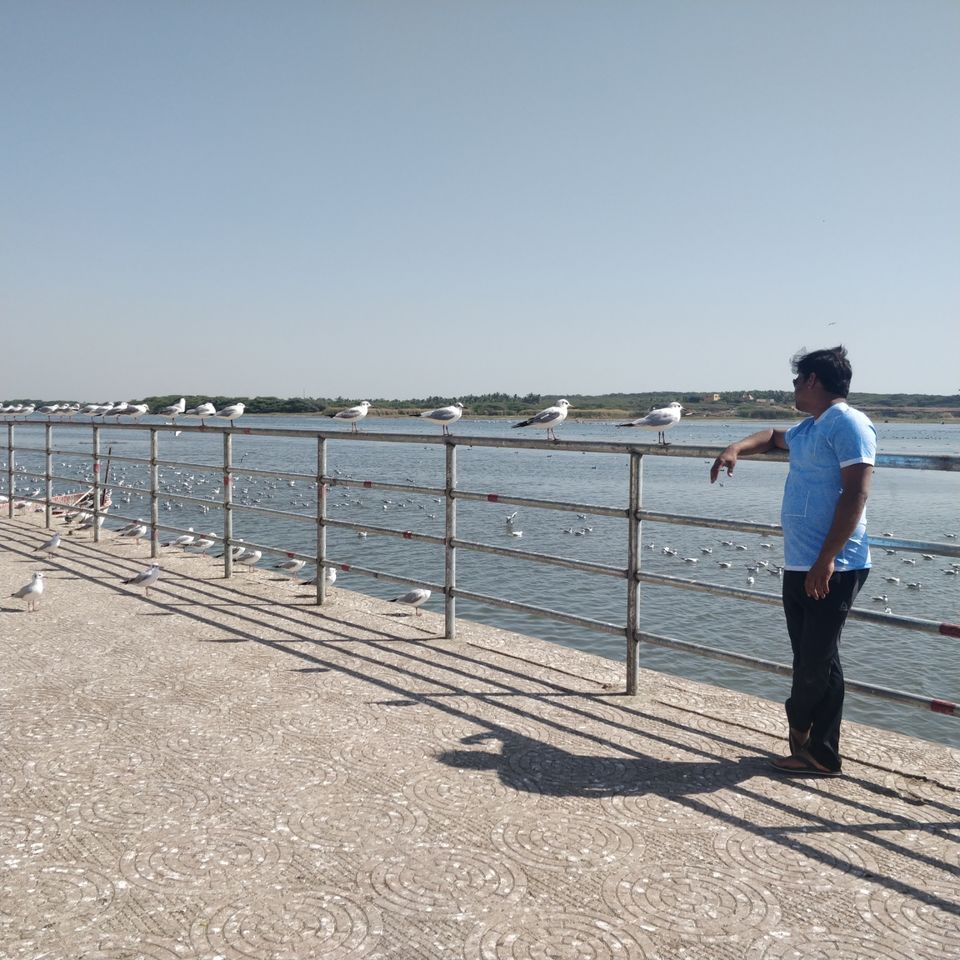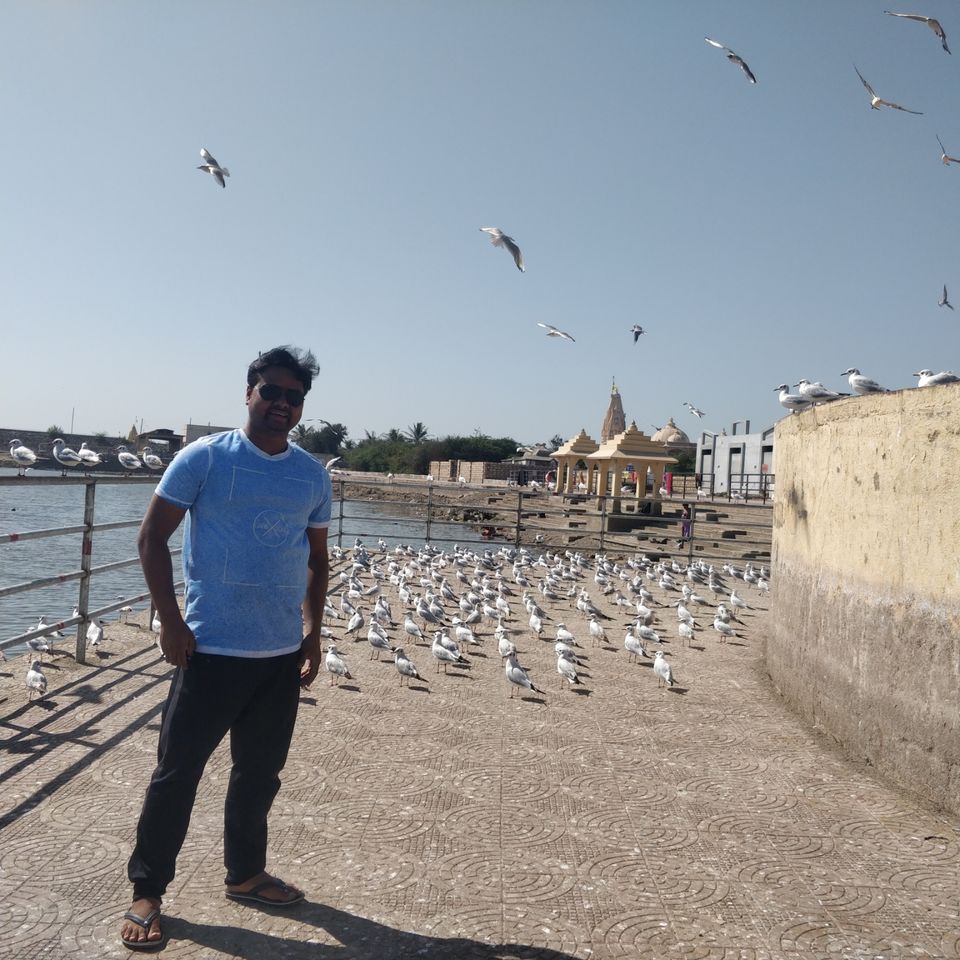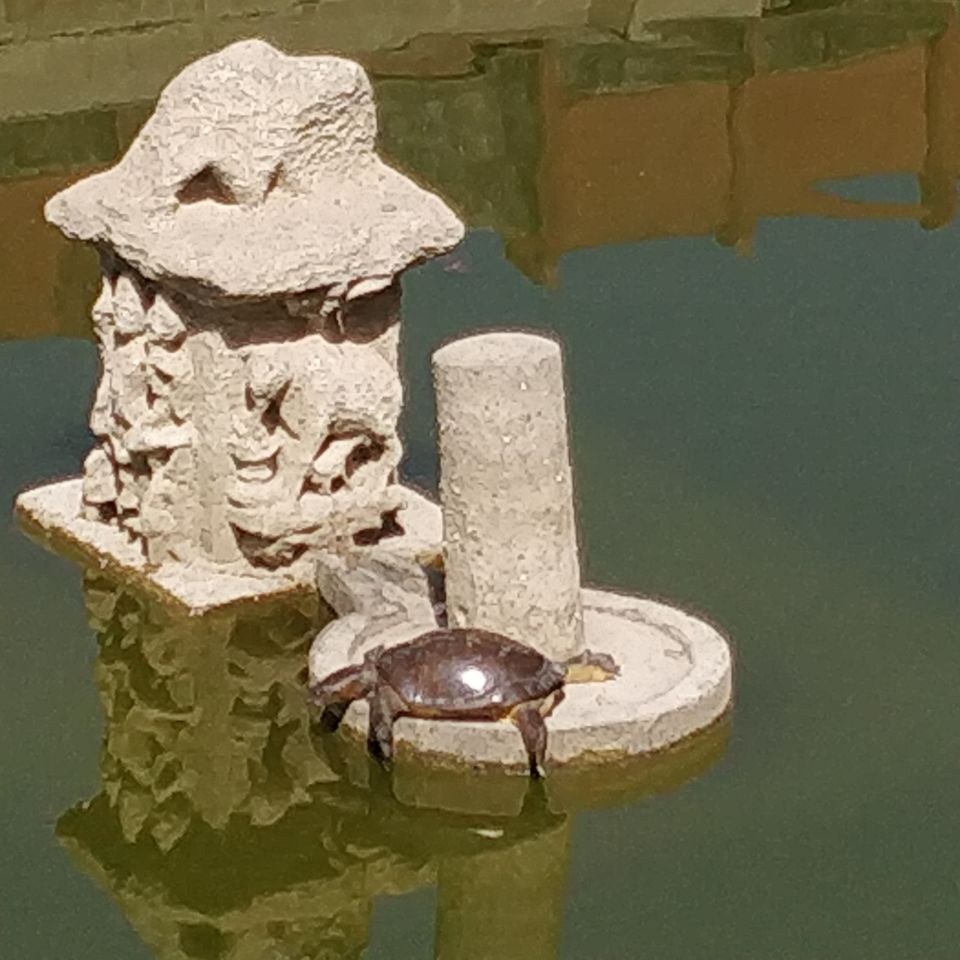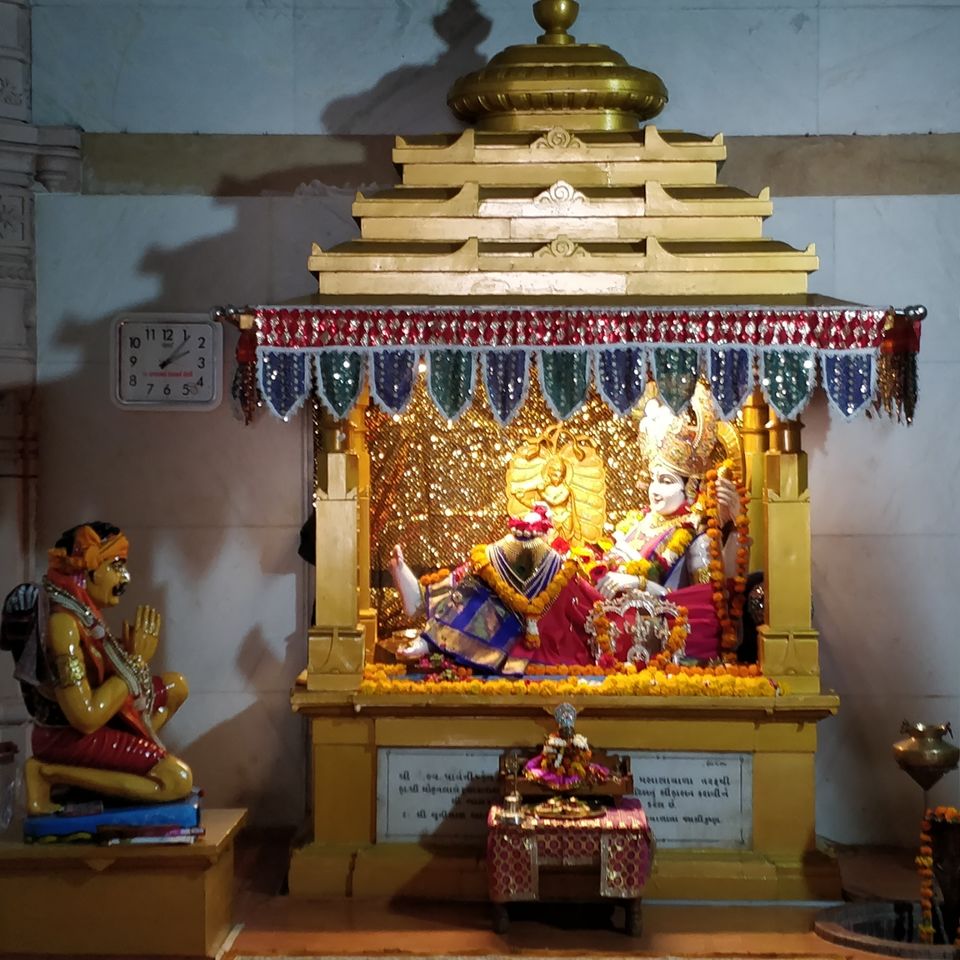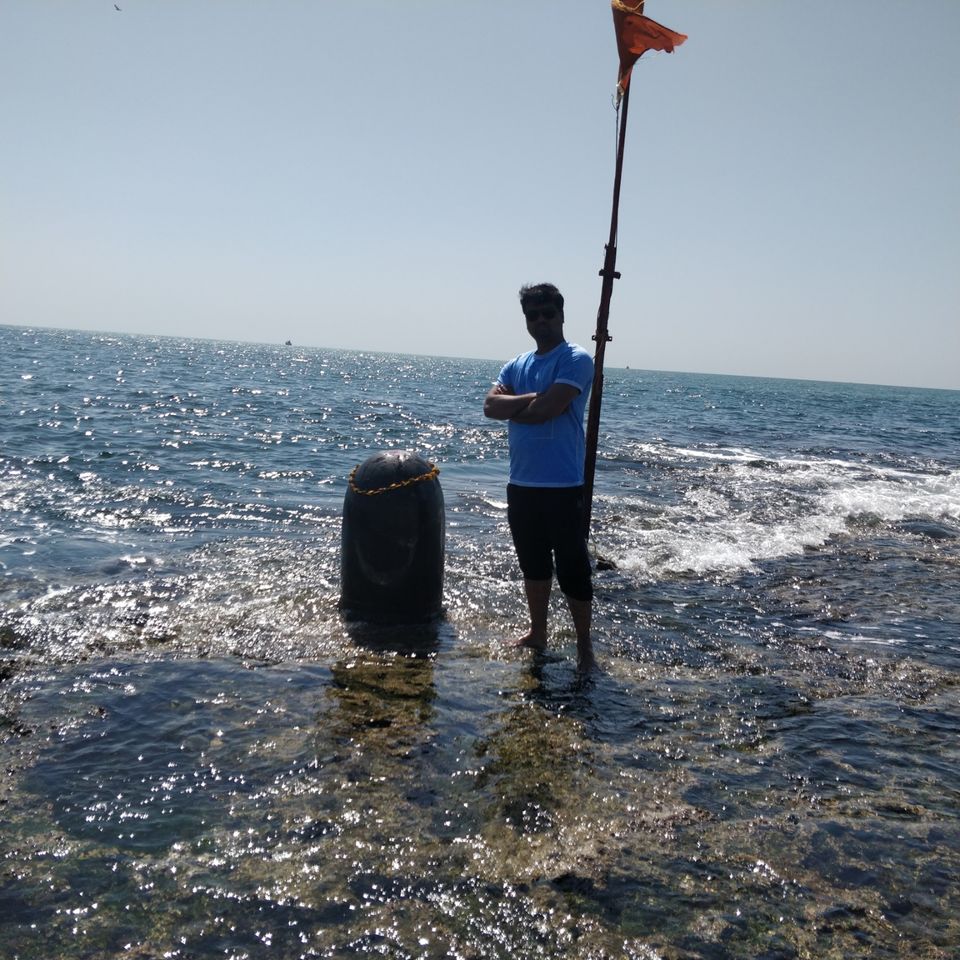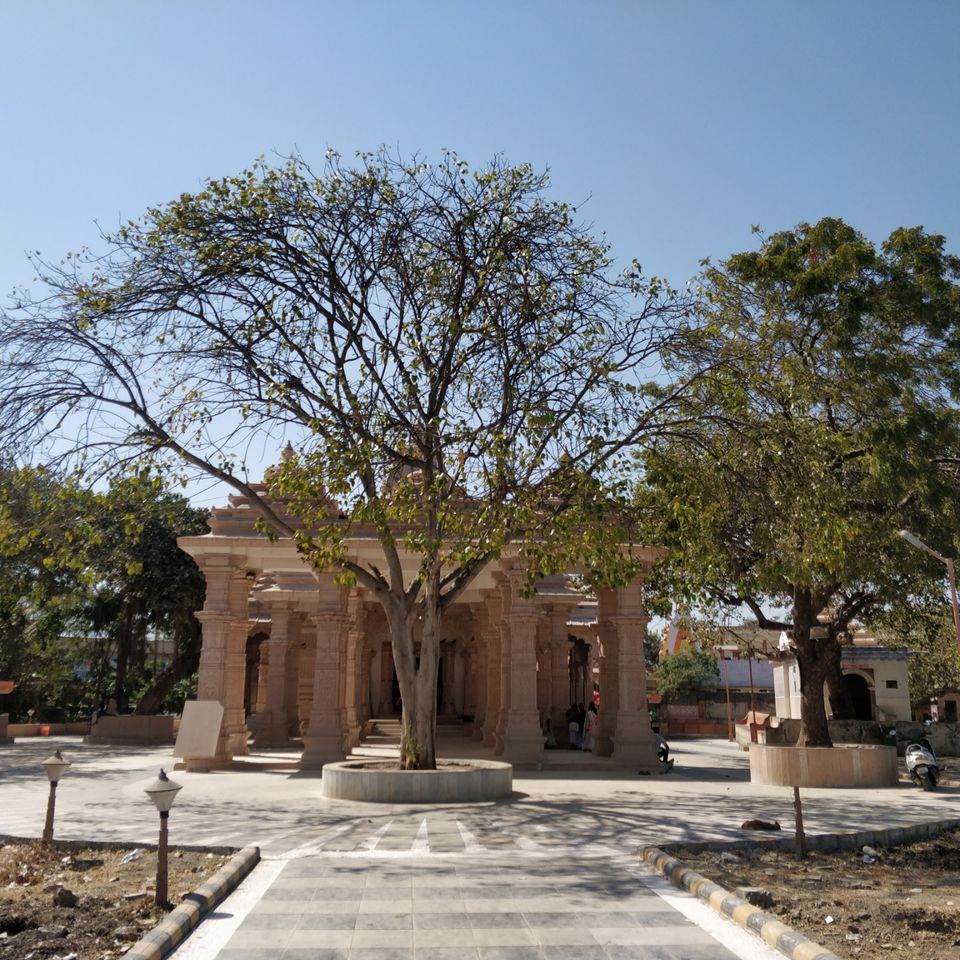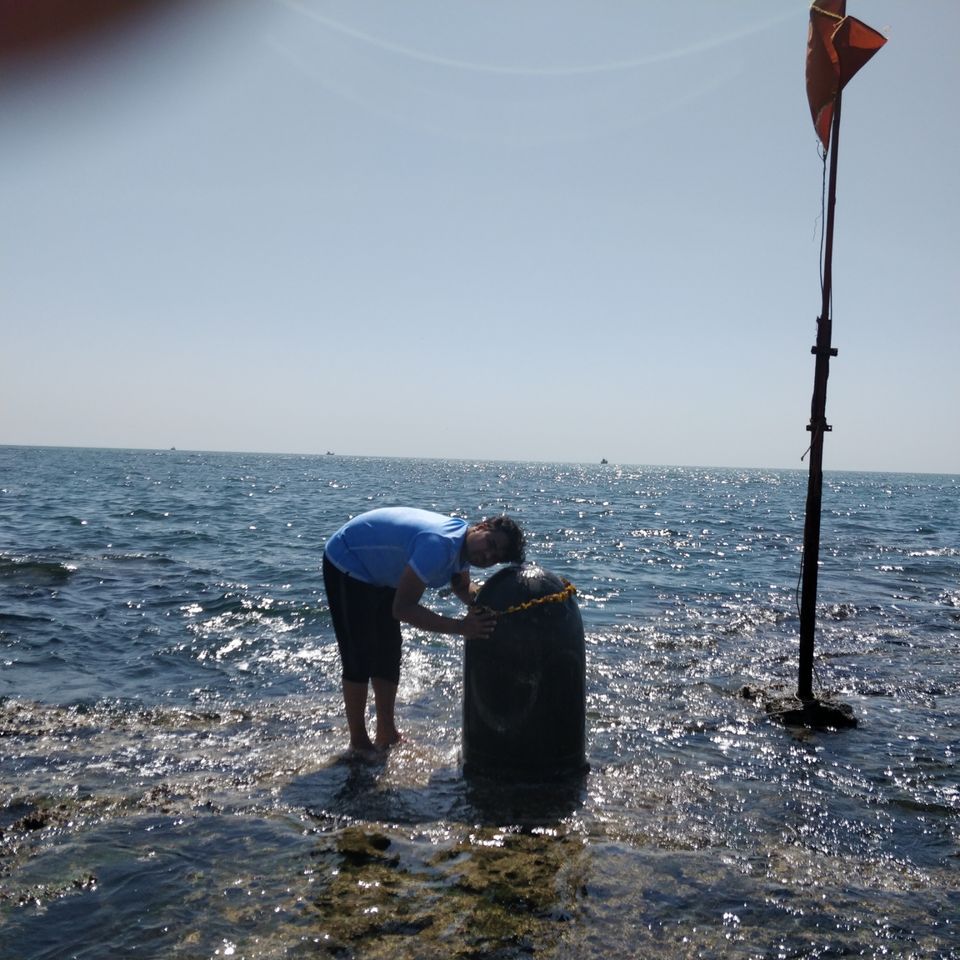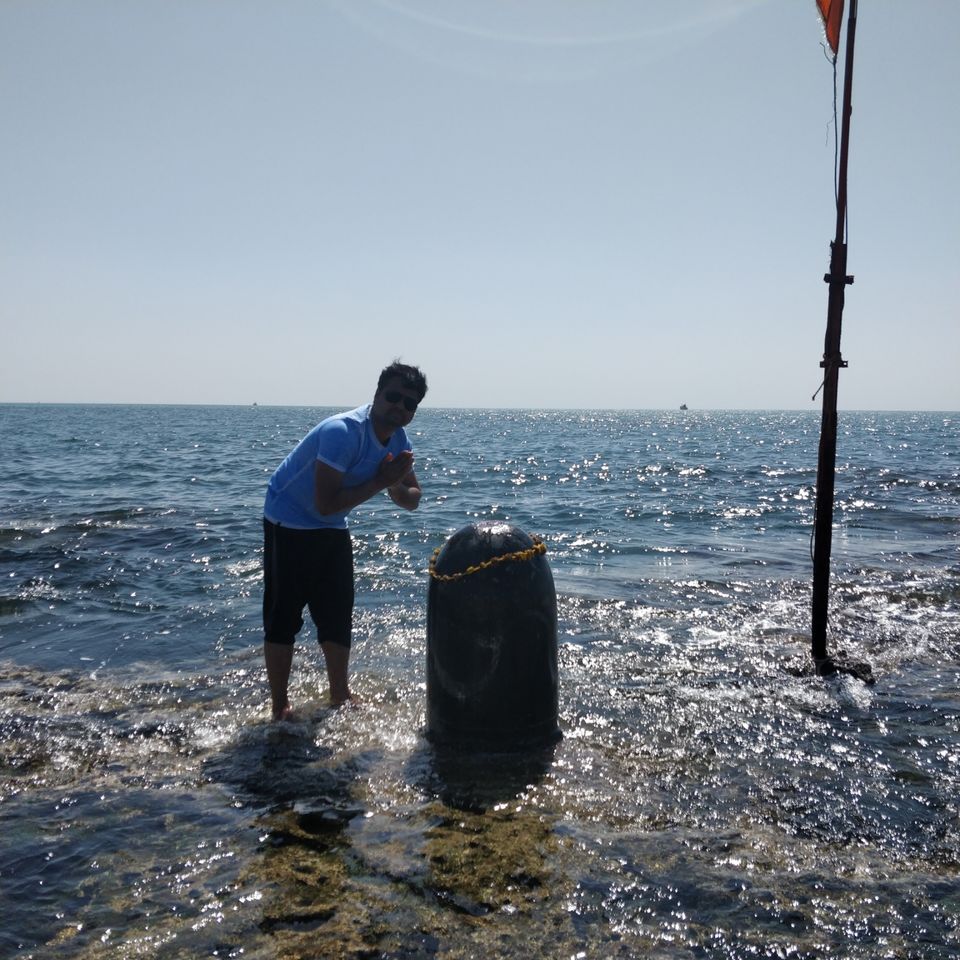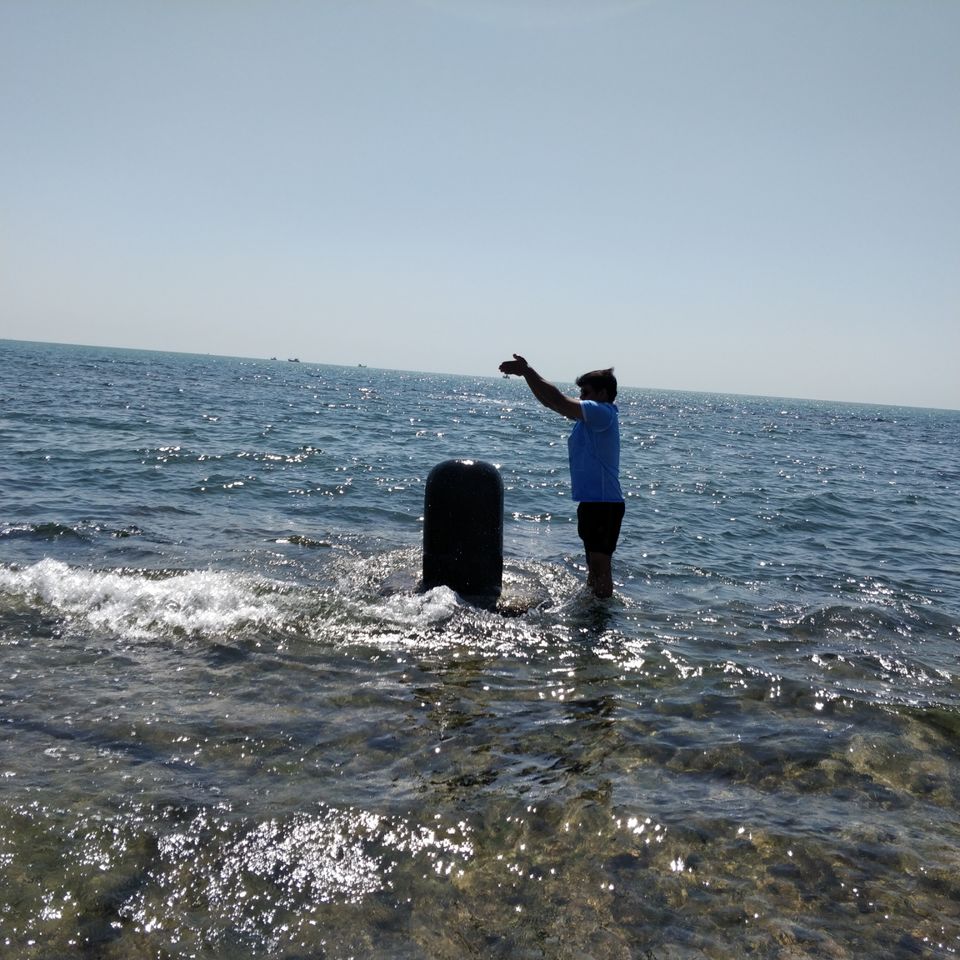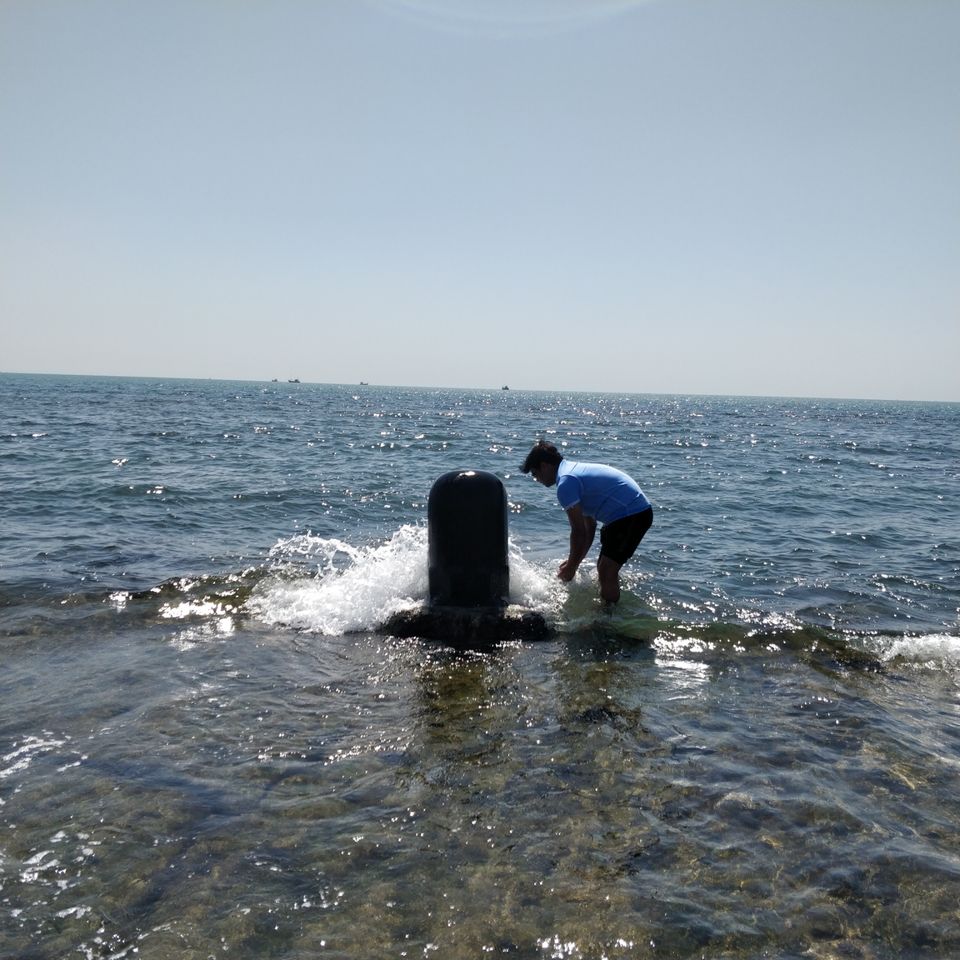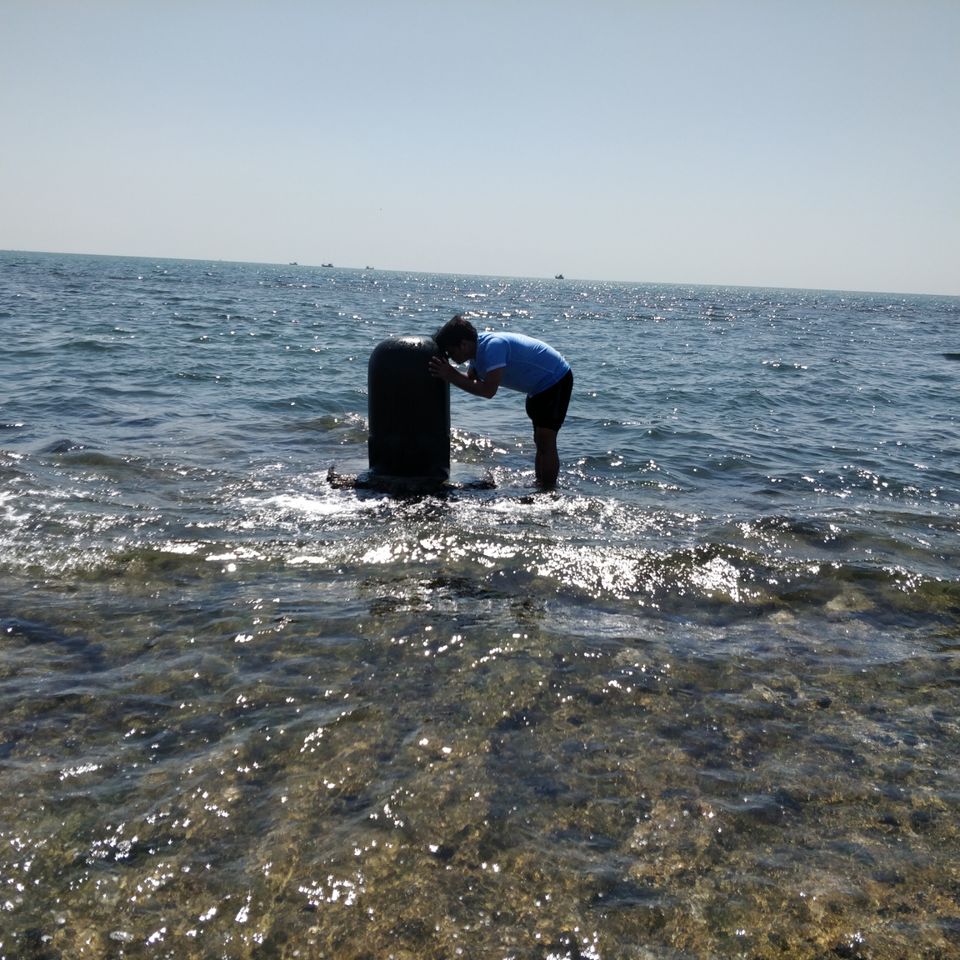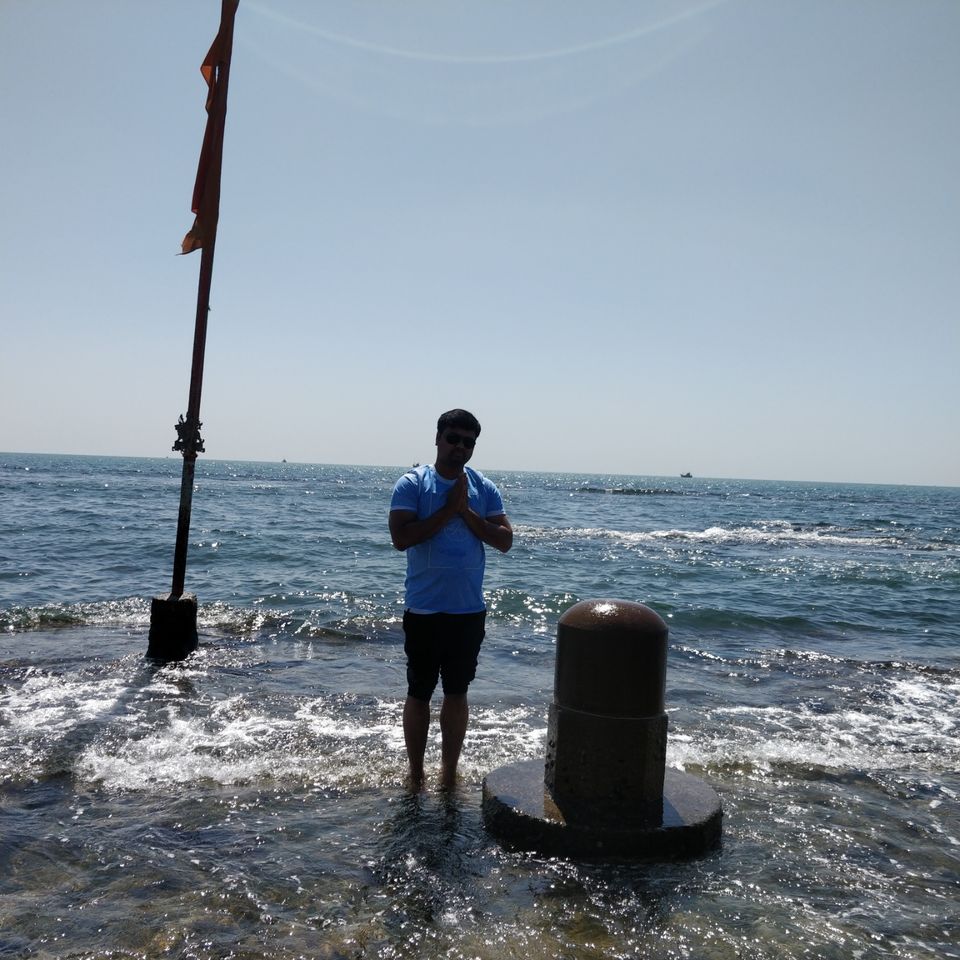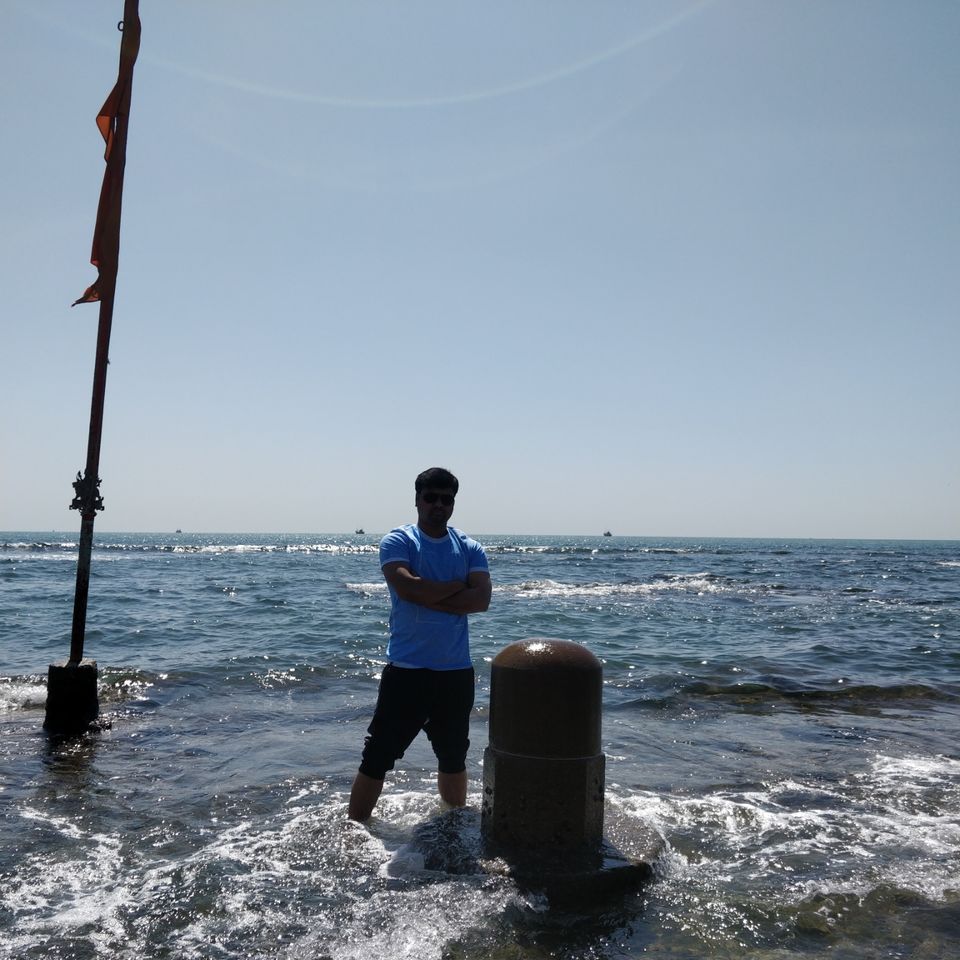 On day 4 we reached Ahmedabad and deboarded at 6:15 whereas it was scheduled to reach at 6:30. The punctuality impressed me and I was able to easily attend my office on monday.
In this way we made use of our weekend and had great fun and utilised whatever time was available for us during the stay of two days.
Budget and expenses
Bus ticket from Ahmedabad
400 per person
Sleeper AC or Non AC bus as per the season. Price varies by around Rs. 150 for AC and Non AC buses.
Hotel charge in Diu
We booked online for around Rs. 2000
Bike rent and fuel
Rs. 400 + 100 Rs. fuel. Enough for a day in Diu
Food is tasty and not very expensive too.
Total expenditure - Around Rs. 4500 for two for a day. One day is enough to explore Diu. Although you can take another day to just relax and unwind on the beach with the jolly waves.