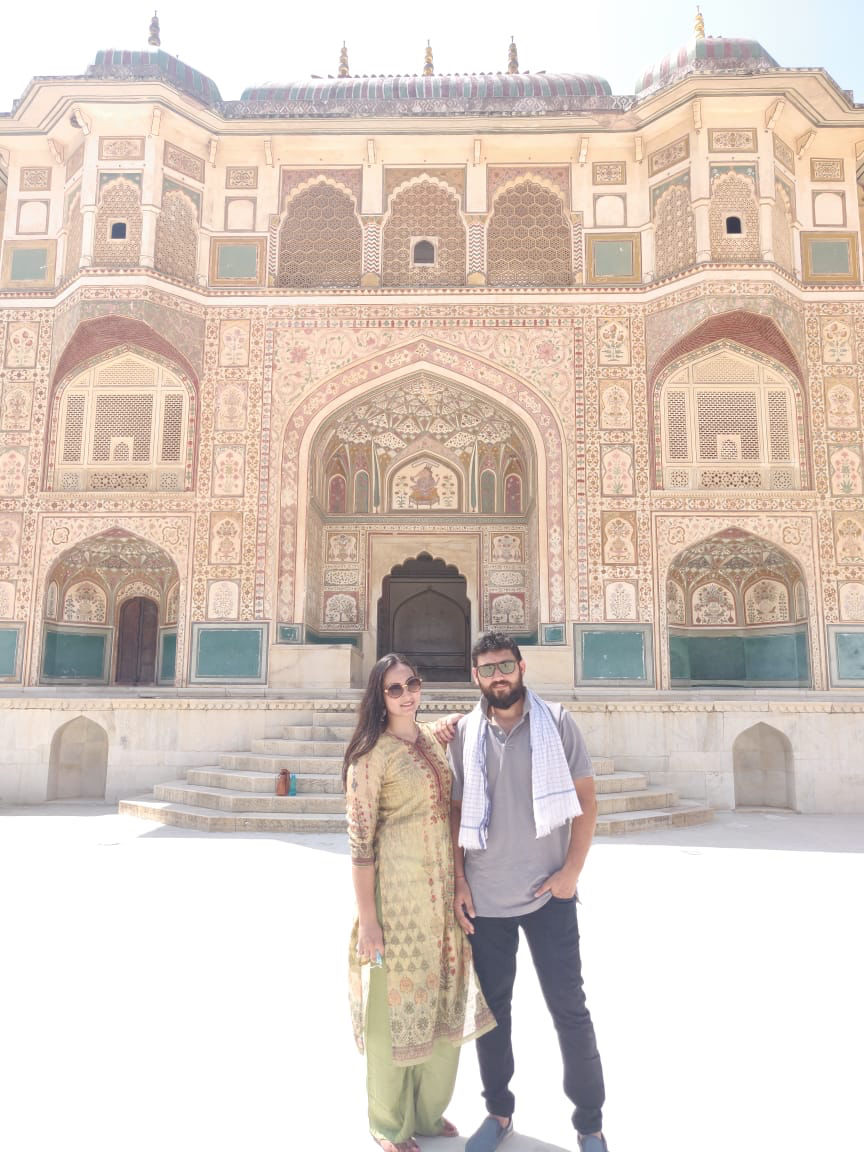 The day was a Monday and it was my birthday!! Though i have spent many year during college in Jaipur but it has been years since i have been there again. So my husband and i decided to take a day off to celebrate. It was a 3 hr drive from our place to Jaipur. We were in Jaipur by 11 am. Our first destination was Amer fort aka Amer Palace. This is the most beautiful fort i have even seen. It has science and logic behind its each and every design.
We wanted to climb the fort on our own so we parked our car and left on foot on the paved path which was used for elephant rides earlier before COVID. Now the rides were banned but vehicles were allowed. It was a weekday and there were only a few visitors. On our way we decided to tag along a tour guide to brief us about the fort. He told us about the history of Jodha- Akbar which was a pact between Rajputs and Muslims and one can notice this in the architecture of Amer fort as well. We used to think Amer was birth place of Jodha but it was built later and we saw the actual place right behind Amer fort where Jodha was born. It was a small village at that time whith Jodha's birthplace and few servant houses; now there is just ruins of that palace.
There are 2 entrances to Amer palace, one was used by people of Amer and the other one was for the royal family.
There was one dark room which is still used to sacrifice one goat daily. Then there was Deewan-e-Aam and Deewan-e-Khas. Deewan-e-Aam was for public access where people used to come with their issues to the king and Deewan-e-Khas was for King's advisors. It also had a summer palace and a winter palace. Winter palace was totally studded with small mirrors from Belgium which would light up and get warm by the heat of even one single lantern. Just in front of it was summer palace which had such superb ventilation system that in summer the water will fall on curtain and cool down the breeze. The water was also harvested in such a way that this would get channeled to the garden that was between winter and summer palace.
They used to have some kind of paint which would control the temperature of walls. Also there was a system for hot and cold bath with an in built gyeser at that time. And a separate room for sun bath and sauna with limestone on the roof which would cool down the vapours of hot water into droplets.
When we went inside there was one more palace which was bit older and we were told the King who built it had 12 Queens and each Queen had their own section with a guard post. The King's place was right above the Queens and it had kind of hidden doorway to each Queen's room. Amer fort really is well known for its architecture and comes under UNESCO protected heritage.
The paint used is made from precious stones and gold. But the colours used on main entrance are said to be extracted from vegetables and fruits. What surprised us most was the technology used to keep fort warm during winters and cold during summer and also the way they used to bury a big "matka" in sand to keep water cold and obviously the use of geyser and maintain supply of water without pipes.
To protect the whole palace and keep an eye for enemy there is a fort (Jaigarh) just above the hill from where one can watch over Amer.
After appreciating the beauty of the palace we left for Hawa Mahal but unfortunately could not go inside. We did some shopping bought footwears made of dead camel skin which is famous in Rajasthan and also dress with leheriya pattern. Visited my favourite food outlets from college days and left for home by evening.