Next to Hawamahal, hardly 5-10 mins walk, my next destination was Jantar Mantar. The largest and best preserved of the five observatories built by Jai Singh II in different parts of the country. This is one of the UNESCO world heritage site. This place is really a tribute to old aged Indian astronomy. All the instruments and shaped were scientifically designed. The instruments are in most cases huge structures, geometric devices for measuring time, predicting eclipses, tracking stars.
There were around 15 such structures. If you really interested in the astronomy, then this is the place for you. To understand each and every structure, you will have to hire guide there or you can take audio tour. I didn't take any of those. There are many info board to get info on how these structures works. I saw each and every structure, tried listening to the guides (hired by other group) and most of their explanation went above my head. They saw me hearing to them and gave me some curious look, I nodded my head like I am getting what they are trying to explain about those structure. Then I tried reading all those info board. Same thing, so I stopped pretending that I am actually understanding and kept myself busy by taking photographs..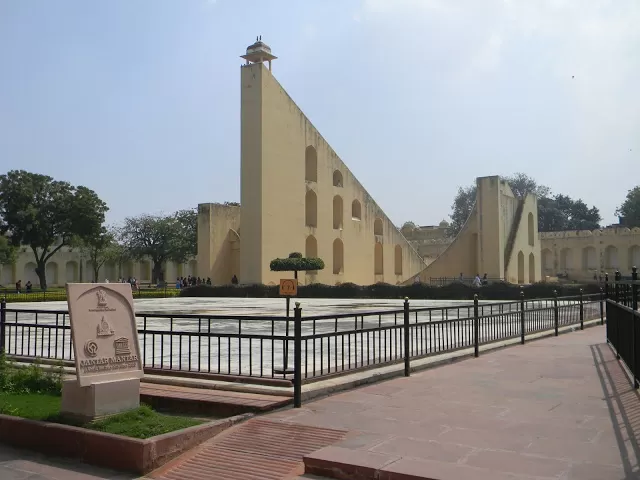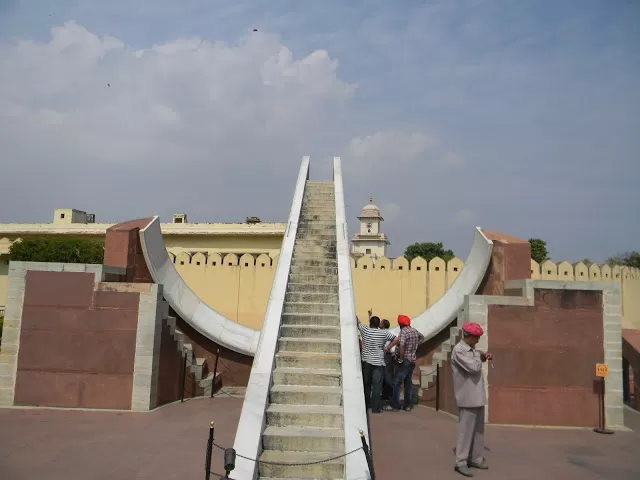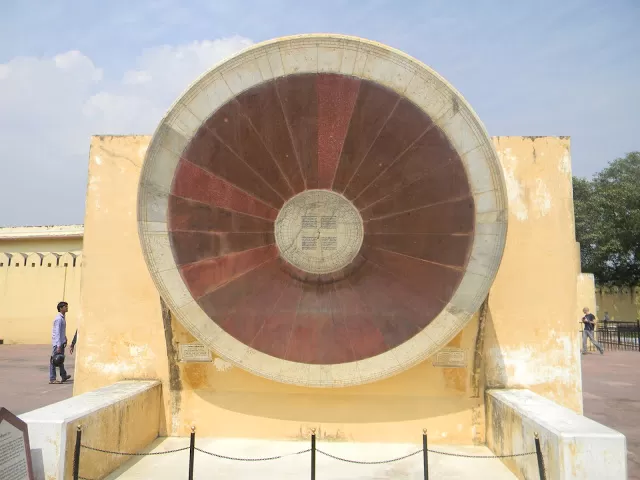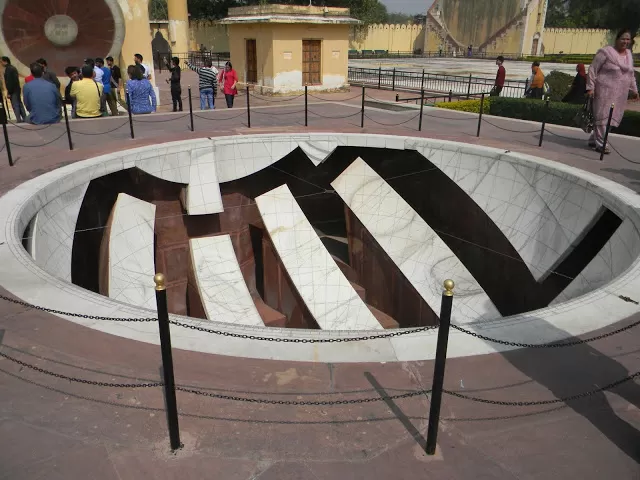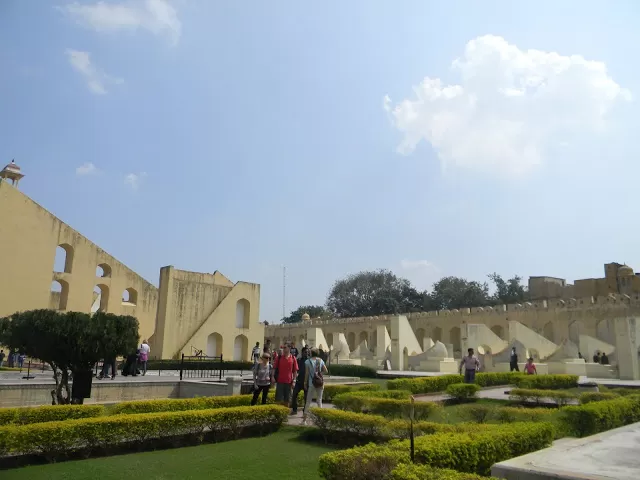 Morning after taking heavy breakfast at my Hotel, I was ready for day 2 adventures. Outside of my hotel I inquired few AutoAmer fort, also known as Amber fort. 11 km from Jaipur, located high on the Aravali hill, overlooking maota lake. This fort was built by Raja Man Singh. This fort is iconic attraction of Rajasthan.
Amer Fort is divided into four main sections which each has its own entry gate and courtyard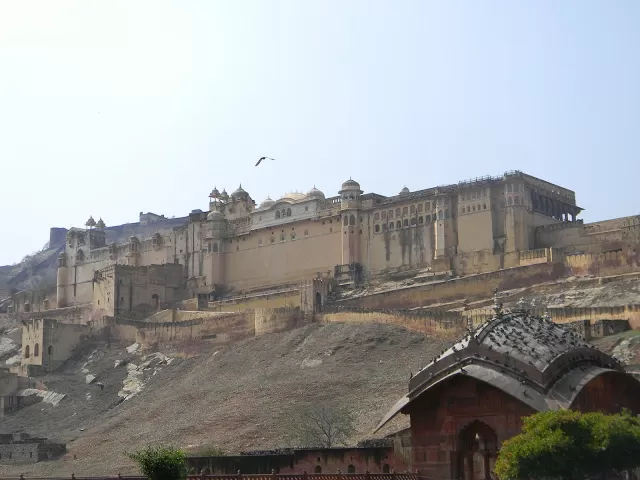 After Amber fort, I covered Gaitore. Its final resting place of the Maharajas of Jaipur, popular for its 'Chhatris'. The unique design of every Chhatri represents the taste of the Maharaja in whose memory it has been built.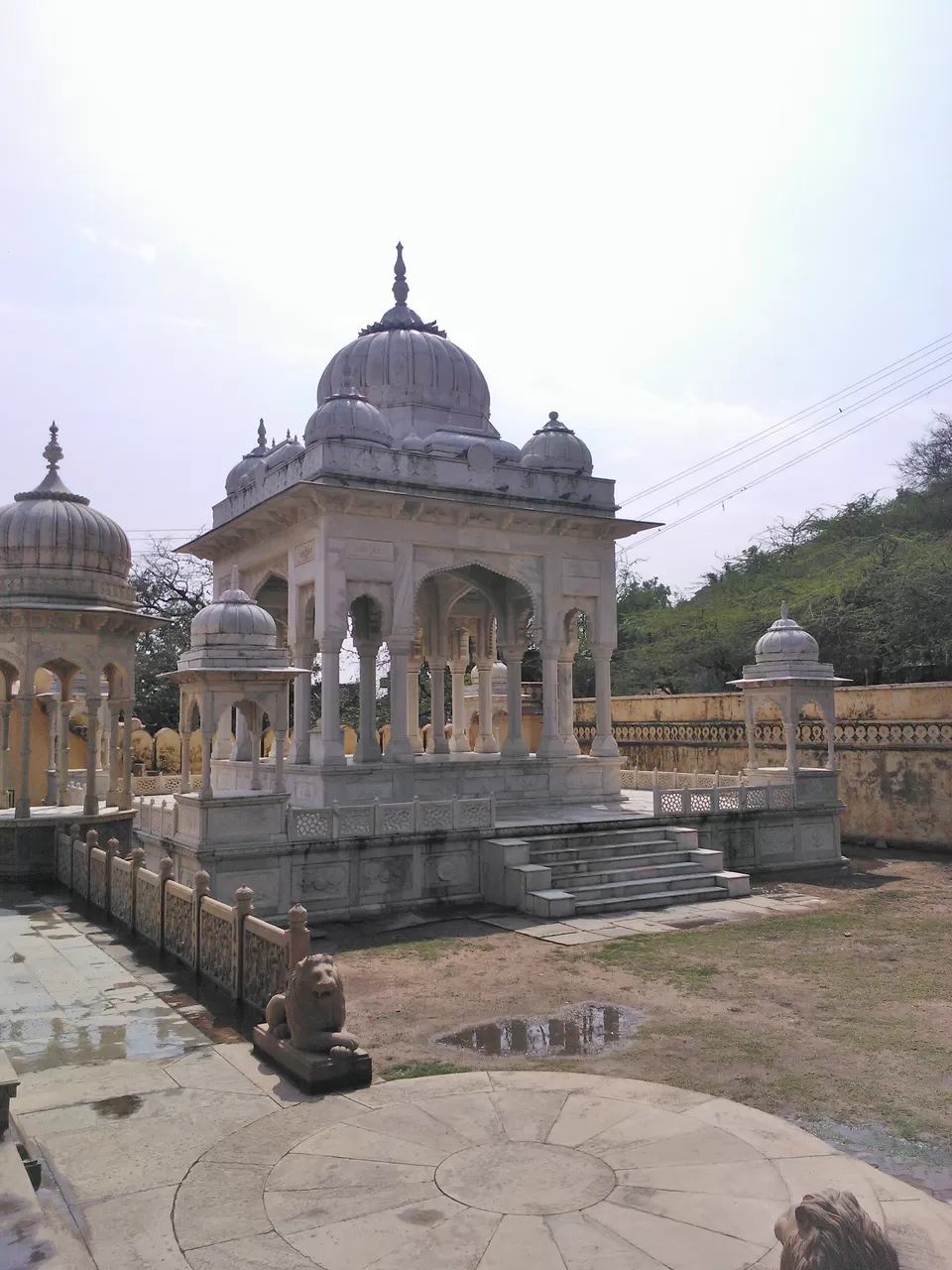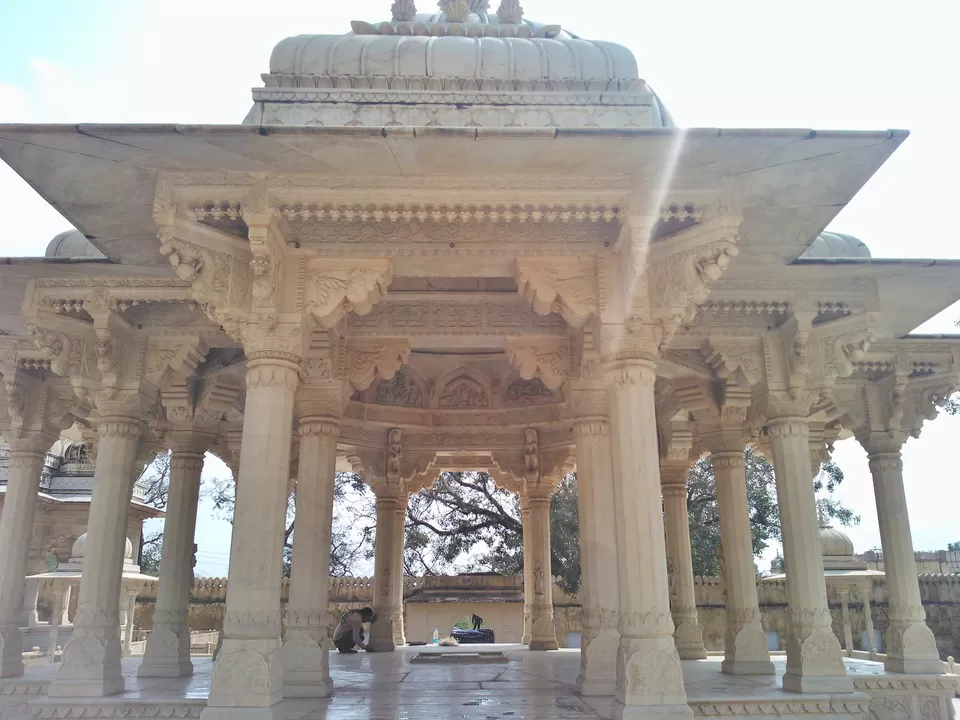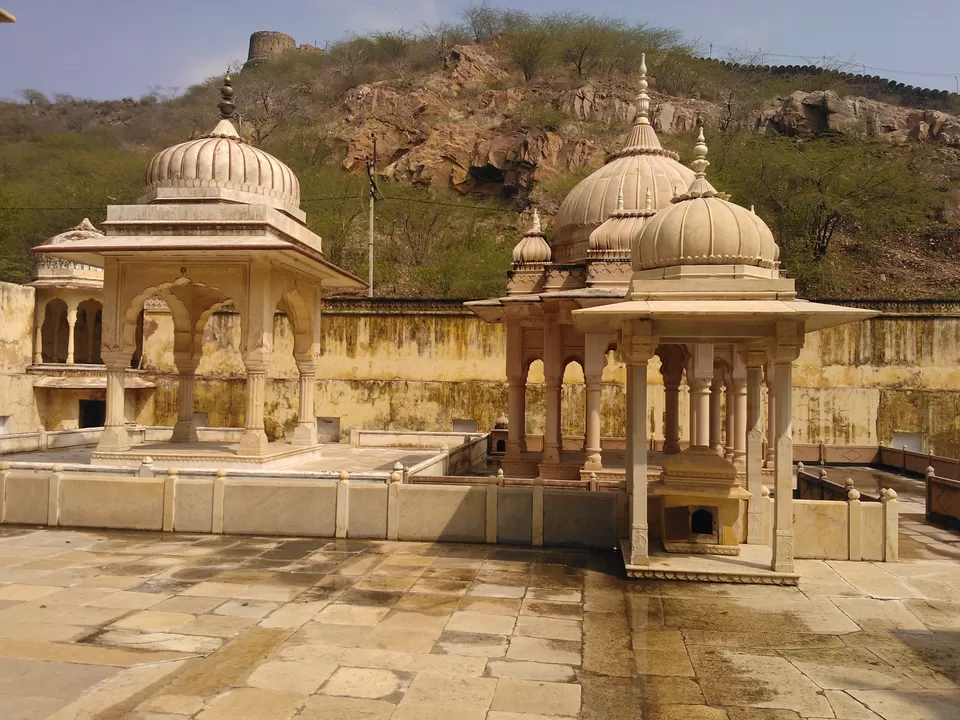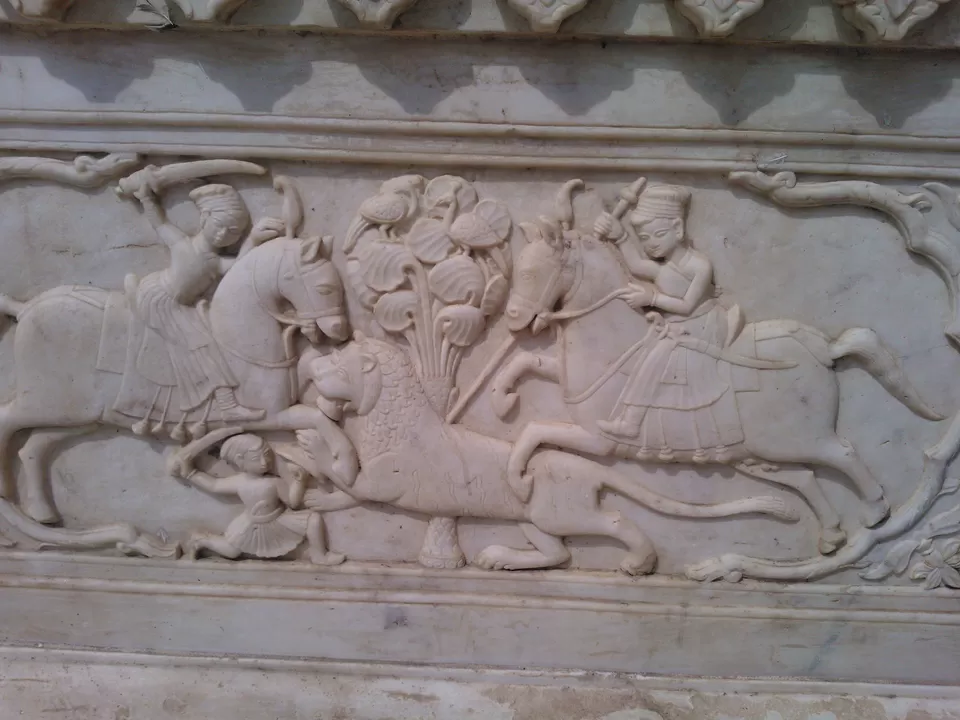 While I was coming back from Amber fort, I also stopped by a place from where I could see Jal Mahal. Jal Mahal (Water Palace) is located in the middle of the Man Sagar Lake.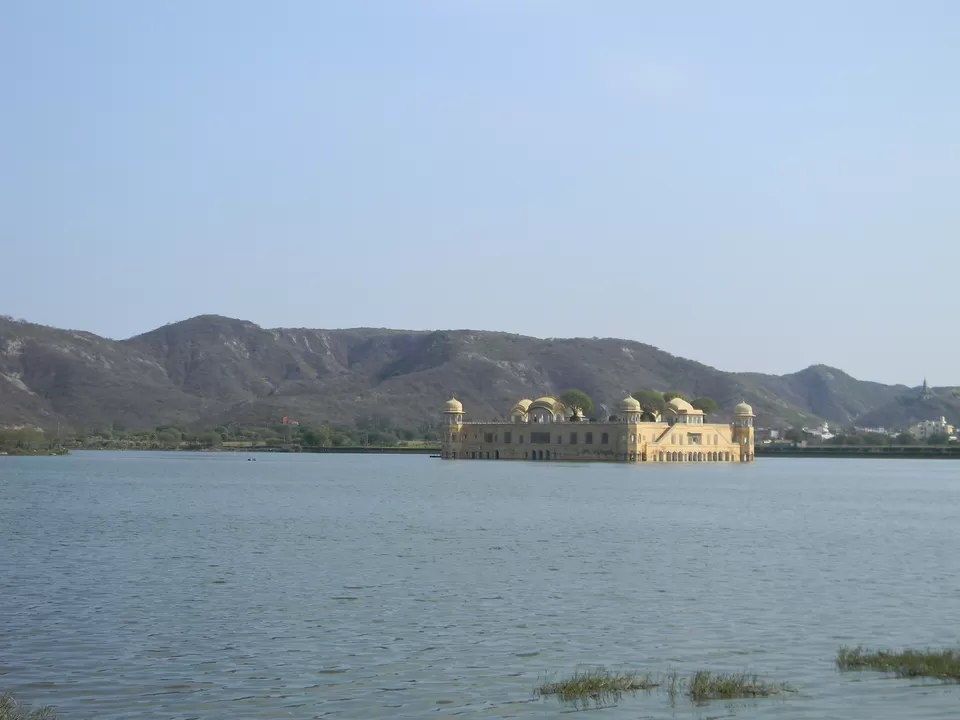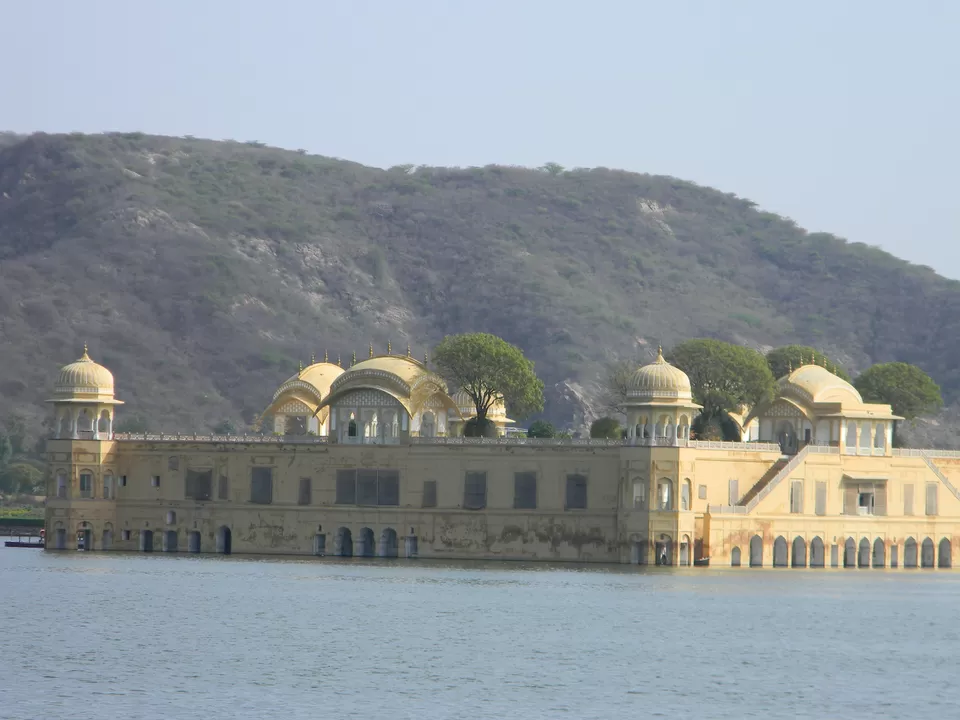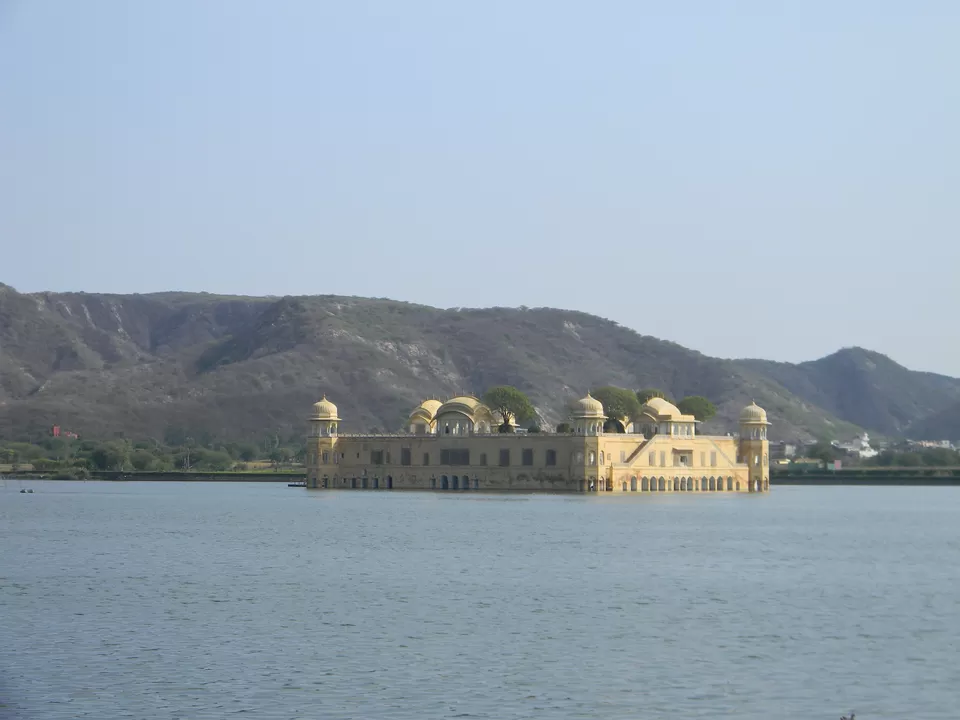 Next day I explored Jaigrah Fort first. built by Raja Jai Singh II to protect the Amber Fort and its palace complex and was named after him. Its also know as Victory Fort, because it has never been conquered.
The major attraction in the fort is Jaivana, the largest cannan the world's largest cannon on wheels.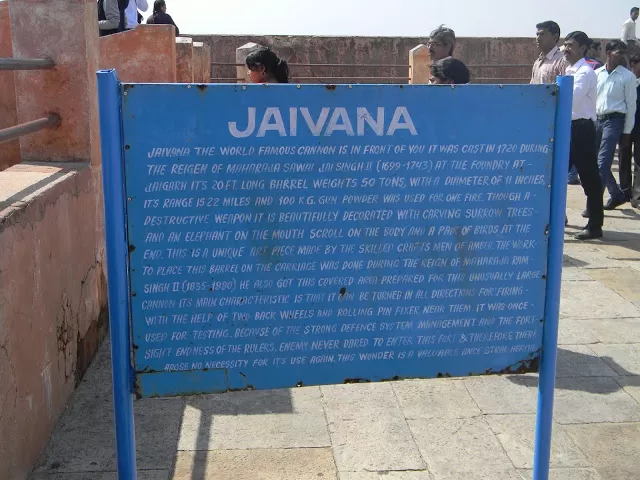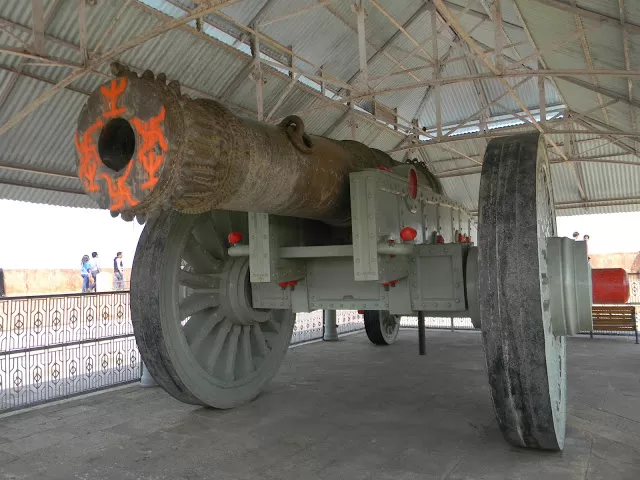 City Palace is very near to Jantar Mantar, In fact both are in the same complex. But I had to pay separate entry fee there, 75 rs and plus 75 for camera. The composite entry pass will not work there. City Palace is delightful blend of Mughal and traditional Rajasthani architecture. City palace complex includes Mubarak mahal, Chandra palace, Pitam Niwas Chowk, Diwan-e-aam, Diwan-e-Khaas. Chandra mahal is still a royal residence.
Mubarak Mahal is now a museum and repository of variety of textiles such as the royal formal costumes, embroidered shawls, Pashwina and silk saree. You can see many photographs of royal family, polo equipment and winner cups, chess boards. Armoury of Mughals and Rajputs, including royal swords.
The best part of this complex is chandra mahal, It is the residence of the descendants of the former rulers of Jaipur. Only the ground floor is allowed for visitors where a museum is located.
On the top of the Chandra Mahal is Royal Flag which is an indication of King's presence in the Palace, The yellow flag suggests that the king is in town. When he's out of Jaipur, the yellow flag will not be there . The other flag is a sign of the king's property.
This small inner courtyard giving access to the Chandra Mahal is famous for four small doorways representing the four seasons and Hindu gods. I liked the peocock gate representing autumn, other gates are lotus gate for summer, Gree gate for spring and Rose gate representing winter.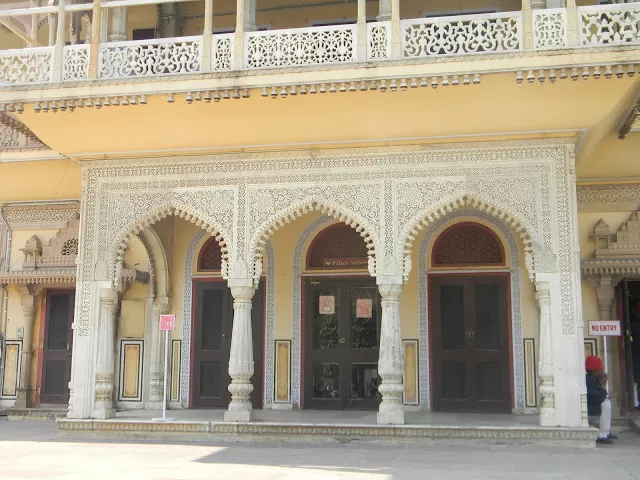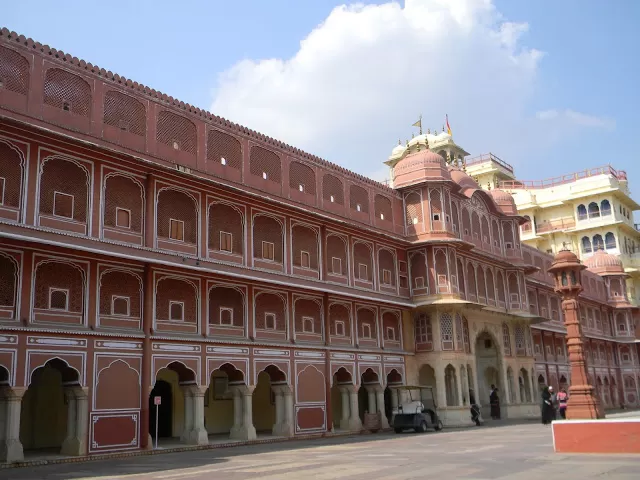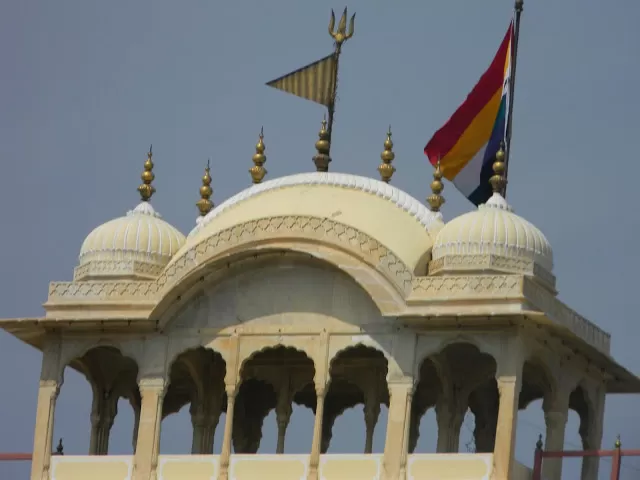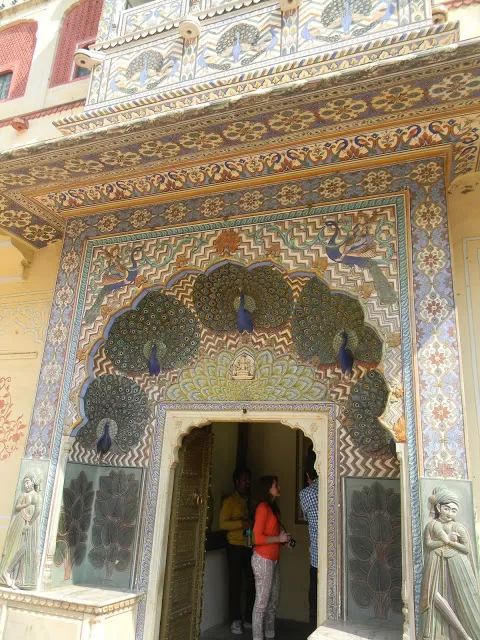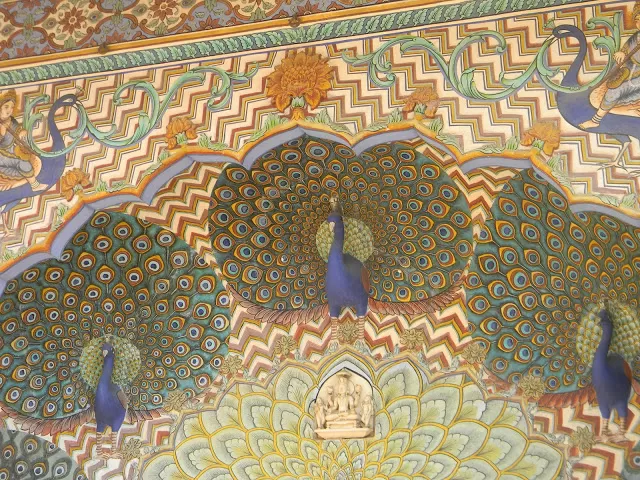 Next destination was Nahargarh Fort, also known as abode of tigers, stands on the edge of the Aravalli Hills, overlooking Jaipur. The view of Jaipur city from this fort is breath taking.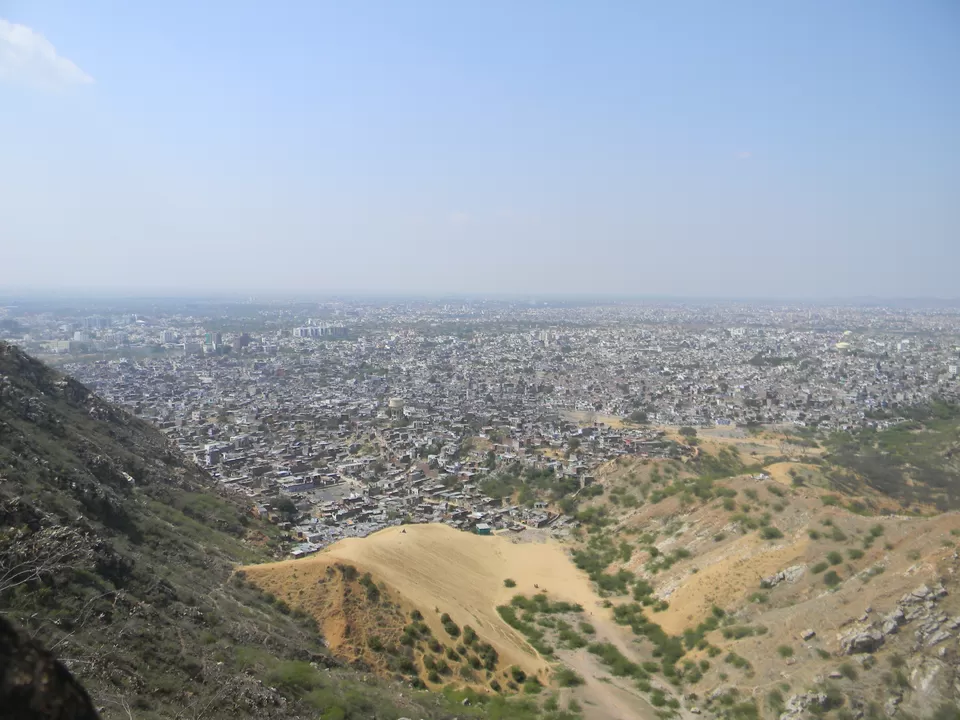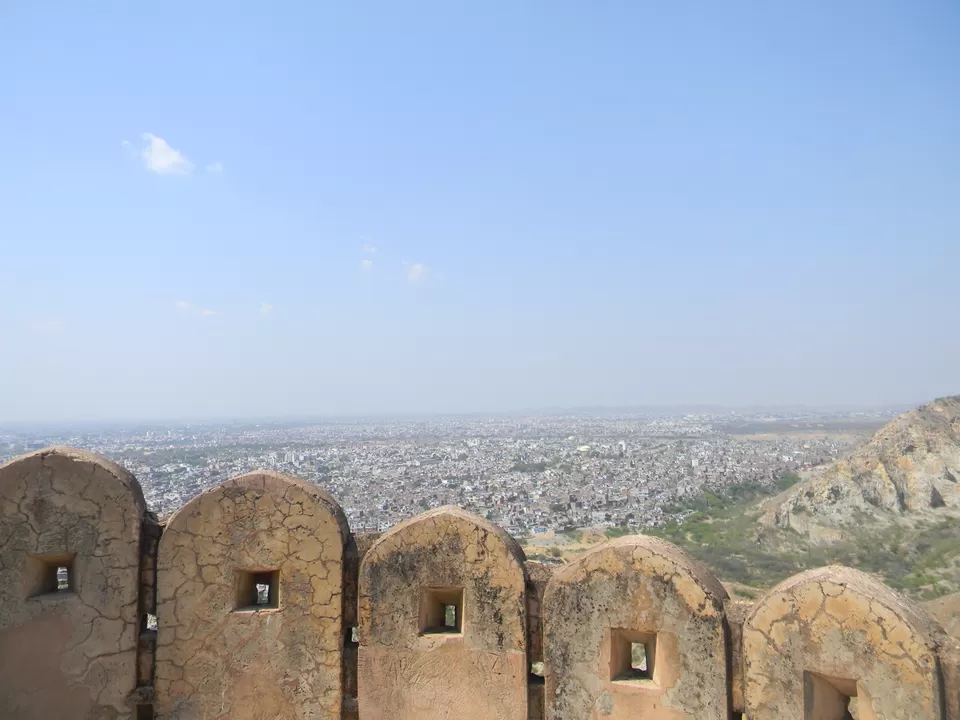 Rajasthan, the moment you hear this name, you will think about royal palaces, majestic forts, desert, camel, elephants, jewellery, gems, colorful markets, festivals and food. So when I planned for Rajasthan, all of these things were on my mind and I was not disappointed when I visited Jaipur.
Rajasthan, a desert state this might be but its bursting with color and exuberance. I am bit confused writing this blog, should I just keep writing about all the places I visited there, should I only post hundreds of pictures I took or should It be combination of both (would be very lengthy blog). Another feeling is, will I able explain the richness, artistic, colourful Jaipur with my writing or pictures but let me try...
Here is the overview of places I covered in three days.
Day 1 (Hawa Mahal, Jantar Mantar, City Palace)
Day 2 ( Amber Fort, Gaitore, Jal Mahal)
Day 3 (Jaigarh, Nahargarh)
I was tired after traveling overnight 14 hrs bus journey from Jhansi but my excitement took over tiredness. By 11 AM I was ready to explore the pink city. The moment I came out of hotel, 2-3 auto drivers rushed to me and offered me Jaipur sightseeing for one day at 650 rs.I knew that some of places were very near to my hotel, Bani park area. So I ignored all of them and took another running auto, cost me 50 rs to reach Hawa Mahal (Palace of wind)
Stylistic and artistic, these were my two words when I saw Hawa Mahal. Designed in the form of the crown of Krishna. Its unique five-storey exterior, similar to the honeycomb of the beehive with its 953 small windows called jharokhas. Hawa Mahal was constructed so that the palace women trapped in purdah, could watch the street life. Entry fee was 10 rs there but I bought one composite entry pass for 70 rs. It was valid for two days and you can use it for visiting 5 places(Amber palace, Jantar Mantar, Albert Hall, Nahargarh fort, Hawa mahal). Interior of Hawa Mahal is artistic but I really liked the exterior. This architecture is showcased whenever Jaipur is talked about on the touring map.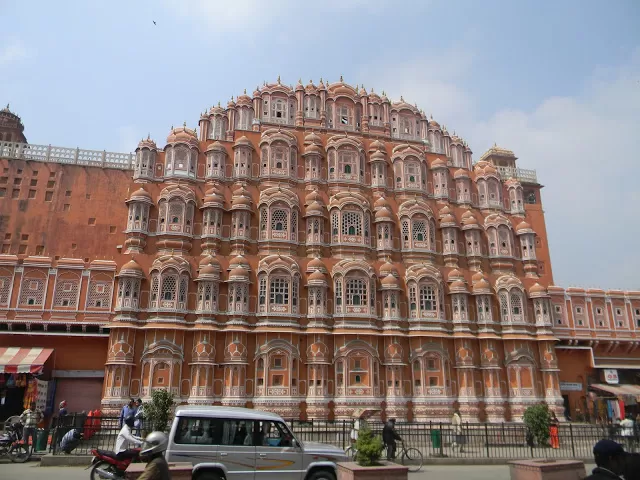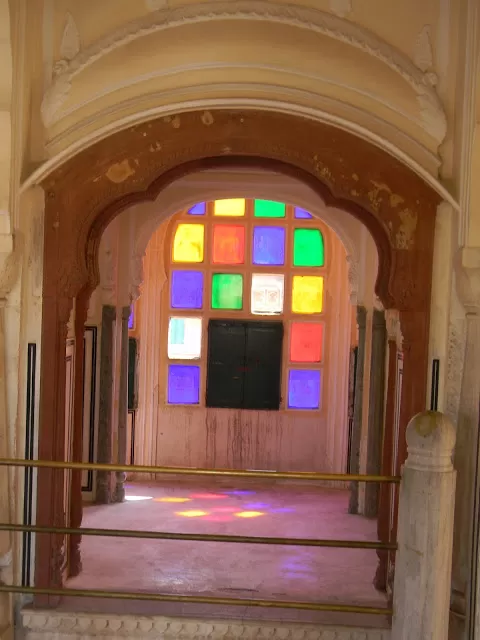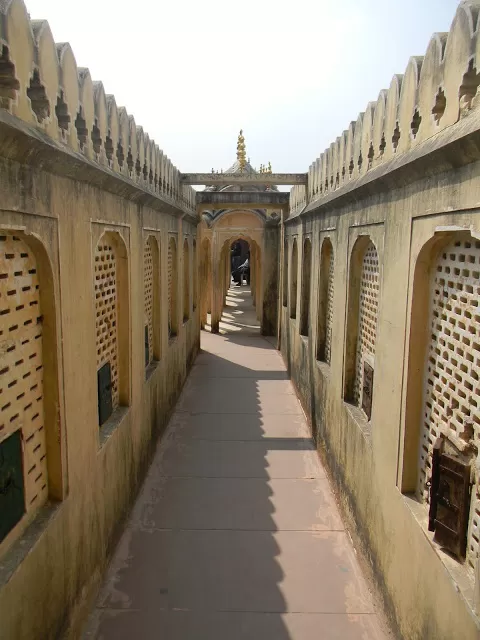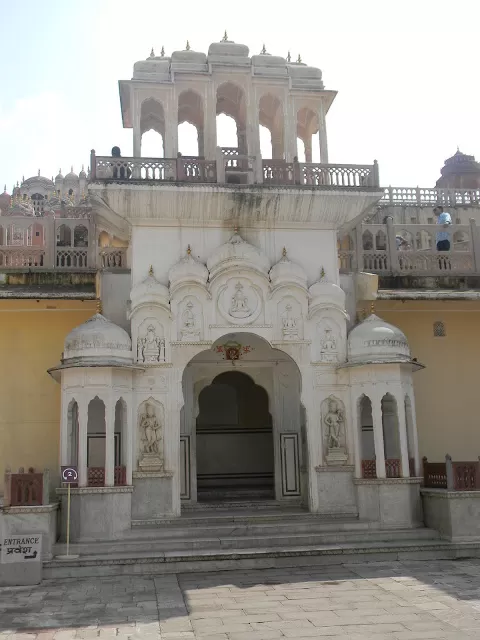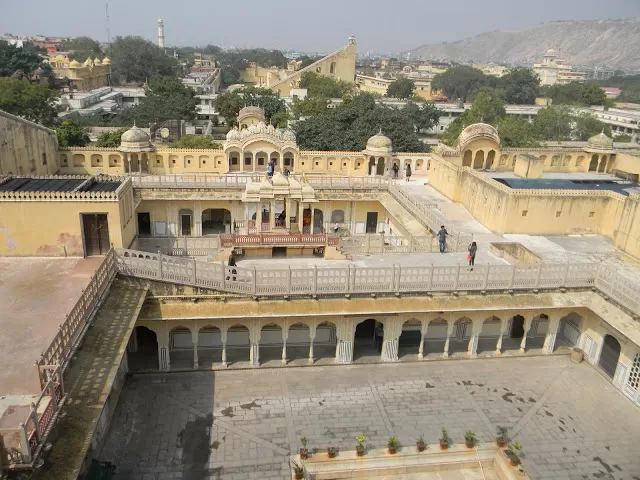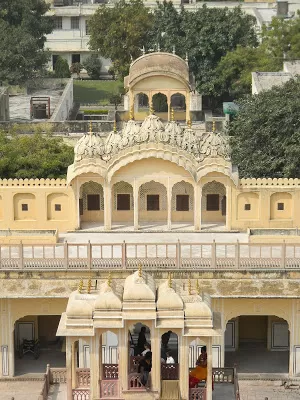 The only one structure I could understand is the The Samrat Yantra (Sundial), can be used to tell the time to an accuracy of about two or three seconds in local India time.its shadow carefully plotted to tell the time of day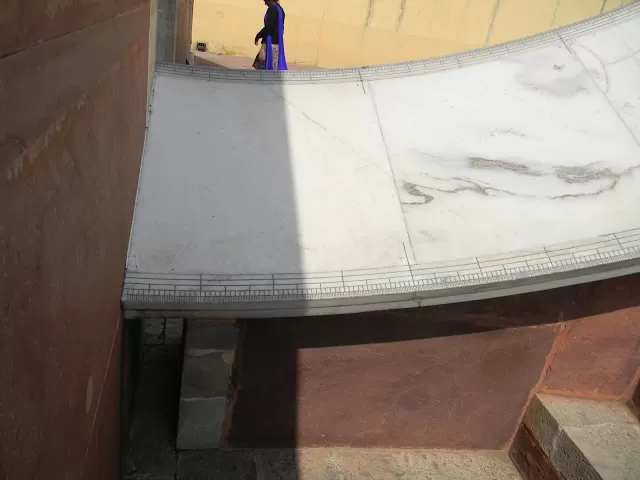 Diwane-e-Aam, another master piece of art. The pillers, the jhoomers (chandeliers), walls everything is decorated so nicely. You can see two giant urns there. listed in the Guinness Book of World Records as the largest silver objects in the world. The story behind these urns is interesting. These vessels were created from melted silver coins for Maharaja Sawai Madho Singh to carry the water of the Ganges to drink on his trip to England in 1901 as he was concerned about committing religious sin by consuming the English water.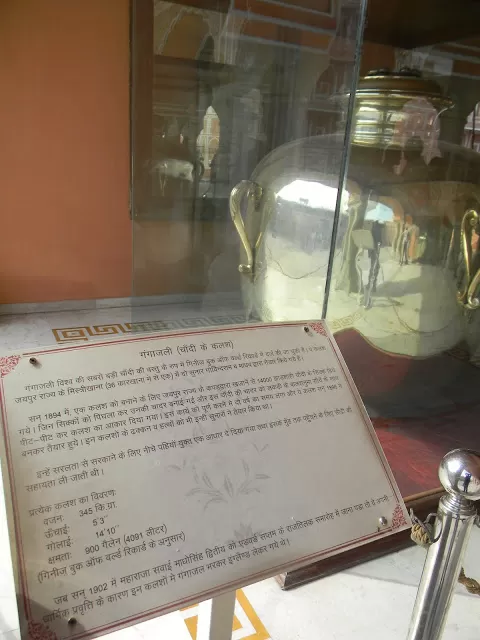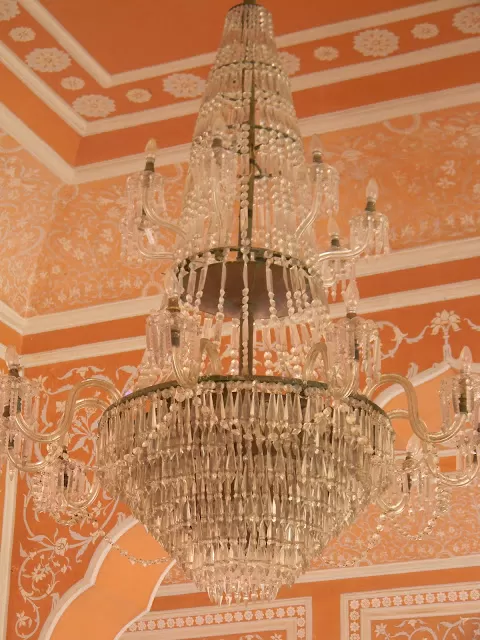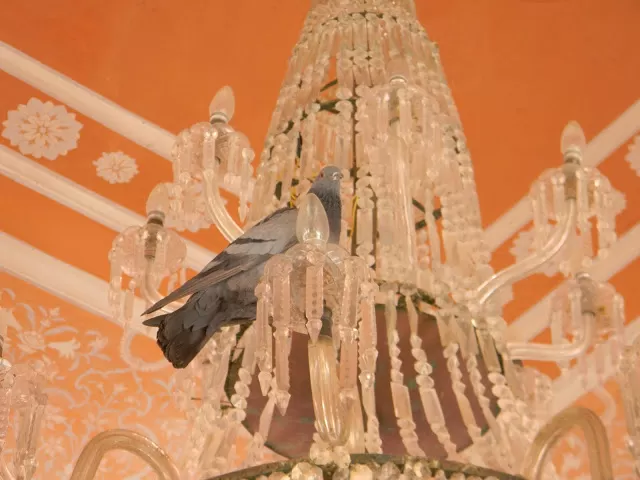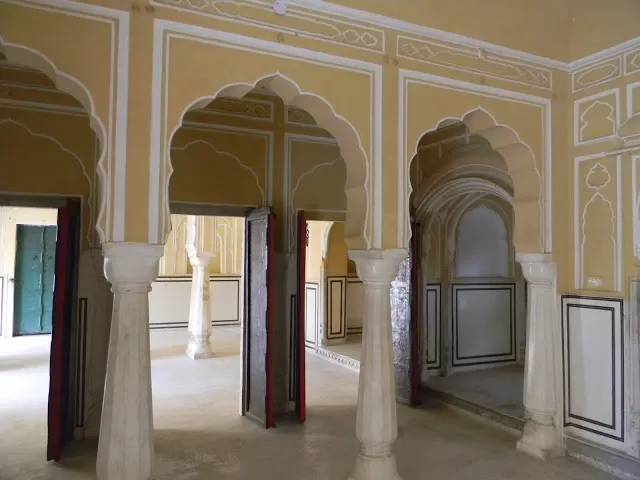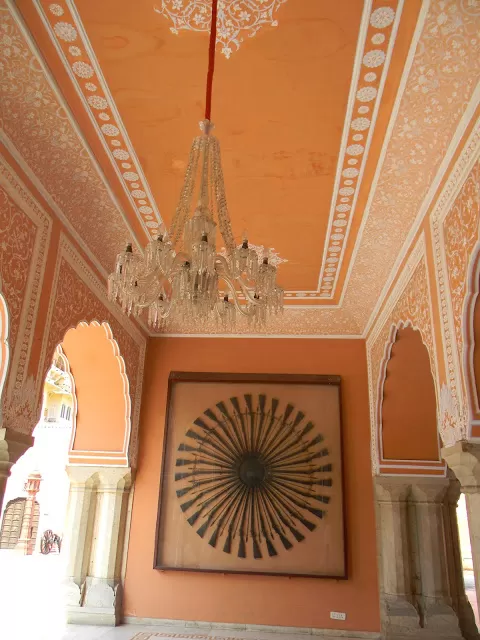 Diwane-e-Khaas, unfortunately, no photography allowed there. This place is well guarded by the Royal guards, who keep an eye on your camera and your movement.This part of palace is very beautiful , where the King used to meet with other Royalties and British govt officials.It has 300 years old carpet which is still very beautiful.
Overall the city palace is worth visiting. By the time I was done with these places it was 5pm and I started feeling bit tired because of previous night journey. Returned to hotel and after excellent Rajasthani thali I retired to bed.
To reach Amer fort, you will have to start from Grand Entrance Gate, here you can take elephant ride to the top on main building. I preferred walking and it was hardly 10 mins walk and I reached the first main section of fort, Suraj pole (Sun Gate). Once you cross this gate you will see a big courtyard known as Jaleb Chowk. This is the place where King's army used to take rest.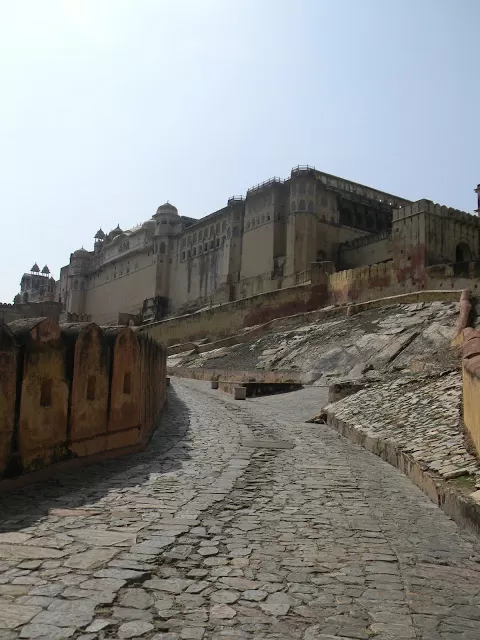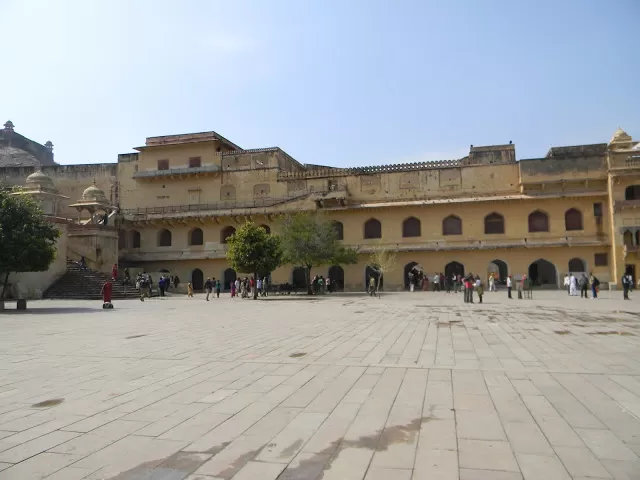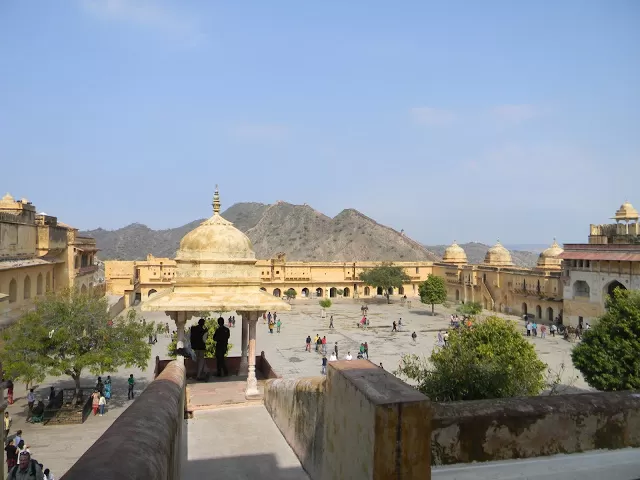 After crossing Singh Pole (Lion Gate), you will see Diwan-e-aam (Hall of public audience) where king used to meet common man. Its big hall built in sandstone and marble. Just opposite to Diwan-e-aam, Ganesh Pole is there, Ganesh pole is dedicated to Lord Ganesha, Majestic, artistic and most beautiful of all the gates I have seen in Jaipur. Breathtaking and really a master piece of work.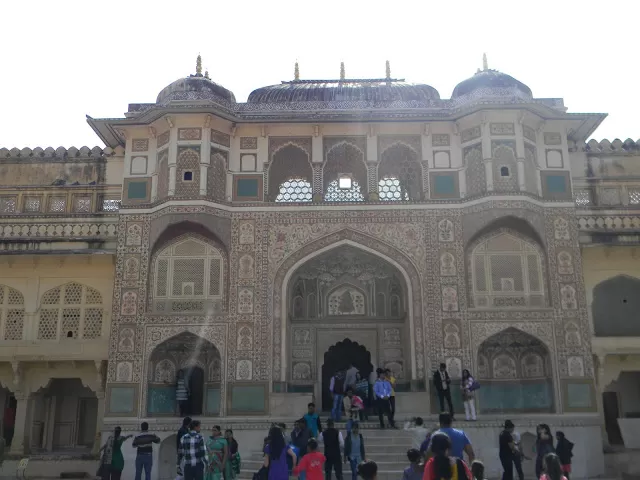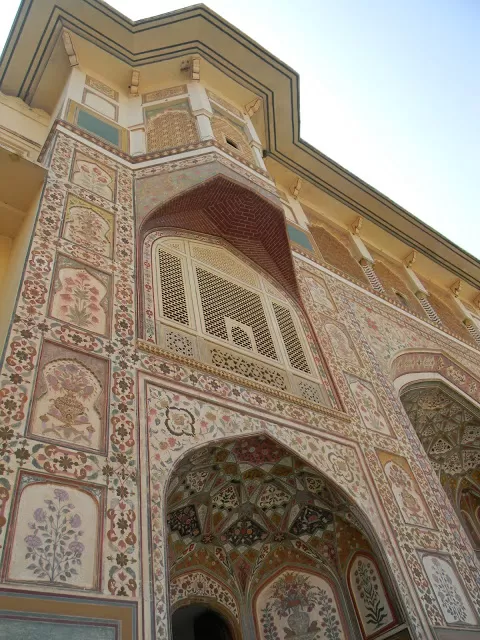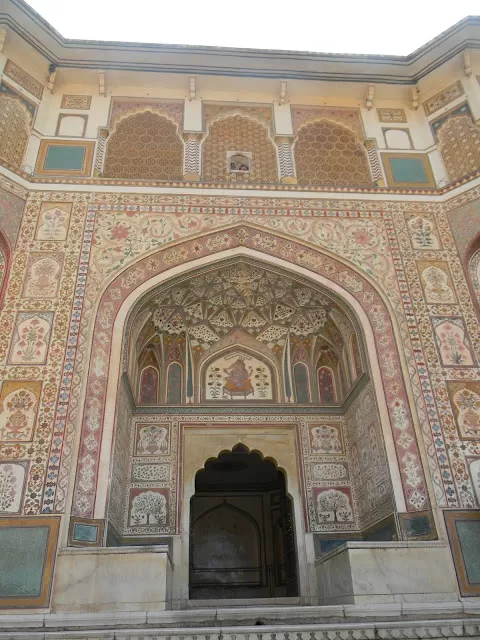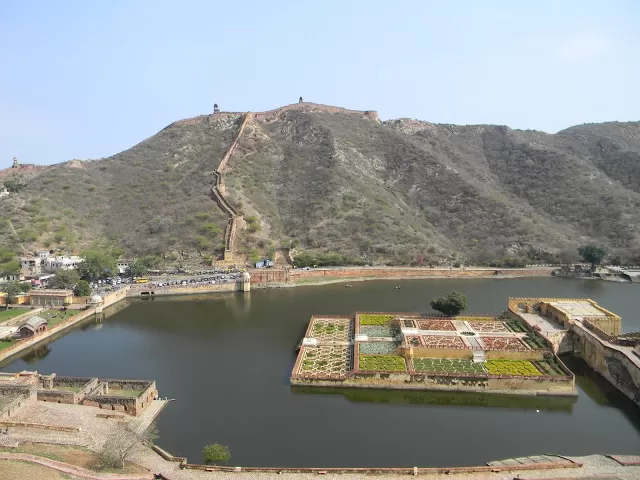 Diwan-e-Khas (Hall of Private audiences) the place where the king used to meet special guests. This place is completely decorated by using marbles, mirrors. Its also known as Sheesh Mahal. The local legend is that just one candle offers enough light to light up the entire hall due to the reflective nature of the mirrors. Exquisitely beautified with glass inlaid panels and multi-mirrored ceilings.The artwork done on the walls will leave you stunned and speechless.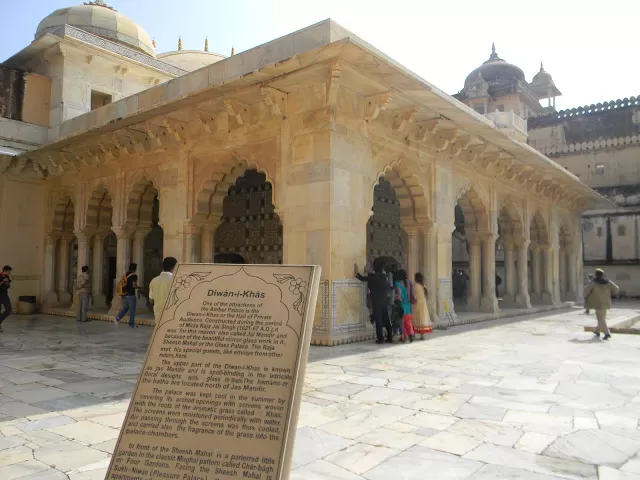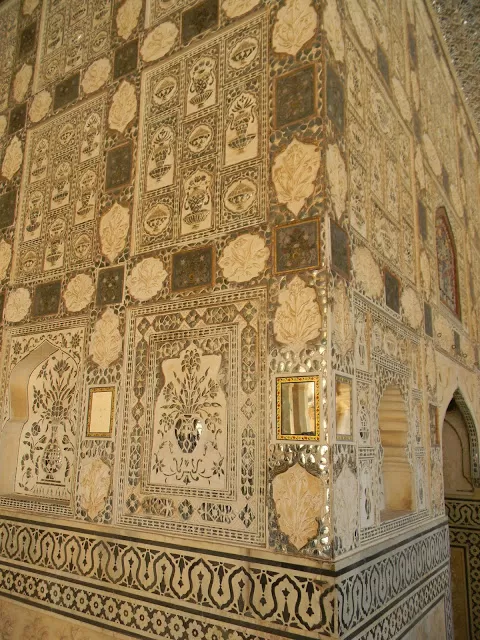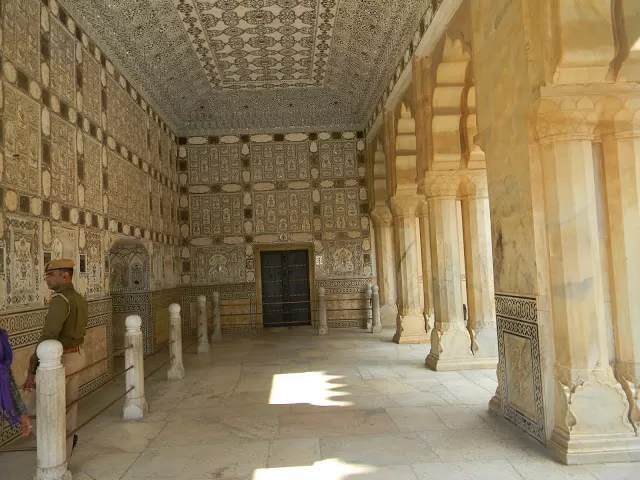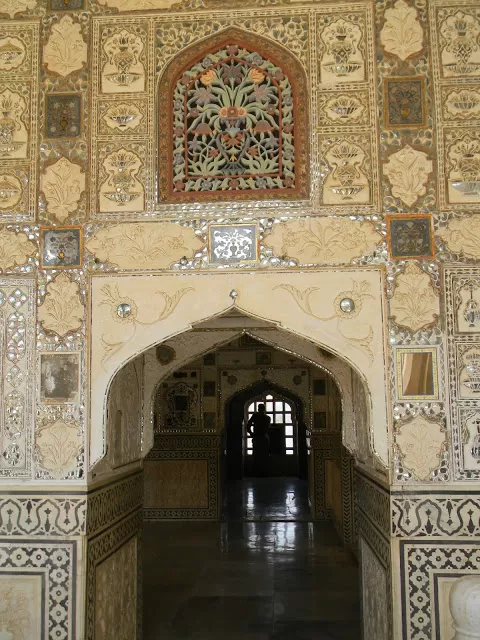 While coming out from fourth courtyard, I saw one ancient tunnel, the secret tunnel. Earlier I was reluctant to go there,then I thought lets see this place as well. It was quite strange that there was no one except me, not much light there. I started exploring the tunnel, then after 5 -10 mins I felt that I might be lost so its better to go back to entry gate of tunnel. I think direction board is needed over there.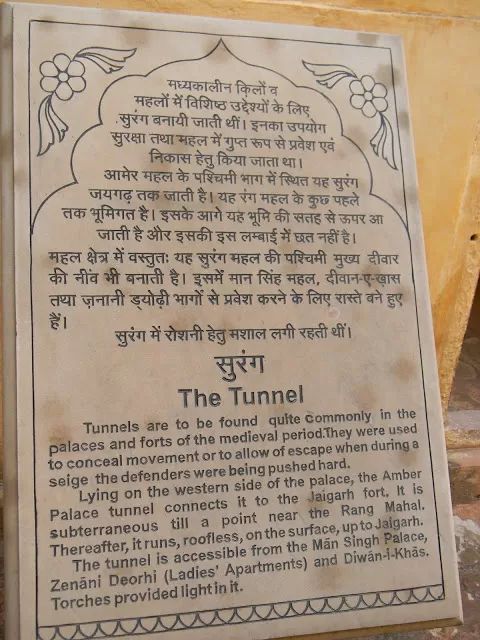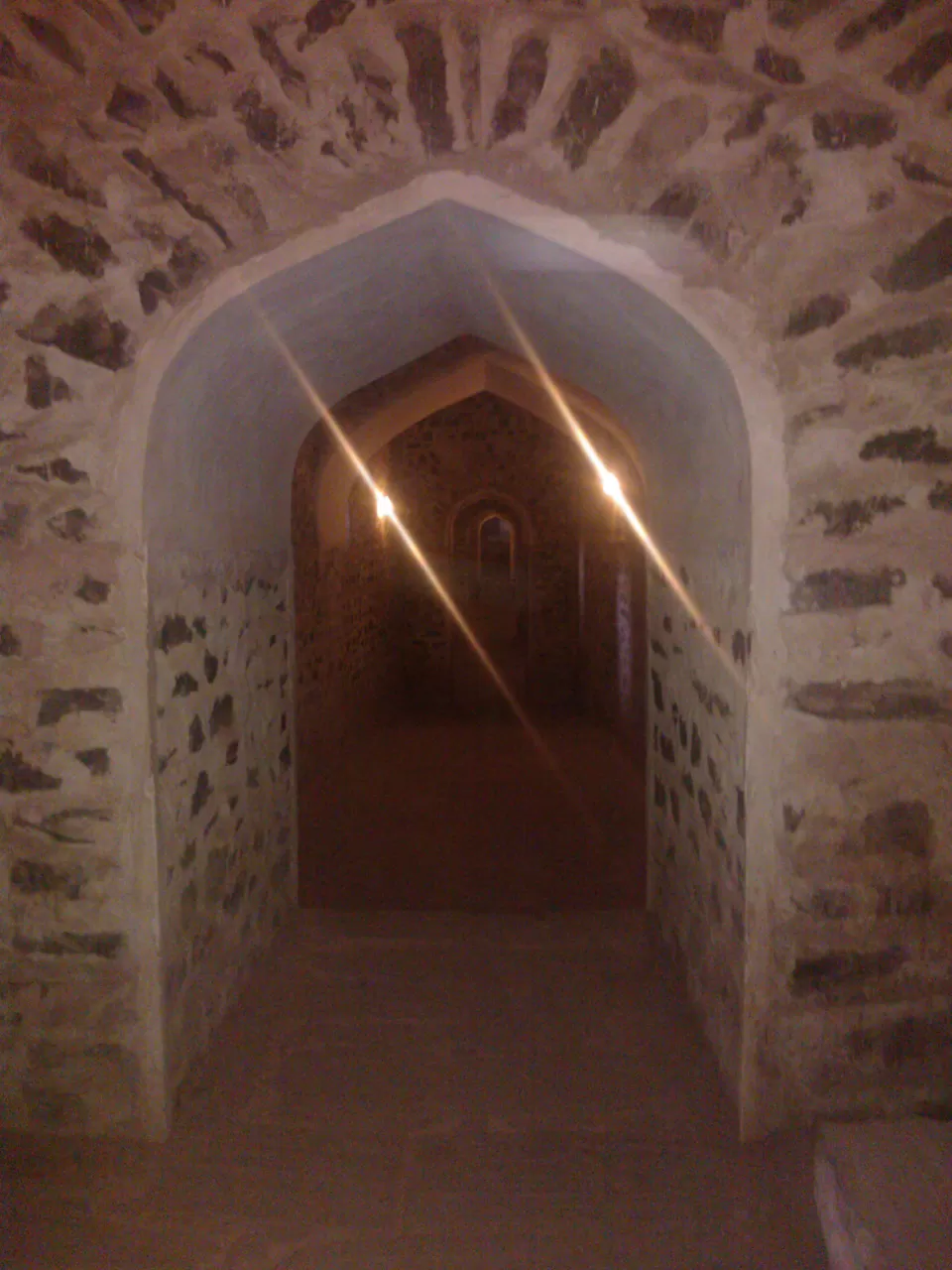 The fort was a major center for cannon production during that era and you can see most of those manufactured weapons in the museum inside the premises of the Jaigarh Fort. Unfortunately photography was not allowed inside the museum. I was amazed to see many weapons, cannons there, still well preserved and maintained by museum authority.
The main palace complex has many interesting places to see.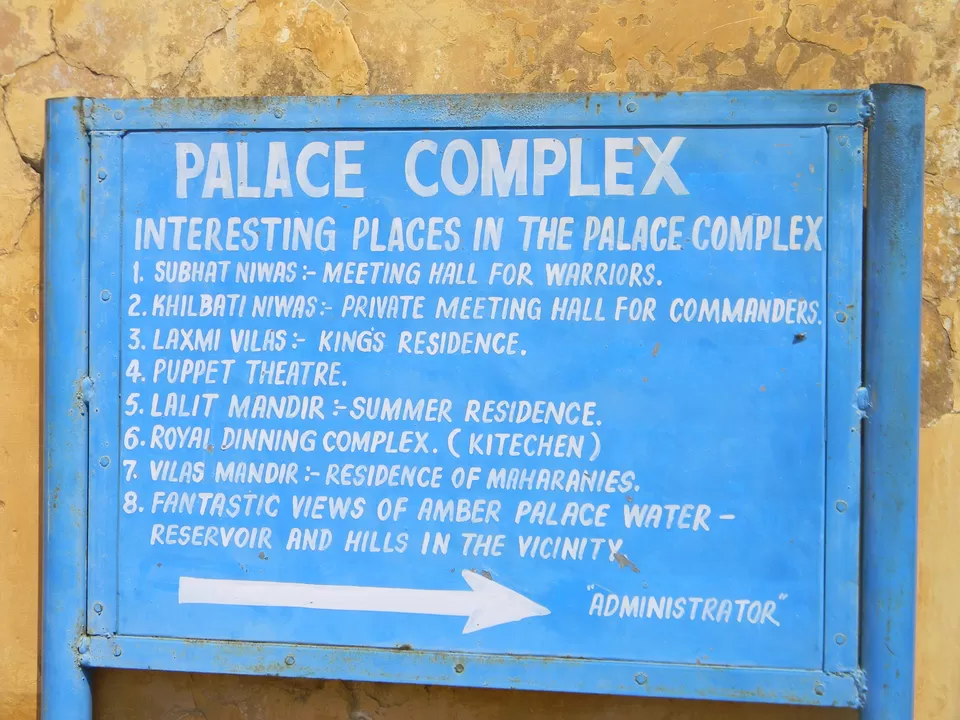 The first thing you will see in palace complex is the open courtyard Subath Nivas, where King used to meet army. Once I crossed Subath Nivas, I saw another courtyard which was surrounded by rooms and then Puppet theater where puppet show was going on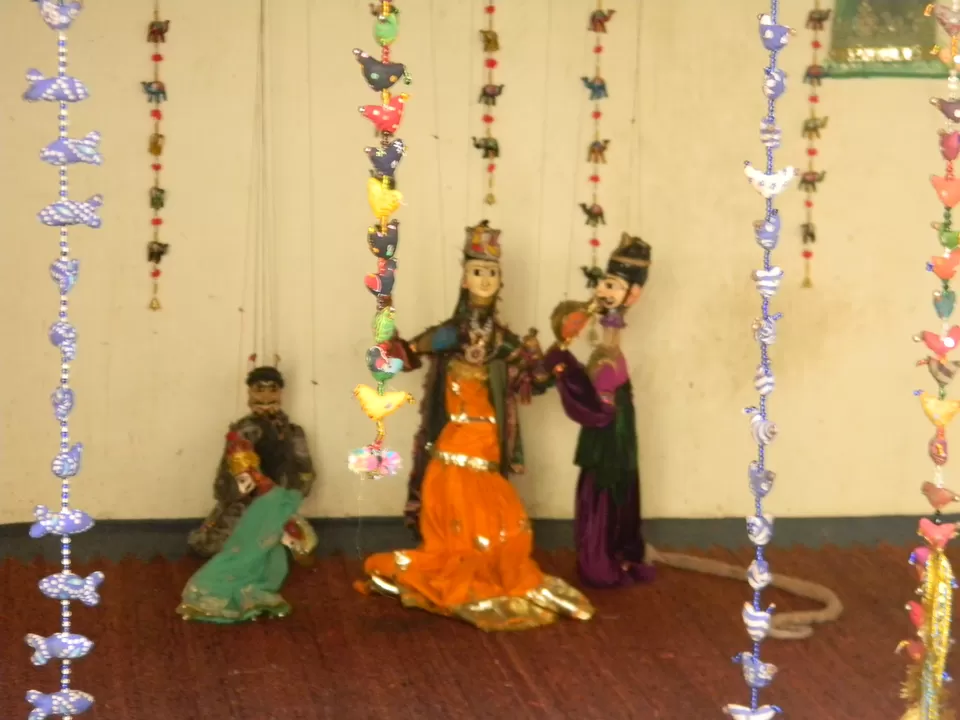 The original name of this fort was something different but later changed to Nahargarh, Interesting legend behind this. When construction of the fort started, resting place of Saint Nahar Singh was disturbed, his sprit obstructed construction and this place became haunted. Later king built a temple for him within fort premises and changed the name to Nahargarh. Then only the construction work was able to start and all haunting activities stopped.
Madhvendra Palace was constructed inside the fort. Maharaja Sawai Ram singh and Maharaja Sawai Madho Singh used to stay here. The two storied palace has nine similar apartments. This palace is beautiful combination of Indian and European style of architecture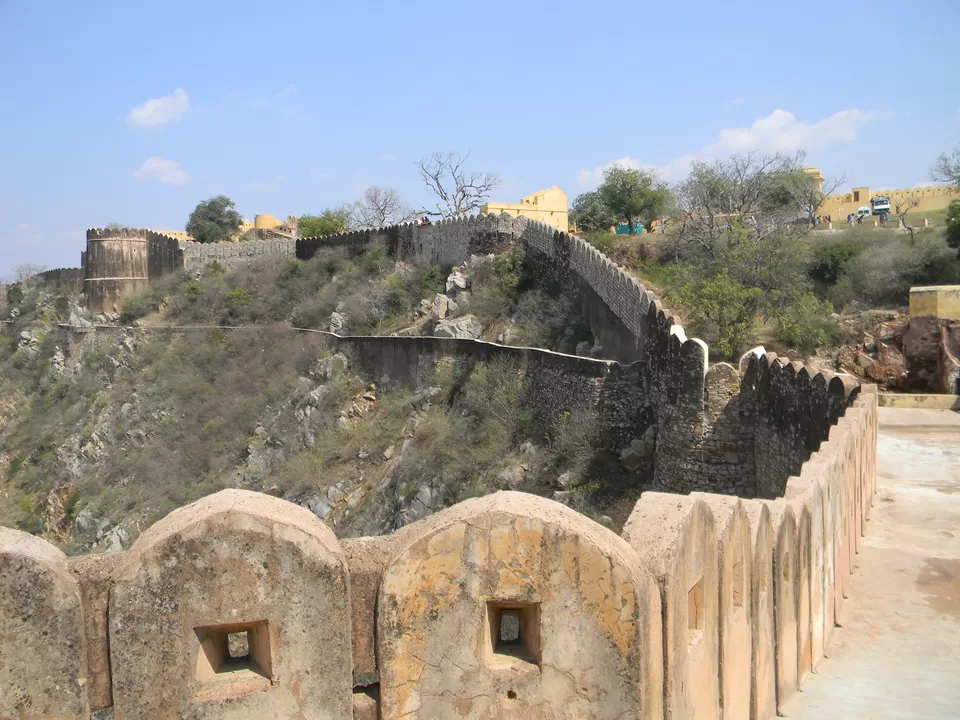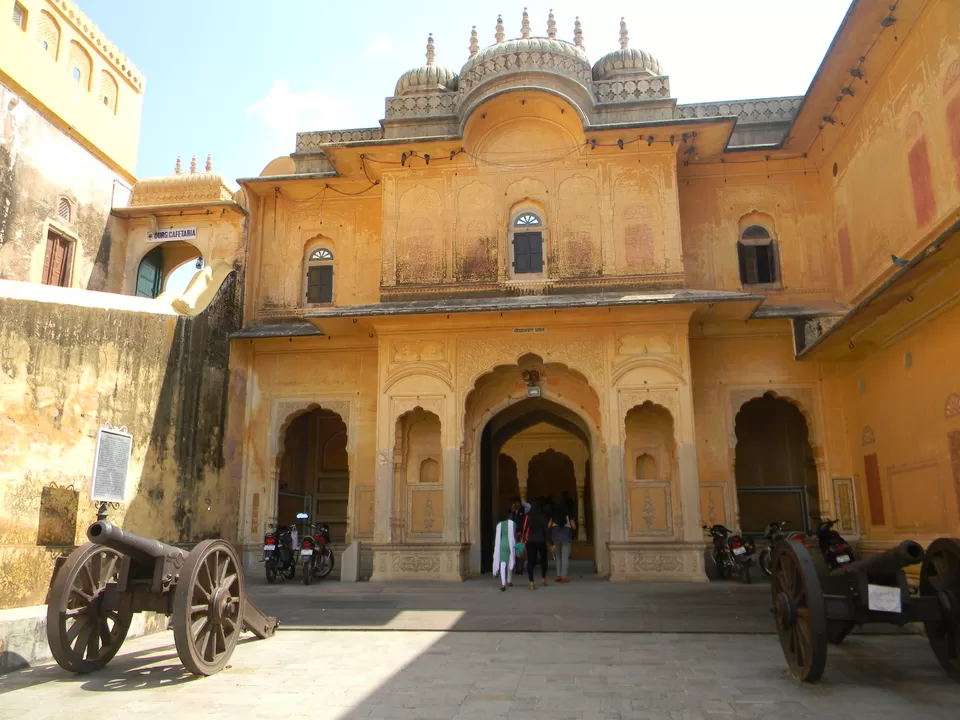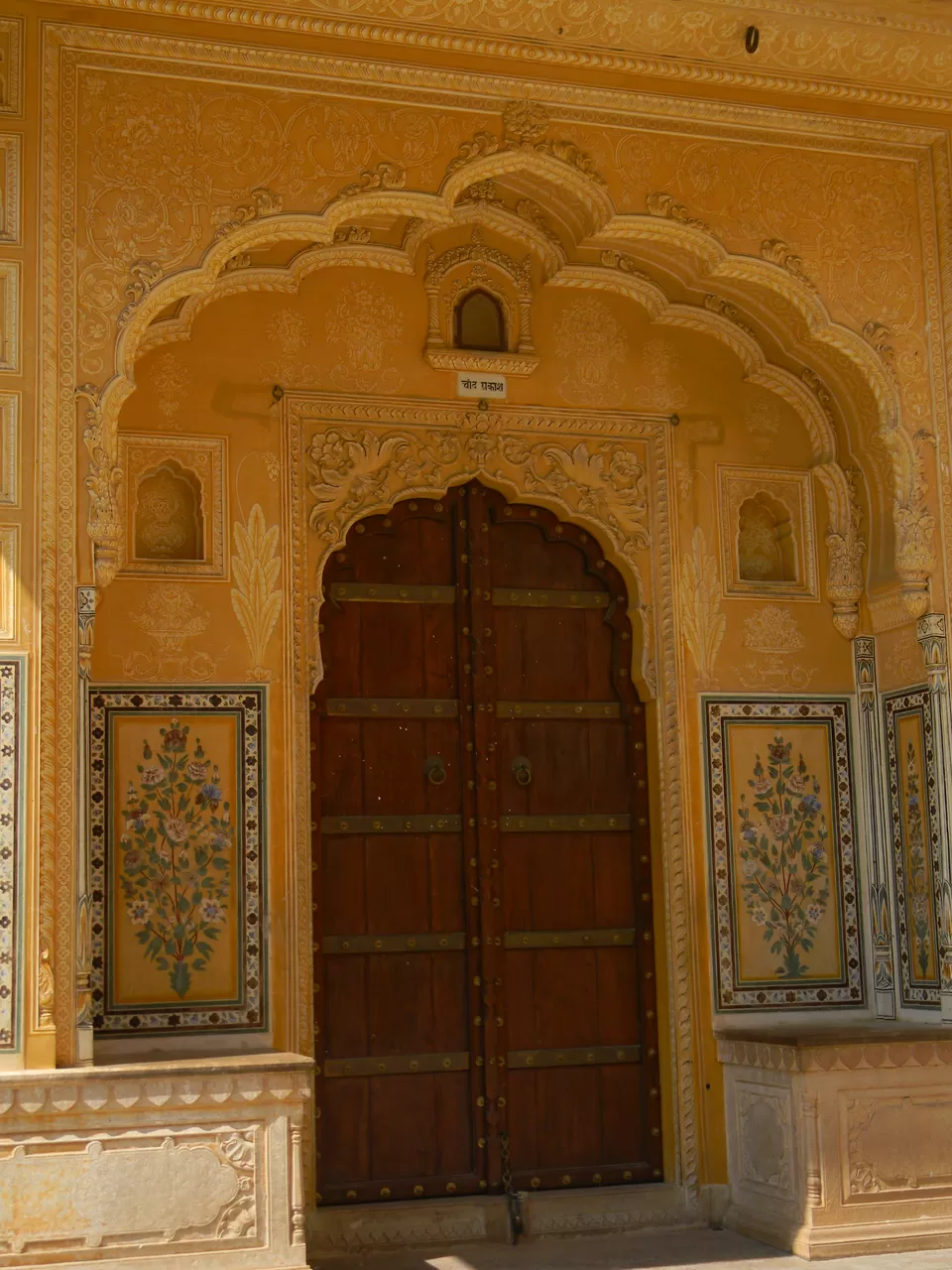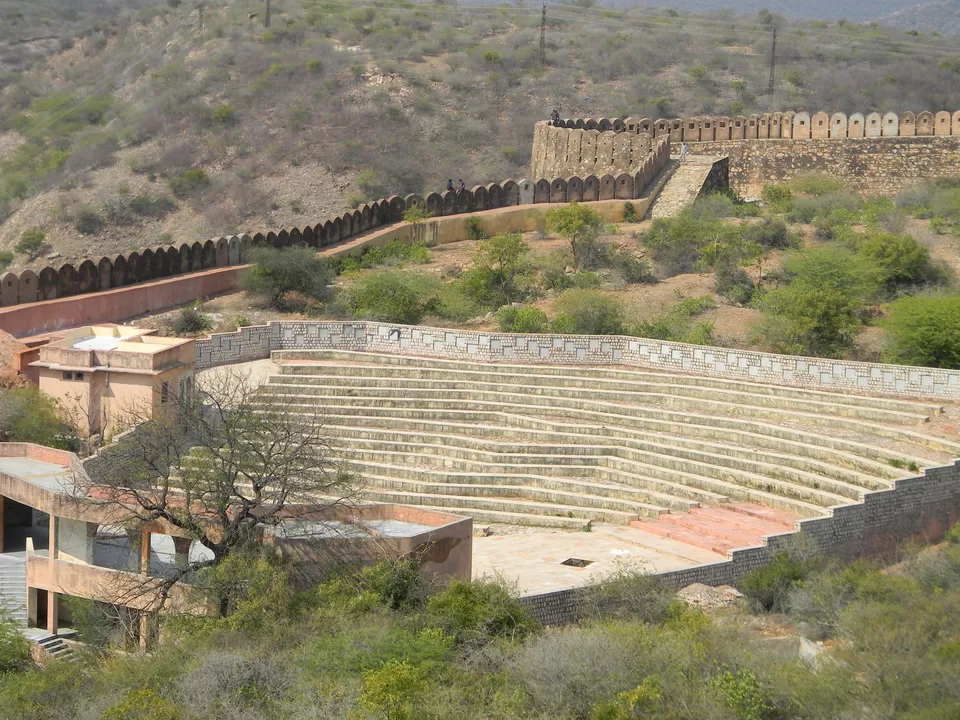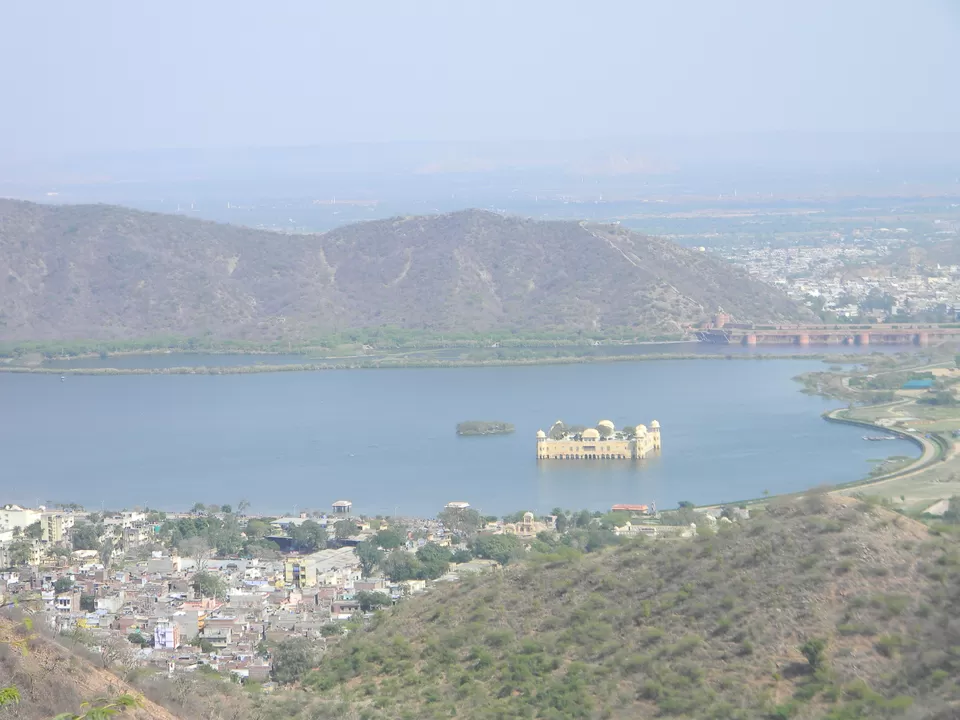 Exploring all these forts can be really hard work for many, as you will have to walk a lot and if weather is hot then it would be really difficult. However these are must visit places in Jaipur.
Another thing which attracted me was the history and stories behind all these forts. You will be amazed by these majestic and royal forts and then you will feel proud that these forts are part of India. Its quite strange that when I used to study in school I hated the history subject most but when I started visiting many places, I feel I can go back to history with more interest and gather as much information I could.
Next day early morning flight to Bangalore and that was end of my 3 days solo travel to Jaipur.
Frequent Searches Leading To This Page:-
jaipur honeymoon package, rajasthan tourism jaipur, places to visit in jaipur for shopping, places for weekend getaways near jaipur, jaipur tour and travels, resorts in jaipur for day outing