In the middle of nowhere, everything you see, and all you see is the golden brown sand, clear white clouds making shapes in the sky, different shades of orange, pink and yellow, reflecting a sort of abstract artwork in the sky and a clear round sun.. (which further was replaced by equally clear and round moon)
Not to miss, the company of 40 complete strangers to cherish the magnetic aura all around..
The golden yellow colored small houses (and a few big ones), clear, broad, long roads, surrounded by barren lands, (few cattle and herds can be seen if you get lucky), A lot of camels, decorated with various sort of accessories, natives dressed in colorful attires, antique silver jewellery, and the large, white windmills !
A simple, yet sumptuous Jaisalmer can be summed up in this.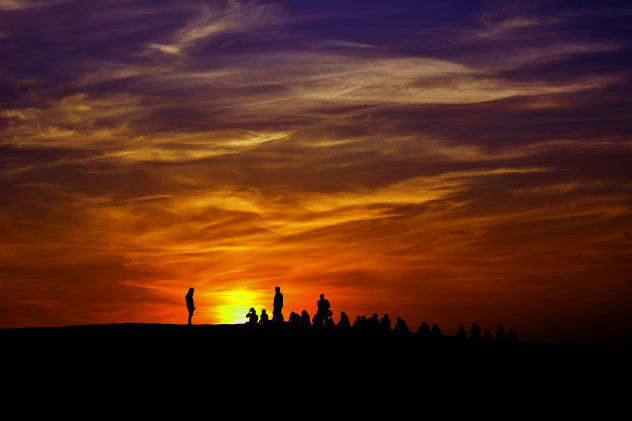 A crazy bunch of people organised a trip to Jaisalmer and invited people on social media to join the trip. Going on a trip with 40 random unknown people, to a new, distant place was crazy thought but exciting at the same time.
Trip started at Old Delhi Railway Station, where everyone was supposed to meet at a common point and it turned out to be a place where everyone was poking each other asking "India42 ?" (India42 – trip organisers)
A common anxiety could be felt in everyone's mind, of being with complete strangers.
Night went on in the train, singing, chit-chatting, playing, eating, knowing each other. The next morning in the golden city turned out to be a series of serendipitous experiences. A bike ride, delectable Rajasthani food, and a visit to sand dunes.
Sunset never looked that beautiful… One can clearly watch it going down, changing its color and the changing temperature of the sand, from hot to too cold.
25th December, Christmas Eve, lying in the middle of a desert, bonfire, a full moon in the sky, a satisfaction of taking a chance to travel with complete strangers… One doesn't easily get this sort of prospect to spend a night like this..
A strange sort of connect was there, with nature, with the sand, with the sky, with the moon, with the strangers, with oneself.
Visit to some historical places followed the night in desert, and again, a long train journey (which proves to be short)
And it's not every day you see 40 people, with the same level nostalgia.
India42 people proudly say, "iss trip pe kuch bhi ho sakta hai", which somehow turned out to be true !!