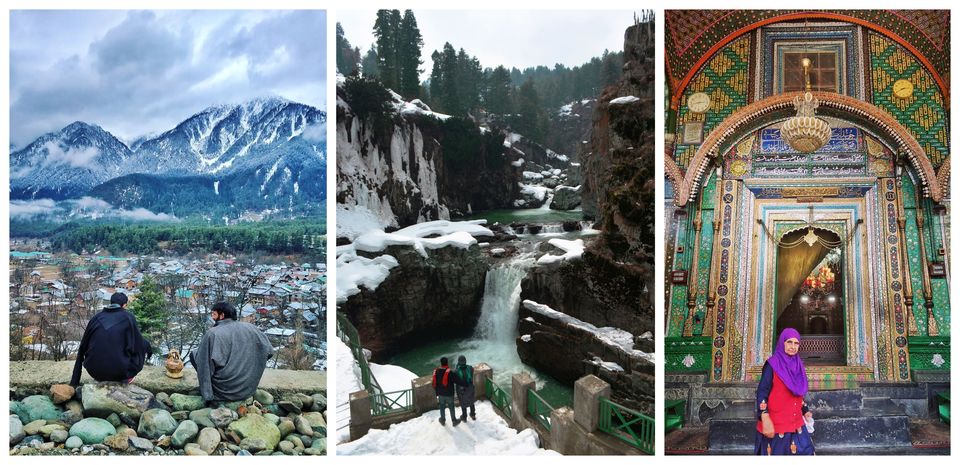 Kashmir has always been one of the most cherished destinations for the domestic tourists. In 2021, when currently international travel opportunities are limited, Kashmir emerged as one of the most visited places in India in January. Most often visited by family crowds, Kashmir also has a lot to offer to solo travellers and small group of friends. I visited Kashmir in 2020 just a fortnight before the nationwide lockdown and explored some of the lesser known gems of the valley. If you want to look beyond the obvious and come back with a wider experience of Kashmir, my itinerary might help you:
Before we begin, some numbers:
Number of Days: 9
Cost of Internal Transport: Up to Rs 200 daily
Cost of Long Distance Transport: Rajdhani AC III - Rs 1500, Srinagar- Delhi flight: Rs 3200
Average Cost of Hotels/ Dorm Beds: Rs 500
Average meal cost: Rs 200
Total Expenditure (excluding shopping): Rs 14,000 approx
And now, we proceed towards the itinerary:
Day 1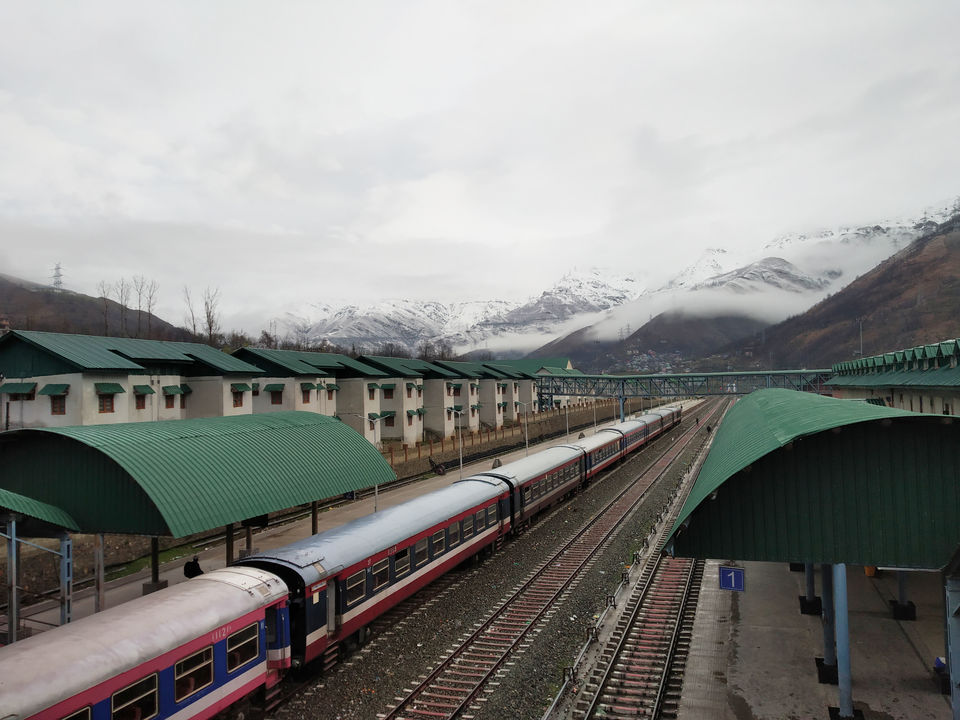 The trip begins with - Srinagar, you would guess. But no, this trip begins with Anantnag. I, along with two of my friends Bala and Tapan, took the Kashmir Railways to cross over the Pir Panjal range from Banihal in Jammu. North of Pir Panjal is the Kashmir Valley and Anantnag is the southernmost district here.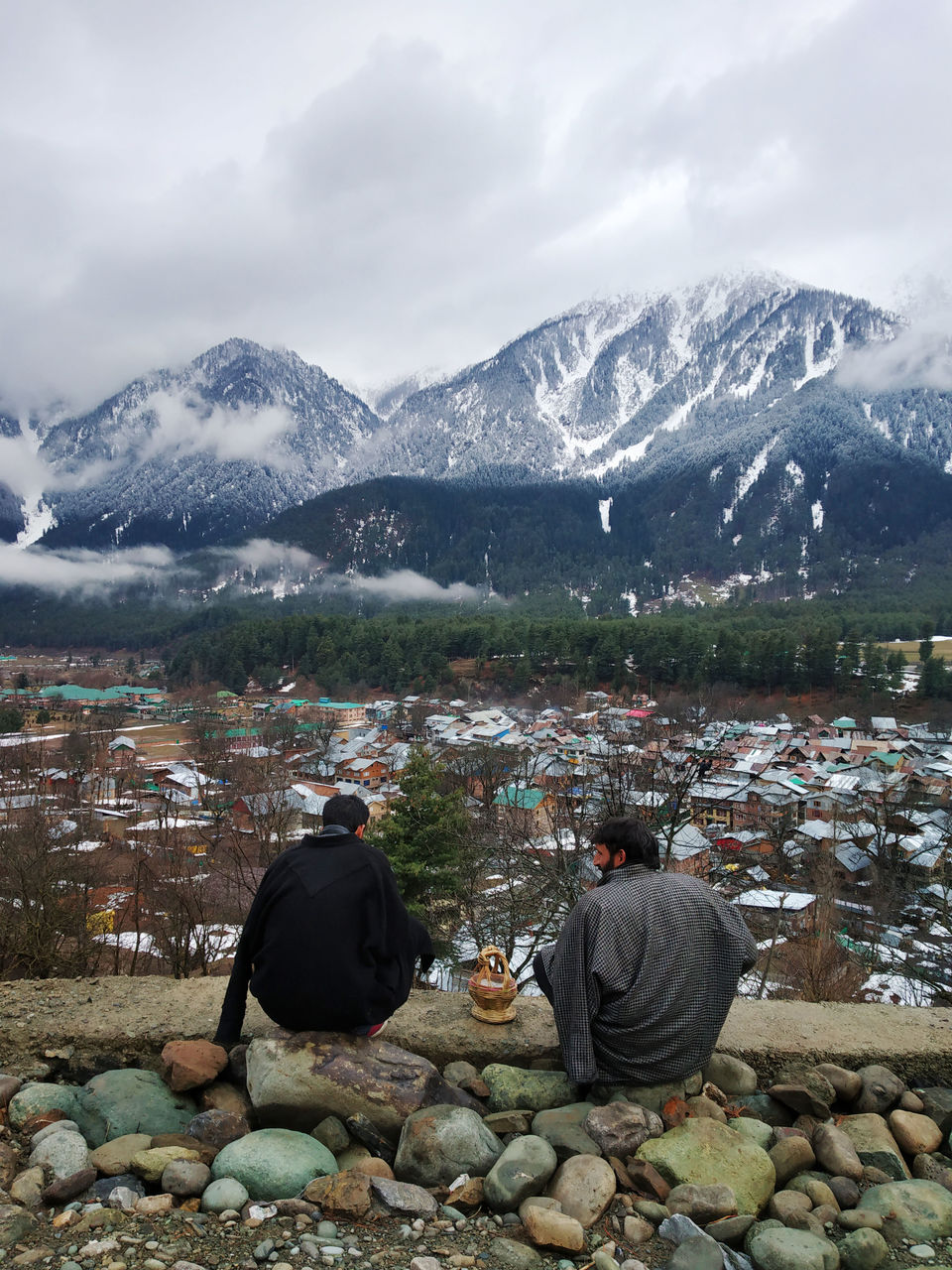 We quickly found a shared taxi to Pahalgam. The one way fare to Pahalgam in a Sumo is 100 Rs. A tourist cab would charge you Rs 1200 for the same. We didn't have to work hard to find a wooden cottage with a great view for Rs 800. In the evening, Tapan decided to ride a mule towards Baisaran, a tourist hotspot in the region. Bala and I took a walk to Pahalgam village meanwhile. Often overlooked by the tourists, Pahalgam village is a few kms ahead of the main market towards Chandanwari.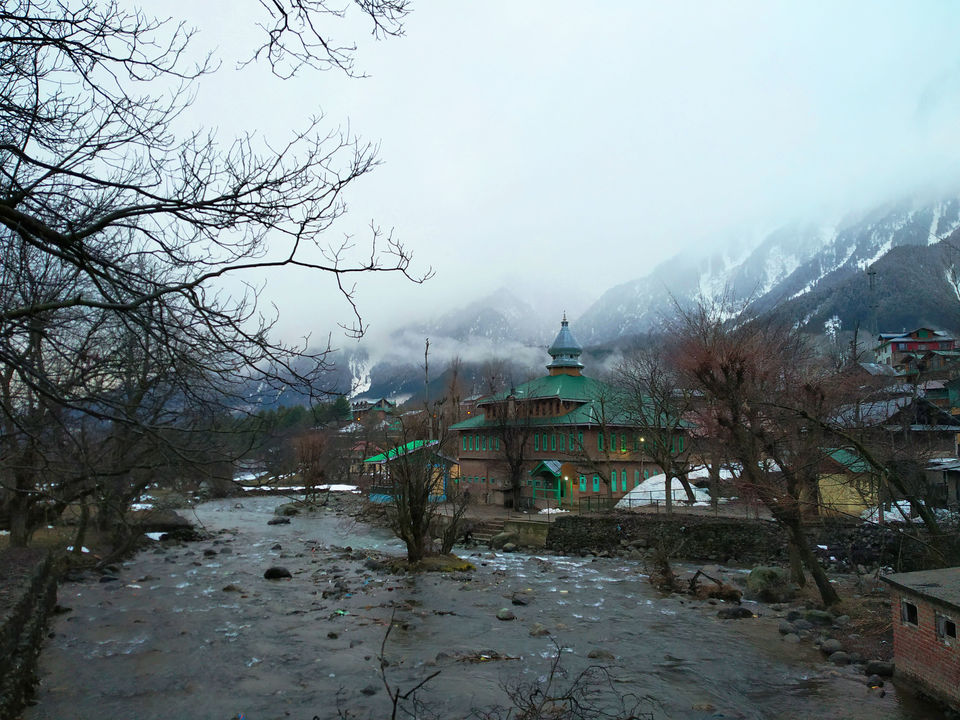 We were going by observing the everyday life of the villagers when an elderly man invited us to visit his place. we agreed. Now we were at a typical Kashmiri wooden house. The living area consisted of no furniture but a carpet spread all over. The family of 10 joined us and offered us noon chai and various kinds of home made bread. Kashmiris love to chat and we had spent an hour there before we realised that it had gotten very dark and it was raining. Muzaffar, the youngest son in the family extended the Kashmiri hospitality to us by offering us a ride in his SUV to our cottage. Later, I got packed lunch for the other two guys from Dana Pani restaurant.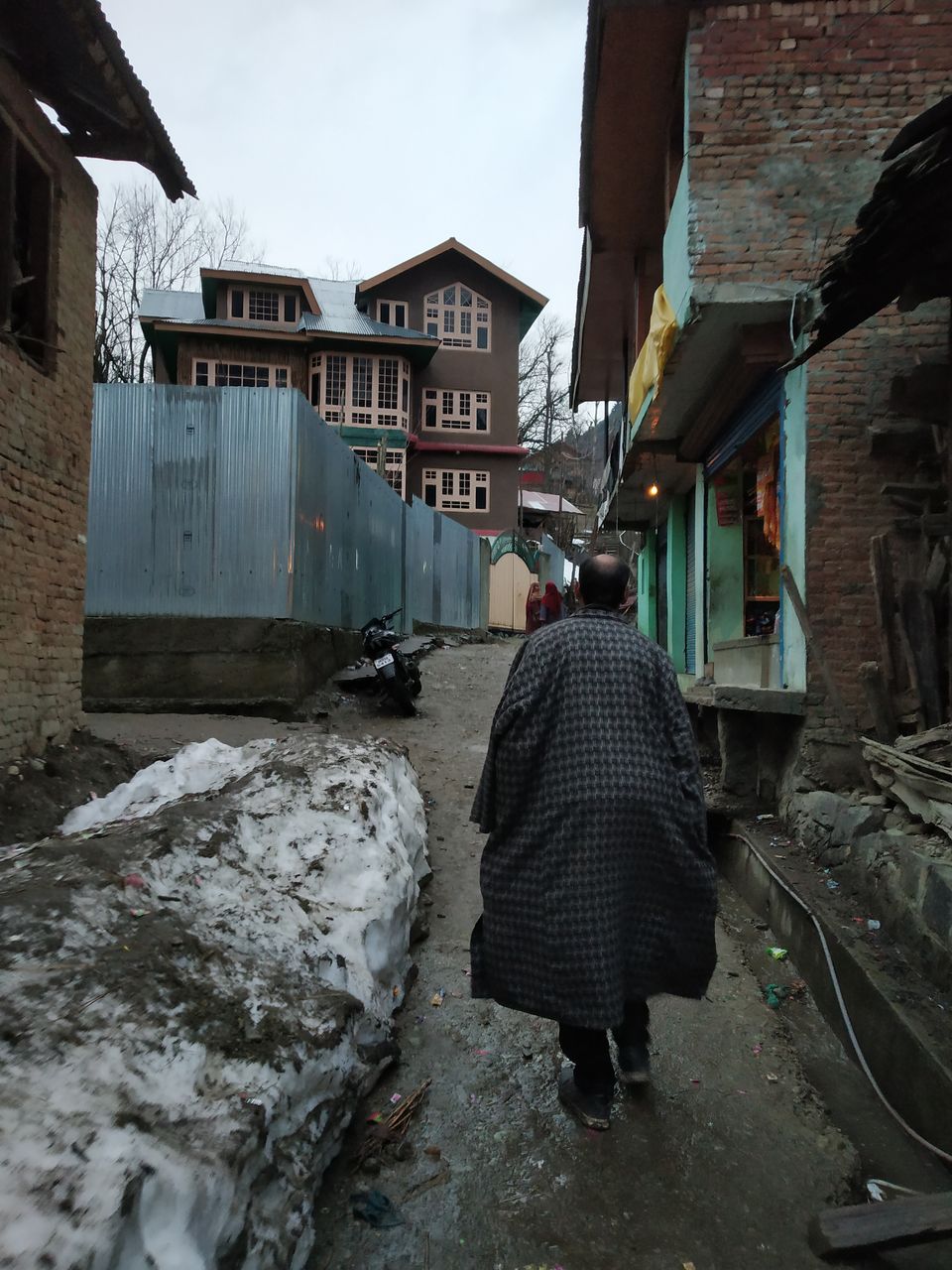 Day 2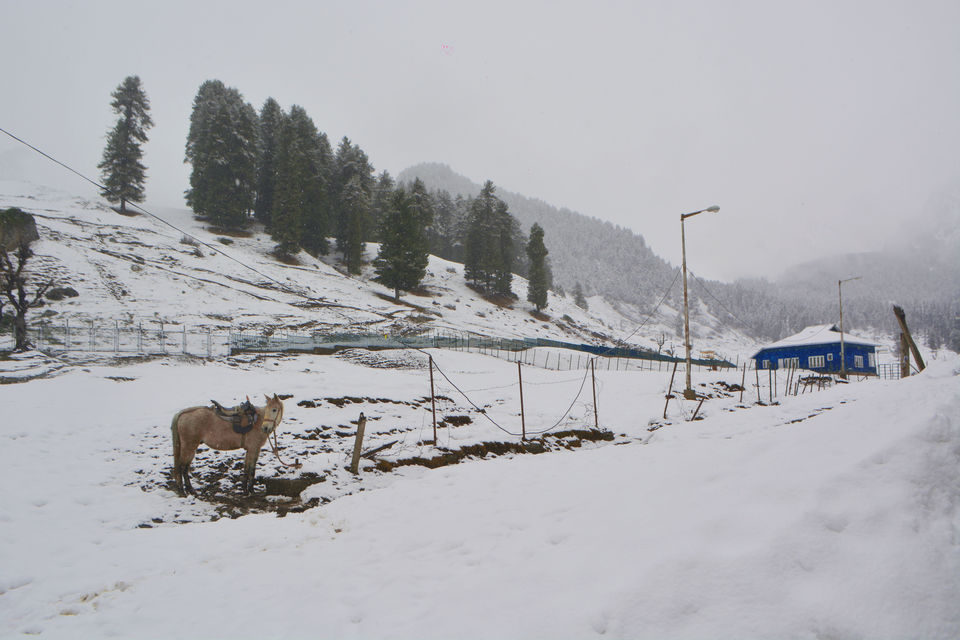 We began the day by visiting Aru Valley. We took the tourist cab this time. However, on my solo trip to Pahalgam in 2018, I had hitch-hiked to Aru valley, about 15 kms from Pahalgam market, free of cost. A nice gentleman had offered me a ride in his car mid-way through the way. Even if I had not got that ride, hiking alongside the views of Aru Valley is one of the most beautiful experiences you can have in your life. It was snowing in Aru and we got some good pictures. Tapan satiated his touristy desires by going on a sledge.
We came back to Pahalgam after that and took a shared cab back to Anantnag. Now was the time when we really wanted to get off-beat. We took another shared taxi for Rs 120 each to Shopian. Most tourists never visit Shopian because of its frequent notorious mention in the national news. There were multiple checks on the way and once a guard also asked me to show all my stuff to him, and asked me not to wear weird caps like the one I was wearing (Ushanka).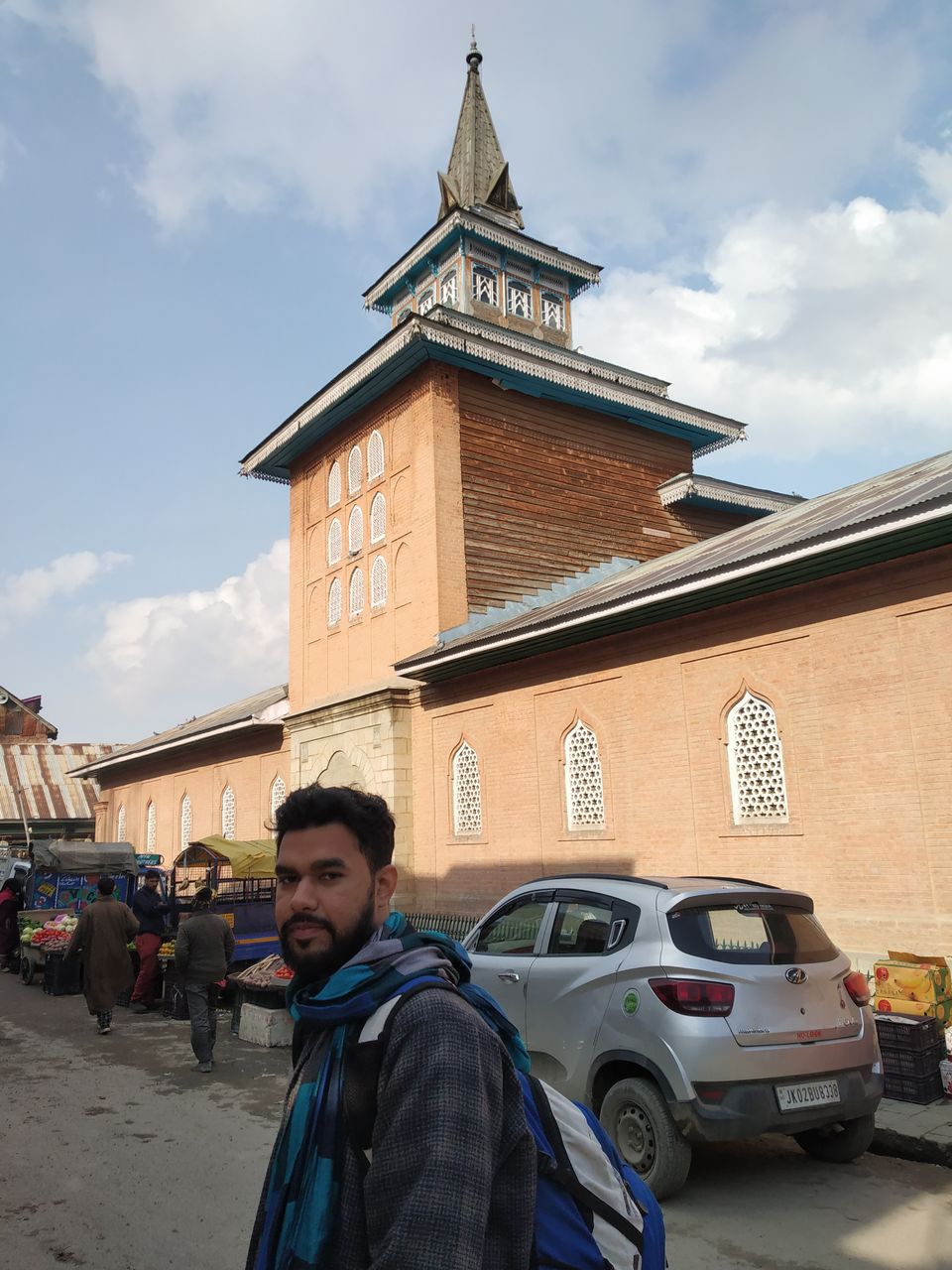 Anyway, we reached Shopian, and it turned out to be the least touristy place in Kashmir. We did drive a lot of attention from the locals and I decided not to carry my DSLR out as it makes people conscious at such places. We found an okayish hotel (Tulip Residency) here and roamed outside. The central point in Shopian was a large mosque built in Kashmiri style with wood. We had evening snacks at Daanish restaurant. We really liked the kebabs here. Exploring the market, we came to understand that a lot of Kashmiris study in Iran, Kazakhstan and Bangladesh through the posters and pamphlets around. There were many bakeries also here with a variety of cookies to offer. I was intrigued by the copper utensils shops here. But when I inquired about them, the shopkeeper told me that those things weren't meant for me.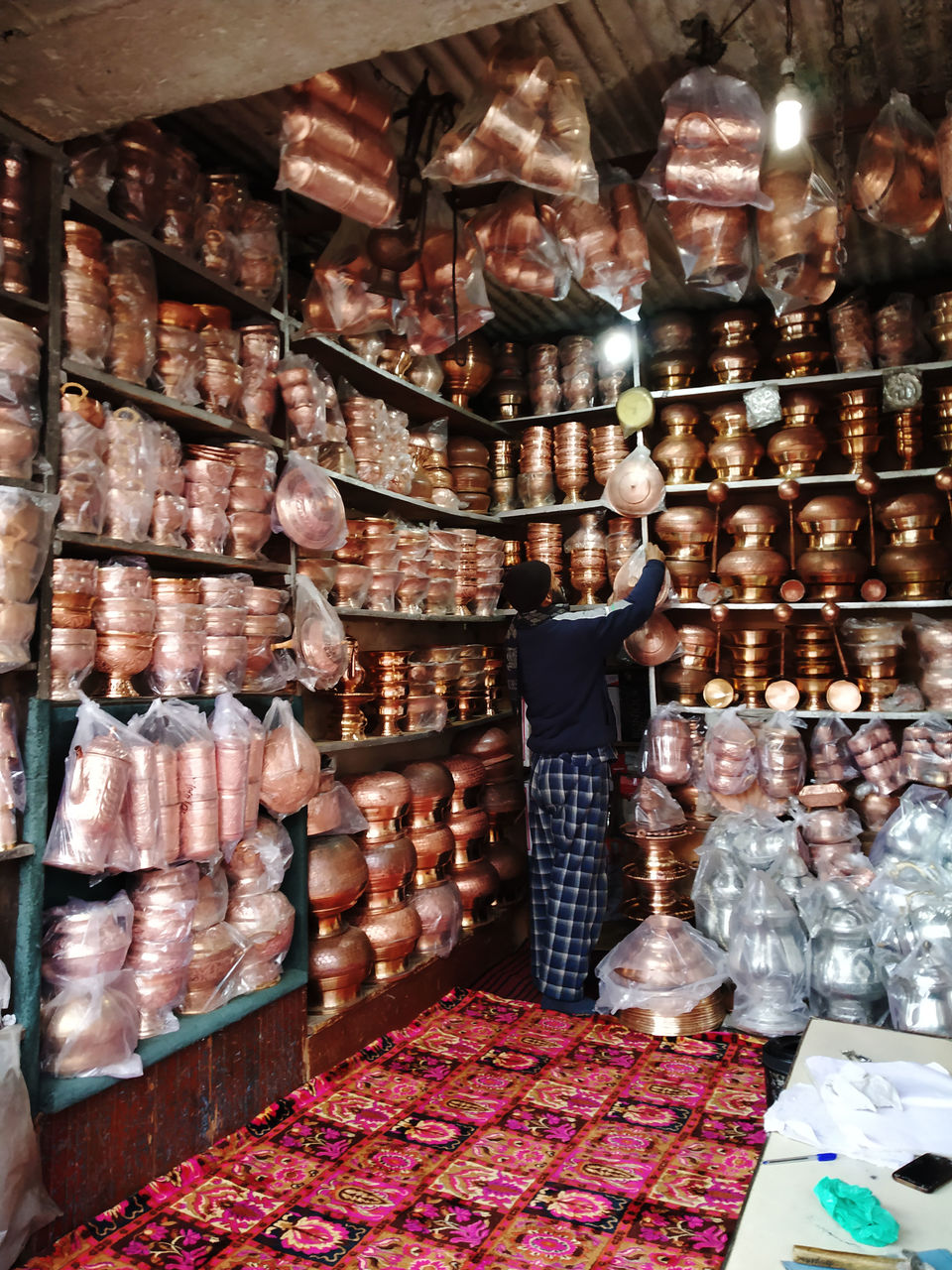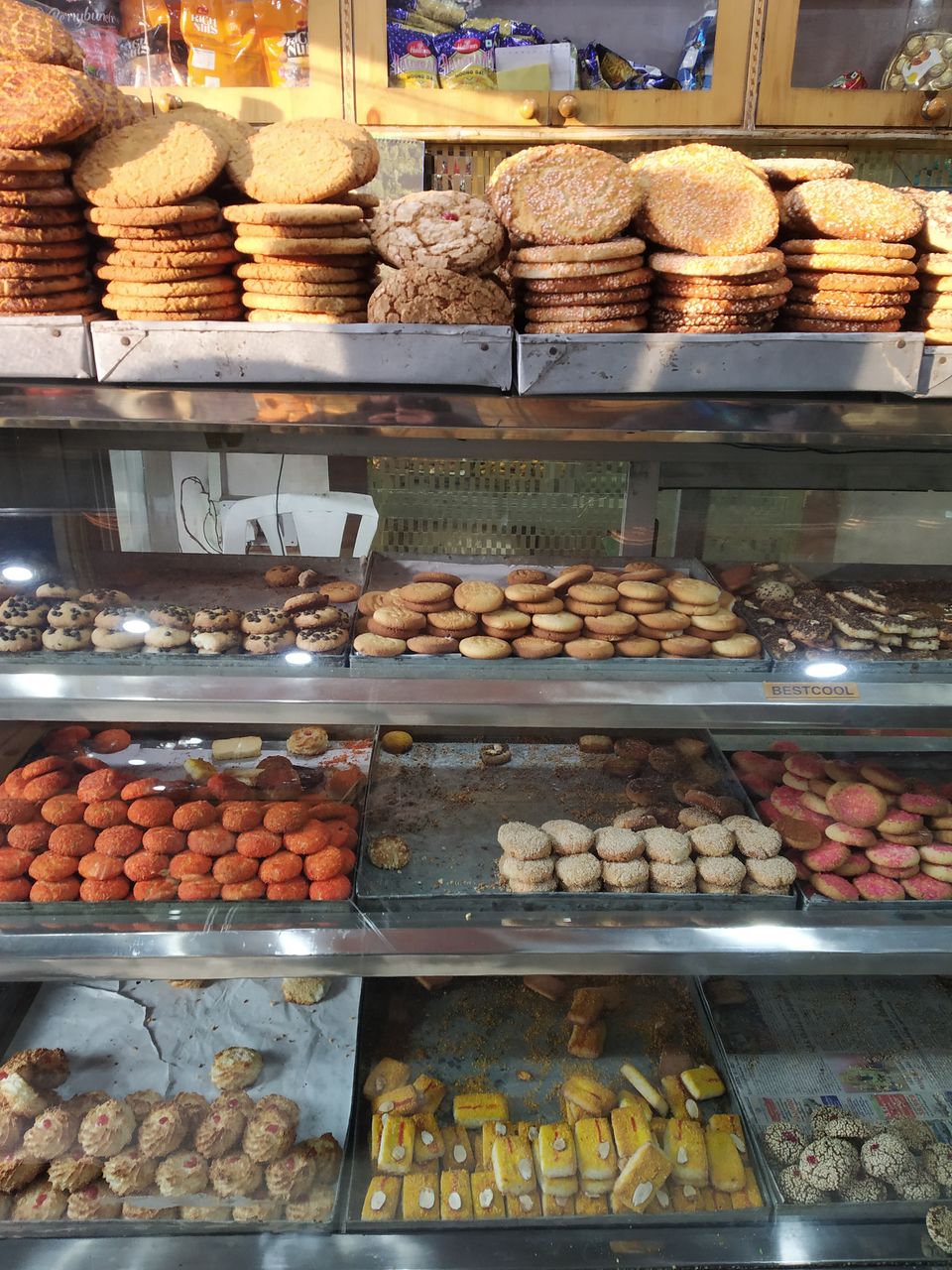 We came back to the hotel and had dinner there itself. There was an unusual lot at the hotel - a cook, a caretaker, a trader from UP. They helped us out plan the journey ahead to Aharbal waterfalls.
Day 3
Early morning, we took shared taxis to Nihama from where we were supposed to get another shared taxi to Aharbal waterfalls. But Nihama just captured our hearts. We were mesmerised by a beautiful mosque (Jamia Masjid) and walked towards it to eventually find ourselves standing beside the enchanting views of Vishaw river.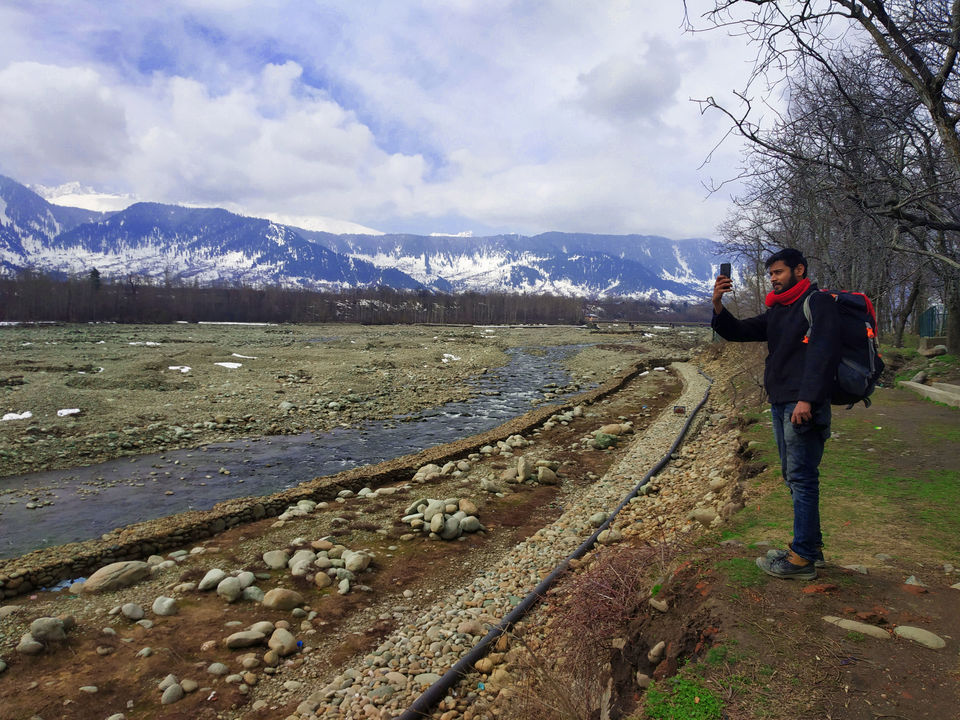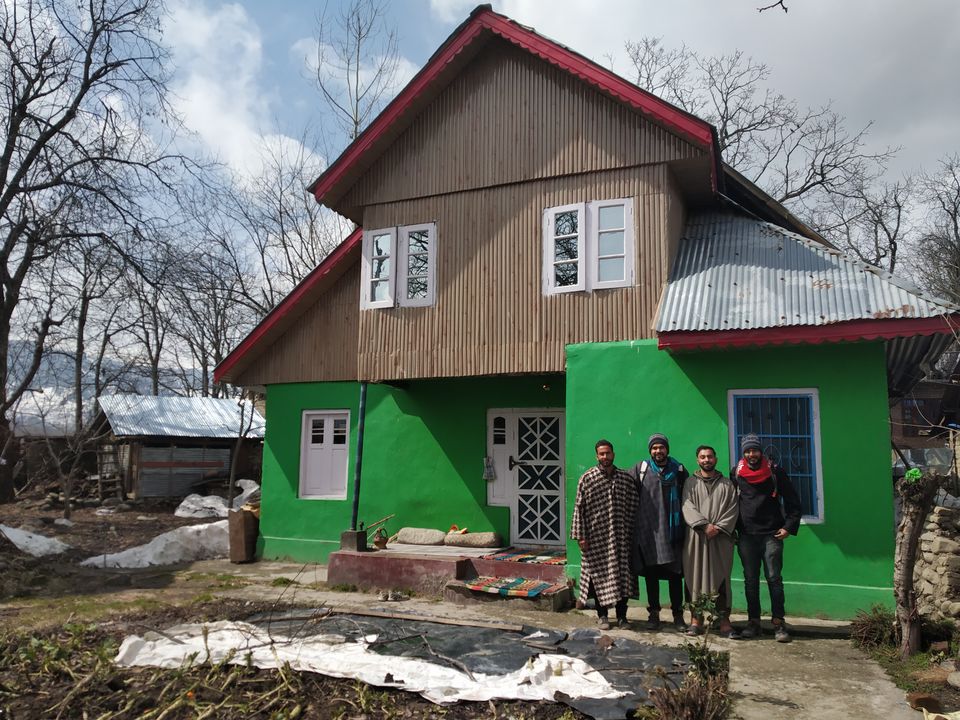 While we were lost in this beauty, a stranger in his thirties got loquacious with us. He invited us home and offered us apples and tea. After a pro government conversation with the government employee, we made our way to Aharbal waterfalls through snow clad hamlets. The waterfall had snow all around it and sparkled like emerald. Having spent a few hours here, we took share taxi back to Anantnag. The last train at 4pm towards Srinagar had already left, so we took another shared taxi to Srinagar. We took a hotel near Nehru Park for Rs 1000, had dinner and slept.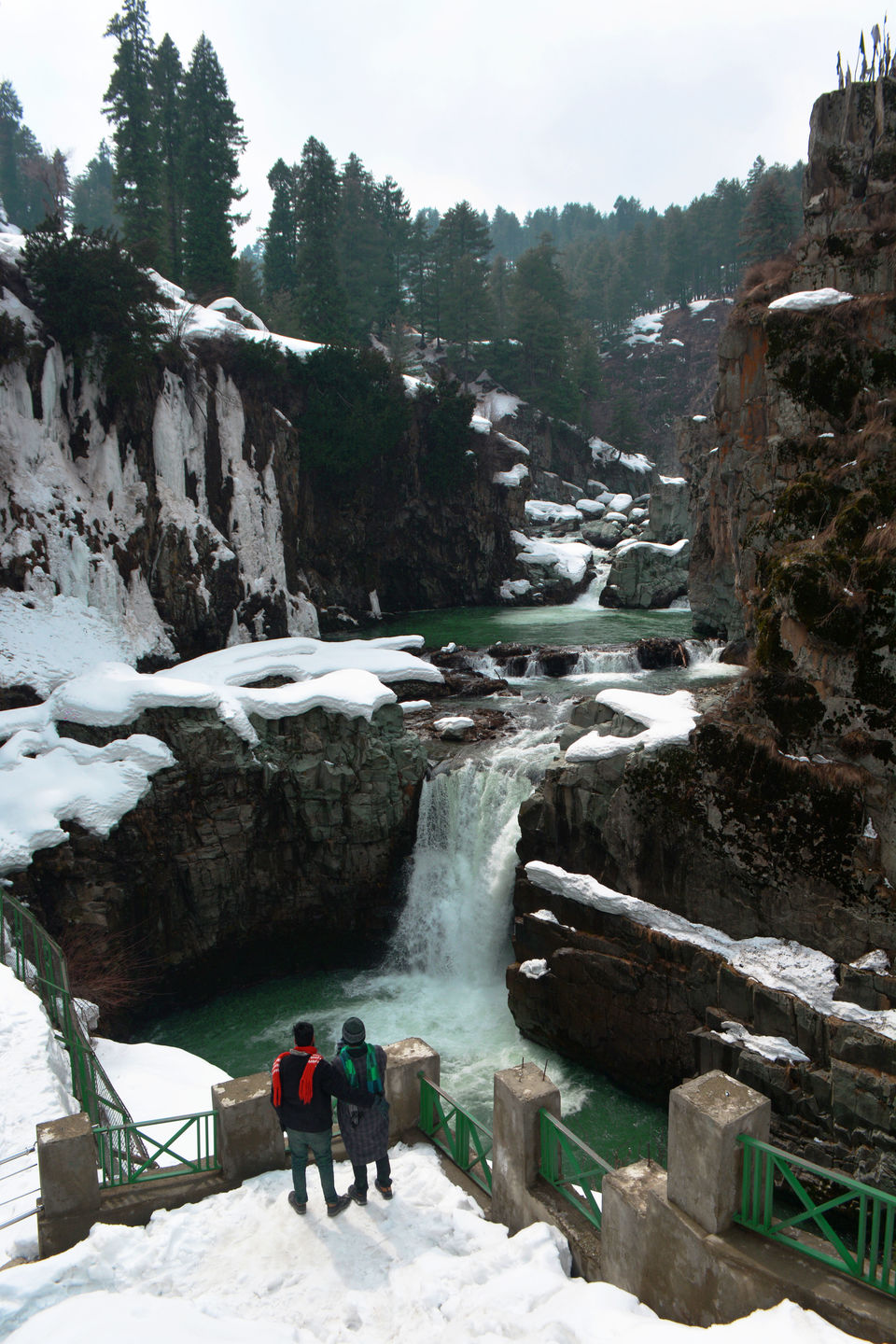 Day 4
Early morning, we took the Kashmir Railways to Sopore. The town surprised us with its old rustic charm whch felt like a scene out of a medieval Persian movie. Taangas (horse-cart) thronged the roads and the girls wore thick kohl unlike any part of Kashmir. We were hungry, so we found a restaurant that served us some local delicacies (Tabakh Maaz). We quickly left Sopore for Bandipora. This is a very scenic route that goes all along Wular, the largest lake in India. Our plan was to enjoy the best views of Wular lake but after reaching Bandipora, we realised that the best place to get views was Ashtangoo which we had already crossed. Anyway, we went around the lake and interacted with the locals.
The kids asked us if we were from Hindustan. News about corona had already reached their ears and they were also scared that tourists could carry the disease with them. To put the right picture, it is not uncommon to find anti-India sentiment in Sopore and Bandipora. We came across many such graffitis in the city, some of which were visible while others had been painted over by the Indian military.
As the evening arrived close, we took a bus from Bandipora to Srinagar. This journey takes you along Wular lake, Manasbal lake, Ahansar lake, Sumbal lake and Jhelum river.
The next day Bala and Tapan were to leave for Delhi, and I had another five days to spend in Kashmir. For the solo leg of my journey that revolves around historical and religious (Buddhist) places of Kashmir, read the next part of the journey here.
Ready to travel for free? Earn credits and redeem them on Tripoto's weekend getaways, hotel stays and vacation packages!
Think we missed out on something? Tell us about it in the comments below. Or write about it here on Tripoto and earn Tripoto Credits!
#Kashmir #Aharbal #Pahalgam #Off-beat #Jammu-Kashmir