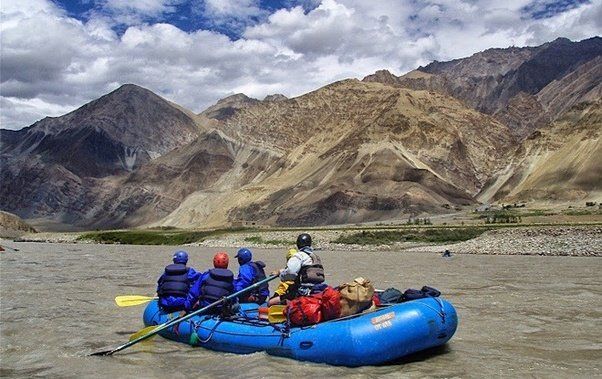 I suggest Leh Ladakh would be the most enchanting experience. It is a perfect pack for spirituality , adventure , thrill , bike riding ,
serenity & AWESOMENESS.
There are some gems from my trip to Leh ladakh i want to share for everyone visiting leh anytime soon.
Maitreya Buddha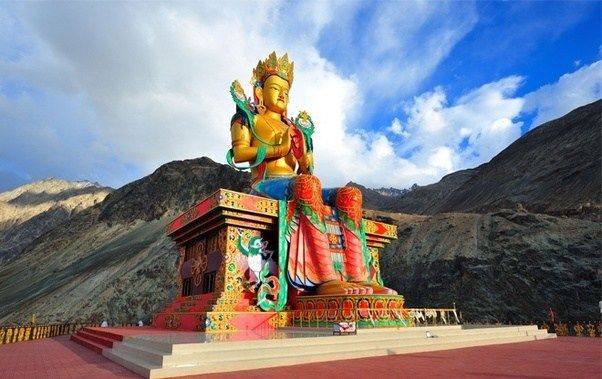 Close to the oldest monastery of Nubra valley in Ladakh, Diskit monastery, lies the impressive statue of Jampa Buddha. Along the other attractions of Nubra, this mighty Buddha statue surmounted on top of a monastery, is one of the prime and is deeply appreciated for its architecture. Facing the Shyok river, the statue sits tall with a height of 32 meters and was constructed with the help of the natives of the valley.
Pangong Lake

An enchanting water reservoir, Pangong Lake reflects the dreamy beauty of Ladakh. Plonked at an altitude of 14,270 ft, the crystal blue water of the lake reflects the stark mountains it is ringed by. Lose yourself to the serene atmosphere.
River Rafting in Ladakh
Indus River is the river that flows across Ladakh. The source of this river is Kailash Mountain and the Mansarovar Lake in Western Tibet. This historical river is a paradise for adventure seekers as well as river-rafting beginners. Flow of the stream increases between June and August, and it is the best season for rafting.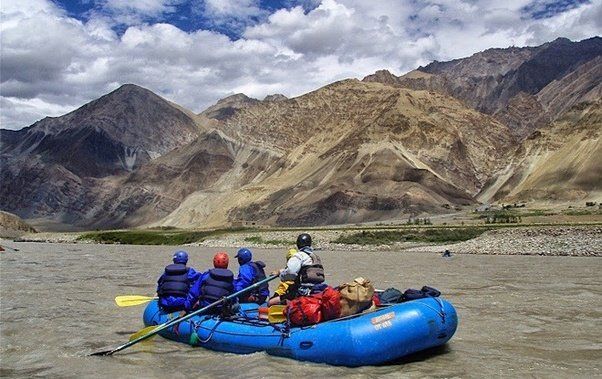 Rafting in the Indus offers mesmerizing view of Buddhist Monasteries and titanic hills. Rapids, in this river, vary between grade one to five. Popular route for beginners is Hemis-Stakna-Shey-Thiksey-Choglamsar. A rather more adventurous people can go for the route between Alchi and Khaltsey. Some other common routes are:
Phey-Nimo route: this route has grade two and three rapids and passes through hamlets, monasteries and other beautiful sites to behold.
Kharu-Spituk: Recommended for beginners
Upshi-Kharu: This is an easier route and the rapid ranges between one and three.
Saspol-Khaltsey: A good route for adventure seekers.
Phey-Saspol: This route is for those who want calmer rafting and enjoy the view of the vicinity.
Tso Moriri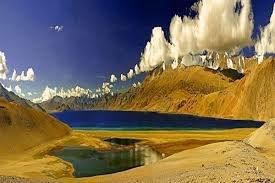 At a height of 15,000 ft. Tso Moriri is a fresh water lake. The route from Leh to this place is a fascinating one as there is a dramatic change in the topography from rugged landscape to lush vegetation. Those who want to truly experience the beauty, can stay at one of the guest houses available near the lake.
Royal Leh Palace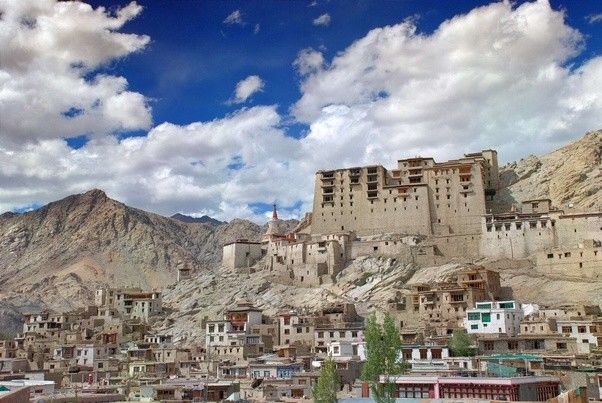 Belonging to the 17th century, the Royal Palace by constructed by King Sengge Namgyal. An architectural marvel, this is a nine-storey high structure giving great sights of Leh, Stok Kangri and the Indus River. There is also a museum in here which showcases collections of ceremonial crowns, dresses, jewelleries and ornaments.
Zanskar Valley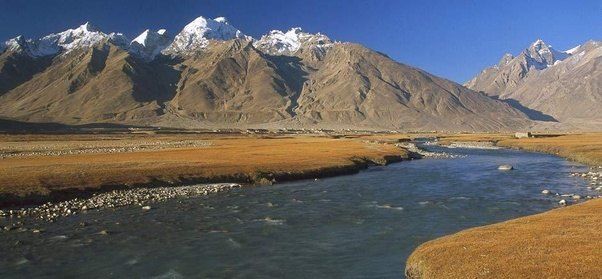 On of the most remote places to visit in Ladakh, Zanskar Valley displays great beauty. It lies in between of Great Himalayan ranges and the Zanskar mountain ranges. This stunning area is ringed by high mountains and is closed for around eight months in a year due to heavy snowfall.
Magnetic Hill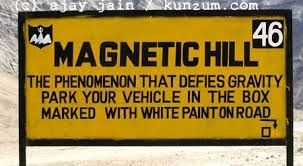 ​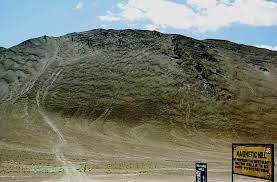 Also referred as the Gravity Hill, the Magenitic hill is especially known for its curious natural phenomenon. It lies in Leh-Kargil-Srinagar National Highway, around 30 km from Leh. Due to the way the hill is placed, even when the ignition of the vehicle is off, it appears to be moving upwards. An added attraction of this place is a Gurudwara close by.
Shanti Stupa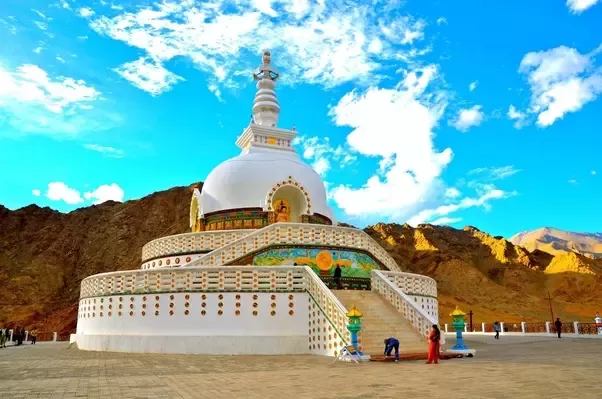 Plonked on a steep hill top, serene Shanti Stupa is close to the town of Leh. Perched at a height of 4267 metres, it offers stunning sights of Leh and snowy mountains. At the base are relics of the Buddha that were enshrined by His Holiness Dalai Lama himself. Come here at such a time that you catch the breath-taking sunrise and sunset here.
Kargil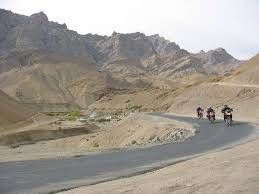 here was a time when Kargil was a bustling place being within the trade route to and from China, Afghanistan, India, Turkey. The second biggest town of Ladakh, it was brought to light when a war was fought over the region between India and Pakistan. There are several scenic attractions here.
Khardung La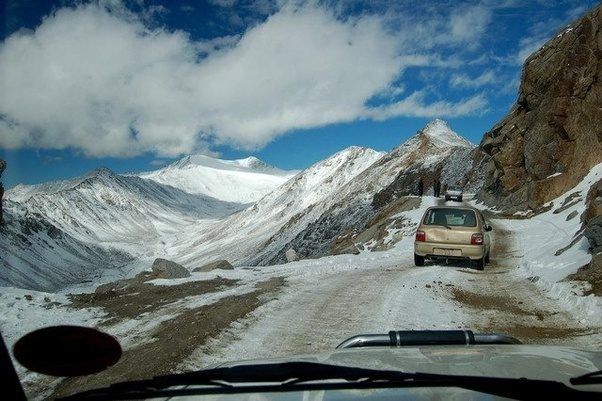 Perched at a height of 18,380 ft, Khardung La is a high motorable pass. A dream come true for true blue bikers, it is situated on the trail from Leh to Nubra Valley.
Lamayuru Monastry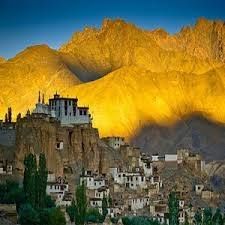 Visit the oldest Tibetan Buddhist monastery perched at a height 3510 metres and about 127km from Leh. This sacred place is take care by the Red Hat sect of Buddhism. Fetching wall paintings, murals, thangkas and scriptures add to the charm of the monetary.
Hemis National Park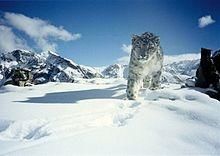 Those who have a fascination for wildlife can tour the Hemis National Park. It is also referred to as the Snow Leopard (among the endangered species) Capital of the world. It is believed that there is a 50 percent chance to catch the glimpse of the majestic animal.
Lala's Art Cafe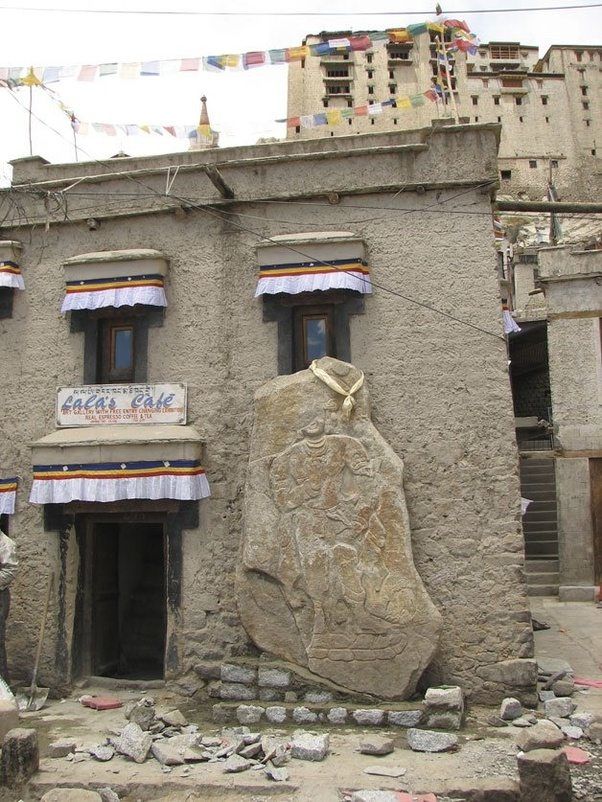 If you want to do something beyond the regular, head to Lala's Art Cafe in the old town of Leh. Over here, you will find some engaging collections of black and white soul photography. Deep carvings in the entrance to downstairs further lend the cafe a distinct charm.
Donkey Sanctuary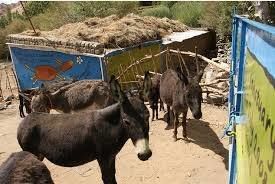 Not many aware but there is also a Donkey Sanctuary in a Korean temple in Ladakh. Formed in 1996 by few entrepreneurs to shelter the donkeys from maltreatment, the animals here are well looked after. One can even gift food to them.
Alchi Monastery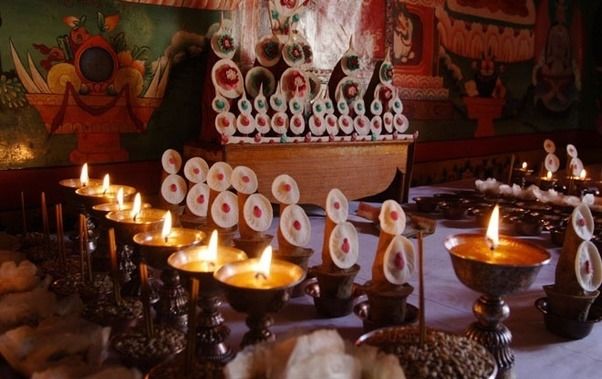 Located in the Alchi village in Leh, was built by the great translator Guru Rinchen Zangpo between 958 and 1055. Today it is being monitored by Likir Monastery. This monastery is actually a complex of temples consisting of 4 separate portions that has monuments built at different times. The main complex has three temples- gTsug-lag-Khang (main temple), 'Jam-dpal lHa-Khang (Manjushri temple) and Dukhang (assembly hall).
Alchi monastery is one of the most well-known ones. The walls of the site are adorned with paintings depicting the details of Hinu kings as well as the teaching of Buddhism. There is also a huge Buddha statue in the complex, a famous tourist attraction.​
Drass Valley​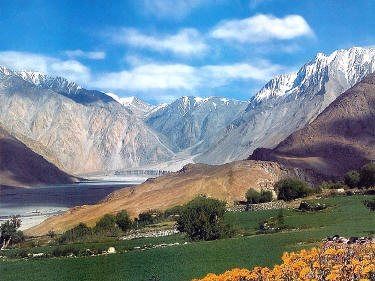 One of the coldest inhabited areas in the world, Drass Valley makes for an interesting place of visit. It begins at Zozi La and extends till Kargil. Come here during summer and you will find the entire area lit up with green meadows and vibrant flowers.
Hall of Fame​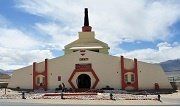 A museum dedicated to the Indian army's heroic struggles and feat at the time of war.
DISCLAIMER : I will put some pics soon.I am new on Quora so please comment and share your views about my answer . Please upvote if you find this answer relevant.If something can be improved in the same feel free to comment
INCREDIBLE INDIA!!!!!​
​
​
​
​
​
​
​
​
​
​
​
​
​
​