Follow on : https://www.instagram.com/soumik_neo/
Trips to Ladakh have been like a dream for me. It starts with the flight from Delhi. Though i would take a flight for granted, but to think of it, i am not naturally capable of flying. Even the birds who can fly, few will ever see the himalayas from the top. So its a rare and a beautiful occassion of my life.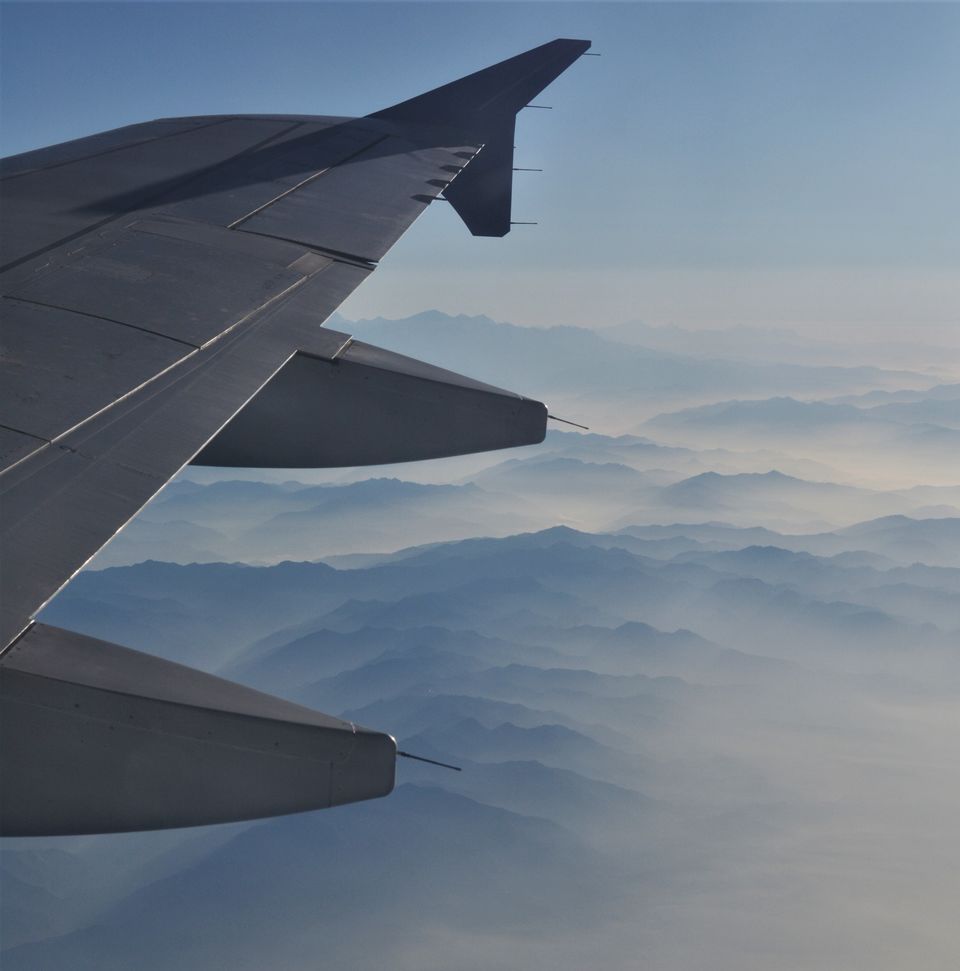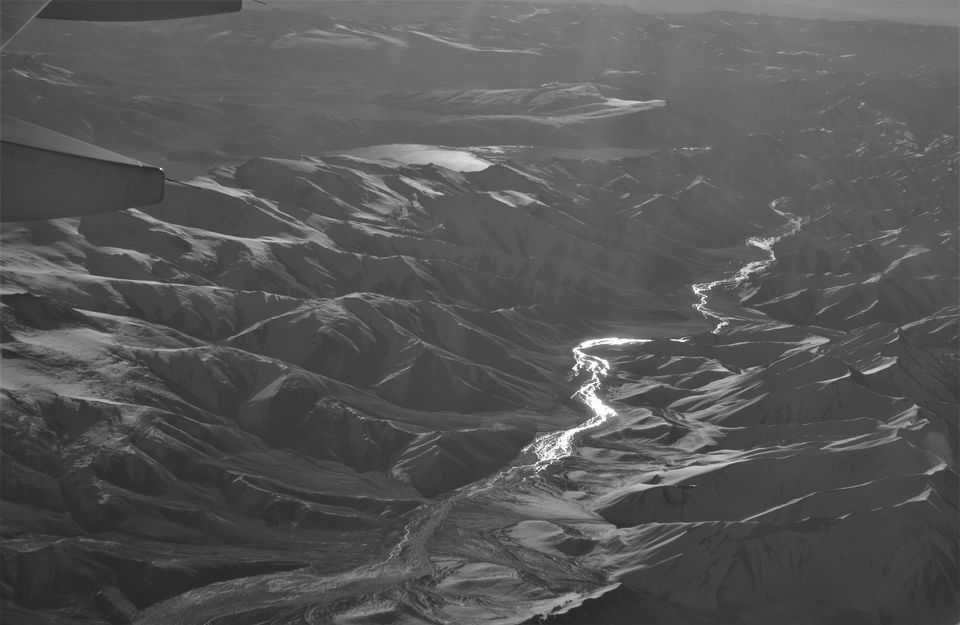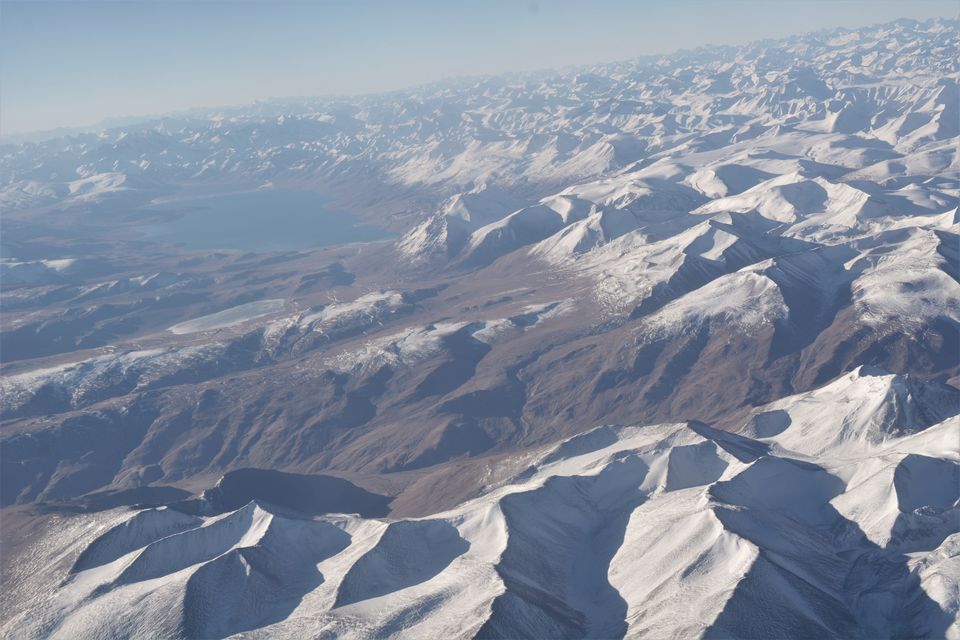 When I visited in 2017, I trekked through western Ladakh. We crossed high passes, witnessed snow leopards playing with cubs and ibex running on slopes. I came back with the wish to go again during winter 2018. I planned for a 17 day trip, with the dream of exploring further in the west towards Lamayuru. This time i will try to cross a pass at 5000M(16,000 ft) and stay at some very remote villages. I will be staying at my guide's home in Likir to start with, which I last year found in Airbnb. His name is Stanzin. He is a local and an expert climber. We have been in touch and have become good friends. He lives with his family - Wife and three children. His father visits often.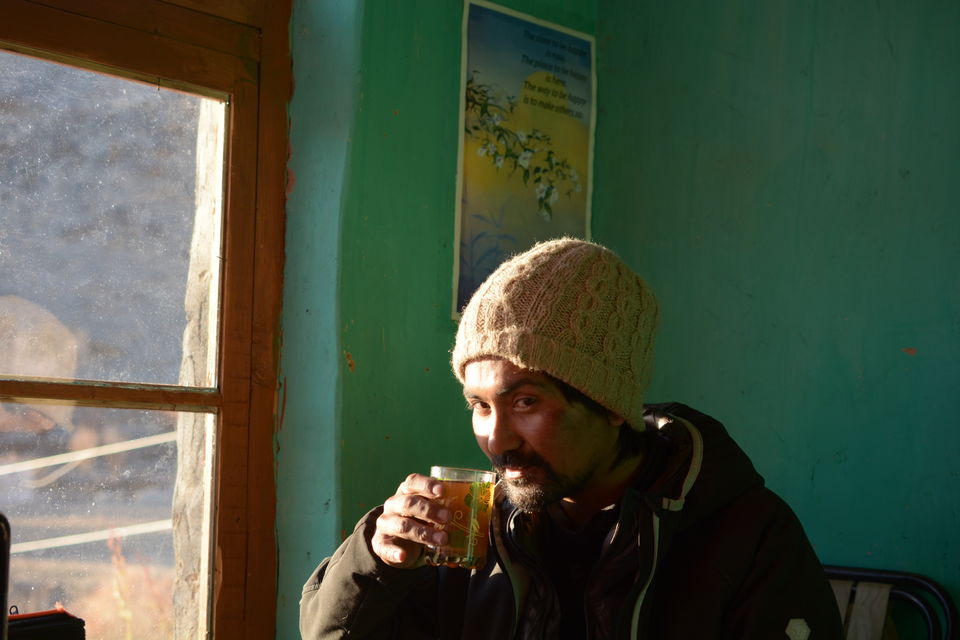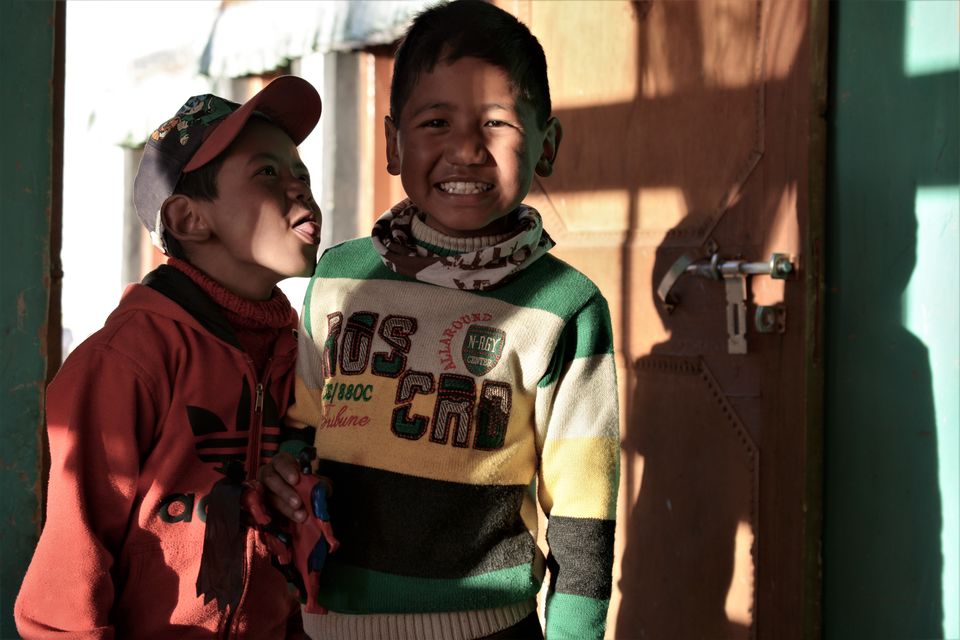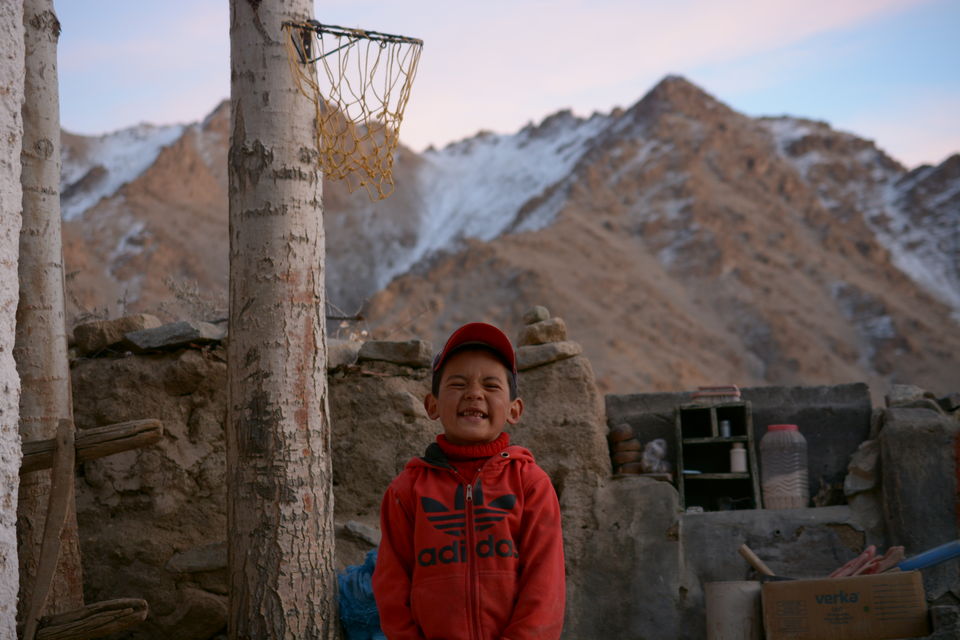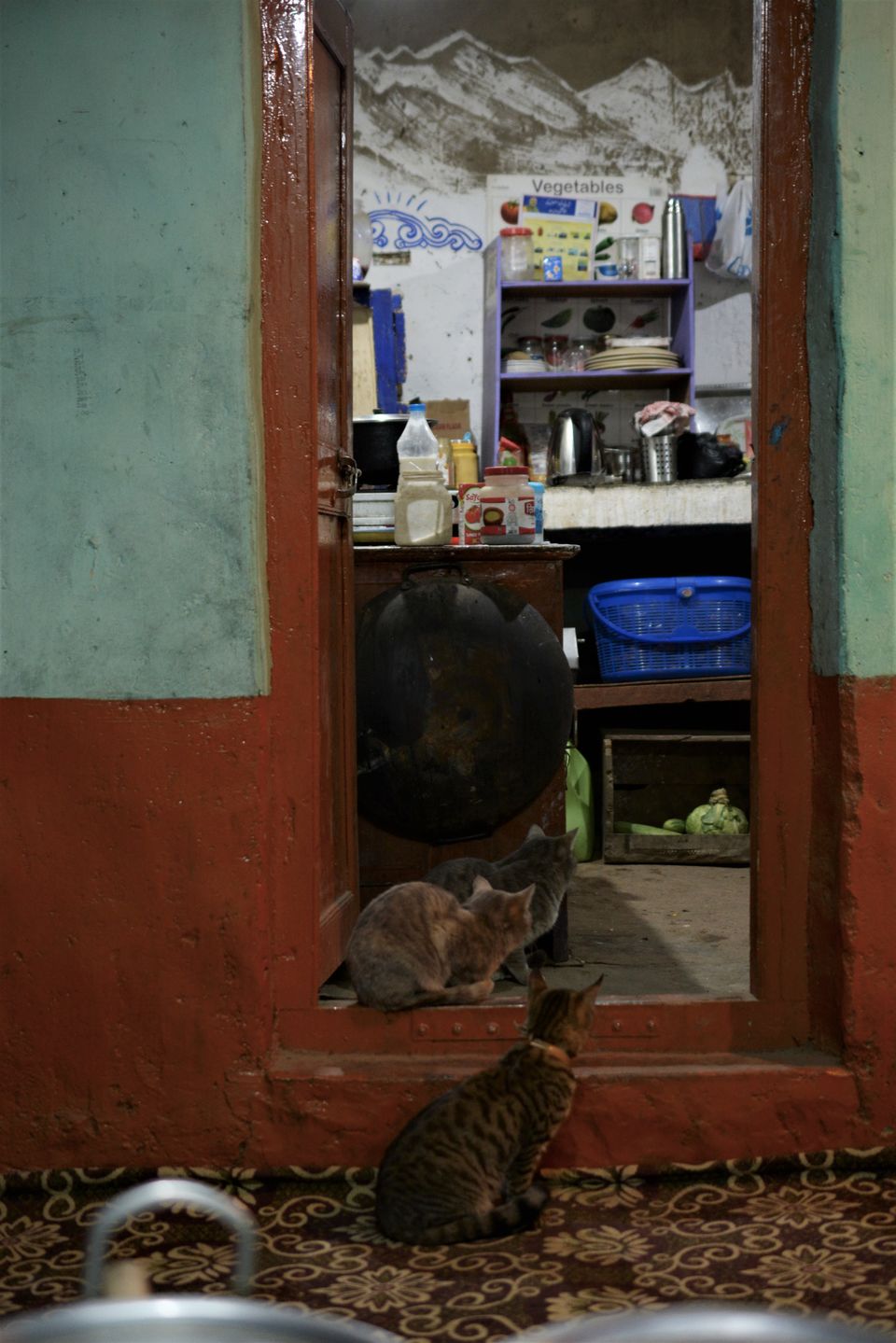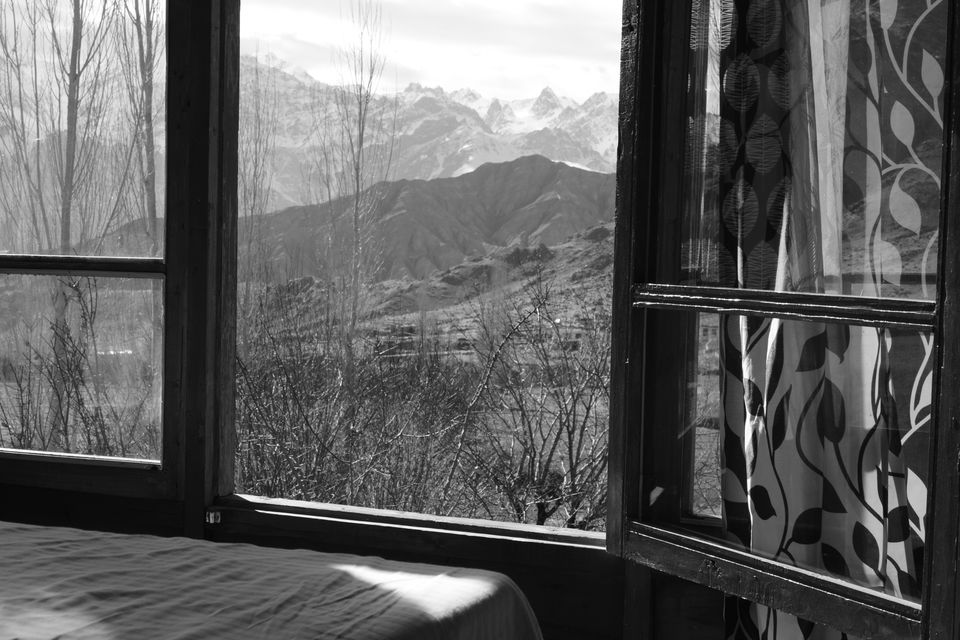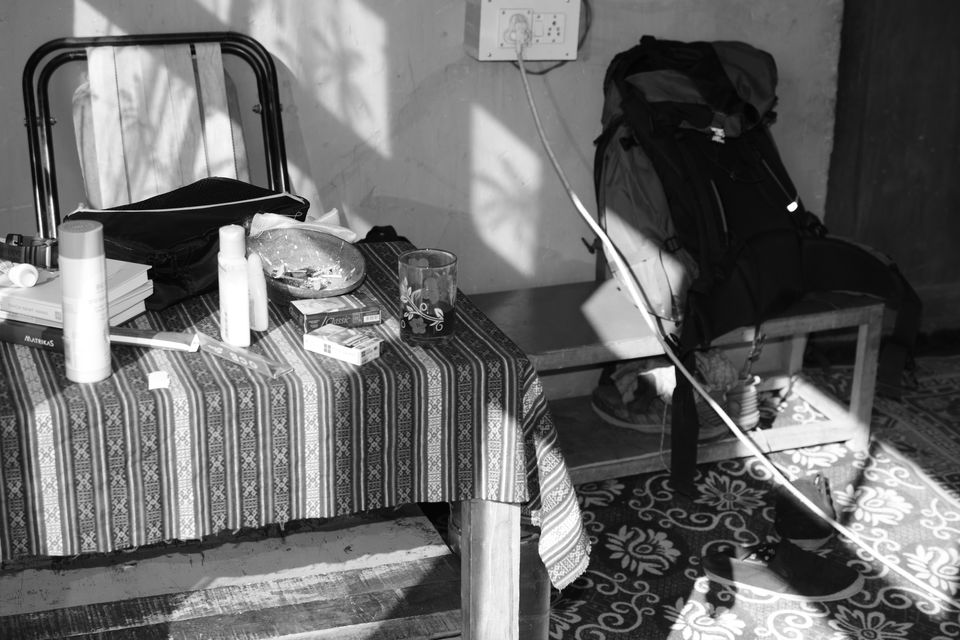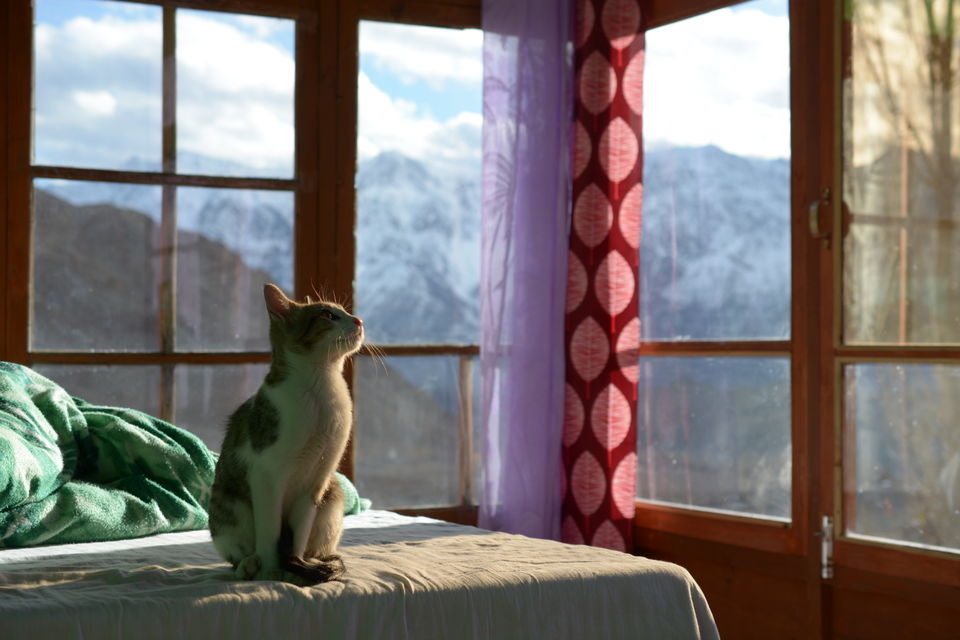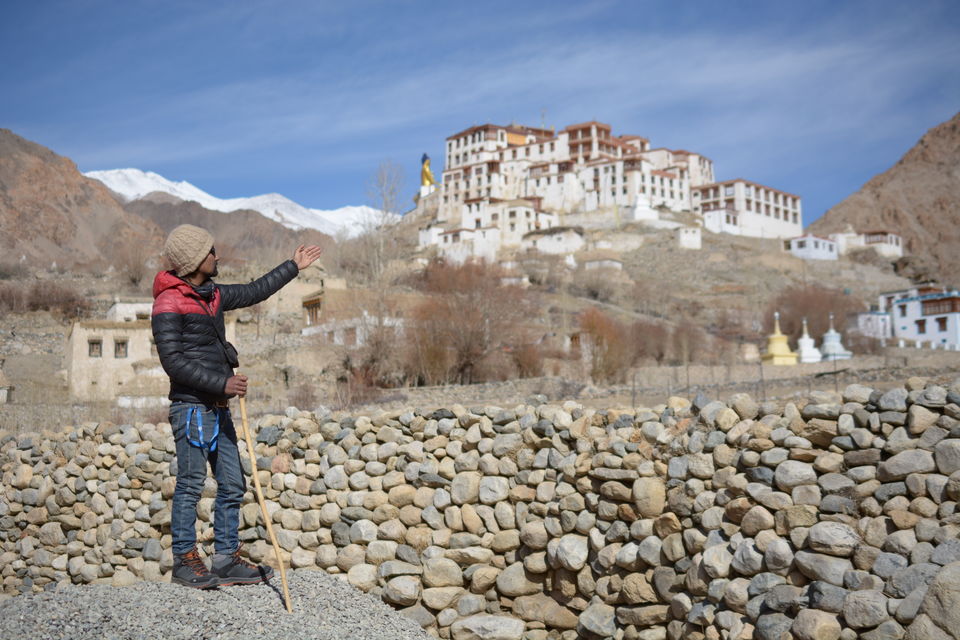 I stayed at his place for 5 days, lazing around and doing small steep treks to get ready for the climb ahead. I find home stay perfect for my kind of solo trips. Staying here i have realized that it is only interactions with people that define travel. When we find good people we develop good memories of the place, else our experience and memory of the place does not stay the same.
His family is so welcoming that it feels like home. His pet dog "Don" is a one year old himalayan dog, found abandoned as a puppy. Now she is all playful and energetic. She cant stop biting the gloves if you play with her.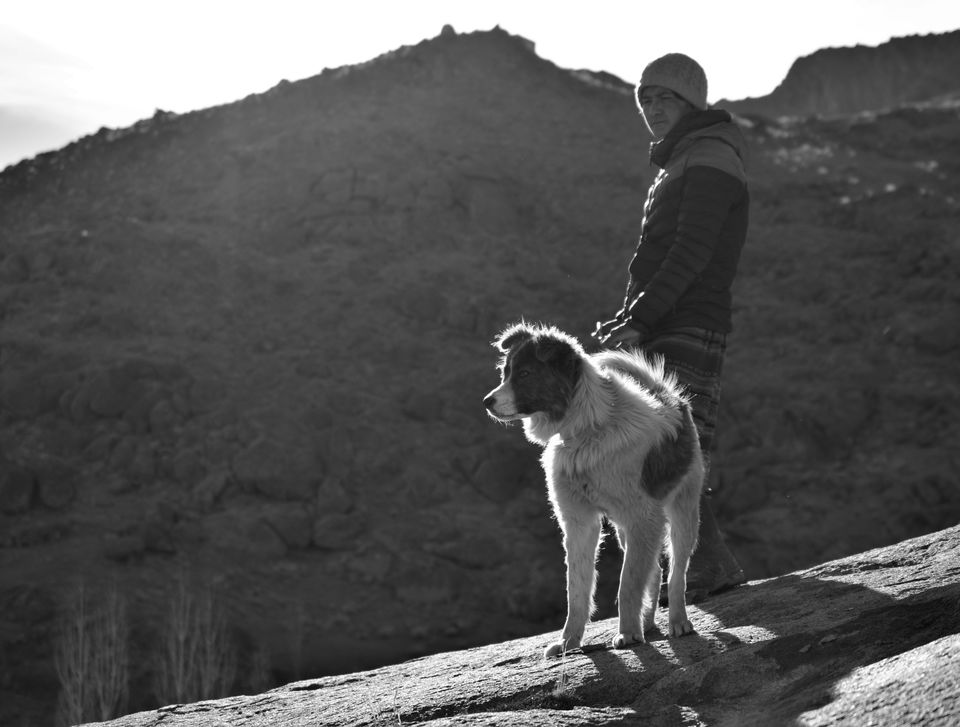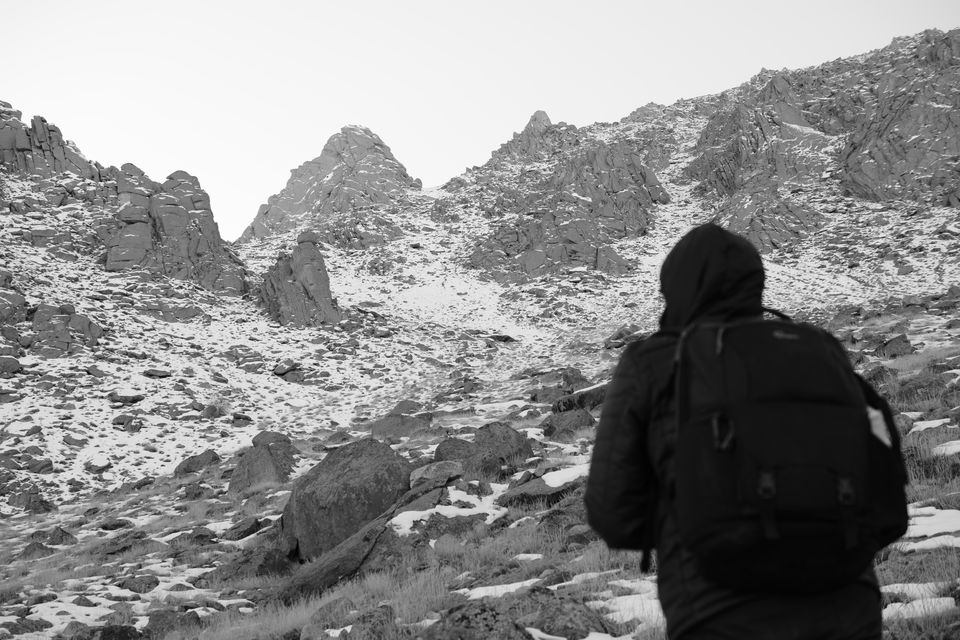 During one such climb, we came across a dead Ibex and took the head to decorate his house. Most of the houses here adorn ibex head as decorations. Ibex are arguably the most accomplished mountaineers in the world and they symbolize good omen for the local people.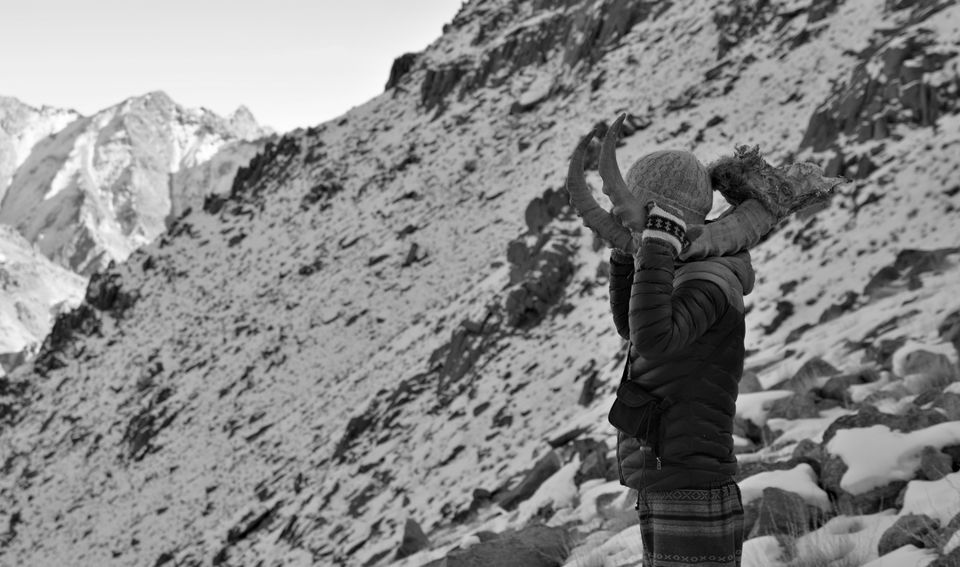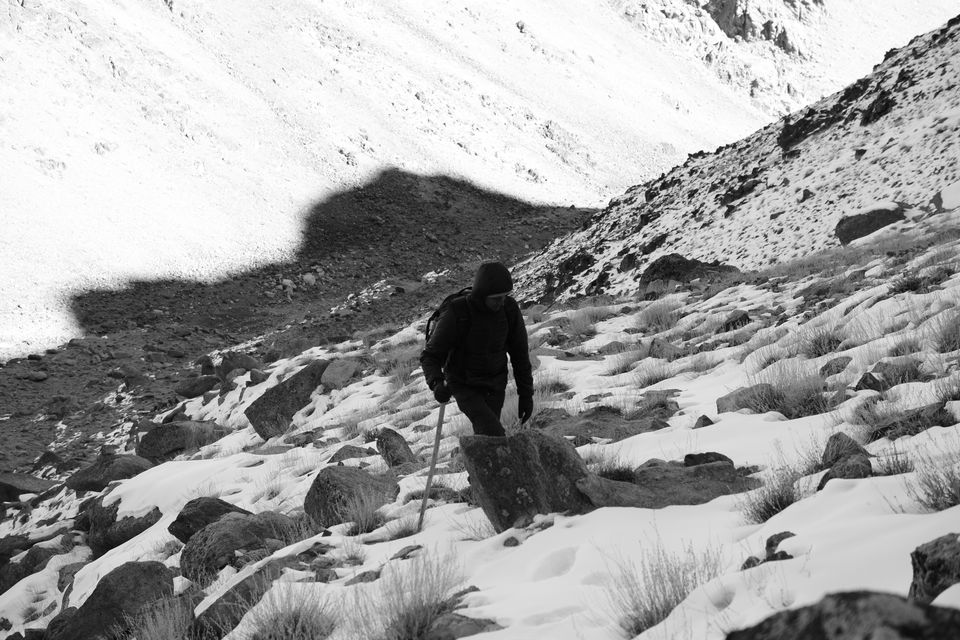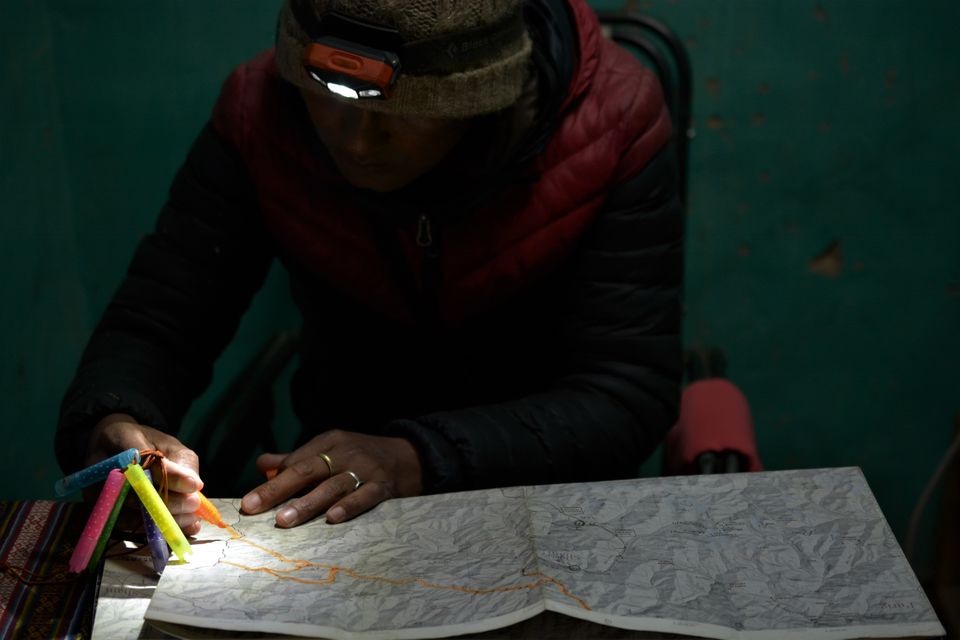 After resting and practicing for 5 days near Likir, we reached a remote village called Hinju. Hinju is at the elevation of 4100M. The nearest known place in Google maps will be Wanla. Hinju sits in a very narrow valley and only receives direct sunlight for 4-5 hours in winter. It is the coldest village I have been to.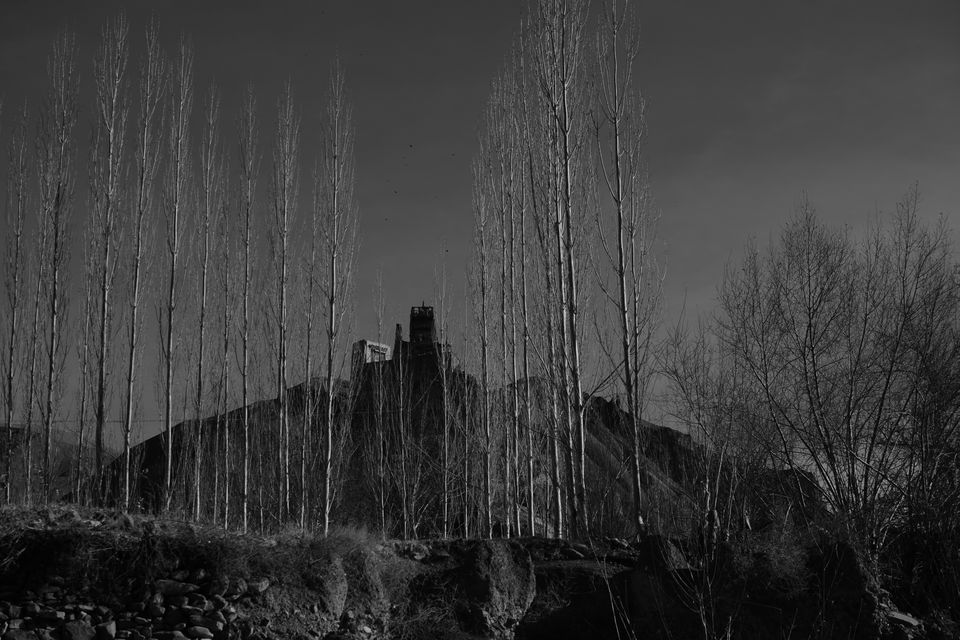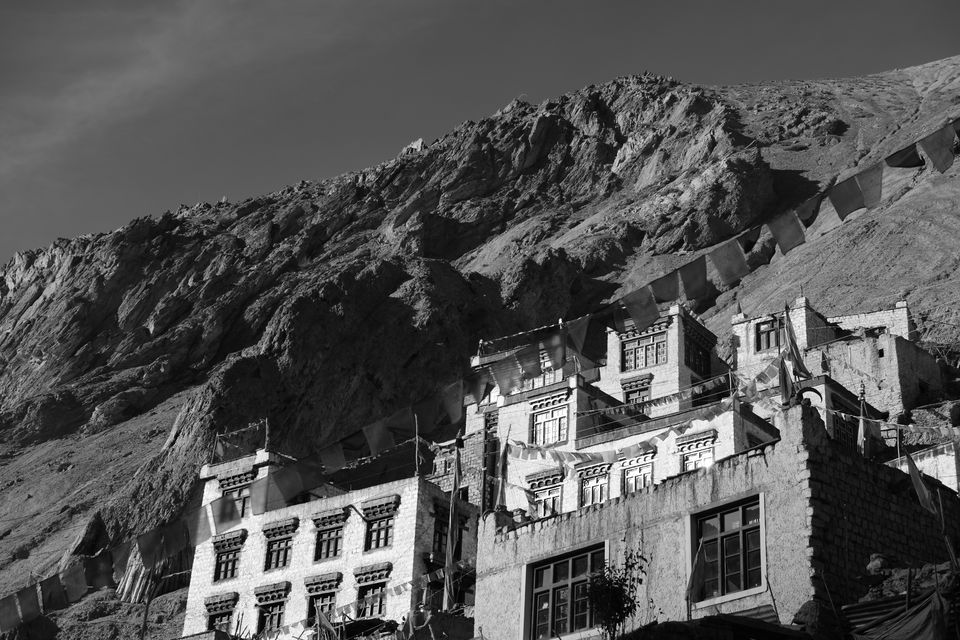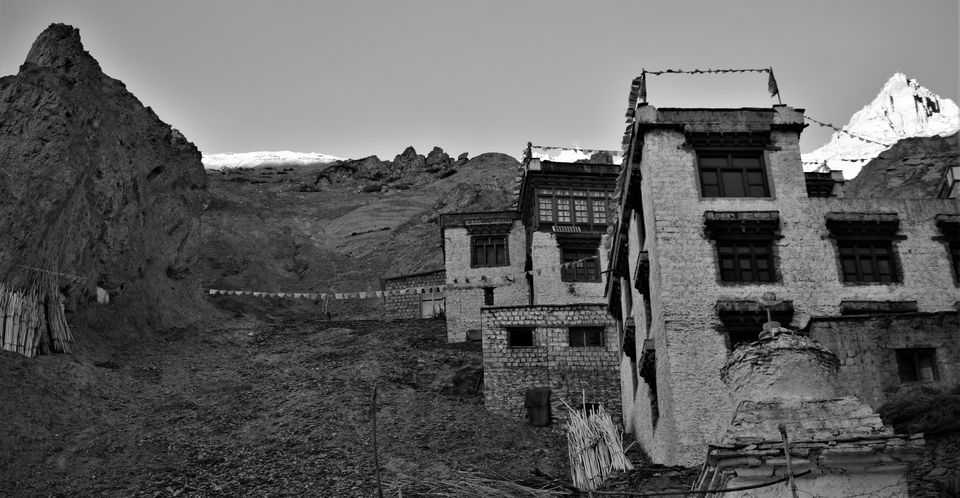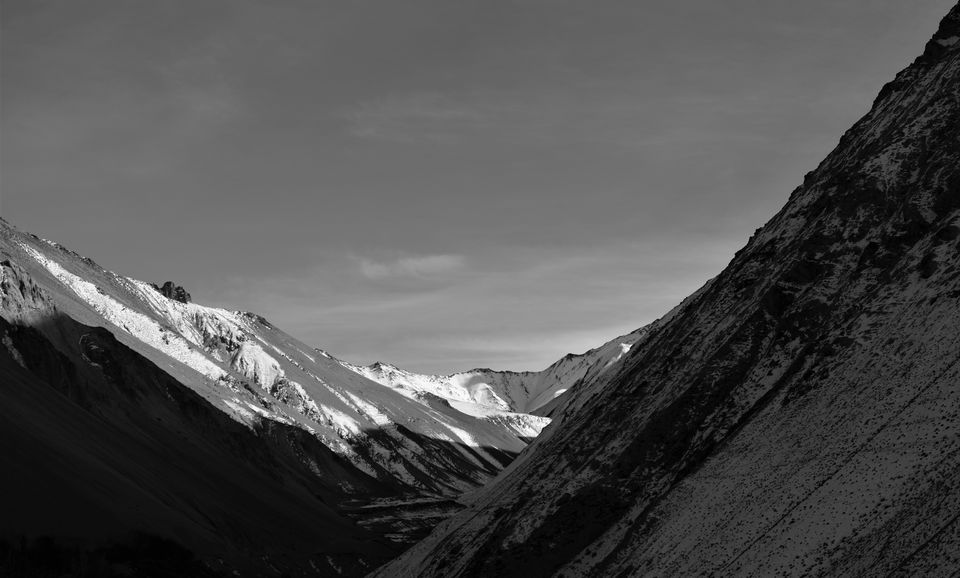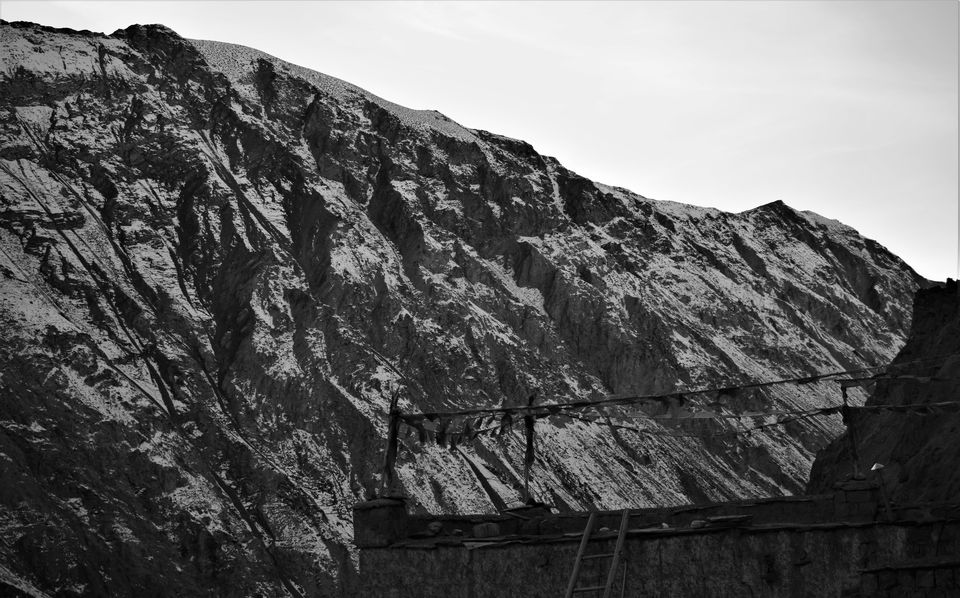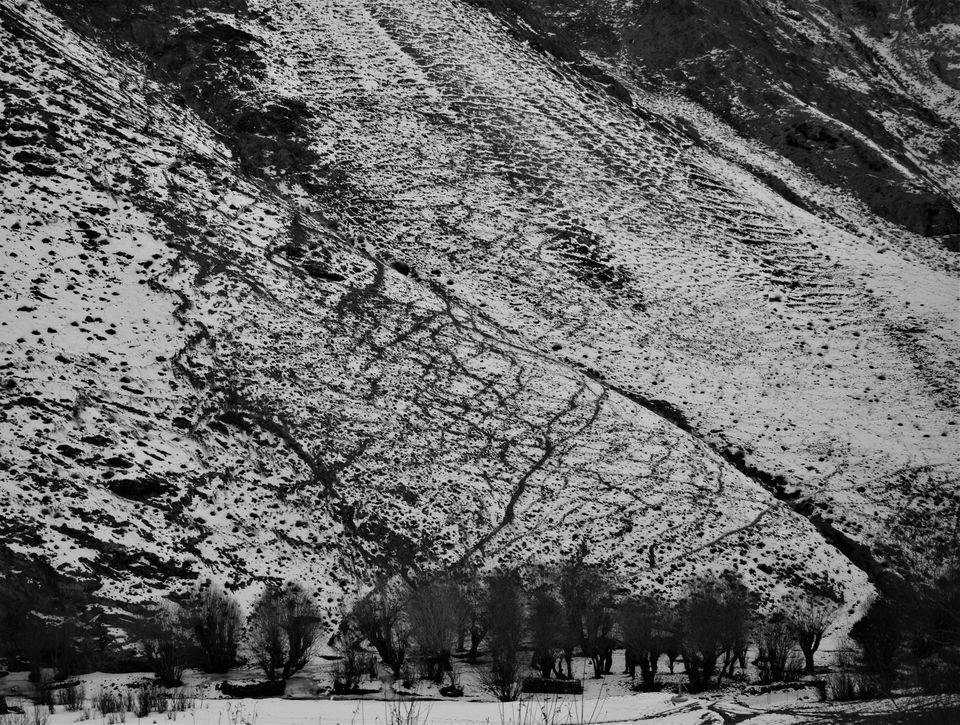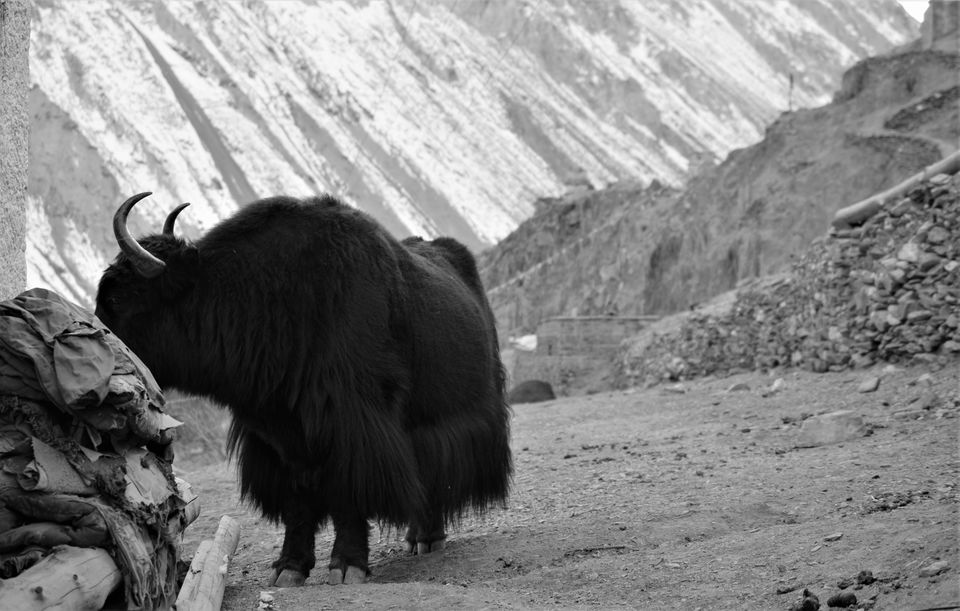 It has very few houses and tourists cannot choose a house to stay on their own, they have to go by the system where each house hosts in turn. So we reached this house which did not have heating in the room. We wanted to spend the night in the kitchen, but they had some problems with that. In general, people allow tourists to sleep in the kitchen. In other villages i have slept in kitchen during winter and it was the warmest place to be.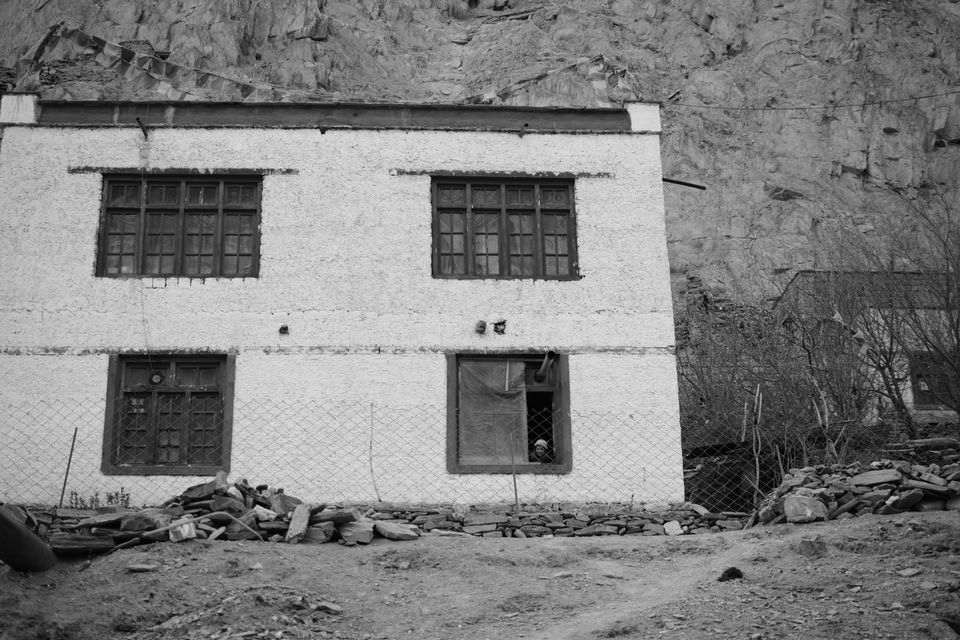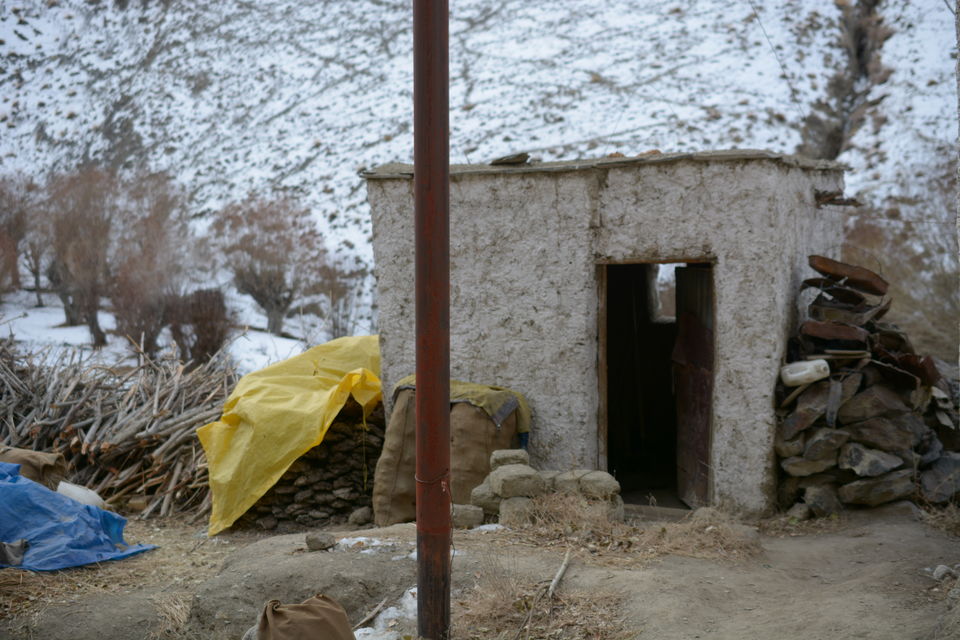 We had a great dinner with rice, dal and vegetables. All are home grown and taste heavenly. We were offered some "Chaang" which is the local beer, but I politely refused as I had a hard day of trek ahead. I still did not know that I was about to experience the coldest night of my life. In the evening, I spent a lot of time outside under the sky looking at the beautiful clear sky, with billions of stars. I could also see meteors fall on and off. I spend time taking long exposure shots, while I was shivering in cold. Any skin that is exposed will become numb as was the case with my nose.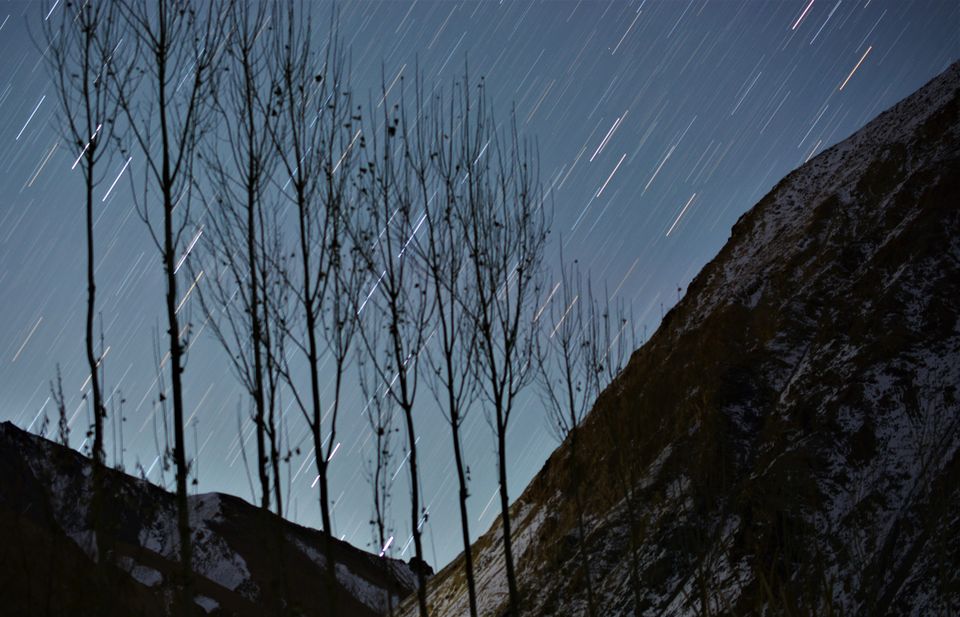 Soon after we went to bed with three very heavy blankets and I preferred to have my jackets on as well. But there was no warmth throughout the night. It was only Luke warm around my body and I could sense the deep cold around me. I could not sleep very well and got up to know that Stanzin had a similar experience. As I walking out of the room, still half asleep, my cap got stuck to something on the door. To my amazement, I saw the head of a dead golden eagle.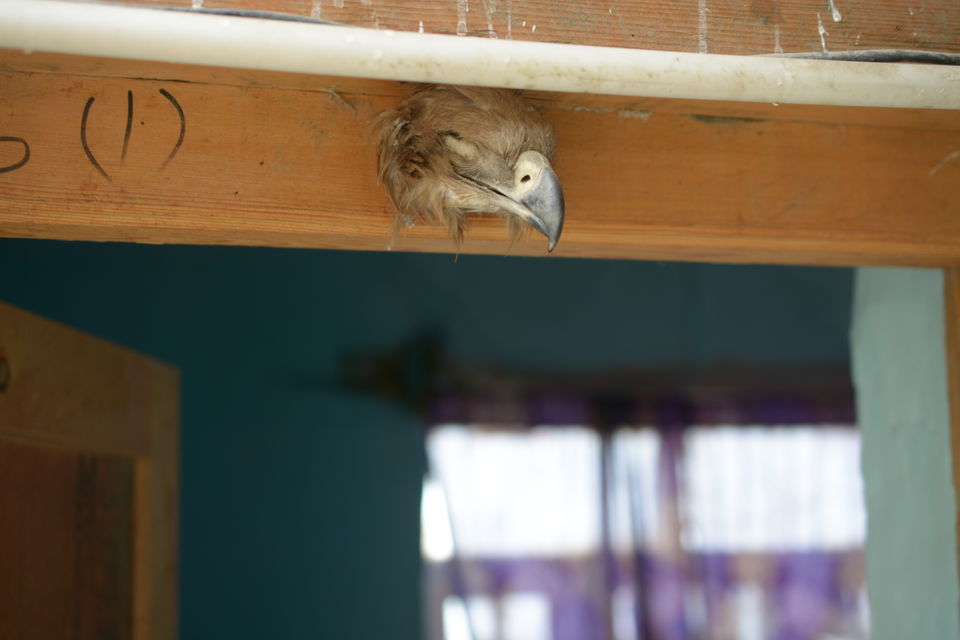 There was also a dead Himalayan owl preserved here and the nails looked menacing. My host found them on different occasions when he goes to mountain top to get his yaks. Yaks get bored in the valley and would climb the mountains often if left alone. Then one has to go climb the mountains and bring them back.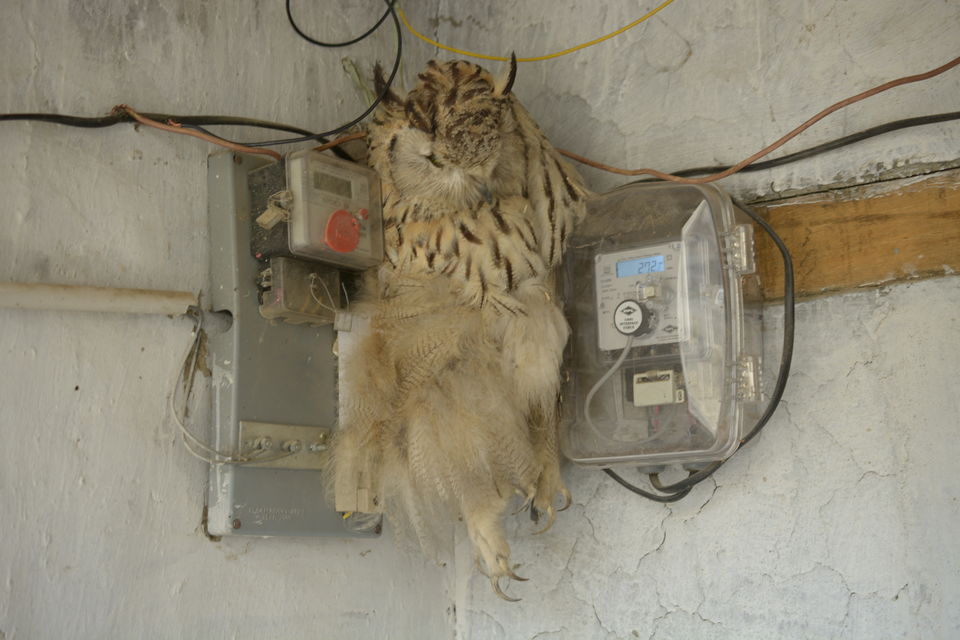 We overslept and were already late for the trek, it was 9 am. The trek is scheduled to take 12 hours from now, with 1 km of combined steep uphill & downhill conditions. But luckily for us, our host visited the mountain top last night and brought down yaks. Because of the yaks, a road was created through the snow and will help us in the slopes, with waist high snow. This made us over-confident and we started late, but as they say that "Mountains have their way to break confidence"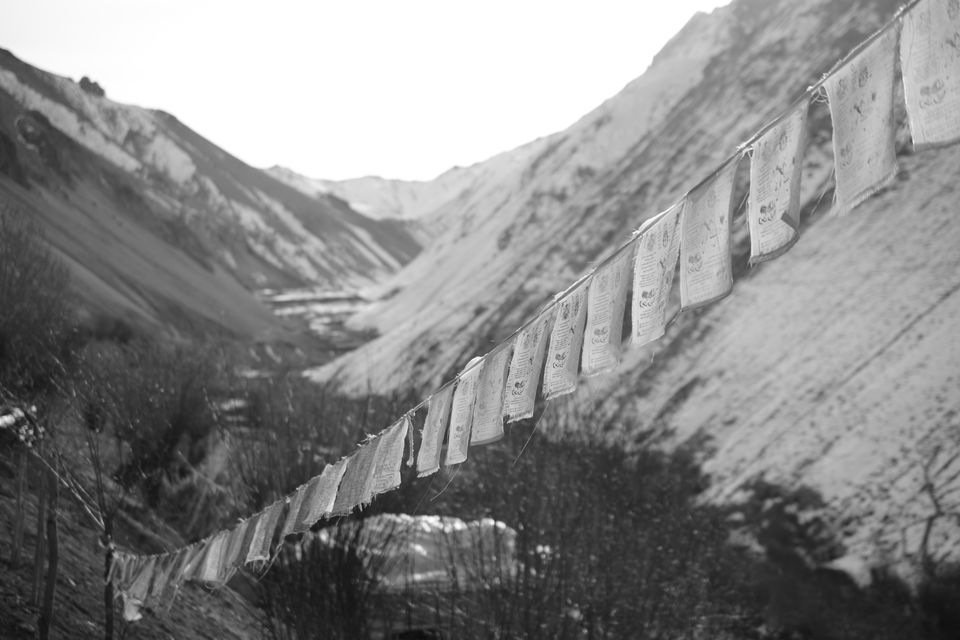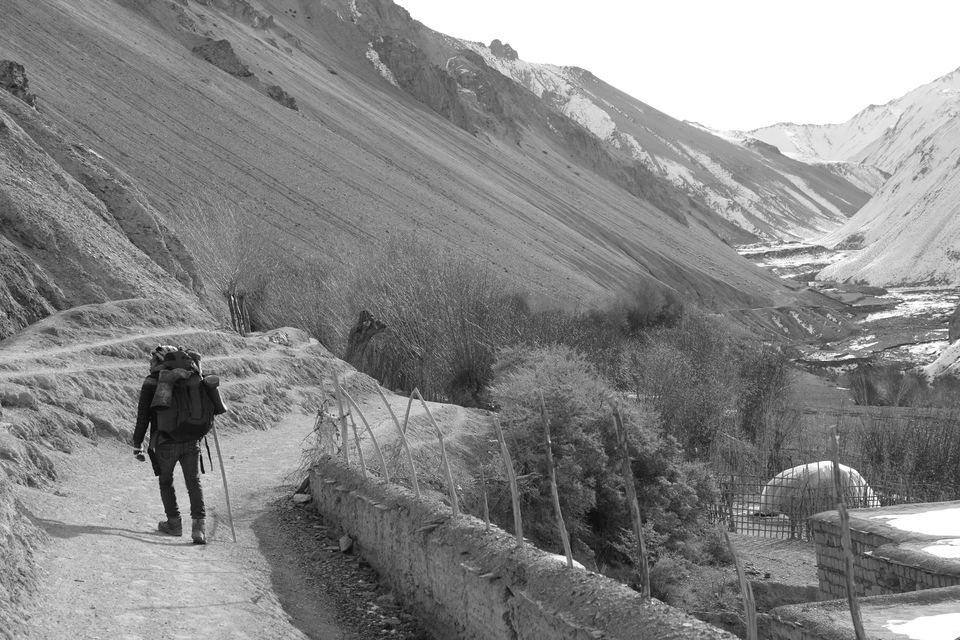 While walking through the valley I got mesmerized with the mountains and took a lot of time to take photos and enjoy the view. This can be seen as delays in plan, but because I was climbing alone with Stanzin, I thought that I should enjoy whenever I see something spectacular, rather than just walk fast to reach the top.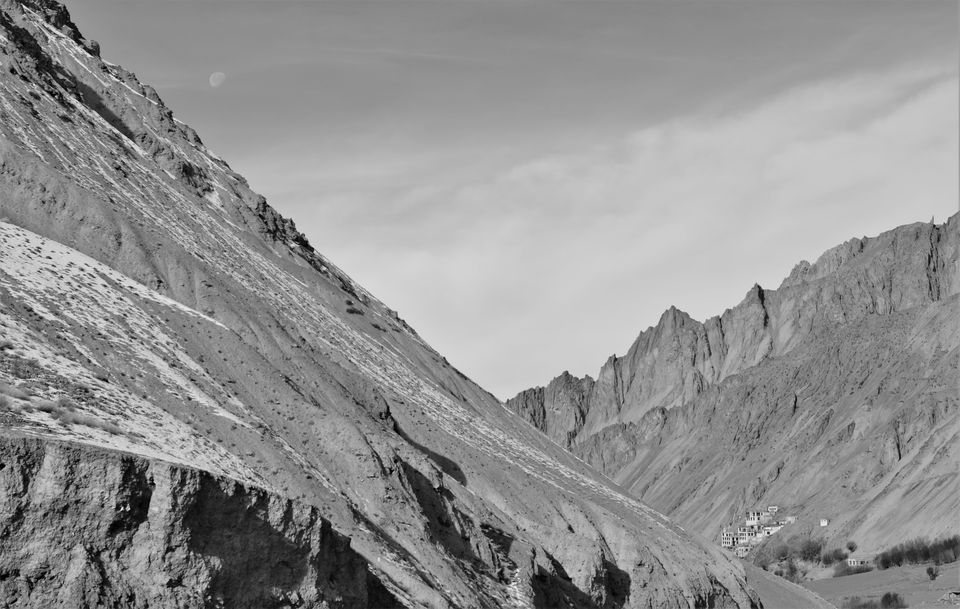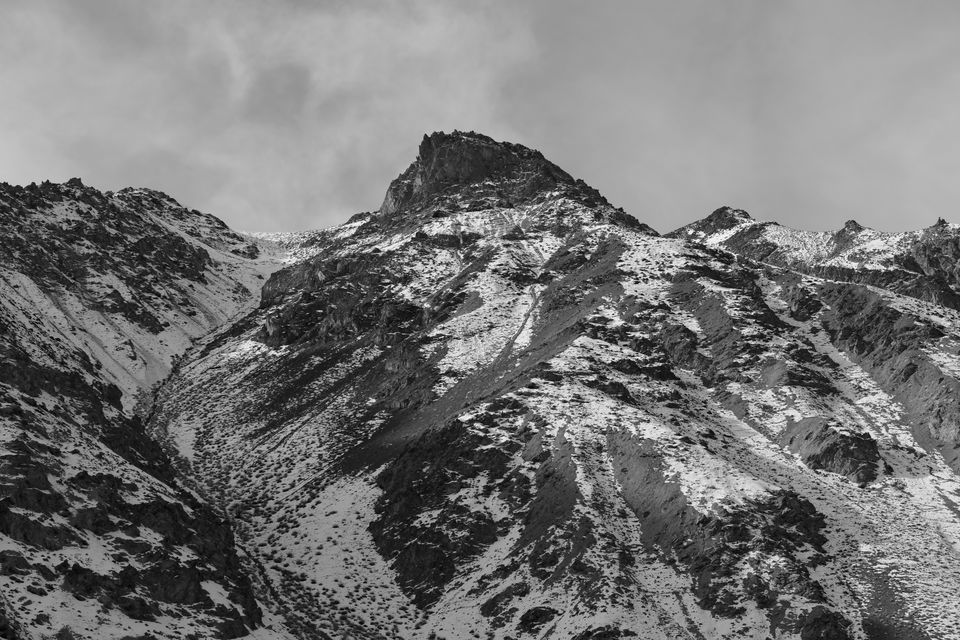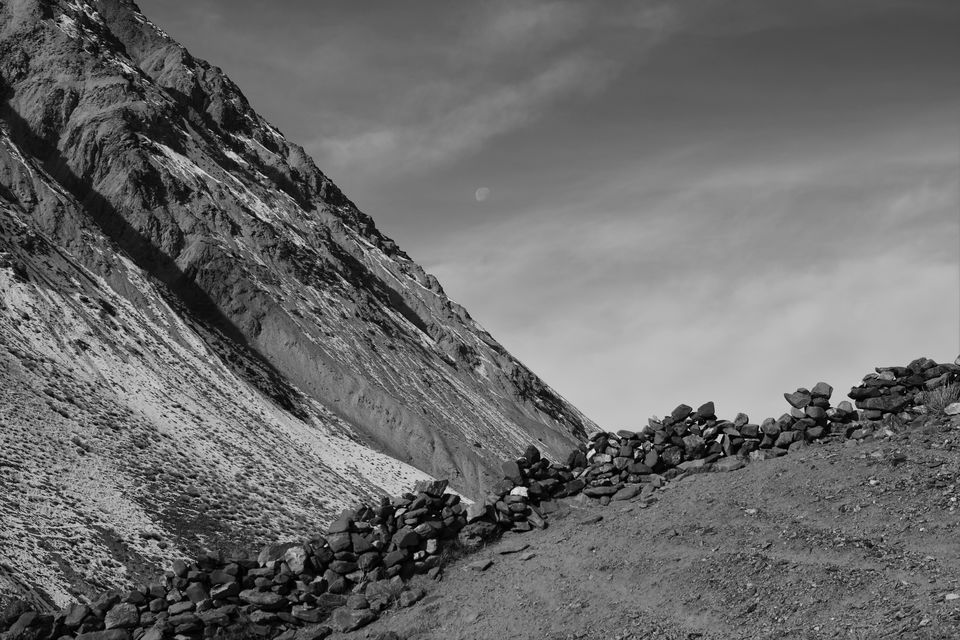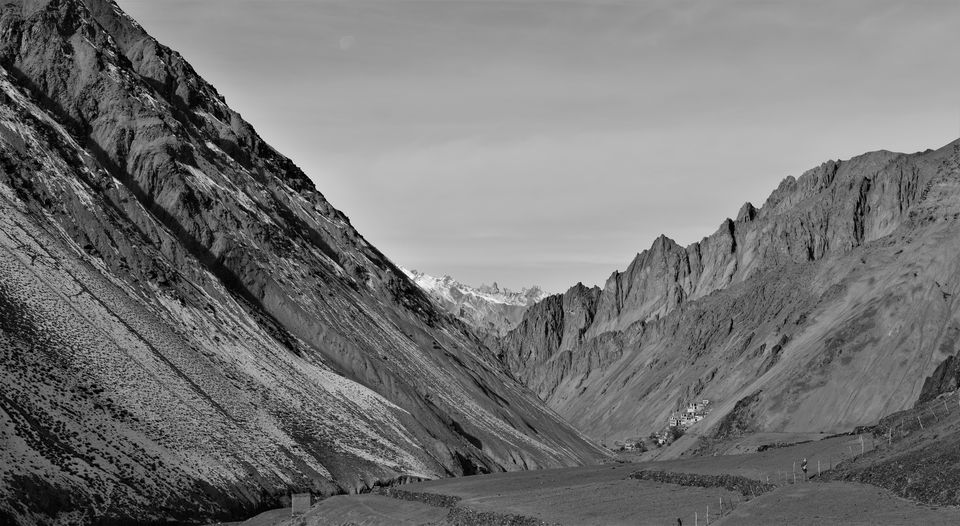 During my discussing with Stanzin, I used to ask him how will the climb be? He would reply that "I will not say much, but because you are doing high altitude first time, there will be moments when you will might think that I am stuck, I can neither go forward nor go back, so prepare yourself accordingly". I liked the way he would test my fitness by conducting short and difficult treks around Likir to gauge my tenacity and then suggest trek plans accordingly. I have felt that is a very important consideration before choosing a guide for long trek.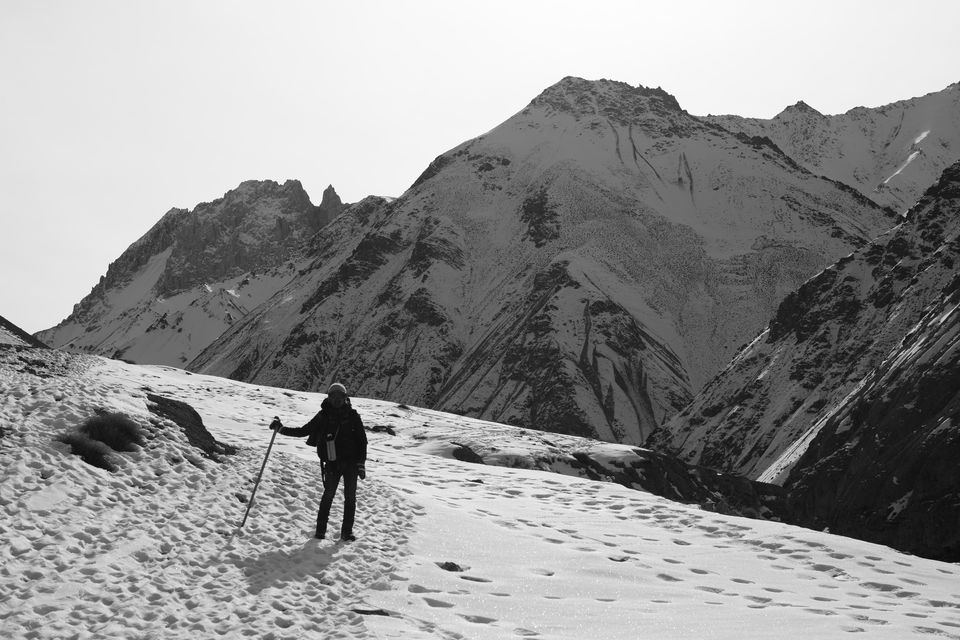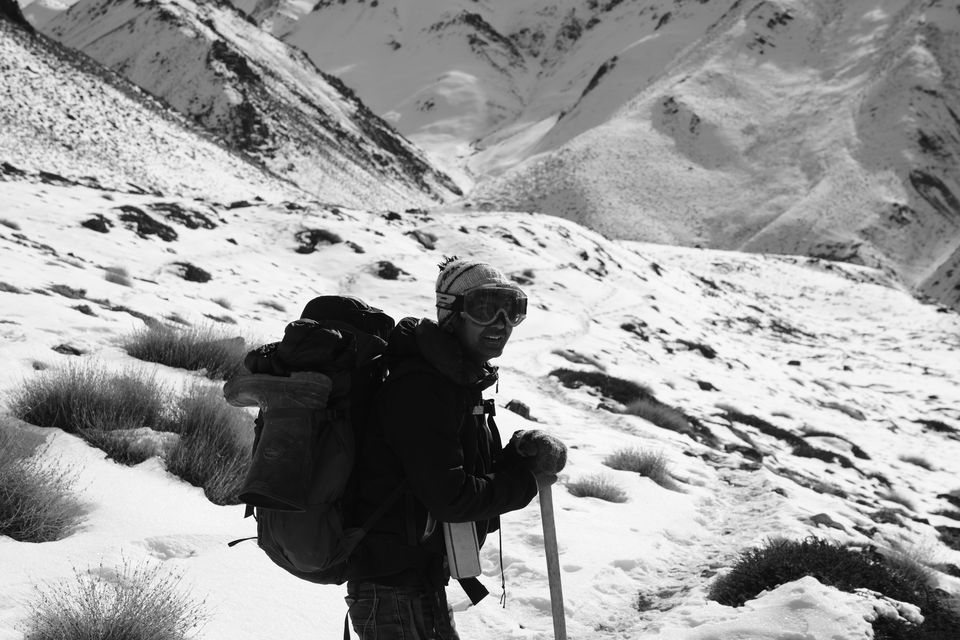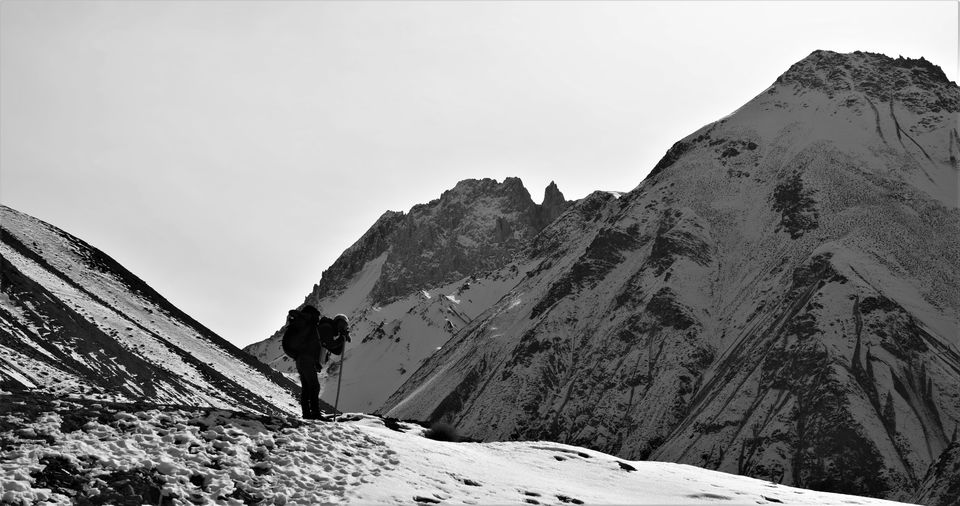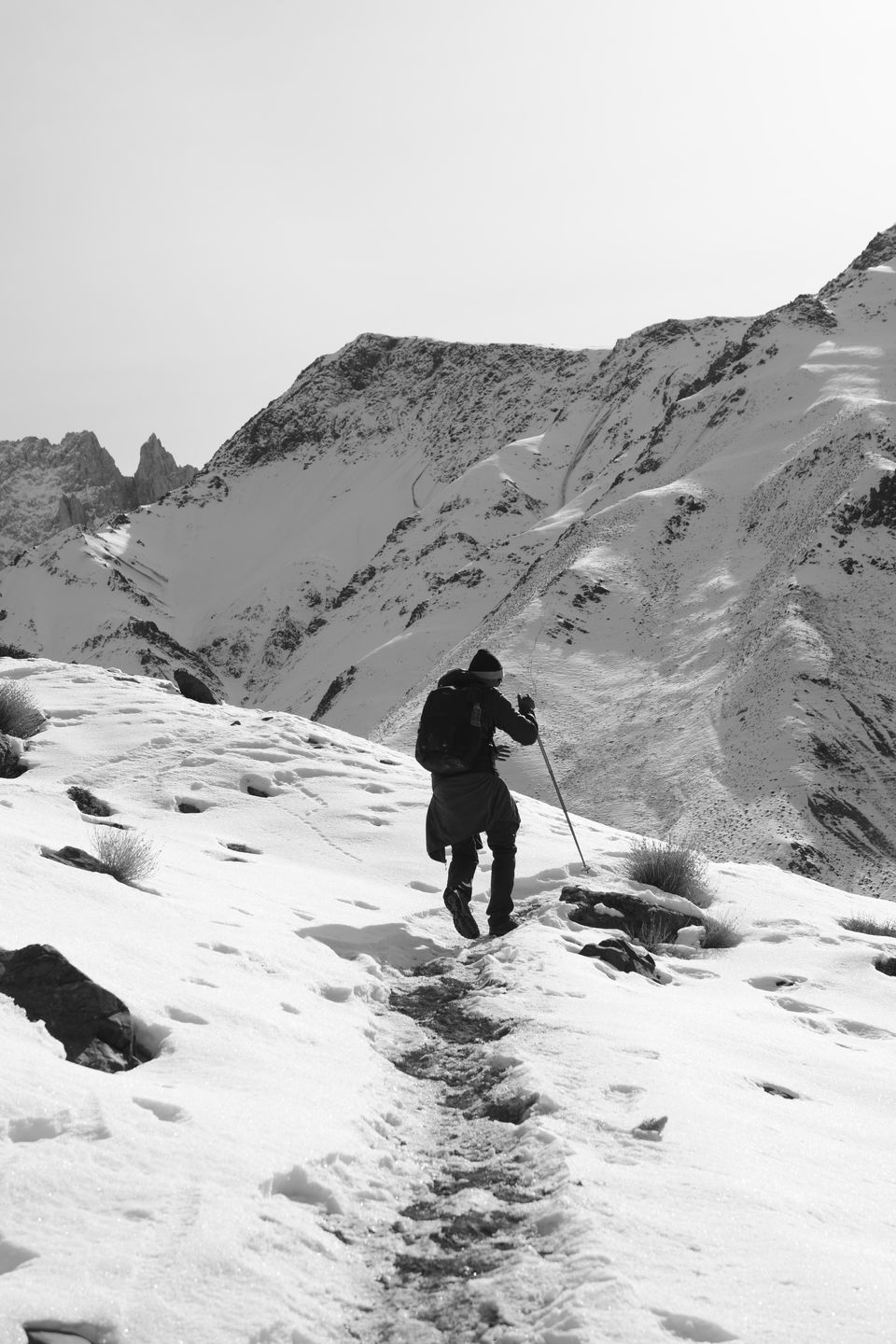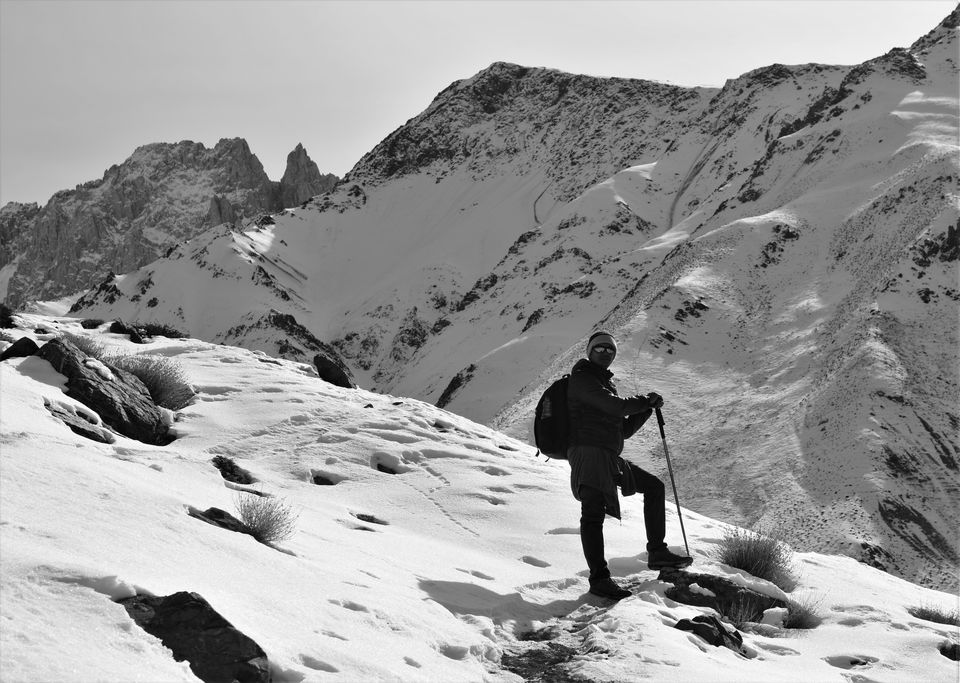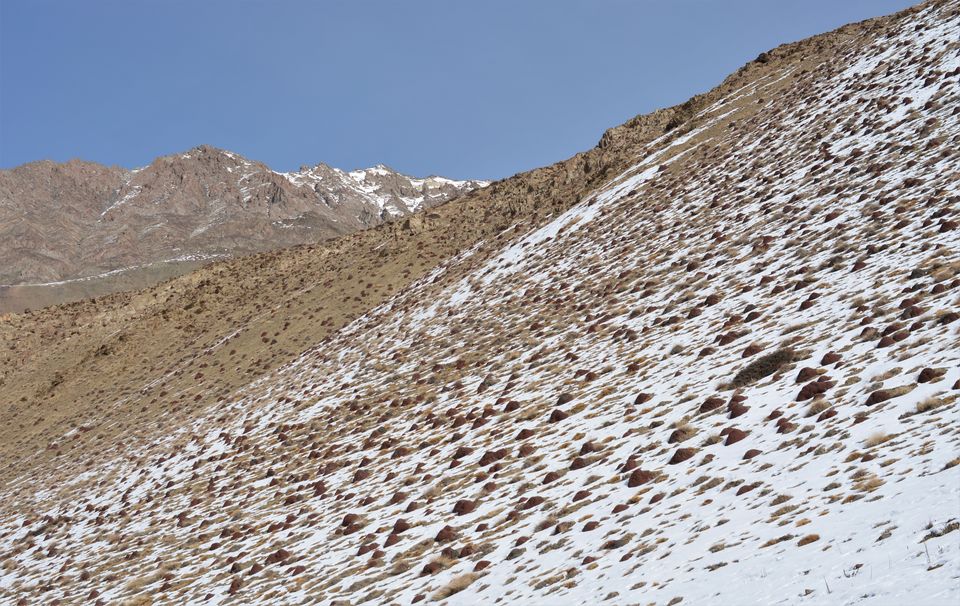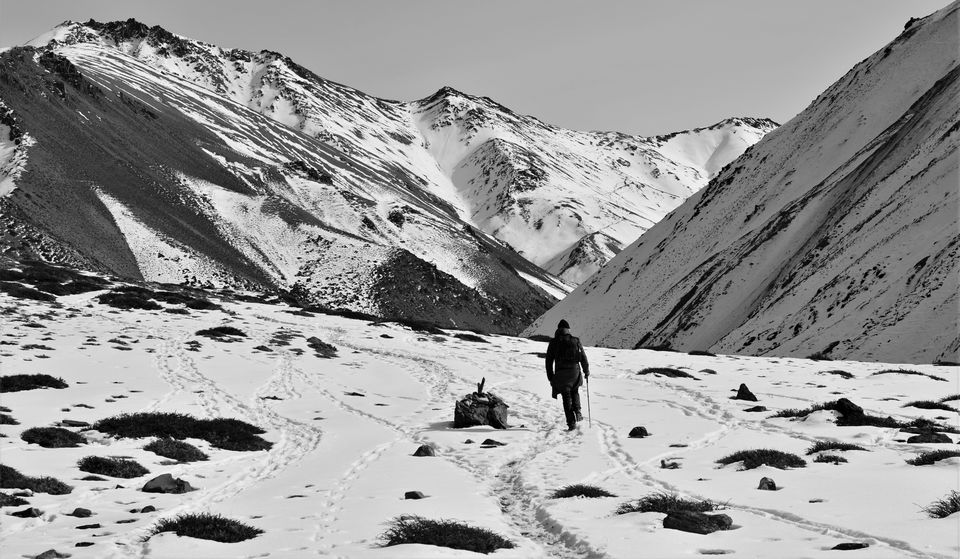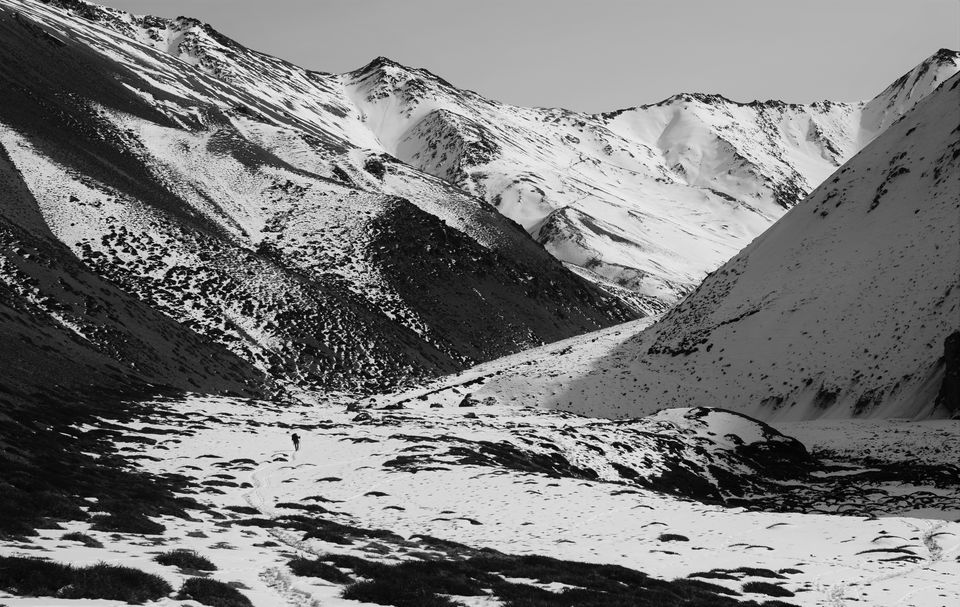 Soon I was near the foot of the mountain that I have to climb. It was huge, it looked beautiful from far, and it looks terrifying now. I have already spent 7 hours to reach the bottom of the mountain. It was around 4 pm. We had 2 hours before it was dark and we have to be at the top by then.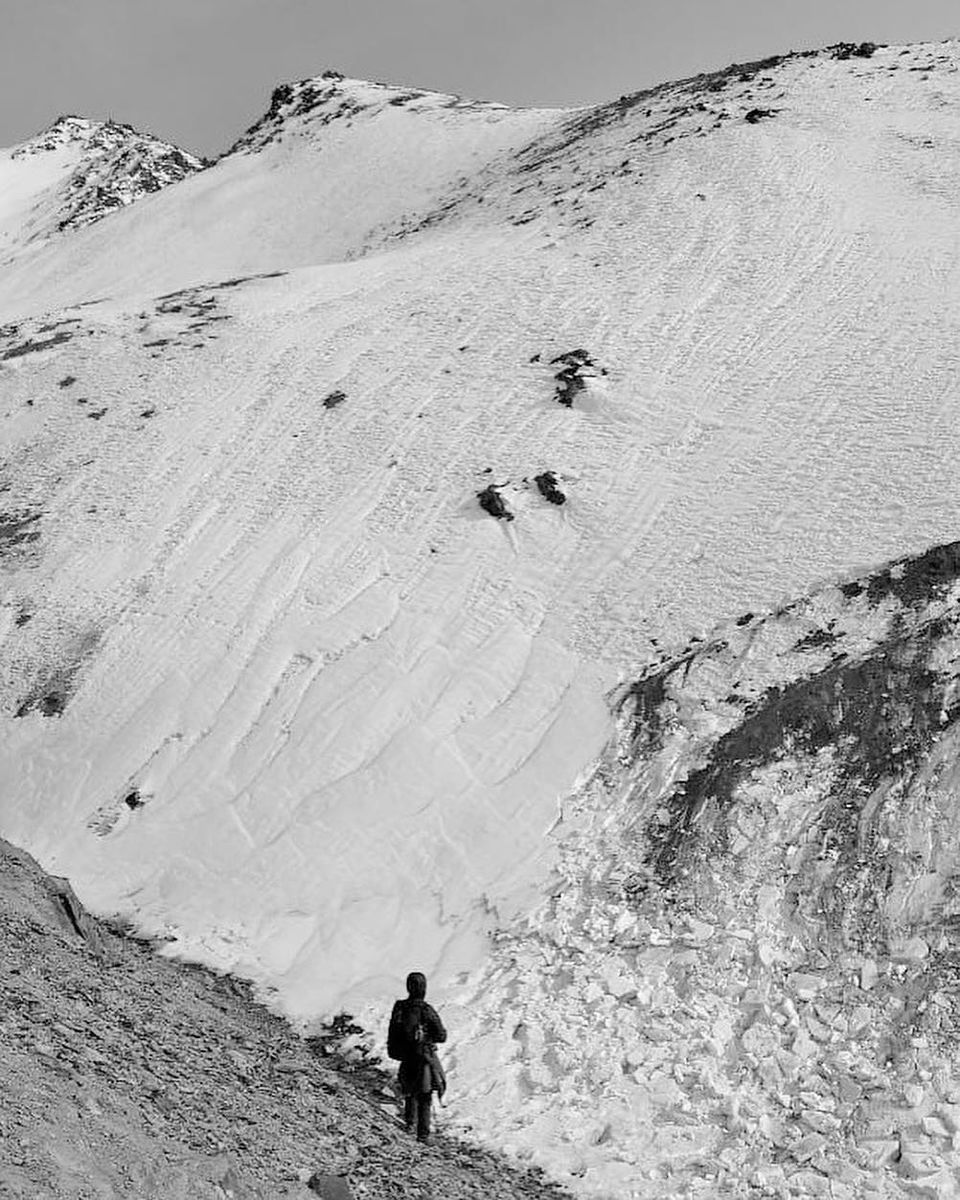 This was the time when I genuinely asked myself "Are you ready for this? Or should we go back right now, avoiding the situation of extreme fear". I later realized how important it was for me to ask that and be sure of what I wanted to do. I felt that I still had the enthusiasm of climbing and though i feel fear, I have to get over it along the way up. So I decided to now only focus on the climb and enjoy it, leaving the fear of steep slopes, fear of slipping, falling down, etc. One key thing that i tried to get rid of fear was to focus on the breath at times, gives a calm feeling for the climb. At this point, I also packed my camera to solely focus on the slopes. All photos till the night were taken by Stanzin from his mobile and I was so thakful to him for that.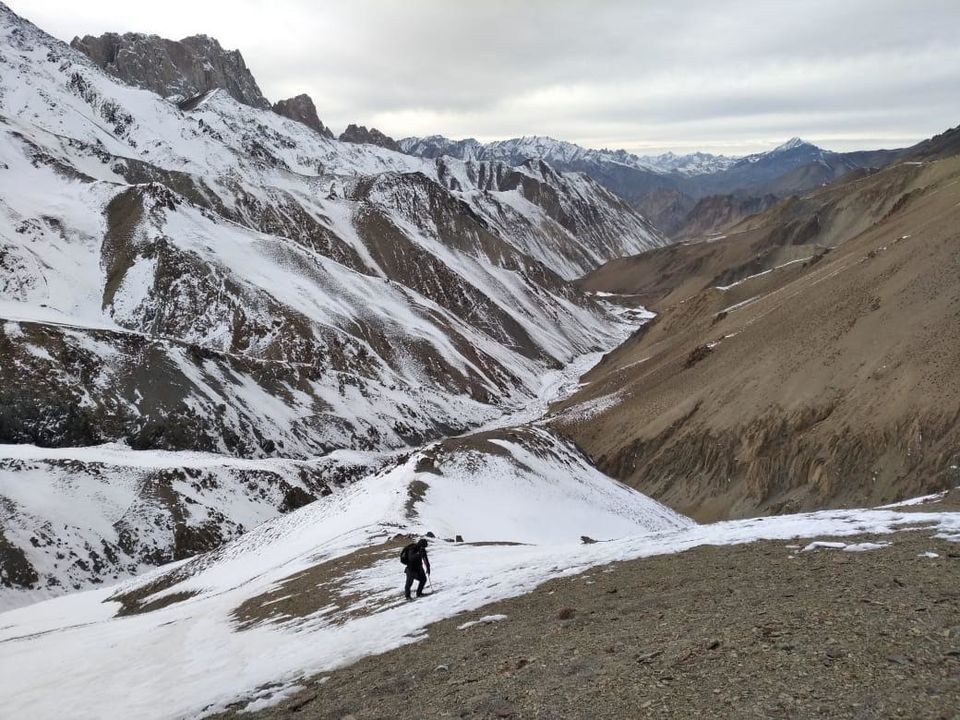 The climb starts with a very steep snow section and continues to be steeper as we went up. I would have to stop after a minute of climb and then climb again. While we were half way up, I was standing and taking some rest. I realized that if I had panicked, this would be the place, where "neither I can go up, nor go down" (as Stanzin warned before). Since we started late, it was already evening and we had one more hour of light, to reach the top. That still leaves us with 6-7 hours of trek in complete dark, with the descent. So we kept going and each time i would rest and take a look at the view, i felt it is worth it.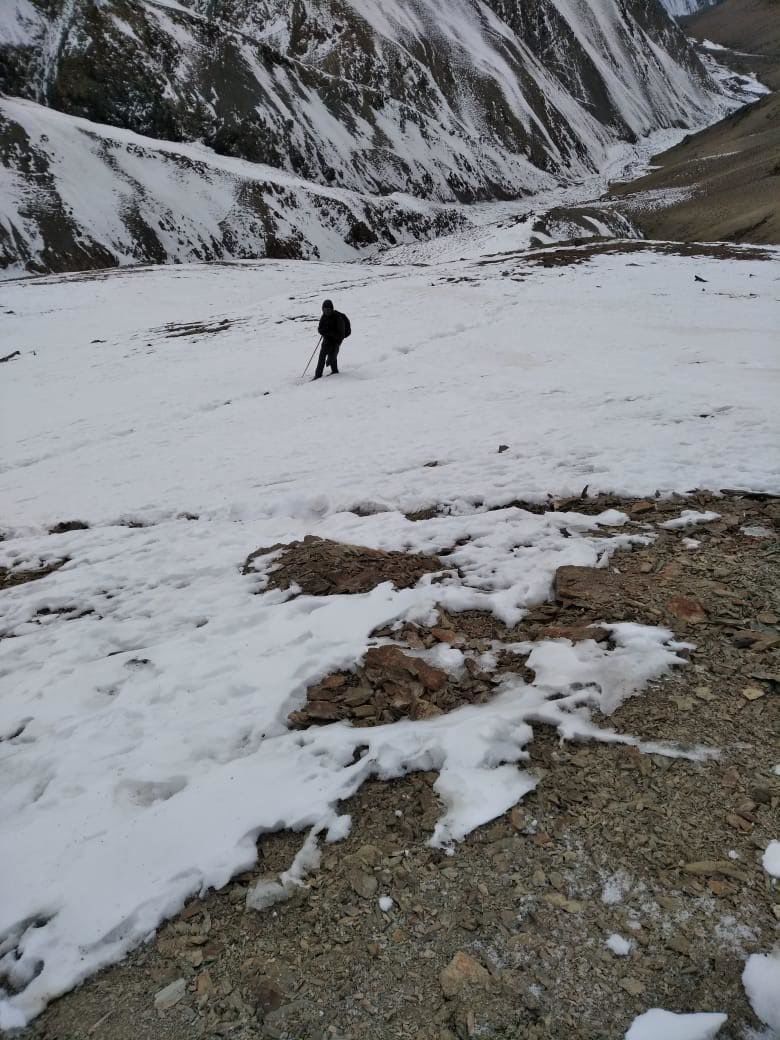 At this point I was eager to reach the top, with no fear in mind. Stanzin took this opportunity to tell me that "if you slip and fall, please spread you hand and legs to stop the fall in snow filled slopes, else you will become a snow ball and propel to the ground. I was amazed to hear that at that point, but I was fine. Just before reaching the top I was tired and did not want to go though the winding track as it was longer, rather we decided that Stanzin would go up and then I can use the rope to go up though the slopes. That was more comfortable than walking along the longer twisted tracks.
The conversation so started -
i asked him "Can you not drag me up with that rope you are carrying?"
He calmly responded that "Yes possible" and i was like "are you kidding"?
Then he said that "not drag exactly, but you if you can climb the slopes i can go up the winding road and throw the rope for you to come up"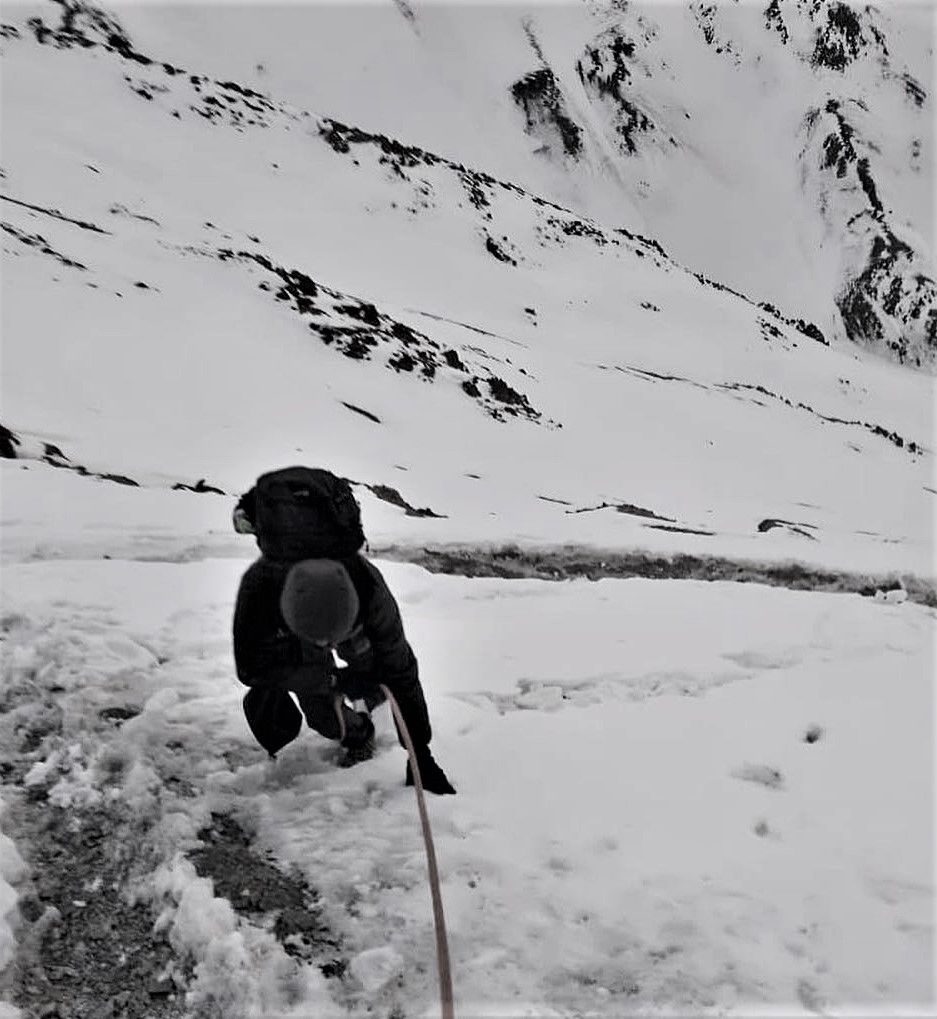 Just before sunset we reached the top and it was an amazing feeling. At multiple points I felt that I will not be able to do it, but finally I could keep my mind steady. I view was so good that I could not speak for a while. A lot is owed to Stanzin and having the right guide is very crucial here. He never encouraged me to go back though i might have if he had asked me once. He always encouraged me to push more and that he will be there to help in any way. The biggest satisfaction comes from overcoming the fear that i had before the climb.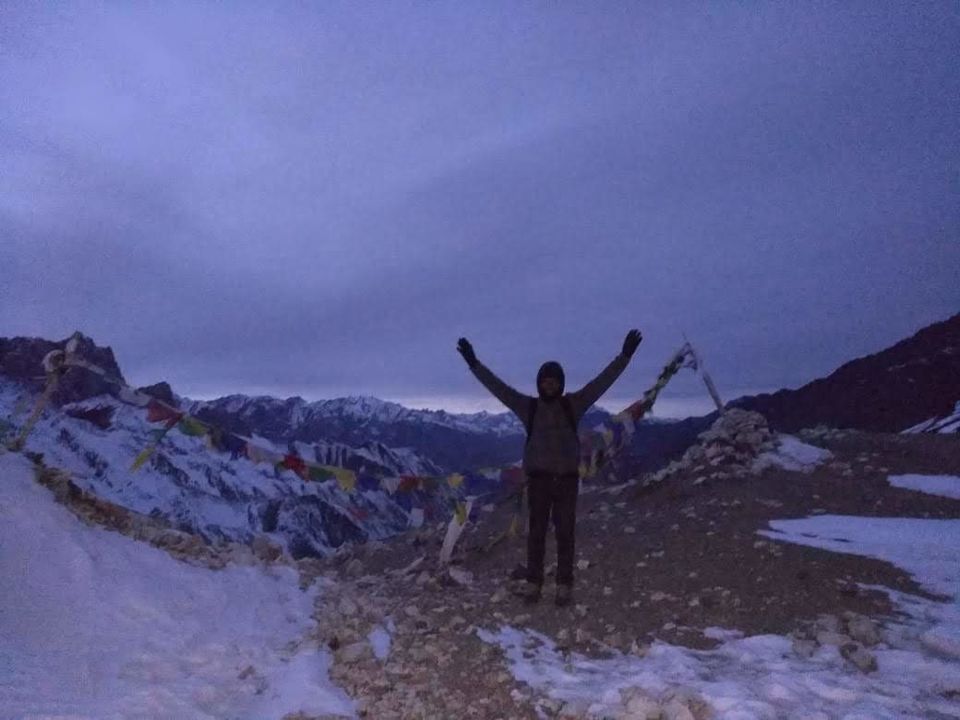 After taking a short video, i asked Stanzin if we could find some shade and stay there as i did not want to go down so soon. He said "It will be the clodest and the longest night of your life". He thought that I have gone crazy and told me to get prepared to climb down. It was already dark and we took out our head lights to climb down. It was both scary and fun at the same time. I was scared of wolves, as we heard from the village that wolf pack was seen around. Also it was steep descent, but because of snow, sometimes I could skid down and that was the fun part. I could not believe that i was doing this, rather "that i could do this!!!!"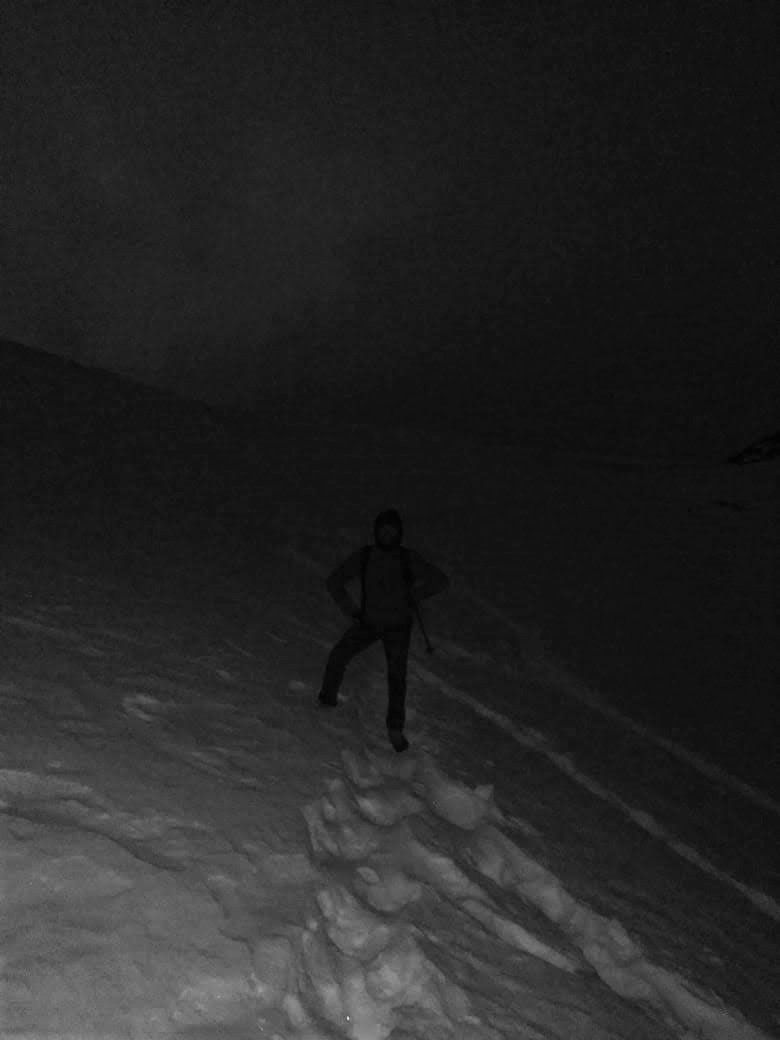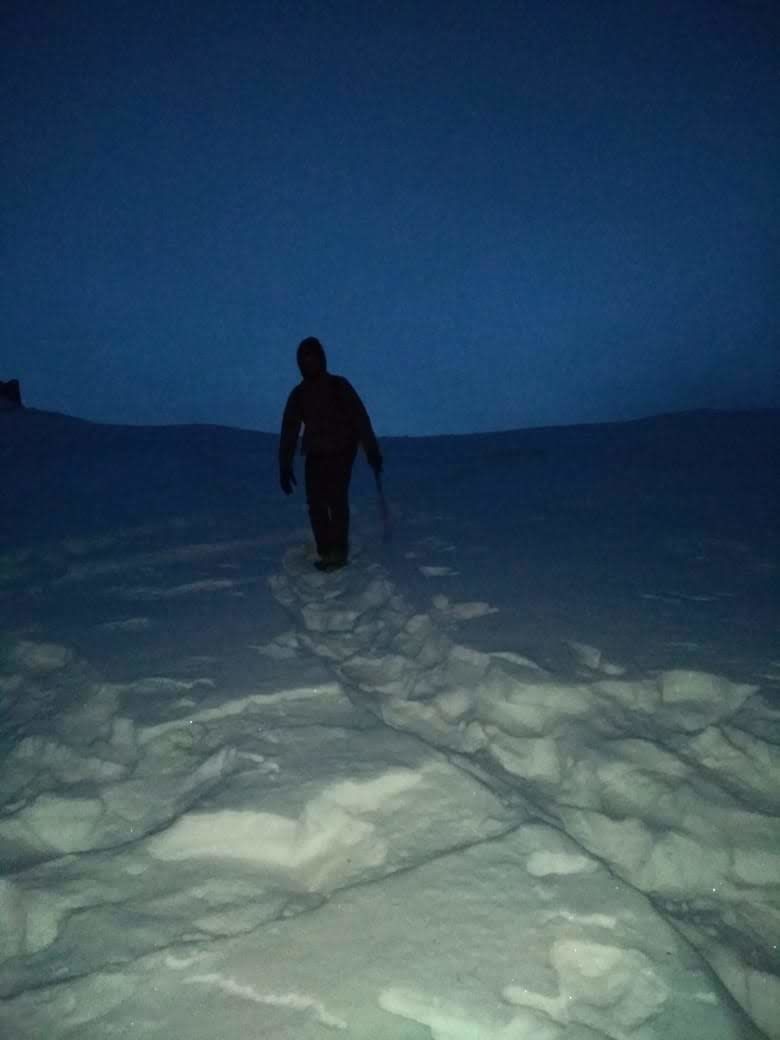 But the real test began, after coming down from the mountains. We saw that recent floods have broken some previous trekking routes and we have to walk though the river bed, filled with ice and snow. While walking on the river bed it was dark and once our headlight fell on something shiny. We saw two glowing eyes, soon it became six. I was a little scared of wolves already, but then i saw the most amazing thing. Those eyes started moving up in the air. Soon i realized that those wolves/foxes were climbing up the mountain, sensing human presence.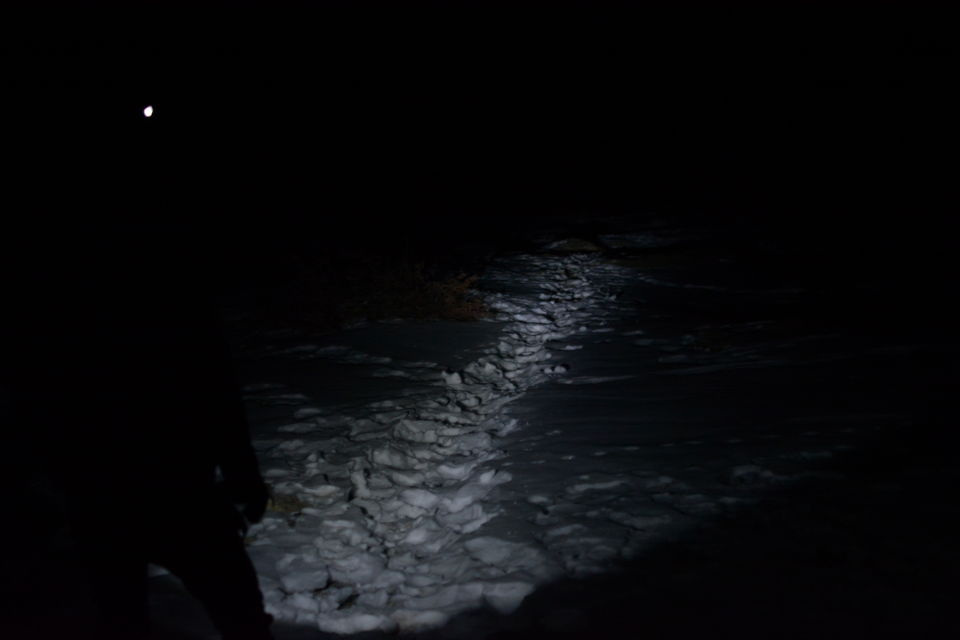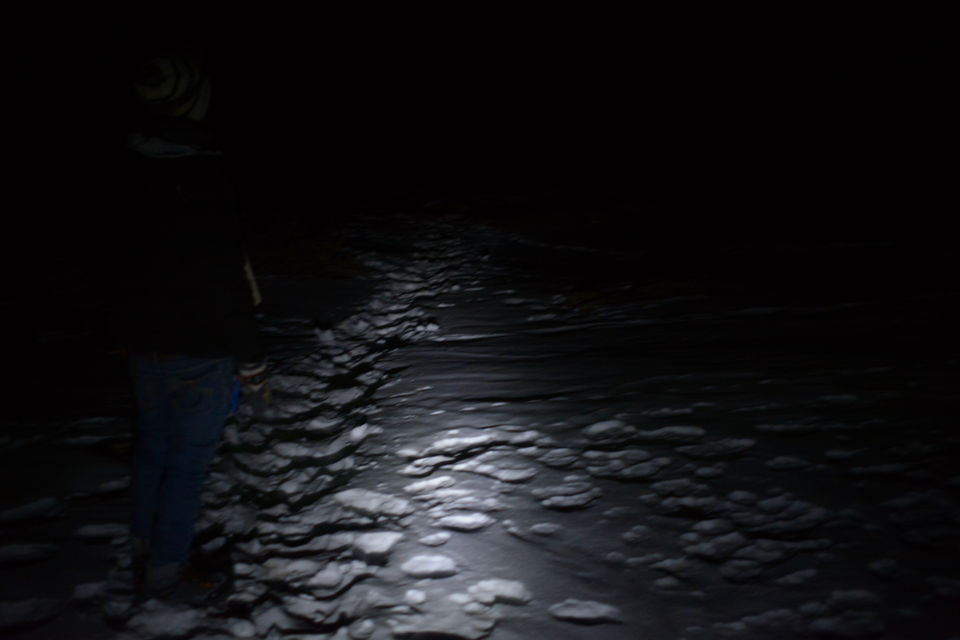 We did that for the next 4 hours to reach the village called "Sumda Chenmo". We reached at 11:30, when everybody was asleep and we knocked the first door we found. Luckily we reached the house of Konchok Thinles, who is an accomplished mountaineer having spent a lot of time in Siachen and peaks like Nun-Kun. He told us stories of his days in mountains and fascinating accounts of siachen glacier.
The room was warm through the night, with a wooden heater burning, recipe for a good sleep. Next morning I woke up to see the beautiful Zanskar range around the village. I spent some time in the morning, looking at the gigantic peaks of Zanskar range around the village. I was energized after a good sleep at night. We decided to start for Sumda do, through the rugged rocky peaks. What a beautiful village it was. Something that i will remember for a long time.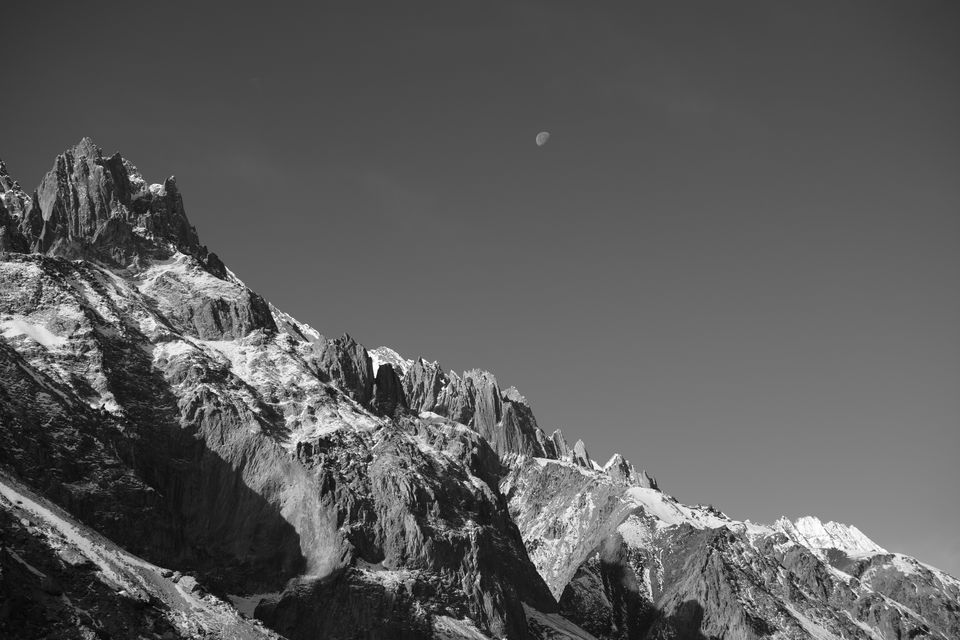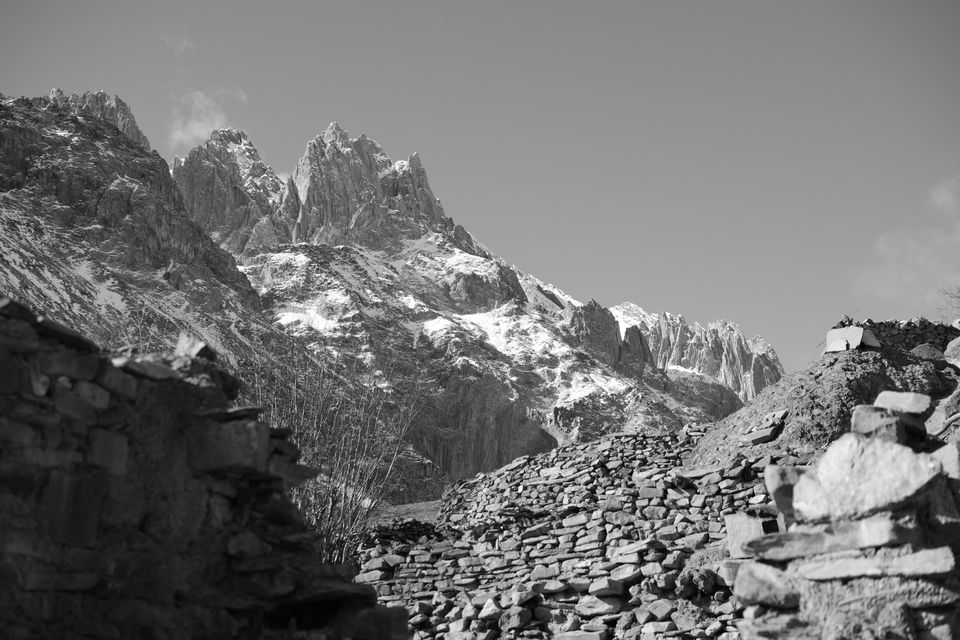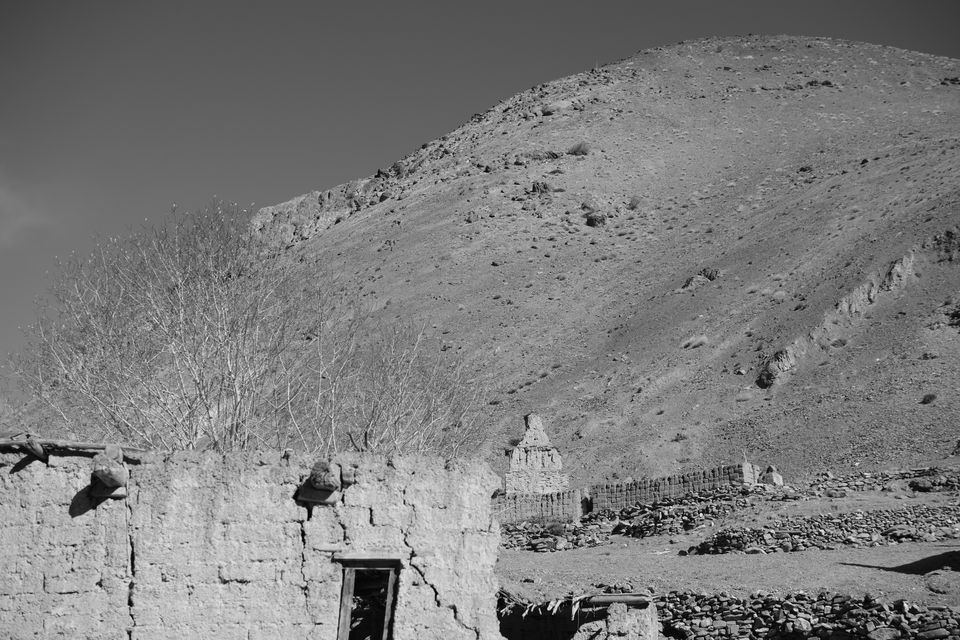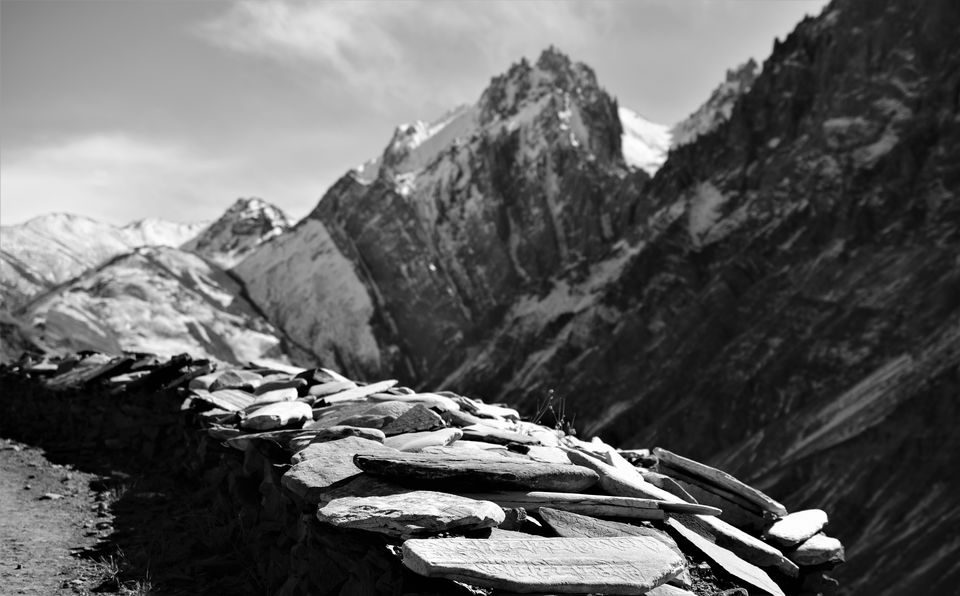 The trek from Sumda Chenmo to Sumda do is through beautiful range of mountains. On the right the icy caps belong to Zanskar Range. The valley is entirely forzen with a small stream passing by. The mountains were huge with the typical feature of rugged rocks of Zanskar range. Our host told us that there are chances of encountering snow leopards as they have been seen by villagers recently. We were all eyes, but could not see any. To compensate for that we saw a big ibex moving in the mountains nearby.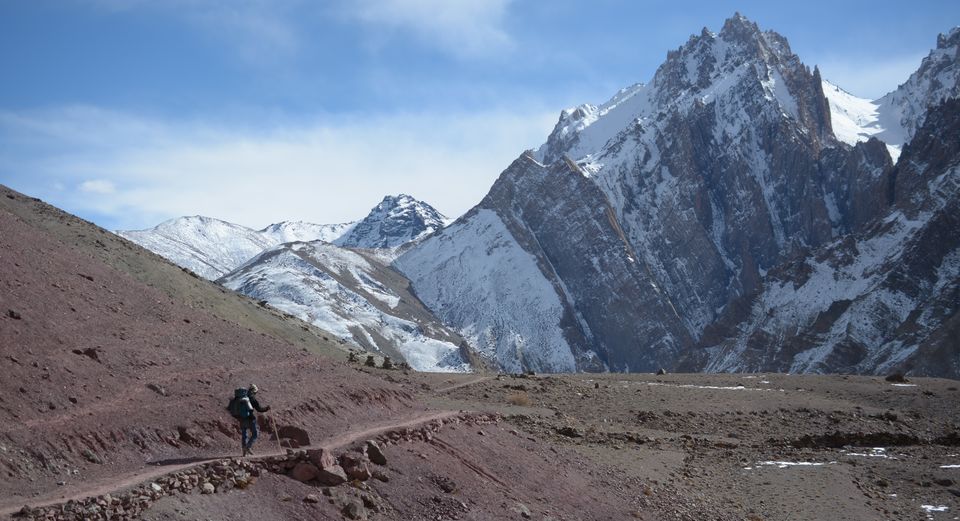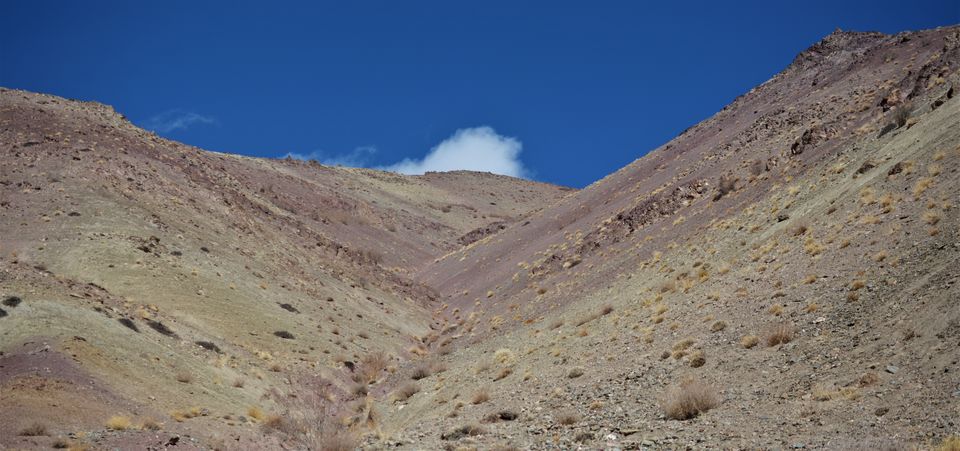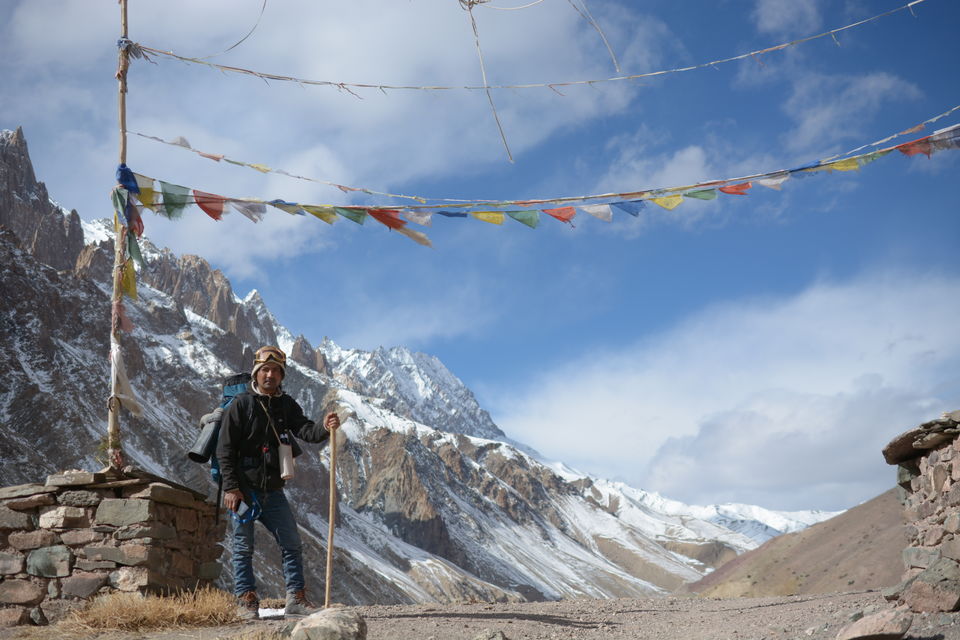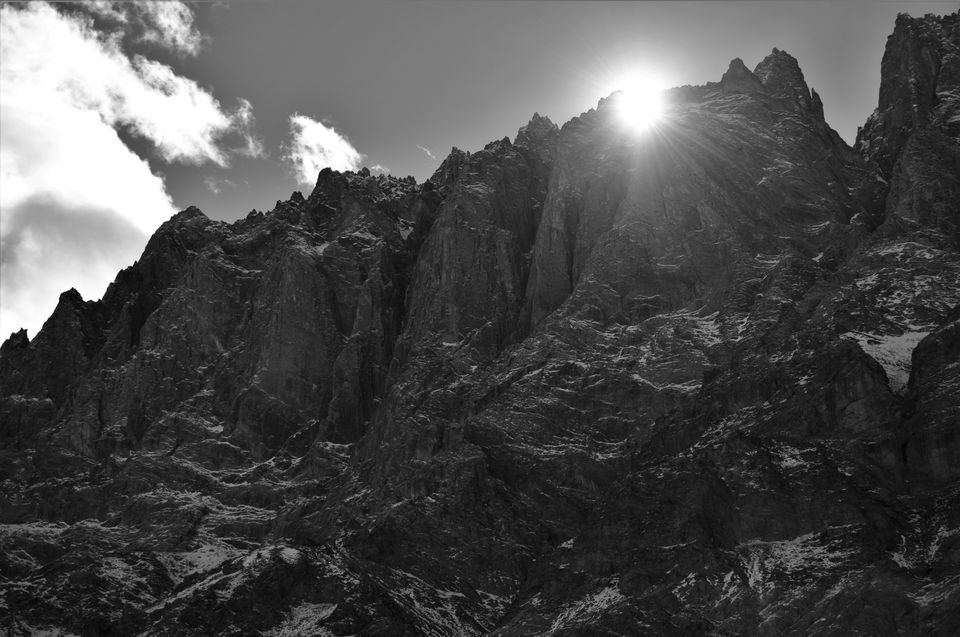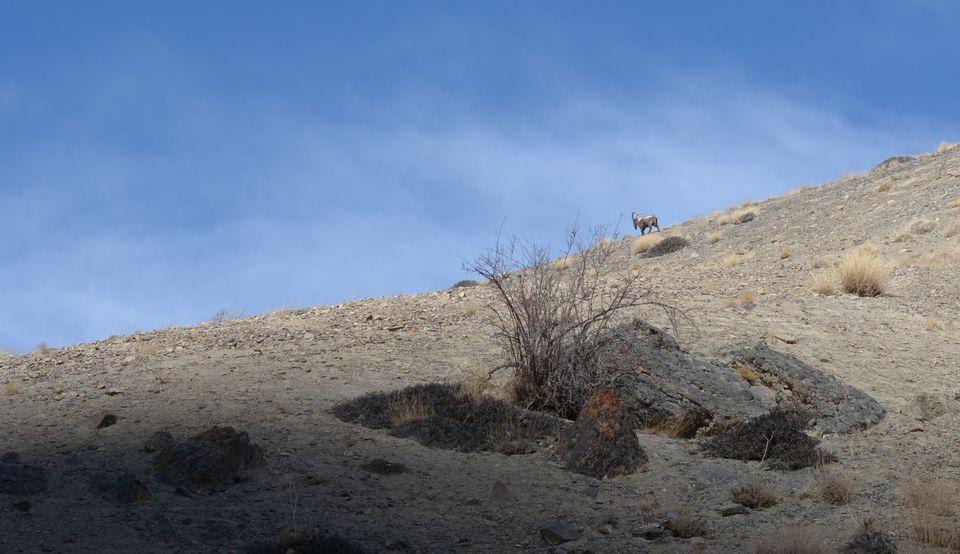 Once we cross the snow-clad rugged Zanskar peaks, we took some break and then walked through colored mountain ranges. Colors also mean presence of crystals around these mountains. These are also very dry region in winter and all vegetation dries up, which incidetally is a very good view to look at.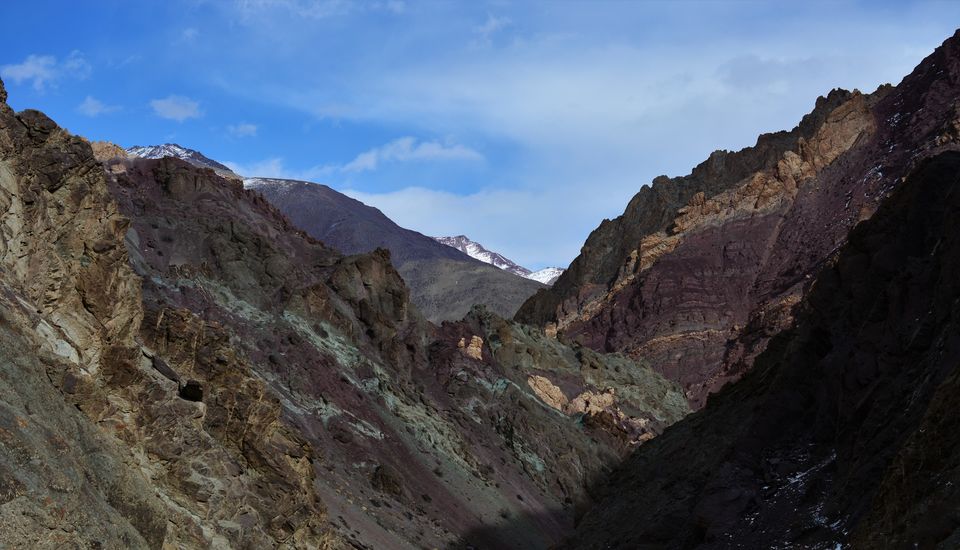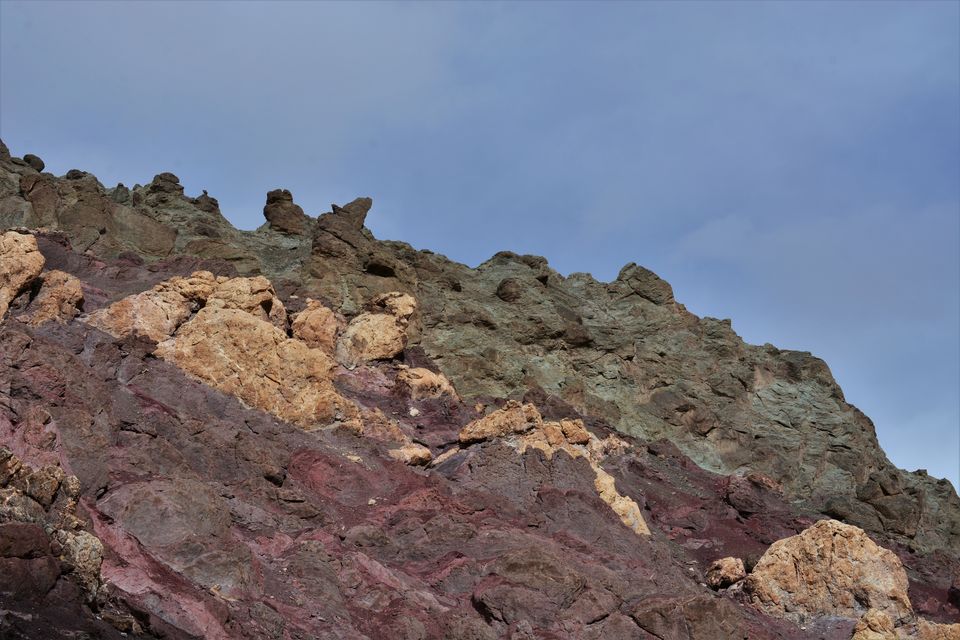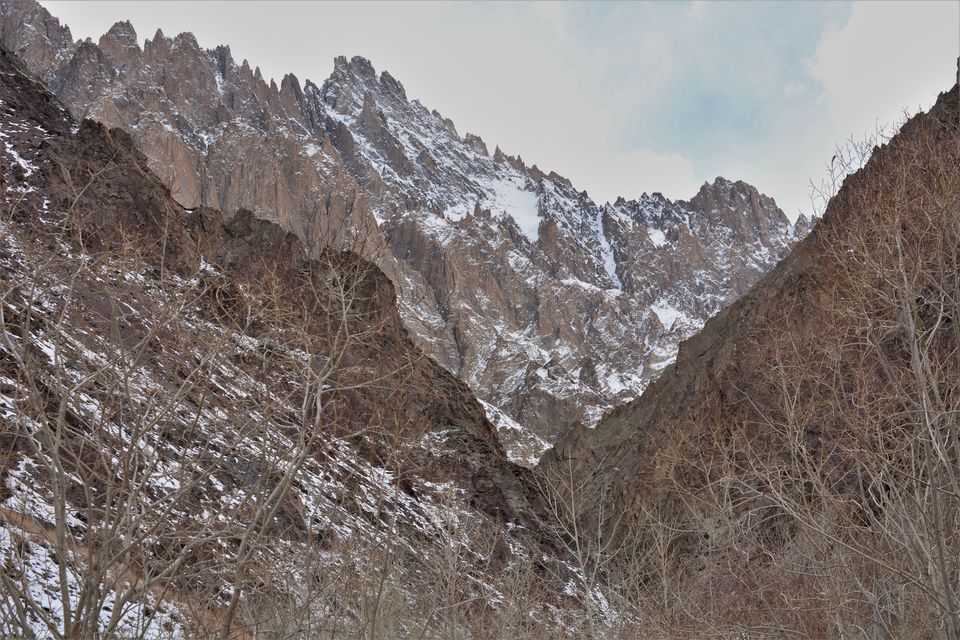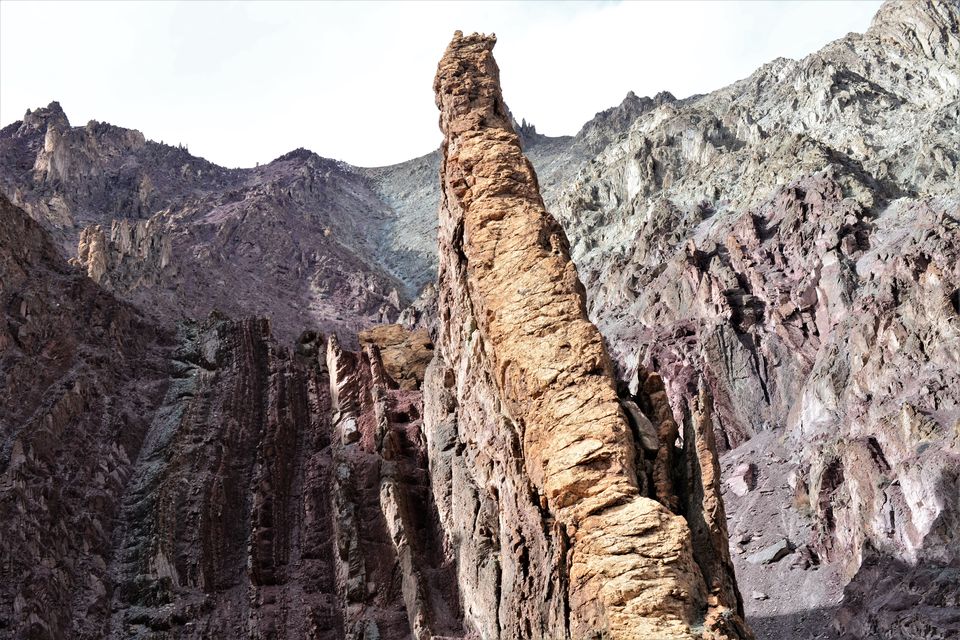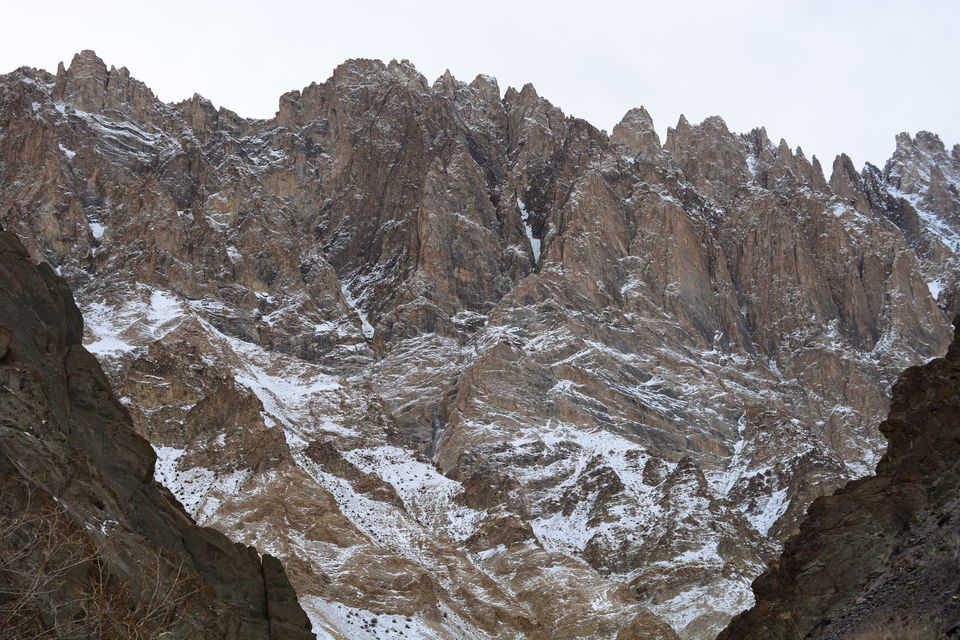 The streams around the mountains have started forming ice and the water splash creates beautiful ice structures. These structures always fascinate me. I get so engrossed that i lose the sense of time.
This time while i was taking photos, Stanzin walked and crossed the stream and i was struggling to find the way, as the roads were diverting multiple ways. I had to shout out to him, to get directions.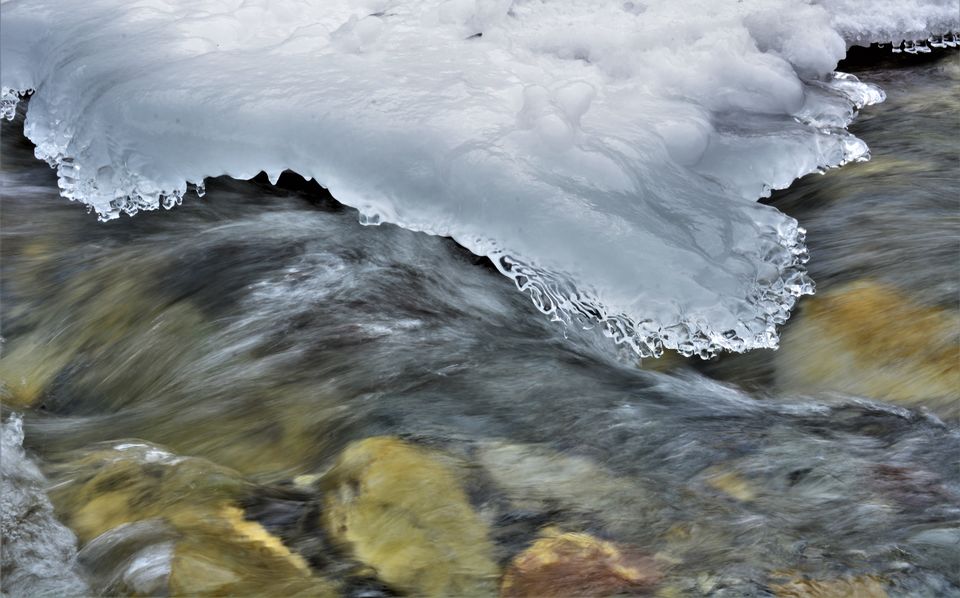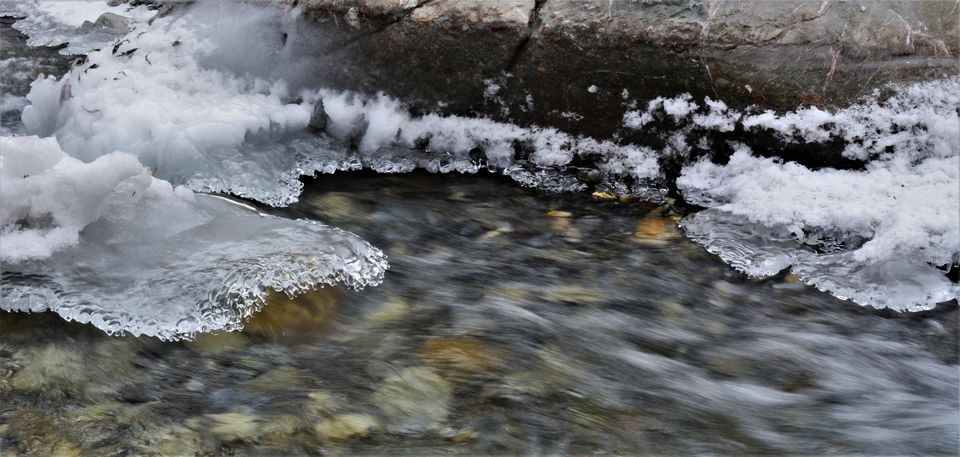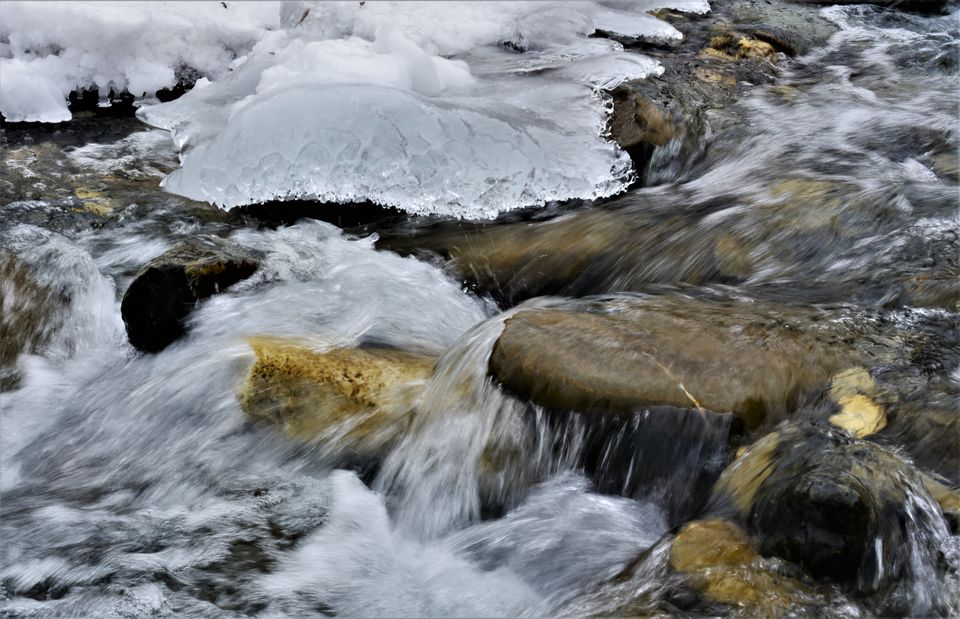 As we moved towards the end of the trek, the valley became narrow, with chances of getting hurt by rock fall. I was overwhelmed by the steep jagged rock faces standing high up like a wall that cannot be breached. They were intimidating and beautiful. J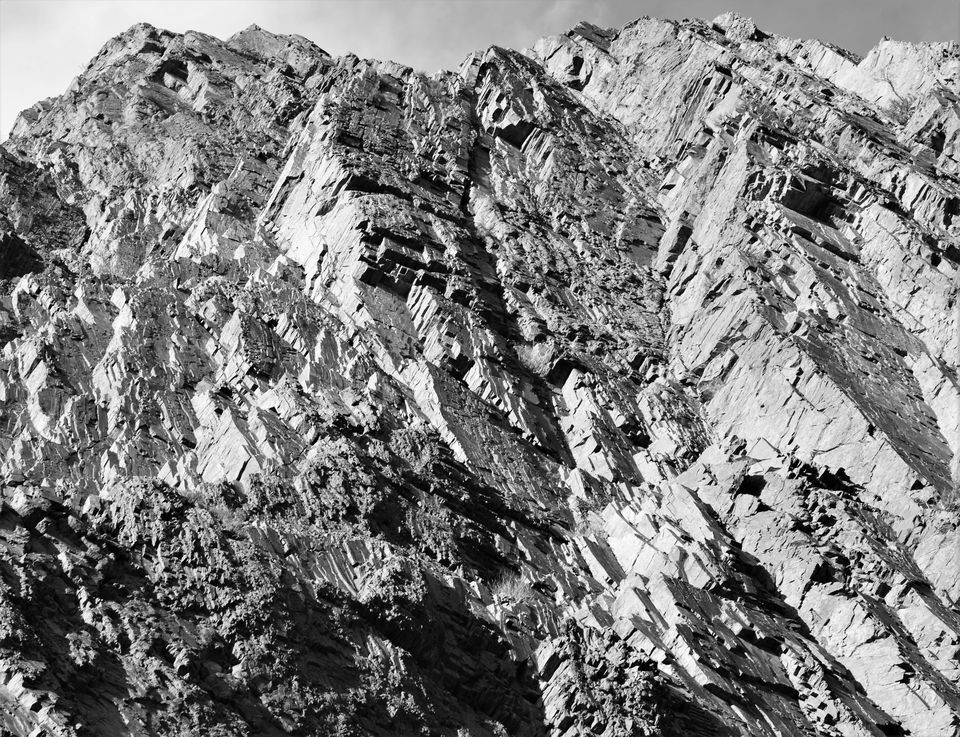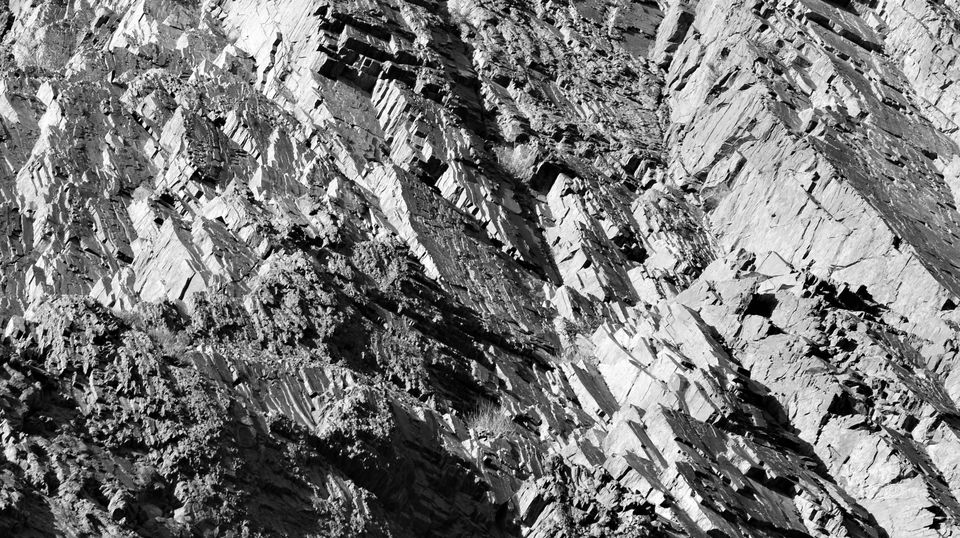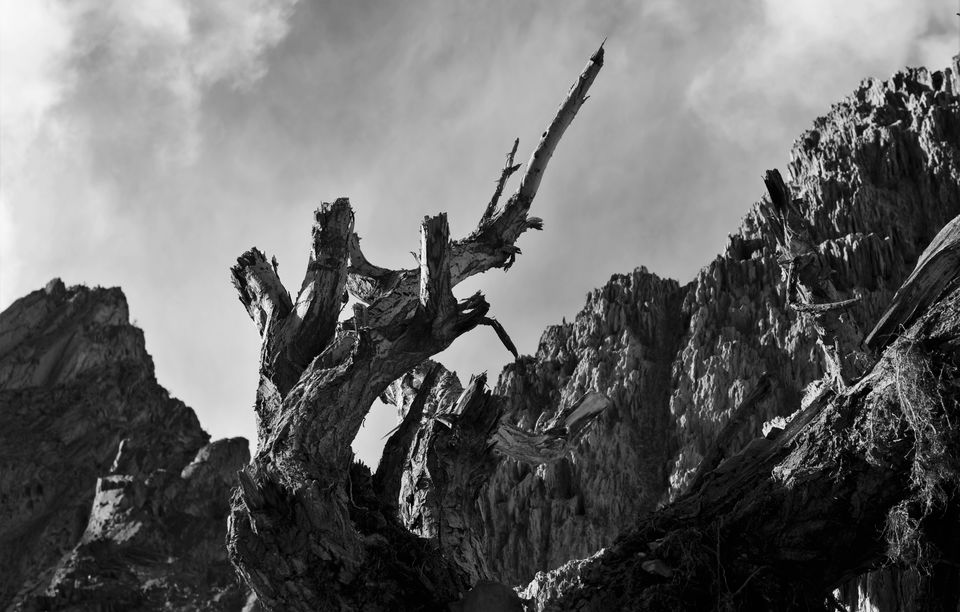 As we reached the end of the day's trek we were greeted by this beautiful natural painting.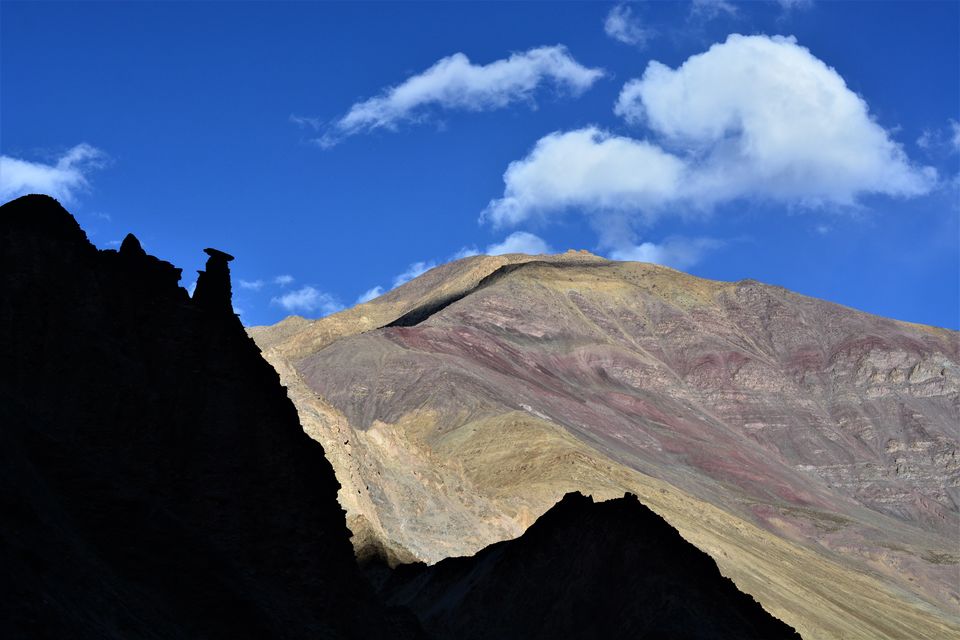 Luckily to end the trek on an amazing note, we got to stay with a family who have lands in these mountains and earn money by selling crystals. It was here that I saw bucketful of crystals and heard stories about the presence of priceless crystals in the mountains. No photos sadly from here as the family was shy of photos.
Follow on : https://www.instagram.com/soumik_neo/