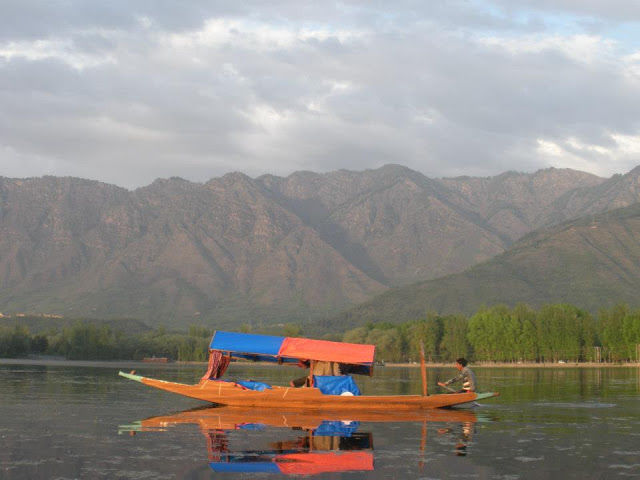 A long awaited trip to the picturesque valley came to an end in April this year. Somehow the trip was getting delayed for a longtime, many a times due to my fear or due to some unrest in the city. I along with my family boarded a direct flight from Chandigarh to Srinagar, a 1 hour zip through the clouds.
The first cold breeze that caressed me stepping out of the airport brought a smile on my face and I came to realize that this trip is going to be something that I have never experienced before. A taxi had come to pick us from the airport and while driving to the hotel I had already started filling my memories with some of the most splendid views and an unseen city life.
Luckily the hotel we had chosen for our stay was just opposite to the most famous landmark of Srinagar, a standstill yet a lively Dal Lake. There were loads of houseboats placed aisle to aisle in the clear water each carrying a different name like New Melbourne, Honeymoon special and I clearly got an idea that they were not meant for me as I am still single.
To re-energize ourselves for exploration, we decided to grab some food quickly. We went to a small vendor who had all sorts of pakodas and while having them with a cup of tea we stroke a conversation with the kashmiri people around. I have always felt a strong connection with the place , one because J&K is my birth place and second because I lived with a Kashmiri family when I was a child.I couldn't understand their language but Kashmiri came as a music of the past.
We visited some famous gardens of Srinagar that day including Shalimar Bhag, Chasme Shahi, Pari mahal. These gardens were made at the time of Mughal rule which was clearly visible from the architecture of the place. We were lucky to have seen Tulip gardens as it was closing down for a year. The gardens were in full spring, wherever the eyes could reach there were flowers everywhere. The air was fresh and I could see a group of around 50-60 school girls all dressed in a black robe covered tip to toe and heads neatly done with a white dupatta. Though they were so many in no. but still there was not much of a difference in their appearance. I wondered were they being allowed to blossom or their wings being cut forcing them into a deep sleep. Curiously I requested a picture with them and they were all extremely happy to pose. My eyes were looking at their innocence which is rare to find in metro life and theirs were anxious to seethe freedom I was enjoying. On the contrary, men were wearing a robe with hanging arms as their hands were holding on to kangdi (a traditional hand heater) beneath their robe. They generally do this to beat the cold. Both men and women had one thing in common, their impeccable skin.
In the evening we went for a walk along the Dal lake. The glimmering lights from the houseboats were dancing on the water. The clear reflections were so colorful that they seemed to be a painter's imagination. That night floated with thoughts of colors that so distinctly characterized the different phases of my life.The second day started with breakfast in a Punjabi dhaba ( After-all Punjabis will remain Punjabis wherever they go) and soonafter, we headed towards Pahalgam. The drive across Lal chowk and various suburbs had repeated sights of the military men standing every 100 meters as if we were inspecting a border post and swept a feeling of some disturbance and unrest in the air. Heading closer to Pahalgam the views charismatically changed from city life to hastily flowing rivers amidst the tree stacked mountains. The blanket of the blue sky protected the beautiful landscapes. For a while we stopped the car and enjoyed by the riverside.To visit Betaab valley and Aru we had to board a local taxi. On the way the roads were quite narrow and time and again sent shivers down the spine. The magical rivers and the greenery were uninterrupted.Both the destinations have been sights for Bollywood shoots long time before. Nonetheless they reminded me of old Hindi songs, the actress wearing colorful saris, dancing excitedly either to celebrate or to scare the new found love. The journey back was quite a long one and culminated into a big fat dinner and then a deep sleep.
The next day soon after stuffing our bellies we were off to Gulmarg. On the way we passed through many less traversed villages of old Kashmir. The driver kept telling stories about incidences that happened over the past few weeks including Afzal guru assassination which brought their business to a standstill, a compulsory dress code inflicted over the females and an unexpected militant attack in the local school cricket ground. We debated a lot over how Kashmir was robbed of cinema, entertainment and freedom but nothing could get us to a logical end.
Gulmarg as I can recall had vast green uneven fields and huge snow clad mountains standing upright. Local men were trying hard to convince tourists for a horse ride to the chair car ride. The place was extremely crowded and as the queue for the car ride was a km long we dropped the idea to wait so long to reach the top. We just marched down the green fields and that in itself was something that could make one run all around and shout to the world that if heaven exists, its here, here and only here. Late in the evening while coming back from Gulmarg, we decided to take a ride over the shikara. After short negotiations we jumped into one and sooner than we could think of we were in the middle of the lake. The quietness of the lake was disturbed by the humming sound of the oars that brushed inside the water. The shikaras threw their reflection in the vast expanse of the water creating a mirage and made me wonder that illusions are so deceiving and in life innumerable times I have believed them to be real.
Time and again vendors in the boat would come along and sell traditional stuff. Driving hastily as the time was short we reached the floating market. The whole hustle and bustle of negotiations between the customers and shopkeepers had created a marketplace over the water.As the night approached and we prepared for sleep, the mosques were in no mood for rest. The soft music echoed in the air and stirred up the deepest emotions of hope and desire. Since I was a child I have been fond of Namaaz and could not resist myself from hearing it until I was enveloped by fatigue into a deep sleep as if a lullaby had poured from the heavens and I was in the laps of Allah.
The next day which was indeed the last day we were quickly packing our stuff and were out on the streets for last minute shopping.After-all women are meant to shop even if their closets are stacked to suffocation. We bought hand embroided suits, hand woven baskets and traditional jewellery. Our driver signaled us to bring an end to our cravings or else we will miss our flights. We rushed to the airport and after two rounds of security check we were all set to board the flight back to the city beautiful.We left the valley with some beautiful memories and a strong desire to be back to the heaven where nature awaits with arms wide open.
Frequent Searches Leading To This Page:-
kashmir tourist place list, travel guide to srinagar, best time to travel kashmir, most visited places in jammu and kashmir, srinagar honeymoon packages for couple, glacier trek packages for friends, solo trip kashmir packages from banglore, family trip packages to jammu and kashmir ,srinagar tour packages for family , top kashmir tour packages for honeymoon, kashmir group packages, top activities in kashmir , top valley to visit in srinagar , budget hotels in kashmir , best local site seeing in kashmir , srinagar best food