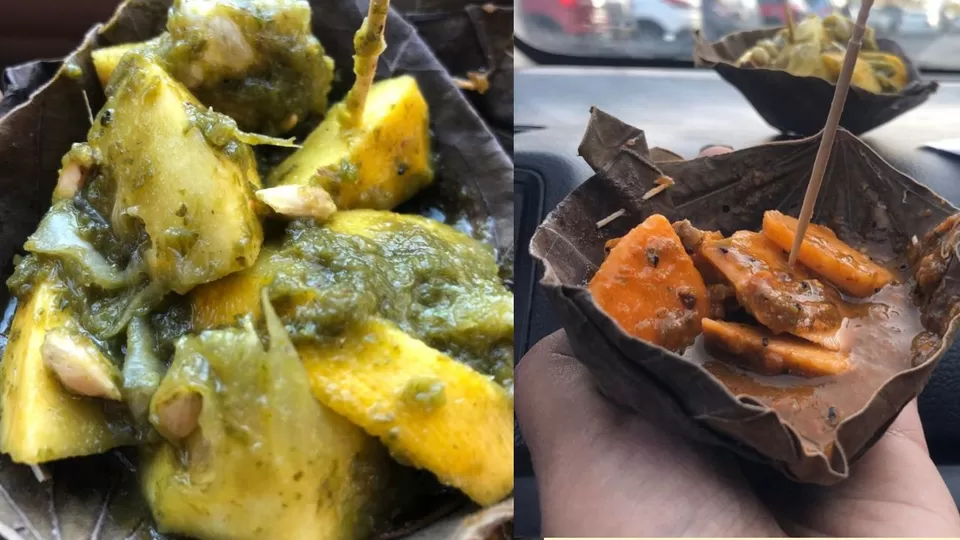 When you hear about Jammu, ideally your mind goes to the magnificent and Holy Trikuta Hills where more pilgrims come to pay obesiance to Shri Mata Vaishno Devi. But how much do you actually know about Jammu? Firstly, let's clear some confusion.
Jammu is the name of the entire Division with ten districts including Reasi (which is where Katra lies, the foothills of Trikuta mountains.) And Jammu is also the name of a district, one of the capitals of Jammu and Kashmir. This street food tour is about the entire Jammu division, so I will try to cover as much as I can.
Dhaam/Taam- A Dogra Culinary Feast
It is pointless to add a location with this unique cuisine of Dogra Culture. Mainly because Taam is not just a dish, it is a cultural phenomenon. It comprises Dogra dishes served on pattal and doona. Dishes like Ambal/Maani, Dal Patt, Rajma, Gheur/Keyur, Babroo, Malpuda are a must. So Taam is basically a mixture of different kinds of Dogra dishes served together. Add some sweetened rice on the side and it is a flavorful delight!
Kachalu Chat is another delicacy which is found mainly in Jammu, or perhaps nearby Himachal as well. This spicy and chatpati chaat is often accompanied with Kimb as well. And Girdhari Kachalu Wala has been in the business of making and serving Kachalu for decades. Though you can try kachalu chat being sold by small vendors all across Jammu. I would definitely recommend trying Girdhari ke Kachalu.
Rawal Pindi, the name that might remind you of our neighbouring country Pakistan, is a opular sweet shop of Jammu that will prove nostalgic for many Dogras. The Puri Channa of Rawalpindi used to be the Sunday breakfast of many households in Jammu city. The puri fried in Desi ghee, with spicy channa made for a delicious combination. The Sweet House also sells Malpudas, which are a delight during monsoons.
You might have tried Falooda in different places but Lali Shah di Matka Kulfi is something different. The noodle-like Lacchas are served separately from the Khoya Kulfi with some Roohafza on top. And though the rates have increased over the years, but the taste of the Kulfi remains the same.
Baggar is a spot, on way to Doda which serves the most delicious Rajma Chawal along with Anardana Chutney. Rajma Chawal is the favorite dish of people across North India and you will find hundreds of dhabas, restaurants or even high-end eateries serving Rajma Chawal. It is a go-to dish for many. But finding THE SPOT to get the authentic Rajma Chawal (with lots of desi ghee) taste is also not hard. There's a spot called Peeda, on Jammu-Srinagar National Highway. There's Sharma Hotel in Baggar enroute to Doda (another district of Jammu). Thankfully, they have another outlet in the heart of the city as well. Recently, Suketar which is known for its Paneer Pakoda and Chulhe wali chai has also started serving Rajma Chawal.
Udhampur ka Kalari Kulcha
Kalari is a type of mozarella cheese made from Buffalo milk. You will not find Kalari anywhere except for Jammu. And when I say Jammu, I mean the division. Kalari originated in Ramnagar of Udhampur district and even now, if you wish to try the authentic tasty Kalari, it is better to travel to Udhampur. Mame da Kulcha is a known eatery for trying out Kalari Kulcha.
On way to Rajouri on the Jammu-Poonch National Highway is a popular tea spot called "Kalidhar". It is known for the special Kalidhar Barfi, Khajur and of course, tea. The video will explain it better.
All this is just tip of the iceberg. There are many other dishes and many other places where you can enjoy Dogra food. There is Lakhanpur ke Palle, Gucchi Mushrooms, City Chowk ka halwa and much more. But let's start with this much!