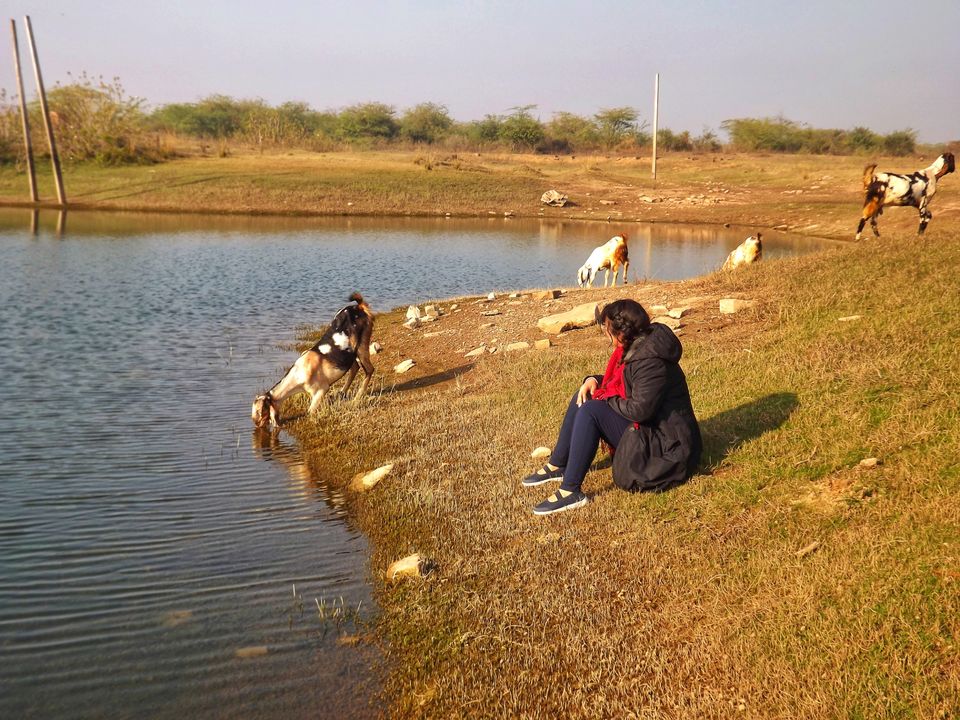 The dessert state of Rajasthan is known for its historic destinations such as Jaipur, Udaipur, and Jodhpur. Almost all of the state is filled with centuries old forts and fortresses that gives the state an old world charm. Take Jaipur for example. Hawa Mahal, Amber fort are its main attractions. In fact, these palaces are so common in the state that every other city will have a 'City Palace' turned into a museum or a boutique hotel as a popular attraction. Every year a swarm of national and international tourists appear in Rajasthan, especially in winters, to see these architectural marvels.
Just like every travel enthusiast, even i have been fascinated by these historical sites. However, i find it a bit unfair when the state of Rajasthan is known only for its history or desserts.
Having had the opportunity to live in or near Rajasthan for most of my life, i try to explore several off beat locations in the state apart from the popular destinations. In the last year itself, when the world was struggling with COVID-19 and it wasn't possible for me to travel to new faraway places, i went in search of hidden gems in Rajasthan - most of which, were lakes! Contrary to the popular belief that Rajasthan has no water, the state actually has a lot of landlocked water bodies. In fact, one of Asia's largest lakes is also in Rajasthan! All of these hidden gems are longing to be discovered and enjoyed for their beauty, purity, and vibrance!
On one such trip, i went to Bharatpur to explore its lesser known attractions nearby.
Bharatpur is a not-so-unknown rural town in Rajasthan because of the presence of a bird sanctuary nearby. The Keoladeo Ghana bird sanctuary is a Ramsar site and a protected area due to its natural wetlands that make a perfect breeding ground for migratory birds. Every winters, a decent number of bird enthusiasts and nature lovers come flocking in the town in a hope of sighting rare and common birds up close. However, most conventional tourists and non-birdwatchers either ignore the place or stay only for a few hours because the place doesn't seem to offer much at first sight. Additionally, the district has so many attractive landscapes hidden in the villages between Aravali and Vindhyanchal ranges that most people don't really know about!
I reside in Delhi, and connectivity to Bharatpur from here is pretty good. This small Rajasthani town can be reached via train or by road from delhi within 2-5 hours depending on the mode of transportation. A train usually takes 3 hours but a public bus, that runs every 10 minutes from Kashmere Gate bus station in Delhi, would take close to 5 hours. You can drive yourself if you have a car because the roads are great.
I usually travel on a budget so i took Shatabdi express from Hazrat Nizamuddin railway station in delhi on a friday afternoon. Believe me, booking a seat only costed me INR135, and the train was fairly clean and less crowded.
I left Delhi at 12.45PM and by 3PM, i was in Bharatpur. I took an auto and checked into a decent hotel. There are plenty of hotels near the bird sanctuary that offer a decent stay. The prices in winters can be exorbitant compared to the facilities but the cheaper hotels are a bit more inside the town that may not offer a hygienic stay, so i don't mind paying a little extra for some cleanliness.
I planned to go to the sanctuary the next day, so after a light lunch, i went for an evening stroll at the Ganga Temple and the Laxman Temple in the city.
The city, while well planned due to the famous Lohagarh fort, is a bit unkept. People reside inside the fort boundries, which is why the fort isn't really a tourist attraction. However, the city has two ancient and unique temples that hold the power of mesmerising anyone with their purity and architecture.
My first stop was the Laxman Temple. Now, we don't have too many Laxman temples in the country so this one is pretty unique.
A popular legend says that the temple was established by a sage, Naaga baba, who was a social worker. The temple is still maintained by Naaga Baba's descendents.
I am not too religious but i found the architecture of the temple irresistible. This temple is made in red sandstone found commonly in the hills nearby and is said to be approximately 400 years old. It has incredible architecture in terms of detailed carvings on the walls. You can see beautiful flower patterns embossed on each wall and pillar made of red sandstone.
The temple is located in the middle of a very busy market but as soon as you enter, the scene changes drastically. There are not too many visitors and the upkeep of the place isn't great, which gives it a rustic ancient feel. You will also be greeted by a huge family of monkeys who mind their own business if you mind yours.
My next stop was a similar temple nearby - the Ganga Mandir. Just like the Laxman Temple - not a lot of temples dedicated to Ganga are found in the country, certainly not too far away from the actual Ganga river, which makes this place special.
The temple is two storeys in height on a huge piece of land. It is also made up of red sandstone with elaborate carvings that resembles a royal 'Mahal'. If you climb up on one of the platforms inside the temple premises, you can see the view of Bharatpur town as well as the Lohagarh fort.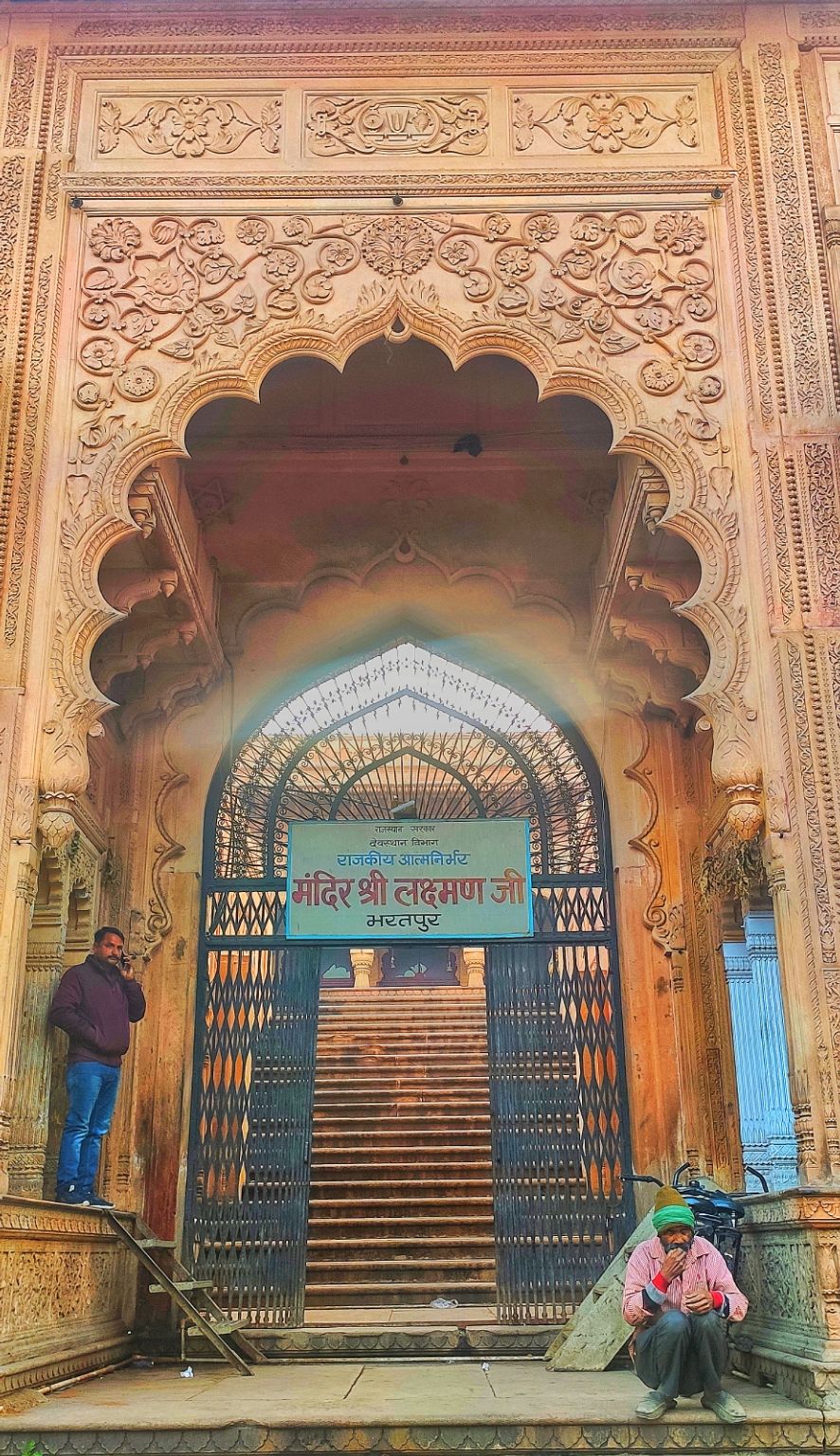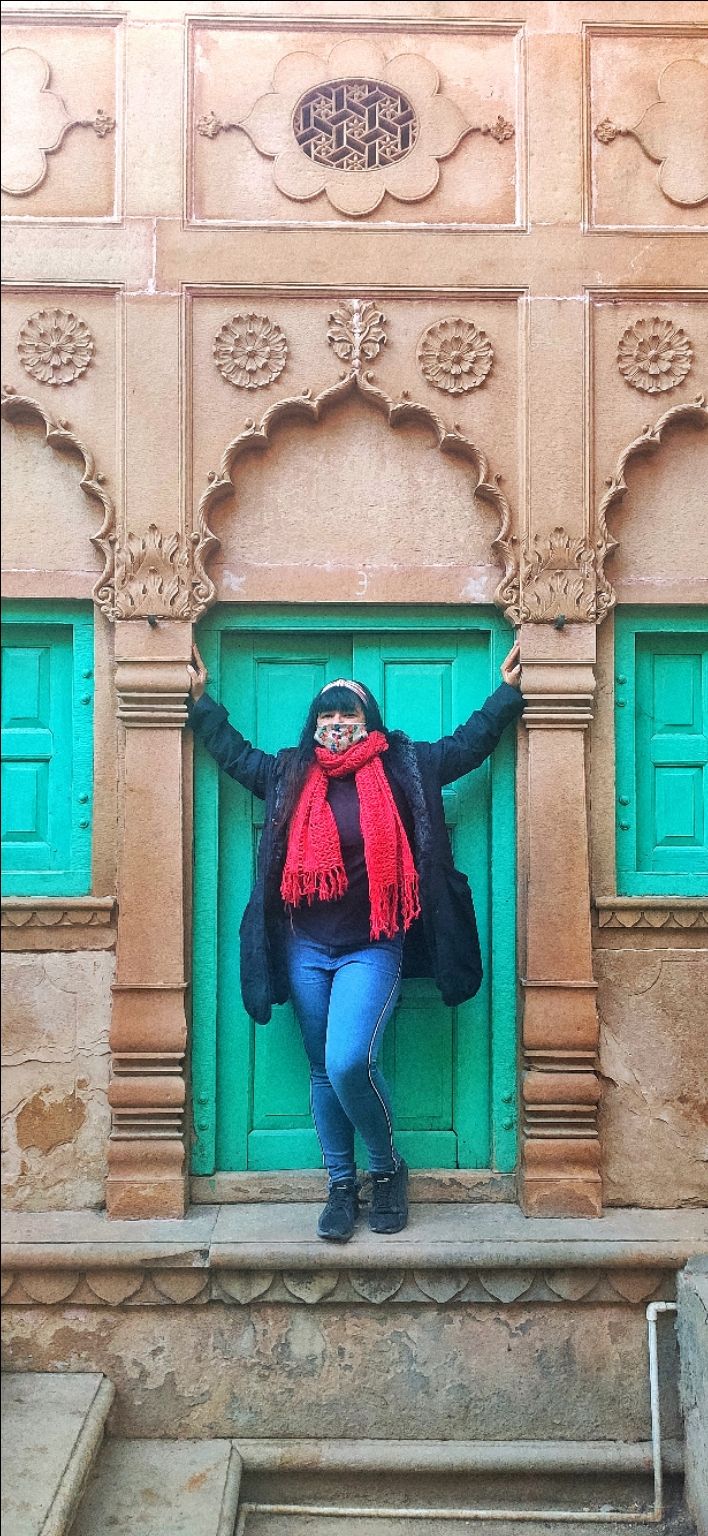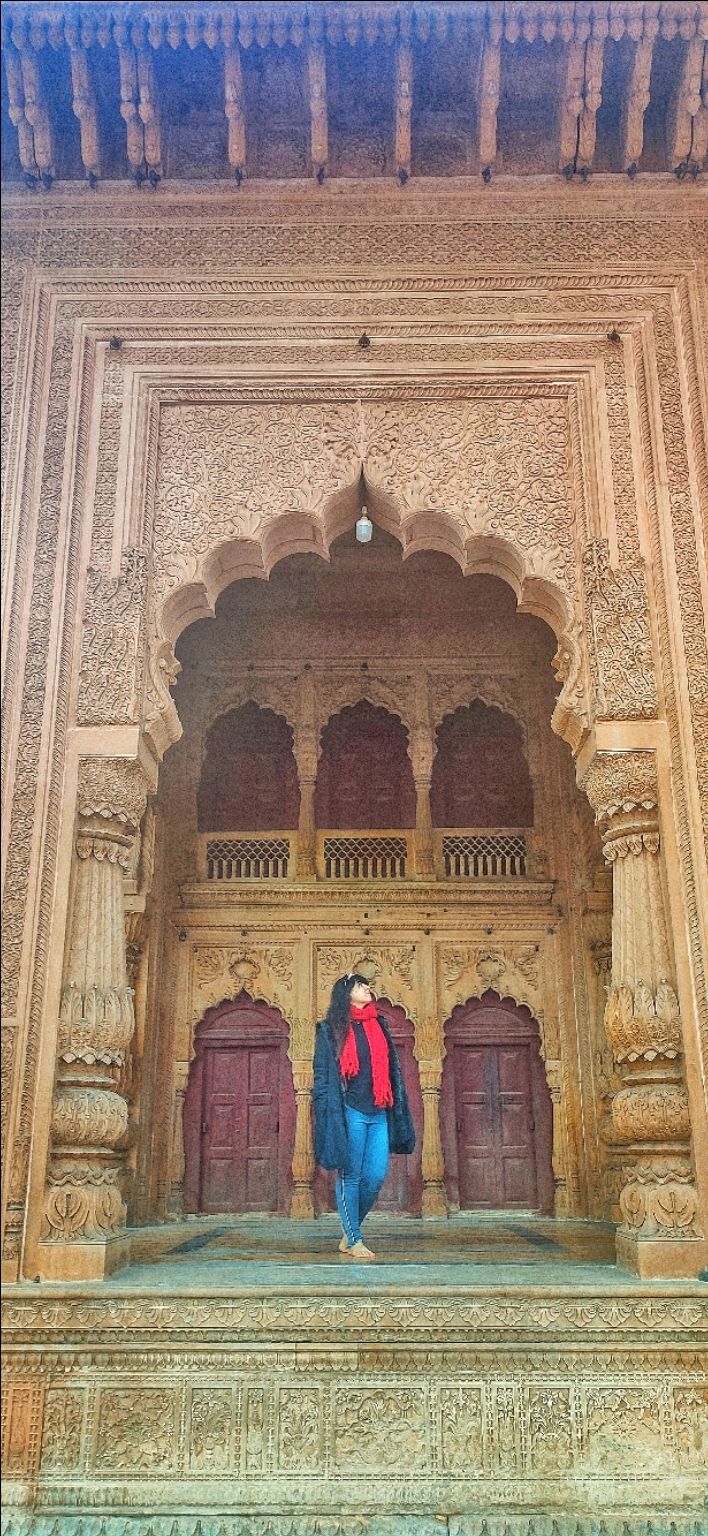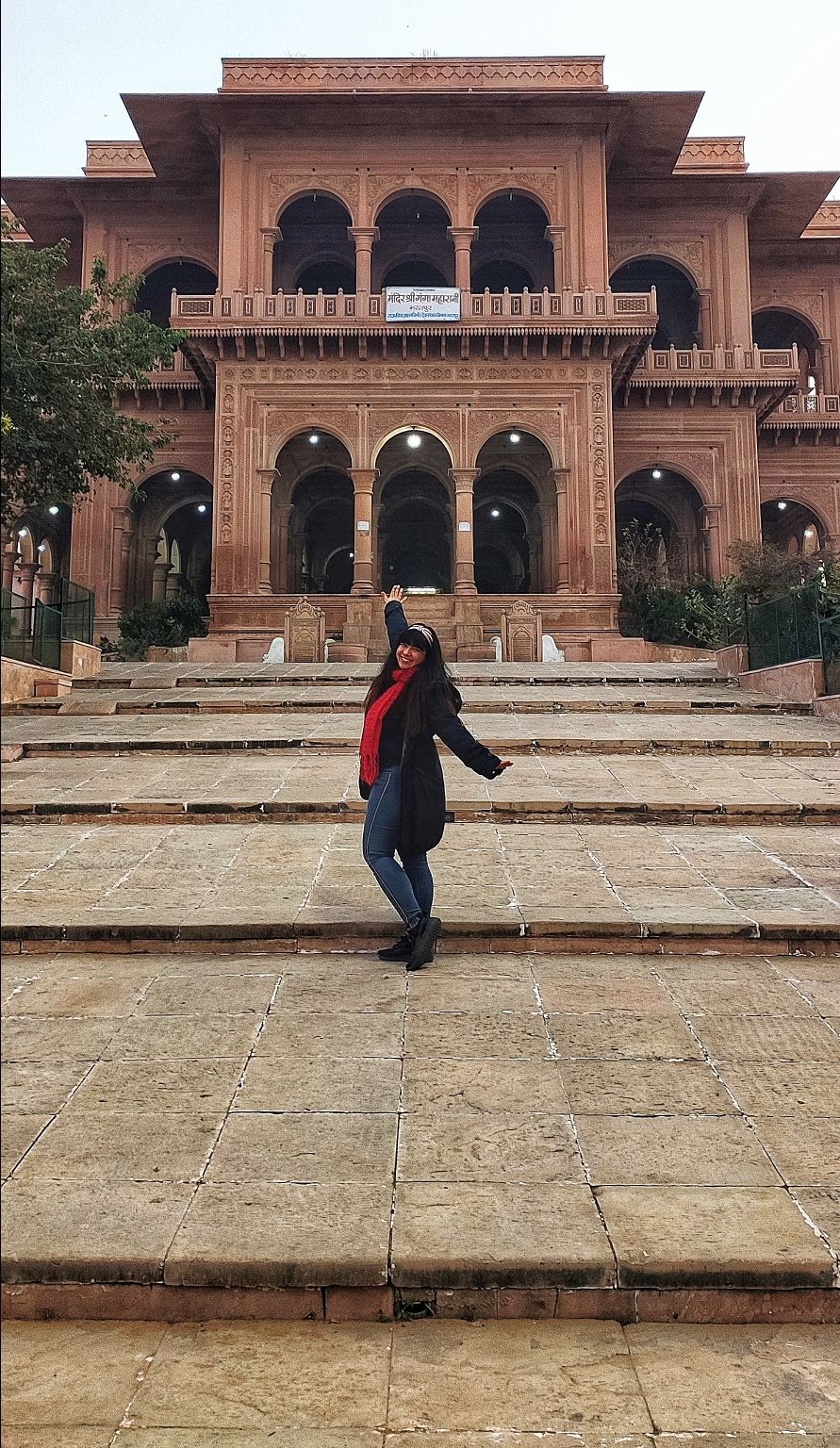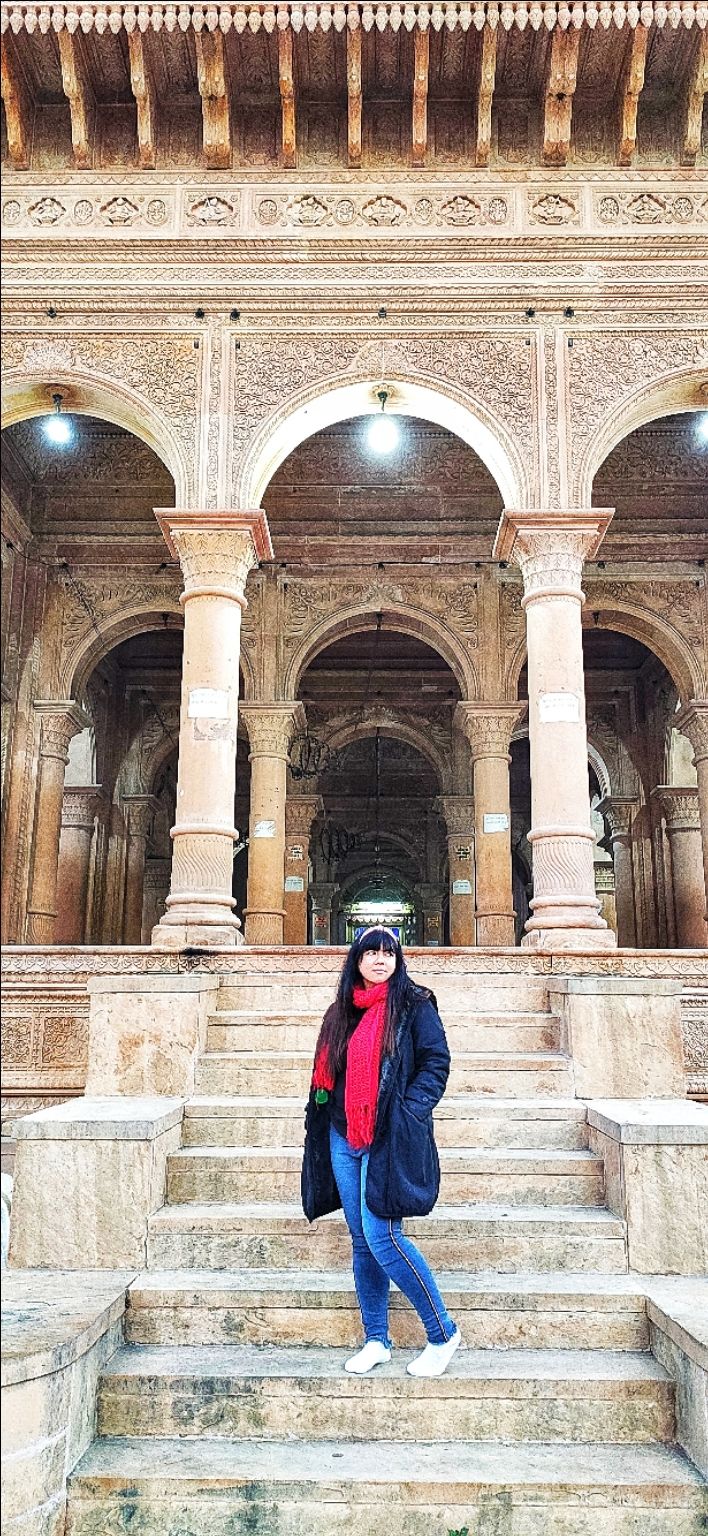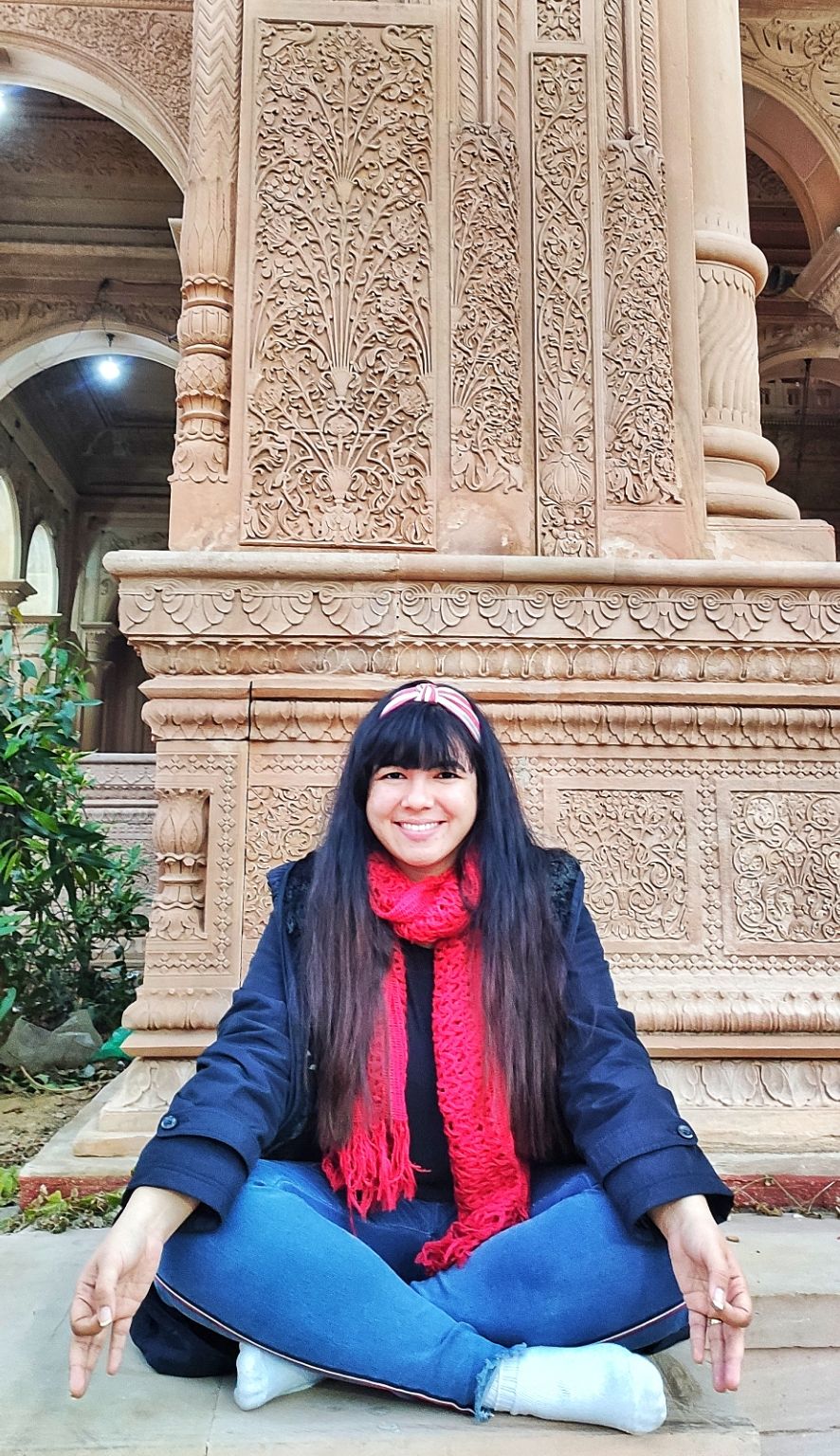 I dedicated this day to the bird sanctuary. Why? Because it will be a crime to omit the sanctuary, which is unfortunately the only tourist attraction this city is known for! Also, i am a bird enthusiast so i take every chance i get to watch these beautiful descendents of dinosaurs.
As i said earlier, while the sanctuary is well known in the birdwatchers community, conventional tourists don't have much of an idea about this gem of a place. In fact, you don't have to be a birdwatcher in order to enjoy the serenity of this place.
The sanctuary has one very obvious entry point located at the 'Saras Chauraha' in Bharatpur, evidently named after Saras bird. Once you enter, you need to pay a nominal entry fee. There are additional facilities such as bicycle on rent, guided jeeps, rickshaw on rent, and binoculars on rent available. The sanctuary isn't too big so one can cover it on foot as well.
I chose to rent the bicycle as i find riding it fun! The entire sanctuary is fairly easy to scale as it is just one straight road surrounded by shallow grassy waters on both sides. You can easily see birds flocking on random bushes and nesting between the grasses. If you are a birdwatcher, you would be delighted to see a hundred different varieties of ducks, storks, and egrets eating and splish-splashing in the water. I suggest renting binoculars to see the details and differentiate between species.
The sanctuary has numerous knowledgeable rickshaw pullers and guides around, but i didn't hire any. I decided to lurk around one of the rickshaw pullers who was guiding another bunch of tourists, to gather some details about the birds.
Approximately halfway through the sanctuary, boating facility is also available. The boat takes you deeper in the wetlands on either side, making its way through the grasses, to spot birds such as painted storks and Egrets fishing in the water. There are not too many boats and the place isn't commercialised, which makes the whole boating experience a treat for the eyes. If you are a photographer, this place is ideal for getting a beautiful profile picture without worrying about the crowds.
Apart from a very obvious straight road that is taken by most people, there are a couple of paths less taken by tourists. If you decide to go down one of those, you will find yourself surrounded by a jungle of cactuses on both sides, and occasionally deers, peacocks, and snakes as well. I was fortunate enough to spot an Indian spotted python chilling in the sun.
At every kilometer inside the sanctuary, you will find small canteens that offer hot Maggi and tea for nominal amounts. By the time you reach the end of the road, you will find a watch tower that overlooks endless fields and shallow marshlands. It is an excellent spot to end your day watching the sunset.
I was not very happy to return back, post sunset, after spending a fabulous day among nature. The sanctuary closes at sunset and the guards make sure there is nobody remaining behind. Fortunately, there is nothing sad enough that a bowl of tomato soup can't fix in winters. I had one in the hotel as the city doesn't have too many fancy restaurants. Later, i decided to call it a day.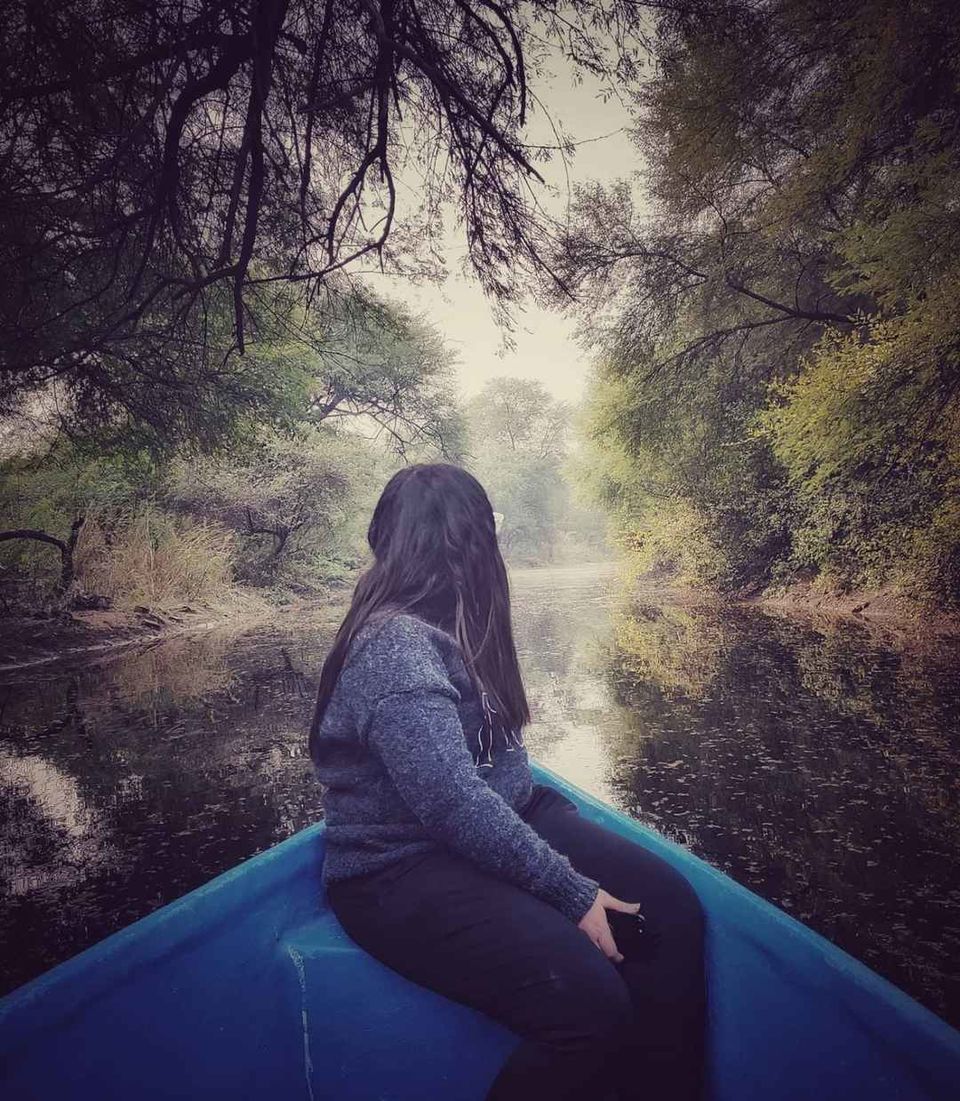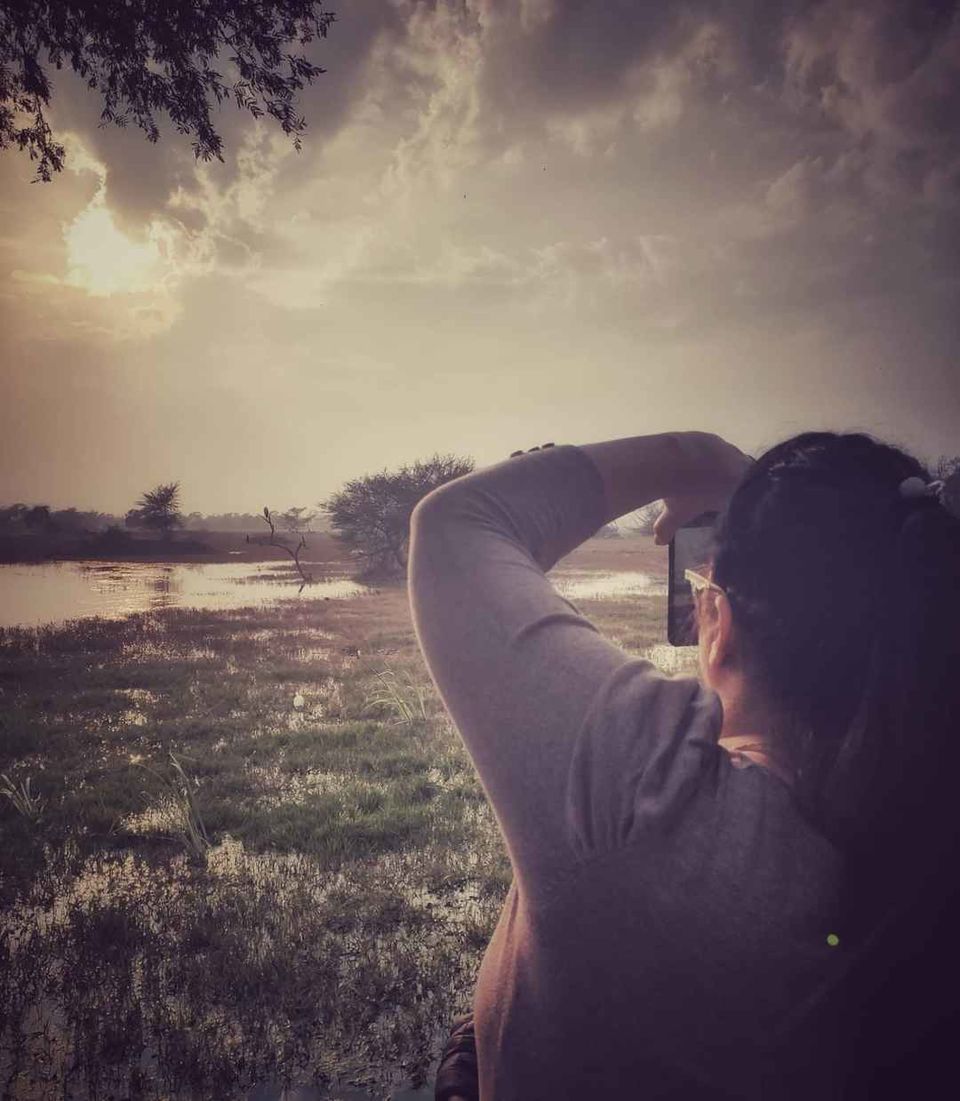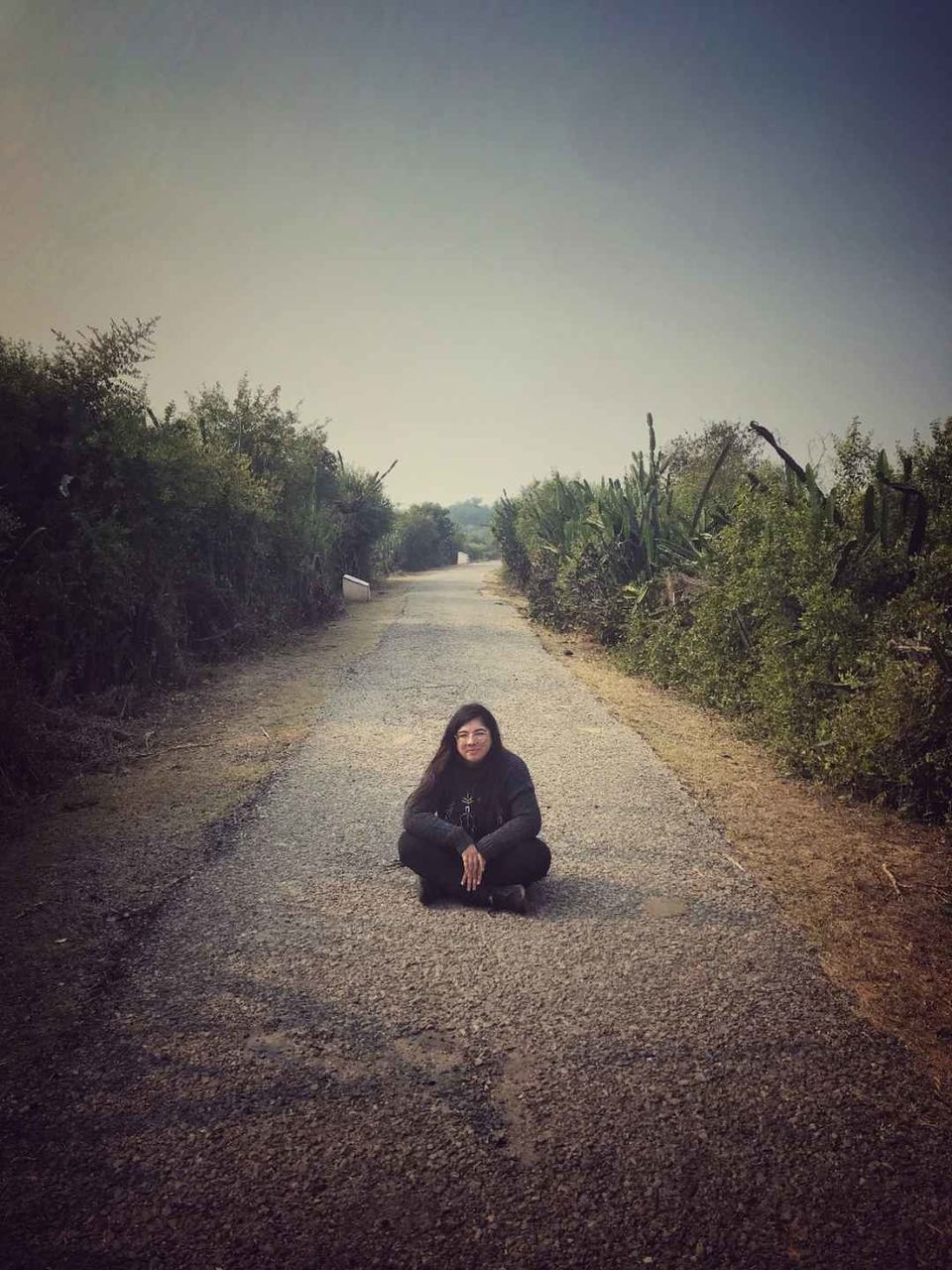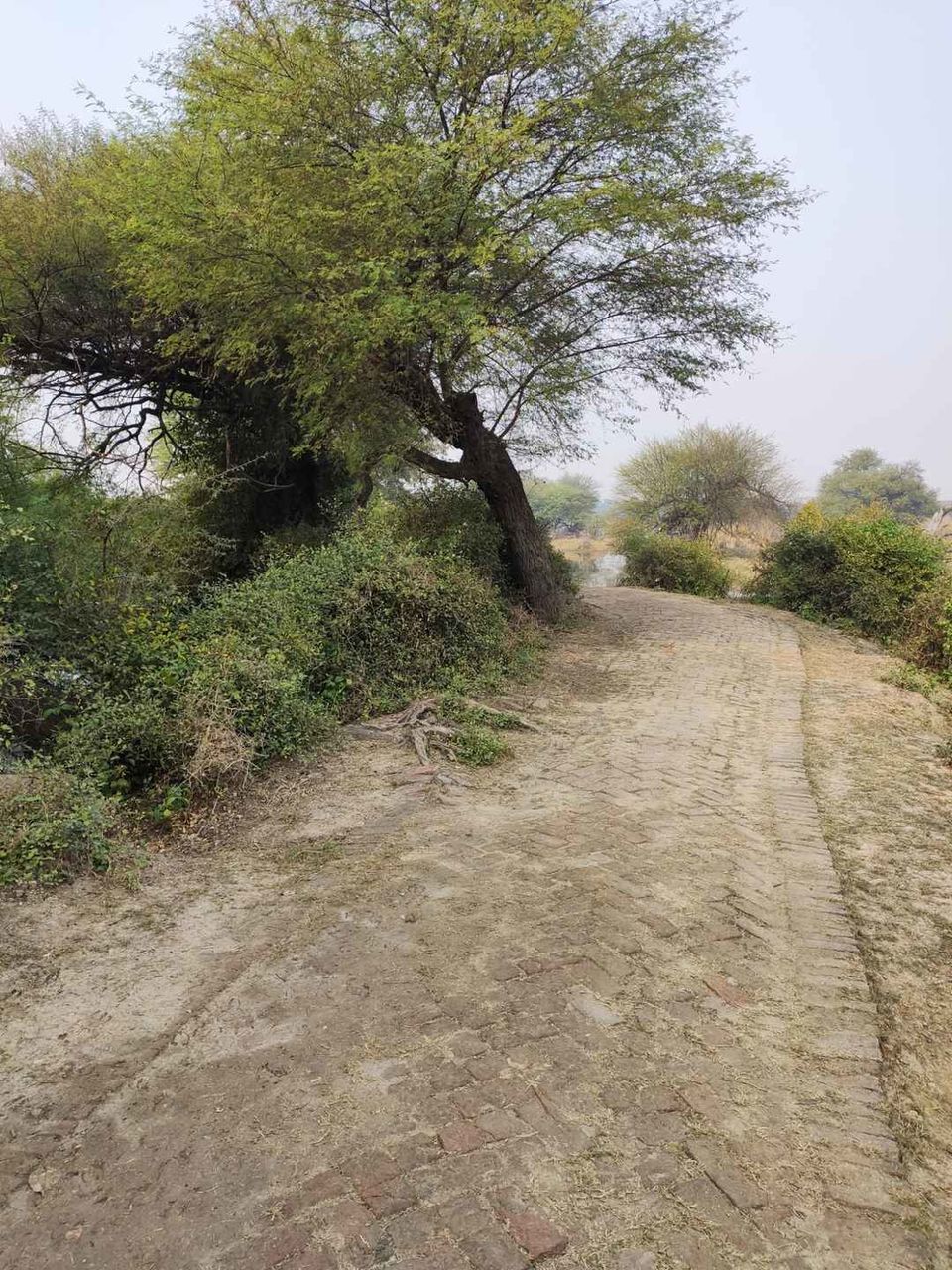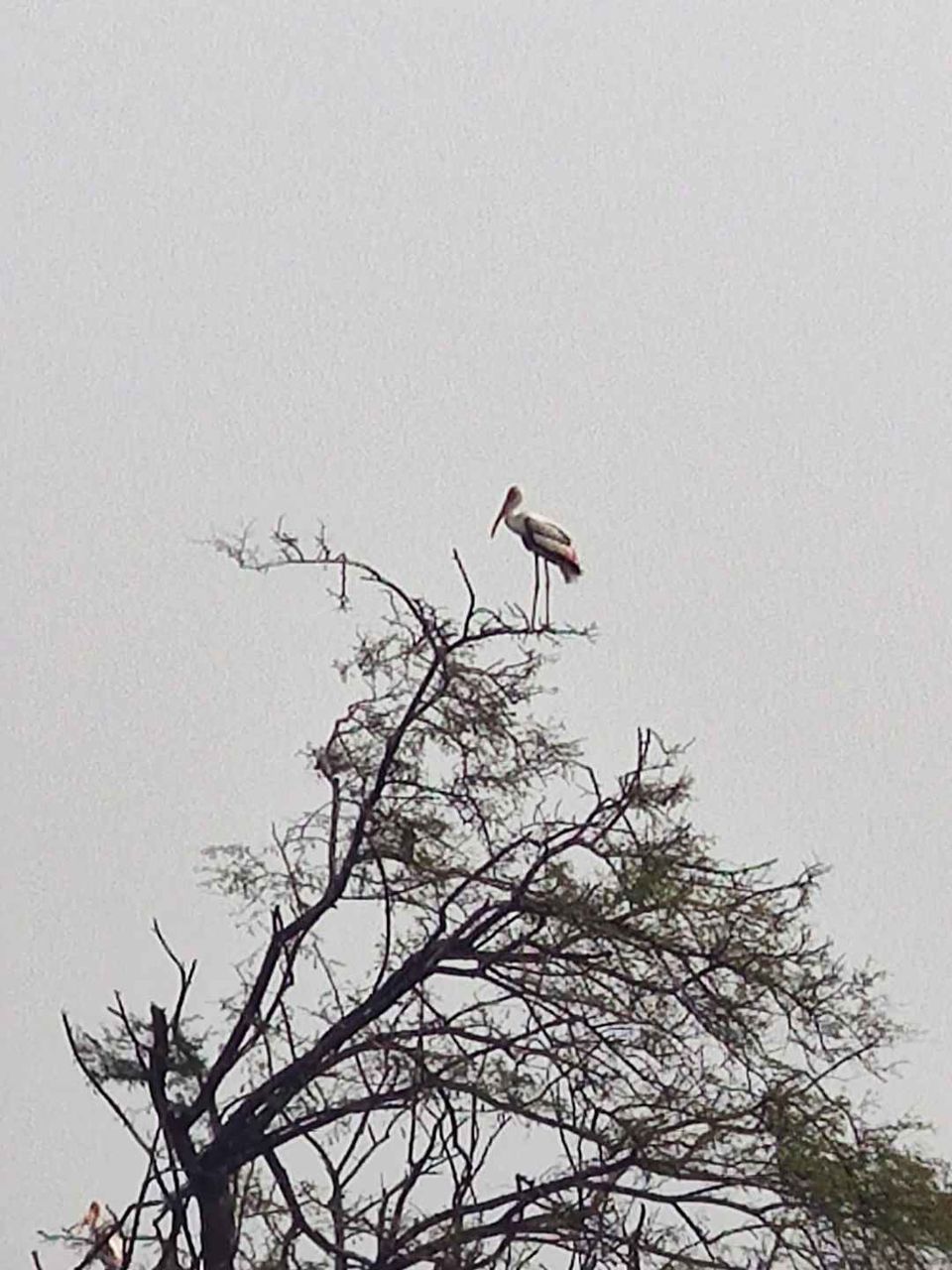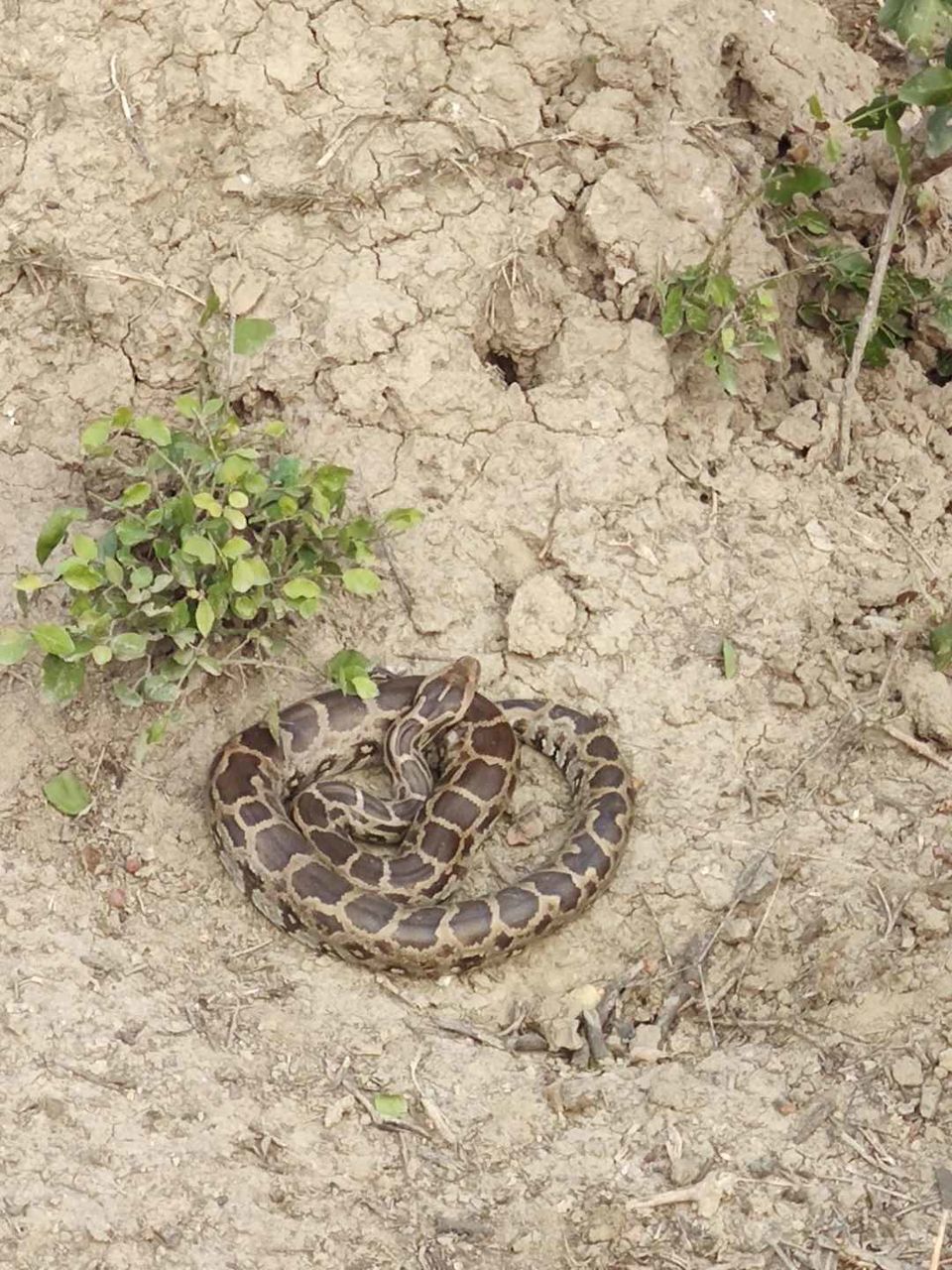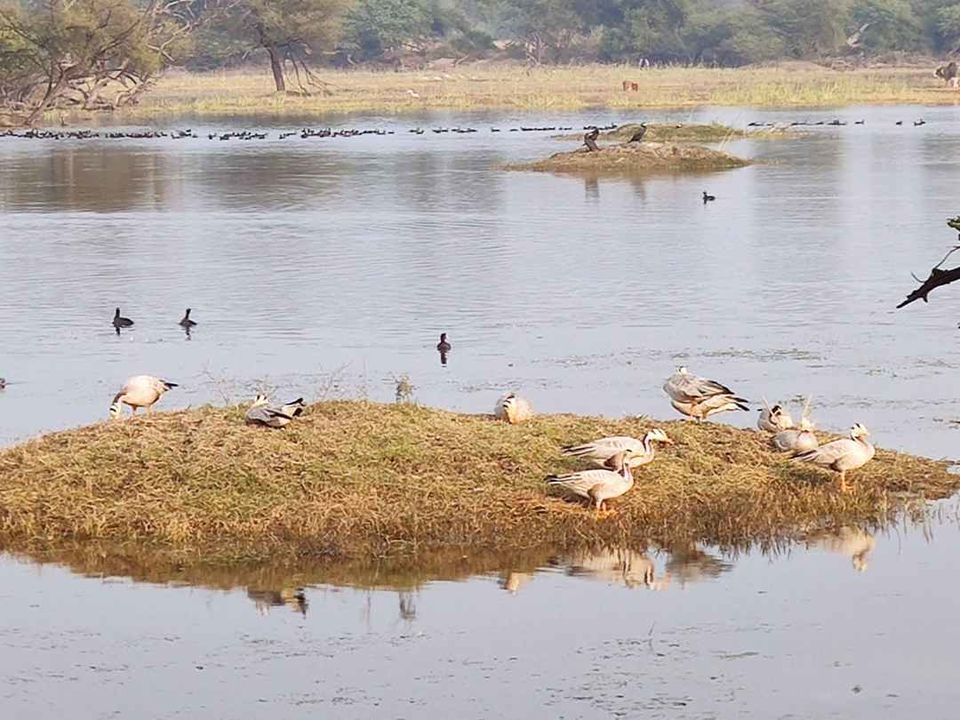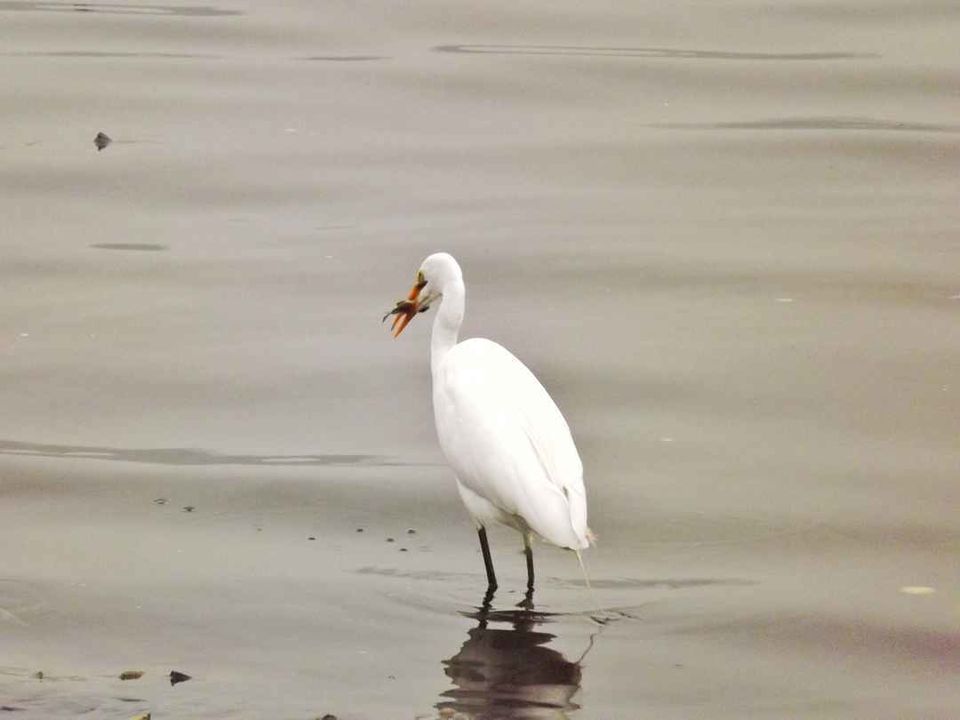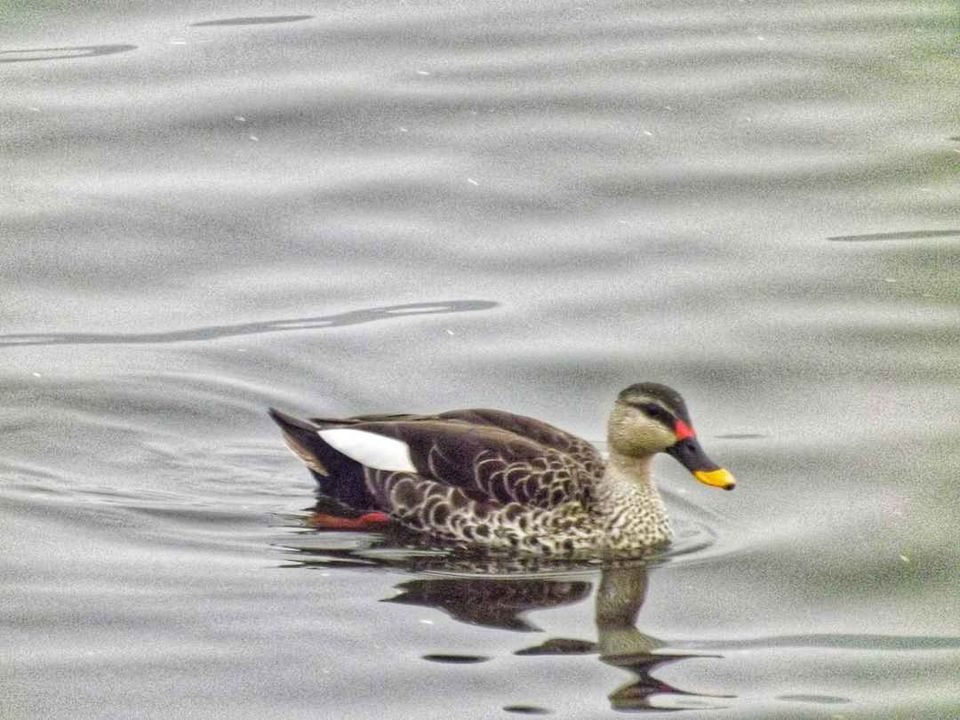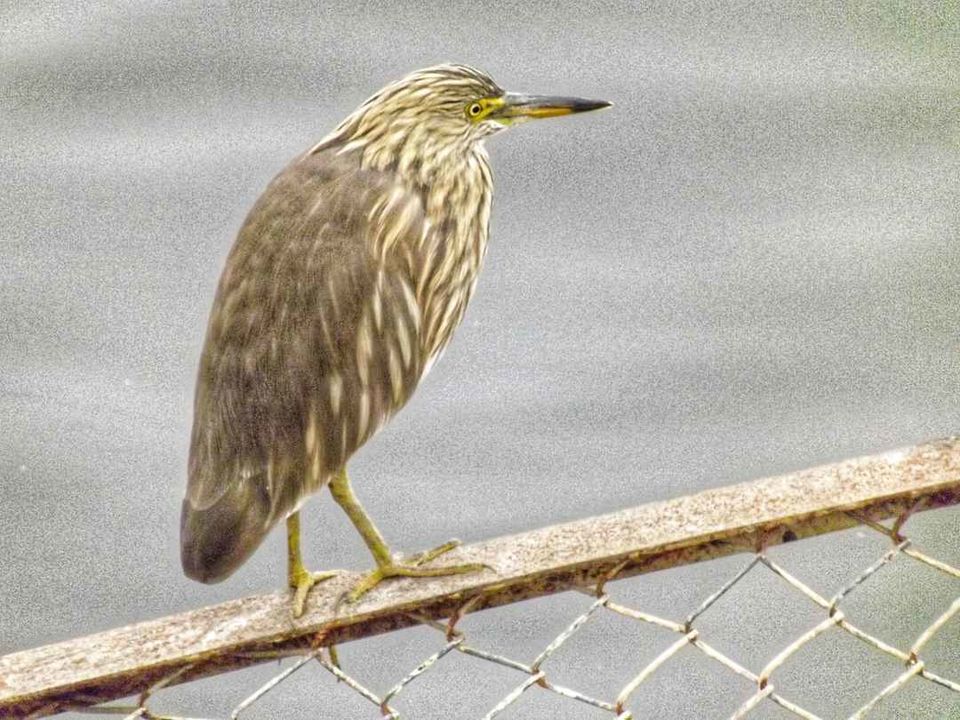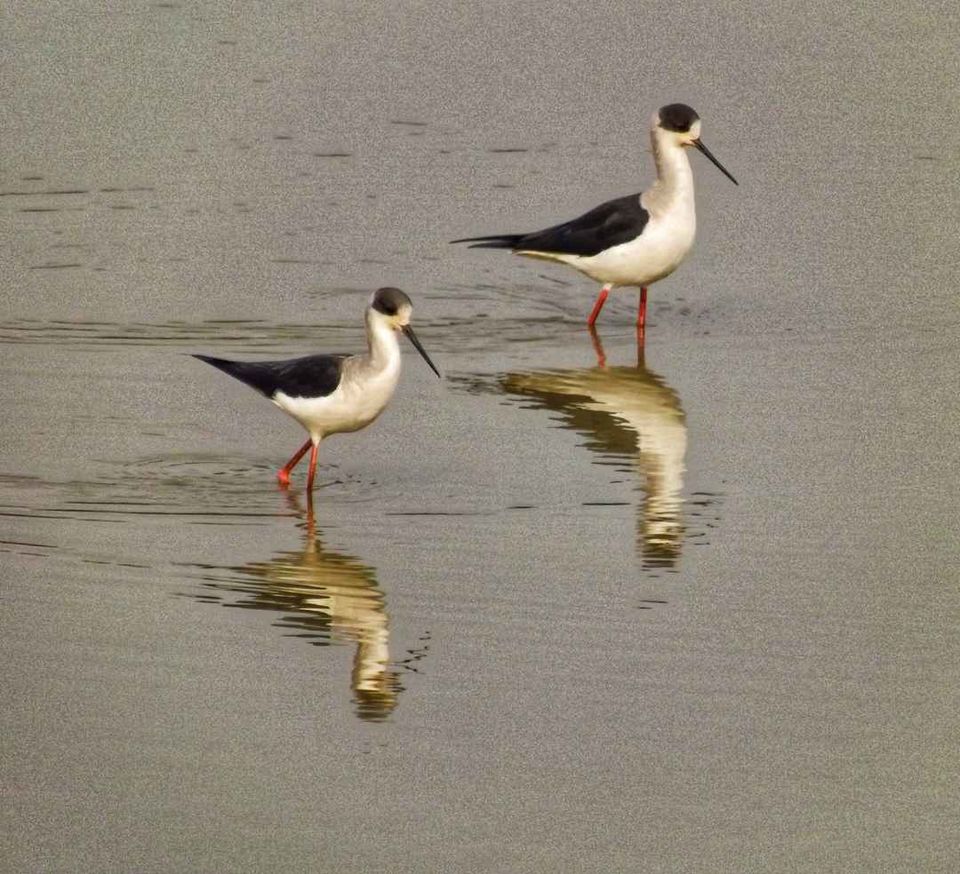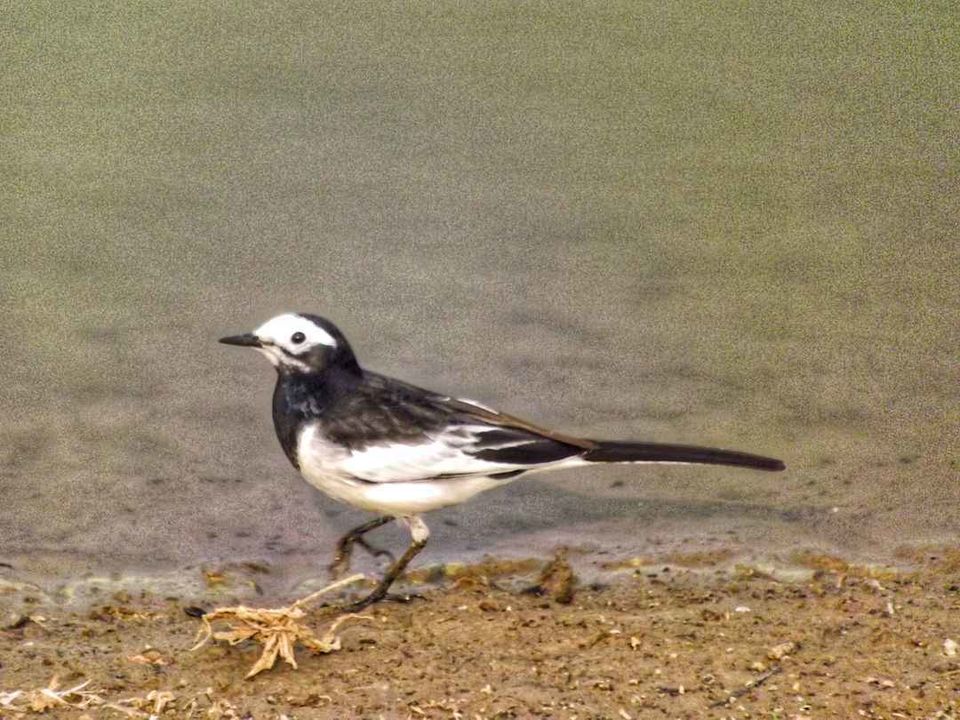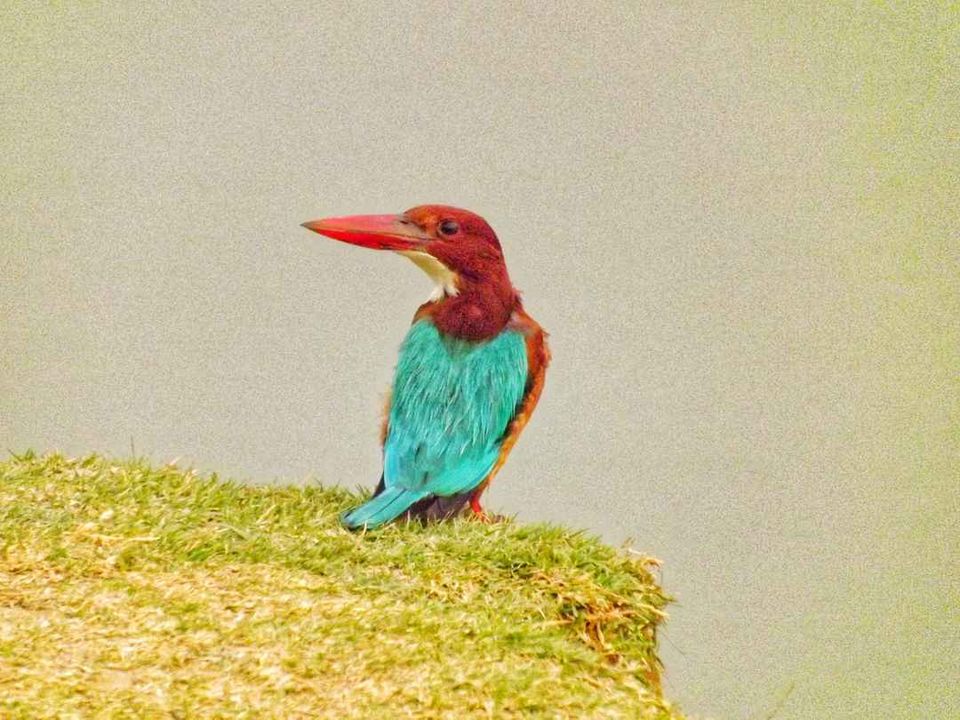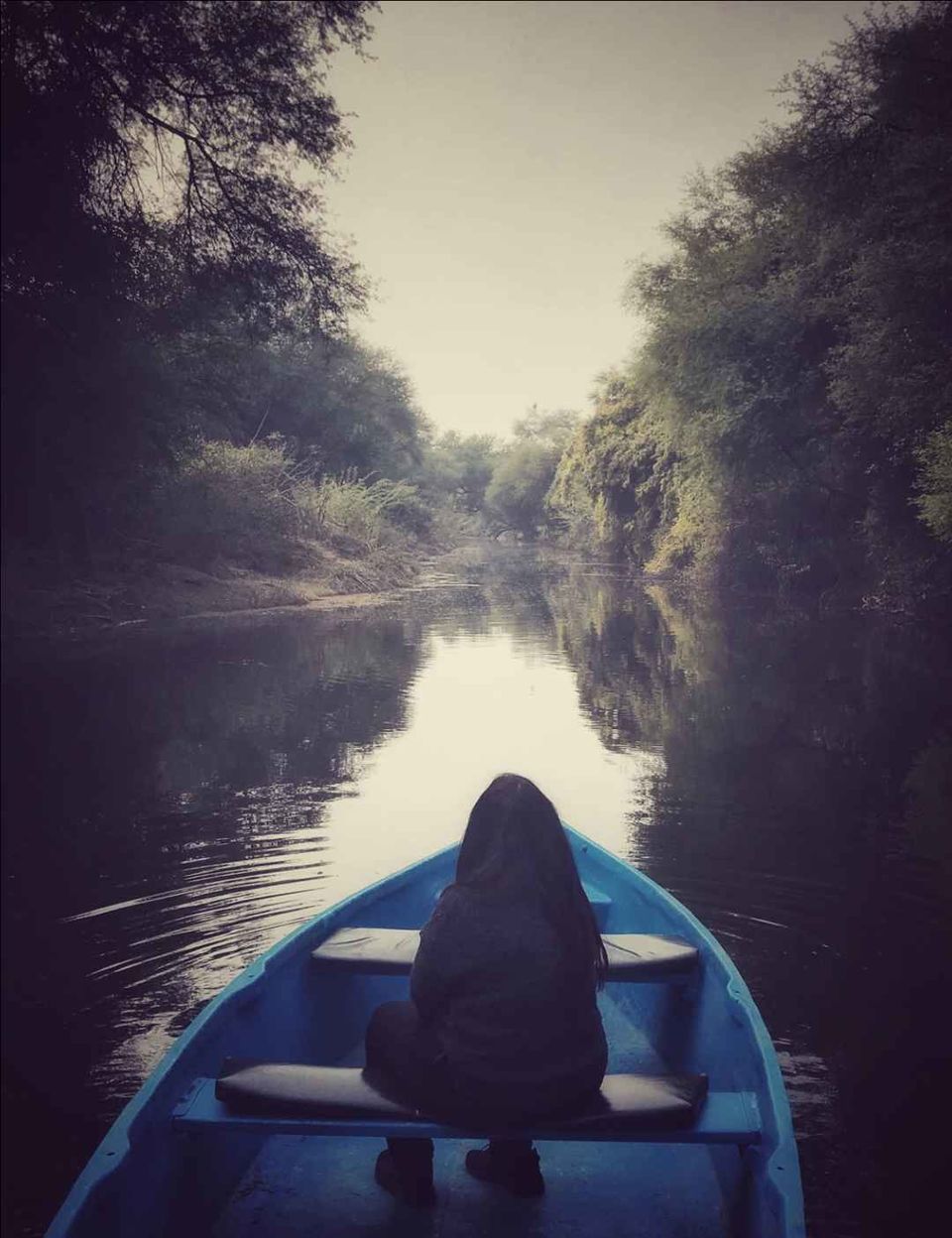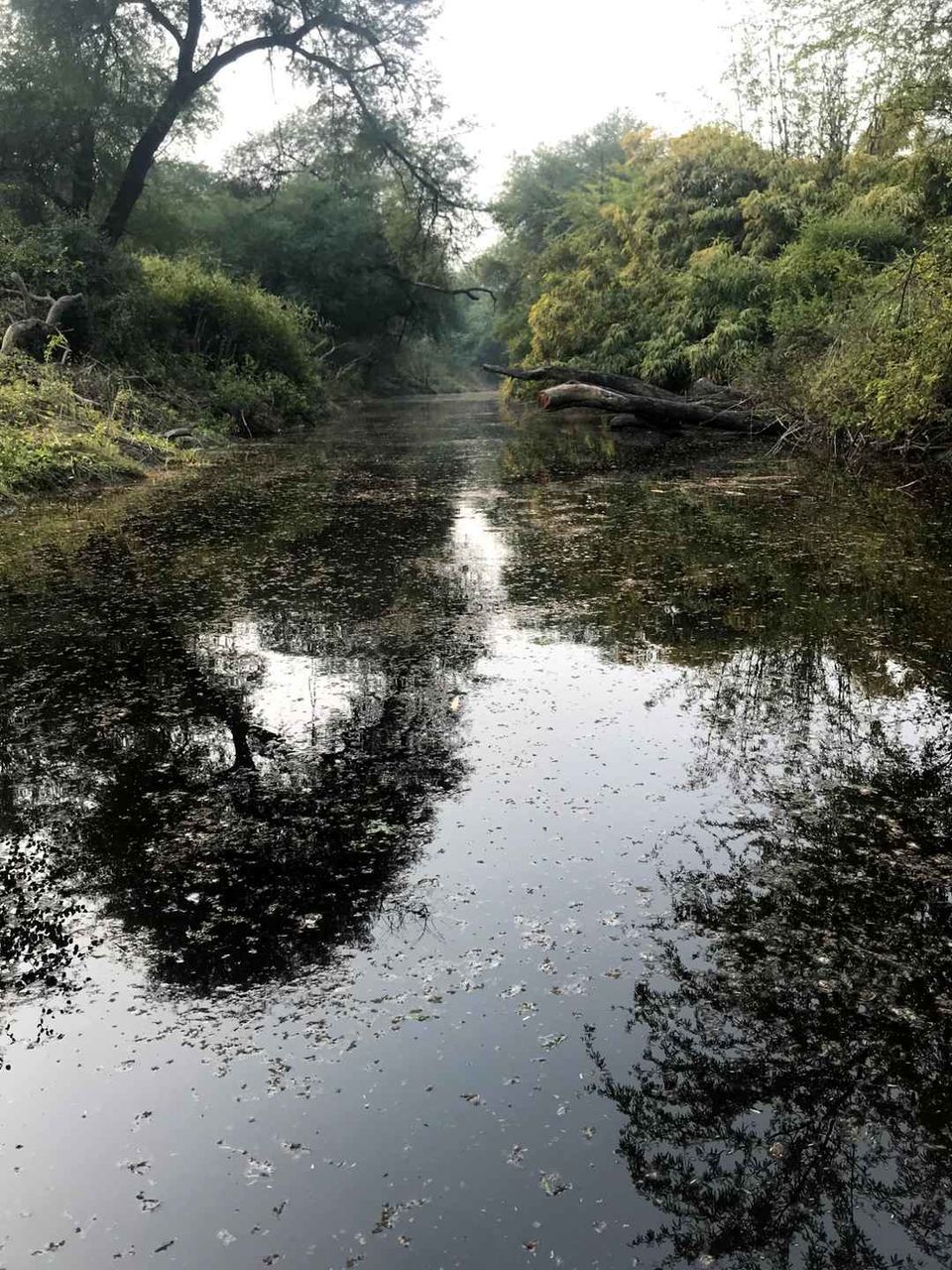 After a day of treating my eyes with the serenity of Ghana Sanctuary, i decided to explore some rural unknown places near Bharatpur. I didn't know what to expect and honestly, i was so satisfied by birdwatching that i thought nothing could match up to the beauty that filled my previous day.
Obviously, I couldn't be more wrong!
My next location, Band Baretha, was in the middle of a village in Rajasthan, and approximately 1.5 hours of a bike ride away. I rented a bike from a local to be driven by my friend.
There are plenty of cab and bike services available in the city that can be used.
I had only read about the place on Google and there are not too many tourist reviews available because this place is in true sense, untouched. It is a lesser known wildlife sanctuary and has plenty of water which makes it great for bird watching.
But before we started, i decided to stop at a local shop for breakfast. Rajasthan has different varieties of kachoris (stuffed and fried snacks) available but Bharatpur's kachori is a little different. It is a very crispy poori (unstuffed fried snack) dipped in kadhi (buttermilk delicacy). We had this with jalebi for a perfect breakfast that costed me less than a pack of nachos!
After breakfast, we started for Bayana, a town in Bharatpur district, which is approximately 40 kms away. The Band Baretha sanctuary is another 10kms ahead. On our way, we decided to stop at the famous mustard fields of Rajasthan. Bharatpur is famous for mustard farming and the fields bloom with yellow mustard flowers around January. On the way to Bayana, there was hardly any point where i didn't see the yellow and green hues of mustard on both sides of the road! If you are a Bollywood fan, stopping and photographing at one of the fields is a must!
After a colorful hour long bike ride among villages, we finally reached the Band Baretha sanctuary surrounded by red sandstone mountains and a huge lake!
There were no tourists or checkpoints upon entering the place, just a milestone telling us that we are entering protected land. A little farther, we found a long walking area along the road over looking the Band Baretha dam. On the other side, there was a village and a villager selling hot pakoras (fried gram flour snack) and tea. Those were inarguably the best pakoras served with the best chutney i ever had!
The pakora seller told us about an abandoned fort a little farther so after our snack, instead of walking down the footpath facing the lake, we decided to explore ahead.
The road to the fort cut from the main road and wasn't too smooth. Also, the fort was located a bit high up on the hill so it didn't seem possible for a car to get there, but our bike was perfect to drive up. The distance to the fort isn't much so it can be scaled on foot as well. The entire route, though rough, was overlooking the lake on one side and the jungle on the other.
When we reached the fort, we didn't find a lot of people but a few locals herding their cattle. The fort gave us chills as it resembled one of those abandoned haunted palaces in the movies. It had a way up to a platform that gave unrestricted view of the huge Band Baretha lake, its islands, and the migratory birds flocking on the islands.
The winter chill, no crowd, and the sun made this whole scenario more beautiful. There were cobbled stairs full of wild vegetation near the platform that led us down to the shore.
On the shore, we were met by a herd of goats/sheep, a couple of local shepherds, and a huge flock of ducks, purple herons, and black ibises. I sat on the shore under the winter sun with wind in my hair, surrounded by untouched, raw nature. If heaven exists, i am sure it's in Band Baretha!
With evening fast approaching, we unwillingly decided to make our way back. We also couldn't guarantee that the fort wasn't haunted so staying back past sunset didn't seem like a great idea. Instead, we saw the sunset and spent some time on the more habitable footpath overlooking the lake at the start of sanctuary.
I also had my train back to Delhi later that evening so i couldn't stay for long but it definitely made me plan another longer trip to the place.
Despite the whole day of walking and exploring, i didn't feel quite hungry as we stopped to purchase roasted peanuts at throwaway prices, that i kept munching all day long.
We took off from Band Baretha at 6.30 and i reached Bharatpur station to catch my train at 8PM. I left the city on a Sunday evening with lots of memories and a resolution to come back again for more! #DestinationSkip #lesserknownplaces #rajasthantourism #incredibleindia