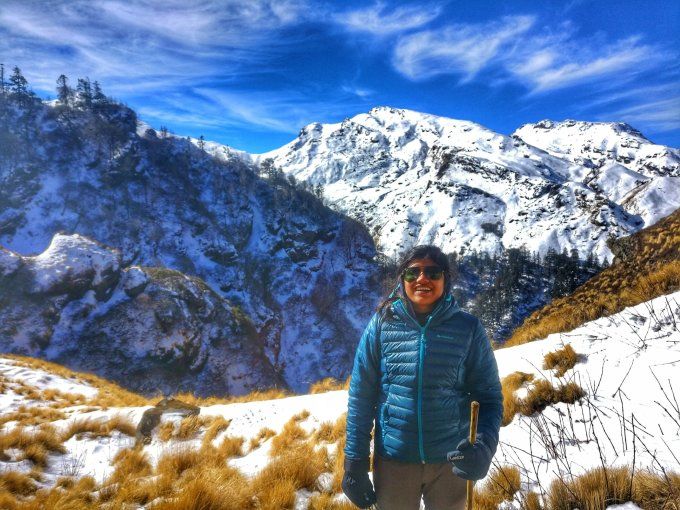 Kuari Pass is a 6 day 5 night trek, Our journey started with a 9 hr (270 KM) drive from Haridwar to Joshimath and in the blink of an eye day 1 was over. When I told my friends that I was planning to climb about 13,000 feet + that too in winter where I would be surrounded by snow they were awestruck.
The first question they asked was "How did you manage to get permission from office?" ;) (as it was a long trip), and then a string of questions followed like where would you poop, where would you sleep, what would you eat? And having no clue to these questions did not bother me, as I was about to experience my first Himalayan trek.
The Trek Beginsss
-- Official Day 1 --
We travelled till Dhak on Bus and from there our journey upwards began, Within few mins of our climb uphill with our heavy backpacks resisting our each foot forward all of us realised this is not going to be an easy climb!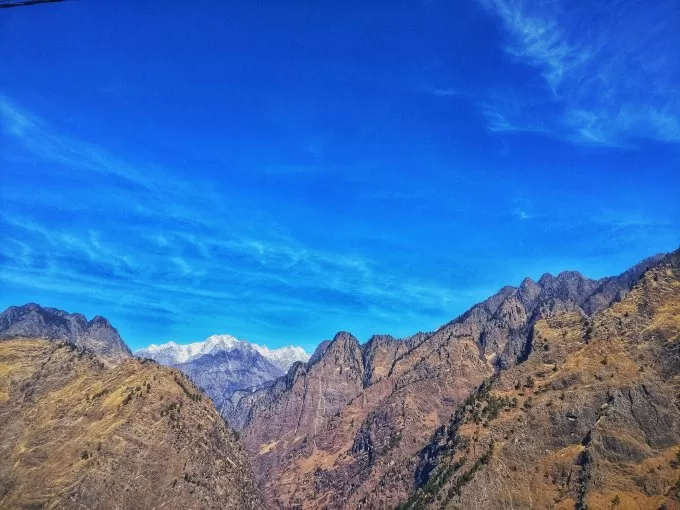 Like in every trek there were few who were extremely fast and few extremely slow but still the best part was all of us waited for each other realising our capabilities.
As we kept moving uphill we could see some glimpses of snow here and there, but the terrain was majorly brown with soil and trees with no leaves as winter had set in.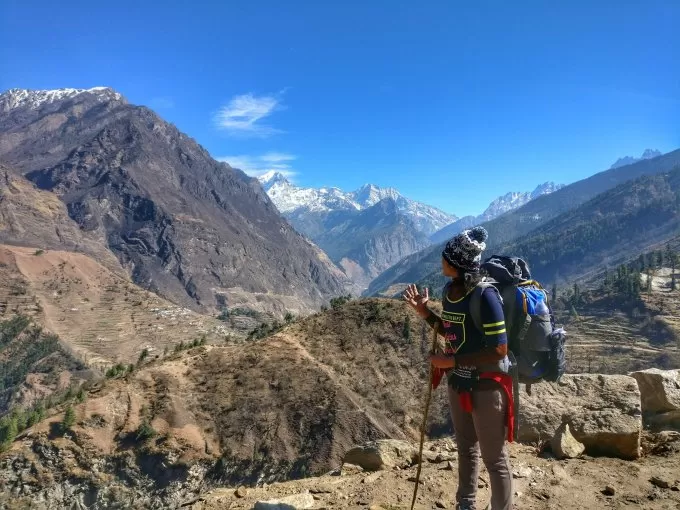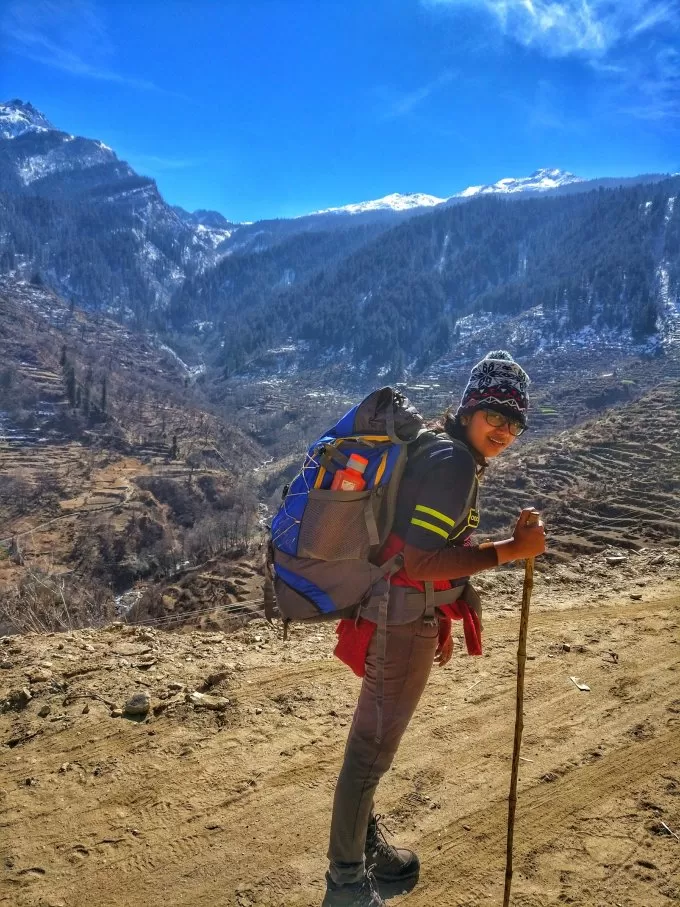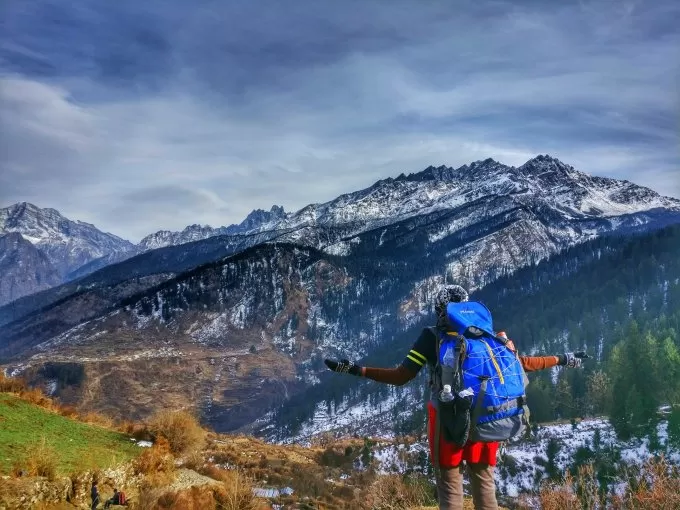 Even the faint glimpses of snow had all of us pointing at it with utter excitement and disbelief; we were flabbergasted and overtly excited.
Our first campsite Tali was where we saw snow all around us and it made us mad with excitement and forget the tiredness of the day, all of us began busy with one major task – which was clicking photos of ourselves in the snow and the scenic view with snow topped mountains getting ready for the most perfect sunset changing the colour of the mountains from white to red.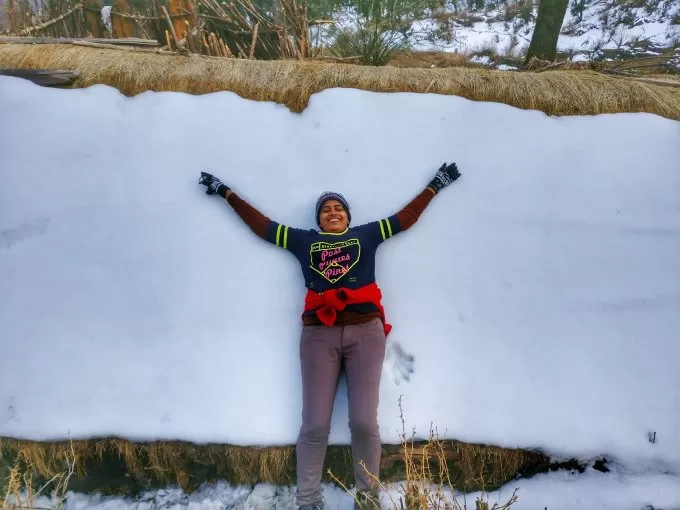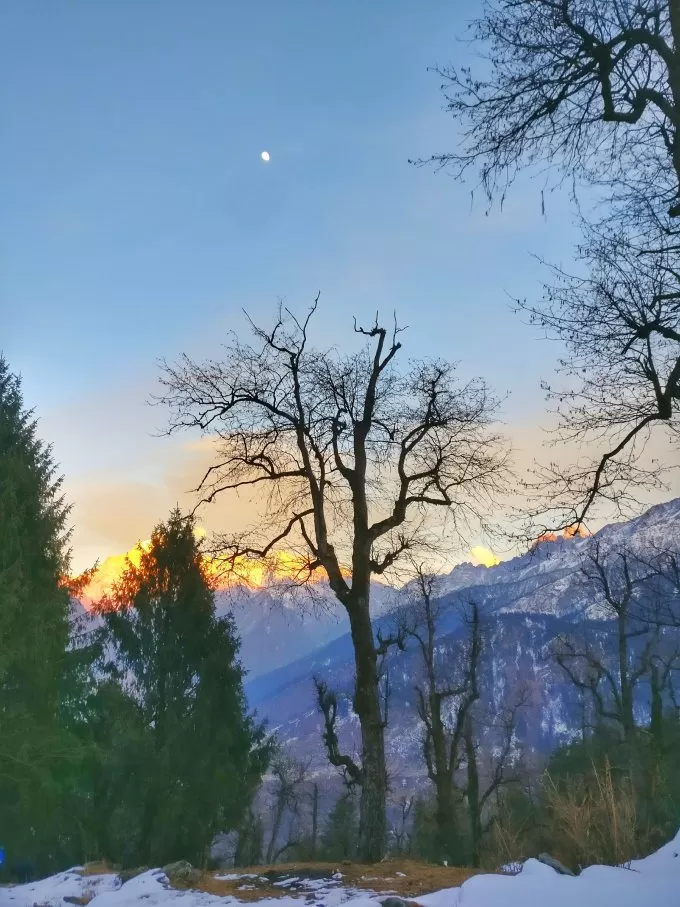 The night was even more beautiful but a little scary. The mountains looked beautiful in the moonlit sky.

-- Day 2 –
Day 2 was comparatively difficult as now we were walking on snow, we were lucky enough to have fresh trails ahead of us which made our trek uphill comparatively easier.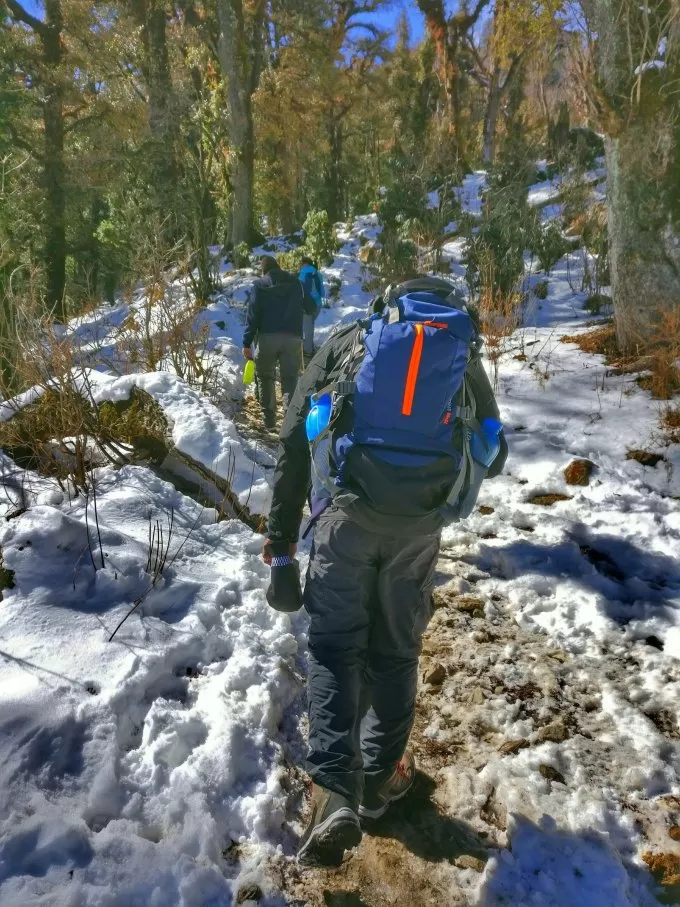 As we were climbing up we all took some time off to enjoy the views from Chitrakantha top. In the distance, we saw Hathi and Ghoda parvat. The panorama was completed by Dronagiri, Trishul, Nanda Ghunti, Ronti saddle, Chaukhamba and Kamet.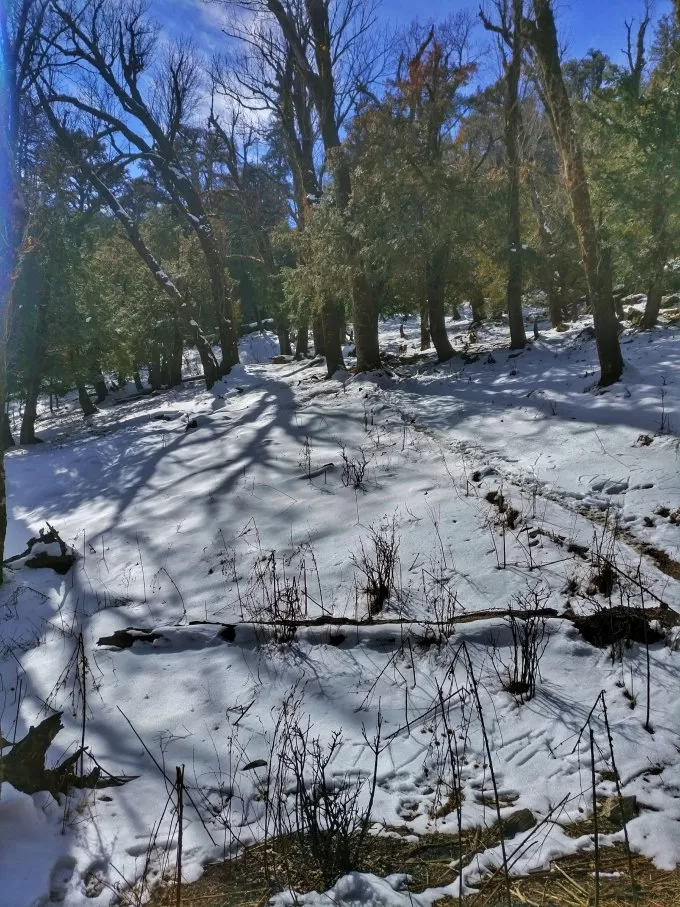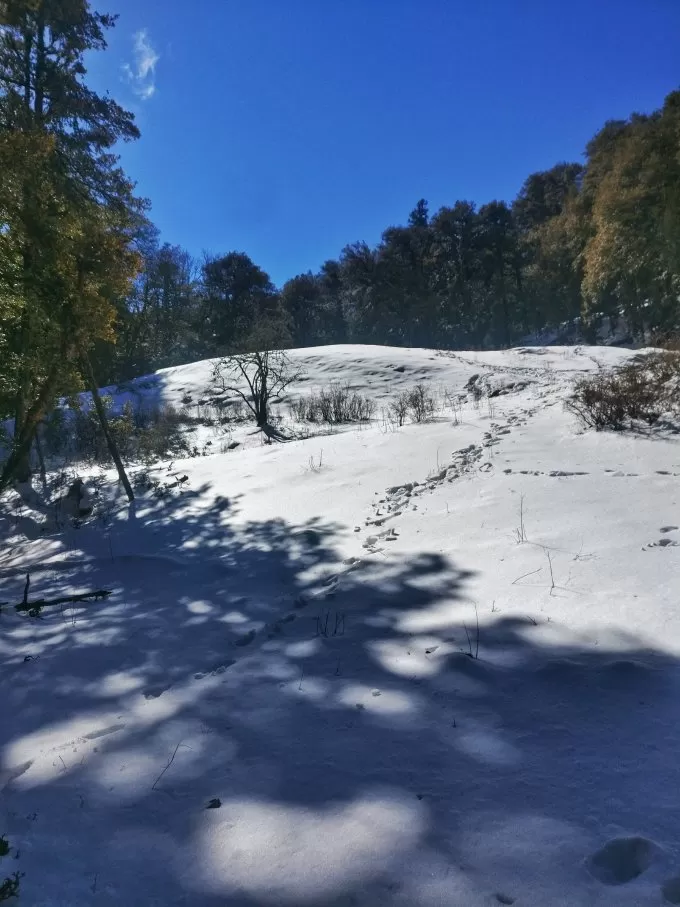 The trek on day 2 was picturesque, walking in and out through the golden oak and pine covered forest, and being surrounded by white snow all around. It was a dream come true.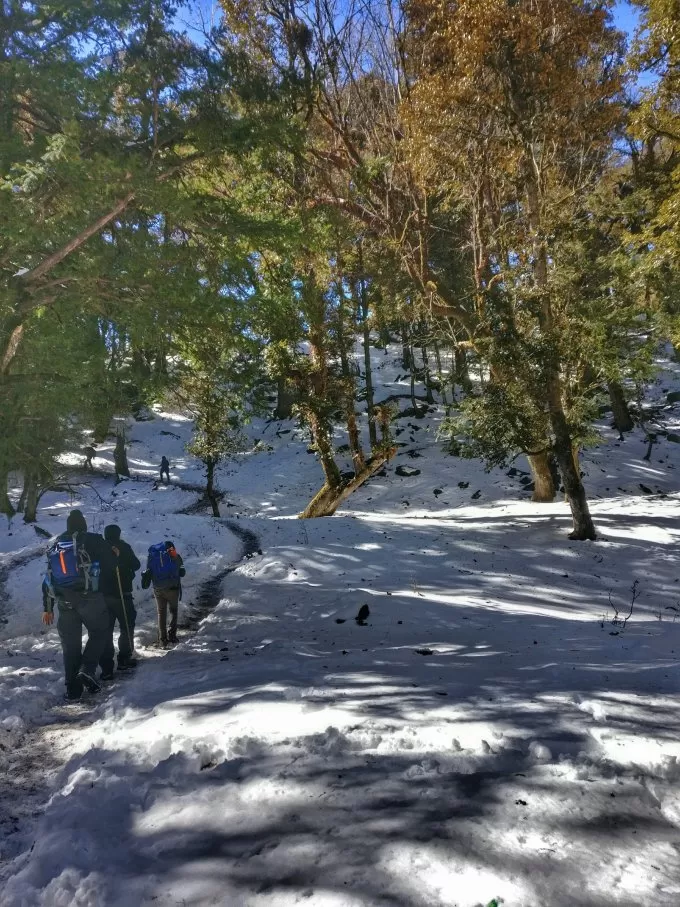 The nights were extremely difficult with temperature falling down to -10, the constant layering and un-layering of our thermals, fleece jackets and coats kept us awake to combat the cold.
When you ask people what is the toughest part of trekking, people say the long walk, the altitude, etc. however in my experience it is getting up and out of the very complicated sleeping bag and getting out into the cold to go pee.
-- Day 3 --
The day where we trekked to the top point which was the most awaited day.
As the sun rises higher, it lights up each peak of the Himalayan range, the view appears as if the mountains were catching fire progressively one after another.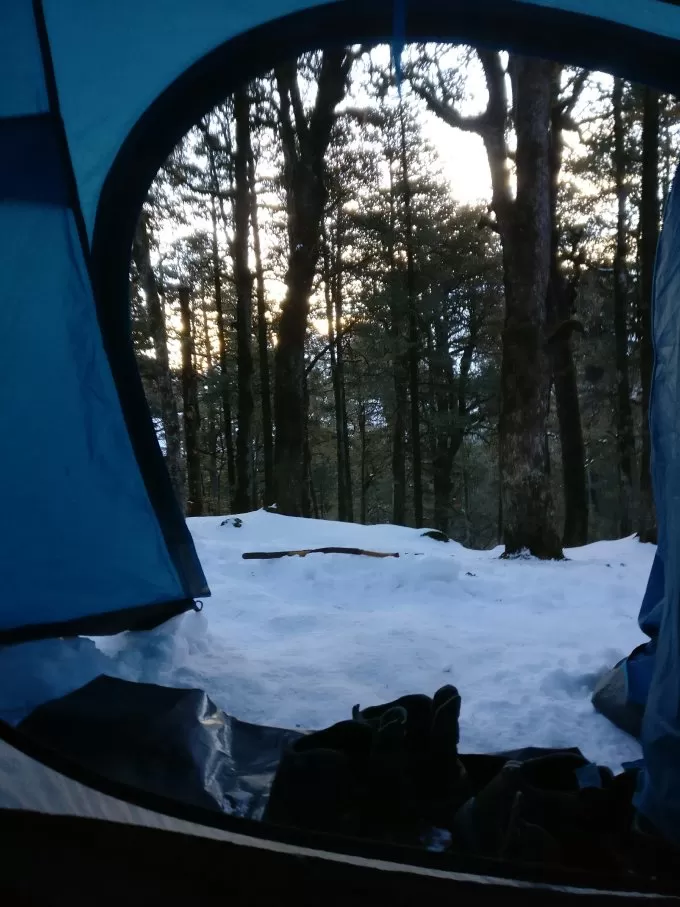 All of us were pumped with energy and wanted to reach the top that would fill us with a sense of accomplishment that Yessss we have achieved something!!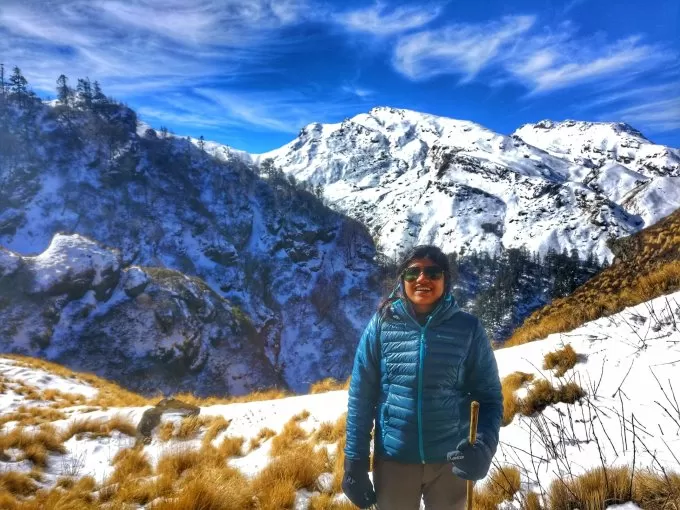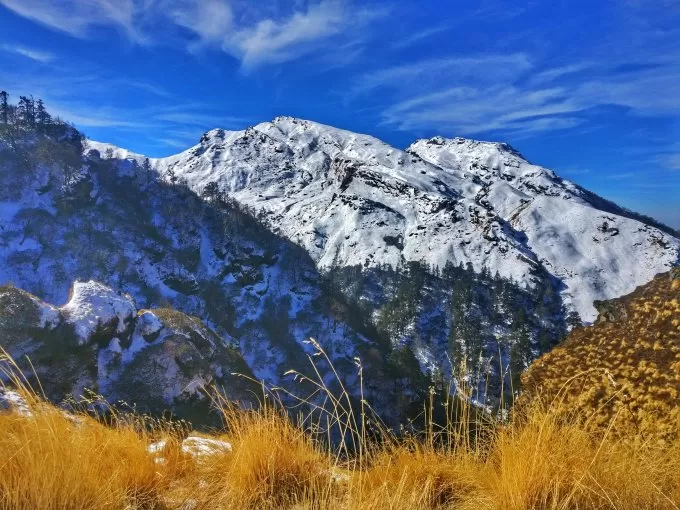 But that's the day when I understood energy and enthusiasm shoots high at the start of the climb, but as one keeps progressing upwards it keeps fading and eventually one reaches their breakdown point where they no longer have the strength or energy to climb further. At this point I started thinking about all my other friends and colleagues who were probably at their desks making presentations and cribbing about work.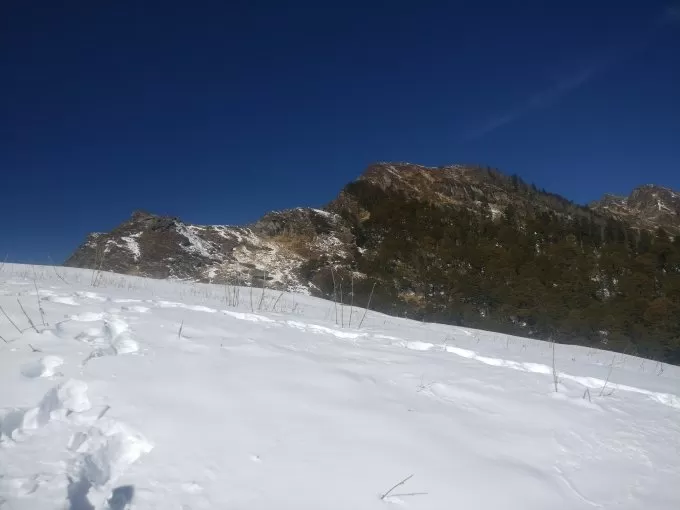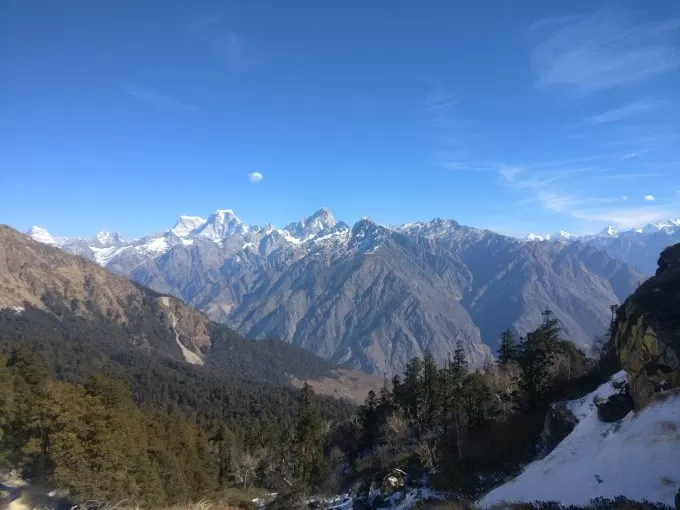 The point where I stopped could see the peak and the flag unfurling it would have been just 30 minutes away, but I had a strong urge to give up and just stay there and take a nap as the acute mountain sickness was creeping in, I could feel my head blasting and at the same time feeling nauseous.
But I wanted to do it, wanted to achieve it and had some really supportive friends who did not leave my side in spite of all my tantrums. With all the encouragement in the world I got up and decided not to stop until I reach the peak.
And that feeling when I reached the top – broken, tired, exhausted but yet with a huge smile on my face was the moment I realised everything was worth it. This is what the feeling of achieving feels like!!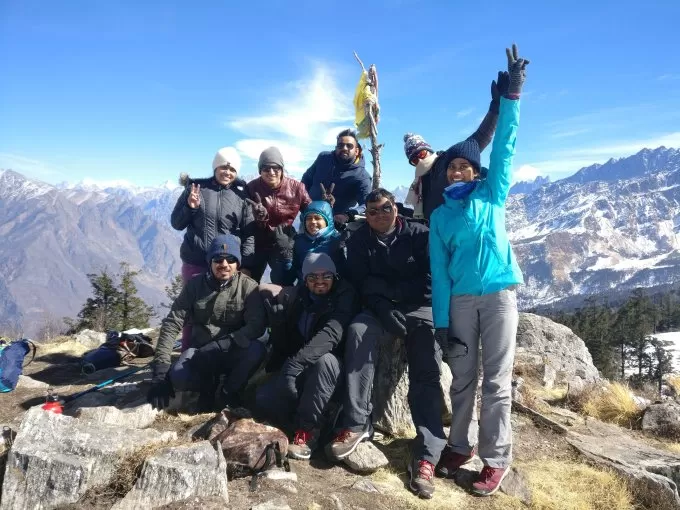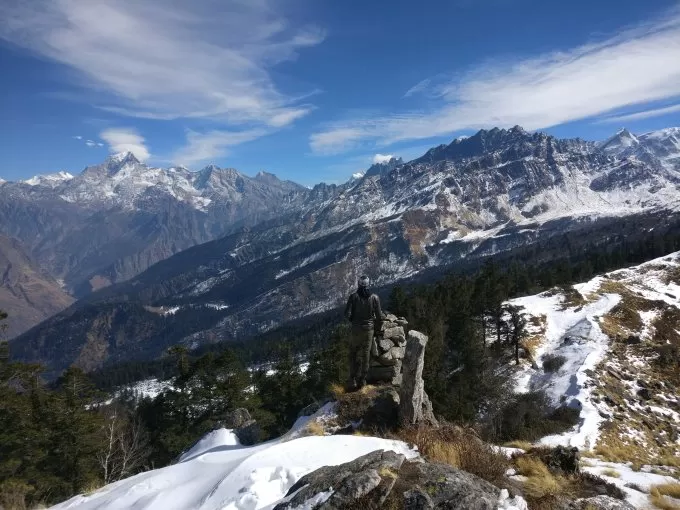 After having a good look around and feeding my stomach I suddenly realized that the exposed slopes that I had been complaining about, were the ones we needed to climb down. It was past noon and it was extremely windy and snowy making each step tricky.
Twists, slips and tumbles did definitely occur while descending and what I learnt was that the only thing one can do is decide how to minimize the impact of each fall and not worry about the probability of falling.
At last we reached our base camp and all of us retired in our tents into our sleeping bags, trying to escape from the cold which felt like a dementor trying to suck away our warmth and happiness. We still had one more night to go. The nights were the ugliest, cold and uneasy.
-- Day 4 --
All of us were ready before time, we wanted to escape from the cold go down but yet there was a sinking feeling of leaving the beautiful forest and trails behind.
What I realised was going downhill was more difficult in snow when compared to going uphill. The probability of slipping with each step down was extremely high. However our guide did help us slide through few sections of the slope allowing us to slide our way through patches to save time.
And begins the journey of going downhill..
Going downhill, slipping again and again in the snow I had lost it and tears started streaming down, even the smallest of things irritated me. I just wanted to get out of this situation. I missed my cozy bed, my warm blanket, the comfort of my day to day to life.
My patience did fade and my confidence dropped, anyone telling that they are having fun during a summit climb is blatantly lying.
And finally we arrived at the end of our trekking journey with a lot of feelings that of victory, triumph, pain, happiness, tiredness and most importantly with the sense of accomplishment – "We did it!!"
---
The amount of space that each trekker enjoyed was extremely therapeutic. Something we city dwellers were in desperate need of. The trail is one that will make a deep connect with you. It is something you will fondly think of when you see a picture of a mountain or a forest.
Kuari Pass is about the mountain views, it is about the snow, about pine and golden oak trees, about the deep forest which gives you creeps in the night, it is about the adventure, it is about the meadows, it is about love, it is about friendship, it is a feeling which will remain with you for the rest of your life.
---
What did I learn from the journey?
You are who you are during your worst days – the trek did bring out the worst in me
Accomplishing anything in life is not easy, it involves a lot of patience, determination and courage, nothing comes served on your plate
It is easy to help a lending hand when everything around you is fine, but it takes real courage and compassion to help someone in need even under adverse conditions
The journey will make a deep impact in your life, so make sure you make the most of it.