Before I start my article and make you feel bad about your life confined to that home-office-home routine while I had amazing time on this trip, let me tell you that I am equally guilty of cursing every other travel blogger's picture perfect life until I got off that chair and took a break; break form the maddening crowd in Delhi metro, from that glorious office wall clock deciding when to do what with my own time. A break to breathe (pause breathe, continue) to live and not rush through my life like it was last minute in examination hall. You can take some time off, give yourself a weekend no matter how busy you are because time is not an issue but the willingness to manage is.
Me and my cousin had decided some time back that we will take a break, go on a trip in the coming long weekend and chill. After this there was actually no discussion about where we will go as the first place that struck me was Chopta, all thanks to this one person who had narrated me hauntingly beautiful descriptions of this place. All I had to do was tell my cousin about this place in exact same manner.
So we started around 10.30 pm from Kashmiri Gate ISBT and luckily got direct bus to Rudraprayag. Next few hours were spent in sheer excitement of starting our epic girls only trip and of-course listening to superhit garhwali song bedu paako. We reached Rudraprayag next morning around 8 and thought of staying there for half a day to explore famous places like Koteshwar temple, Sangam and Rudranath temple. Soon after our first tea in the morning we looked for a decent room to freshen up quickly and go on darshan parade.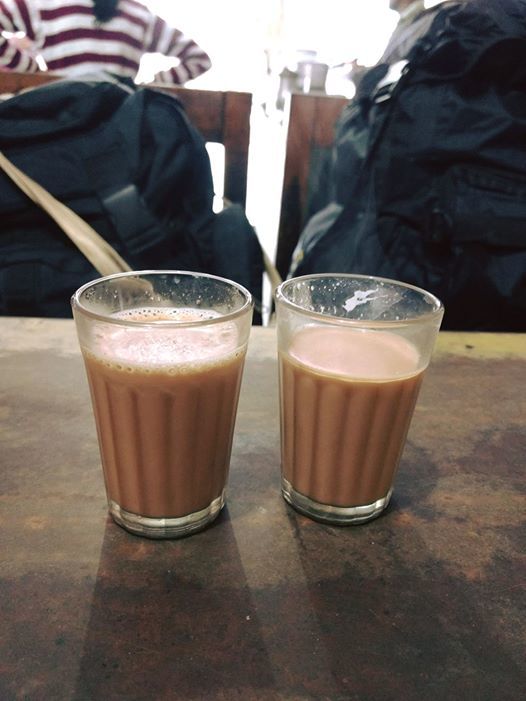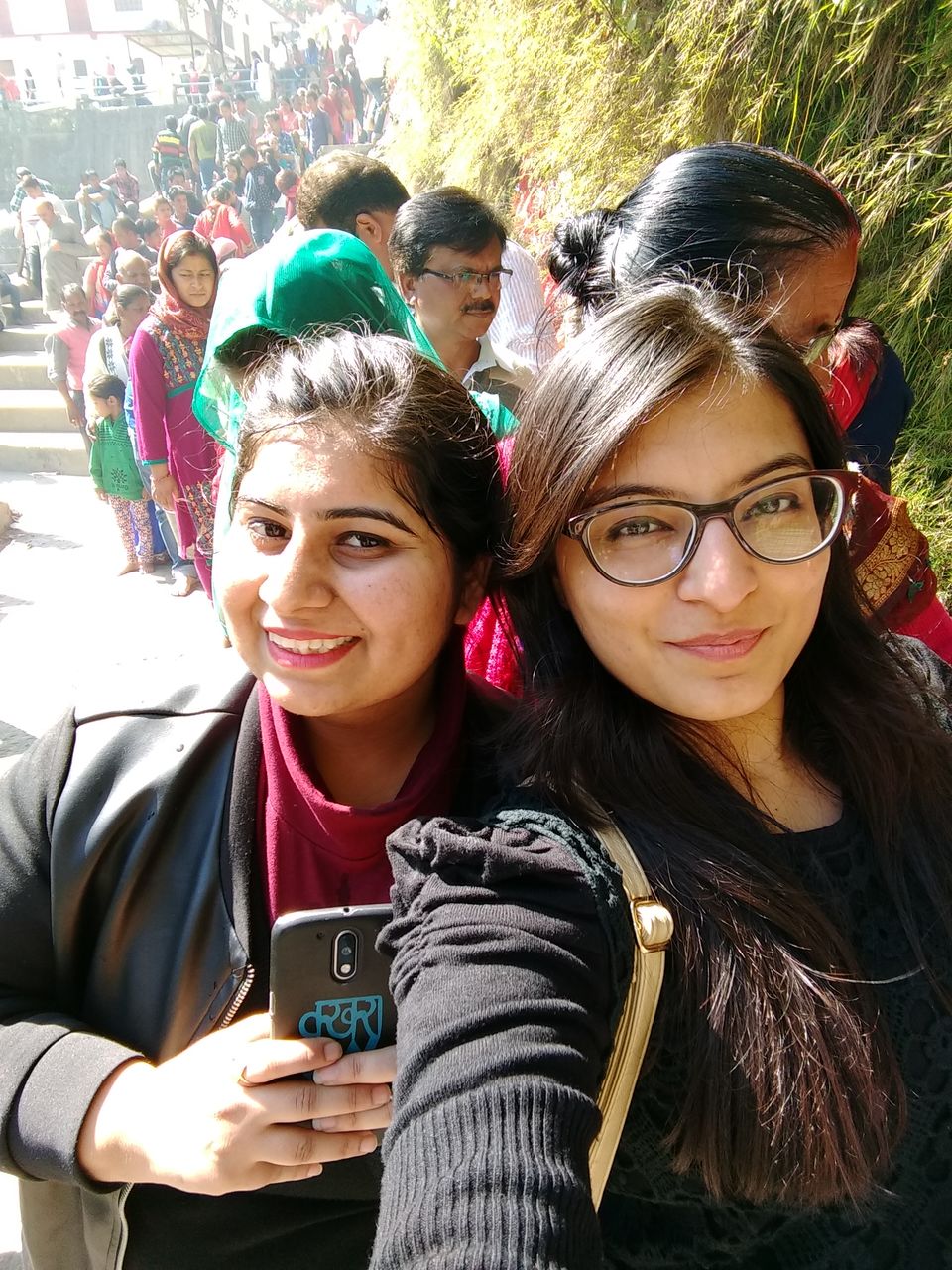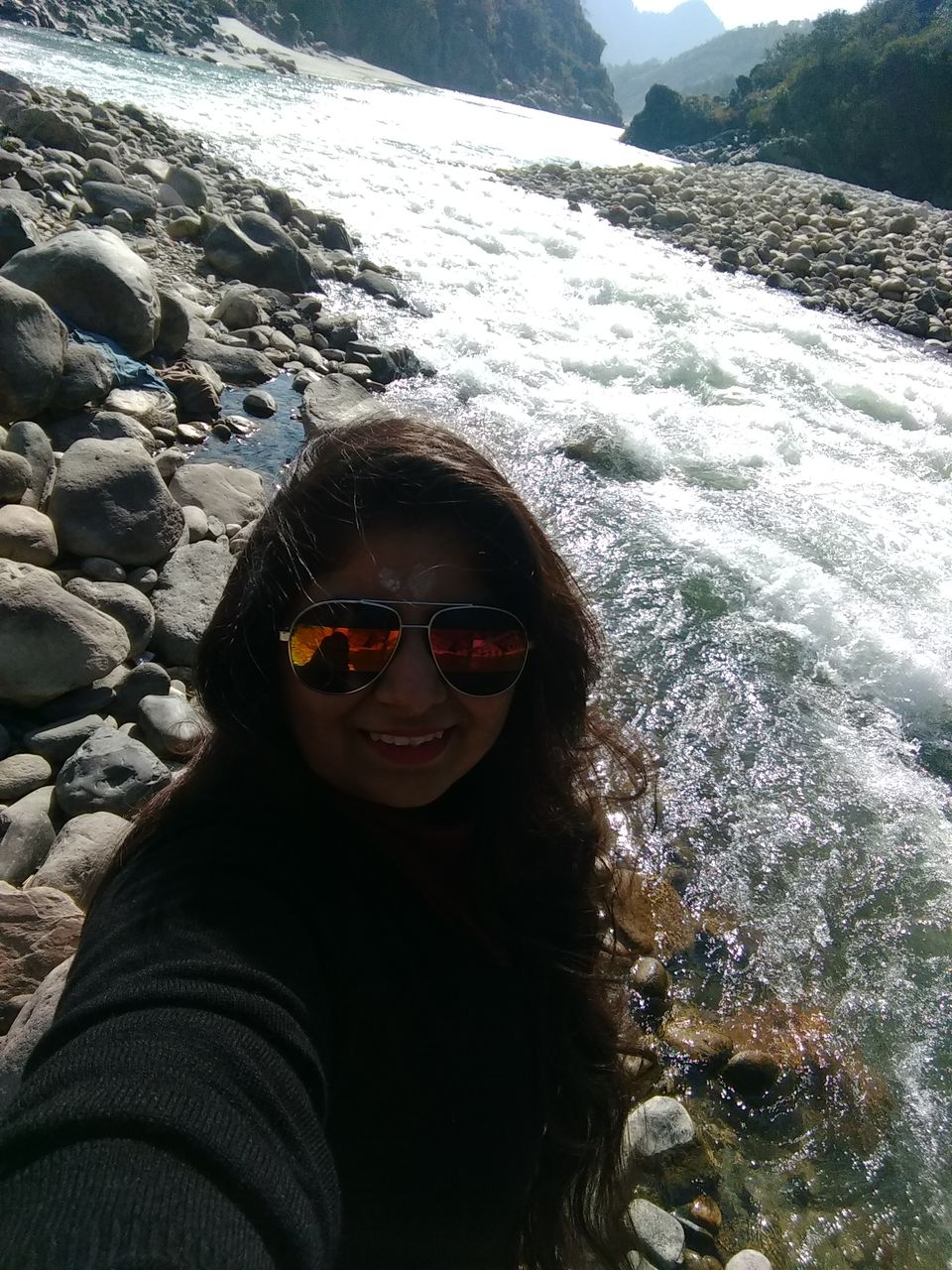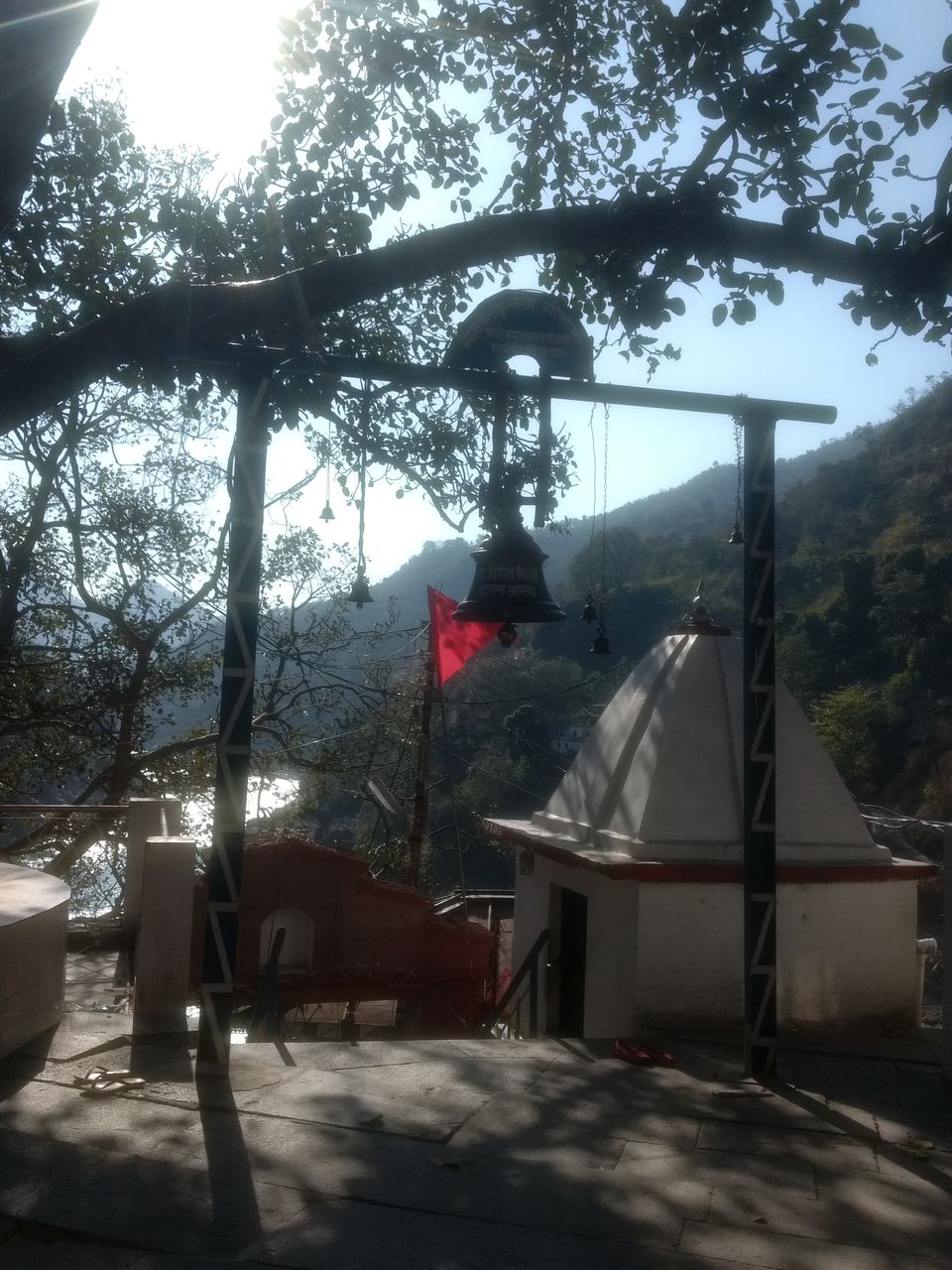 It was around 4 when we had lunch and headed towards our next stop along the way to Chopta, Deoria-Tal and took a bus to Ukhimath (nearest village to Deoria-Tal) however we were advised to take halt in Ukhimath instead of trekking another 3km in evening because of safety issues. So we searched for out perfect camp stay under star city of Ukhimath and planned to see another beautiful temple next morning. Our day one of the trip ended at a good note and we slept in anticipation of even more exciting day two.
Finally after breakfast and visit to Onkaar temple in Ukhimath we booked a cab for our final destination, Chopta. It was a 1.30 hour uphill pleasant drive. All the snow covered mountains begin to feel even closer making us want to jump out and touch them.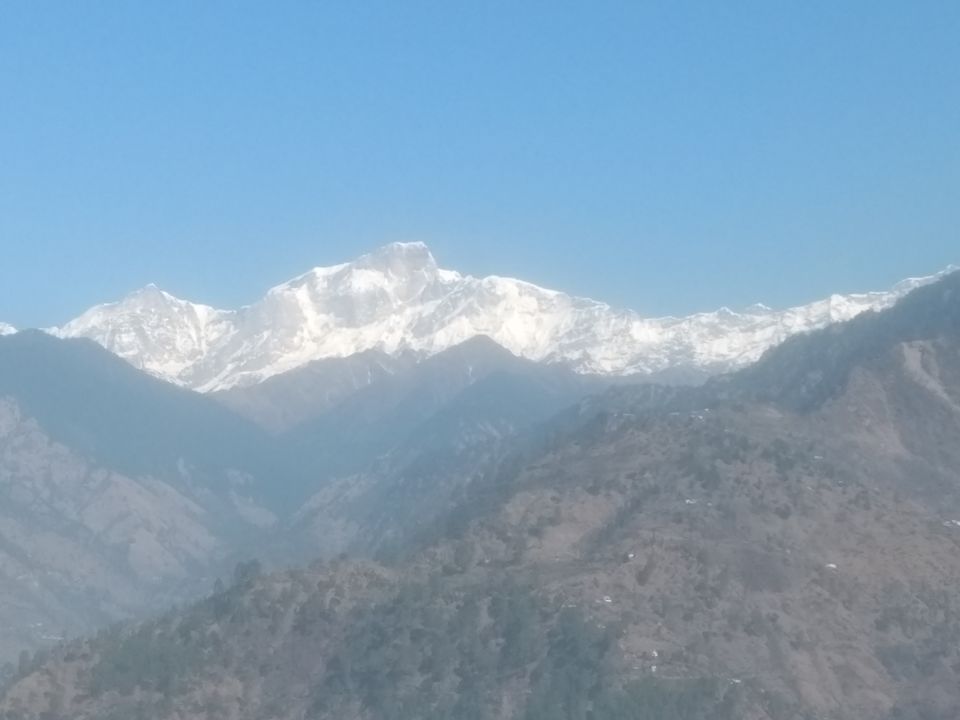 We reached Chopta around 2.30 pm and even before we looked for a stay, we had filling lunch and hot tea as it was suddenly too cold here. We then booked our camp and went on to see this place as we couldn't start the trek because we wanted to see the sun rise. Our day two was all about sightseeing, maggi, star gazing, sunset gazing and bonfire. Here we met other people who already went for the trek and they shared there experiences (which more pain than happy). We also met a group of 7 friends who were camping next to us and chatted with them for a long time listening to their experience and telling them that we wanted to start out trek at 3 in the morning to reach before sunrise. 3 people out of 7 got so thrilled that they also wanted to join us in the morning. That night went in preparing ourselves for the much awaited Tungnath-Chandrashila trek.

Finally it was about 3am and we got up even before set alarms. We went out to see if the other people were ready or not and we realized that the temperature was -1 at the moment. But that didn't stop us from the starting our much awaited trek. By the time we got ready it was 3.30am, we were all set with water bottles, parle-g biscuits and our stick. In about 20 minutes of trek we were at a height good enough to see the entire Uttrakhand city, it reminded us of New York skyline but with a thousand times better view. The sky was full of billions and zillions of stars, twinkling and shining in a moonless night. It was all snow and stars for as far as one could see.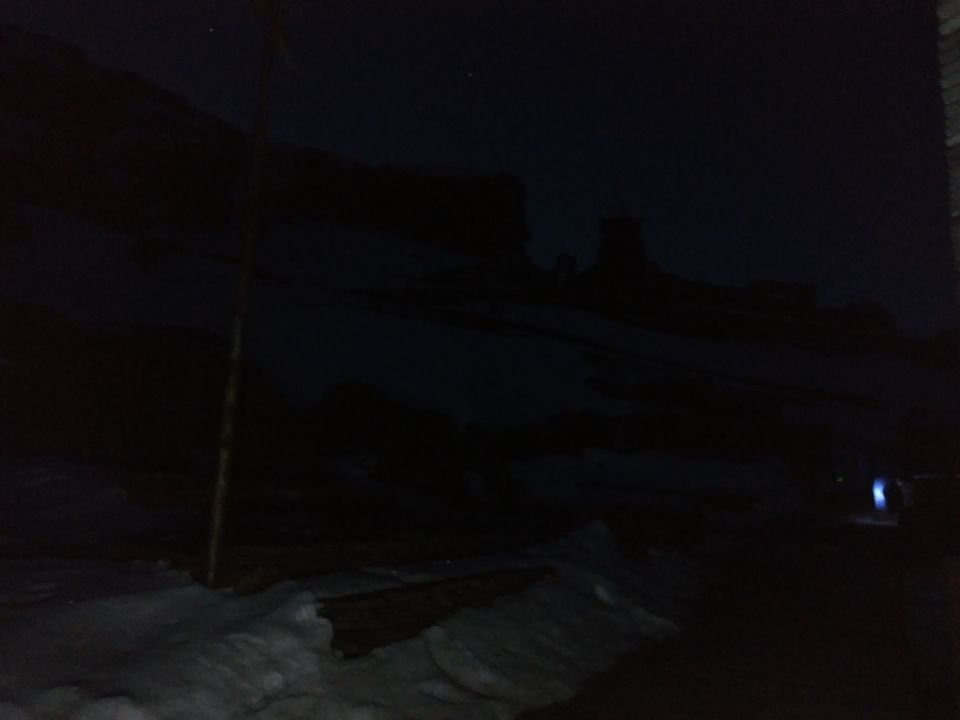 The trek was pretty tiring and though it was just 4 km, it felt like never ending walk towards Tungnath Temple which was at the base of Chandrashila. With every step we took forward the air got thinner, less oxygen, temperature dropped to -4 and even our sweat froze on our faces and yet we felt more alive than ever. The trek continued to be steep and difficult because we had to literally climb the snow covered mountain. There was a moment when I felt like a "white-walker" trying to reach the other side of the wall. After so many halts and slipping and falling on snow we reached Tungnath temple and this felt like an achievement. It was beautiful there but we couldn't take a long pause here as it was already 5.30 and we had to reach Chandrashila peak.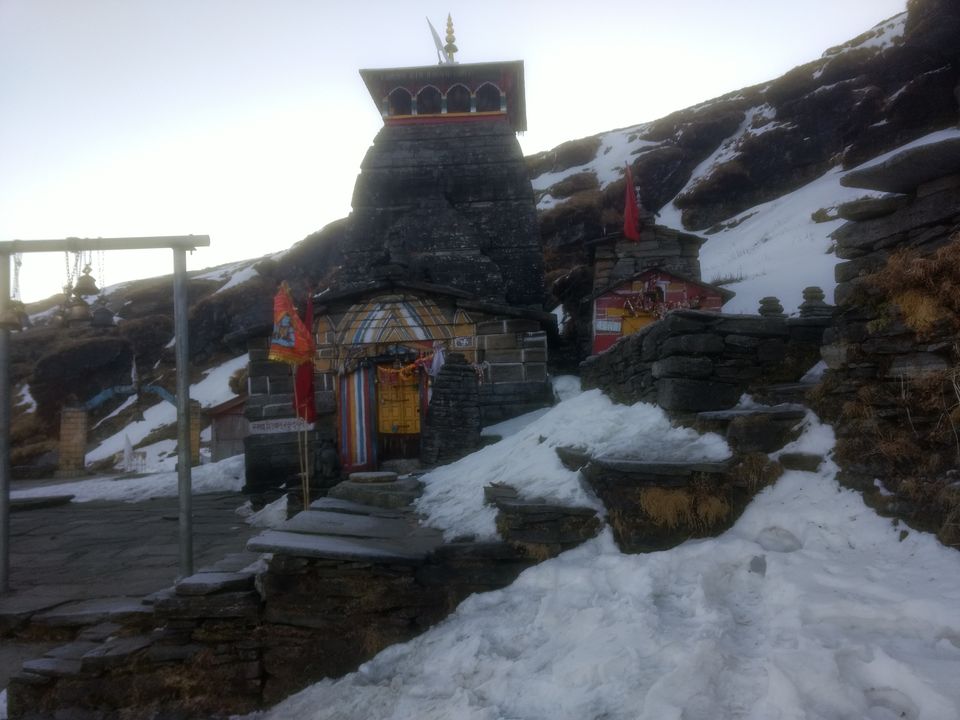 After a quick break we started for Chandrashila hoping that this was an easy trek but least did we know that this was going to be toughest 1 hour of our life. Though shorter in distance, sharp and perpendicular climbing makes this trek rigorous. The temperature here was extremely cold and we couldn't feel our hands in-spite of wearing gloves because it was -7. With very cautious steps we started moving up. It was getting very difficult for me and I started giving up halfway through the trek. I kept on feeling that I will not be able to do it also because i fell on the snow pretty bad almost at the edge of that cliff. But I decided not go back after coming this far. So with broken confidence and frozen hands and legs I began to trek again. Lastly around 6.30 we reached at the peak and the moment we saw how breathtakingly beautiful it was we forgot all our pain. The Beauty of Chandrashila was incredible. It was an impressive vantage point that offers 360 degrees panoramic views of the mighty Himalayas. Everything in life felt irrelevant and suddenly I started feeling so small like a tiny dot in this big beautiful universe. It was absolutely soul-satisfying and then the moment came when sun rose from the majestic Himalayas. The view was nothing short of heaven. The sun started spreading its golden rays on the snow-clad peaks forming incredible tone of yellow-red-orange. It was indeed all yellow. We stood there gazing the mesmerizing beauty of sun rise. It (falling sun-rays on snow) was the sea of magic in the world full of deadened eyes!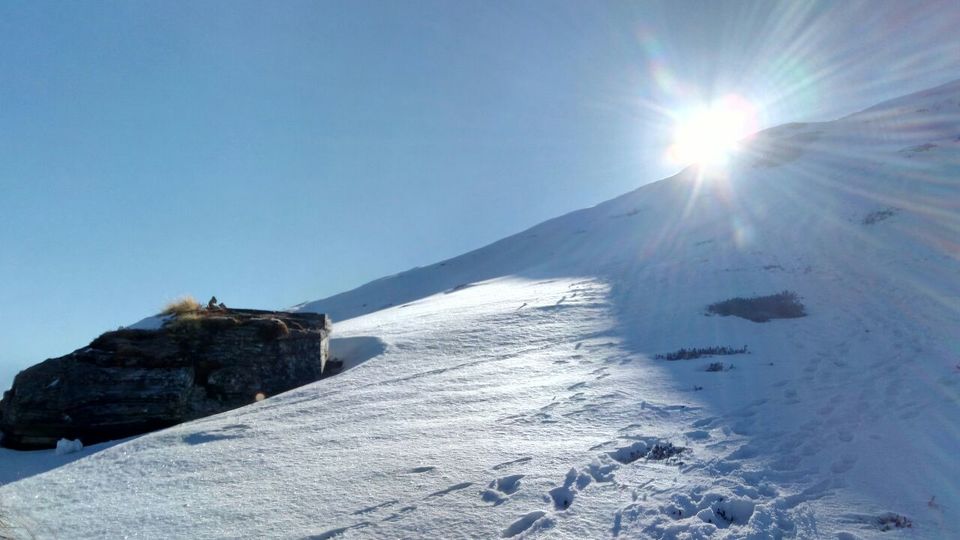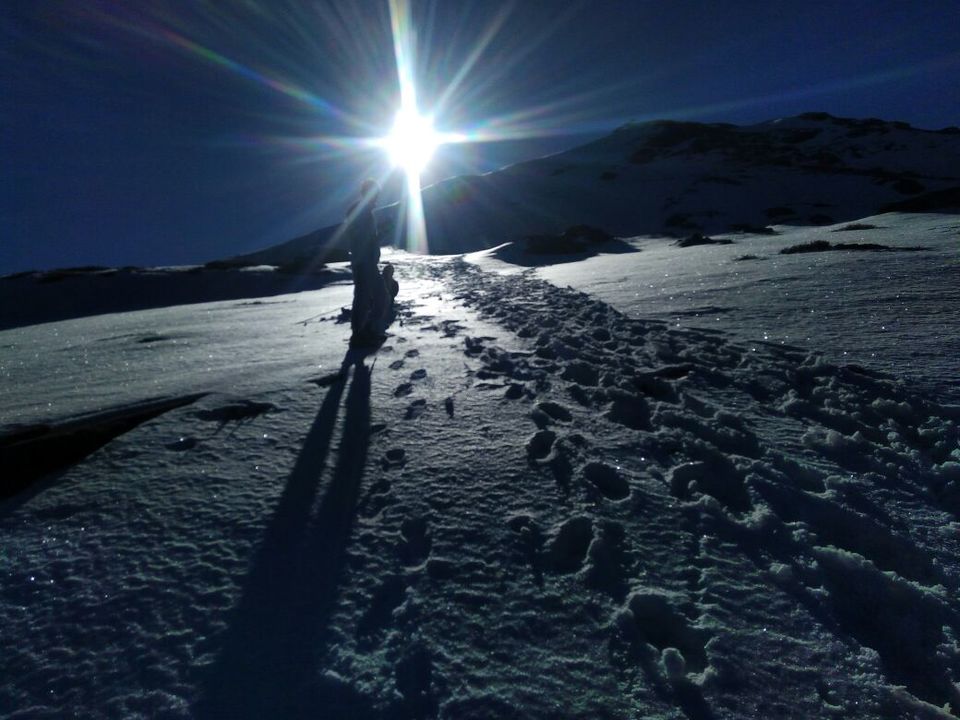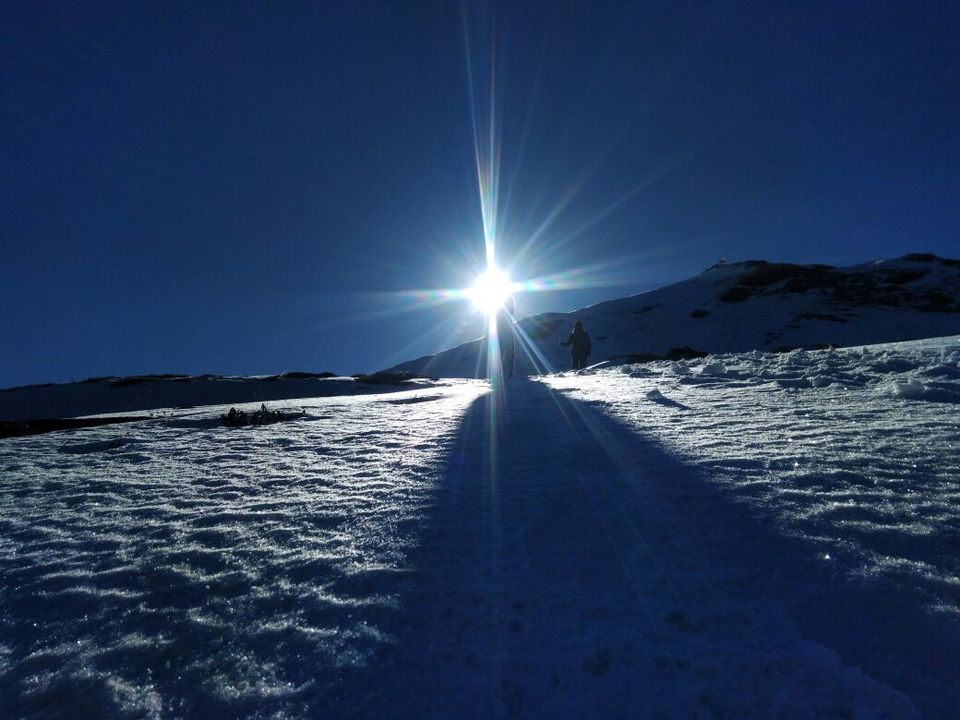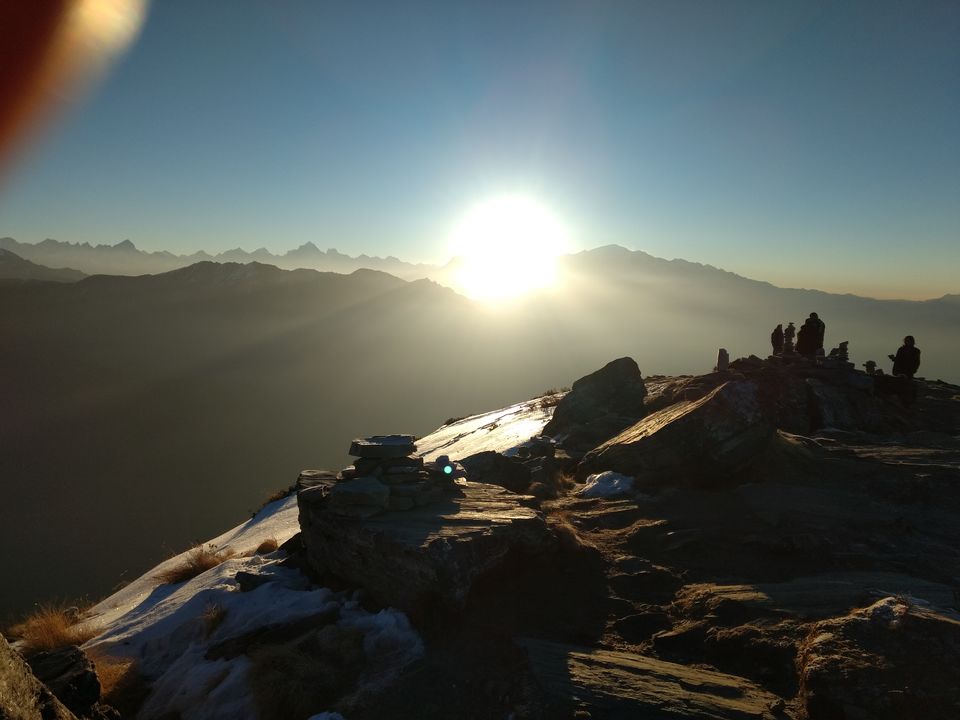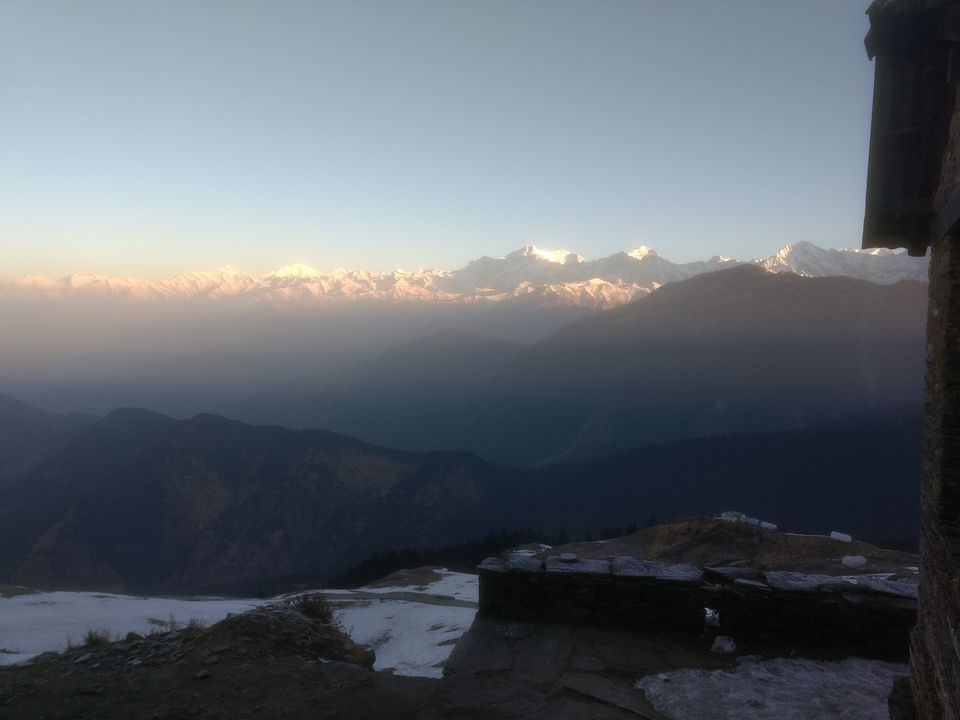 Consumed by the beauty of sunrise we forgot that we had to start marching downhill as it will be difficult to trek once the snow starts melting. So after spending another half hour feeding our mind and souls with the awesome views and feels around us it was time to leave and start our way back to the camps.
Climbing down was less pain to bottom of our feet than to our back because we had to slide on the snow and come down from Chnadrashila. There were epic falls and slips and each one of us had our own bollywood style stunt moments.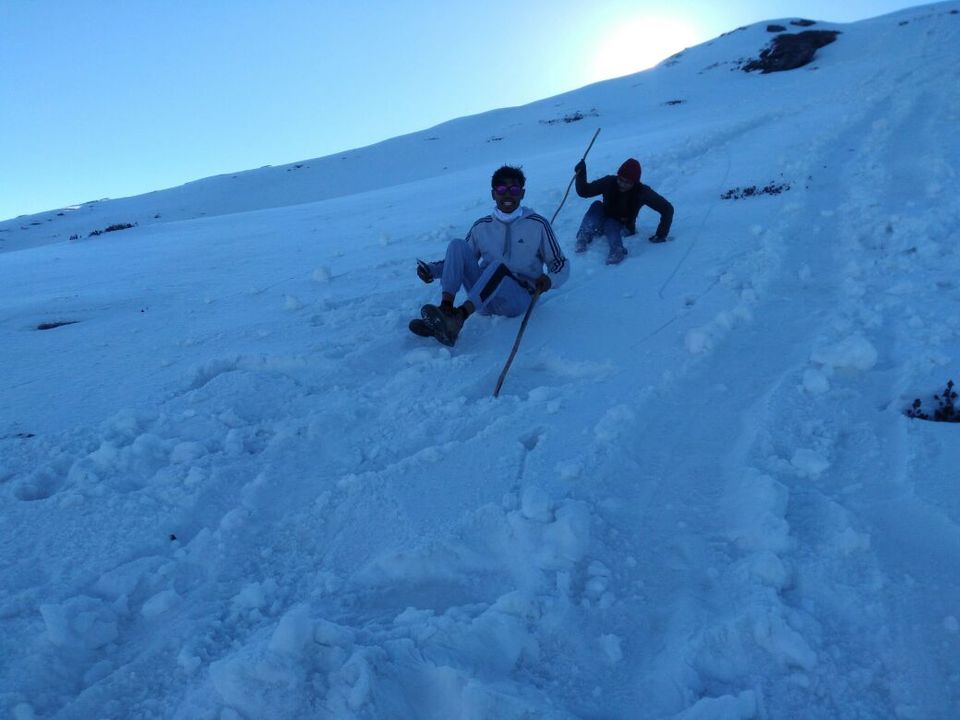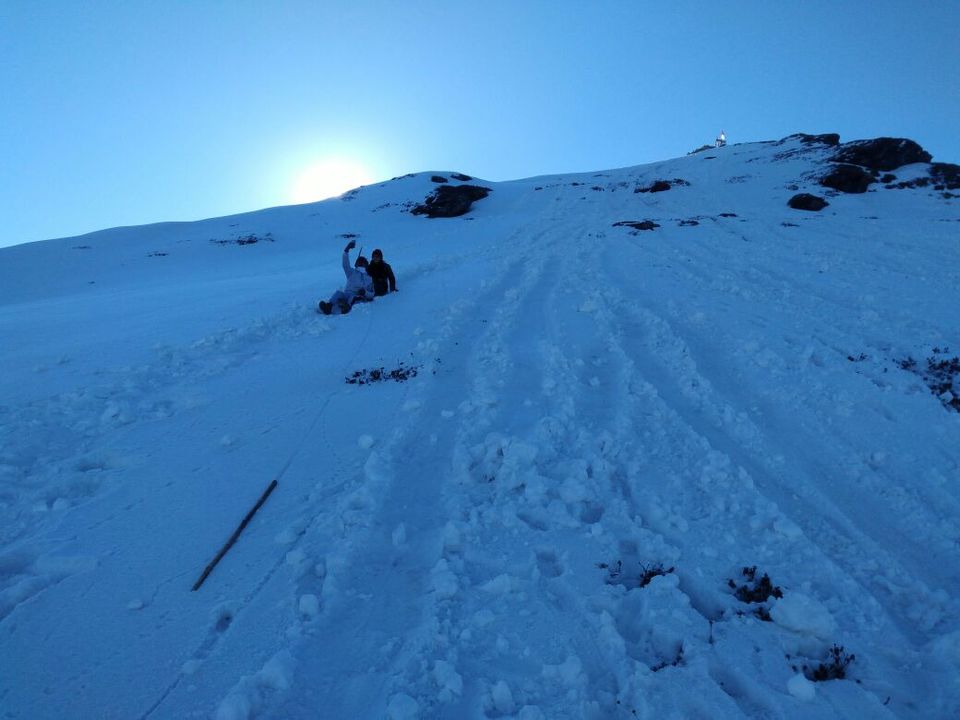 It took almost 7 hours to complete the trek but this was most amazing time spent. After coming to our camps we rested for a while and booked our cab for Rishikesh to come back to Delhi.
The most amazing part of this entire 3 and half day trip was it's budget. We both (me and my cousin) had spent only 3000k each and never once we stopped ourselves spending anywhere, be it our semi luxury stay in camps. our food, our travel anything.