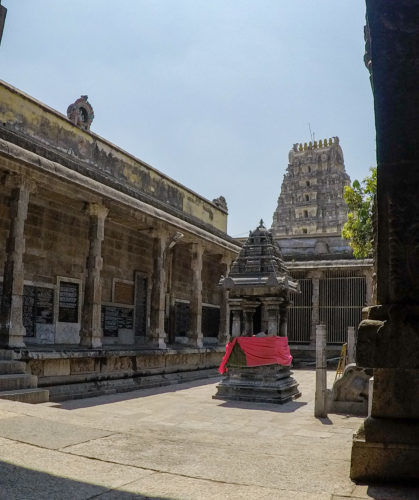 KANCHIPRAM, TAMIL NADU
People go to Kanchi either as a devotee or as a shopper.
Kanchipuram has temples at the end of every street. That's the first thing you observe when you look out from the car or walk randomly on the streets. But let's just talk about the main temples of kanchi
Kailasanathar temple (Lord shiva) Kanchi kamakshi mannam temple (Goddess Kamakshi) VaradaRaja Perumal temple (Lord Vishnu) Ekambareswarar temple (Lord Vishnu)
If we talk about the shopping, marriages in South India are said to be the most auspicious day and the bride wears the purest zari (silk). So kanchi has the purest silk in selected shop, making it an perfect destination for every bride.
So let's start about my itinerary,
My trip to Kanchi was because, my best friend was getting married so tagged along with her and her mom for shopping. So I took a train from Hyderabad to Chennai (Chennai express). I reached Chennai by 6 30 AM. I had a common friend here so went to her place and met my friend and her mother. Then we got ready and took a cab (Ola) directly to the shop in Kanchi. As soon as we reached the Kanchipuram I saw a very big temple wall, so I got down mid-way near that temple. The temple is Varadaraja Perumal temple.
This was really big. I mean really big. I got a bit confused as everything was written in tamil including the gods name, but priests there helped me. The temple is dedicated to Lord Vishnu. The diety of the god in this temple is beautiful. I couldn't take my eyes off the god during my dashan. Then along the line I was lead to another room, where you can see one golden lizard, and silver lizard attached to the ceiling(it is said that when you touch these lizards all your sins will be washed away.
(story time: when sage Gautham was offering his prayers to lord noticed lizards in the bowl which contained water brought by his two disciples. Enraged by this he cursed the them both in lizards. So as suggested by the sage they both went to kanchi and got relieved from their curse by Lord Indra)
Then I spent around 1 hour here trying to understand the architecture and mesmarising the painting on the walls inside the temple.
Then from there I took an tuk tuk (which looked like a mini bus) to my next temple stop- Ekumbeshwara temple.
This temple is dedicated to Lord Shiva. I have never seen the temple's architecture anywhere. It is difficult to explain, so the main linga is inside 'Garbhagudi'. Again outside this garbhagudi there are 108 miniature Lingas, again outside the Garbhagudi all along the corridors there 108 shiva lingas. This is the first time I have witnessed something like this.
Then I went back to shopping. Again in the evening in one of the shops the owner arranged us a temple tour to Kamakshi amman temple. We hardly stayed anytime as we needed to head back to Chennai.
WHERE TO EAT:
The one and only HOTEL SARVANA BHAVAN.
Meals are a must try.
Few tips:
If you are planning to visit kanchipuram you hire a cab for the whole trip, or take a local bus, or local train. All three options are available. There are numerous hotels to stay in kanchipuram. So you can easily plan for a two day trip. The transportation in the town is easily available and safe. So no problem with that. Make sure to carry around enough change when your are planning to travel by local. Carry a camera to capture the beauty. Always remember the temple are closed mid-day. So plan accordingly.
Camera used: gopro
total cost: Rs 200