Ever wish you could time-travel to the past and explore a place? Luckily, this is still possible at this lovely little find I came across on a recent trip to Tamil Nadu.
It was a trip I took on a whim one morning. I decided to climb on to a bus at 3 AM to arrive at the temple town of Kanchipuram. Famous for its silk sarees, Kanchipuram is also dubbed the town of a 100 temples, and they weren't kidding!
As with every destination, I love researching the place and learning about the local life before getting there and Kanchipuram was no different. But when I came across the few posts about this hidden gem, I had to see it for myself. The images seemed almost too good to be true, but I decided on giving it a shot any way and it was worth it!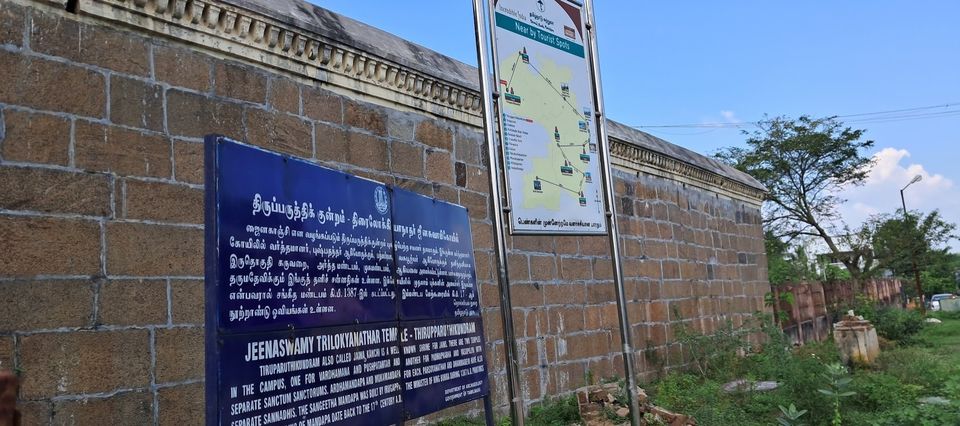 Tucked away in a little village within Kanchipuram, even the locals didn't seem aware of this temple. I'd located it on Google Maps and guided the auto driver to this place which he was certain didn't exist and I was mistaken about.
When we arrived, the temple was shut so the auto driver who seemed determined to figure out what this place was knocked on a door nearby and discovered the priest was at lunch. After waiting for a little bit, the gracious priest came by and opened the doors. I climbed up the flight of stairs to be greeted by colourful pillars and a roof covered in astounding artwork that seemed untouched - a rarity in India given that people love to scribble their lover's names on ancient artwork in a distasteful manner.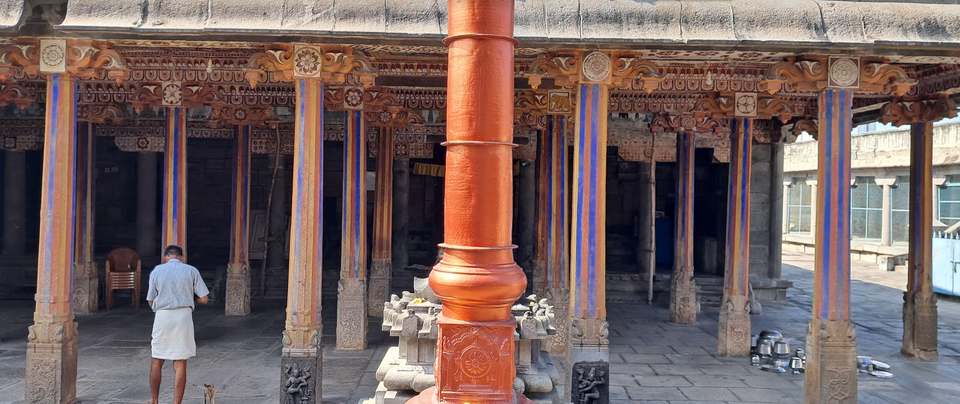 It was hot outside, but the temple seemed cool and inviting. A little kitten walked by looking at us in a puzzled manner - probably not used to visitors. The place was empty, calm and gorgeous. The colours reminded me of the vivid shades I'd seen at the Rumtek Monastery in Sikkim.
The priest allowed us to explore the place, my jaw had clearly dropped. I didn't think this could actually exist. The walls were decorated in elaborate stories that depicted Hinduism and Jainism coming together in a holy collision of red, blue, black and white.
An elaborate memoir of the past, this temple was a joy to get lost in. While I was engrossed in the wall-art, the priest had set up the sanctum sanctorum which he invited us into. And it only got more beautiful - old carvings, statues and multiple large, statues covered in natural colours sat unbothered as the flame from a the lone lamp gently flickered in the wind.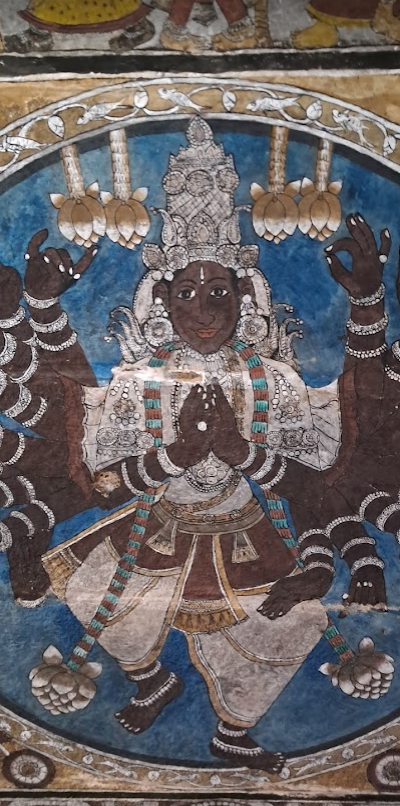 The priest began explaining the story behind the temple, how it's believed to be 1500 years old and a seat of learning for many gurus who wrote their lessons down for future generations.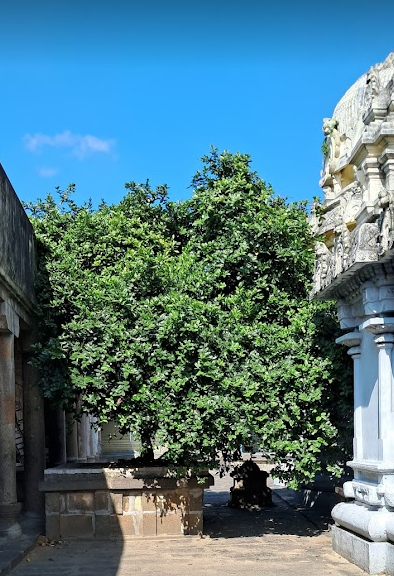 As we walked around the temple, he narrated the story of the magical tree which he claims represents life itself and never sheds its leaves. It's believed that when it does, it will signal the end of life on earth. The tree was large, green and alluring in nature. It was definitely full of character that apparently came to life without being watered.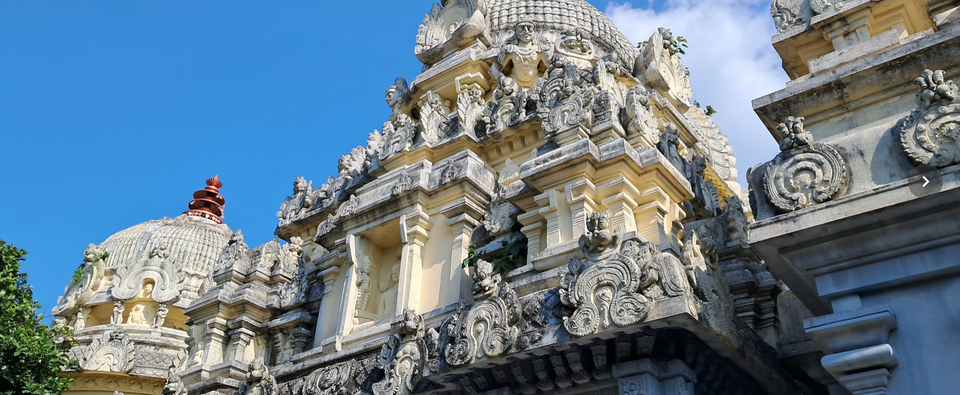 The temple also has four different Gopurams or roofs. Each one representing an important chapter in history.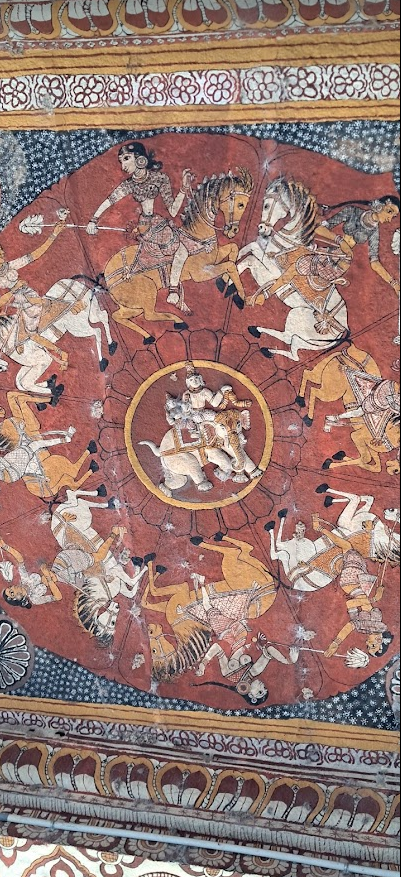 While the temple itself is small, the art will draw you in and make you spend a considerable amount of time here. It's even got an elephant that locks eyes with you irrespective of any direction you're in. An optical illusion I couldn't figure out, but was intriguing how its eyes are always on you as you move around the temple complex.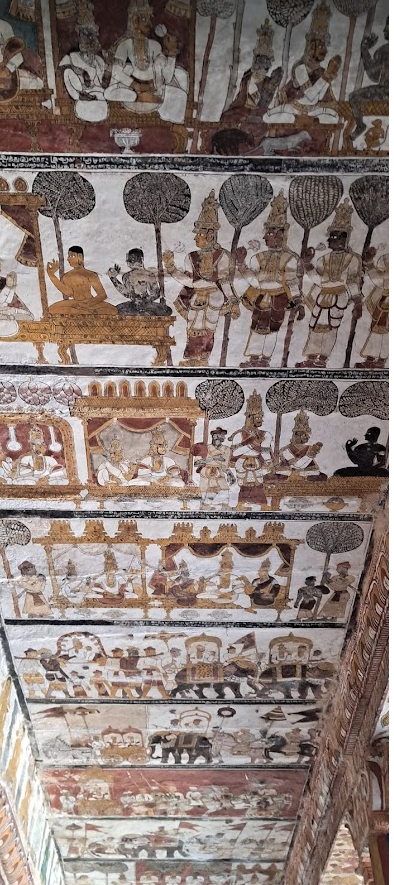 How to get here: It's best to track it on maps and drive up or rent an auto.
Timings: It's open all day till 11 PM. If the temple is closed, knock on the door opposite the temple
What you need to know before getting here: It's a quaint village with no development. Tamil is the only language that the locals can communicate in. There are no shops or facilities around. The roads are muddy and bumpy.
Love exploring offbeat, architectural gems? Follow me on Instagram for more updates!
Ready to travel for free? Earn credits and redeem them on Tripoto's weekend getaways, hotel stays and vacation packages after the pandemic is over!
Be a part of the largest online community of travellers on Tripoto's Facebook page!