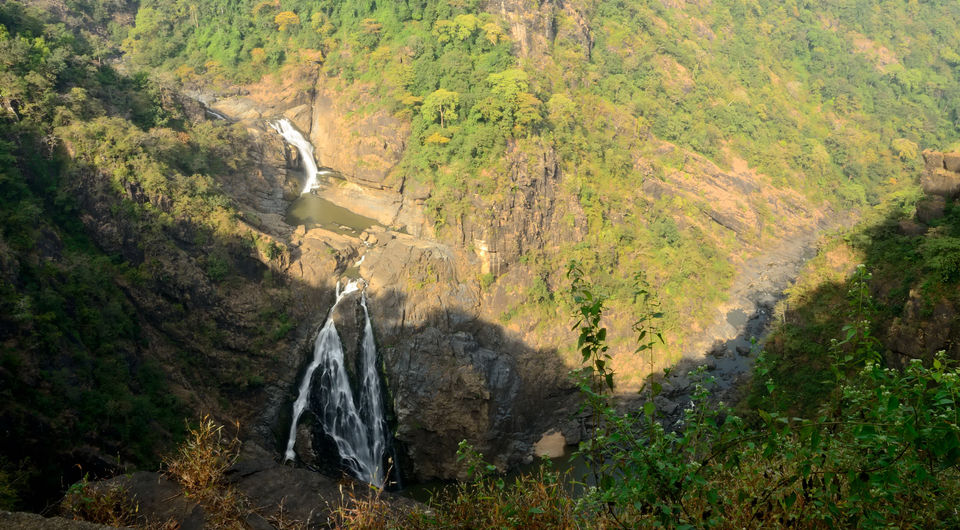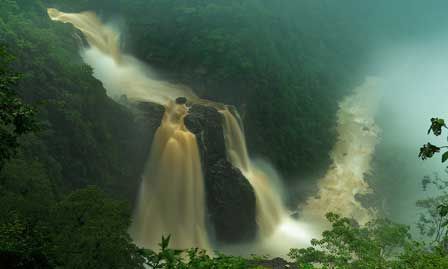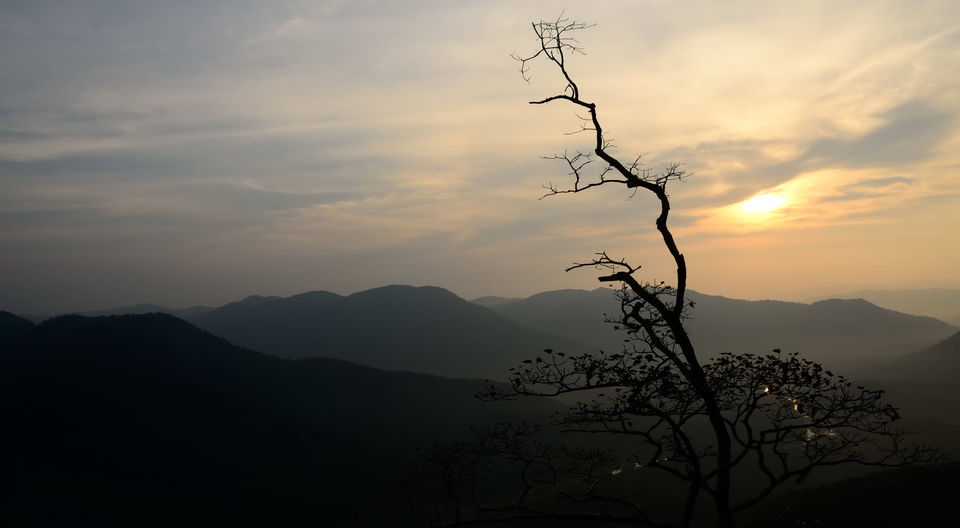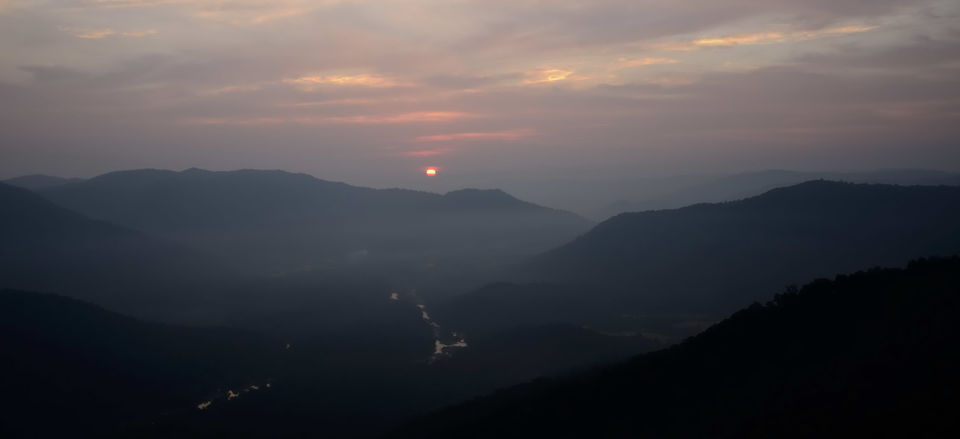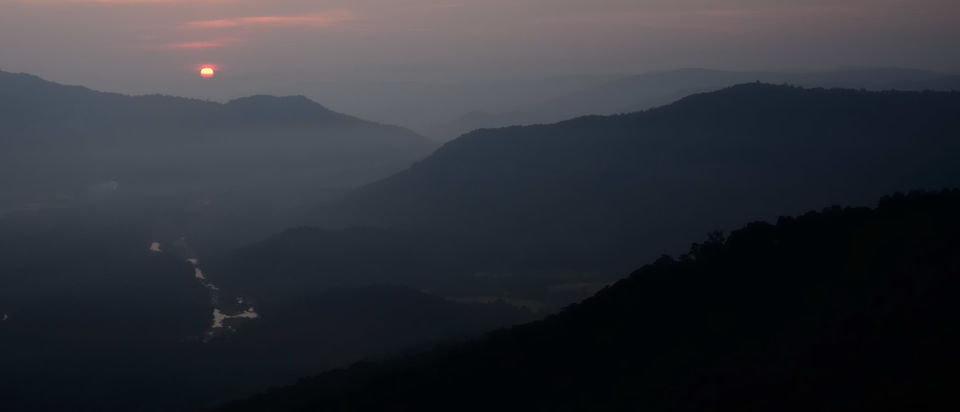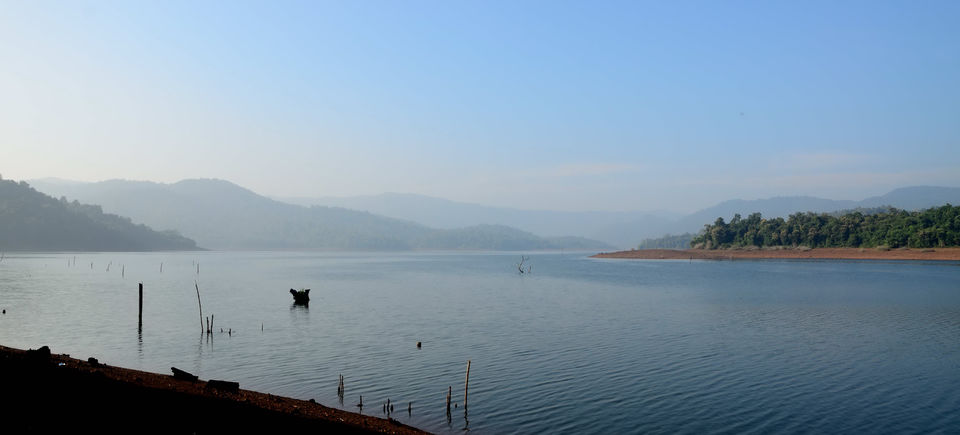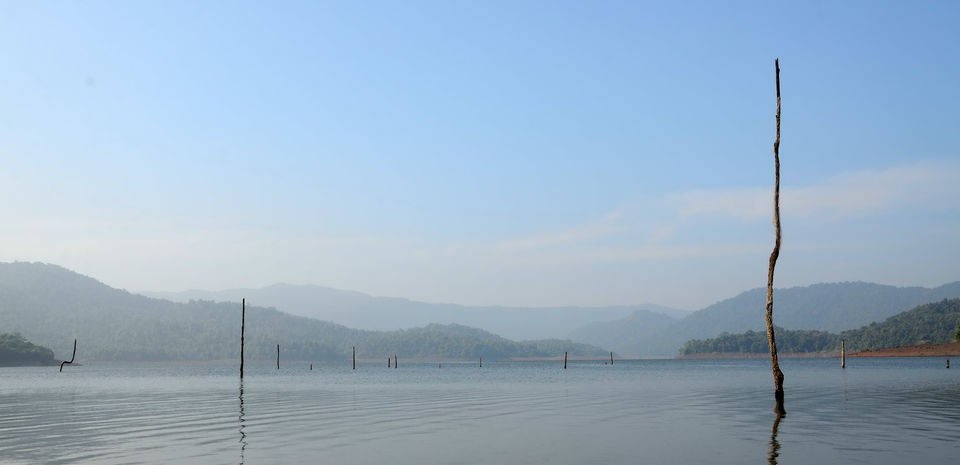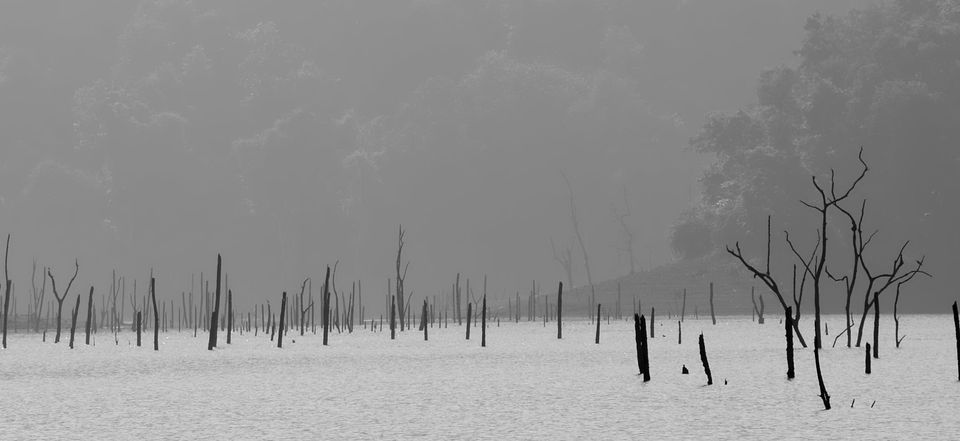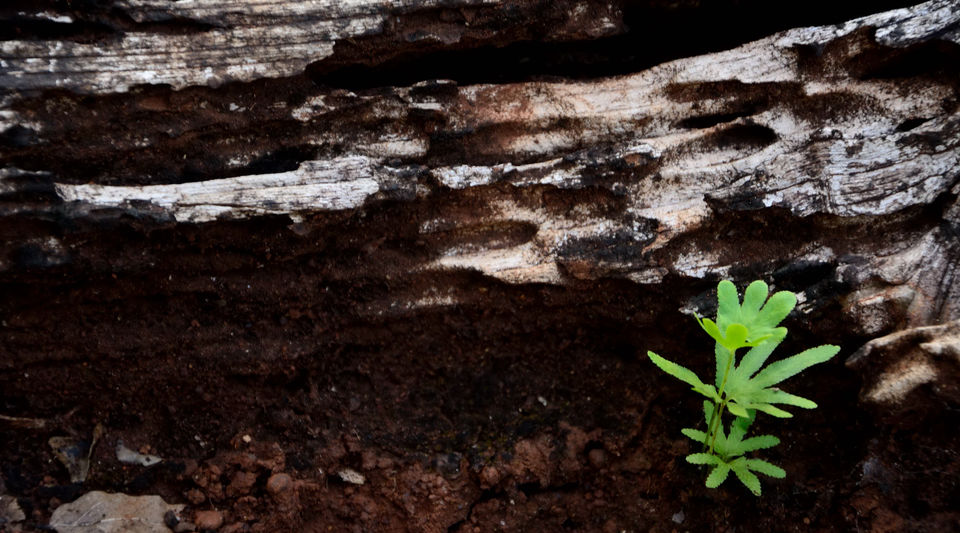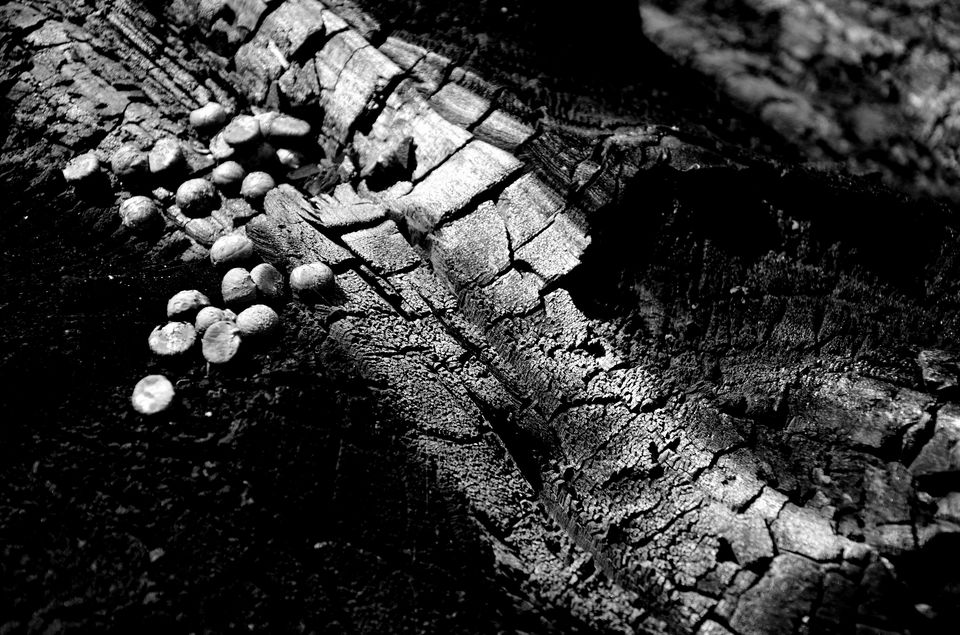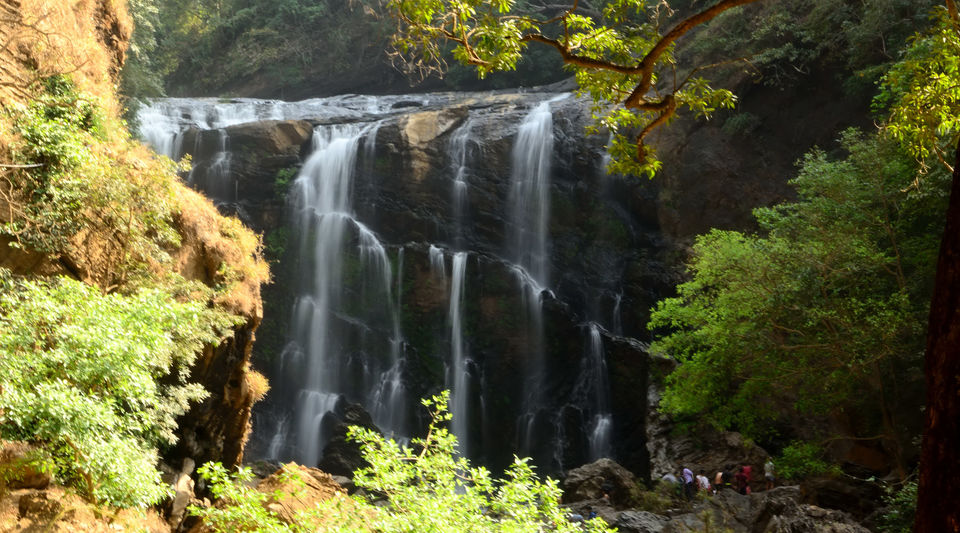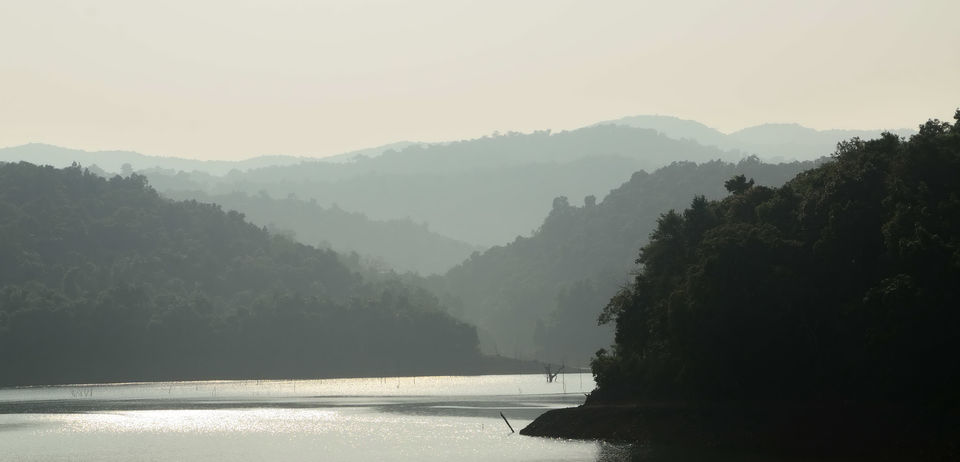 How/Where To Go: Nestled in the Western Ghats of India are these gems that make themselves visible only to the inquisitive traveler, or the local ones ! They go by the names of Sathodi and Magod Falls, and the nearby JenuKallu Gudda sunset point. Not as well known as some of their more famous cousins ( e.g. Jog Falls ), they still award you with magnificent views, especially in or just after the rainy season. Although not seasonal, the water content is much better during the monsoons. And these are not alone. There are quite a few of these waterfalls nestled in various parts of Western Ghats if you care to explore.
The drive from Bangalore is a good 400+ kms, to a place called Yellapur. Except for the last 70 kms or so, it's a very comfortable drive on the national highway, something which can be covered in good speed. Once you veer off it, the road turns into a 2-lane state highway. It's not in excellent condition, but the drive nevertheless is pretty comfortable anyway; more so after we start kissing the periphery of the ghats, and then when we venture inside it. The greenery that beckons you keeps on improving, as you keep getting closer and closer to Yellapur.
Public transport is available till Yellapur, both in the form of govt buses ( www.ksrtc.in ), as well as private ones ( www.redbus.in, among others ). Govt run buses are maintained pretty well here in Karnataka. Upon reaching Yellapur, you can hire jeeps to take you around. Both the falls are around 50 kms apart, and well there's no other way to reach the deeply nestled falls if you don't have your own vehicle.
Where to Stay/Eat: Yellapur is a small town, but with all the necessities intact. We stayed at this very basic lodge called Pai's Sambhram Lodge (08419262288; 500/- for a double bedroom; 800/- for a 4-bedder ). It is centrally located in town as well as between both the falls ( 15-20 kms in opposite directions ), and is basic but clean. As soon as you enter Yellapur, just ask around for it and people would know. It has a restaurant too, but expect only basic fare for food. It's simple and light breakfast/lunch should be a good enough option to prepare you for your trips ahead, as well as fire you up for the oncoming evening !
I'd recommend another Mumtaz hotel nearby if you want to have something tasty ( and a bit luscious ) in the evenings. It's a place that is very well known for it's non-vegetarian fare, and has people coming in from afar. Take my word, you won't regret being there !
And well, this lodge is more like a backpacker's accommodation, so don't expect any luxuries. You may want to look out for resorts nearby if your family prefers so. I did notice one such resort on my way to Magod Falls, but I hardly remember it's name now. Internet may not give you a lot of options either I'm sure, as this is a small place and not very well mapped up on the net. Good luck anyway !
What To Do: Well well, I think all of this has already been covered. There are 2 famous waterfalls as mentioned above, while there might be a few more smaller ones too if you visit in the rainy season. Sirsi is not very far away either, and might hold a few gems if you have more than a weekend. Ask around and you'll get to know for sure !
As about your adventures near yellapur, Magod falls and JenuKallu Gudda are close by and can be covered in one half-day drive. Sathodi falls can be covered in another half day too, but we have a surprise here ! On the way to Sathodi Falls but not much distance before it, watch out on your right hand side and you should be able to make out a huge water body down below ( the drive is a bit of a hilly track ). It is actually a river meandering through, which all of a sudden appears in front of you at one turn, and then again when it allows you to venture near it through an opening. With tree barks jutting out of the same, and hills beyond, it makes for a picture-postcard view, so don't miss it if you don't have to. You may end up spending a lot of time here if you're into photography, just like we did ! The riverbank beyond is also said to reward people with sightings of animals coming in for water during evenings ( and that includes a black panther ), so if you're passing by during that time, do make it a point to stay put till the sunset. At the worst, you will still be rewarded with some very good lighting I'm sure !
And well, on the way back from Sathodi falls, you may want to take a small diversion to a newly constructed hanging bridge on the same river, and enjoy the views from therein. Takes half to 1 hr at the most.
When To Go: Ah ! The best part. Waterfalls, in general, are enjoyed best either during or just after the monsoons. No exceptions here. We went in November. Although Magod was a damp squib so far as it's water level goes, but Sathodi Falls was still good enough. On the flip side, roads to these falls may get messy during the monsoons, but a good SUV drive will still carry you through. And after feasting on the greenery around, perhaps you will forget about your driving travails anyway. By the way, I did see efforts on to asphalt the road, so the drive may be much better by the time you land up. Good Luck ! Monsoons are highly recommended for sure.
I think I have covered most of the aspects of the trip here, but you can still go through my blog for more info and for reading about my complete experience: https://myfreewanderingspirit.wordpress.com/.
Have fun until the next one !
Frequent searches leading to this page:-