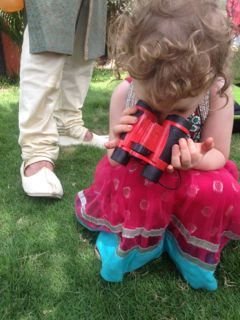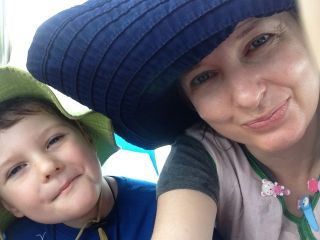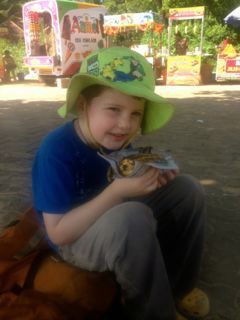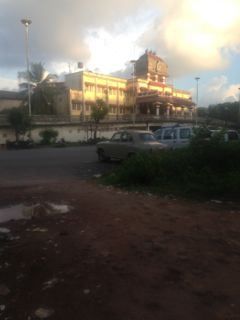 In the beginning, I was smug. We'd been in India several hours, and (upon questioning) A had described it as "a lot like Singapore, so far". This was, of course, my plan – cushion the culture shock with an easy introduction involving metred taxies, apartment hotels and dips in the pool – and it seemed as if I'd executed it perfectly, like a rock star. A rock star whose main talent was actually travel logistics, which is saying something, because the music business is pretty tough, so you have to be very talented at being a rock star already, never mind being even better at travel logistics.
Day OneFly Singapore ->
Bangalore (4hrs)Metred airport taxi to hotel in central Bangalore (1hr, about 800 rupees)Check in, rest at hotel, swim in pool, room service lunch (vegetarian and non-vegetarian thali – something for everyone!)Route march through streets of Bangalore in homage to its past as a British garrison townPlay at playground near MG Road metro station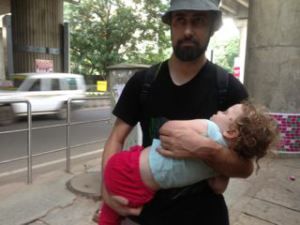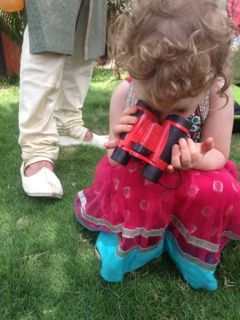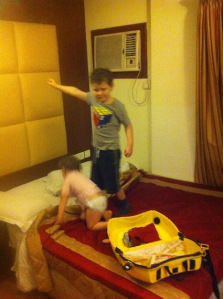 Malpe Beach is a tourist destination, so the F&B market is well supplied. We loved the street vendors who peeled and cooked our food freshly and in front of us – always feels better when I can do the food safety inspection myself. P loved the BBQ'd corn and the freshly-squeezed juices. We also had drinks and Chinese fried rice at a beach side cafe, whose name I would probably be able to tell you if I was really a travel blogger. We also enjoyed ice creams from a cycling vendor along the beach (listen for the bell).We were offered accommodation several times, so I don't think it's too hard to find somewhere if you're not fussy. If you are, I can't help you – we didn't stay overnight. Maybe ask Trip Adviser.Instead, we made use of the pay-to-use toilet and shower block which is near the main entrance to the beach, and well signposted. Toilet use costs 5 rupees per person per visit (you'll have to pay two if you accompany a young child), shower use costs 10 rupees per person per visit, and probably includes a little sachet of shampoo only there was a bit of a crowd at the entrance when we got there so we missed that trick.Now, I say "shower" – in fact what you pay for is a little concrete cubicle with a cold water tap, a scoop and a bucket. Even if you're not the kind of klutz who falls into the sea getting off a boat, you'll still be thankful your things are in plastic bags if you're bathing here – there's few hooks and no benches. It's not roomy for two people if you're with a young child, but it's good enough for a quick refresh and to rinse the sand out so you can return to civilisation with your head held high.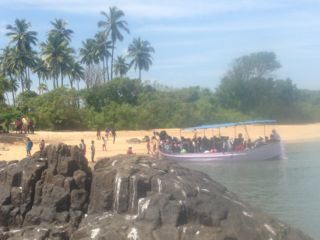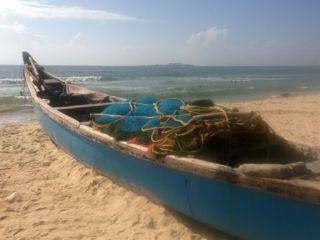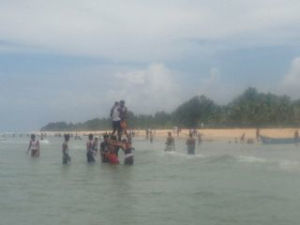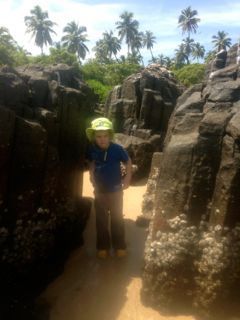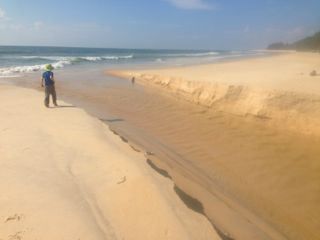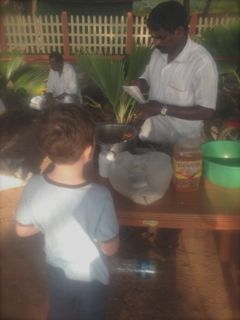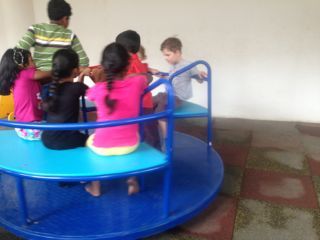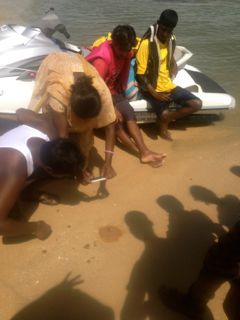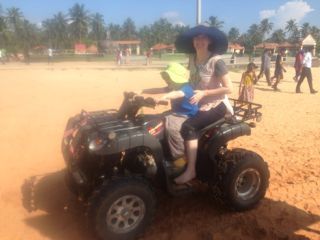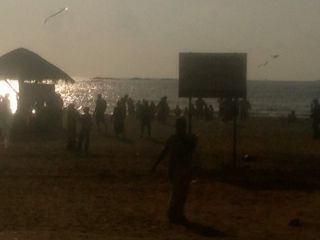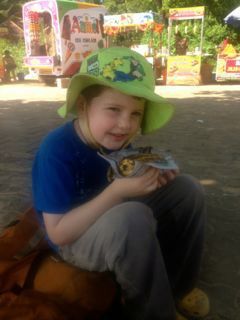 Milkshakes for dinner on MG RoadRickshaw back to hotel, kids to bed, adults to curse at unexpected lack of wifiOvernight in central Bangalore
Mum and kids to Government Aquarium by rickshawDad stayed at hotel to wrestle with wifi and prepare for the wedding ceremony, but mostly to wrestle with the wifiRoom service lunch together at the hotelClothes shopping in afternoonSangeet in evening (Mum went early to have mehndi which will not stay there forever applied, Dad brought kids along later)Return to hotel by taxi at the insistence of our host, who advised that rickshaws were best left to daytime, and overnight in central Bangalore
Early start for wedding ceremony for DadMum and kids drank pre-bought mango lassis (stored in fridge) for breakfast, engaged private vehicle and driver for the day with the help of reception and joined Dad at the wedding venueCeremony, followed by lunchHomecoming ceremony at Bride's parents' houseBack to hotel, shower and change for evening receptionEvening receptionOvernight in central Bangalore
Sleep in, breakfast, pootle about hotel, pack for mother-son rail expeditionKC Das Sweet shop, Church St, Bangalore (hat tip vinoddsa again)MG Road Metro station playgroundThis bullet point is supposed to say "Bangalore Palace" but instead it says "Rickshaw back to hotel to wash vomit out of everyone's clothing after merry-go-round incident".MetrotourismDinner at KFCMum and P depart for Bangalore City Junction train station via rickshaw and after some confusion caused by arbitrary changes in train names/numbers and poor directions from fellow passengers they board what (thankfully) does indeed turn out to be their train, but only after it starts moving.Dad and T return to hotelOvernight on train (AC2 class)/at hotel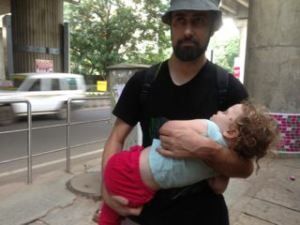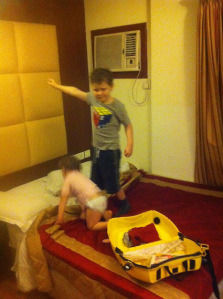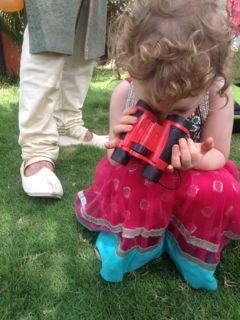 Udupi is a relatively affluent place, and Malpe Beach obviously prides itself on its tourism. Facilities and activities are well sign posted and advertised, without being obnoxiously touted. We were approached by "unofficial" tour guides at the far end of the beach, offering to take us out on a private tour in their fishing boats and bring us back without raping and murdering us and dumping our bodies into the ocean – but they didn't push when we declined.
We chose to visit St Mary's Island with one of the official services, which leave from the main beach with reassuringly-sized groups. They had some life jackets, although I'm not convinced there was a full complement (I knew where P's was), and they seemed to know what they were doing.The beach rubbish was minimal, and I give the credit to a garbage tractor which was in near-perpetual use. The only exception was the bin next to the drinks vendor on St Mary's Island, which was overflowing. We chose to carry our rubbish back to the mainland with us, where disposal facilities seemed more adequate.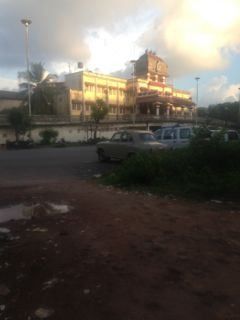 The boat ride out to St Mary's Island was well worth it, especially if you are with a young geologist (and have read up on the local geology beforehand). Various water sports and beach activities are available. We also spent a lot of time studying hydrodynamics using washed-up coconuts and sticks. If I had an extra day or two, I would have got off the beach to some of the other nearby attractions, such as the temple, lighthouse, and waterfalls. Prasad of Inception has some great photographs of St Mary's Island from his visit.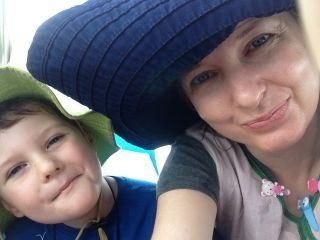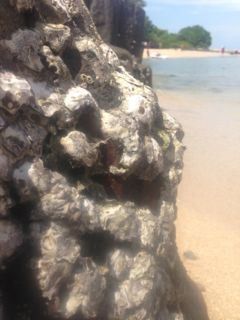 Frequent Searches Leading To This Page:-
weekend getaways from bangalore, 2 day trip near bangalore, weekend getaways near bangalore, weekend trips from bangalore, bangalore to  maple beach tour