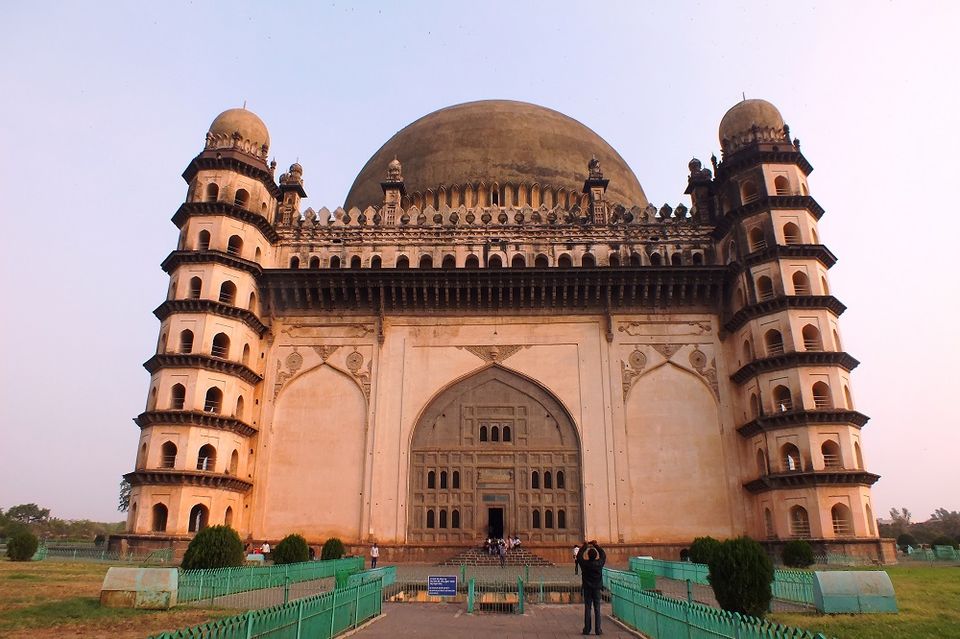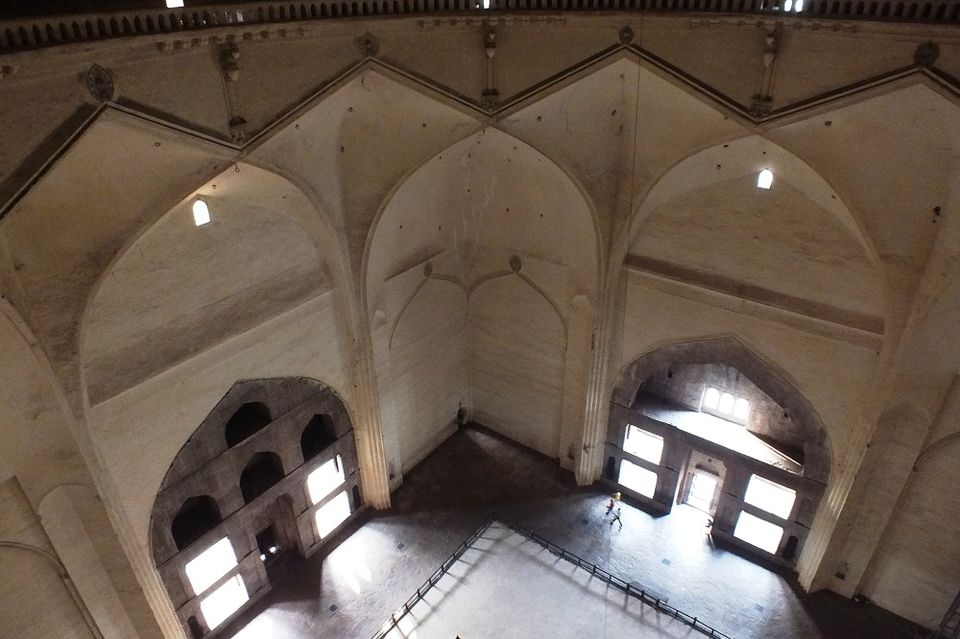 Massive dome. Perfect acoustics. Superb views from the top. The celebrated Gol Gumbaz, the mausoleum of Mohammed Adil Shah, a masterpiece of Deccan architecture, does not get the attention it deserves. I myself lived in Bangalore for five years, but didn't bother to go there. Now, decades after my exit from Karnataka I finally made the trip. You can reach Bijapur by train from Bangalore (best option). The nearest airport Belgaum is 210 km away (not a good idea). November to February is the best time. The remaining months are too hot for comfort.
Bijapur was built by the Kalyani Chalukyas in the 11th and 12th centuries, came under the Khilji dynasty and was conquered by the Sultan of Gulbarga in 1347. It was then known as Vijayapura. (The Govt. of Karnataka has recently reverted to this name, though most of us continue to use the more familiar name Bijapur.) From 1490 to 1686 Bijapur was dominated by the Adil Shahi dynasty, one of the five Deccan sultanates. In 1686 Aurangzeb vanquished Bijapur, later the Nizam of Hyderabad, the Marathas, and the British all held sway.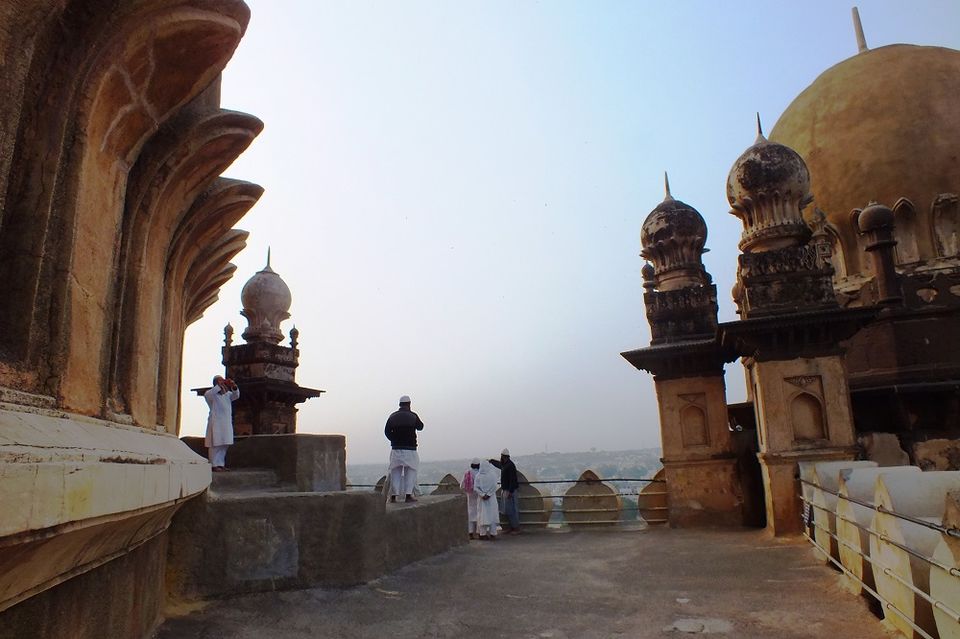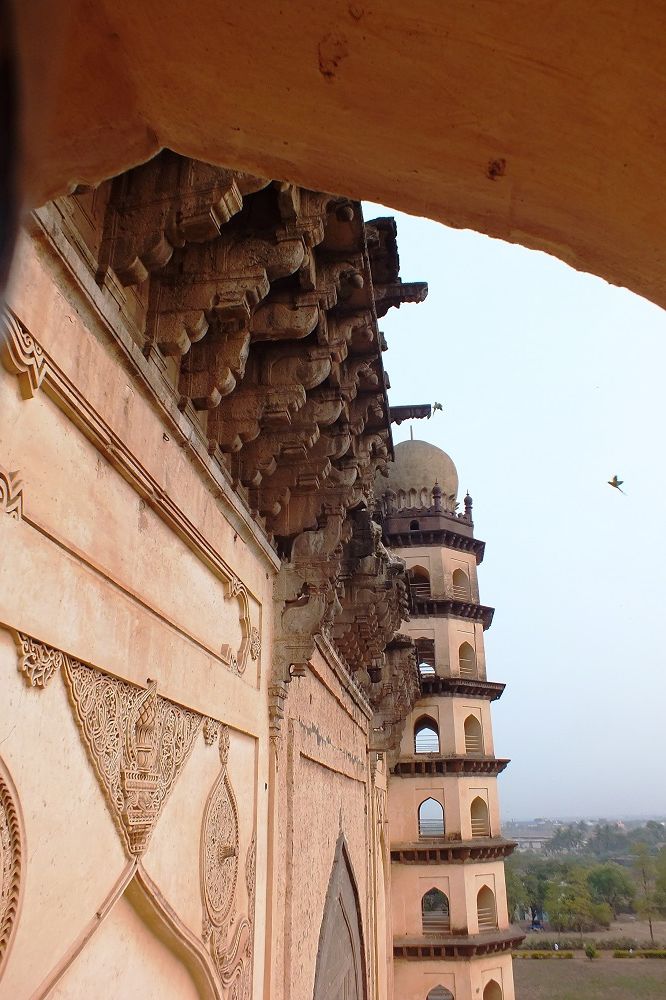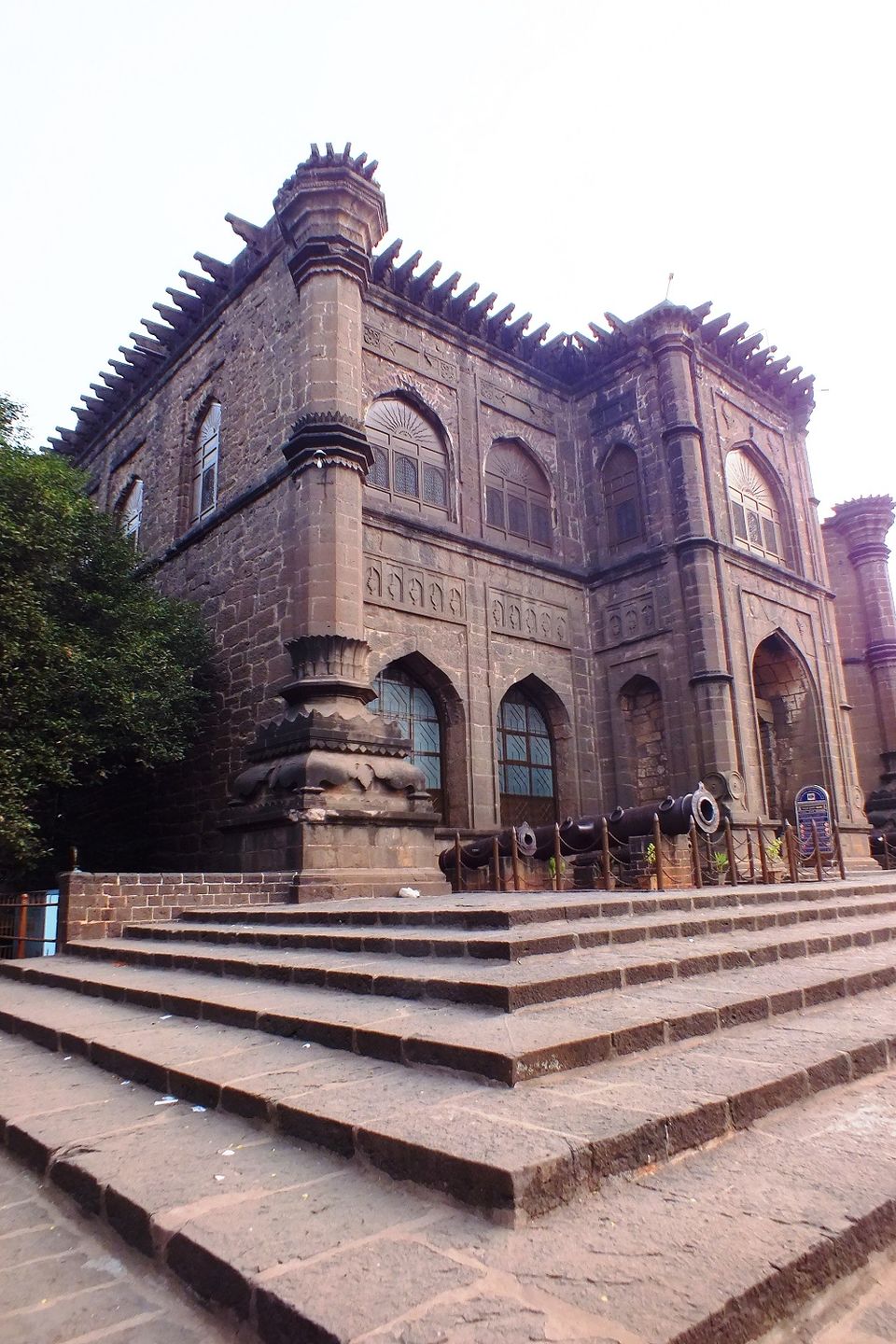 The Gol Gumbaz is Bijapur's pride. It could be one of the world's largest domes (with a diameter of 124 feet), an engineering marvel without pillars, completed in 1659. The four octagonal towers have seven storeys each. Spiral staircases inside enable you to reach the top. You can stop for rest at every level and get a view of the surrounding countryside. At the top there is a terrace/gallery which goes right round the dome and the views are spectacular.
Around the inner periphery of the dome is the Whispering Gallery. I felt a child's delight as I clapped my hands and the echoes reverberated several times over. I kept counting: Was it seven times or eight times? The sound seemed to be bouncing off the walls. You could not only hear it, you could actually feel it. It was an eerie experience. There weren't too many visitors (sad) and that made it easier for us. My friend Uma had travelled from Tirupathi and I had travelled from Thiruvanathapuram. We had met at Bangalore and visitied Hampi, Badami, Aihole and Pattadakkal before coming to Bijapur.
The masjids, masoleums, mahls and monuments all proclaim the past glory to Bijapur. Ibrahim Roza, an impressive monument houses the tomb of Sultan Ibrahim II (1580-1627). It is sometimes referred to as the Taj Mahal of the Deccan.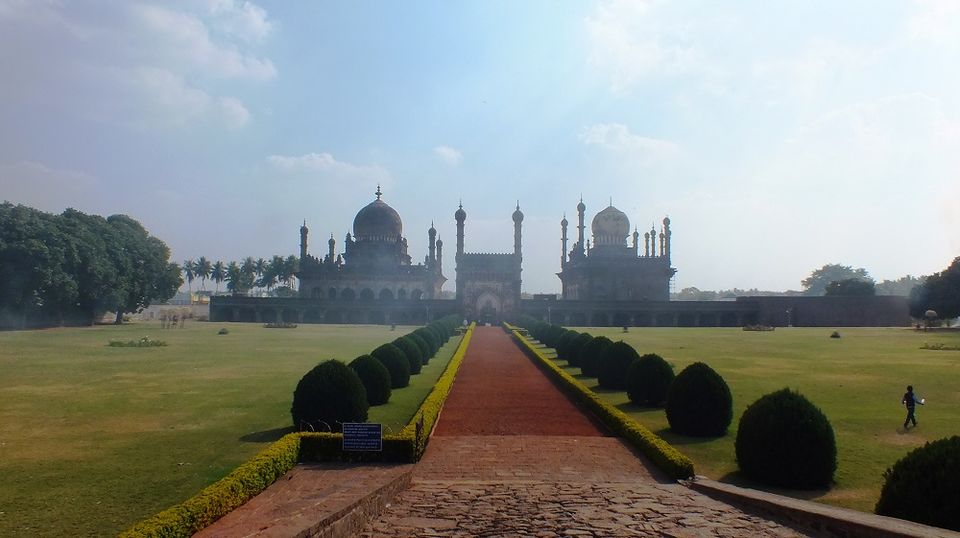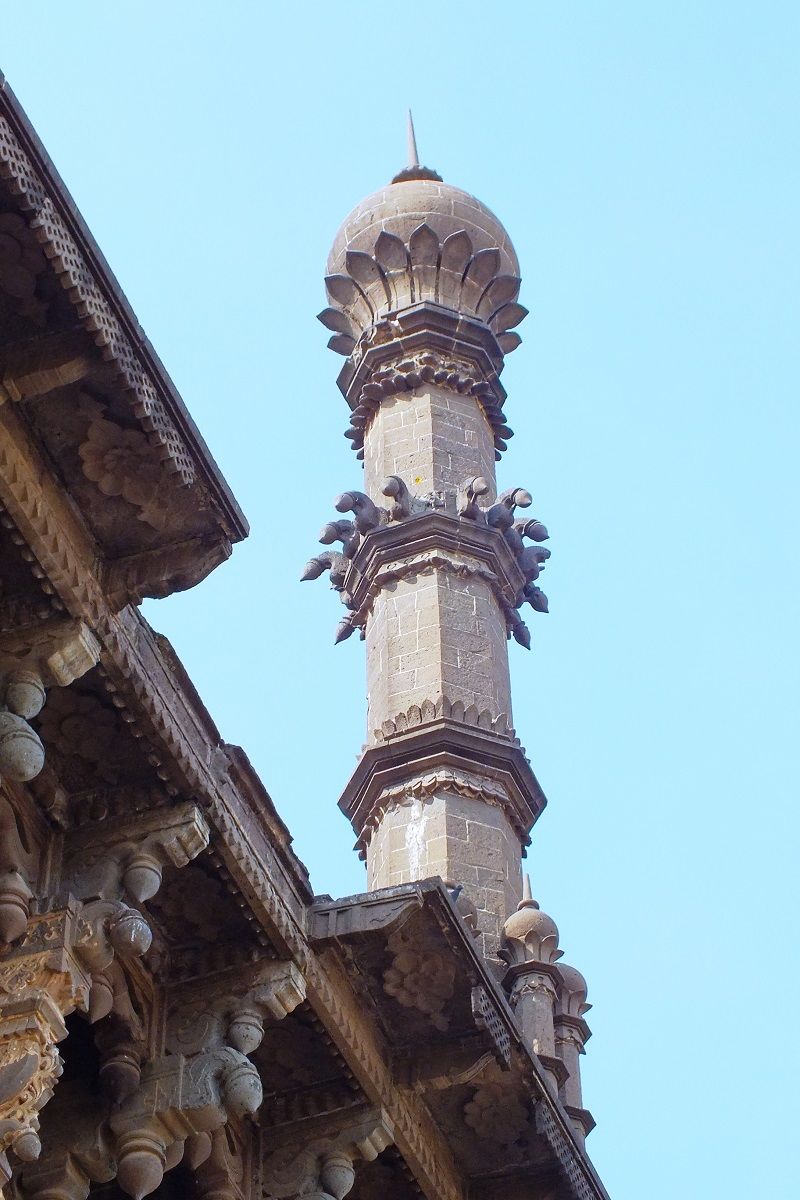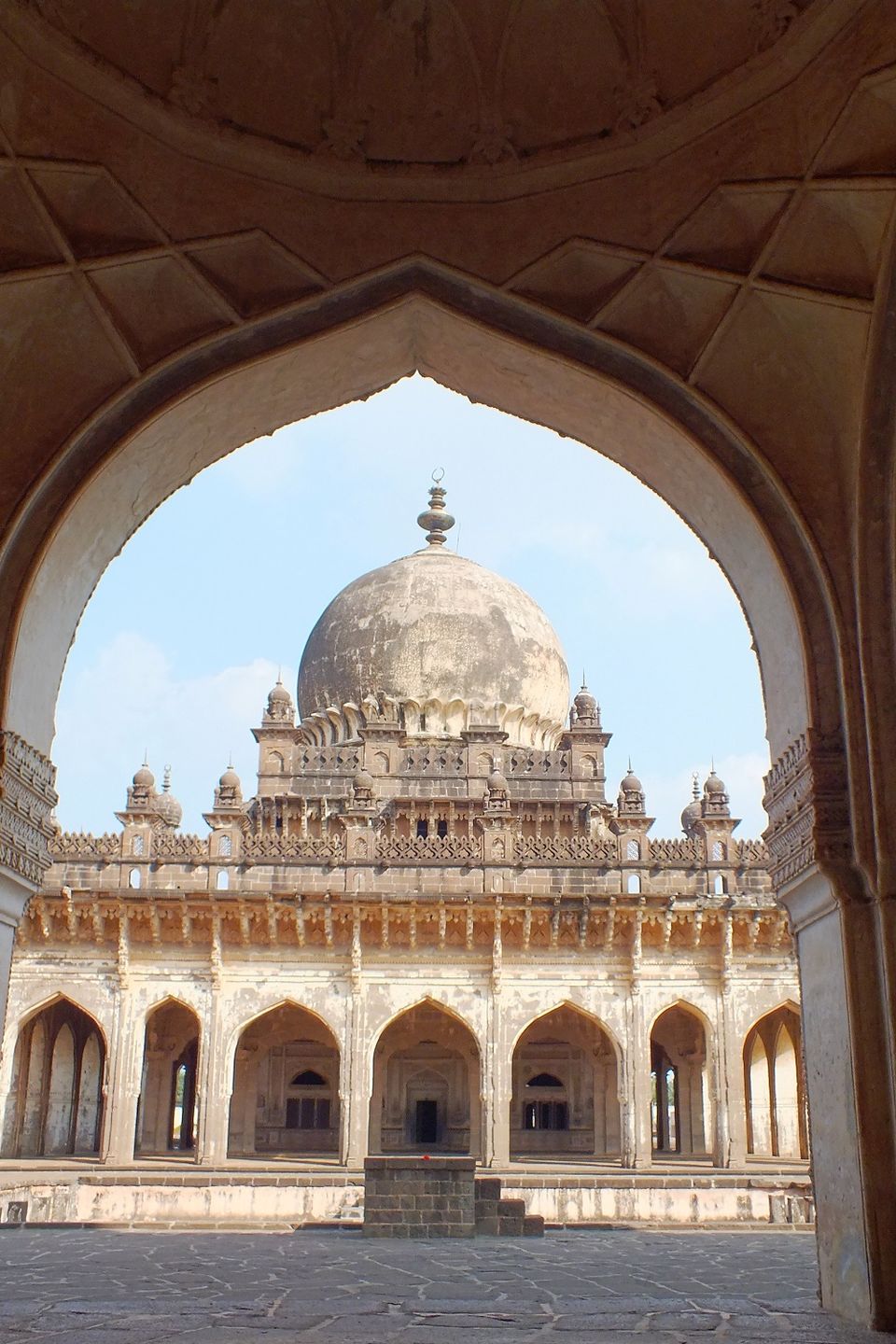 The Bara Kaman is an unfinished project of spectacular dimensions. The lonely arches standing out majestically against the blue skies presents a tragic spectacle and one wonders what the building would have looked like if it had been completed. Built in 1672 by Adil Shah II, it was meant to house his tomb. But he was killed by his father Muhammed Adil Shah (builder of the Gol Gumbaz). His mortal remains are interred there along with that of his wives.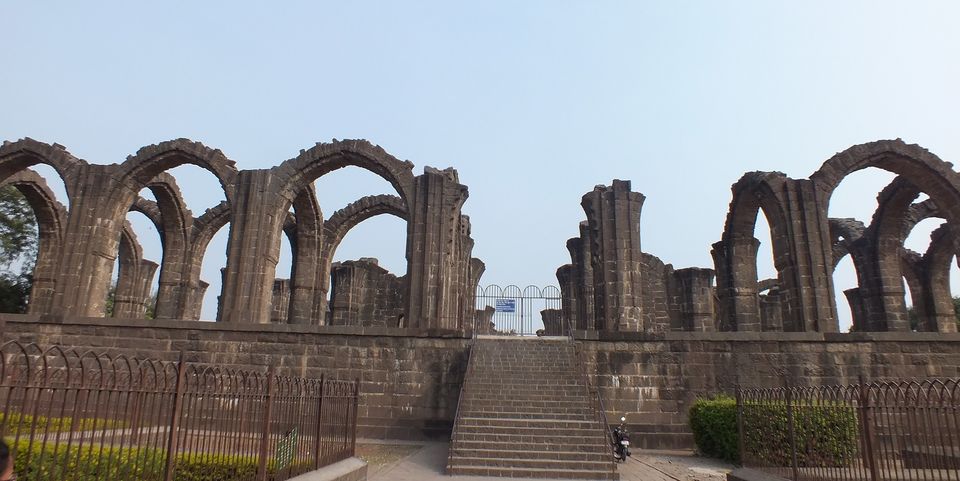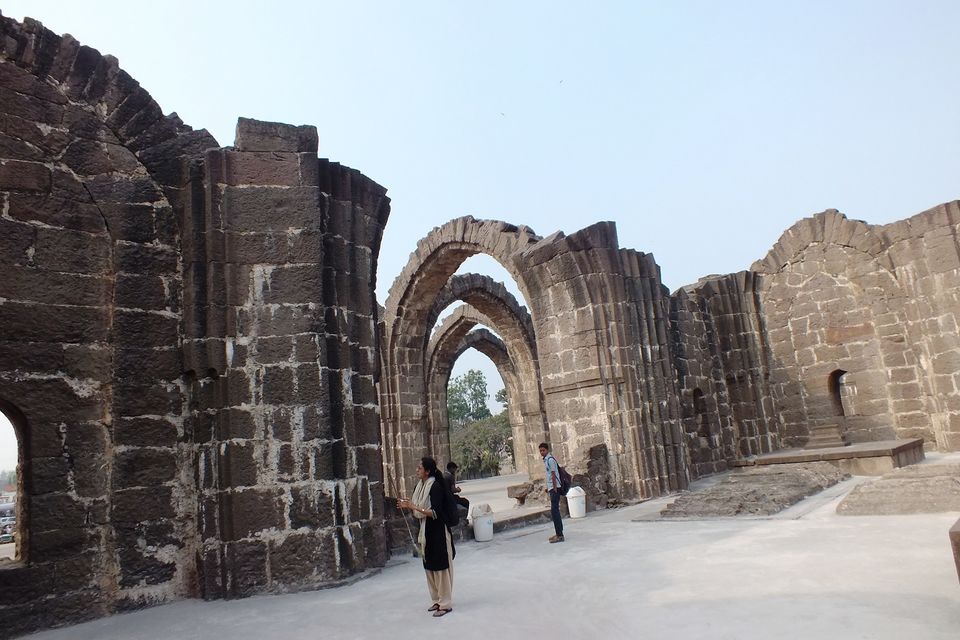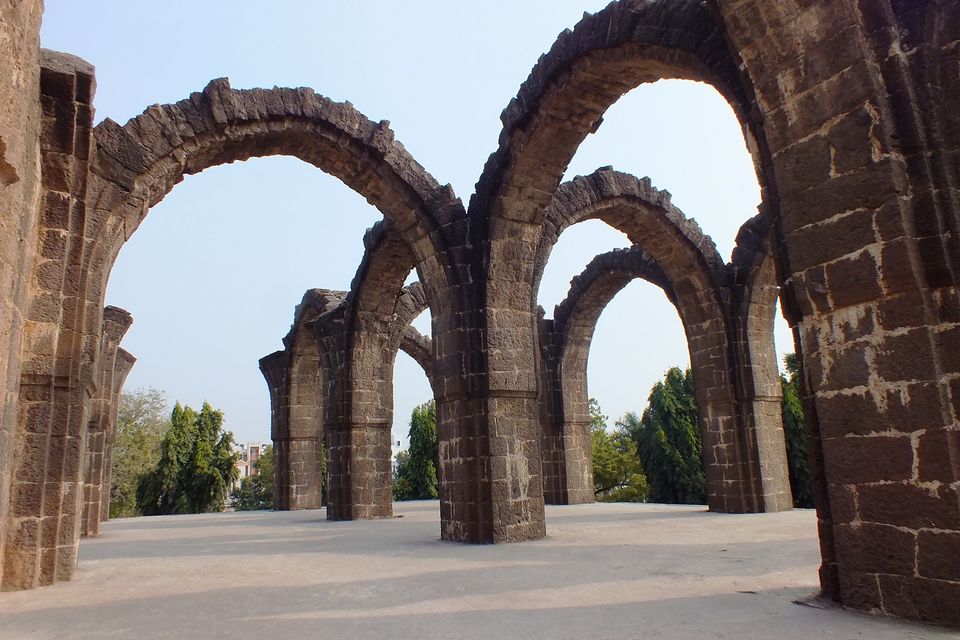 The Jamia Masjid is a huge mosque designed to seat 2250 worshippers. Built in 1578 under Ali Adil Shah I, it was later enhanced by Muhammed Adil Shah and Aurangzeb. 2250 inlaid rectangular tiles which give the impression of prayer rugs, form a unique feature of this 1,10,000 square feet mosque.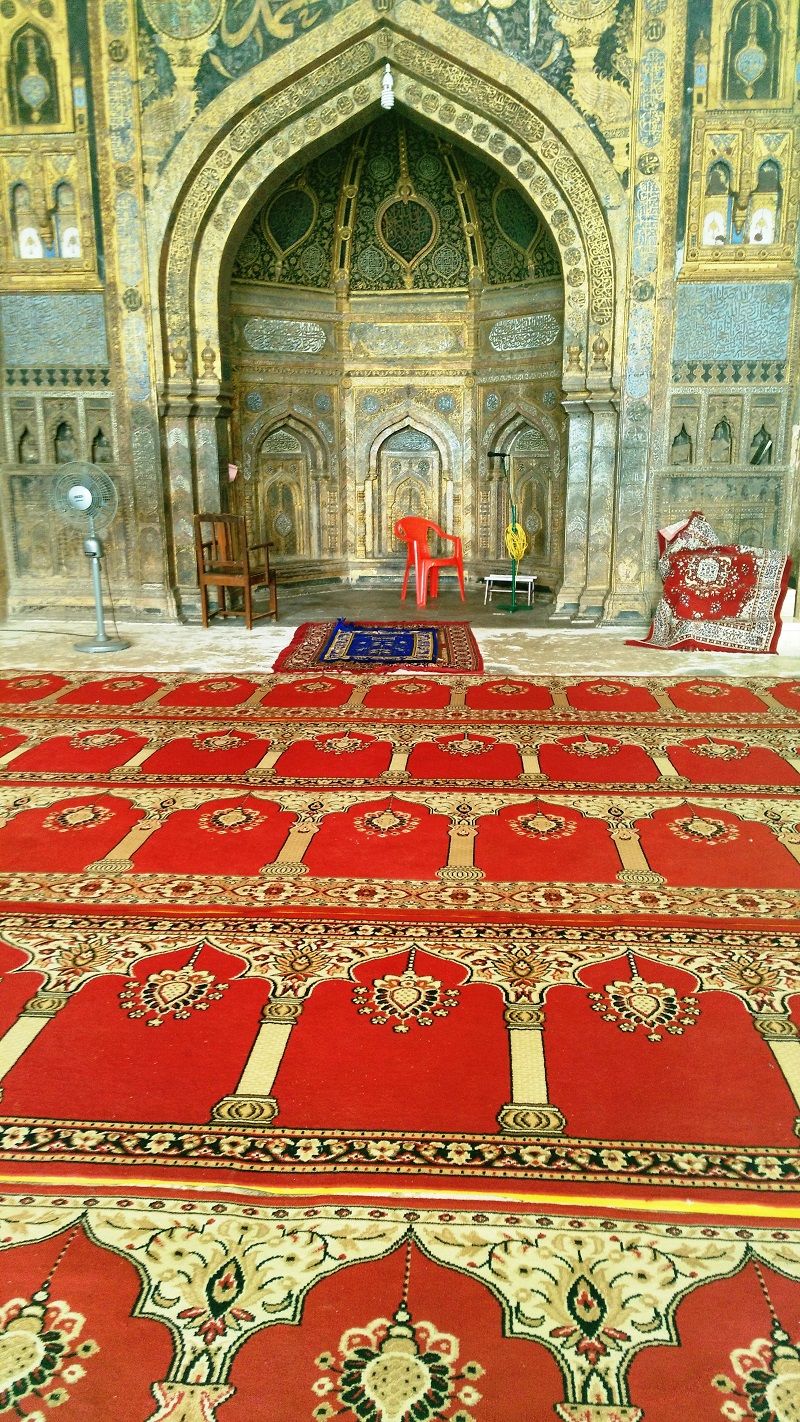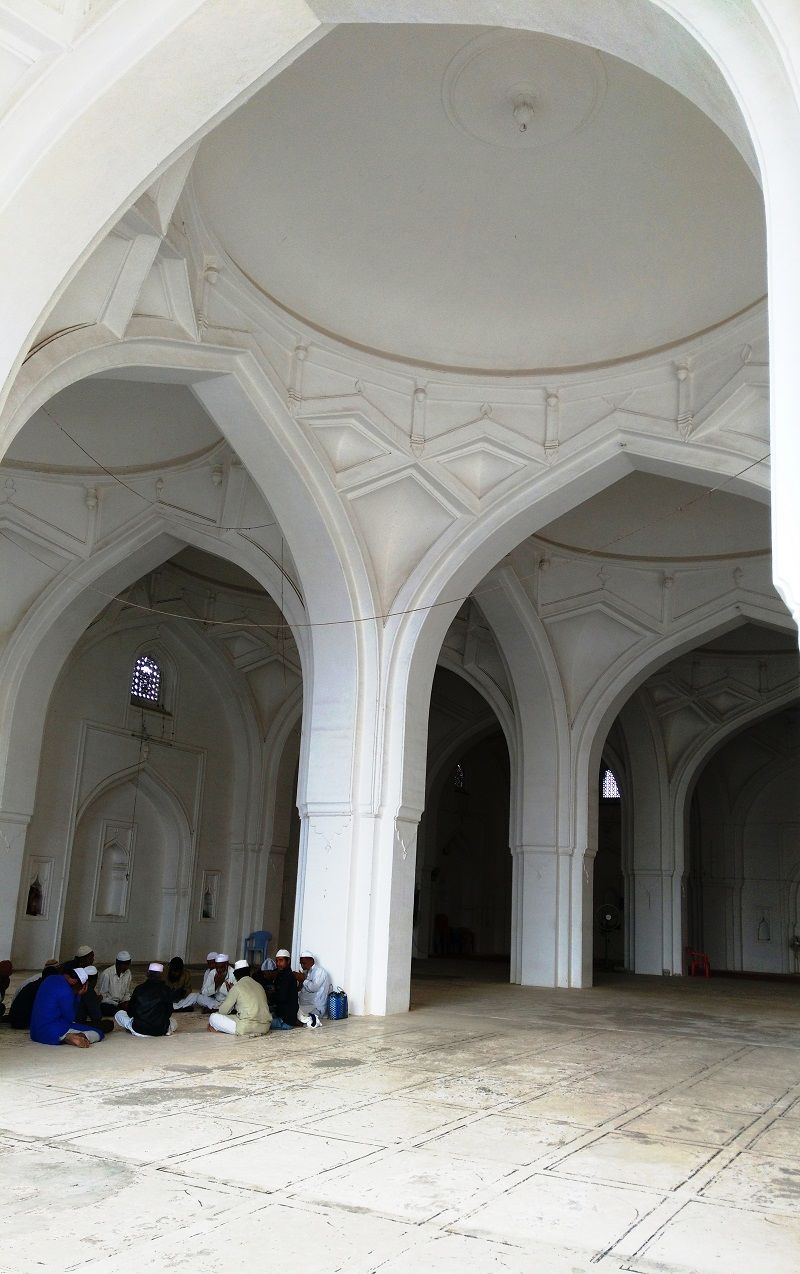 Gagan Mahal, Anand Mahal, Sat Manzil, and host of other structures are in ruins. The Jal Manzil is still interesting, though there is no water in sight, only a dry moat surrounding the tower.
The Mahtar Mahal is an exquisite ornate structure reminiscent of the Indo-Saracenic style. Only the façade remains. We went inside and found people living in makeshift houses built alongside the crumbling walls of this ancient monument.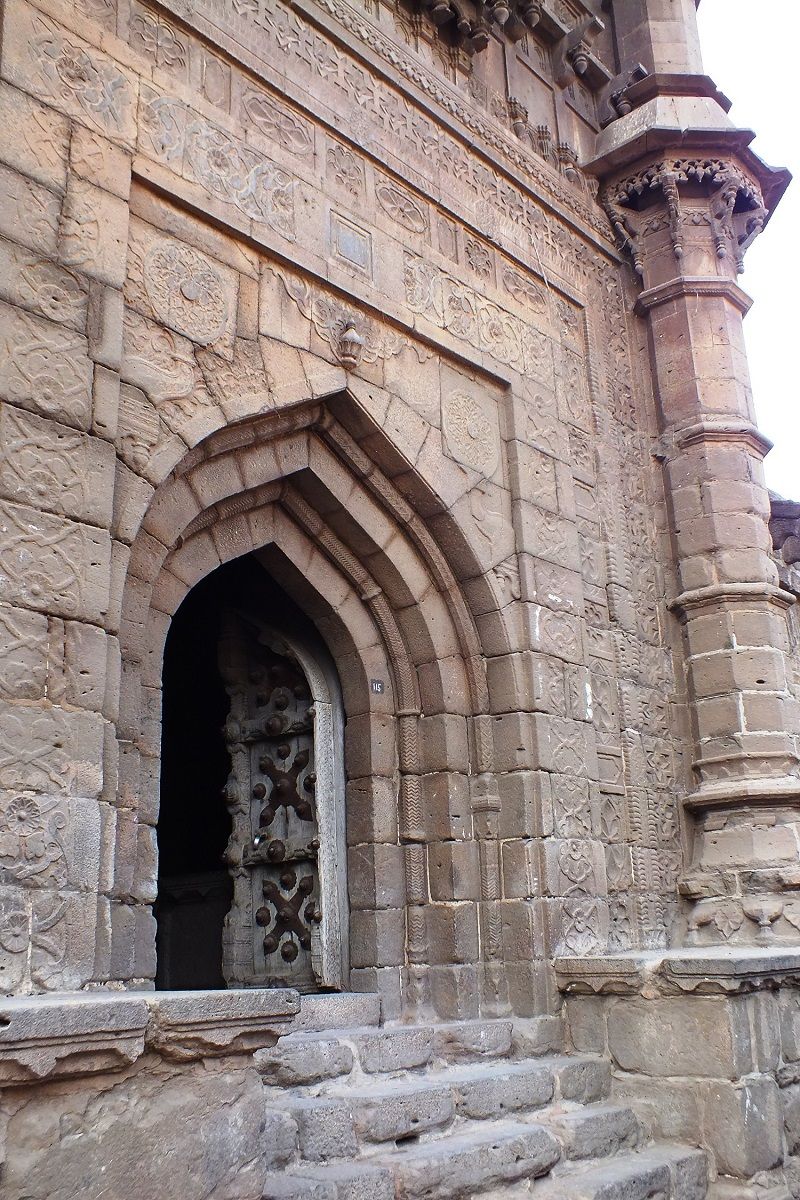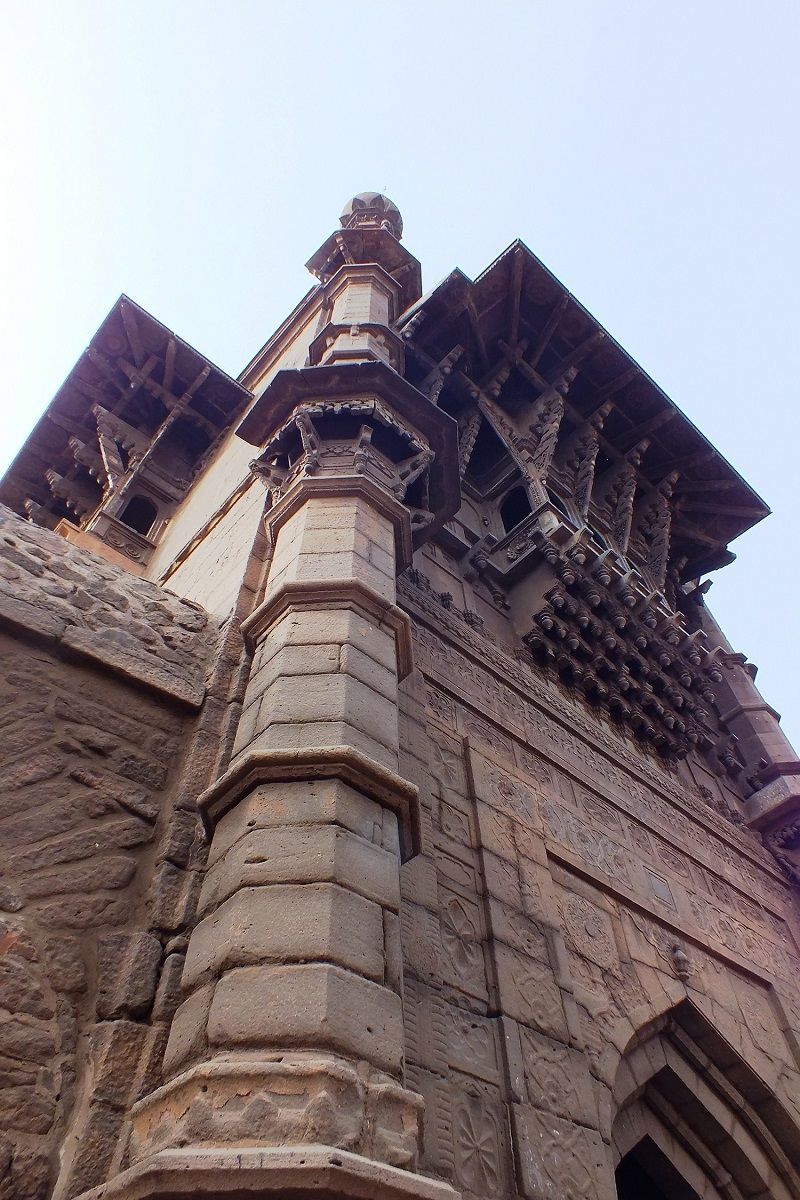 Malik e Maidan, a cannon mounted on the city walls by Muhammed Adil Shah weighs 5500 kilos and is 4.5 metres long. It is said to remain cool even in summer and is among the largest bell-metal cannons in the world.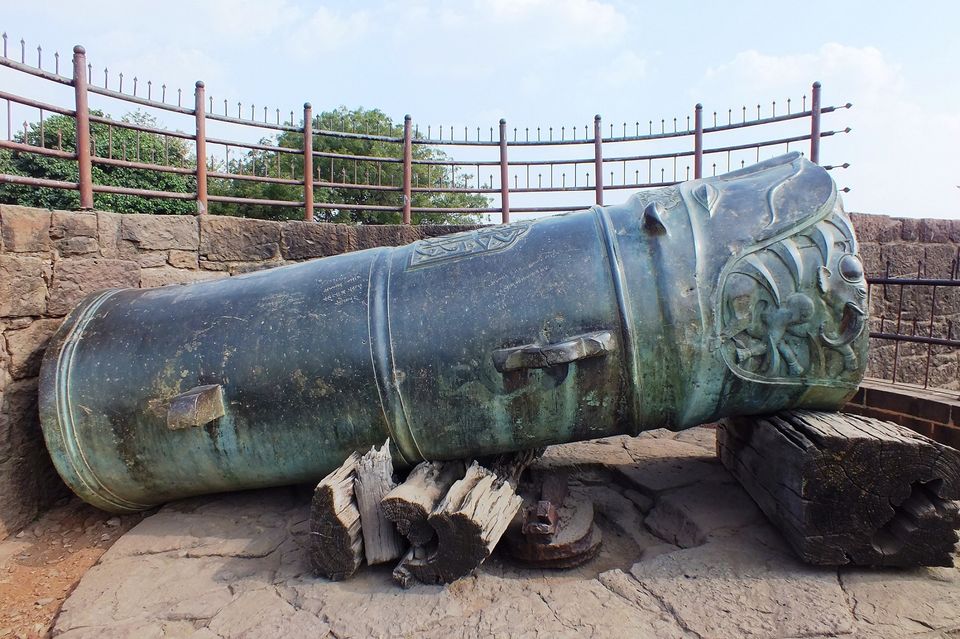 Chand Bawadi is in a state of total neglect and abuse. A magnificent tank associated with Chand Biwi (1550-1599), it is impressive despite its sorry state. Bijapur has a glorious history and Chand Biwi's name stands out as a lone woman warrior and regent. Born in Ahmadnagar she was married to Ali Adil Shah I of the Bijapur sultanate. (It was during his reign that the Deccan sultanates came together to defeat and destroy the mighty Vijayanagar kingdom at the Battle of Talikota in 1565.) By all accounts Bijapur breathes history.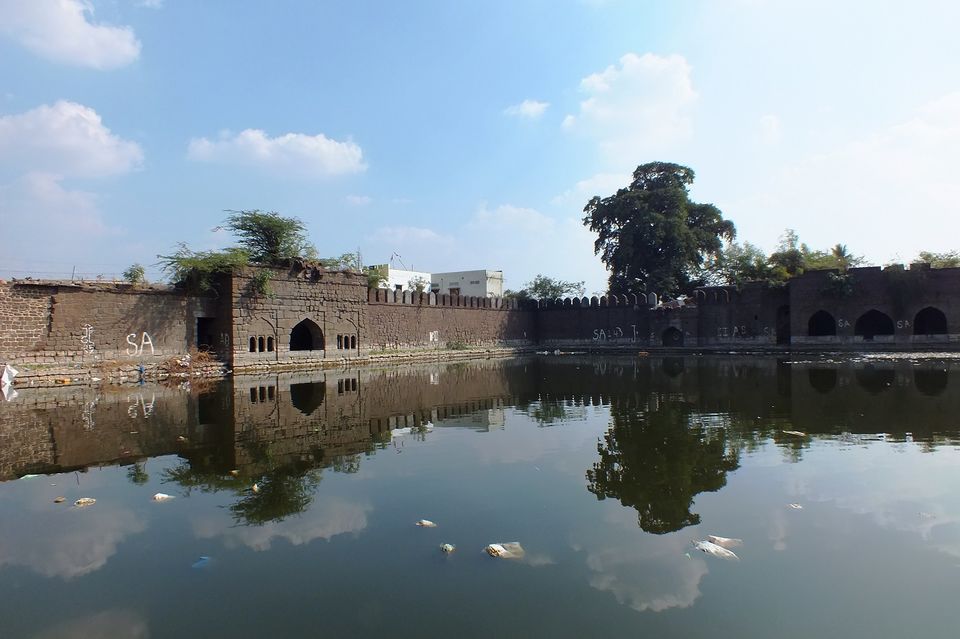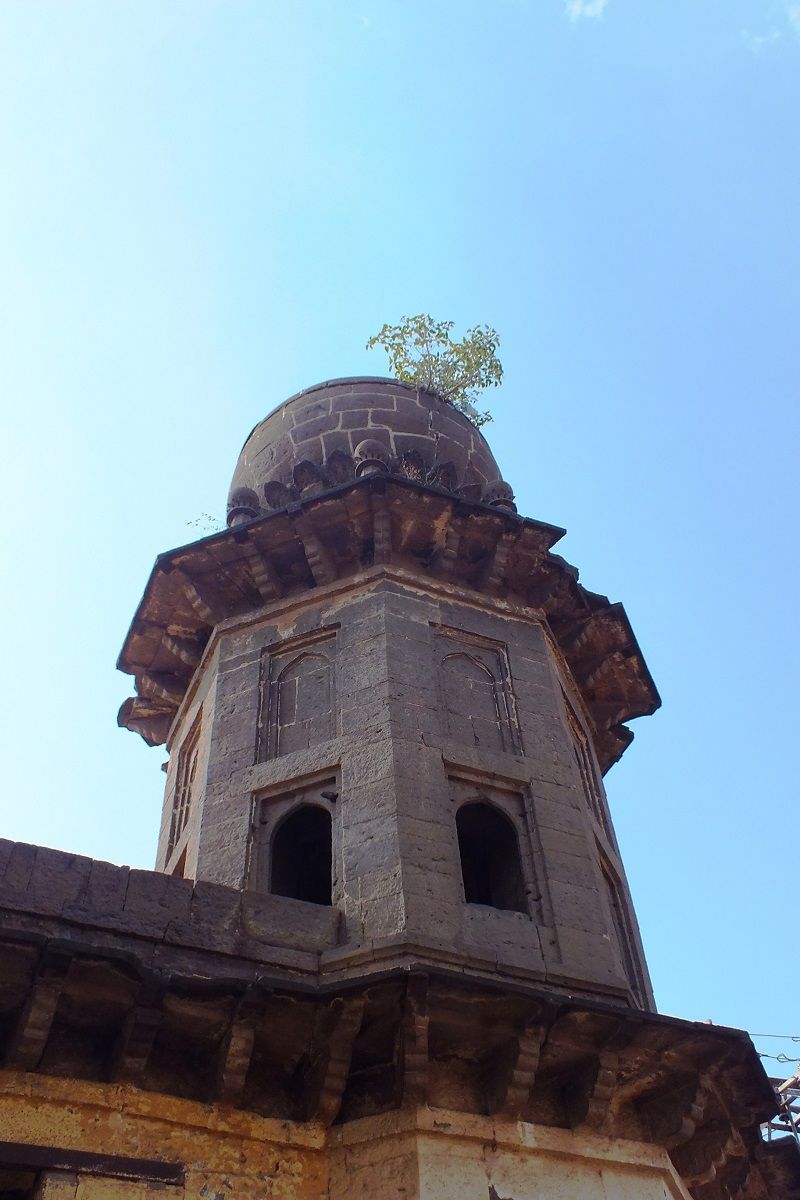 A contemporary of Emperor Akbar, Chand Biwi defended her native Ahmednagar against the Mughals time and again. After her husband was murdered in 1579 she became Regent for his nephew and heir (1580-1590). Later she ruled Ahmednagar from 1596 to 1599. She was a victim of palace intrigue both in Bijapur and Ahmednagar, and was probably murdered in 1599 after her last battle with the forces of Akbar. Soon after her death, Ahmednagar fell to the Mughals.