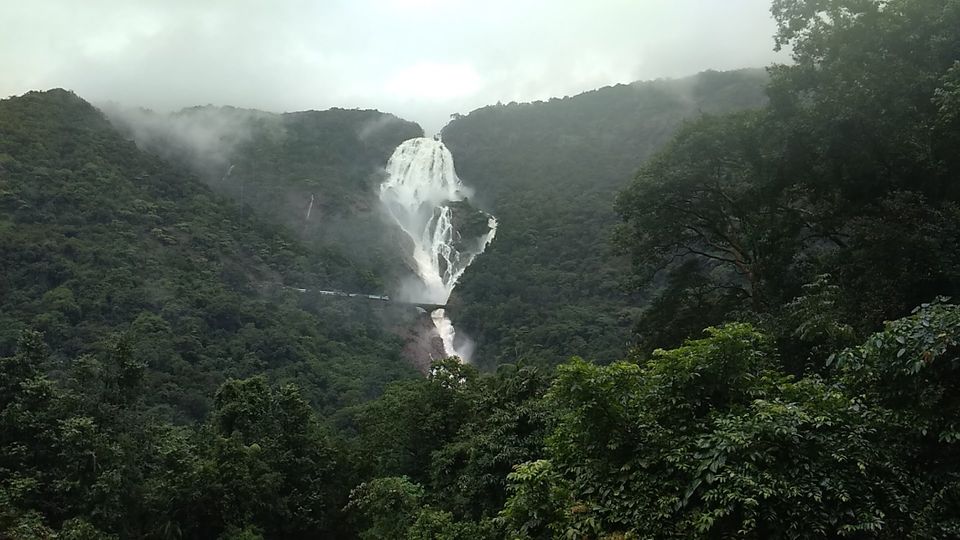 Whoa!!! This ever planned and cancelled trip is finally crossed off from my travel bucket list. That doesn't mean that it's sorted and we go there, see the place, enjoy the time and come back. No. Not this time. The train tickets are booked. That's it. Nothing more. A bit less than that actually. We didn't get confirmed tickets for two train journeys. So even that's not perfect. We don't know how we are going to get near to the waterfalls. There are two stations and both are more than 10 kilometres apart. And the whole place is a forest and comes under forest department. No roads to get there. No cars could go easily. And even if they could the best sight is when we go by train and Trek through tracks amidst the jungle. We couldn't get a direct train to the near by station so we decided to go to Hubli from Bangalore and spend a day roaming around. Take a night train from Hubli to castle rock or Kulem which reaches at 4:30 in the morning. Then we booked a return train from Kulem which starts around 4:30 in the evening. So we have 12 hours of time to cover more than 15 kilometres by walk. And it's not just plain walk with directions. We don't know how to go about to the place. If we follow the tracks we could get there but that's banned by forest department and if we get caught doing it we could be in trouble and has its own consequences like penalty and may even be jail. And oh parents were not so chill about us going there because of the rains throughout India. But we had to. We wanted to. But we didn't know how. So we set out on our way to see how things go and do things in the flow and enjoy the adventure.
As the clouds gather over the mountains and the rains start to shower filling up the streams and waterfalls, we decide to celebrate the monsoons drenching ourselves completely in the rains as others keep running inside their houses. For others this is the time to take cover and enjoy the day indoors but for us this is the time to embrace the adventure, the unknown in search of unexplored paths and unexpected adventure as we book our trains, pull down the windows, feel the droplets hit our faces and smiles plastered on our faces just to say that monsoon is worth celebrating!!! So, for us monsoon of 2019 was about this one thrilling and adventurous journey to Dudhsagar waterfalls. Follow me on Instagram @vinay.522 for more pictures and travel stories!!!
After a bus ride of an hour and a half, I was in yesvantpur railway station at around 11:30 pm. Cousins were already waiting at the station. We had a tea and after a quick talk about football and plans for tomorrow we got into the train. We arranged our bags. Talked for some time and called it a day and went on our seats to sleep after some time of scrolling through phones and listening to songs. We dozed off as the network died. After a good sleep which wasn't quite normal for me at least we woke up at around 7:00 am in the morning. We still had an hour or so to reach our first destination of the trip. After a quick photography session through rainy windows and doors of the train and stations on the way we reached Hubli at around 8:00 am which was a bit early than the scheduled arrival time. We washed our face and freshened up. Got ready for the day trip in and around Hubli and Dharwad.
We got out through the underground tunnel to exit the railway station and made our way out to less crowded and calm place rather than busy surroundings and people everywhere. It had rained early in the early morning and the roads were wet and potholes were full of water. We decided to walk to the most happening place which was kittur rani chenamma circle. It was a junction with a grandeur statue of rani chenamma on a horse. After some sightseeing around the junction and glancing through nearby hotels we decided to have our breakfast in Aditya restaurant which was exactly opposite to bus stand. After a good breakfast of dosa, vada and puri and not so good tea we made our way to rent a scooty through royal brothers which was available in Hubli. It was already drizzling a bit now but we only had an option to spend the day roaming around Hubli or rest in a hotel. We decided to rent the scooty and enjoy travelling around in the rain.
After a round trip around Hubli and getting lost at a place and few calls later, we made our way back near to railway Station. We had to come back to hall town where the royal brothers had shifted to which was not updated on Google maps. After few more drizzling breaks, booking the bike and waiting for the keys we started on our journey around Hubli on scooty. We went to glass house and it was a weirdly unique tour around the shattered glass house where we weren't able to find a single glass window which wasn't broken. There were few statues which added even more weirdness to the place. After some walk round the park and a much needed coffee break we were out of the place. We decided to go to the mall in the city. We went to the game zone and played cricket, Table Tennis. When we left for lunch it was pouring down heavily. We decided to wait for it to subside. After a long wait we made our way to a hotel where we heard the biryani is yum. So was it. As we were having our lunch it started raining again and we took our time eating our food slowly. We had a tea at a nearby place. It had stopped raining but was drizzling a bit and we thought that it won't get anything better than this. So we left on our bikes to nruptunga hills. After a nice ride through curves and empty roads we reached the hill top. We had to walk a bit from the entry gate to reach the view point. It was chill and cold at the top. It wasn't much of an elevation but the weather was awesome. It had stopped raining and the wind was blowing softly. The sight of greenery all around, empty roads and a sleeping city was worth it. We walked back to the gate enjoying the weather and walking through the breeze.
Later, we decided to go the lake nearby which we spotted from the hill. The view from the hill showed us the lake was full. We made our way down the hill and to the unakal lake. There was a small temple on the roadside but there was no way to get closer to the lake. One of the peaceful place located between Hubli and Dharwad. Best place to go with family and kids in the evenings when the weather is clear. Very scenic. After a ride around the lake we found there is an entry gate which leads to garden from where we could have a good view but decided to pass through without stopping by. There was Akshayapatra foundation on the same highway followed by Iskcon temple. As we had some more time, we decided to ride through the highway which was smooth and wide enough to enjoy the ride. We went to Iskcon and then upon asking if we can get an entry to Akshayapatra we got to know that it's possible but only till 4 in the evening. It was around 5:30 now so we went all the way to Dharwad to have authentic Dharwad Peda which is the most famous sweet available there. It was around 7:00 PM now and it looked like it would rain. We came back to Hubli by 8:00 PM and returned the bikes. We had our dinner at hotel moonlight which was mostly empty and warm which is what we were looking for. We had some time for our train which was to arrive around 11:30 pm. We ordered our dinner and made some calls. We enjoyed the food watching India vs West indies 1st T20 match. The food was hot and delicious. The service was excellent. It was much better than we were expecting and we had a very good time.
After a long dinner break, we started prepping up for our main event of the trip. Getting ready for the early morning trek. We bought some snacks and searched for raincoats. Most of the shops were closed as it was around 10:00 in the night but we found a small shop which was still open and they had raincoats. Not something fancy but quite what we were looking for. We bought the raincoats and borrowed some covers to scrap around our bags trying our best not to get soaked in the rain. We looked at the weather prediction and the possibilities of the rain throughout the day stood around 98-100%. Now we started to have our doubts if we can trek or not. The trek was supposed to be through forest area along the train tracks and considering the rain and the risk, we wanted to be ready for the challenge and see what we can do on the spot. Apart from all these troubles our train would throw us out at around 3:30 in the morning at a small station from where we had to trek for about 15 kilometres to reach the waterfalls. The train arrived on time and we boarded and decided to sleep early as we had a rough day ahead and very little time to sleep. We woke up around 3:00 in the morning and it was raining cats and dogs. We could hear the sounds of rain dripping on the train and the gushing winds through the windows. We were clueless with what we were heading towards and what we wanted to do. One positive thing of all these events was that our train was delayed by more than an hour and that meant more day light when we reach castle rock station and hopefully some people to accompany to the trek. It was around 4:30 and we were near castle rock station. It was pitch dark outside and we couldn't see anything in that rain. As we were getting ready to get down in the station there came a group of around 30 young students who were waiting to get onto the train. With all the doubts and clueless situation we decided to skip the station and decided to follow the group hoping they knew what they were doing. We had booked our train till Kulem which would arrive after Dudhsagar but even then we had to come back trekking for 14 kilometres to waterfalls.
After some observations and few talks, we got to know that even though they were not stating the obvious they had a guide and they were going to the waterfalls. So we decided to follow their plan even when we didn't knew what it was. We got to know that train would stop near Sonaulim station for less than a minute which was around 6 kilometres away from waterfalls and they were getting down there. So were we. Train stopped. There were around 30-40 people getting down including girls who were slow to get down as train stopped in the middle of nowhere and not in the station. However, we all got down somehow and waited on either side for the train to pass by waving at the people on the train who thought we were crazy to get down in the middle of the forest. It had stopped raining and the day light was out which was the perfect way to start the trek. Now that we were on the trek all the doubts have swept away just like the rain. Finally we were on the trek. The sight of the morning weather was awesome. The sounds of the forest were soothing. The view of the forest and the clouds hanging below the mountains was mesmerising. The feeling of just being there had already made this trip worth all the trouble and uncertainty it had with it. The cameras were out and we walked on the rocks, on the track balancing our weight and walking on the track. We made way standing onto the sides of the tracks for the trains to pass by which were mostly long carrier trains. We made our way through the tunnels which were dark enough and to add to it the sounds inside the tunnels were more creepy. Once, we were inside a tunnel and the train came by. It was nerve-raking experience. The whole tunnel was trembling and the sound of the train almost tore our ears apart.
We walked on and on and on having some snacks on our way. After a long two and a half hours of walking we came to a spot from where we could see the view of waterfalls. It was a curvy way ahead and the waterfalls were right opposite to where we were standing. It was the best sight to view the waterfalls. The water was milky white and the way it was falling down it seemed as if it was standing still without any movement. We were awe struck with that view. It was the most magnificent of all the waterfalls I have seen in my life. Everyone around were just staring at the beauty of it and seemed like they were hypnotised by its beauty. Eventually we decided to go ahead and get a closer look at the waterfalls and we started walking. Now, the rain was back. It started slowly but grew rapidly. The raincoats were out. The cameras got the cover protection. But there was no change in enthusiasm and fun. There was no stopping now. We were pumped up and there was no way out of this. So, we kept on walking in the rain drenching every bit. Rain played hide and seek for a bit. Finally after three hours we reached to our destination. From afar it looked crystal clear and beautiful. Now from as near as we could get it looked ferocious and tremendous. The water flowing at rapid speed and the sound of that was completely different to what we saw earlier. Standing on the front of the waterfalls for few seconds and we got soaked from top to bottom because of the drizzling. After enjoying some time near the waterfalls and getting ready for the return trek which was about 14 kilometres, we left on our way back with the group.
It had been drizzling throughout our way back. Our raincoat or bag covers didn't work quite the way we assumed but in that rain we didn't have much expectations. They had done their part and we decided to carry on with what we got. We walked till the station we got down along with the group but they got diverted after the station towards a creek and temple where their breakfast was served. We decided to continue on ourselves. It was the straight way along the railway track till we reached an yellow board which said Kulem. After walking for sometime we were welcomed by a tunnel which was the most darkest of all. It was a curvy one and we couldn't quite see the light at the end of the tunnel. We decided to take a break and had some biscuits and snacks. After sometime we went into the tunnel with a torch which had lost its appetite to glow and was giving up. It was creepy and looked scary and we were only three of us. The pitch darkness and the creepy sounds of it made it a very haunting experience and we made our way ghastly. We were relieved when we saw the light at the end of the tunnel. What followed was increasing rain, heavy shoes and bags, over burdened legs making their way for this to end. The later of the walk was through open surroundings of the forest which was dense but quite open and we felt a bit different about it because it changed all of sudden. Before it was about big trees and a bit of secure and now it was open with dense plants on one side and muddy water gushing through a river on the other side. The floods were real and the speed at which the water was flowing with trees floating was intense.
After a long 14 kilometres walk in the rain drenching every bit and giving everything we had for the love of adventure and travelling brought us to the destination we were very much eager to reach. The sigh of relief when we saw an yellow board which said Kulem in bold black letters brought a smile on our face. A small station with hardly 10-12 passenger train stops and a small canteen which served tea and samosa. We threw our bags and sat on the chairs. That sudden change after walking for that much distance made our legs ache even more but they quickly adapted to the relief. After that rain soaking walk the feet were so bright and looked like zombie feet with all the whiteness and the soaking. We took some rest and had tea and samosa. After searching our bags for some dried clothes, two of us had wet clothes but I was in joy when I found exactly one shirt and pants which were dry.
We walked through the small village and found mostly empty streets and closed shops. We went back to station and had another round of Samosa and tea. We waited for our train. As time went by, the station accepted more and more crowd than it could handle. And finally train reached at around 5:00 pm. We took our seats and waited for the train to start without any delay. It took around 10-15 minutes for the crowd to settle down but the train didn't start. After swapping seats with others and changing our seats but still the train didn't leave. We became impatient and asked around. There were rumours spreading that there was a landslide on the tracks and after a while and a call back from home it turned out to be true. There was a landslide on the way we were supposed to travel and the work was in progress to access the situation and see what can be done. We wouldn't be much worried about what would happen if we didn't have a train scheduled at 11:50 pm from Hubli to Bangalore. We were delayed by as long as 3-4 hours before the train eventually started. We were tired and were not so hopeful about catching the train from Hubli. So, we decided to take some rest with the uncertainty of what would be our travel after midnight. We thought of taking a bus from Hubli. I slept off as soon as I hit the upper berth and woke up when we were near to Londa station. By the time we reached Londa, the other train had already left from Londa and we have missed our one last hope of getting the train. We travelled till Hubli and woke up exactly when the train was in Hubli station and it was 3 in the morning. After waking up half asleep and running through the station looking for Ticket Collector to negotiate if we could get a seat in the same train we came which was going to Bangalore. To our luck which was much needed we found him and after talking about the situation he gave us seats which were empty in Hubli station and asked to change if someone took them in other stations. We dozed off again as early as possible and woke up when the morning sun was beaming through the window. We were delayed and reached Bangalore 4 hours late but we had no reasons to be angry because we were in Bangalore after what seemed like a impossible task.
We made our way out of the station and parted ways to our own places to lead our daily lives. That's how the trip ended but when we talk or think about the trip we mostly talk about the adventure and the fun part which were worth all the trouble we faced.