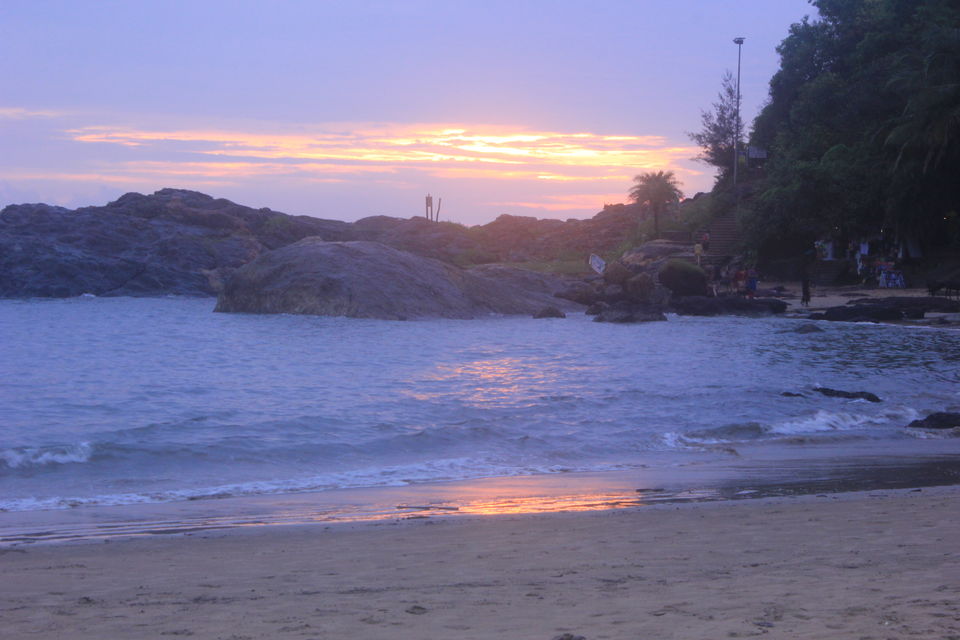 When my friends and I decided to go Gokarna, I thought spending two days in Gokarna is a waste of time as a simple Google search didn't list many interesting things to do in Gokarna. But it turned out that we left Gokarna with many things not crossed off our to-do list. We left from Pune to Belgavi and then we went through Kali Tiger Reserve to Karwar. I have to mention about the Kali Tiger Reserve as the road was in between the forest. Karnataka government has done a good job by providing good roads as we zipped through the dense green trees on the tar road with hoardings carrying a caution about the wildlife zone. We were hoping to find a Tiger or at least some other wild animals in this reserve area. Unsurprisingly, we didn't find any wild animals except monkeys and Buffaloes. It was absolutely fun to ride on this road. On our exit from Kali Tiger Reserve, we came across the Kali River. Upon seeing the greenish blue water in the river, we stopped our car to admire the beauty.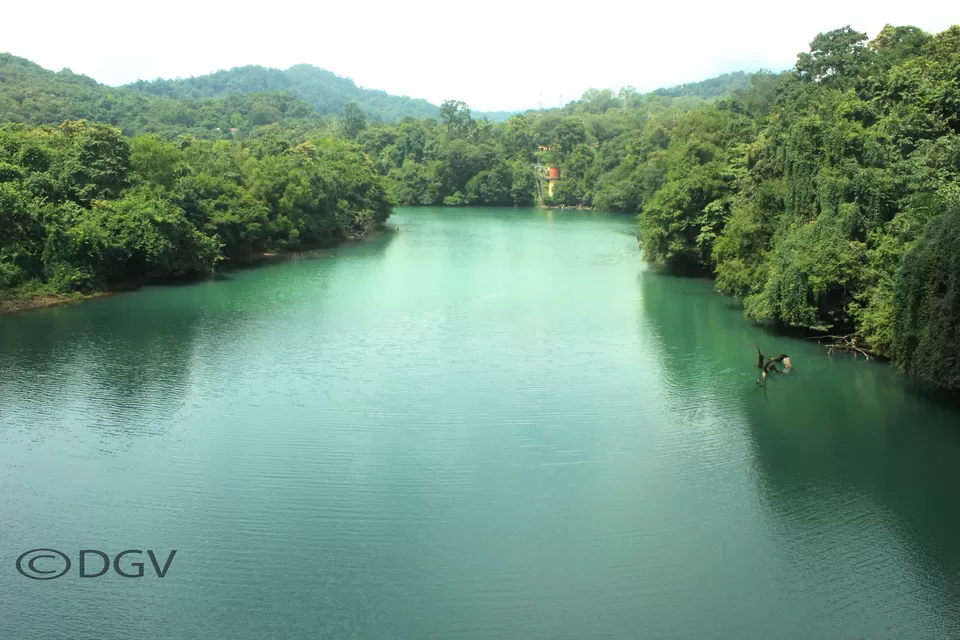 Then we went to Karwar through the Karwar Kali Bridge. Stop on this bridge if you want to see eagles. Later we made a stop at Rabindranath Tagore Beach and had delicious seafood. We reached Gokarna in the evening to see the sunset. But the sun was covered in the dark grey cloud blanket so we couldn't see the sunset. We stayed in Zostel, backpacker hostel, located in a cliff near Gokarna Beach. Pradeep, manager of Zostel informed us about Vibhooti falls and Yaana Caves. He told us that Yaana Caves and Vibhooti falls images in google don't do any justice to their beauty. One has to see them through their own eyes to savor the beauty and we found that he wasn't lying about those places. Vibhooti falls and Yaana Caves are 60 km away from Gokarna/Khudle beach.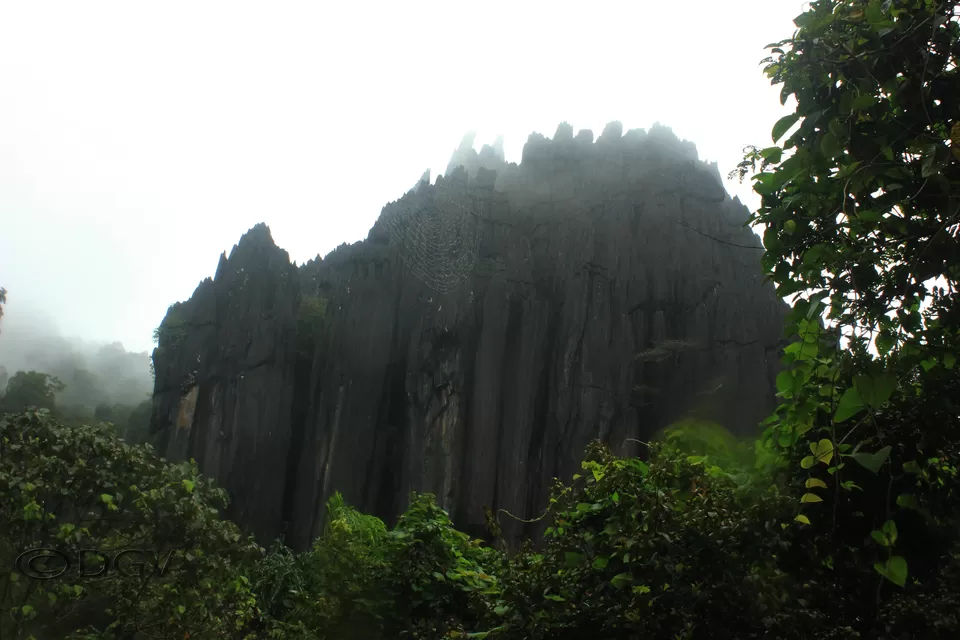 Yaana Caves is located in the jungle and you have to walk few meters from the parking area to the Caves. This picture may not tell you the magnificence and the beauty of the rocks in the Yaana caves which were very much palpable when we saw those rocks through our eyes. The black rocks are sharp and looked like they have been shredded with giant shredding machine from a different planet. Those rocks look like asteroids. This is a less known place and not much commercialized yet. Pack some snacks and food items while going there because I am sure you will be hungry after you finish your trip in these caves. From Yaana caves, you can trek for 3kms to Vibhooti falls or you can take the road route like we did. Luckily the water flow was high on the day we visited as it was pouring down continuously on that day. Because of this reason, I couldn't click any photos in this waterfall. Be careful in this waterfall, as the pool here is so deep, stones are slippery; fishes and leeches were seen in the pool. Once you see the greenish blue water in the pool, you will forget all my cautions and you will just dive in like a fish to enjoy. Do not come back from Gokarna without visiting these places.
The best thing in Zostel is that you share a room with strangers. So you get a chance to talk with new people. I talked to one guy and came to know the best place to eat breakfast. Shree Shakthi hotel in Car Street is the best breakfast center in Gokarna. I am not giving too much hype about this place. A painting at this place by some guy from Switzerland is the testimony to my statement. We tried to infer the references in this fantastic painting while chewing our hot homemade-cheese masala dosa. They serve best homemade cheese. We were left with many questions upon seeing the painting like why Peter pan is using the hair drier or its a water gun? I don't know. Just fill in your thoughts in the comments if you get anything from the painting.
The next things we crossed out from our to-do list were visiting Om Beach and Namaste Cafe. Finally, we saw the sunset in the Om Beach. Namaste Cafe has an awesome sea looking view. Some of my vegetarian friends complained about vegetarian dishes but Kingfish fry and Butter garlic crab were delicious at this place. The next day we planned to trek to Half Moon Beach and Paradise Beach from Om Beach. But we played foosball till 1.30am on that night. Consequently, we woke up late in the morning and thus ruining our trekking plan. We took a boat ride to those beaches. These boatmen will try to loot you and beware of them. We paid Rs.1000 for to and fro trip to Half Moon and Paradise Beaches. First, we went to Paradise Beach and we loved this boat ride. We found few foreigners enjoying themselves and tanning their body in the bright sunny day in Paradise Beach.
Half moon beach was as empty as a theatre running Himesh Reshmiya movie. A cafe is hidden behind the rocks. Sit on the chair at this Cafe, sip a lemon soda and see the waves coming at a speed and hitting the rocks to become drops. At this point, you will start loving your life. You may even think about leaving everything behind and stay in this holy place. You may not hear the Lord Shiva's voice in this religious place but you will certainly hear your inner voice telling you to stay here for some more time. We were feeling little sad that our stay in Gokarna was going to be over. We even thought about extending our stay in Gokarna as we didn't cover many places like Honey Beach and Prema restaurant. We were left with no choice but to go Murudehswar.Then we left to Murudeshwar with a heavy heart.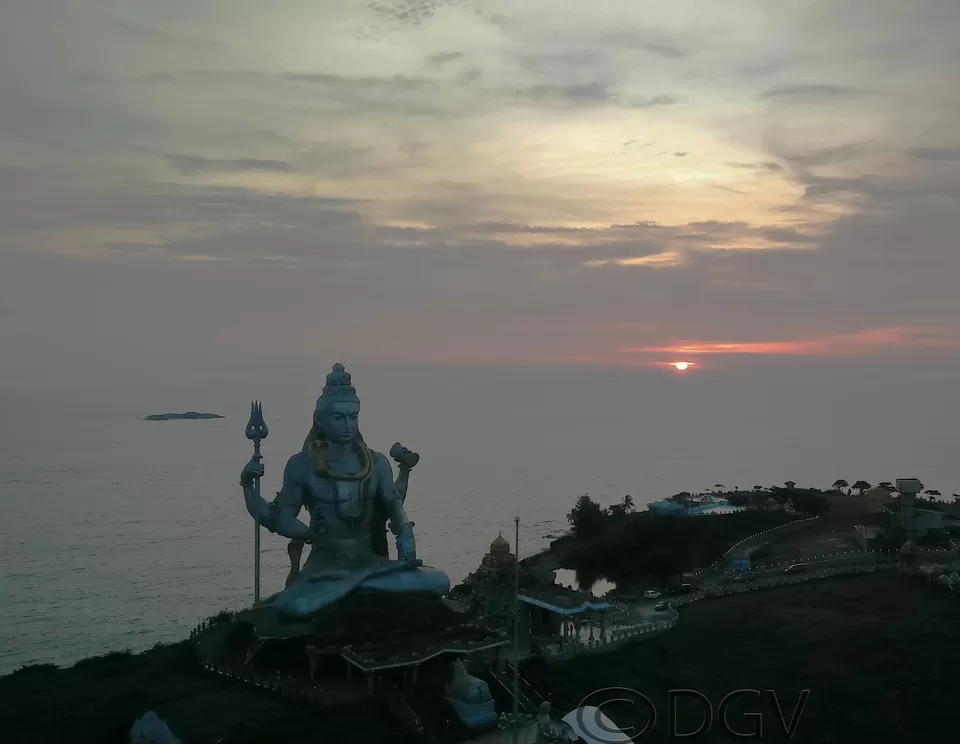 Coincidentally we visited Murudeshwar in the evening. We went to the 18th floor of the tower standing in front of the temple to watch the sun bowing down to settle under the sea and behind the 123ft Shiva idol. The statue is as magnificent as Lord Shiva himself. Do visit the temple in the evening time. Once you see the sunset from the tower, get down and go to the temple. You will see the temple and sea wearing orange hues borrowed from the sun.
Don't go to Gokarna with a perspective that it is an alternative place for Goa. You would be disappointed if you go there with that thought in your mind because every outlet closes at 10.30pm and liquors are costly. You can't party all night long unless you have right contacts. Goa is a party town but Gokarna is a religious place with clean beaches. Even after spending 2.5 days in Gokarna, we thought that we should have spent more time. We liked the place because we have been mesmerized by the clean greenish blue water beaches. We were swallowed into the Gokarna time bubble. We didn't see anyone rushing past us. We didn't see people moving in a hurry with a job to do. Everyone was relaxed as if they all got 48 hours for a day. We saw foreigners walking and cycling in barefoot. We were pretty much relaxed for our entire stay in Gokarna. Time literally stood still there.