The ruins of Hampi are an arresting sight with the rugged landscape forming the frame around it. A visual delight, this place is in sharp contrast with the other tourist areas in Karnataka. The huge boulders form a scenary that is unforgettable. It is one of the most popular tourist destinations in south India and an ideal spot for lovers of history and nature. And every year, these majestic ruins and the historical dynasty is celebrated with a cultural festival called the Hampi Utsav or the Vjaya Utsav.
What is the Hampi Utsav?
Hampi Festival or Vijaya Utsav is one of the most marvellous festivals in Karnataka. It is a cultural extravaganza that is in celebration of the Vijayanagara Empire. The festival is celebrated with joy and enthusiasm, with the entire ambiance being lively and colourful. The festival is all about dance, music, drama, puppet shows, vibrant processions and fireworks.
When is it?
The official dates are from November 3 to 5, however there are activities that have already begun and will go on till November 7.
Hampi by night
The biggest attraction of Hampi is its ruins. The temples that have been standing tall since centuries weave a delicate tapestry of stories and legends of eras gone by. The best time to see them is usually during the day, when the sun shines its bright light on them. But during the festival, you will get to see the ruins by moonlight. Visitors can walk through the newly illuminated ancient capital of the Vijayanagara Empire on a five-hour guided tour. You will get a headset, to hear audio notes on the awesome history and myths of this unique site. The initiative is the brainchild of the Department of Tourism and the Hampi World Heritage Management Authority, who hope to tempt day tourists to spend the night and contribute more substantially to the local economy. About 20 monuments will be a part of the Hampi-by-Night tour. Two major monuments – Eduru Basavanna Mantapa and Kodandarama Temple – will have light and sound shows and the other 18 monuments will be part of the 4km heritage walk route.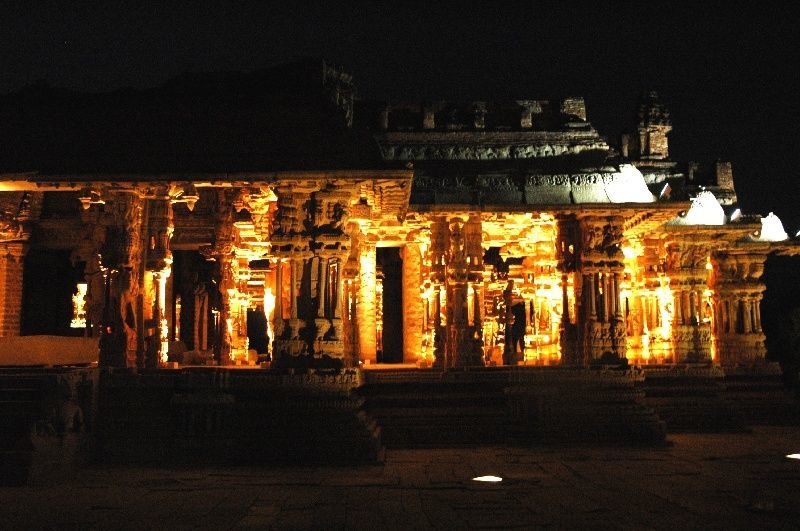 Other than this, there is also Hampi By Air, which is basically a tour of the town by helicopter. Happening between October 31 to November 7, you can sign up for it on the spot. It will cost ₹2,300 per person.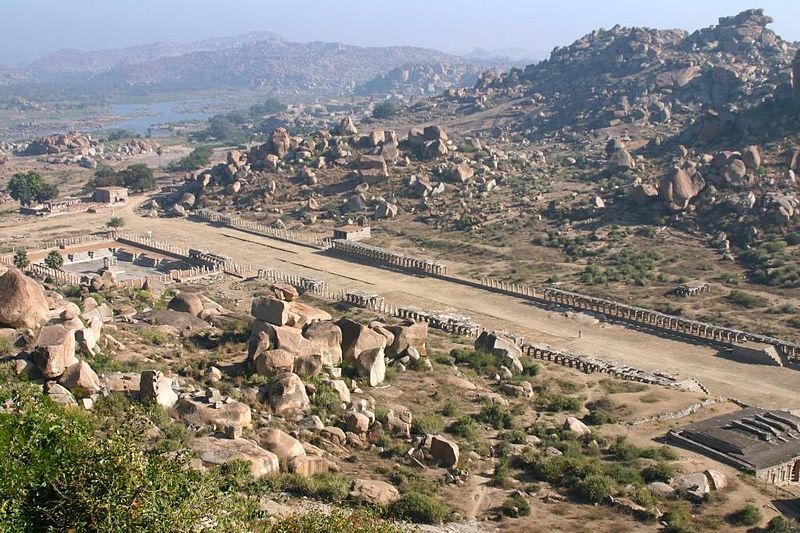 How to reach?
By air: The nearest airport is at Hubli, 143km away from Hampi. But there are fewer flights that fly to Hubli, and flying from Delhi or Mumbai will probably lead to changing planes in Bengaluru. Fly to Bangalore instead, a major international hub. Round-trip airfares from Delhi to Bangalore for the weekend start from ₹8,733. From Bangalore you can take an overnight train or an overnight bus. Train will cost around ₹655 for three-tier air condition while the bus tickets costs around ₹645.
By rail: The nearest railway station is Hospet Junction, 13km away. Overnight trains run several times a week from Bangalore, Hyderabad and Goa. You can book your ticket from IRCTC.
By bus: Karnataka State Road Transport Corporation operates daily buses to Hospet from Bangalore, Mysore and Gokarna. From Hospet, you can go to Hampi on a local bus for ₹20.
You can read more about Hampi Festival and what to do there here.
So what are you waiting for? This is a once-in-a-lifetime opportunity that you just can't miss. So book your tickets now and experience the majestic Hampi by night.
Frequent searches leading to this page:-
hampi dance festival 2020, hampi music festival, hampi cultural festival