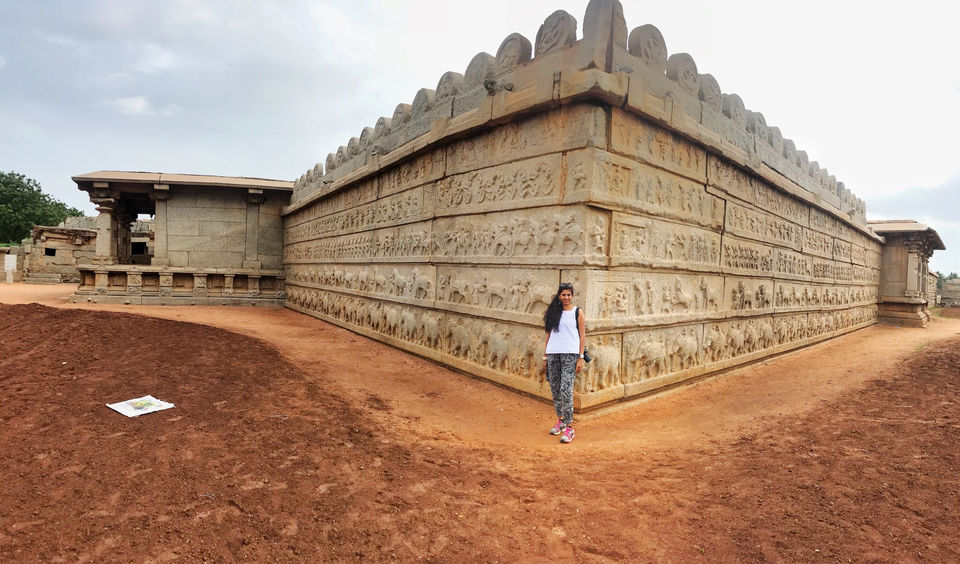 History was one of my favorite subjects in school. I don't really remember when I picked up the liking for design & architecture. Exploring places with architectural significance has always been my first pick for travel destination. Three pages write up which I had studied as part of my curriculum in fifth grade about a place in Karnataka had a deep impact on me and I always craved to visit this place when I was a little girl. Though my Dad used to take us for a vacation twice a year, visiting this place never happened till I was 25 years old.
Yes, I'm talking about one of my all time favorite travel destination "Hampi" an UNESCO world heritage site. My first visit was a very brief one and I was not satisfied with it, so Manju (my husband) and myself made a promise to each other that we were going back to Hampi at the next best opportunity we had to travel. And it took us another one year to get back. And after that there has been no looking back. Now, I have actually lost a track of how many times I have been there.
In all these years I have met a lot of people who have impressed me in one way or the other. I thought it will be a nice experience to go down the memory line and write a blog about all these people.
Thus, presenting you "Humans of Hampi"
1.Nagaraj- Tourist Guide:
We met Nagaraj in our second visit to Hampi. As you enter this small village of Hampi, there is a gateway kind of place which you have to cross in order to explore the monuments. At the very entrance, generally there are a number of tourist guides waiting to find tourists. I used to be of little closed attitude back then and was not very open to hiring a guide. On the contrary Manju was very clear that we are not going to explore a place like Hampi without guide. So when Nagaraj approached us, my first thought was to bargain at his charges. The only words that came out of his mouth were, "Madam, at the end of the day, after the tour, if you feel I was not worth the amount I quoted, I'm ready to accept whatever amount you would like to pay". Trust me,at the end of that day's tour we paid him more than what he had asked for.
He was just not stating dates and names from history or mythology, he was narrating it as though he lived in that era. That's when I realized that all historic places have to be always explored with a local guide, the finer details that they explain and show in those monuments will never be noticed by us if we just go on our own.
Since then, he has kind of become a good friend. Everytime we have been there we have hired him. (Though a lot of our friends call us crazy for going to same place and hearing the same stories over and over again and paying for the repetition, it kind of gives us a kick which I can not explain).
2. Siddaraju aka Siddu- Auto Driver:
Most of my time I have been to Hampi in my car, expect for my recent visit which was by train. Hampi is an open air museum and spread across 16 square miles and exploring this will by default need a vehicle. Thus we asked our home stay host to get us auto or cab whichever was available. He introduced us to Siddu. I donno what's with these people in Hampi, again when I negotiated for the fare (old habits die hard you see :P) Siddu's reply was exactly same as Nagaraj's. I guess they all have a recorded reply ????
Siddu is a full on entertainer with so much of positive energy. We were four of us to take a ride in his auto, he was generous enough to share half of his seat with the forth person.
3. Talented photographer:
As our auto ride took its own course in exploring the other side of the Tungabadra river, most commonly know as Hippy island, we reached a place called Sanapura Lake. Siddu suddenly stopped our auto at random corner and share one third of his seat with a friend of his. As soon as this friend boarded the auto he started talking to us about how we should not miss taking a coral ride in the lake. Me being hydrophobic and the Lake was almost overflowing, we clearly said no to his offer. Maybe he was disappointed by losing business, but he did not give it away on his face, instead he offered to click some pictures for us. I was skeptical to give my iphone to him initially, oh boy! he knew the features of my phone better than me. And we spent next 45mins just getting photographed from a total stranger.
I suddenly remembered the phrase "Never judge the book by its cover".
4. Shy little girl:
When we were still at the lake, I wondered around to get some good compositions for my pictures. I found a lonely girl of about 10-12 years old sitting. I walked up to her and tried to strike a conversation. I'm generally good at it ???? I was always told I can even make a rock talk. This girl proved me wrong. She was so shy it took me easy 10 mins to make her look me in the eye in smile. Out of the 100 questions I asked, she just chose to answer to one.
Maybe thats why they say "Speech is silver and silence is gold". Anyways I love silver jeweler better ????
5. Mysteries man:
After talking and clicking the shy girl, I turned around to get back to my friends. That is when I noticed a man sitting at the far end in almost deserted surrounding. I was clearly not thinking when I started walking towards him. He sat still like rock till I was almost 100 meters away from him. I did click a picture of him before he started make some wired noise and started staring at me. I quietly moved away from there.
6. Sannappa thatha- The good shepherd:
How often do we get to see an old man of about 70+ years rearing his sheep and walking miles together in bare foot in our everyday life? I just could not stop myself from talking to him. What is the fun if we don't take pictures right? So here you go. Oh! we are twining ????
7. Babas or Sadhus of Hampi:
I never knew Hampi housed so many Sadhus till I met them this time. Though there were none of them near any of the monuments, I saw most of them on the Hippy island. Must say they are quite photogenic. One of them was over enthusiastic which kind of scared both my friend and myself. For once rather than me asking permission to take picture with him, he insisted we take picture with him.
I always believe its more than the place its the people that make a place special. After all we are a social being you see.
Let me know how you like this blog in the comments below. Would love to hear your opinion.
For more updates checkout my blog: intrepidindian.com .