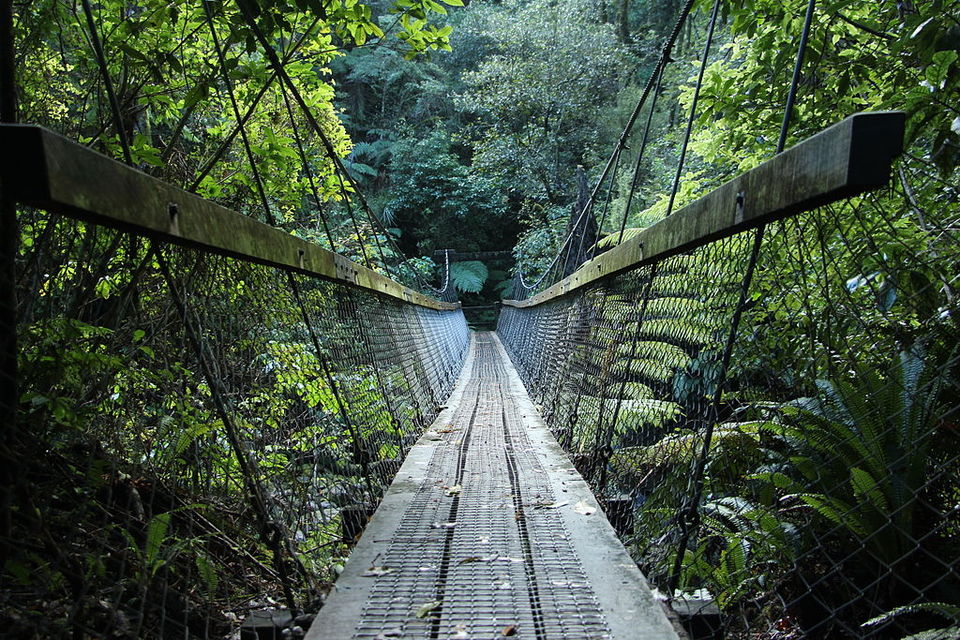 We've all seen them in films and we've all been fascinated by them at some point or the other but we've never got a chance to experience one right here in India. But as they say, better late than never! India has finally got its first ever canopy walk and trust me when I say this, it is an experience you will cherish for a lifetime. The first of its kind this structure lets you connect with nature inside out and explore the beauty of Western Ghats like never before!
What is it?
Developed by Karnataka Forest Department in accordance with the state government, the project is India's first canopy walk. Installed at a height of 30ft, the 240m walkway lets visitors explore the beauty and wildlife of the Western Ghats in an extremely up-close manner.
The structure allows ten people to take a walk through the forest at any point of time. It also boasts of multiple viewing areas wherein nature enthusiasts can stand and soak in the serenity of the surroundings. Each walk will be headed by a nature guide who will tell you all about the beautiful ecosystem.
Why visit the canopy walk?
An absolute dream come true for all nature enthusiasts, the canopy walk gives visitors an entirely new dimension to explore the dense forests and rich wildlife of Western Ghats. Owing to the fact that the region houses numerous tree species, visitors can witness Malabar tamarind, cinnamon, bamboo, eucalyptus, lantana, silver oak, teak and Jamba trees in all their glory here.
To add to that, one can also spot a wide variety of animals and birds from these treetops. The Malabar squirrel, lion-tailed macaque, hornbill, oriental kingfisher and white bellied treepies are commonly spotted here so don't forget to pack your binoculars!
Where is it?
The canopy walk has been constructed in Kuveshi area, in the heart of Western Ghats in Karnataka. Kuveshi is a remote village situated near Castlerock of Uttara Kannada.
Getting there
Here's how can reach India's first canopy walk from New Delhi:
By Air: The nearest major airport to Kuveshi is Belagavi Airport in Belgaum. A daily flight from New Delhi will cost you about ₹5,000. Hire a cab from the airport to get to Kuveshi in about 3 hours (105km).

By Train: Goa Express is the only direct train from New Delhi that can get you to Castlerock, the closest railway station to the canopy walk. After the 36 hour journey, hop on to a local bus from Castlerock railway station to get to Kuveshi in 45 minutes (24km). Alternatively, one can also take a train till Madgaon railway station in Goa and then take a cab to reach Kuveshi in 3 hours (95km).
What about accommodation?
Since Kuveshi is an extremely remote village, there are hardly any accommodation options here. However, one can head to Dandeli which is about 60km from the canopy walk and has a range of stay options for travellers on all kinds of budgets. Here are our picks:
A stay for two will cost you approximately ₹3,000 per night. The cost does not include any meals.
A stay for two starts at ₹2,000 per night. This fare does not include any meals. However, visitors can pay extra to avail a buffet breakfast and can also go all the way and get all meals included in the stay.
A stay for two at Dandeli State Lodge starts at ₹800 per night. No complimentary meals are provided here.
Have you ever experienced a canopy walk before? How was the experience? Write in here and share all your stories and pictures with the Tripoto Community!
Frequent searches leading to this page:-
canopy walk karnataka, what is canopy walk, kuveshi canopy walk