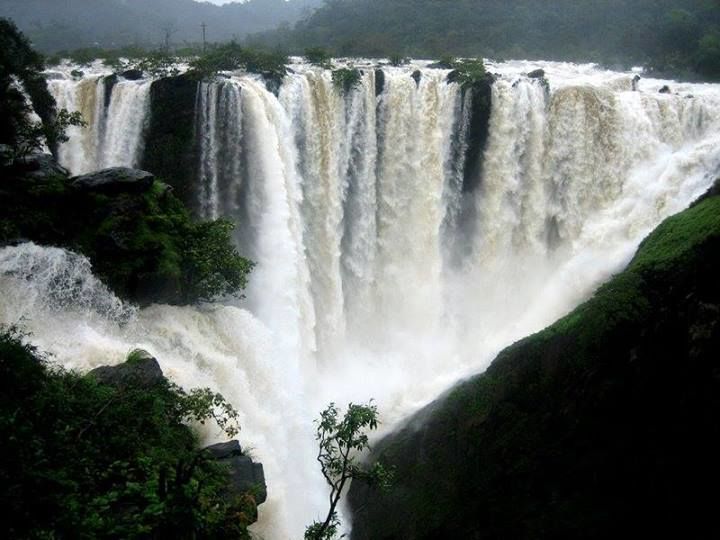 One of the better reasons of studying in southern India are the never ending escapades I enjoy and the multitude of natural splendour the places have to offer. Manipal is a student city located at the lowermost triangle of the country and is centrally located from the tourism point of view. College days could not be any better when Goa is just four hours away or you can sally off to random hill stations any weekend you feel like. Jog falls is one the many tourist bounties, students prefer to kill time at and certainly is worth some wanderlust.
On the lap of Shimoga district of Karnataka, Jog Falls showcases four cascades, namely Raja, Rani, Rover and Rocket. These merge to form the huge waterfall on the Sharavathi River.Most falls stream down the rocks in tiered manner, whereas Jog Falls splashes down the slopes without using the rocks as the stages to flow down. Jog Falls is portrayed within lush green surroundings in all directions and allows visitors to enjoy the same from far off platforms or by hiking at its foothills. Watkins Platform is the perfect point to catch enjoy the falls and one can also get a picturesque view of the falls from the rock outcrops aligning with Bombay Bungalow.
Being broke, was one the reason we could not stop beyond a day at Jog Falls, but the place has accommodations and has diverse little ways to host you. The KSTDC Hotels is quite affordable and has dormitories as well, for your pack. Halting there for a day or two can be a perfect weekend getaway, if you are planning one. During our time at the Jog Falls, we enjoyed kayaking at the lake formed by the river stretch, which ended the trip on a high note.
One of the travel troupes we met during our post-exam-stress busting getaway to Jog Falls was a group of Photographers. These were professionals, who arrived at the location after an overnight journey from Bangalore. On spending an hour or two with them, we discovered that the forests flowing around the falls hosts is a goldmine for photography as they host a variety of animal life. The lushes around Jog Falls had a tropical rainforest vibe and is somewhere you should definitely be during the post monsoon period. The location receives an unreal amount of rainfall which adds to its beauty but on the other hand can make it difficult to for you to tread your way, if you find yourself during the core monsoon season. Instead, an August trip to this location, along with a few friends and a camera can garnish your weekend with adventure and beauty.