Chaos. That's what leads all of us to escape the city life, forget who we are, where we come from and just absorb the beauty, the peace, the love around us.
Every once in a while we need an outlet to unwind ourselves, unlock those portions of our mind and soul for deeper thinking and reaching out to those corners in our brain. To get in touch with themselves, I see many like me heading out to such places, and one of them is Gokarna.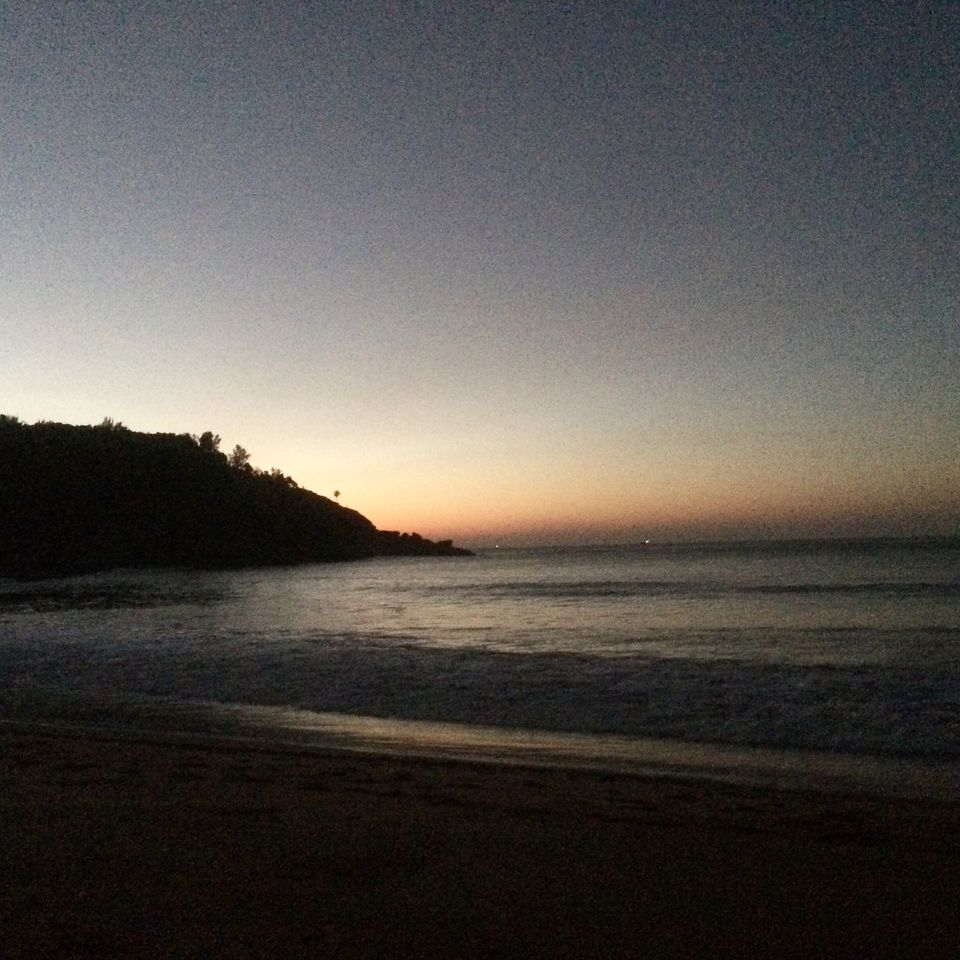 Four hours away from Goa, Gokarna is what Goa used to be twenty years back. With time this little town is getting commercial and popular, but its still not there. Unlike Goa, Gokarna has a different aura.
Connectivity isn't a problem. If you live in South India, you can reach here easily by bus. The bus stand is right in the middle of the town. For others, Nearest airport : Goa.
The town is little, narrow roads and temples. Houses, shops and cute restaurants, and ATM, yes you wont find that anywhere near any of the beaches. Speaking of which, basically, there are 5 beaches here. Gokarna beach, Kudle, Om, Half – Moon and Paradise. Interestingly, all the beaches are named after how they look.. yes, except the first one because that's right in the town. Gokarna beach is the family beach. The most commercial, most crowded, easily accessible, more or less like the 'Baga' beach of Goa. 2 kms away from the hustle bustle is Kudle Beach.. You can take an auto the town and reach here, or even hire a two wheeler and park at the entrance of Kudle or Om beach.
I stayed at Kudle. 'Kudle' means small in Kannada. I found it to be the most beautiful one, cleaner than other beaches and of course, plenty of accommodation options. Gokarna doesn't have fancy big hotels, so prepare to stay in guesthouses, which are not that bad either. Honestly, if you can, stay in one of the shacks. All the cafes here have little huts behind, with sharing washrooms. Now I know some of you wouldn't like that, but the fact that you're staying in a hut where the floor is the sand, and you're literally 10 steps away from the sea compensates for the washroom misery. They are about 300-500 bucks a night during off season and 1000 during season. A hippies den, Gokarna makes you feel like you're back in the 70s.. religious chants and little random performances by foreigners right on the beach. It is shocking to see how strangers to our land have fallen in love with what we don't even consider accommodating in our lives and interests. They have immense love for Hindu deities which was evident enough in those 4 days I stayed there. The food at Kudle wasn't that great, only one café 'Sunset' served the best, rest overpriced and tasted like crap. No kiddin'
Since Gokarna is a religious place, you'll only get beer at the shacks. For more food options, head to Om beach.
You can either trek to Om or take an auto or ride your two wheeler. Om Beach is actually in the shape of OM. It has food and housing options in abundance, and probably the best food. There is a café at the the extreme corner of the beach, not where you enter from but where the beach ends. That's a very cheap and beautiful café, overlooking the sea from a little height unlike others and amazing food as well. Om is a little dirty though, with dogs and cows everywhere.. so yeah that's kind of pissing off.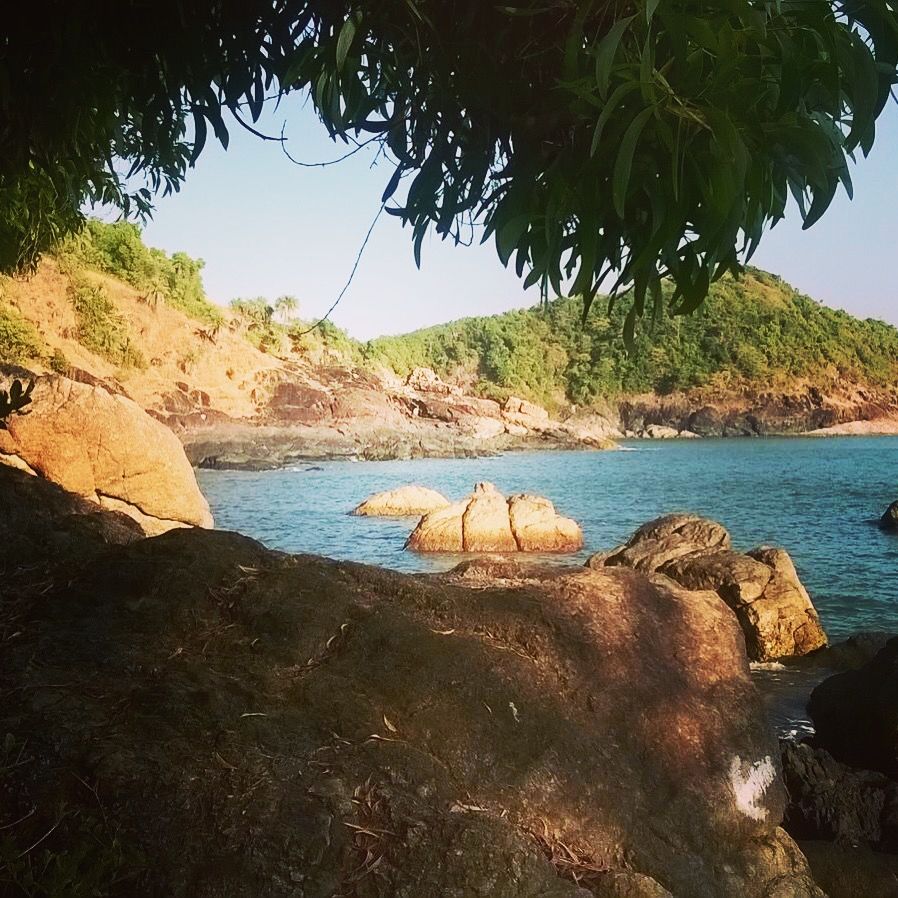 Next up is Half – moon and Paradise. The most amazing fact about these two beaches is that they cannot be accessed by road, they are barely touched. You either trek to both of them- they are one after another so you can visit both in one go- or you take a ferry from Om beach. Costs about 150 per person to one beach and the last one leaves for Om at 6 p.m. Half – moon beach is in the shape of a half moon, it's a very very small beach, the kind I had not seen before. A couple of shacks are there, and one or two places to stay the night. We chilled there for just a little while because we wanted to reach Paradise before sunset and take the last ferry back. There was fire in the forest on our way and we had to find another route to reach.. One has to have a knack of following a particular trail in the woods, be patient and all those things that we know we gotta have when we trek.
Upon reaching Paradise, I was taken aback. Its called Paradise for a reason, because sure as hell it looked like one. You cant spend the night here, its prohibited. There are no food and accommodation options except few vendors selling chips and water. The beach is really so breathtaking, the view is so serene, I cannot express the feeling of being in the water and watching the sunset. I could go back 100 times to this place just for the sunset.
We took the last ferry back to Om and trekked back to Kudle.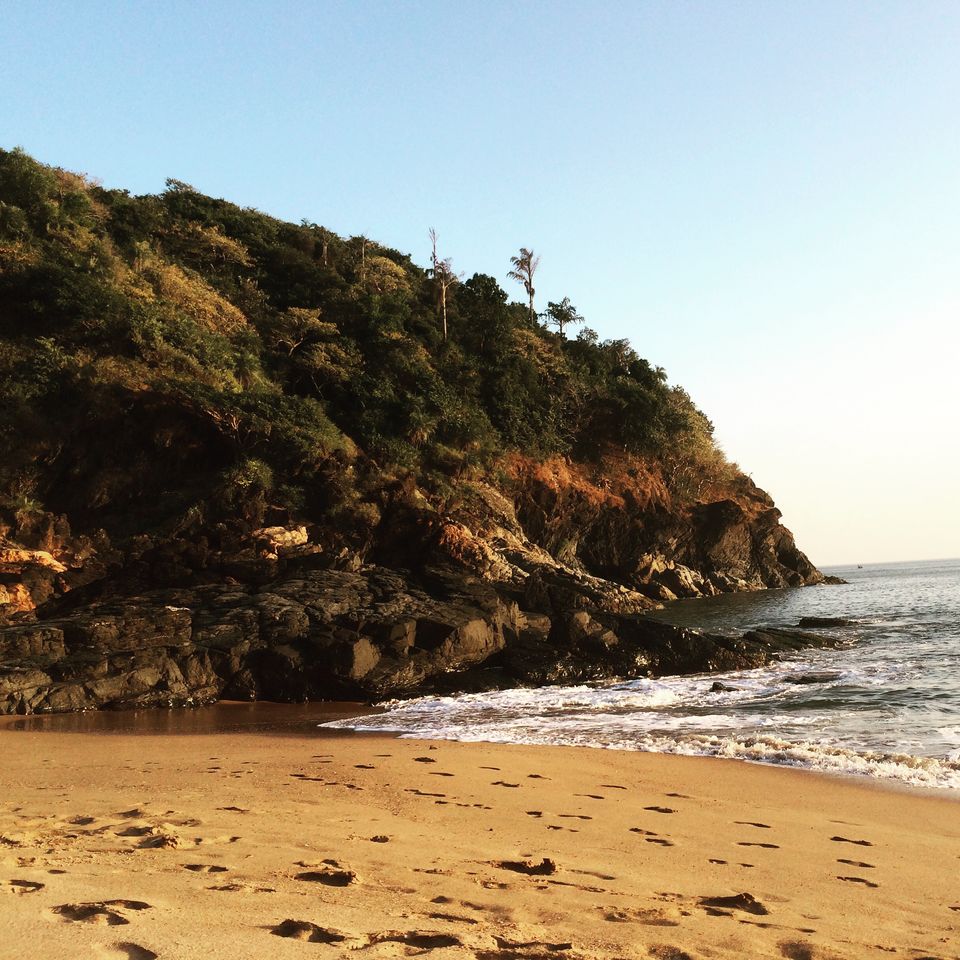 Gokarna has water sports available, namely parasailing, banana boat ride etc at Gokarna, Om and Kudle. No clubs, no insane Goa parties nothing. It's a peaceful place for peaceful people. You'll find less Indians here, cheap food, accommodation and beauty.
Okay but lets get real, we could find that peace in South Goa too right? So why visit Gokarna?
You would know when you don't find those aunties and uncles staring at you just because you're sporting a bikini, You wouldn't find kids running around anywhere, there is the sea and then there are hills.. When you're trekking from one beach to another, your view along the way is absolutely jaw dropping. You're on the hill, and you're walking next to the sea. Damn that's a Windows XP wallpaper right there. Less pervs, way way cheaper than Goa, cleaner ( it matters..there's a reason Mumbai beaches are a bummer ) and without any doubt, much much more peaceful.
People, yes people are friendly here, bonfires on the beach, sky lanterns everywhere.. every passing minute you would fall in love with this place.. in love with the calmness Gokarna offers.
P.S – I spent my new years eve here. Fireworks at the beach is something you shouldn't miss!