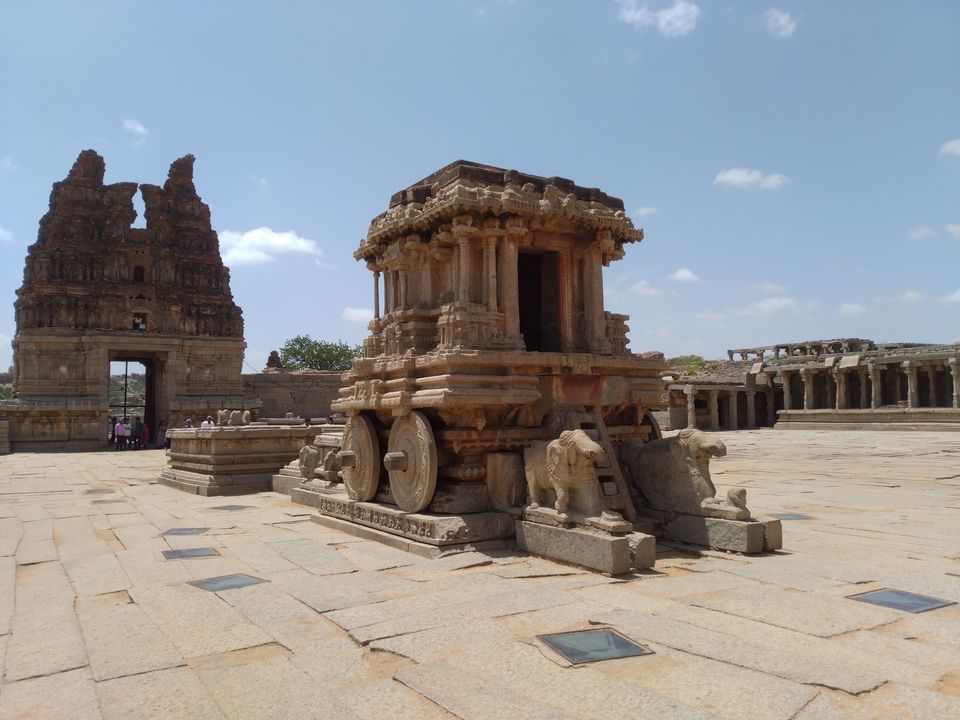 Anegundi was my home, for three and a half months since May. Where is this Anegundi? It is across the river from Hampi. 30 seconds by the ferry during summer and 30 minutes by land across the bridge.
Now for the more valid question, why did I go to Hampi during peak summer? I was told by my boss to be it has a charm to it, the place when there are no tourist, in the 40-degree heat and the blazing granite rocks. I wouldn't say she was completely wrong, but it not completely right too as the 40-degree heat is not for everybody to take! Phew
Summer in Anegundi
The month of May as soon as I arrived was blazing. The rocks looked untouchable and the thought that people would do rock climbing here boggled my mind. The river almost dried with minimal water, the scorpions and the snakes out and about in the evenings and the heat and humidity almost unbearable. But still, I survived. I helped teach Environment at a summer camp that month for the village kids. Being used to nicer kids of the Himalayas this place came as a shock to me, to see kids being quite rude and quite a few not being interested in anything we had to say.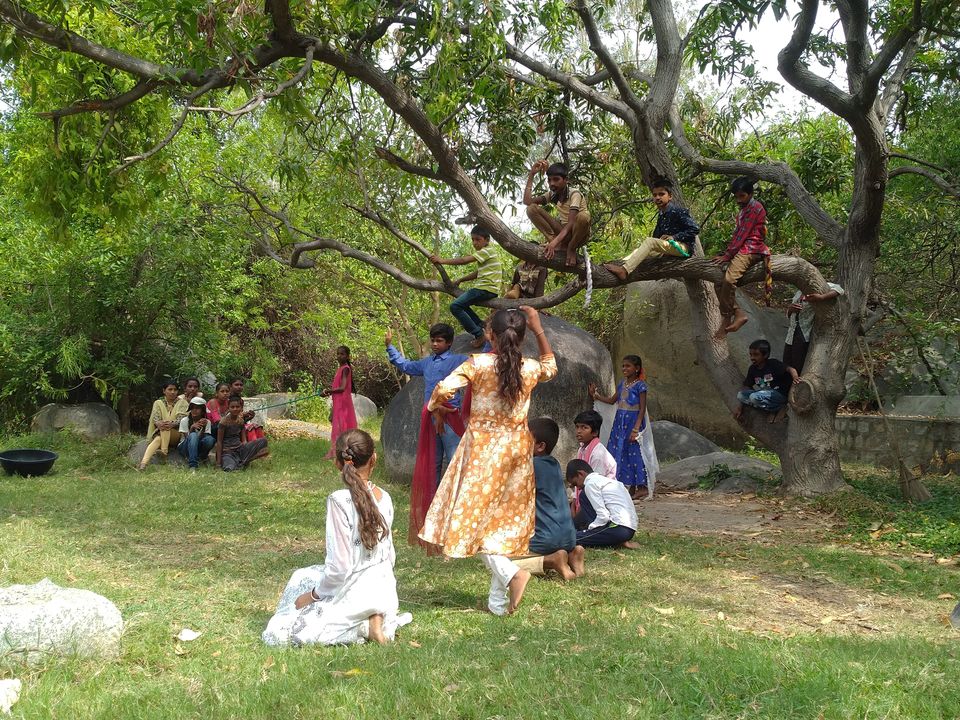 I did somehow manage to get through it, the kids, the heat. Swimming in the evenings was one of the things we would look forward to. Either at the river or at a mud pool ( a huge pool made by taking the mud out and just leaving it like that). There was a place called Horesys Island or the beach where the river was just perfectly wide enough and the water smooth with a little sandy shore to it. It used to be the perfect place for a swim and a BBQ post swim!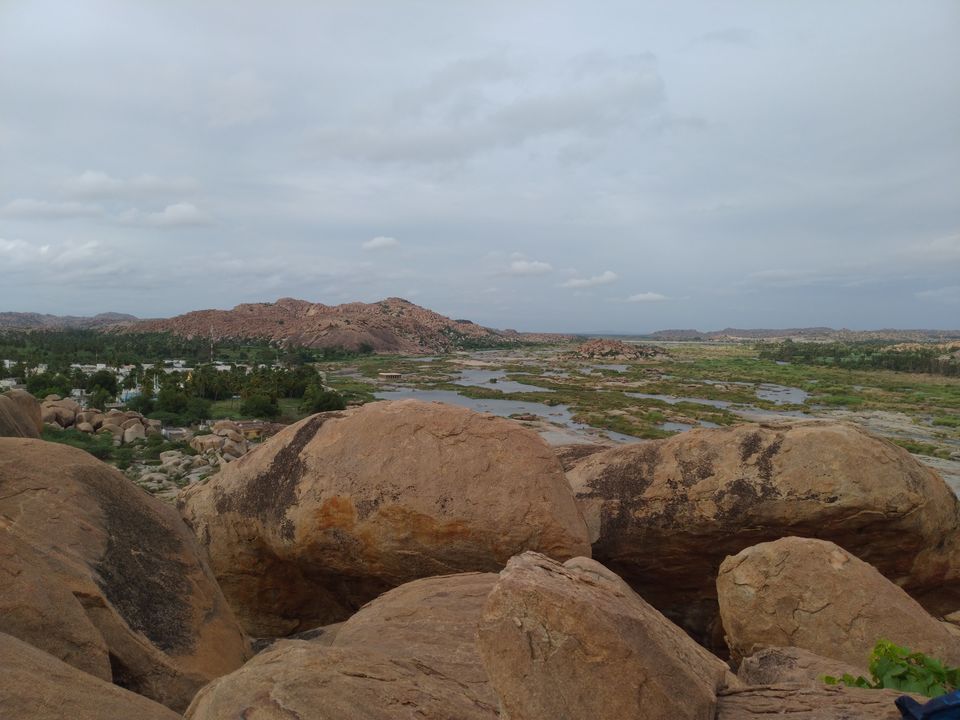 One life hack learned here was to wet a cotton towel and put it on yourself like a blanket for the night. The temperature change in your body is instant and helps you sleep so well. Without the towel, it is too hot, even in the night!
Rocks to climb
As the summer gave way to monsoon suddenly all the hills around seemed climbable. And you should not give up an opportunity to do so. Since no hill is too high with a little acrobatics, a little push and a little leap of faith you can climb most of the hills of Hampi. I did climb almost all the hills around Anegundi, but at a price. I had to sacrifice 6 pairs of pants for it!
Climbing seems fine, with a little twist and turn we can somehow make it to a height but after that, the coming down is the challenge. The number of places my pant got caught while sliding and tore! I even went home to replace 4 pairs of torn pants to come back, climb up a hill with stairs, then sit on the rocks to relax and lo behold my new pant tore. Just by sitting on the rocks! These rocks demand a lot of sacrifices.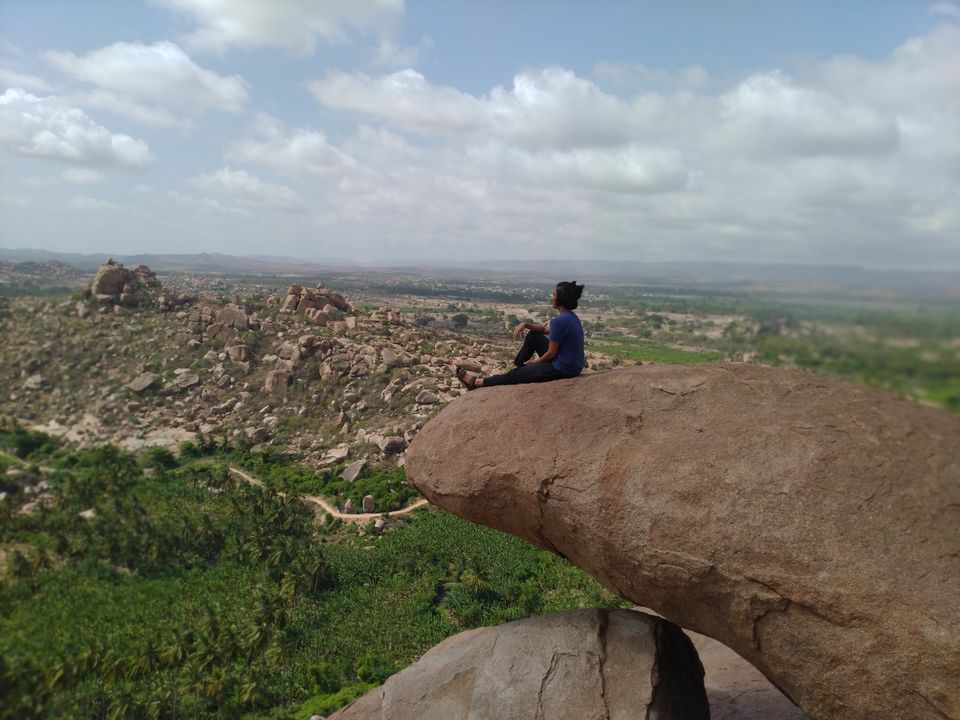 One such place we visited was Hire Benkal. This is a megalith structure which some say was there the prehistoric dwarfs lived while some say it was their burial ground. Whatever it was, it's definitely not a place to go during peak summer. The roads are nonexistent if you rely on google maps and after 1 hour of riding through these nonexistent gravel roads in the blazing heat, going past several tiny villages who seemed surprised as to why we came there during this season, we finally made it.
It said its a half an hours hike up to the peak where along with the dwarf houses they even had a lake. We were happy assuming we could cool off after this hot day. Well, it shouldn't have been a surprise when we did climb all the way to find out that the lake had dried out and was black as coal! On the whole an eventful day and if you do visit Hampi during monsoon or winter you should visit this place.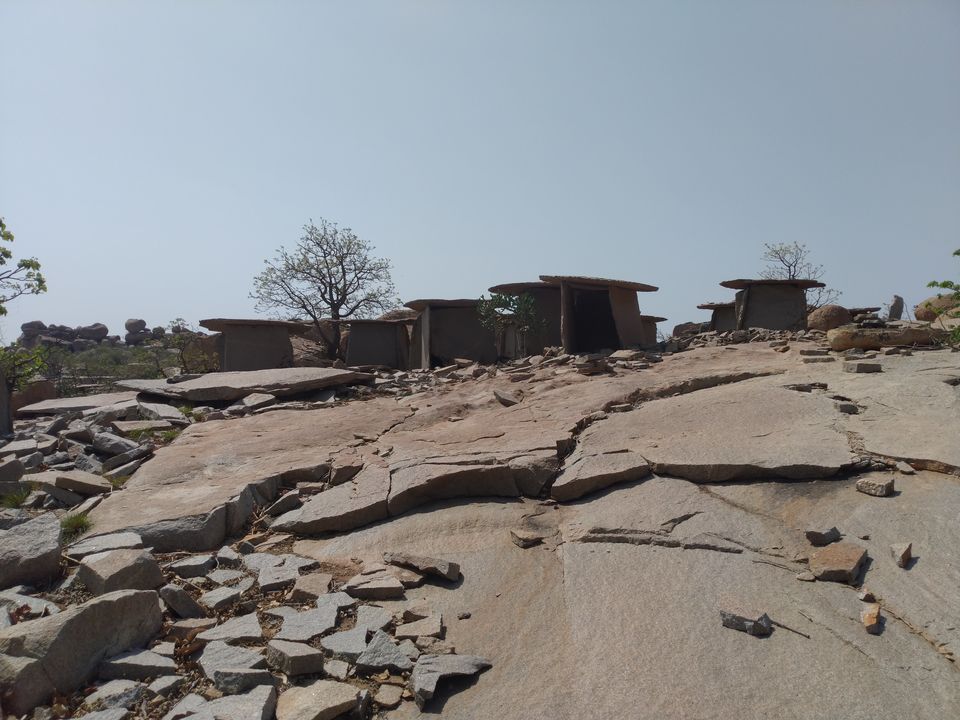 Swimming
One of the major advantages of being there during summer is that the river isn't in full flow and you can go swimming. Or learn how to swim in my case. There are some places where the water flow is just the right force and you can float/ swim in the river. Camping by the river, barbeque after a swim and relax
I could see how overnight, when the dams have opened the water in the river, increased drastically, with all our tiny islands and rocks vanishing to be covered with the mighty flowing Tungabadra. You couldn't see any traces of the rocks below or the small rock ruins by the banks present everywhere in and around Hampi. Oh, how things changed overnight. The power we humans have in controlling even the rivers.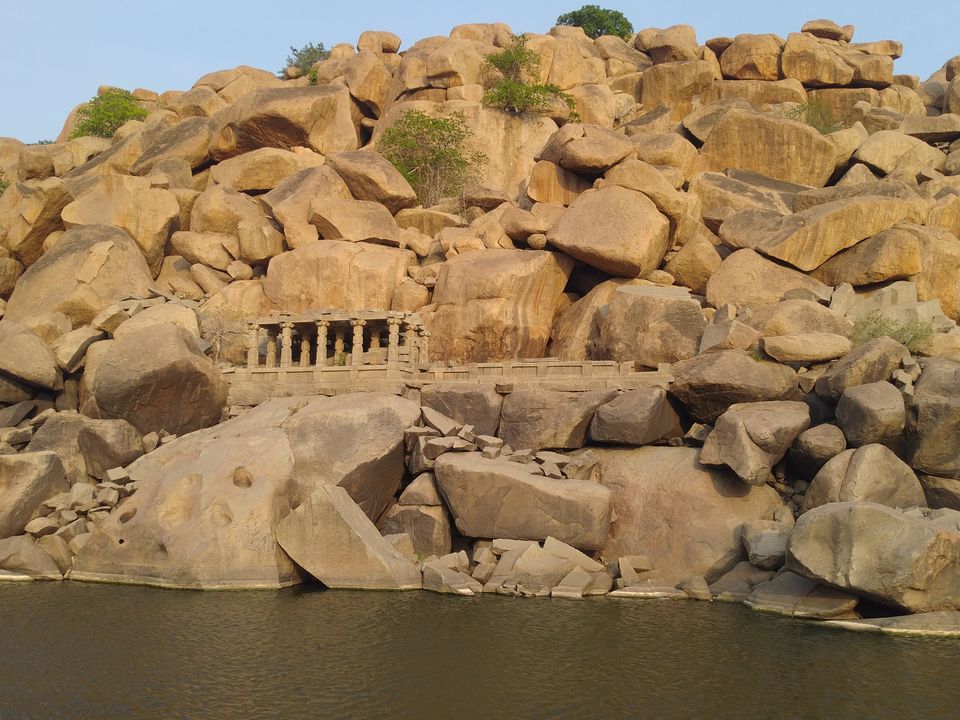 Well, the most important thing about Hampi is its ruins and yes from Virupaksha to Vittala, they are all there. You can walk, cycle or take an auto/ car across these but I doubt anyone has managed to see it all. Some of my favorites were
1. Matanga Hill
2. Koti linga by the banks of the river
3. Hazarerama Temple
4. Chintamani (a really good view if you climb the hill behind it)
5. Durga Temple complex. (walk along the fort wall for a magnificent sunset)
6. Sacred walk- Walk from Vittala to Virupaskha from the inner route (not the vehicular one) exploring some ruins and tackling monkeys on the way.
7. Discover some hidden caves and explore. Right next to Durga temple is one such cave
8. Sanapur dam/ Lake. Aquaduct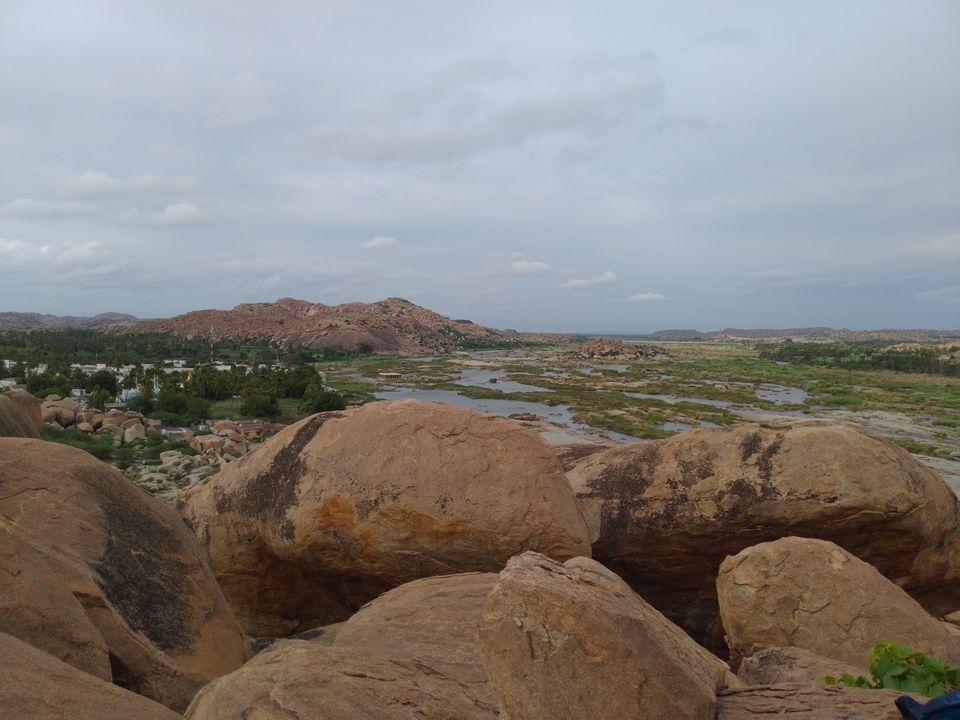 Activities in and around Hampi
One of the must-do things is Anegundi or Hampi is to take a coracle ride across the river. You can maybe even if lucky get to row one yourself. Our boss got 2 coracles made to maybe start a coracle club with the local ladies of the village. But we had a fun time trying to maneuver the coracle across the pond trying to gain some arm strength!
Lunch by the rocks. There are a few places where the rocks are perfectly overhanging like a cave or a roof. You can have a picnic lunch there overlooking the fields and enjoying a meal in the cool rocky shade. One of our local guide in Anegundi had a spot in the rocks which was definitely worth going to for a snack and spending your evening there!
Cycling. Rent a cycle and go explore the side roads of the area. Some of them are beautiful rides by the fields with minimal traffic. One such route is the Anegundi- Sanapur Lake road from inside, not the usual vehicular route. A ride from Anegundi to Rampur to have an egg dosa for breakfast is worth it and would take you about an hour and a half or two.
Rock climbing. That goes without saying. The number of amazingly shaped rocky hills all around Hampi will make the climber in you get up and give it a go. You should! Give climbing or bouldering a go when in Hampi. I assure you, you will not regret it.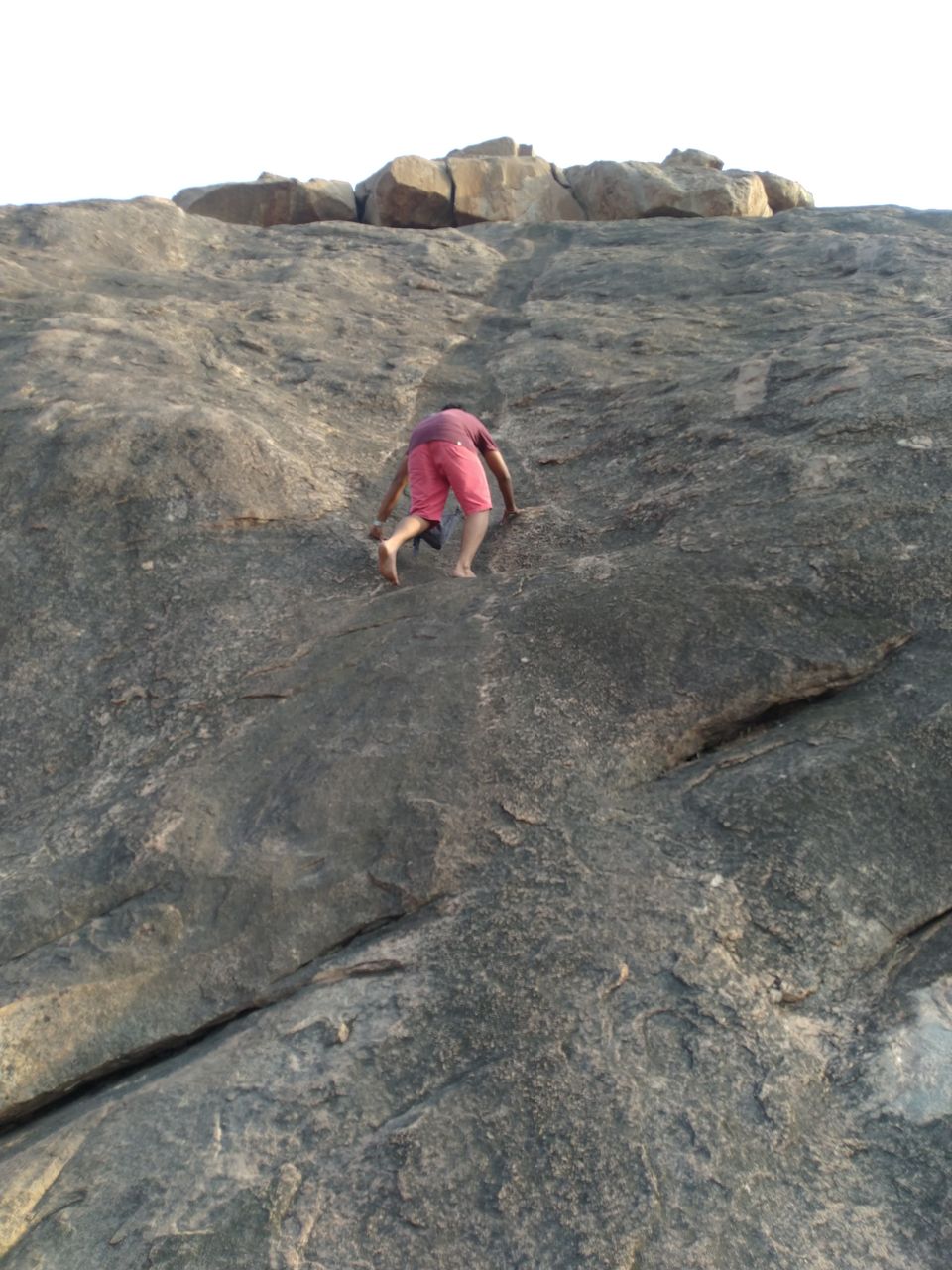 As I left Anegundi in this month of August, I have totally forgotten how the heat was like, as it was cloudy the whole month and so pleasant. I climbed most of the hills around Anegundi, explored caves, ate at random huts and coracled across the timid Tungabadra during summers. On the whole, I got a perfect Hampi experience all while learning about lime plaster construction and product design. So I would say a summer well spent! And thanks to the weather now, maybe a place to come back too!
Until then.