Hello, my dear reader ! how are you, let's dive into the matter of beautiful journeys. the quote"We travel not to escape life but, for life not to escape us.".
As I had holidays, I went to Hampi, which is not so far from the Secunderabad. Here I am going to share my experience of Hampi trip.
I started my journey on 05/04/2019 from Secunderabad to Hospet. It is the nearest railway station to Hampi. I reserved the train ticket under tatkal quota for yashwanthpur express. The train was departed around 9:00 p.m from Secunderabad. As it was summer I preferred to be travelled at night time. I sat beside the window and the cool breeze was on my face. My thoughts Were running at a speed of 80km/hr. I met a guy I didn't recall his name he was native of Hampi shared his experiences about his hometown, and he was wondered by knowing that it's a solo trip, at that time smile was my answer.
slowly I fall asleep. I reached Hospet 6:30 am. almost it took 10 hours to reach Hospet.
places to be visited :
1.Vithala Temple
2.Virupaksha temple
3. kings balance
4. Elephant stables (all places are near)
5. Hazarama temple
6. Lotus temple
7. Queen bath (if u have interest u can visit the nearest temples )
Day 1:
I had a walk of about 15 min to reach Hospet bus bay, I have taken a ticket of 15 rs, I choose this sort of transport as I can sense a group of people and their behaviours too. The roads to Hampi are, surrounded by some historical monuments, greenery and ponds. After 40 minutes, I got down from the bus in excitement to see the legacy of the VIRUPAKSHA TEMPLE, which reflects the glory of DEVARAYA's dynasty. The architecture of the temple was so, mesmerizing. This temple was recognized by the UNESCO in the list of the world heritage site.
Before, entering into the temple, I took a bath in the nearest hotel. I didn't take a room , because for a solo traveller it's always better to cut down expenses like hotel, travelling in share etc.., it also gives new experiences and a chance to meet the new people.
You can take a bath near the temple if you want After I got fresh up and filled my stomach😋😋😋 I hired an auto @ 600 Rs ( single ) per day .you can rent a bicycle from a near parking lot. It costs about 100-150rs.
IN THE STREETS OF HAMPI
as the temple was closed, I decided to visit other places in Hampi I am much excited to see a Hampi chariot. I dumped all my luggage in auto took a photo of an auto registered number so there is less possibility of getting cheated. The driver is a local guy who can speak both in Kannada and Telugu, without much awaiting he took me to the near to the VITHALA TEMPLE . from there they will provide you with an electric cart by charging 20rs. Here you have to take a ticket so that you need not purchase it at other monuments . after they have taken me to the central monument. almost its a noontime the stones were appeared bright as the sun. Entering into the monument you can see the chariot and other monuments
HAMPI CHARIOT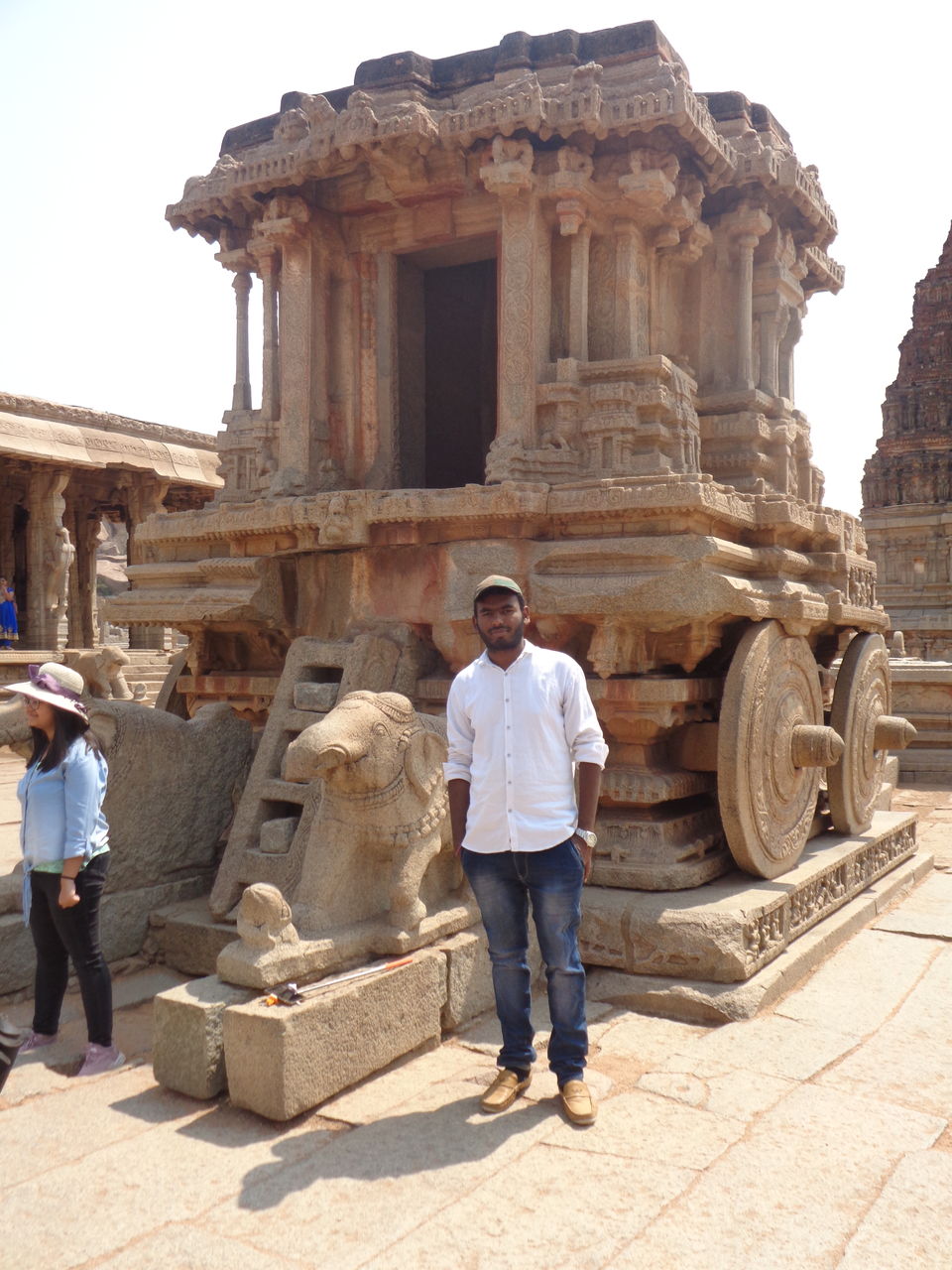 GROUP OF VITALA MONUMENTS
The iconic chariot was built by the Great King of Vijayanagara, Shri Krishna Deva Raya during the 16th century. It is said in the history that the king got fascinated with the Konark Sun temple chariot while fighting a battle in Odissa, and wanted one of that kind in his empire. And it's one of the famous chariots like Konark and Mahabalipuram. Hampi attracts people all over the world. Here I met a couple aged between 25-30 who hale from China I came to know that they came here for a long vacation. And they about to cover all the tourist places in India. I can sense there are myriad Indian traditions, with foreign visitors too. Many films were shooted here. I found more foreign tourists in Hampi and, I faced a situation that a few people refused to talk in the temple premises. I can sense they are completely immersed in the devotion by chanting "Hare Ram...hare Krishna" this is what my INDIA is; a spiritual nation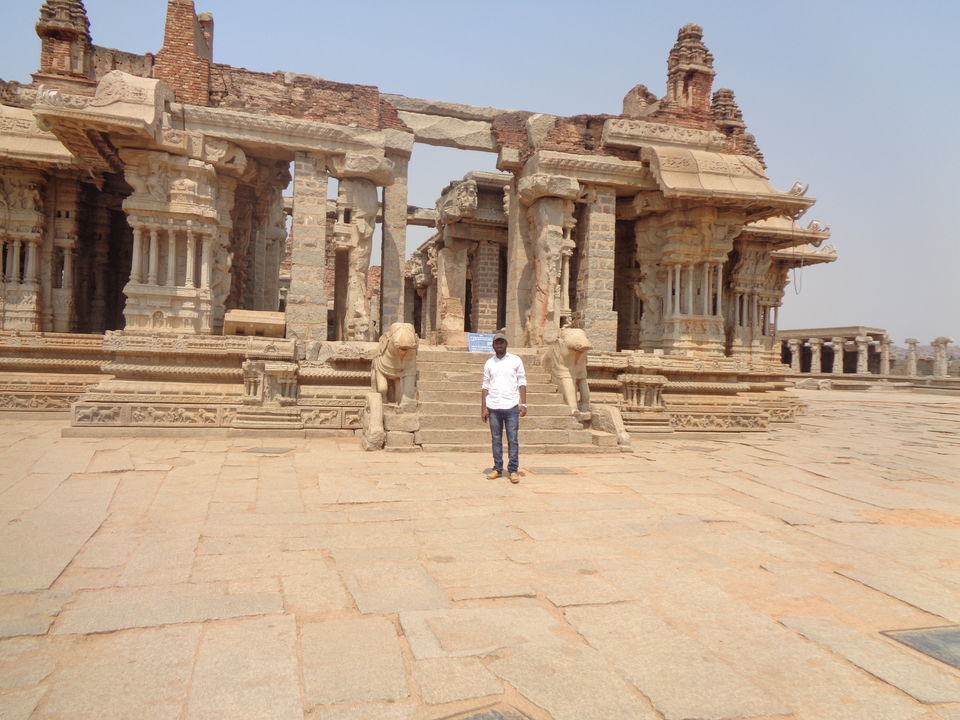 I returned from there and am on the way to visit kings balance, elephant stables, lotus temple, Hampi Bazar etc. Most of the places are located in the Royal area of HAMPI I went to every corner of the main area of royal. I wondered how can I enter into such a dark place, of course, it gives me pleasure.
later you can visit King's balance is regarded as one of the unique monuments of Hampi. It consists of two lofty carved granite pillars about 15 feet high supporting a stone beam about 12 feet in length. It has three hoops on the underside from which the balances or scales are hung.
Elephant stables: The elephant stable was constructed in the 15th century, during the reign of the Vijayanagara Empire. As the name indicates, the stable was constructed to house the royal elephants of the Vijayanagara Empire.
At elephant stables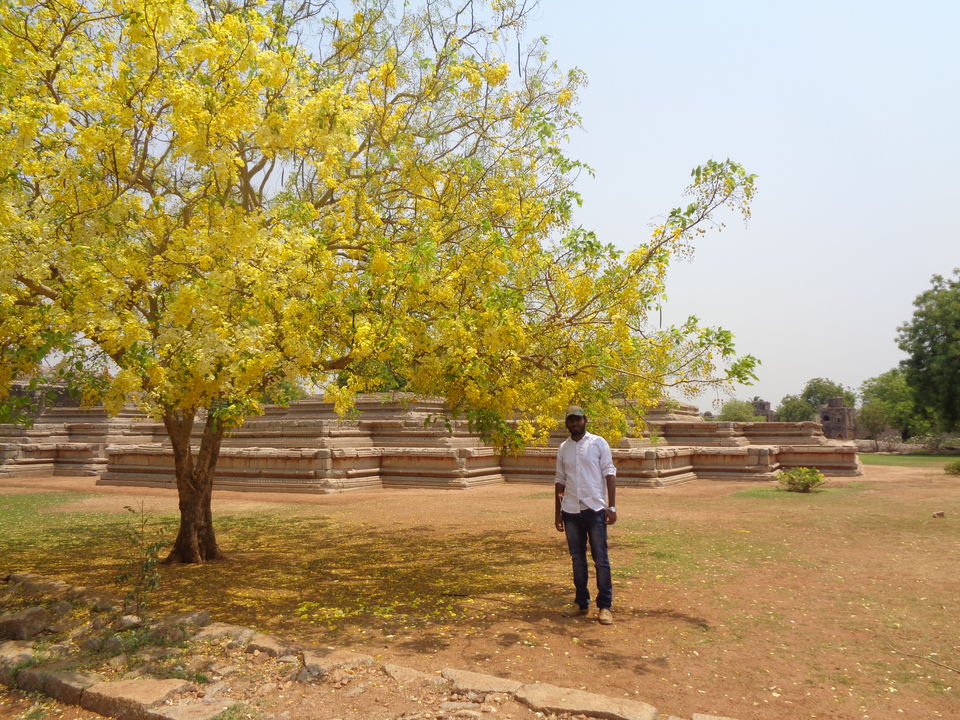 The Queen's Bath is believed to be constructed by Achyuta Raya for the women of the royal family of Vijayanagara. Though named as the Queen's Bath, it was in all probability used as the private bathing chamber of the king and his queens. It is also believed that the lavish bath was a royal pleasure complex. This belief is due to the location of the bath, which is outside the Royal Enclosure.
THE LOTUS TEMPLE :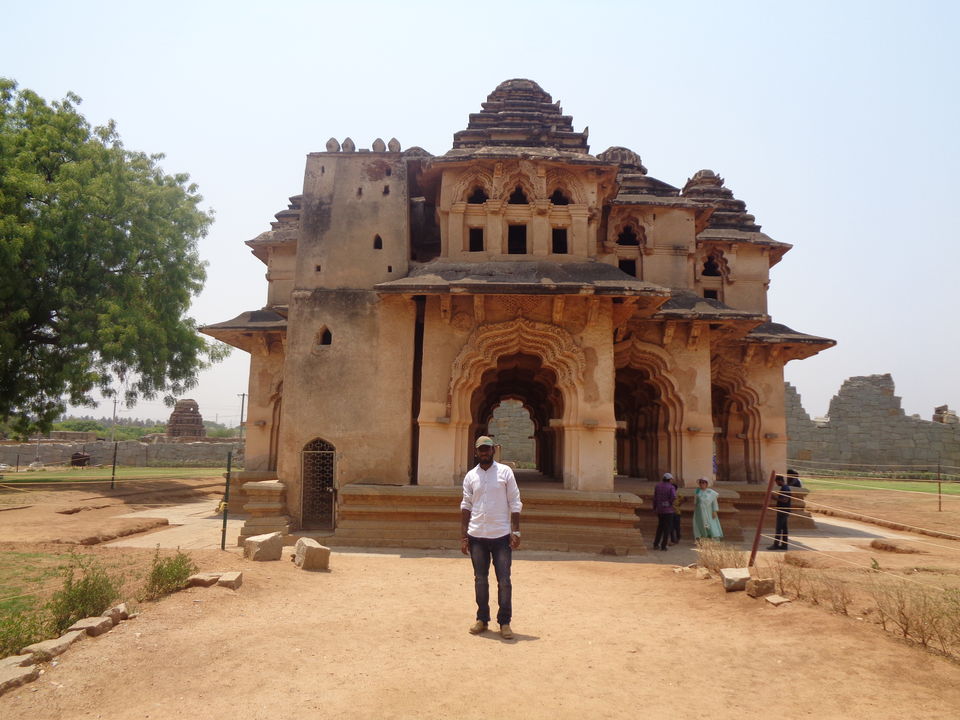 As the name given to the palace is because of the shape it resembles. The balcony and the passages covered with a dome that looks like an opened lotus bud. The central dome is also carved as a lotus bud. The curves of the palace are given an Islamic touch while the multi-layered roof design is moreover related to Indo style of buildings. The style and designs is an inquisitive blend of Islamic and Indian way of architecture.
Hazara Rama Temple was built in the early part of the 15th century by the then king of Vijayanagara, Devaraya II. It was originally built as a simple structure. It consisted of only a sanctum, a pillared hall and an Ardha mandapa. Later the temple structure was renovated to add an open porch and beautiful pillars the time melts like ice cream I. after visiting these places I want to visit tungabdhra dam. so that evening I can chill at there
I reached from Hampi main city to Hospet from there I took an auto to reach thungabadhra river dam .it is almost 10 km from Hospet . you can reach Tungabhadra dam either on a bus or on foot, I choose to go on foot . after 20-30 minutes of the trek I reached the main point if dam.
TUNGABADHRA PARK
the way is full of greenery and I never felt that is a summer season. I took a nap in the lap of Tungabhadra river . next I moved to the garden, the garden was awesome the fountain s in the garden relief my stress and I become more energy. its take 30 minutes to cover the entire garden area I took a nap. so I started talking to a person of my age after sharing some experiences he guided me to stay there to watch the water show. around 7 pm the show was begun just I enjoyed the show by gazing at the colour of the water. the water dancing with a rhythm that sync with my heart .after 30 minutes the show comes to an end . next I question my self where to go?
it's 8 clocks just I want to a nearby hotel and finished my dinner with light d. the area looking so quiet with very difficulty I managed to get an auto to Hospet. the auto guy rooted from Andhra Pradesh and he very surprised to know about me. he shared his experiences about his life, the places to visit in Hampi. I reached the hospet by 9 p.m . and I decided to Rome in the streets I sat somewhere and read a book MINDFULL TO MINDFUL.. it seems to be my life is also turning to be to more mindful . and surprisingly o joined in a processional of region custom. it's wonderful one women is clapping with some iron plates and some people are followed by her. it's midnight I didn't take any hotel: always I want some new experiences so I walking in the streets by enjoying climate ......... after some time I was straight to the railway station decided to sleep in the railway station. Life is to be enjoyed in all possibilities that I believe so I followed my heart. With a shawl I slept in a railway station it's for the first time. I felt some strange but it feels good. so I slept after some time.
DAY 2:
I Woke up at 5 a.m came out of the railway station. the weather calm and very comfortable. today UGADI festival. This time I am going to miss my fav food 'bakshalu ;. by enjoying d nature I reached near a Canal which is full of water without much late I took a bath in the Tungabhadra. much surprisingly these surroundings are full of water and surrounded by banana, coconut farms . after the dip I had coffee and went to Hospet bus stop. I board into the bus which takes me to virupaksha temple.
VIRUPAKSHA TEMPLE MORNING VIEW
VIRUPAKSHA TEMPLE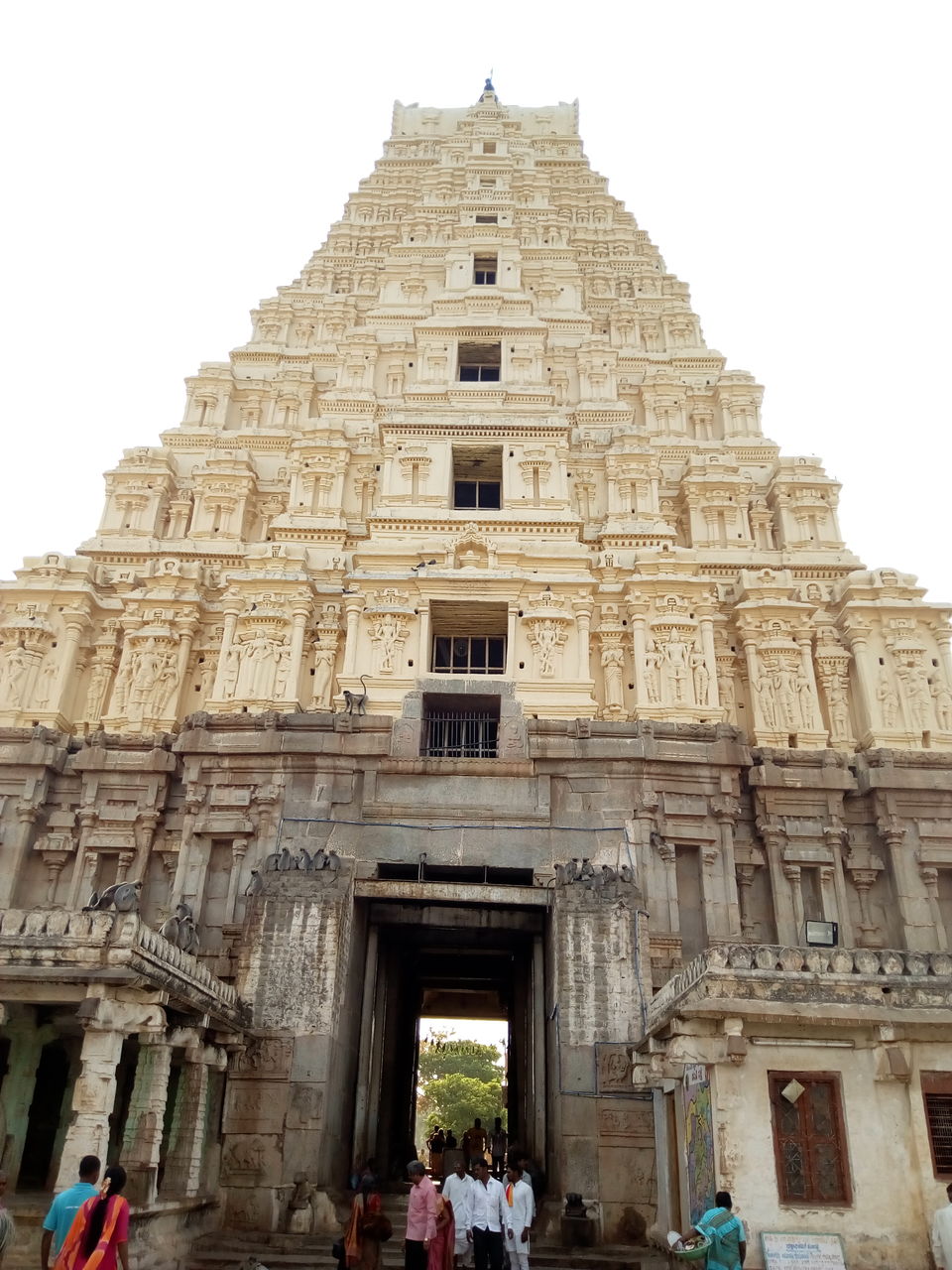 I think it will be very crowded but it's not .as the occasion of Ugadi the chariot is in colourful. In the morning time, the scenery of the temple was fabulous.
.near the temple, you will find few langurs🐒 playing with tourists😂😂.
I captured some photos Outside the temple.
inside the temple, photography is prohibited.
The temple has repeated patterns that demonstrate the concept of Fractals. The main shape of the temple is triangular. As you look up the temple top, the patterns divide and repeat themselves, just like you would see in a snowflake or some other natural wonders.
NEAR VIRUPAKSHA TEMPLE TREK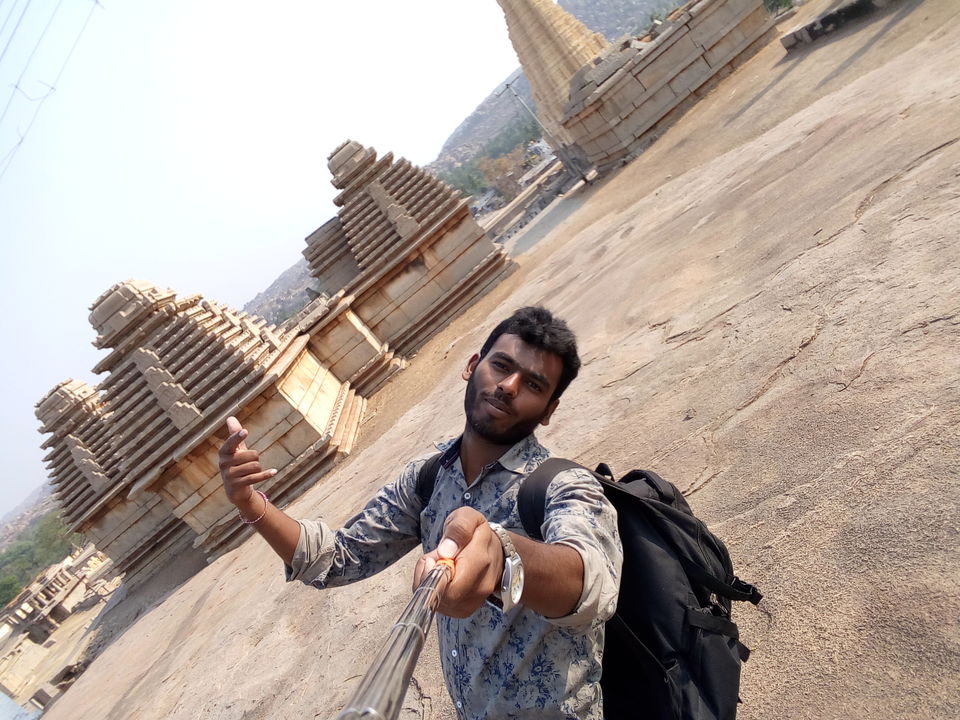 Near, the temple you'll find the number of monuments without much late I started trekking. the view from the cliff is added more beauty to the architecture of Hampi. I chilled out by shouting hoooooo 😮😮...the greenery of coconut farm is more vivid in sunlight !!
HANDICRAFTS AT HAMPI BAZAR
Then I descended the hill, I went to Hampi Bazar every handicraft is unique. by noon I returned to Hospet. my ticket was confirmed at the last moment very glad about that ...
I departed from Hospet around 5 p.m.I took a nap for some time. the thunders of clouds have become my alarm, the beautiful melodies of rain added beauty to my life diaries. the train stood silence for a couple of hours @guntakal.. along with the sun I arrived in Hyderabad.
covered all the above places. Besides covered Tungabhadra dam
BUDGET: solo RS 2500 for two days ( INCLUDE TRAVEL from HYD )
BEST TIME TO VISIT: I CAN SAY THROUGHOUT THE YEAR OTHER THAN THE MONTH OF MAY
* TIMINGS: for most monuments, u can visit from 10 A.M TO 5 P.M
*DONT MISS THE SUNRISE AT VIRUPAKSHA TEMPLE
*FROM HOSPET TO THE TEMPLE STATE TRANSPORT AVAILABLE
Mr wanderer/ RAHUL KUMAR
Contact @8106541584
mrwanderer1508@gmail.com/