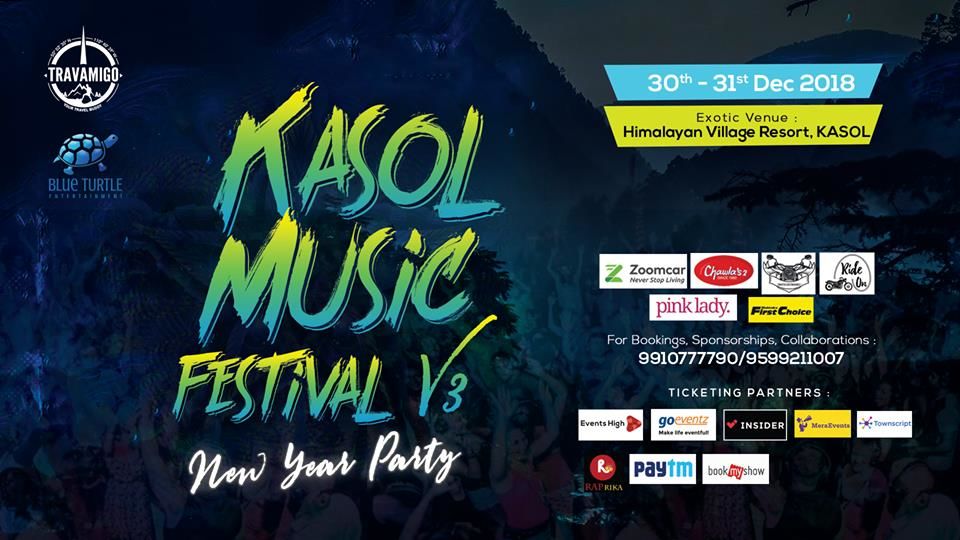 Yes, Kasol is back with its music festival, and you should plan no more. Spend four nights in a Himalayan Valley and dance your heart out to live performances. Take out four days for yourself to celebrate music, art and culture. With arrangements like stage arena lit arena, bar arena, grub lounge, spa lounge and adventure zone, this edition of KMF has raised the bar.
Plan to do something exciting for this new year's eve. Book your tickets to the Kasol Music Festival now and celebrate the end of 2018 with music and loads of fun.
What is Kasol Music Festival?
A four-day festival with non-stop music, exotic food and fun-filled adventure, is all set to be held this December in Kasol.
Travamigo brings you the third edition of Kasol Music Festival. With a line up of talented talented artists from all over the country, this place echoes music vibes for four days in a row.
When is Kasol Music Festival?
The five-day festival will be held from 29 December 2018 and 2 January 2019.
Where is Kasol Music Festival?
The best part about this music festival is its location. The festival will be organised in The Himalayan Village Resort, an exotic hotel surrounded by the Himalayas. The destination is about 507km from Delhi, and pick and drop services will be provided by the management.
Why you should go?
Live music:
Enjoy the best mashups of the year at this festival. Party your heart out on 30th and 31st night and step into 2019 with some great memories in the mountains. Witness exceptional fireworks on the new year's eve. If you want to experience it all, then get the special Kasol Music Festival Entry Pass which will give you access to both parties on 30th and 31st.
Leisure activities:
Spend some quality time with your friends or wander off on the trekking trails. Witness some of the most beautiful sunrises in the region and explore the lifestyle and culture in nearby villages.
Camping:
Located along the Parvati River, the festival in Kasol brings you the opportunity to get close to nature. One can go camping, enjoy bonfires and late night jamming sessions in the middle of Himalayas.
What about tickets?
There are several packages available. There is a special discount for early bird buyers. The price of the tickets starts from as low as ₹800 and goes up to ₹1,98,000.
Check out more details here or head to their official Facebook page for all the latest updates.
Want to make it a week-long holiday in Himachal? Then definitely check out Weekend Getaways from Kasol for a complete guide to exploring the state.