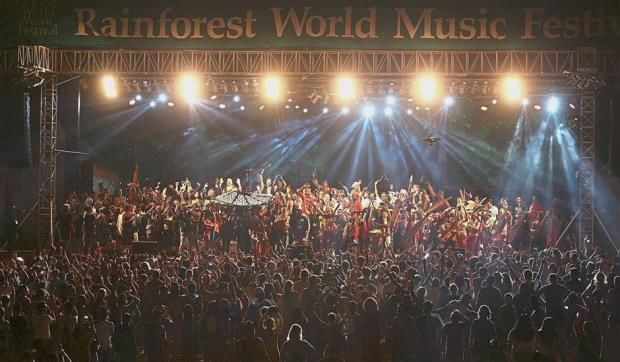 Malaysia has been hosting one of the most amazing music festivals in the world for 21 years now. To all the music fanatics who were unaware of this elaborate celebration of musical diversity, this is the perfect time for you to book your tickets to Kuching and be a part of this one heck of a festival happening in the archipelago. With time the festival has spread its boundaries. Along with some ecstatic live music performances, there are several workshops organised for interested participants.
What is Rainforest World Music Festival?
Rainforest World Music Festival is a three-day festival organised by Sarawak Tourism Board and promoted by Malaysian Tourism. The festival was launched in 1998 and since then there has been no turning back. Songlines has been declaring the festival as the best international festival for six years now. With excellent music, unlimited food, and several unique experiences, the festival's 22nd edition is scheduled to launch in July 2019. With time the event has seen a huge rise in the total number of visitors; from 300 in 1998 to 22,000 in 2017.
As per different sources, Pauline Lim of Sarawak's Tourism Office believes that the Rainforest Festival bring the music world together. Every year there is a new theme. Last year, the theme was 'Awakening of the Rainforest.'
Where:
The Rainforest World Music Festival is conducted annually on the grounds of Sarawak Cultural Village  in Kuching, the capital of Sarawak, Malaysia. Sarawak's Rainforest which is home to 27 ethnic groups is located on the foothills of Mount Santubong.
When:
The festival generally takes place in June, July and August. The coming up edition of the festival is scheduled to be held from 12 July to 14 July.
Why you should go?
People from all around the world visit this festival. The festival brings together local and international artists on one platform. Get to know some traditional musical instruments like Sape. With unending food spreads and other experiences like workshops, this is a must visit for anyone.
Music is in the air
Performers for all around the world adorn the rainforest music festival. Some of the well-known names from earlier years include Shooglenifty from Scotland, Inka Marka from Australia, Shannon from Poland, Huun Hur Tu from Tuva and Borte from Mongolia. Along with these renowned musicians, there are performances by locals also.
Not just music
Apart from live-performances by talented artists, there are events like wellness programs, jamming sessions and learning workshops for interested participants. There are several stalls decorated with traditional crafts and offering souvenirs.
The food
The sumptuous spread available at the Rainforest Festival will not disappoint you. Make sure to try some local dishes like Sarawak Laksa.
The Location
The festival is located in a cultural village and is next to the beach as well. What better way to celebrate music and nature.
What about tickets?
The price range for tickets starts from ₹2,502 to ₹5,176. Get your tickets from here. 
Check out more details here or head to their official Facebook page  for all the latest updates.
Want to make it a week-long holiday in Malaysia? Then definitely check out 4 fabulous days in Malaysia for a complete guide to  the country.