Think of adventure and there is no better place than Nepal, for it is home to Mount Everest–the highest mountain in the world. But if you think that there aren't many things to do in Nepal apart from going for an epic Everest summit, then you probably need to visit Nepal once and see for yourself all the exciting things this tiny has on offer for adventure lovers.
Nepal uses it favourable topography to satiate such thrill seekers flocking there in throngs. However, with its quiet views and heritage destinations it also caters to the leisure-seeking traveller. If adventure sports don't excite you, browse through antique handicraft stores, explore bookshops or sit in cute little cafes and bask in the beauty of nature - whatever makes you happy and soothes your soul.
Nepal is, undoubtedly, one of the most popular destinations for hiking and trekking. Nevertheless, there is more to the Himalayas than that. It is, in fact, one of the best destinations for all kinds of extreme outdoor adventure activities like rock climbing, mountaineering, bungee jumping, rafting, canyoning, cannoning, jungle safari and much more.
Things to do in Nepal
1. Trekking
Trekking attracts adventure seekers from different parts of the world. The geographical advantages, natural diversity and coming together of a wide range of cultures make Nepal an ideal place for trekking and exploration. Nowhere else in the world can you trek for days amidst stunning views and be guaranteed a hot meal and a warm bed at the end of the day. No wonder it's one of the most sought after things to do in Nepal.
Most Popular Treks In Nepal
This is the trek that climbers all over the world dream of completing. Although you are not scaling Mount Everest, you face challenging and unfavourable climbing conditions. It usually takes 12 to 13 days to finish this trek and costs a total of Rs. 65,000. It is suitable for those with trekking experience.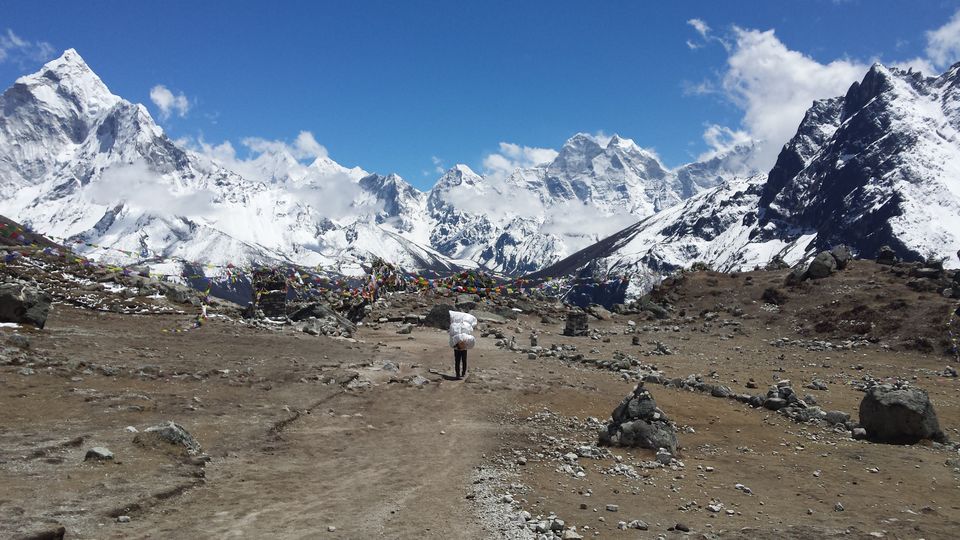 The difficult conditions of the Annapurna Base Camp trek trick you into thinking you've been on a long and arduous journey that has lasted months, although it is only for a brief period of 9 to 10 days. It costs around Rs. 40,000 for the entire trek and is best suited for those with prior experience in trekking.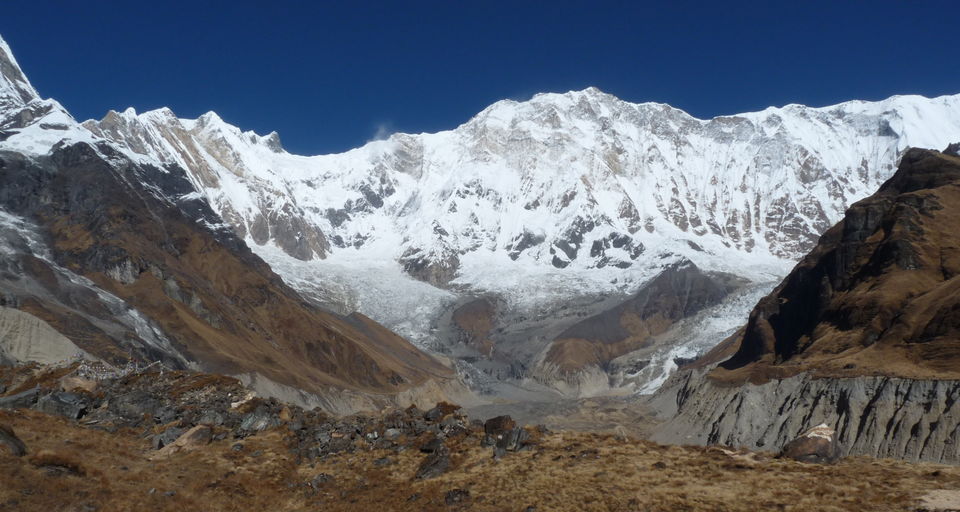 Kanchenjunga trek involves visiting one of the most rural places in Nepal, surrounded by pristine nature. It provides magnificent views of Mt. Kanchenjunga and Mt. Makalu, the 3rd and 5th highest mountains in the world, respectively. Costing around Rs. 1,50,000 the trek lasts a minimum of 20 days. It is appropriate for professional trekkers who wish to scale new heights.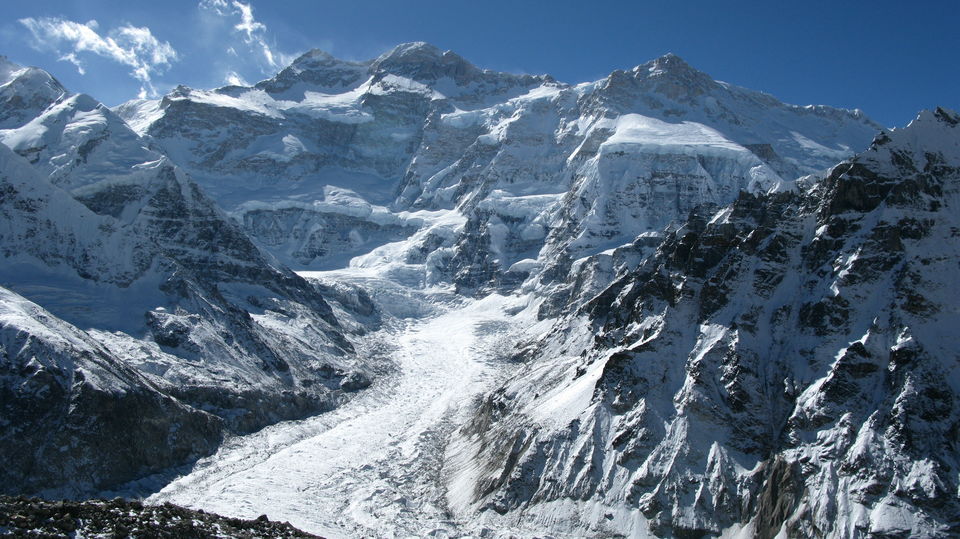 Poonhill trek is easy and can even be attempted by beginners. It gives you a sneak-peak into the world of trekking. It costs around Rs. 28,000 for the entire trek and can be completed in just 7 days.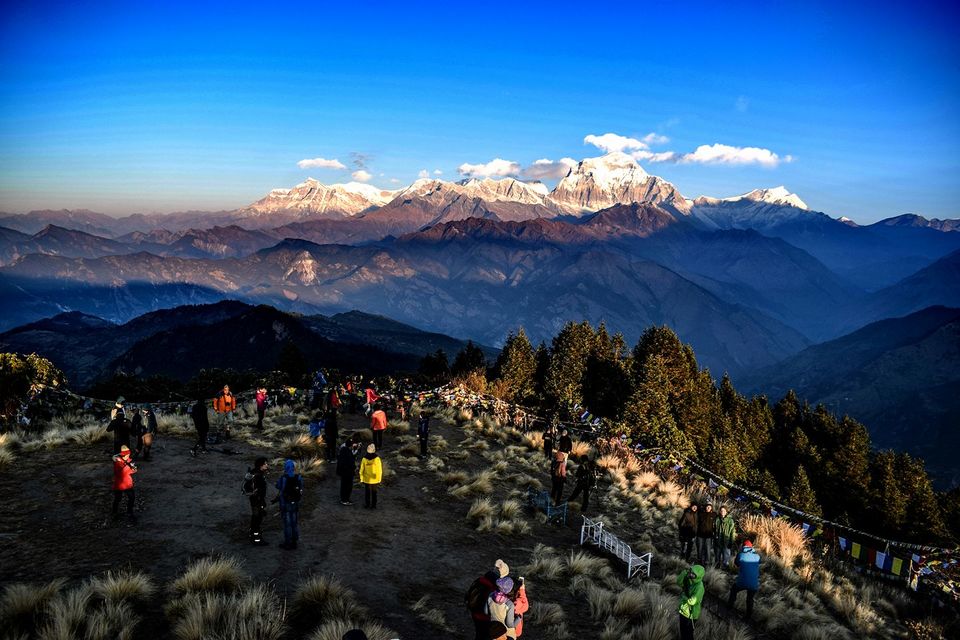 To check out more treks in Nepal, read this.
2. White Water River Rafting
River rafting in Nepal is unlike anything you've known before. Tumbling down from high mountains, these rivers that run in full spate make for some of the best rafting experiences. Accompanied by striking emerald forests and beautiful mountain vista, this adventure will leave you asking for more. The fact that a few people know that there are such things to do in Nepal, you might be in for less crowded experiences in this country.
Best Rafting Expeditions In Nepal
1. Bhote Koshi River
Bhote Koshi River rafting expedition takes you through 20 km of Nepal's uninhibited landscape. It is regarded as one of the best short river rafting trips in the world and the steepest in Nepal. An ideal trip for those wanting a short yet intense rafting experience and is best suited for those with some prior rafting skills.
The average cost for a two-day rafting trip is Rs. 5000 - Rs. 7000 per person. The cost can vary depending on the number of people.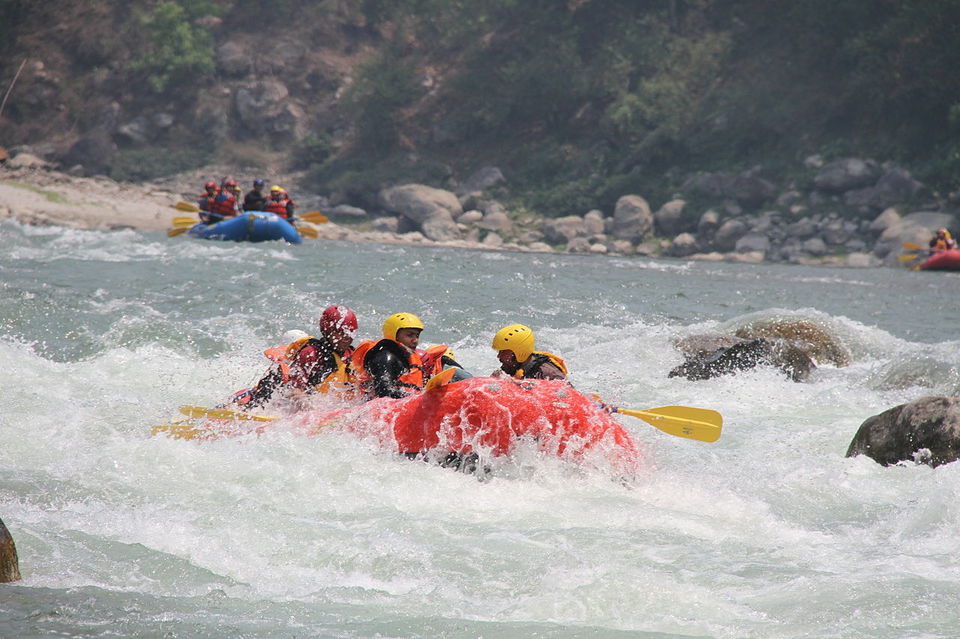 2. Trishuli River
Trishuli River rafting expedition is great for first timers. Monsoon is the best time for a great adventure with powerful rapids and whirlpools. Enjoy unpolluted river banks and pristine natural beauty surrounding this area. It can be rafted anywhere between 1 to 3 days. The former covers a stretch of 15 km, while the latter would cover a total distance of 60 km.
The average cost for a one-day rafting trip is Rs. 4000 - Rs. 6500 per person. The cost can vary depending on the number of people.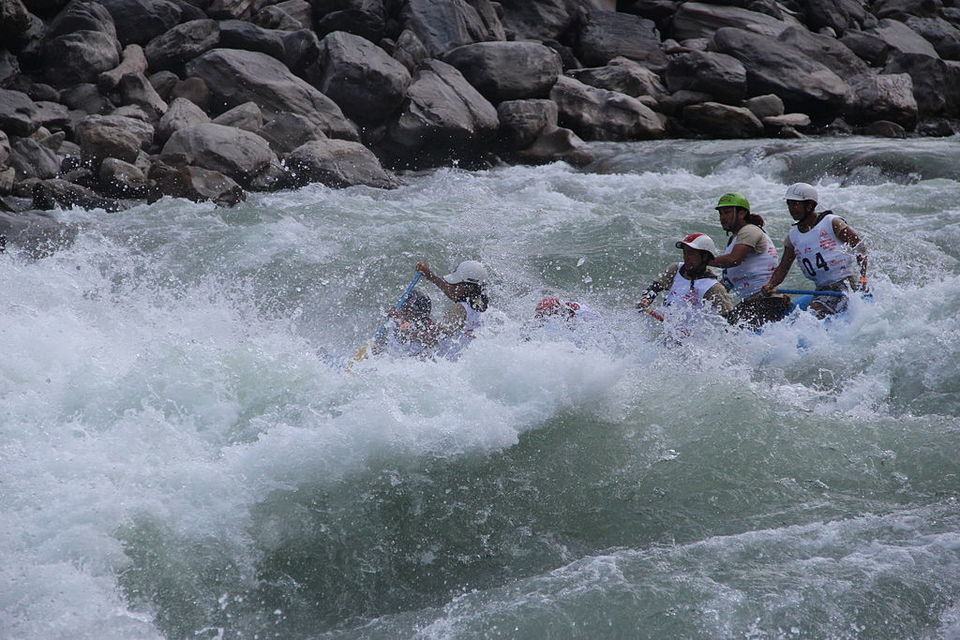 3. Tamur River
Tamur is the 6th largest river in Nepal. This tumultuous river guarantees an exhilarating ride and makes for one of the most adventurous things to do in Nepal. It is best suited to those with a sense of adventure and seeking something slightly more intense. The huge rapids are perfect for those looking for uninterrupted fun. It usually takes 11 days of trekking and rafting to complete this epic adventure trip.
The average cost for an eleven-day rafting trip is around Rs. 1,00,000 per person which includes camping, meals and trekking. The cost can vary depending on the number of people.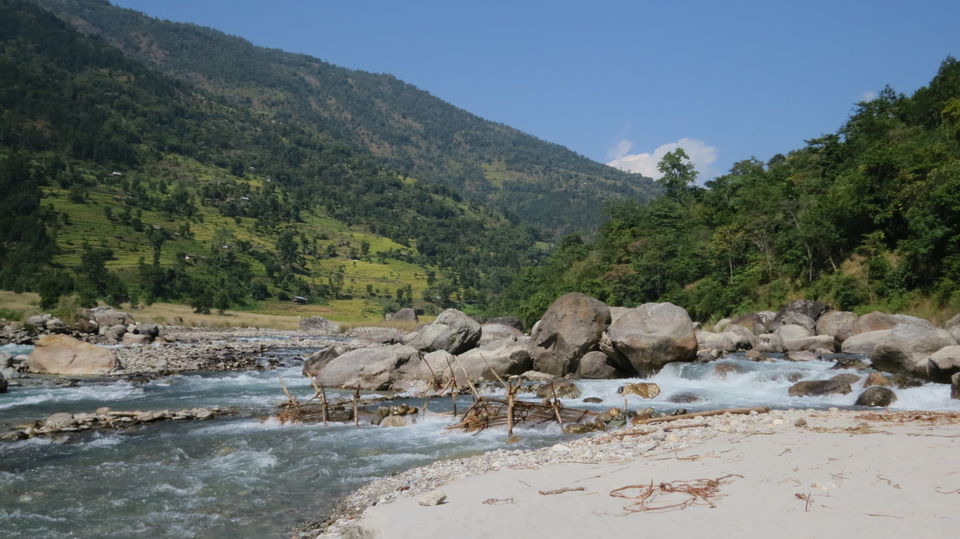 4. Karnali River
This 180 km river action takes between 6 to 7 days to finish. The largest and longest river of Nepal, it is considered the wild wild west of the country. A favourite amongst guides and professional rafters, Karnali River rafting offers some of the most beautiful views. It is an experience that will be etched in your mind forever.
The average cost for a seven-day rafting trip is around Rs. 50,000 per person which includes camping and meals. The cost can vary depending on the number of people.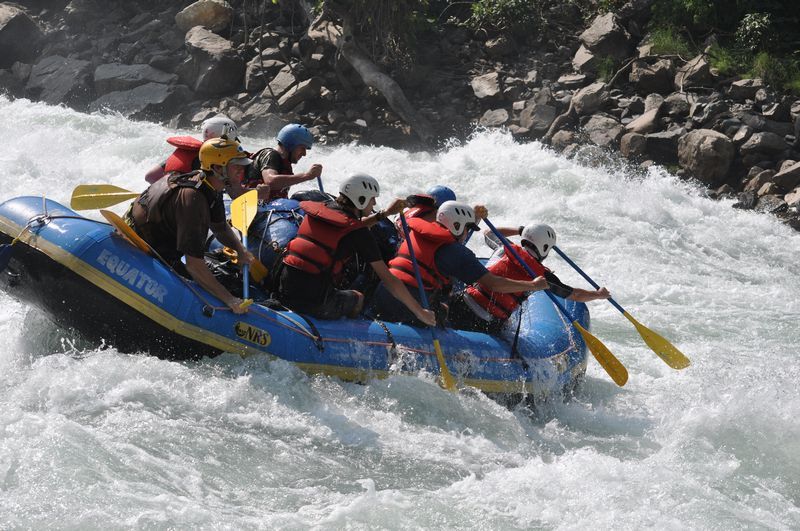 3. Bungee Jumping
Craving that ultimate adrenaline rush? How about bungee jumping? Above the roaring Bhote Koshi River close to the Nepal-Tibet border, a 525 feet bungee jump is what awaits you. It is within a reach of 3 hours from Kathmandu.
The bungee jump costs around Rs. 8,200 for Indian nationals which includes transportation via bus from Kathmandu and back. Personal videos and photographs of your jump can be purchased at an additional cost of Rs. 2,300. A person should weigh a minimum of 40 kg and a maximum of 100 kg to do the jump. It is advisable to wear comfortable clothes, neither too loose nor too tight. The bungee jump is only available between March to May and September to November.
Since the site is only 12 km away from the Nepal-Tibet border you can go visit it after getting your adrenaline fix.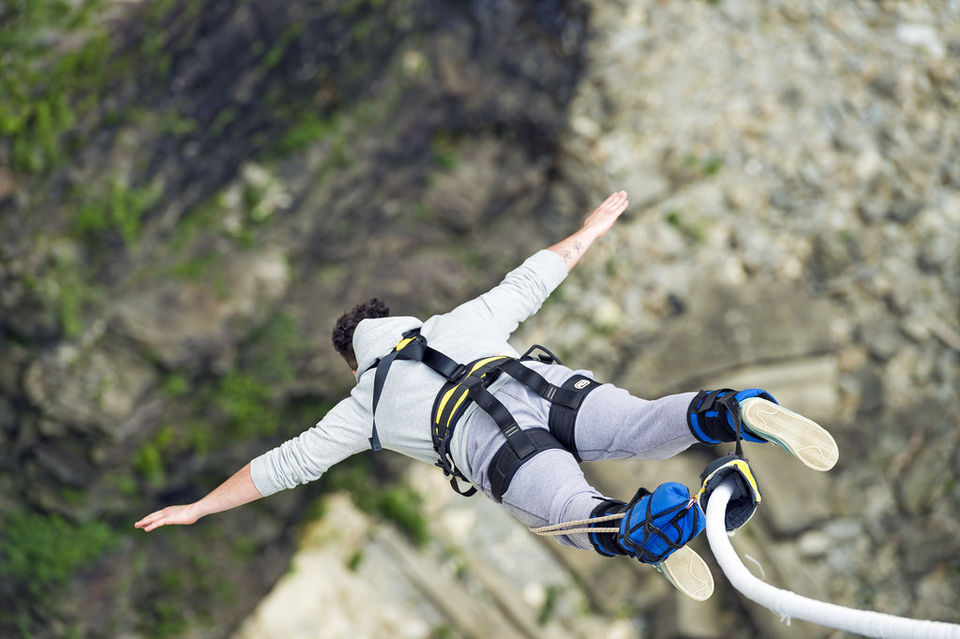 4. Paragliding
Paragliding is a popular activity across the world but in Nepal it's more than a mere adventure sport. Paragliding is perhaps the best way to enjoy an aerial view of the mighty mountains and absorb nature at its finest.
Pokhara is one of the top 5 paragliding locations in the world and this is one of the best things to do in Nepal. You can choose between tandem paragliding and independent flying. In the former you are seated in a separate harness in front of the pilot and you can relax and enjoy your surroundings. Whereas, in independent flying, you are required to control the chute. Tandem paragliding is advisable for beginners.However, experienced para-gliders can obtain a flying permit from the civil aviation office in Pokhara and ride the winds!
The cost for a 30-minute flight is Rs. 7,500 and for a 40-60 minute flight is Rs. 11,000. For an additional amount of Rs. 1,700 you can get the GoPro footage of your flight (a 5 minute video and up to 30 still photographs). Paragliding companies offer 3 flights a day, 7 days a week: 10:30 am, 12 pm and 2 pm.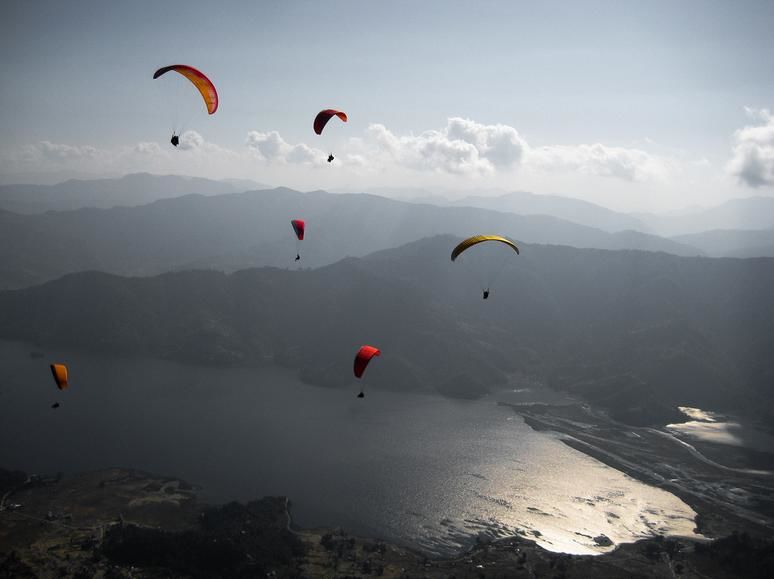 5. Jungle Safari
If you think Nepal is just about grand mountains and roaring rivers, think again! The tropical jungles of the Terai preserve some of the best wildlife habitat in the Indian subcontinent. A visit to parks like Chitwan National Park and Bardia National Park is a perfect way to experience the wilderness. Jungle safari on the back of an elephant or in a four wheel jeep may be the perfect way to see the one horned rhino and other exotic wildlife.
Located in southern Nepal, Chitwan National Park is considered the richest wildlife reserve in Asia. It is easily accessible via Kathmandu and Pokhara. Ideally, one must spend at least 2 days in the national park to fully enjoy all that it offers.
The cost for an elephant safari in the park is Rs. 1000 per person while a jeep safari will cost you around Rs. 2700 per person.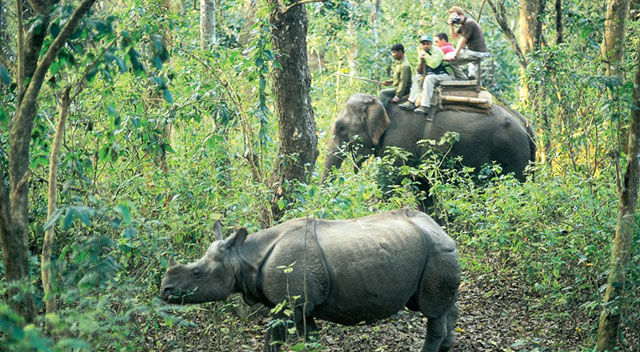 The Bardia National Park is the largest undisturbed expanse of wilderness in Nepal. Home to 19 of Nepal's 39 legally protected species such as the Asian Elephant, Bengal Tiger, Swamp Deer, Black Buck Antelope and many more, it is not surprising to spot a tiger every now and then while cruising through the park on a jeep. It is far from Kathmandu and the best way to reach is to take a flight from Kathmandu to Nepalganj and then drive down for two hours. Spend a minimum of 3 day to appreciate the wildlife and jungle in all its glory.
The entrance ticket to the park costs around Rs. 1000 per person, for a day. The costs for safaris depend on how many people are taking the safari. Generally, a full day walking tour of the jungle will cost somewhere around Rs. 2500, which includes lunch.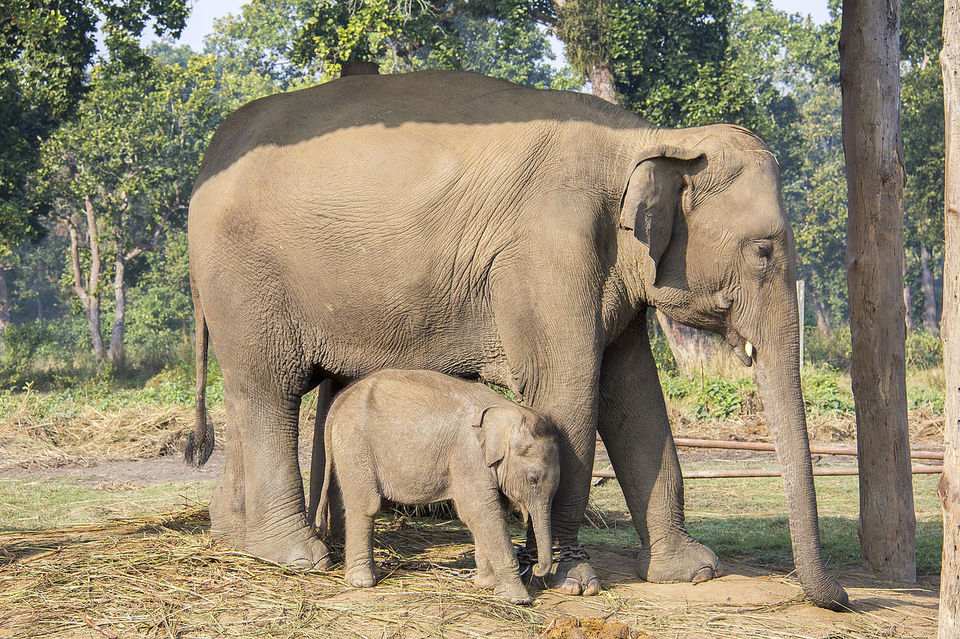 So what are you waiting for? Book your trip to Nepal right now and enjoy the diversity in adventure it has to offer!
Experienced extreme adventurous things to do in Nepal? Write all about it on Tripoto and help other people plan epic adventures!
Frequent Searches Leading To This Page:-
Travel to nepal in a package in January, best nepal tour packages from delhi, nepal tour package from Bangalore, kolkata to nepal tour package price