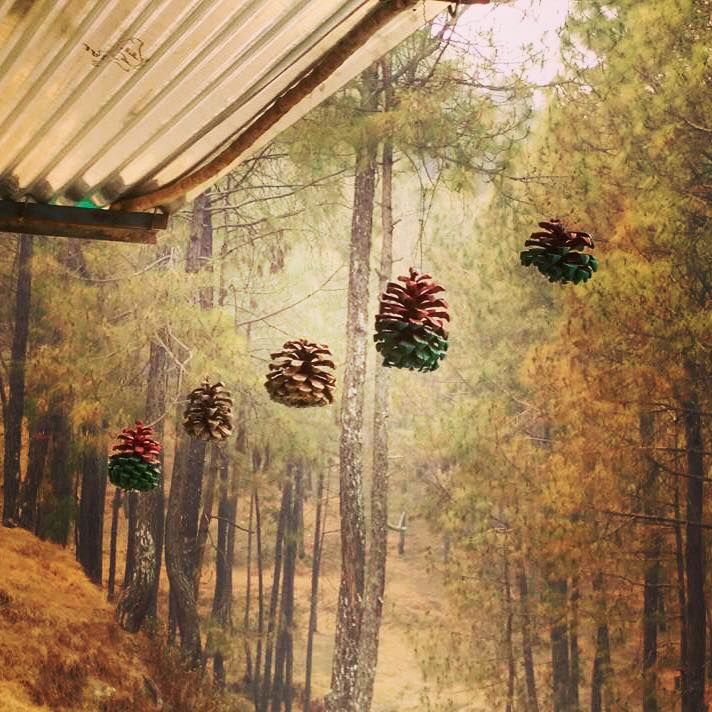 Kausani…The road less travelled
I opened my eyes early morning to see snow capped mountains peak from behind the clouds. I was in Kausani, 300 kms away from Nainital. A place not much frequented by tourists, but nevertheless, offering the most spectacular and crystal clear view of the Himalayas. The peaks of Nandadevi, Trishul and Panchchuli stood out majestically as I looked beyond my bedroom window. At a height of 6075 feet above sea-level, Kausani is one Indian destination that is much less explored. The expected chronic commercialization that has occurred in other hill stations has appreciatively not happened here, which adds nothing but more calmness and serenity to the place. A curvaceous drive uphill from the lower plateaus just before Kausani consists of small villages and dense forests on either side. The local plantation of this region which are the walnut trees adorn the little homes of the locals. A number of small hotels and guest houses in and around Kausani serve well for the few tourists who visit this place during peak seasons that is from April to June, when the temperatures are just perfect to enjoy subtle sunny days and pleasantly cool nights. Our visit during the winter months was equally enjoyable, the only drawback being house arrested at times due to excessive cold and snow. A quiet and leisure evening with family gathered around a bonfire made for a time immemorial on colder nights.
Our trip to Kausani was divided in a span of four days. Though Kausani has some small hotels offering a splendid view of the Himalayan peaks, I was lucky enough to spend my stay at a small village named Chhani, perched on a little hill, separated from the road by a narrow flowing river full of small rocks and little fishes. I found myself amidst a typical village setup; low tiny huts with wooden doors and windows, cattle tied in front of the homes, old ladies sitting on bricked parapets and little children playing and bickering among themselves. We reached a small house of a friendly and warm native family which was to be our abode for the next few days.
We set out next day for our visit to proper Kausani. A small curvy drive further above brought us at a small circular junction that broke into small lanes on all sides. We took the road that went to Anasakti Ashram. This was a place built as a tribute to our great Father of the Nation, Mahatma Gandhi, who visited this place and fell in love with it. Kausani was the Switzerland of India, as described by Gandhiji. It was here that he wrote his journal on Yoga named Anasakti. A place of quiet and calm, this ashram stocks pictures of Gandhiji's life and his books. A small prayer room where prayers are held during the mornings and evenings is found filled with people who can find solace in them. The care takers of the Ashram make sure to keep it immaculately clean at all times in spite of the place buzzing with tourists. This small structure retains a sense of spirituality and mementos of history that India is so proud of. Our next stop was at a library named after a renowned Hindi poet Sumitranandan Pant who was born in Kausani. A number of English and Hindi books in glass cabinets have been preserved here over the years. Inspired by the beauty of Kausani, he wrote a number of poems which reflect the same. A poetry symposium is held every year to commemorate his birth anniversary.
The best thing about hill stations are the little walks into the inter-connected lanes that divulge so much about the culture. Devouring all of it, we meandered through Kausani, sometimes on foot and sometimes by our hired taxi. The Estate Bungalow being a government property was to our disappointment, beyond limits for tourists. An old mansion of sorts, built during the British times, this place is surrounded by a huge garden with the most colourful flowers spread all across. It also offers an amazing view of the Himalayas. A small circular table stand states all the Himalayan points with an arrow marking the names and making it easier for the tourist to understand and view the points.
A trip to Kausani would be incomplete without visiting its well known tea gardens. And so we set off once more huddled in the car swaying along the steep mountain roads to have a look at the much talked about tea plantations of Kausani. Plush green fields of tea, with even lanes separating the plantations at the Kausani Tea Factory left us with an aroma lingering in our nasal senses for long after we left the place. The place provides the finest tea that is mostly exported abroad. But the thing more interesting to me was a photo session with a local woman who carried a tea basket behind a shoulder and a bandana on her head. She was kind enough to pose with me and let me lend her look for a picture of mine! A long day finally ended here with this last spot seen at Kausani. I was tired and felt withdrawn not so much by our excursion as by the thought that our trip was nearing an end with just another two days to go in this heaven on earth. Sleep evaded me as I lay on my bed that night. The day's travel just left me overwhelmed and i finally drowsed to a content and peaceful sleep in the wee hours of morning.
The natives of the hills are known for their spirituality as we all are aware. Throngs of people from all over India come specially to visit the pilgrimage spots located up north. And the same holds true for a dear Kausani. There are many temples in and around Kausani, some small some big, some famous and yet some little ones located in the by lanes that one might fail to notice. A special thing about these temples here that i found was the belief to tie a big bell while making a wish for anything you desire, and the faith with which people adhere to it. I did the same with as much faith that I had in me and i have not been disappointed. It just makes me want to go back there each time I desire something with all my heart. Oh how I wish that was possible! Or why not ? May be someday I will return to Kausani again to relive these little moments that gave me so much pleasure that I could savour for a lifetime.
The trip though short was worth every bit of our time spent there. Time will fade but memories of that little house we stayed in, the smiling faces of those young village girls, the men who labour tirelessly in the fields and the women cooking a meal for their beloveds on the 'chulha' will forever remain etched in my mind and heart forever.