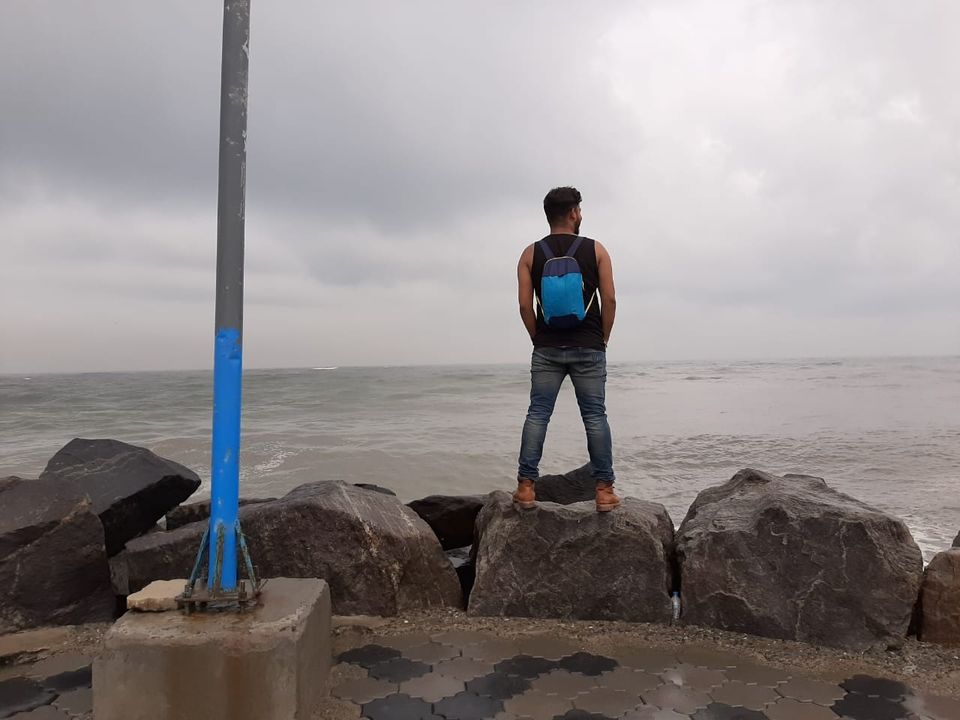 I love travelling in trains during backpacking. Unlike those cosy comfortable air conditioned coaches, that can make a deep hole in your pocket, it is rather wise to save and travel in cheaper sleeper classes. My overnight train from Bangalore to Kozhikode was unexpectedly less crowded and the coaches were clean. If you are an indian that should definitely put a smile on your face.
Kozhikode
It was raining in the morning when I entered Kerala borders. It was well expected from the weather forecast that kerala will experience early monsoon rains. The excitement of visiting a new unknown place overshadowed the disappointment caused by the weather. Although it got really chilly in the morning, lemon tea came to my rescue. As I reached Calicut station, outside was dark and cloudy. But I was more concerned about my expectations that showered as soon as I set foot on Kerala Land. I met Raunak who is a friend from college and Akshay who was our local guide cum friend cum junior :P
Akshay was sweet enough to show us some of the famous and must visit places to have authentic kerala food. I love to try local cuisine wherever I travel, gives me a perspective of their culture and yeah a challenge to my tastebuds too. We started our day with breakfast at this small shop next to railway station. We tried all the dishes they were serving. Kerala Puttu Kadala is a must try for breakfast. Kadala is a coconut based black chickpeas curry and Puttu is somewhat steamed cylinders of ground rice layered with coconuts. The ginger tea served with the food was heavenly, perfectly complementing the cold weather. After this delicious breakfast we set out for Beypur, a small neighbour town hardly 15 kms from Kozhikode. Adjacent to the beach there was a long pier for views. One could walk down to the end to experience amazing sunrise and sunsets. The tides are really strong there. We could witness swaying coconut trees as it was really windy at that time. Akshay told we could have Beypore shipyard experience if the local people allow. We had second thoughts whether to really walk that far and what if the local people working in the shipyard do not allow us. On the contrary to what we thought, the people were very welcoming. We climbed this large luxury ship-in-making and the old man who was in-charge showed us around and told us how the ships are built from scratch, how these ships are shipped to abroad mostly middle east to the Sheiks. It takes them nearly 2-4 years to build a ship. Then these very powerful group of people mostly local fishermen who take this ship to harbour by pulling it. It was unbelievable. I could just admire their strength. We returned to Kozhikode and started to just roam around the city centre. I went to see the public library only to know they don't allow the non-members. We hydrated ourselves with Sapodilla juice (Chikoo) as it started to rain again. We took an auto to the Paragon restaurant, one of the most famous places to dine in. The place was really cosy and ambience was really nice. One of my friend from college told me to try the Kozhikode biryani. So apart from Chicken biryani we ordered tribal beef and lamb chilly. I was excited about the Flaky Malabar Kerala Parotta, again a must try. Well, I found the biryani more likely chicken flavoured pulao. They don't use the long grain basmati rice like the rest of India does. Beef was tender and cooked to perfection and the lamb had the best of kerala's spice and flavours, surprisingly garnished with torn mint leaves. To my surprise the restaurant served us with warm, flavoured and coloured water. I was real curious and hesitant to drink something that looked like pink water. Akshay told us that in Kerala people use some old school ayurvedic medicinal herbs that has medical advantages. And they warm to purify water from possible germs and impurities. I was amazed and baffled at the same time. Kerala being the most literate state still likes to believe in the conventional methods rather then depending on the advanced technology. On the other hand I had respect for their conserved culture of living. Then Akshay took us to try some famous Milkshake ( Sharbat ) at a small shop, where he used to visit, much needed nostalgia I guess, which was surprisingly just 20 rupees. We were so full that we shared one happily. To kill some time we went to a book shop in Focus Mall where we spent two hours. Akshay left for his home and we decided to try some seafood near Kozhikode beach. Raunak wanted to try mussels fry ( Kallumakkaya Varattiyathu ). It was nicely sauted with ginger garlic and garnished with scented curry leaves, making it a nice side dish with Rice or Roti. We were so full from the lunch that we gave up on Falooda that we wanted to try. I just love watching sunset. Only long lasting committed relationship that I have ever been with. We took off our shoes and started walking by the shoreline and took some beautiful pictures.
It was crowded out there but in that chaos I saw a lady standing alone looking into the infinity and maybe talking to herself in her head or maybe she is talking to the setting sun( to be more poetic ). I wonder what she was thinking, is it the job that she never liked or is she sad that she is far away from her native place and probably missing her parents. Maybe she is an introvert and finds it difficult to be around people and make friends. I wanted to go talk to her and try to get into her head. But I felt like she wanted to be on her own, not disturbed. The cold evening breeze kissing her neck and all she cared about was her peace and her insecure thoughts.
It was nine when we decided to go to hotel and get our bags. We killed some more time in a cafe near the bus station. At midnight we boarded the bus that took us to Munnar. We were tired, happy and satisfied. It was a good start.