When we first decided to visit India one of the key things on my to-do list was a houseboat stay on the Kerala backwaters in Allepey, South India. The backwaters are a network of interconnected lagoons, lakes and canals, both natural and manmade. They are renowned for the houseboats you can charter there as a group or couple - supposedly the best way to experience the backwaters. The Kerala Tourist Authority especially promotes this, unsurprising really given it's also the most expensive option, starting at about 16,000 rupees (£160 GBP) a night.
The Houseboat Dilemma
As the time for our Kerala visit neared I read mixed reviews about houseboat stays and we began to doubt the idea. Some people raved about it and said it was their best experience in India, a bit of idealistic, romantic luxury. Others weren't so keen saying that although they enjoyed it, it was expensive for what it was and you didn't really get to see much of the back waters. There was also the environmental impact to consider - the houseboats are massive diesel guzzling vessels, producing bank eroding bow waves (wake).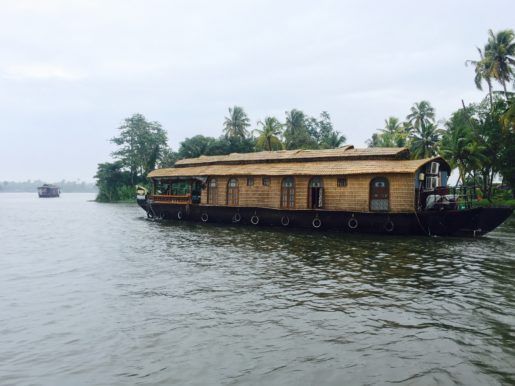 In the end we decided against it; we wanted to see the 'real' backwaters which just isn't possible from a houseboat as they can only navigate the larger canals due to their size. The time of year was also a contributing factor, being the tail end of monsoon the whilst the weather was hot, damp and humid, with a sky prone to clouding over and delivering the odd shower.
Transport Options for the Backwaters
After a bit more investigation we found there are several other ways you can explore the backwaters including:
Government run tourist ferry - this green ferry runs several trips a day. It goes up and down the centre of major, larger canals and is priced slightly higher and moves quicker than the local ferries. It has a top deck for sightseeing, but if you can't get a seat there your view of backwater life may be limited.
Local ferry - there are several of these non-tourist ferries which navigates the main canals and some of the smaller ones. You can catch these at the main ferry stop on the South Canal (the same side as the bus station), they also stop at other jetties along the canals and will stop if people are waiting (almost like bus stops). There are round trips you can take such as Allepey to Kuttunad (2.5 hours), or another alternative is to get on any ferry and get off at any jetty when you've had enough. Make sure there are auto-rickshaws waiting so you can catch one of back to Allepey. This is by far the cheapest way to see the backwaters with fares starting at around 10 rupees (£0.10 GBP).
Long distance ferry - a few of these one way ferries take a long time and service the full length of the backwaters. one route is from Allepey to Kollam, an eight hour journey. We've heard that these can be quite unreliable and prone to delays and even cancellation if they can't get enough passengers.
Chakara - these lonngboats are filled with velour covered cushioned chairs and vary in size taking between six and twenty or so people. Prices start from around 400 rupees (£4 GBP) in low season and can go up to over 1,000 rupees (£10 GBP) in high season and for larger boats. Personally I think I'd feel a little uncomfortable on one of these, travelling in certain luxury whilst passing and watching villagers at such close quarters.
Canoe - these can be hired with a boatman/ guide for a half day or full day trip. It's a slow, quiet way to travel and to meet the locals and see their way of life close up. These are good value based on the cost, around 1,000 rupees (£10 GBP) for a full day tour and the experience you get. Most will also include water, breakfast and lunch and are likely to stop at a toddy shop (toddy costs extra), tea/coconut stalls, and other sites of interest.
Kayak - these can be hired as a four, seven, or ten hour guided trip paddling through the narrow backwater canals. You can hire a double or single kayak and there is also a support boat allowing you to paddle as much or as little as you want and to rest when you get tired. Prices start at around 1,500 rupees (£15 GBP).
We ended up giving a journey on a local ferry and canoe day trip a try, both great experiences and each memorable for their own reasons.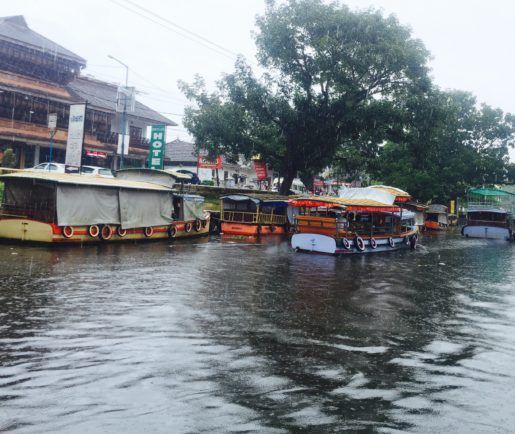 We managed to get seats together, which was lucky as it soon got very crowded as more people boarded. We were seated at the side near one of the window openings, if we hadn't managed to get those seats we wouldn't have been able to see much of the outside world at all.
This method of backwater travel gave us a close up and personal view of the comings and goings of locals getting from A to B and going about their daily business. An added bonus was it only cost 14 rupees each (£0.14 GBP), perfect if you're on a budget and easy to do independently without shelling out for a guide. We also got to see the the hulking houseboats chugging towards their moorings for the night. I must admit we could see why these are an attractive option for many people, being served dinner at sunset and sleeping out on the canals must be an unforgettable experience.
After a couple of hours of cruising the canals and picking up and dropping of all sorts of people we realised we most definitely weren't on the round trip ferry. As we had no idea where we were going to end up or at what time we jumped off at the next jetty and got an auto-rickshaw back to the centre of Allepey.
A word of caution, a trip on a local ferry is far from being a romantic or comfortable way of seeing the backwaters. If you are at all claustrophobic or squeemish, then this option may not be for you. They can become very overcrowded so you may end up crammed in like sardies, in the heat which can be rather unpleasant.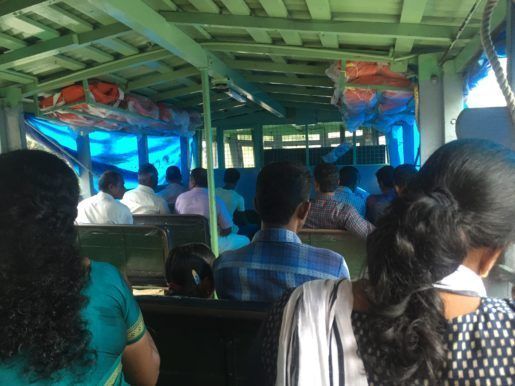 You'll also have your fellow passengers to contend with. Nine times out of ten it will be fine, they'll either ignore you, stare at you out of curiosity, or engage you in conversation. You may however draw the short straw like me, I ended up in front of two men during our journey, who definitely didn't enrich the experience for me. One repetitively and loudly cleared his throat before spitting phlegm over the side (one of my pet hates..yuck). The second man had a full on case of man_flu or some other horrible lurgy. He proceeded to repetitively sniff, snot and sneeze over my back, inbetween flailing about and 'accidently' touching my back or hair...full on cringeworthy!
Canoe Day Trip
Whilst we found the local ferry to be a really interesting and cheap way to see some of the backwaters, we were left wanting to explore some of the smaller and tiny canals we'd spotted. The following day we set off on a days canoe trip which Bijou our excellent host at Bella Art House and Meditation Centre, arranged for us.
After a shaky start of being woken in the early hours to the sound of torrential rain and assuming the trip would be cancelled, the rain eased off and we were good to go. A little man with a huge brolly picked us up from our homestay and walked us a few blocks to meet our boatman for the day.
Mr Jose (or Joss as it sounded) walked us down to the South Canal and we boarded another local ferry. After twenty minutes or so we were dropped at a small jetty near Mr Jose's house, a simple brick and tin affair but perfectly functioning and very clean. It had great views, overlooking paddy fields on one side and a medium sized canal and more paddy fields the other. We stopped here briefly for a breakfast of splendid coconut pancakes and tea prepared by Mr Jose's wife whilst he cleaned and prepared his canoe for the day.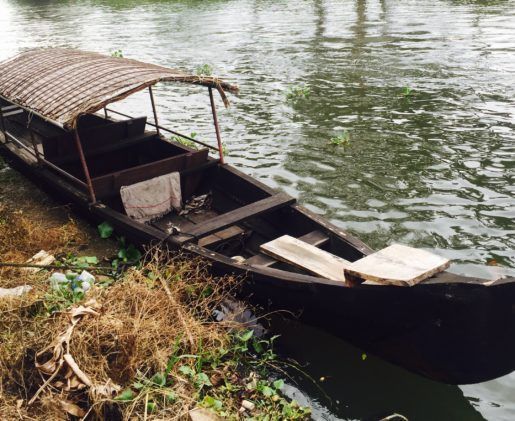 Breakfast out of the way we got in the canoe and Mr Jose started his tour of the Allepey backwaters. As he paddled us away from his house from his perch at the back or the canoe we caught our first glimpse of real backwater life. A group of about fifteen women dressed in colourful sarees were lined up along the canal bank tidying up hedges and clearing away vegetation from outside their homes. It was a real community effort and they seemed to be having a good old chatter and laugh as they worked.
Mr Jose paddled us through the complex network of canals for serveral hours, allowing us to take in the sights, sounds, and smells, and generally sit back and relax. Andy had a little go at paddling but Mr Jose soon took back control. The canoe cut silently through the water of the small canals that the bigger ferries and houseboats couldn't reach. The colours and reflections on the water were stunning. The varying greens of the sea of paddy fields, coconut palms and banana trees were broken up by a burst of brightly coloured flowers, and the occasional blue flash of a kingfisher or orange blur of a dainty dragon fly. Not to mentioned the houses along the banks painted in rainbow hues.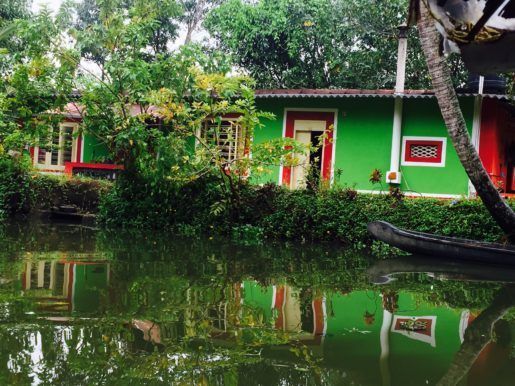 All around us locals were busy with work or chores. Women were washing clothes and scaling fish on the jetties in front of their houses. Fishermen in tiny, shallow canoes glided past calling loudly to advertise their fishy wares - you could hear and smell these before you could see them. Every so often an interested local or group of children would call out to us...'hello - your country?'. Several houses also seemed to keep chickens, goats, ducks or cows and they whiled away the time and lazed on the banks as we paddled past.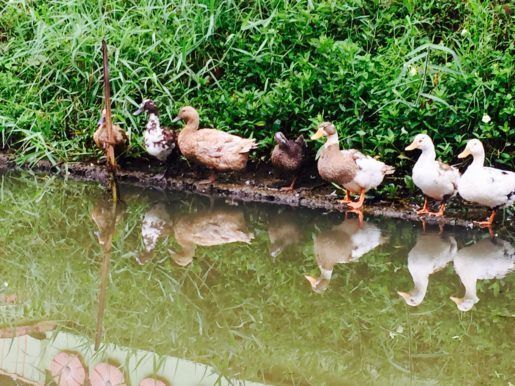 We didn't escape the rain for the entire day but were pretty well protected under the woven canoe roof. At the start of one heavy down pour My Jose moored up at a jetty and we jumped of to get some shelter at a tea stall. We skipped the milky masala tea though and went for a delicious fresh coconut each instead. Once the coconut water was drained, the coconuts were split open so we could eat the jellylike flesh inside.
Next stop was the Chavara Bhavan Shrine which holds the birth house of the saint, an example of an original backwaters house. Around 200 years old it is perfectly preserved and you can even explore inside - remember to duck as the doors and ceilings are very low. After we took a stroll between two paddy fields edged with water and three different types of lilypads. Further back on both sides were more paddy fields. Mr Jose explained that all these neverending paddy fields are sown by hand and the rice is harvested mechanically.
Back on the canoe again we meandered through more canals until we moored outside a toddy shop. Kerela is pretty much a dry state so it's very difficult to buy any sort of alcohol, however some locals brew their own toddy. Toddy is a mildly alcoholic drink made from the fermented sap of palm trees. Obviously we wanted to give it a go, so Mr Jose took us to a toddy shop.
It was a dark, dingy tin hut with five or six men milling around drinking a cloudy white liquid. One bought us over a glass bottle (probably 500ml) of toddy for us to try. In all honesty it was pretty rank and we weren't quite that desperate for a drink yet so we paid the 60 rupees, I drank a small glass out of politeness then we left. Andy refused point blank to drink any more past his first mouthful, convinced the end result would be several days confined to the toilet.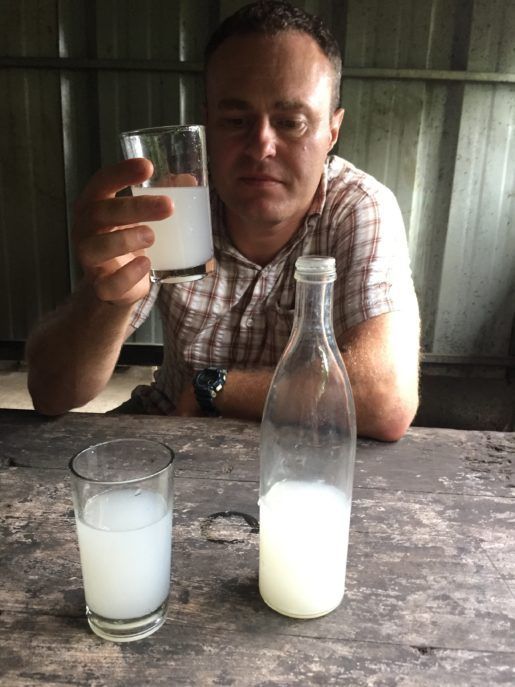 We finished off the tour back at Mr Jose's house after completing a full circuit of the backwaters. His wife had prepared a delicious lunch for us of dal, vegetable curry, Keralan rice, salad made from green beans from the garden and a popadom. In Andy's words it was 'MEGA'. After lunch we waited at the nearby jetty for a local ferry to take us back to Allepey.
We chatted to Mr Jose as we waited and got to know more about him. Before he ran the canoe day trips he was captain of a houseboat for fifteen years. He changed job because of the pollution and environmental damage the houseboats cause. This and the fact that we'd had the most insightful, relaxing and enjoyable day re-inforced for us that we'd made the right decision (for us) in skipping a houseboat stay.
I should make clear here that this is written without us actually having stayed on a houseboat. Our opinions are based purely on reviews we've read, conversations with other travellers and locals, and from watching the houseboats. Not for a minute are we suggesting this may not be great experience for other travellers, just that for us the alternatives suited us, our objectives, and budget better.
I hope you've enjoyed hearing about our backwater experience. I'm keen to write an imformative comparison of all the backwater options to help other travellers. However given we've only experienced two of these I'm going to need your help.
This post was originally published on Can Travel Will Travel.
Frequent searches leading to this page:-
Munnar and houseboat packages, Kerala luxury tour packages, honeymoon packages Munnar 5 days, Cochin honeymoon package, 5 days honeymoon, Kerala honeymoon spots images