Country in it's own country
Unplanned and jeopardized trips lasted memories forever, taking time from our busy schedule and to feel the natural scenic overpowered the noisy place. We landed at Trivandrum international airport. When I was coming out of the airport, big posters and banners depicting Kerala's tourism took me into vivid places welcoming the arrivals to god's own country.
I was foreigner in my own country because all keralite whom I interacted didn't understand Hindi and English well neither do i.
City seems be glittering that night maybe I was witnessing first time we reached the hotel on time .As per own plan we began our journey to explore nature loving country with the filter CHAI, (keepers have unique style of preparing it).
Entering the Public transport reminds me of childhood days, this bus had something different to offer me, it was bus with shutters (either it can opened full or closed full) no mid-way. While we were on way to kovalam beach ,a narrow road surrounded by coconut trees both side were ready for giving the arrival drink.
Crystal blue water at beach made a good impression on us, followed by Rocky Mountains putting cherry on the cake. Kovalam beach is haunt place for tourist not only in India but across the globe, beach is famous for swimming, sun bathing, scuba diving and snorkeling
Breakfast in front of beach made it more Lajawab.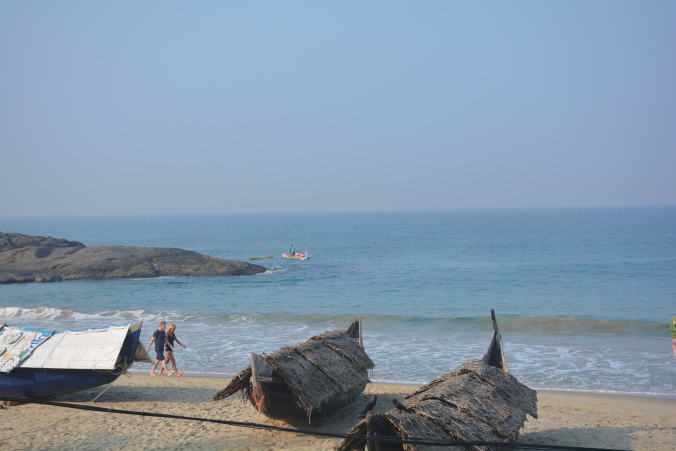 (Picture depicting view of crystal blue water)
We somehow manage to hire bike for next destination (Kanyakumari) moving towards southern tip from transformation of vehicle number, language, tradition and attire.
Lush green field's front up with banyan trees, guarded by coconut trees increased my focal length. We need halt to fix in DSLR. People had coconut stall across the roads. Every 10-12 kms I found very unique feature of big loudspeaker, I surmise they were chanting something but later got my doubts cleared, they were announcing the name of lottery winners.
Surrounded by majestic hills and plain bordered by colorful sea shores , with paddy fields and scattered red soil.In no time we reached at the coastal town in the state of tamil nadu on india's southern tip. Town was famous for watching sunrise and sunset over the sea.
We visited place Gandhi ashram , associated with great man late Mk Gandhi, swami Vivekananda .The beautiful memorial completed in 1956 is dedicated to father of the nation. It is said an urn of gandhiji was kept here for public to pay homage before immersion. Its central shape is 79 feet representing the age ,at the time of the sun at mid-day on 2 nd October would fall on the peedam through the hole in the roof.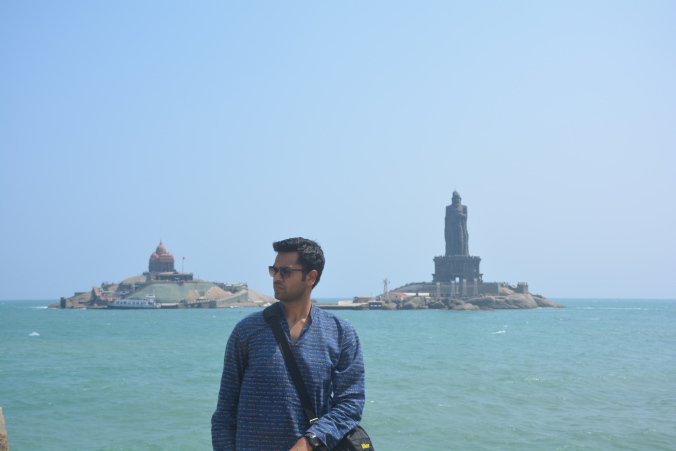 Vivekananda rock memorial and trivalluvar statue. Another place which attracts many visitors and tourists. It is built to common rate the visit of swami Vivekananda to shripada parai during 24 th,25 th and 26 th dec 1892 for deep meditation and enlightenment .Shripada parai means the rock that has been blessed by touch of shripada feet of goddess. Acc. to sources, it was on this rock that goddess kanyakumari did tapas.
(Glimpse of Vivekananda memorial and triuvallar statue)
First day ended with the sunset and beautiful memories, all the tiredness was vanished by amalgamation of water bodies, attractive scenery and many more.
Next day after filling our stomach with essential, we boarded train for Ernakulum (Cochin). It was great interaction with different people some where students, professional, business people via combination of gestures and verbally to know more about the city and its peculiarities.
While I was reading newspaper, fragrance of Kerala cuisine entered through my nostrils and popped by head, seeing delicious lunch of co-passenger I started feeling hungry. Eco-friendly banyan leaves were plates loaded with rice ,boiled egg ,mix veg ,khadhi (in my own term what I can see) made me more jealous. We were crossing various districts of kerala sometime it was water, red soil, rocky mountain, it was perfect scenic view for train itself. We landed clean and hygienic railway station at Ernakulum to have a look at cochin in very short span of time.
We visited fort Cochin, Dutch fort, famous Chinese fishing nets and had a glimpse of cochin ship yard. St. francis church was the original site of Portuguese explore vasco da gama's burial he died at kochi in 1524. Several community are filled with handicraft, handlooms, antique items ,jewellary and spices of warehouse.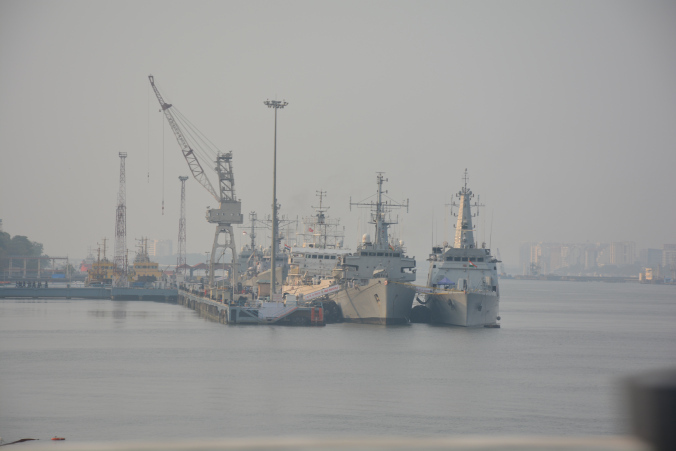 " A ship at harbor is safe-but it is not built for that-Picture of Indian navy ships from over bridge)
we moved forward by catching bus for munnar . I had no cash but soon realized India was not completely digitalized lucky to found ATM after much enquiry. We knew we were going upward as it was late ,we barely see the scenic beauty apart from miniature light at top station. By late we reached at destination. Much awaited place Munnar because of which Kerala is so famous for.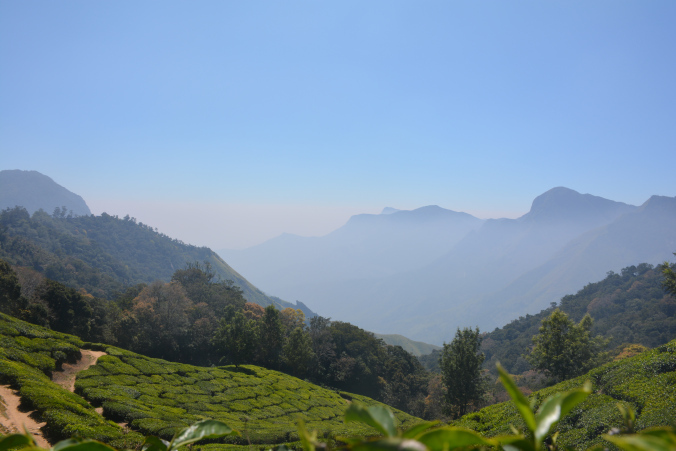 We woke up early to see the valley and found sun showering its presence .we had heard a lot about munnar ,its time to feel through naked eyes .Munnar has its own way of life it had tea estate garden ,surrounded by valleys ,echo point, matterputty dam (Kashmir of southern india),honeybee tree.i didn't want to miss any of the places. ( eagle view from top station , Munnar)
Aroma of different flavors of tea can be felt, it is situated 1600mtr above sea level. Apart from exotic flora found in the forests and grassland's here is the nelakuringi. This flower which bathes the hills in blue once in 12 years, will bloom next in 2018.
Matterputy is surrounded by beautiful lake which offers pleasurable boat rides enabling to feel the natural beauty .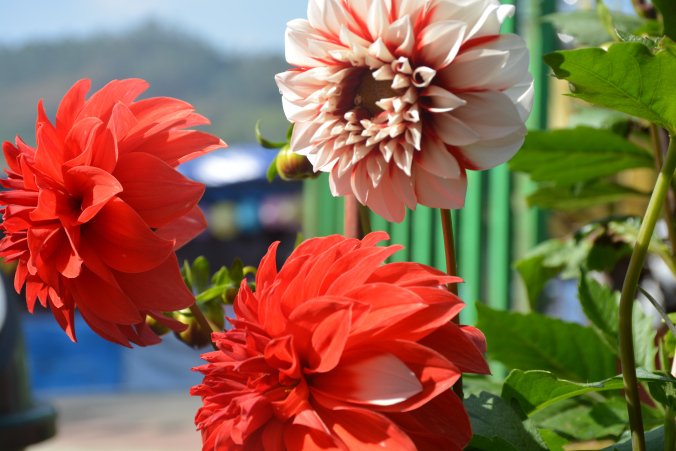 Top station-Munnar is about 32 kms from munnar city at height of 1700 mtr .It offers tourist view of paronoma making lost the people in its beauty. Rose garden at top gave us full opportunity to test our creativity with photography. One can find variety of flaura shade with indefinite color (VIBGYOR)
­­­­
Random click.
After succesfully knowing the place ,munnar has featured as perfect place to explore in our bundle of places. It's was time to see backwaters for which allaphuza are known for, heading towards required dual transportation (rail and road) for curtain down the time cycle.
It's rightly said world is a book and the one who does not travel read only one page. Our day started with downhill roller coaster ride unlike imagica left,right straight bla bla bla , distance from ernakulam to alappuzha 53 kms took an hour and half to city.
YESIII we were in the city of coirs , Rice bowl of kerala "Alappuzha"city is famous for houseboats, backwater, aryuvedic massage , handicrafted, antique items all combo at one place .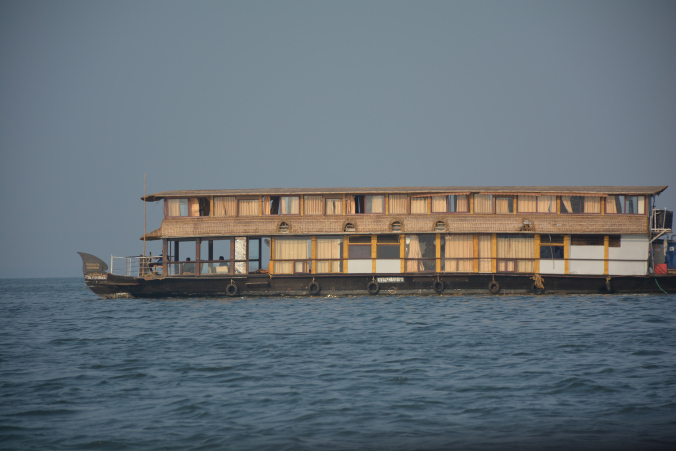 Unique items of coil and international coir muesum are great attraction centre for not only indian tourists but across the globe. We opted shikara boat among all to witness the feel of back water .my pockets allowed that much liberty.It gave us first hand experince as sun was getting down in venice of east .we had tea at boatman's house near paddy fields intraction with them even if you don't know their language is always nice. As we have locals rail, bus as mode of transportation, city has Boat for the commutation .
Houseboat View at backwater, alleeppy
Our mind and soul did not permit to leave the city for further blank spots, but God's own country had much more for us guys. Although it was all not in the list which we were trying to escape from but google image of VARKALA BEACH did not let us to go in that easy way.
We boarded our train to varkala next day early morning .This type of beach I had never experienced in my life. I can see Blue water adjacent to gigantic cliff from a distant point.
Varkala is an unexplored beach that has peculiarity of providing Mineral rich water known as spa which is used for medical treatment. It is only found at varkala (India) after japan and Europe.
We were lucky to find a dormitory by Vedanta, where we met different types of travelers, some were tyro while others had privilege of visiting 39 countries, while some were maestro of visiting all 7 continents. Freaky travelers have unique way of living life in a different manner. Varkala is famous for swimming, sun bathing, surfing, cliff jumping and many more adventurous activity. Although we had experienced it before but this time we were experiencing sun-set from cliff. Water, sun and clouds amalgamated, making our visibility low. Silence can be experienced looking at sea shore making that moment more beautiful.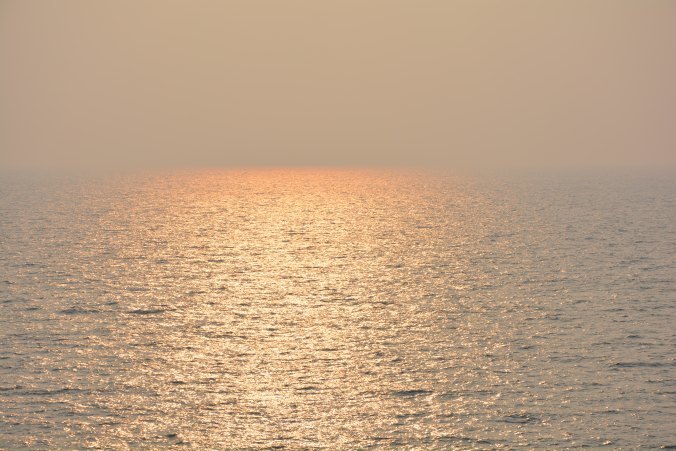 Day was not over yet, although as reverse counting of days started we did not want skip our last defined destination and thanks to the almighty for making this trip memorable and rich memories.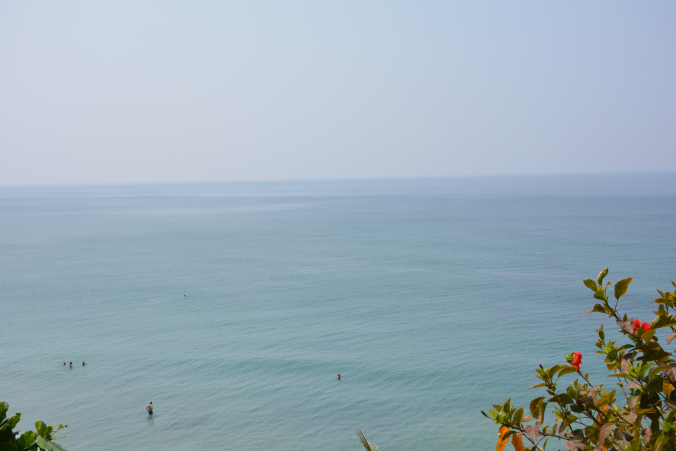 Crystal Blue water- Cliff view at Varkala
Last but not the least we visited shree padmanabha swamy temple Because of the almighty trip was successful, we were allowed to santrun santrum in dhoti only .
Temple drives its name from the position of bhrama seated on a lotus , to your knowledge temple has 9 entrance indicating the nine orifices of the human body .Temple is famous for having a secret vault that no human can open easily.
Among 6 chambers(bharatakkon kalloara ) chamber B is very closely associated with padmanabhaswamy . Chamber B -It is said that door of such secret vault can be opened by highly erudite sadhu or Mantrikas.
It is said that this mantra is chanted properly by some sadhu , only then will door open else mighyu seepents guarding the door will create a havoc on those who try to open...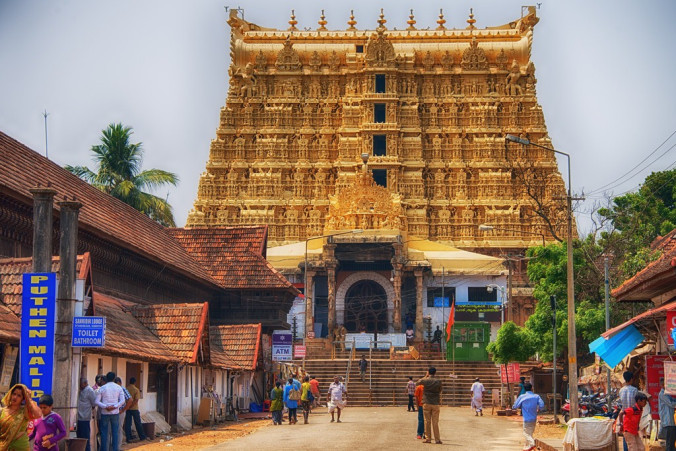 Front view of shri padmanabhaswamy temple.
Time to see off the god's own country ,along with me I am carrying kerala speciality sweets . so that atleast for some days I will not miss kerala. Kerala is the only place where silence and tranquility can be feel . A beautiful place have added in my favorite destination.
Pradeep jodha
Ex-Reliance | Ex- MahindraSSG
An enthusiast Marathoner , Traveler and Blogger.
Pradeepjodha95@yahoo.com |Pradeep.jodha91@gmail.com
9558146775