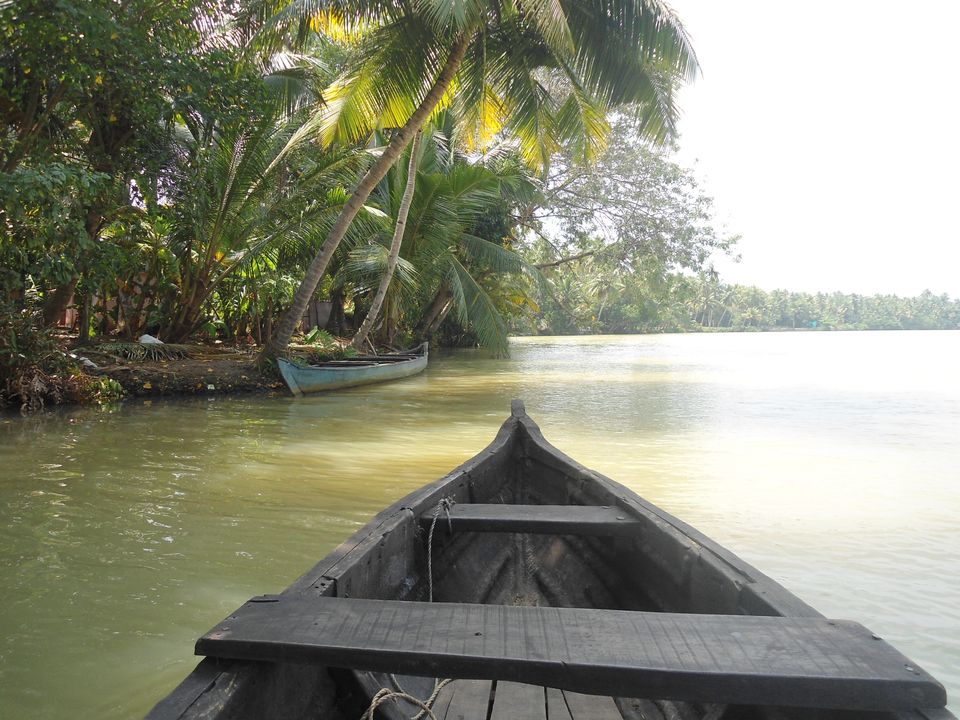 Munroe island isn't a very touristy place like other locations in Kerala. It is a quaint little paradise where you get peacefully lost in the lap of nature. Exploring this island remained a small dream whenever I visited my house in Kerala. Plans were made several times and they all somehow got cancelled. This November, I decided to visit this beauty myself. After a long gap, I was travelling solo.
On the next day at around 6:15am, I was in the ladies coupe of a train from Trivandrum to Kollam. As it was a Monday, the train was packed with office goers. I stood near the door holding my backpack for an hour till the train halted at Kollam station. As I thought I might miss the passenger train from Kollam to Munroe (Munrothuruthu), I hurried to purchase the ticket. The speaker announced that the passenger train is waiting at platform no.4. Within minutes, I was happily seated in the passenger train ladies compartment. I sat there like an expert solo traveller. It was only after 10 minutes, I started to feel something weird with the crossing stations. I questioned myself, why am I seeing familiar stations, when I'm going to Munroe for the first time?!..I called up the guide Vijeesh to get more clarity. Well before Vijeesh answered my queries, an elderly lady standing near me informed me that I was indeed in the wrong train going back to Trivandrum. I hopped out of the train at Varkala station. The next passenger train timing didn't suit my schedule. I cursed my fate and dialled Vijeesh's number again. He advised me to catch a bus to Kottiyam or Kundara. After a long wait I got a bus to Kottiyam. It took almost an hour to reach Kottiyam. I finished my parcel breakfast in the bus. I had to change two more buses until I reached Chittumala (5kms to my destination). My last commute was in an auto to Vijeesh's homestay. Several thoughts hit my mind, calculations of extra money I had to spend and time I travelled when I could have easily reached Kollam to Munrothuruthu in 15minutes if I had got the right train. Trying to think about the bright side, I had a wonderful first hand experience travelling alone and getting lost in an unknown town, learnt new routes and now I know which is the best route to reach Munroe.
My guide Vijeesh's father greeted me. We headed towards his canoe parked by the riverside. He started narrating details about their home stay and canoe tour business as he rowed the boat with a long bamboo stick. He was a simple man, proud of his son and wife who helps him in the business..he boasted that people from all over the world visited them and stayed with them. The father-son duo has picked up some foreign language words from the visitors. His wife cooked tasty Kerala food for the guests. He was knowledgeable about the types of trees/plants and birds species of the island.
As we moved ahead, the backwaters narrowed into small canals where sometimes we had to bend our head at the shallow bridges. The bridges were either concrete or just a wooden log to let people cross the canals. There were houses on both sides, some of the residents looked at me and smiled. We stopped in the middle to see the process of coir making. The work included a lot of physical activity and was performed by ladies of the households. Apart from tourism and coir making, other activities of the residents included prawn cultivation and toddy tapping from coconut palm.
During the 2.5 hour ride, I got a brief idea about the life in that island..my guide was a talkative person which made it a lively journey. He showed me mangrove plants and took me to the place where the canal waters met the lake. Munroe island is named after a former British resident of Travancore state, Col. Munroe. The backwaters here are formed by the union of Kallada river and Ashtamudi lake.
My return journey was in a MEMO train from Munroe to Kollam at around 4pm and from Kollam another train to Trivandrum. The best way to reach Munroe is to drive down or travel in train (make sure you get the right passenger train). If anyone is interested to visit the island, I will recommend canoe ride and homestay by Vijeesh & family. You can make enquiries here
https://sites.google.com/site/munroeislandbackwaters/