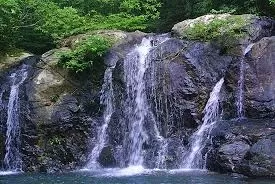 Day 1
We started off from the Netaji Subhas Chandra Bose International Airport, Kolkata and reached the El Nido airport. We then took rest in our hotel ( which is ideal for budget travellers ), the Romy's Place. We opted for the Underground River Tour. After a 30-minute journey by boat from the Sabang Boat terminal, we reached the underground river. I must say that the Sabang Beach is just wonderful. The underground river is almost 24kms long, and the adventure takes about 45 minutes. The place is quite dark and has a lot of Bat Shit, as I call it !! My camera shooting in the dark cannot give justice to this exotic place, so check it yourself. After reaching the hotel room, we went to The Baywalk. There is nothing much to see at night, but in the daylight, one can experience the beauty of the sea. For the first time, we saw how the Puto Bumbong is cooked and also tasted it for the first time.
Day 2
We went to the Nacpan Beach. It took about 42 minutes for us to reach the place from El Nido. We trekked to the top of a tiny hill to get an august view of the beach. We spent the day playing in the huge waves of the sea. The place is incredibly beautiful. Then, we headed on to its twin, the Calitang Beach. We progressed towards Las Cabanas to see the sunset view and it was breathtaking. We had dinner at a restaurant near the beach, with only lamps and torches as the light and the sound of the waves and the wind as the music.
Day 3
We settled ourselves on an island beach hopping in El Nido. Our first destination was the Seven Commandos Beach. After enoyinf this beach for about 30 minutes, we headed on to our second destination, the Small Lagoon inside Miniloc Island. To reach there, we hired a kayak, since the path is very narrow. The gigantic rocks and the crystal blue waters are the main attraction of this lagoon. Our third destination was the Shimizu Island, where we relaxed for sometime and had our Pinoy-style lunch. Our fourth destination was the Siruma Beach, which was mostly enclosed by rocks, with a small hole, just enough for one person to pass through. From the boat, we swam upto the hole. I guess this place is much better during the high tide, when the sea relly reaches inside. however, once there, I conquered one of the huge rocks and clicked many photos. Our fifth and last destination was the Big Lagoon, but we could not go inside since our boat was very big and the water was getting shallow. So, we just enjoyed snorkeling instead. At last, we returned back to our hotel.
Day 4
We went back to Kolkata from Al Nido by air.
I must advice my readers to taste the following foods once you are in Philippines :-
1. Chicken Adobo
2. Balut
3. Kinilaw
4. Tapsilog
5. Halo Halo