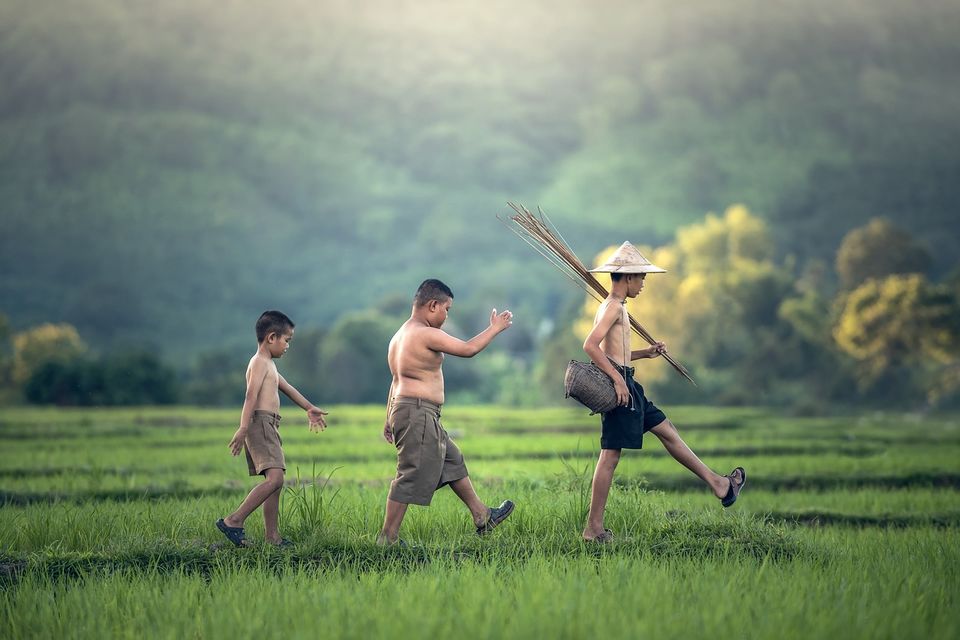 Laos is a truly a beautiful and gorgeous country and of late it has become quite a popular destination in Southeast Asia. From the virgin forests of Luang Prabang and the remote mountains of the north to the party-hopping destination Vang Vieng, Laos has something to offer to everyone. The country is landlocked, but a great place to travel if you are on budget. Laos is indeed one of Southeast Asia's rewarding destinations. Quiet and not yet affected by mass tourism, Laos offers a unique experience that combines stunning scenery with a relaxed and slow-paced way of life.
There are beautiful colonial cities, fun-filled adventure destinations and some spectacular landscapes, making Laos a lovable destination. A fortnight is really not enough to explore the country, but the time is enough for you to fall in love with the country while travelling across it. Here is a 15-days itinerary for planning a grand trip to Laos.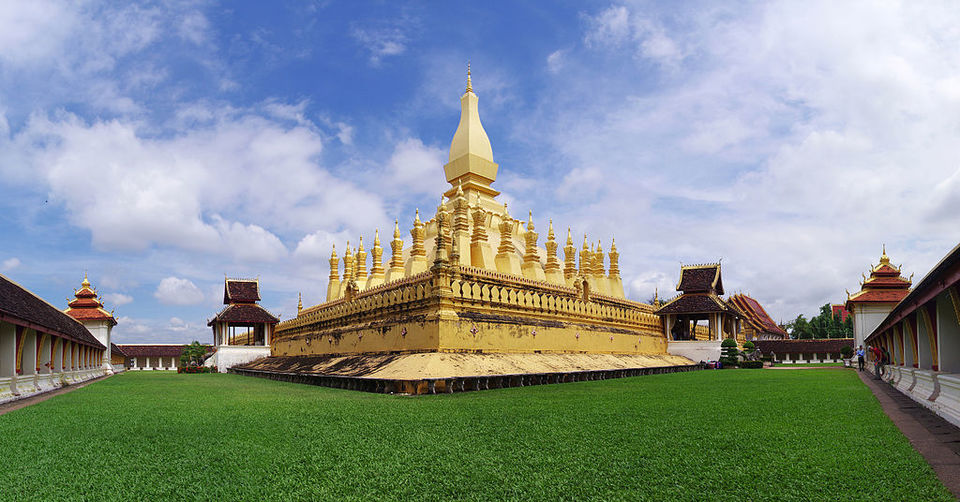 Day 1: Arrive in Luang Prabang
The main international gateway to Laos is Luang Prabang, and as this is one of the must-visit destinations of Laos, it is better to fly in at Luang Prabang. This tiny city has been ranked as the top cities for travellers and has a lot to offer. The languid city, perched on a land that pokes into the Mekong river in the northern mountains is also a UNESCO World Heritage site. This ancient city founded in 1353 served as the capital of the early kingdoms that rules Laos. Luang Prabang is a eclectic mixture of Buddhist temples, royal palaces, French architecture and modern restaurants and roadside cafes.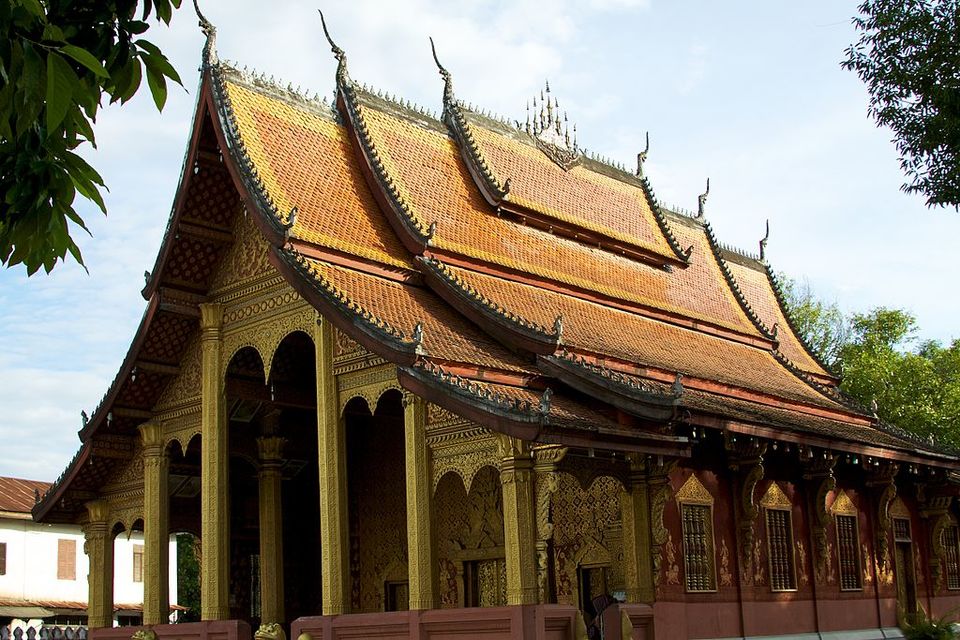 Day 2: Old Town at Luang Prabang
There is so much to see at Luang Prabang. The main sites and attractions in Luang Prabang are easy to see in a day or two, making this a great place for relaxation. Take a visit to Mount Phou Si. It is a small hill of 10 metres situated at the centre of Luang Prabang. The hill situated in the centre of the old town makes is an excellent viewpoint to see the city and its surroundings.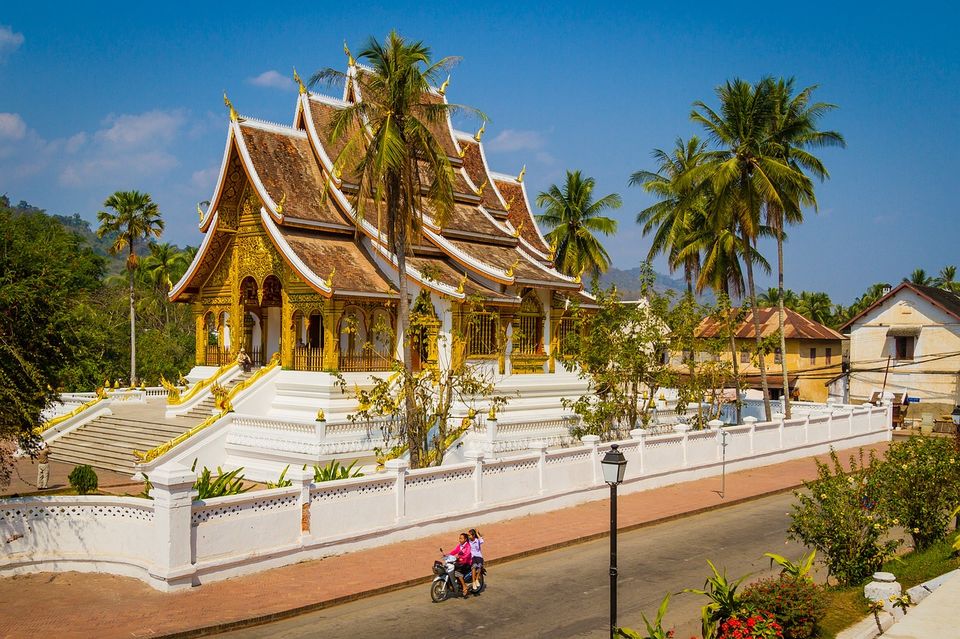 Next, you can visit the Royal Palace Museum. Once an official residence of the Laos royal family, the Royal Palace was taken over during the revolution in 1975 and remained unused for several years. The Museum is now a place to showcase the history and culture of Laos.
Day 3: Luang Prabang City Tour and visit to Pak Ou Caves
A good way to schedule your day is to do sightseeing in the morning before relaxing beside the Mekong or in the charming Old Town during the afternoon. If you are an early rise, do visit the Morning Market. This small market can give you an insight into the lives of the people of Luang Prabang.
In the morning visit the Wat Visoun, also known as 'The Water Melon Stupa' due to its shape. Take a tour of the city. Then board a cruise on the Mekong River. The cruise will give you a panoramic view of the tranquil countryside. Visit the Pak Ou Caves located 25 km away. Hundreds of miniature Buddha sculptures hidden inside one of the caves at Pak Ou.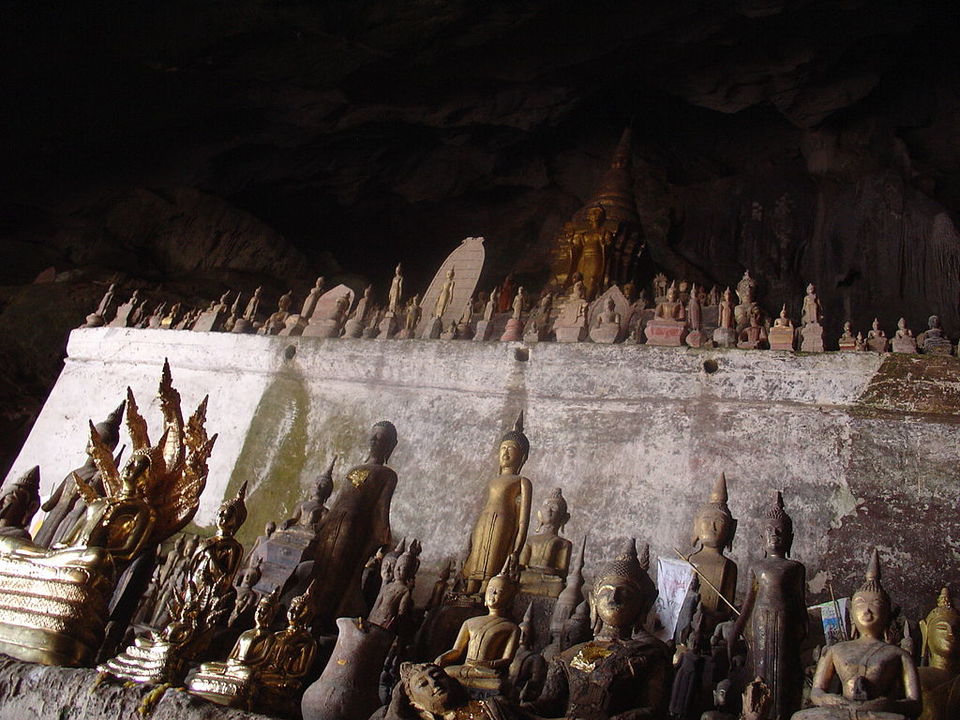 Day 4: Exploring Luang Prabang
This day set an alarm for 5.30 am to witness the morning alms giving (Tak Bat). This is an amazing experience and you should not miss it when in Luang Prabang. Hundreds of monks walk along the streets in a line, while locals and some tourists offer foods, such as rice and biscuits. Please remember that it is a religious ceremony. If you do take part, please do it respectfully.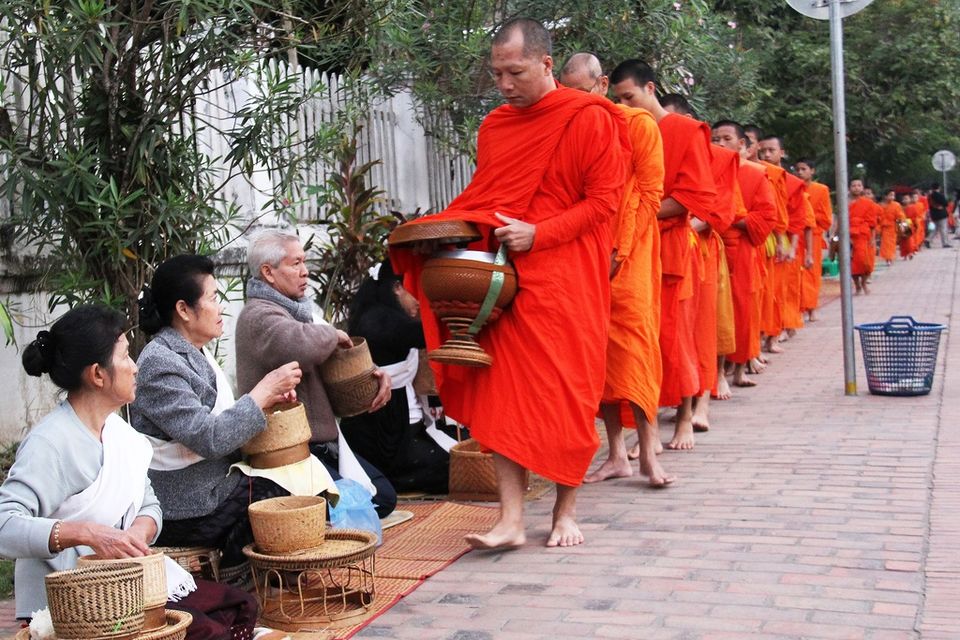 Then visit the Kuang Si Falls. This spectacular series of waterfall is located just under 20km from Luang Prabang draining into a beautiful blue swimming hole. You can take a tyk-tuk to get to the waterfalls or can also rent a scooter.
In the evening, visit the Luang Prabang Night Market. It opens in the Old Town just before sunset and runs until late at night, with a variety of vendors selling cheap clothing, souvenirs, local handicrafts and a variety of other souvenirs. Do not forget to haggle if you want to buy something from there.
Day 5: Luang Prabang – Xiengkhuang
While at Laos, a visit to the Plain of Jars is definitely worthwhile. From Luang Prabang, drive towards Xiengkhuang province. On your way, stop at Houi Hei that offers great views of the surrounding mountains. Also visit the Buddha Cave which played a major role in the time of Vietnam War. This served as an army hospital during the war. Stay at Phonsavan, the provincial capital of Xiengkhuang province.
Day 6: Trip to the Plain of Jars
One of Southeast Asia's historical mysteries is the Plain of Jars. The Plain of Jars is a megalithic area, a scattering of monumental vessels that covers parts of Xiengkhuang plateaus. The purpose of these jars are still a puzzle to the historians and visitors. These large stone jars and ancient Chinese paintings date back to the Iron Age. The visit to the Plain of Jars take 7-8 hours from Phonsavan.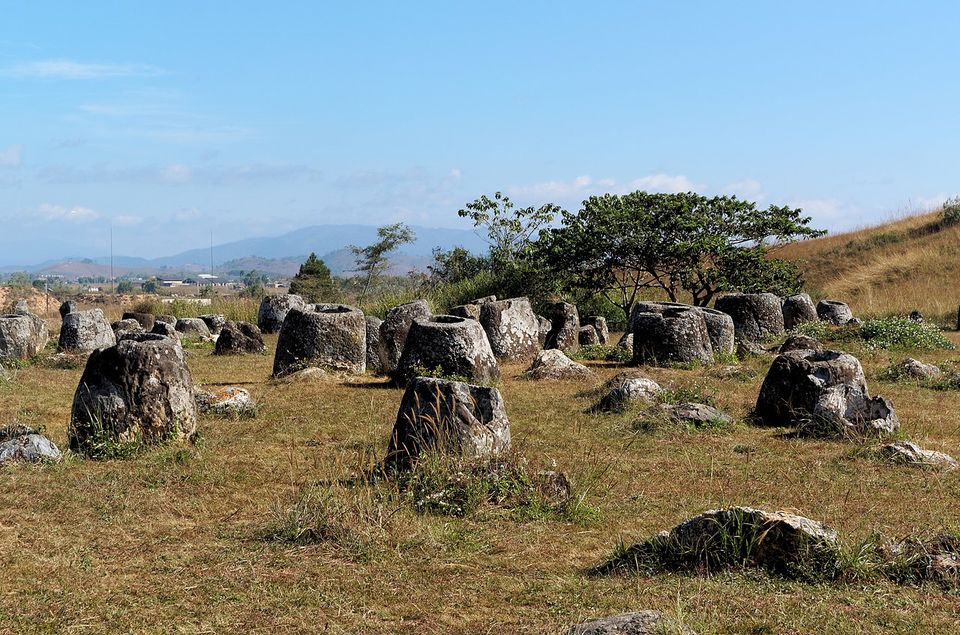 Day 7: Finally to Vang Vieng
Vang Vieng is one of Southeast Asia's best adventure destinations offering a variety of adventure activities like mountain biking, river tubing, kayaking and hot air ballooning. The place is a paradise for backpackers and the party capital of Laos. The best part of Vang Vieng is its amazing natural beauty. The small town is located in the middle of stunning limestone mountains, giving it some of the best views in Laos and the ideal setting for adventure sports.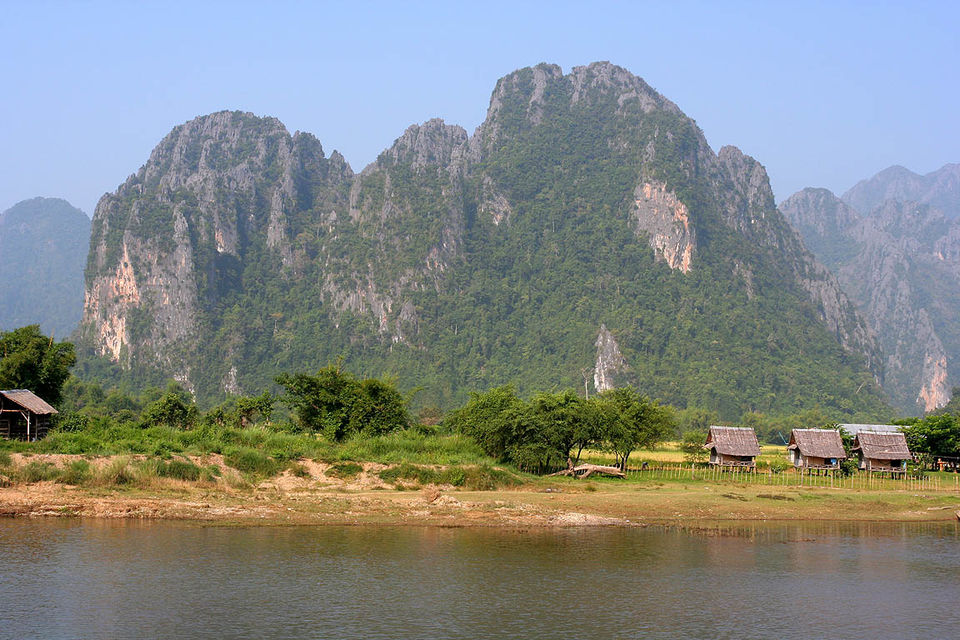 Day 8 and 9: Exploring Vang Vieng
There are so many things to do at Vang Vieng, the most famous being tubing. You simply jump in your rubber ring, float down the river bank, have fun and even get drunk! Earlier, most tourists used to get intoxicated on the trip and often get injured on the slopes and rope swings. But recently, tour operators have become more responsible and accidents are less nowadays. River Tubing Vang Vieng and Tham Nam Water Cave are two operators you could check out.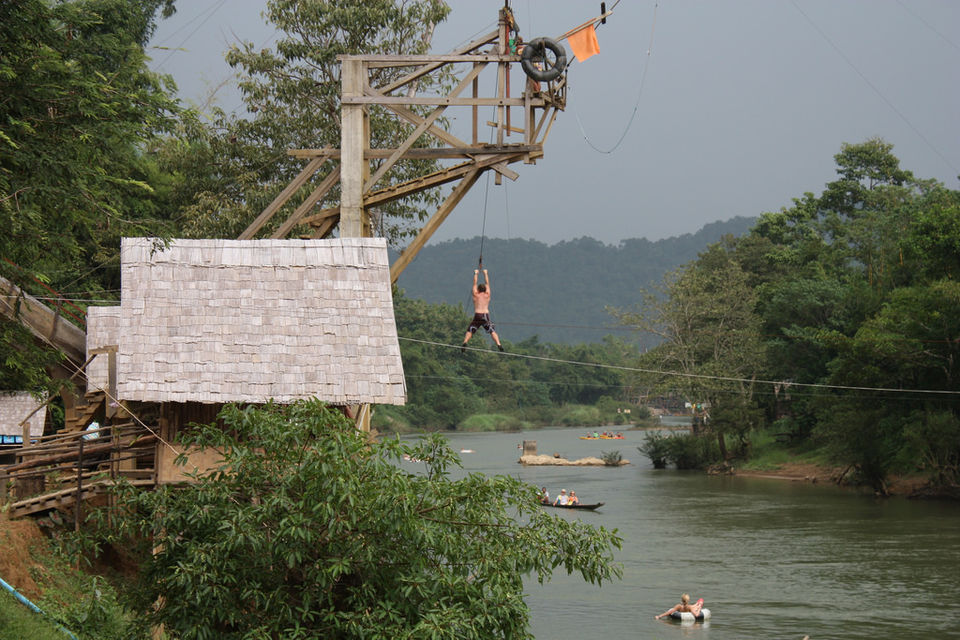 You can also go for Kayaking while exploring the Nam Song River. Guided kayaking tours for beginners and experienced kayakers are available. Rock climbing and Mountain biking are also some other activities where you can indulge yourself.
Day 10: Visit Nam Ngum and then drive to Vientiane
After spending the adventure-filled couple of days at Vang Vieng, it is the time to head towards Vientiane, the capital city of Laos. Vientiane is much quieter and peaceful than its neighbouring capitals and this makes for some relaxing time. Enroute Vientiane, you can stop to visit Ban Bor, a beautiful village from where you can visit the vast Nam Ngum Reservoir and the scenic Nam Ngum Lake.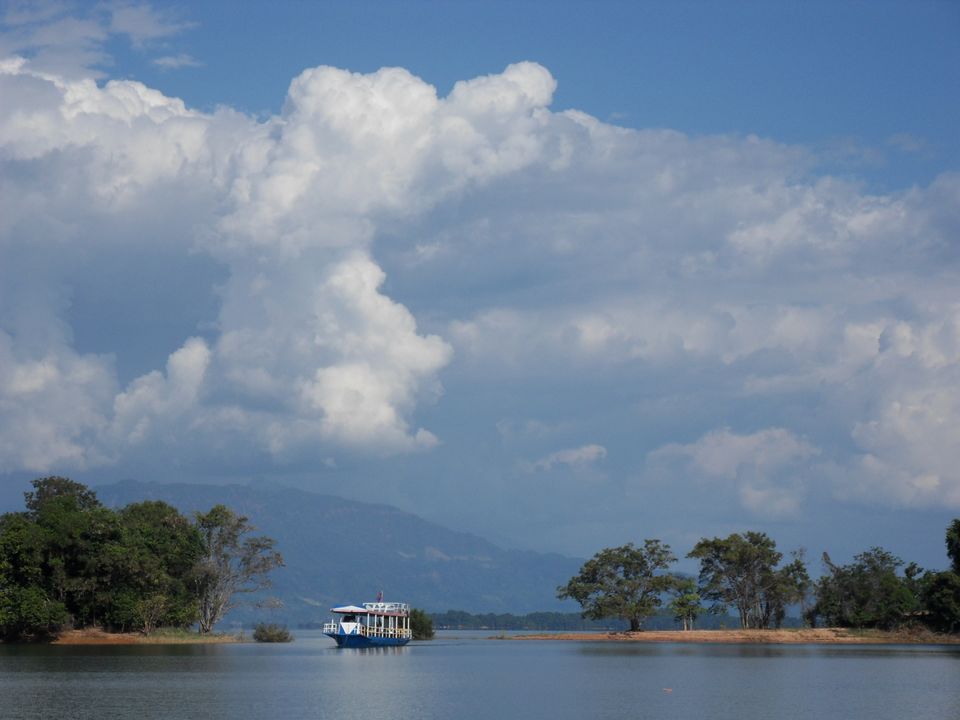 Day 11: Vientiane City tour and a visit to the Buddha Park
There are a number of beautiful attractions in Vientiane. Visit Wat ki Saket, the city's oldest temple. The temple was built in 1818 and contains Laos' largest collection of Buddha images, with more than 2,000 statues made from materials such as ceramic and silver. Close to the Wat ki Saket is the Vientiane City Pillar Shrine. It is a small Buddhist shrine built on the same land as hundreds of 4th century stone city fragments. Also visit the Pha That Luang, a 45 metre Buddhist stupa wrapped in over 500 kilograms of gold. It was constructed in 16th century and is located around 15 minutes from the city centre. In the afternoon, visit the Buddha Park located south of Vientiane. Also known as "Xieng Khuan" in Lao contains hundreds of statue of Hindu and Buddhist deities, bodhisattva and objects of Buddhist art, including a 40 metre reclining Buddha statue.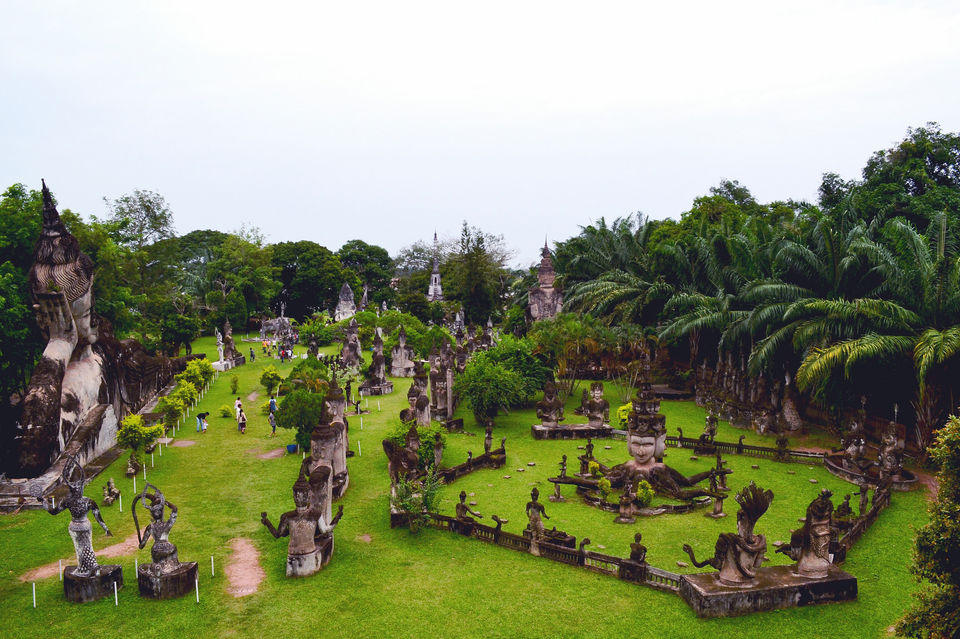 Day 12: Visit the UNESCO Heritage site of Wat Phou
From Vientiane, fly to Pakse. You can also take a bus, but a bus journey will take almost 10 hours. You can take a night bus to visit Pakse. After arriving at Pakse, visit the Wat Phou Temple, a UNESO Heritage Site in Laos. Wat Phou is the site of ruins, which were once part of a temple built before Angkor Wat in Siem Reap.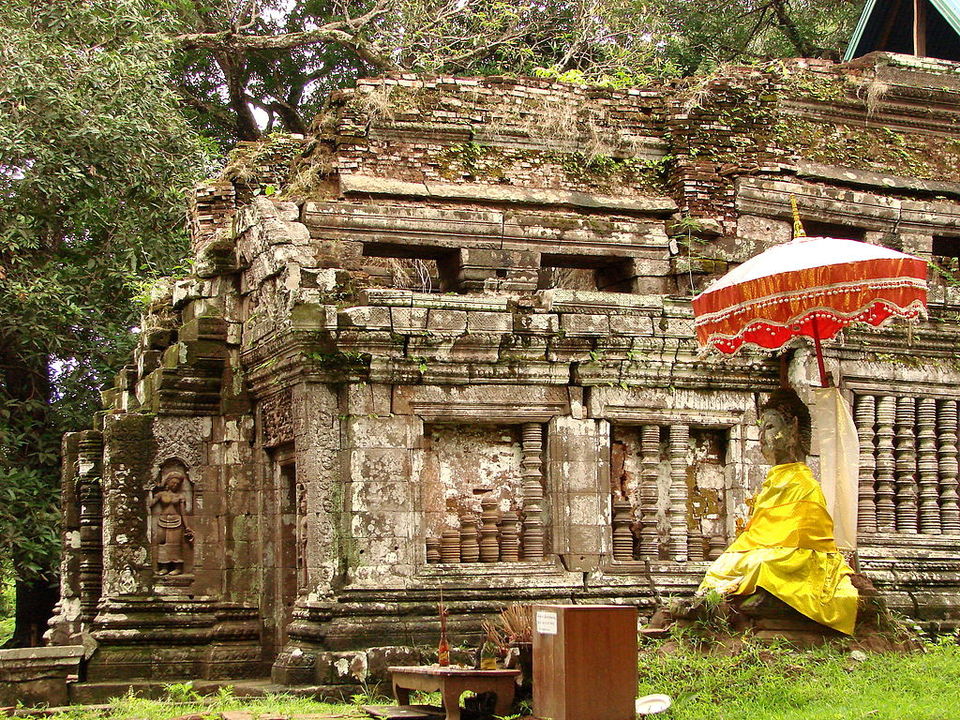 Day 13: Trip to the 4000 Islands
4000 Islands or Si Phan Don is a laidback, sleepy and charming place nestled at the foot of Laos on the Cambodian border. As the name suggests, it consists of lots of tiny islands scattered in the vast Mekong Delta. After your journey by road, board a crammed long boat for the very short journey across to Don Det, the main place to stay. Don Det is the main traveller hang out where you can bag yourself a bungalow overlooking glorious sunsets on the river for next to nothing. You can also stay at Don Khong.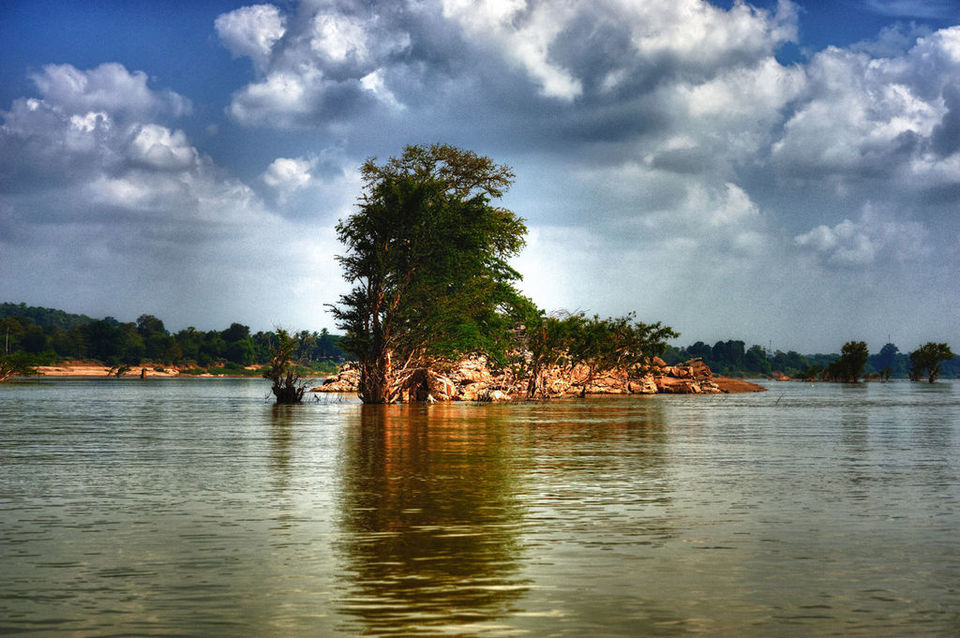 Day 14: Explore the Islands
Si Phan Don is a laidback place. You can explore the island at your leisure by hiring a bicycle. Cycle the only way you can, away from the village, and enjoy the woodland before crossing the rusty French Bridge. Over the bridge is Don Khong which provides a home for the largest waterfall in South East Asia, Khone Phapheng Falls. The waterfall is really impressive and beautiful. You can also find some lovely beaches to relax on before cycling back. You can also take a day long kayak trip to see the endangered Irrawady dolphins.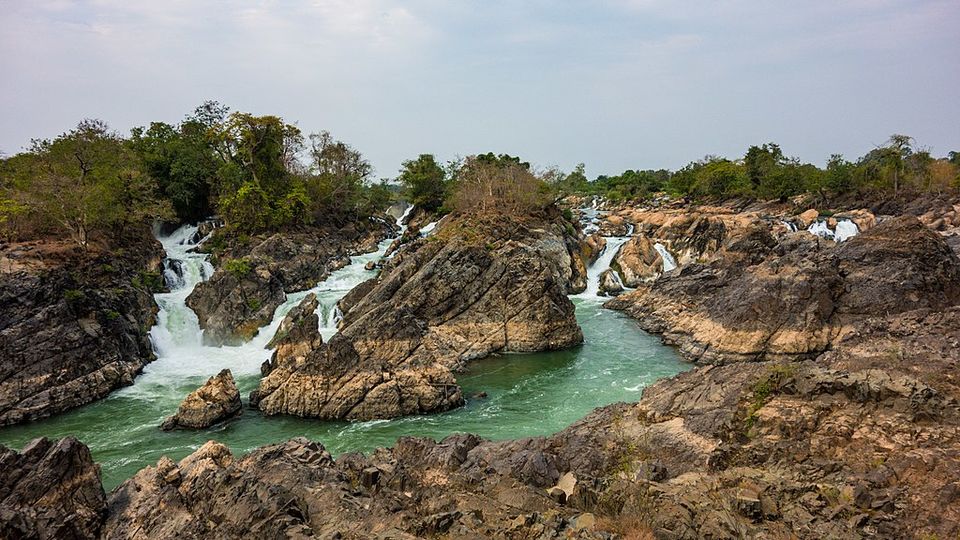 You can explore Pakse before flying out of Laos.
Some Tips:
Boat Tickets: Always get your ticket from the official ticket office, located right by where the boat departs.
Be Respectful – When taking part in the Tak bat, be respectful of the monks and do not get too close to them to take pictures.
Dress conservatively while visiting the temples.
There are plenty of backpackers hostel at different places in Laos.