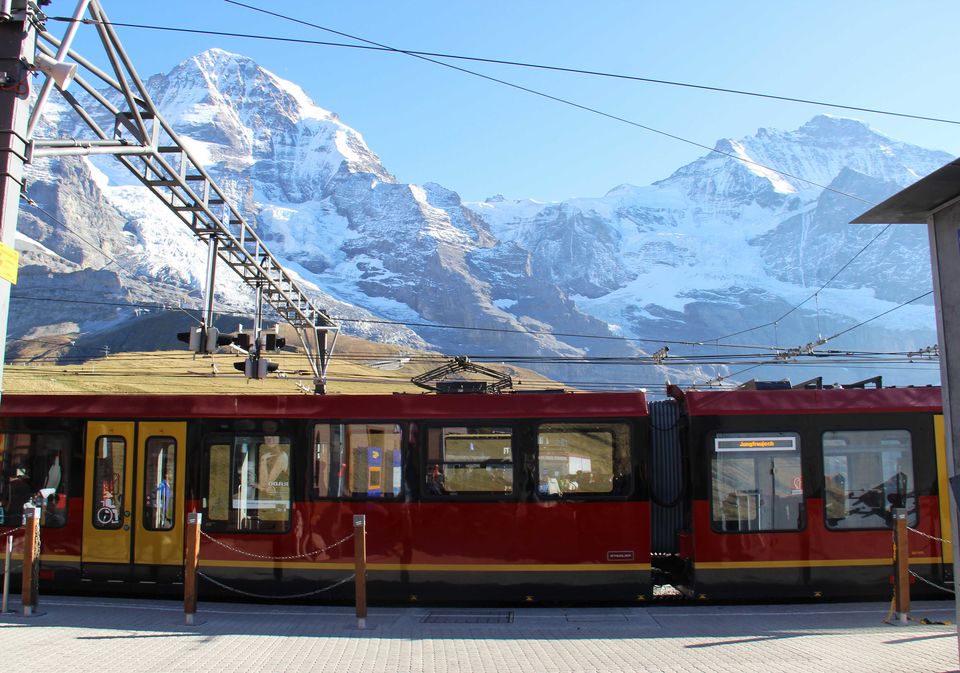 Hey,
So back in October of 2018, I had the most amazing trip to Switzerland. Honestly, I was sweating thinking about the country's currency rates, but OMG, what an experience of life. The magnificence just being at the ALPS, would sway your heart. It would take you to a high and you will just forget all the worries. All you need to do it take some neat shots in your flight. :-p
The first most important tip is to buy a SWISS PASS at the airport, depending on the number of days you are placed in the country. There are options for 1,3 or even a weekly Swiss pass. This gives you transport access and gives you discounts on cable rides/cog wheels. It also gives you ferry rides from Lucerne into Bürgenstock, Weggis with a trek to Mount Riggi & Vitznau. So Swiss Pass, has many advantages. The price structure of this pass is available on google :-)
And the second important tip is to buy a swiss SIM, to get the internet access for maps and whatsapp/insta connectivity. It costs just 20 CHF and big help. Don't even rely on your native country's phone network, it would cost you a bomb. And save this SIM for future travels, and you will surely make another travel plan to this country. I bet. :-)
And lastly, don't buy water, but carry an empty water bottle. Swiss government has successfully placed fountains which provide salubrious drinking water, which catch your eyes almost everywhere you prance around during your trip.
The country is so expensive it has no theft, so lately I lost my wallet in Milan. And that just explains the high standards of Swiss.
Also just an advice, choose Lucerne as your place of stay. Its centrally connected with all the travel routes.
Also try indulging in some treks when in Swiss. There are many options, u just need to figure out by hunting some information. And carry your trekking poles and comfortable shoes with such plans. :-)
DAY 1: I landed in Zurich, and checked into a hostel near the Zurich train station. Booking.com, gives some decent hostel options. Mine was not a very satisfactory hostel stay, so would not really recommend, except 700 meters from the main train station. Day 1, was about visiting Mount Pilatus & checking out the town of Lucerne. Mount Pilatus which has the most exquisite views of the Alps, and the convenience of the cable car ride which would keep you on your toes. A Dragon cable ride from Mount Pilatus will make you land at Fräkmüntegg and then soak in the entire Pilatus experience. I did tobogganing for just 8 CHF, a great experience. Another cable ride from Fräkmüntegg makes you down at Lucerne giving a different view from Pilatus. It is easily a day's experience. I spent my evening at Lucerne just clicking some pics and walking in the lanes.
DAY 2: Mount Titlis. The most breathe taking excursion. Prepare to get wonderfully tripped, enjoying one cable ride to next. Getting amazed how wondrous life is :-)
In the evening I took the ferry ride from Lucerne to Bürgenstock.
Day 3: Mount Jungfraujoch. The most expensive ticket for this journey. Close to 130 CHF for one person. The ticket is expensive but the cog wheel trains take you the most steepest mountain rides, and a speechless window experience from the train.
I also took a small trek in the village of Lauterbrunnen which was great as people are helpful in case you feel lost & there are milestones as well, plus some exhilarating shots to capture.
Day 4: Checking out the Zurich city & return to Warsaw, where I stay currently.
PS: please note that this trip costed me 40k from Warsaw, not from India.