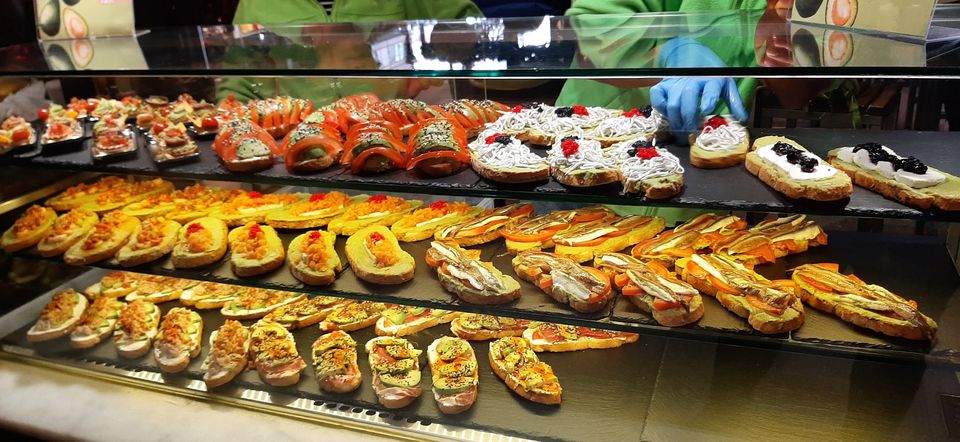 Spain, a vibrant country is known for the excellent weather conditions, exotic beaches, cathedrals, enormous history and of course a plethora of gastronomical variety. Various regions, various traditional dishes, and various cooking techniques have made this country the most desired destination for tourists, who love relishing the best of food tour. Yes, you will see 'Mercado' (market in Spanish), and also street side eatery, where you can have the best of culinary experience.
The Spanish people are a bit lazy by habit (as they quote themselves), late to rise, late to go to bed and of course late lunch and dinner. But, the fortnight I spent in Spain was a great experience and my 'food hunt' initiative took detailed turn, until I felt confident enough to pen down on the best 10 food items, which should be a must try for any travel freak, travelling to Spain.
Tapas:If you are in Spain never go without trying tapas. Tapas, is derived from the Spanish verb 'tapar' which means to cover. Before the 19 th century, the tapas were served with posados, bogedas and albugues. The inns used to offer their guests a sample of the dish served on tapa or cover of the pot. Tapas could be of two variety, hot and cold served.According to the concept of 'Joy of Cooking' tapas are thin slices of bread or meat which is used to cover their sherry glasses in between slips. Tapas generally comes with a drink, Vermud or Sangria. There are various types of tapas, depending on their popularity and the consumer's taste buds. Tapas could be served with fried potatoes, cured ham, cheese, olives, calamari, croquets, mussels, pan tumaca, gilda, cuttlefish, octopus and many more.
We had an awesome experience in Madrid's 'Mercado de la san Miguel', where the market specializes in tapas and a number of sea foods. The market starts just at 12 noon and you should see people queueing outside the market waiting to devour eatables inside.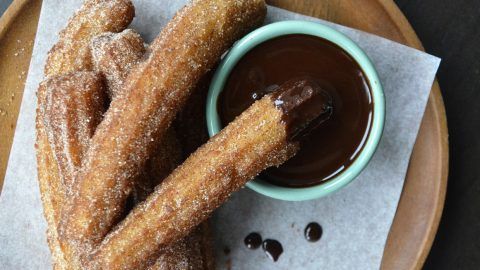 2. Churros :When you think about Churros, your mouth literary waters up. The luscious bread stick like snacks dipped in chocolaty syrup, will definitely take your heart and soul in the first bite.Well, the history of Churros has various explanations. The first theory says that it's a descendant of the Chinese pastry called youtiao, which looks like two joint breadsticks dunked in chocolate syrup. Others say that Churros was an invention of Spanish shepherd, made from a dough of flour, salt and water which resembles the horns of the native Chura sheep.
My experience was truly enchanting. While hanging round the streets of Madrid, in the month of December, got to take a bite of the crunchy churros dipped in hot piping chocolate sauce.Hot crunchy churros could beat the essence of mercury dipping below three degrees.
3. Calamari: The calamari is a fish extremely popular in the Mediterranean country zones, is one of the hot favourite food in Spain. Also known as squid, calamari rings sliced, battered in flour and then deep fried, tossed with lemon juice is simply fabulous. There are various health benefits of calamari.They are rich in protein, contain cancer preventive antioxidant, filled with vitamins and minerals and fight anaemia in humans.
I tried calamari many a times, in places like Barcelona, Alicante, Madrid and Granada. It was spread widely as a popular fried sea food in North America in 1975.
4. Gazpacho soup: The gazpacho soup is a typical invention of the Andalusian region of Spain. The soup has its own specialty as its made from dried bread, vegetable and fruits all blended together to form a cold soup. The history of the food traces to the era when Spain used to be conquered by the Roman soldiers who used to carry dried bread. The bread were ground in a mortar, mixed with tomato, olives, beetroot, olive and apples altogether , which got the generic term gazpacho. All ingredients were readily available in Spain.
The soup has its term derived from Arabic influence, or might be from a term 'Gazaz' which has Hebrew origin. It can even be derived from the Latin word 'Caspa' which means little pieces or fragments. It's said that Christopher Columbus preferred this soup when he used to go to voyages from Spain.
I tried this cold soup in Granada, which was really a juicy, tangy experience. In fact a bread along with the soup could be a very desirable option to satiate your hunger at the minimal cost.
5. Sangria:Try the cool, refreshing, fruity alcohol drink while you are in Spain.The word Sangria literary means bloodletting in Spanish. The use of the term Sangria can be traced back to history in the 18 th century. The main ingredients are red win and fruit. Later, in 1964, Sangria was tasted in 1964 World's fair in New York city. It's made from Spanish wine Tempranillo and other wine from the Rioja, which has added flavours of fruit in it. Basically it's aromatizing, diluting and fortifying the Spanish wine.
A weekend in Spain is always celebrated by welcoming the guests with Sangria followed by a seafood meal, Paella.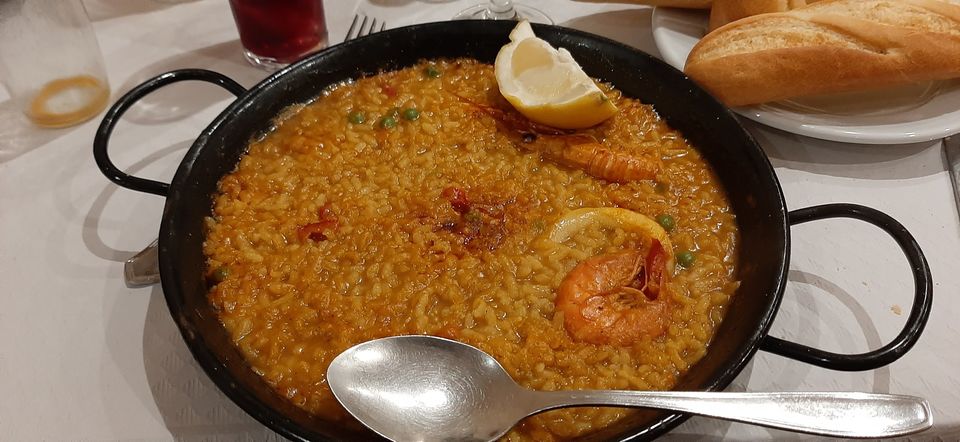 6. Paella: Paella is originally a seafood meal originated from Valencia. In one word, Paella covers all the flavours of Spain in one dish.A flat dish made with all sea food - mussels, prawns, and rice flavoured with saffron. The dish is served with lemon, which will give a unique taste once tossed upon. In fact, you will find the black version of Paella, which is made from squid ink. The world paella comes from 'La Paella', ( pronounced as pah - iyah) Catalan language which means the plate.
Paella has a very humble beginning where it was known that the farmers cooked rice combined with meat and other vegetable for a meal. Might be sea food found place in paella plate in the next generations. Today, Paella is a weekend sea food culture. We enjoyed Paella which we has lunch in Valencia.
7.Espana tortilla: This is popularly known as Spanish omelette. The dish is made from egg casquaded with potatoes and bread. It's a filling meal and often served during Spanish breakfast. The origin of this dish is not really known, but tales do like when General Gumalacarrlegui visited the home of a poor farmwife, requested her to feed the troop during the siege of Bilbao. Thereafter, the food became famous throughout Spain. The dish became famous in Mexico in later times.
You may get one of the best tortillas if you visit Madrid. Well, if you want to cook it for yourself, you may bring variation with cheese, herbs, onions and tomatoes.
8.Patatas Bravas: A bowl filled with potatoes, cut unevenly, chunked and then topped with tomato sauce, is the most favourite and economic dish for Spain. Like the French likes French fries, the British like fish and chips, for Spain there is only one winner and that's patatas bravas. The potatoes are often accompanied by hot sauce, named cayenne sauce. The origin of this dish comes from Madrid, from two restaurants namely, La Casa Perico and La Casona. They were the creators of white potatoes. While some fry the potatoes, some bake it.
We tried patatas bravas as a snack. It was truly awesome and a fulfilling food for a minimum 3-4 euros.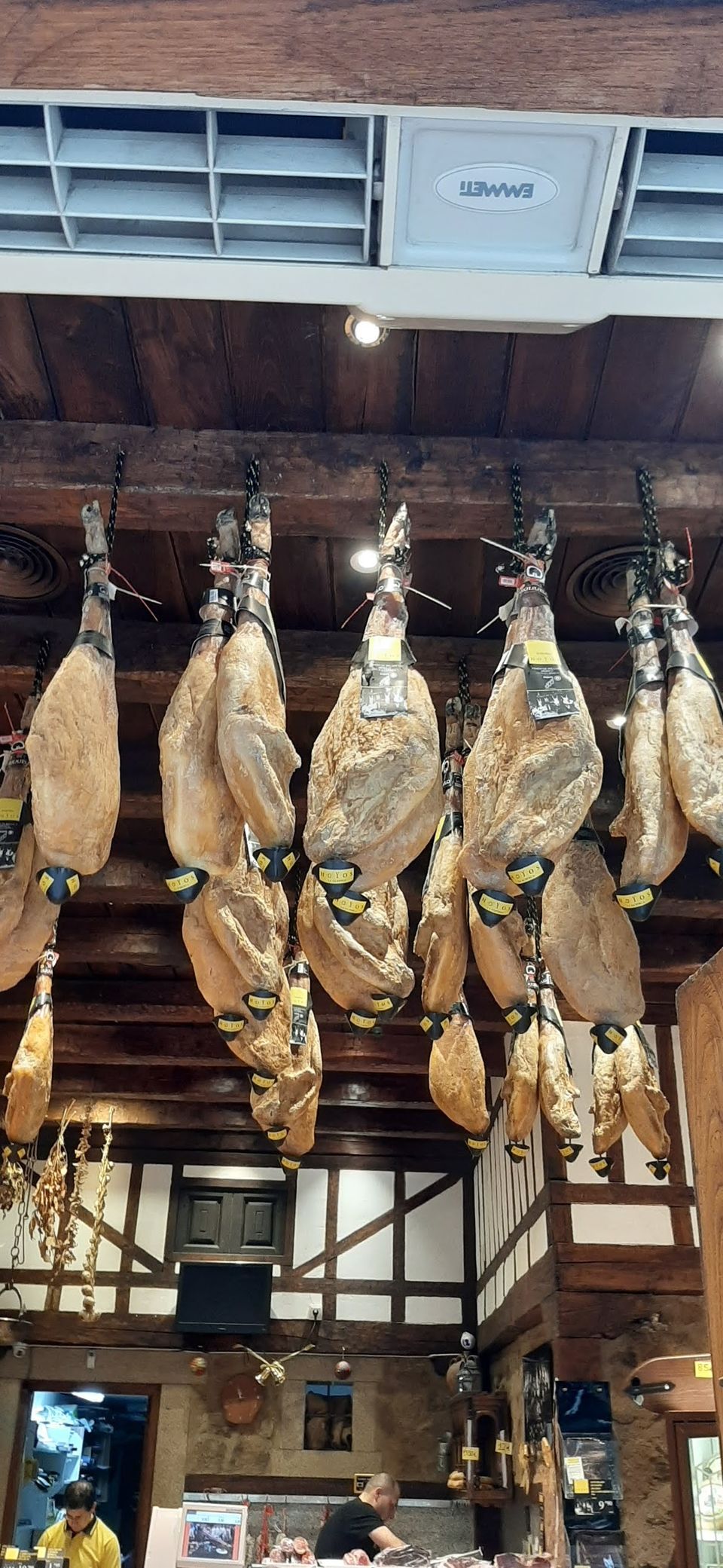 9.Jamon Iberico : As you visit the tapas bars of Spanish cities, you will see the bar owners prefer to hand the whole leg piece of the pig from the ceiling. The scene looks a bit weird to a first time traveller to Spain, but there is an age old tradition behind this. The pork meat is mixed with salt and then allowed to hang and dried, so that it ensures maximum taste of the piece of meat.
Since Spain has been a melting pot of various traditions, but not necessarily that all were loved equally. The Jews, who were forced out of the country, never ate pig or pork meat. The meat were hanged so that the Jews knew they were not welcome to the country. Jamon Iberico is awesome, especially with tapas. It's salty, and the dried fat gives a crunchy feel.
10. Croquets: Croquets are small pieces of cylindrical or spherical succulent bite made from eggs and breadcrumbs fried with lot of oil. As per the tales go, the origin of this dish was not Spanish but a French one. The dish was invented at an urgency when meat was left over from the previous day, along with remains of ham which were getting hard; the meat was put together with béchamel, a flour of the 19 th century which was mixed to make the classic item croquet.
The person credited with the invention of this snack was named Antoine Careme, popularly known as the ' Chef of kings' presented the dish in a society in the occasion of a dinner, which represented items of European nobility.
Croquette is simply a melt in mouth version. With lots of cheese, potato, egg and breadcrumbs, this dish which can be made with a bit of variation of composition, is rightly a must eat in Spain.
I am a foodie and love to remain so. I traveled extensively across Spain, watched the restaurants, eateries and thereby explored food items ready to create an explosion (taste of course) in my mouth. A trip to a county is incomplete without its characteristic food tour.