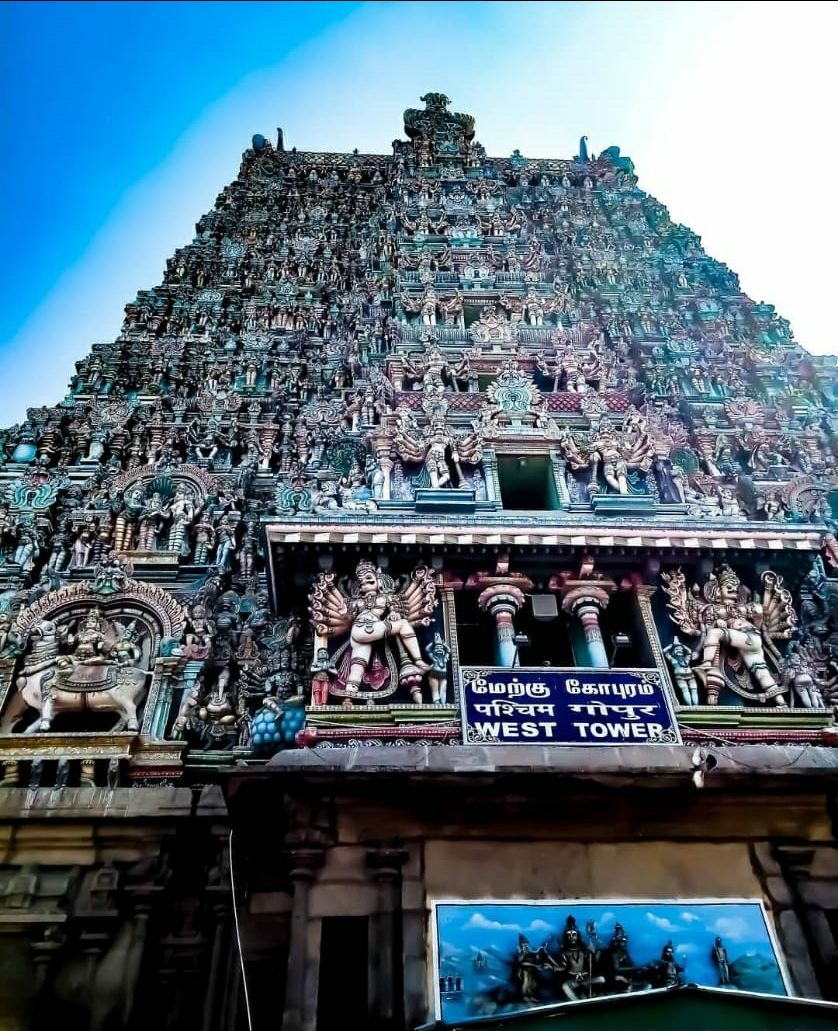 Morning in different cities always looks different because of their culture, tradition, and delicacies. But the smell of Madurai Malli woke me up at 5 am. When I looked out of the window of the bus, I found myself in the lanes of Madhurai after the overnight journey from Chennai. The morning was so welcoming and pleasant, the cool breeze was blowing lightly, and the air was smelling of Madurai Malli. The moment I got down from the bus I see the whole lane was filled with small and big shops selling white and orange Jasmine flower.
Madurai is the second largest city of the Tamil Nadu. It is mainly popular for temples and Madhurai Malli. When I say temples then only Meenakshi temple comes to your mind but once you step your feet in Madurai then you will come across many temples and their interesting historical stories.
Meenakshi Amaan is a historic Hindu temple build in Dravidian architectural style. It is dedicated to Meenakshi, a form of Goddess Parvati and her consort, Sundareshwar, a form of Shiva. The temple is surrounded by a number of small shrines and grand pillared halls. The temple has 12 gopuras (towers) with a figure of deities, mythical animals and monsters painted in vivid colors. There are 4 main gopuras installed in four directions namely East Tower, West Tower, North Tower, and South Tower. It's a huge and beautiful temple. The temple has fixed hour for darshan and thus this being the popular temple in the city, you might have to wait in the long queue or you can buy an entrance darshan ticket to quickly visit the temple. To my surprise when I was about to enter the inner gate of the temple I saw a board stating ' Non-Hindus are not allowed to enter the shrine of Meenakshi and Sunadareshawara'. I mean why so?
We booked a hotel near the Meenakshi temple, so we chose to walk to explore the shops and lanes around the temple. As we were moving out of our hotel, I saw a yellow and black colored autorickshaw parked outside and was very amazed to see that because I have always seen those autos in Tamil movies. In Chennai we had south Indian food for breakfast, lunch, and dinner and then again in Madurai, we had Dosai for breakfast. Since we had so much of south Indian food for three days, we chose to go for some north Indian delicacies and we came across this awesome restaurant named 'Sree Mohan Bhojanalay' near West tower. They serve good north Indian food and its worth every penny and that's why this place is always crowded by the tourists.
After our lunch, we went to explore Madurai further and visited many temples and museums.
First stop - Thirumalai Nayak Palace, which is famous for its gigantic pillars. it was built in 1636 AD by King Thirumalai Nayak. The palace depicts the perfect blend of Dravidian and Rajput style. After Independence, this palace was declared as a national monument. Every evening light and sound show is held at the palace where rich culture and history of the kingdom is narrated.
Second stop - Vandiyur Mariyamman Temple, the temple was surrounded by the artificial pond from all the 4 sides but due to the drought and the building of dams the pond is now dried up. But it is said that every year a colorful float festival is held in the month of Jan/Feb to celebrate the birth anniversary of King Thirumalai Nayakar, who built this tank.
Third stop -Gandhi Museum, housed in the old palace of Rani Mangammal, which depicts the highlights of the freedom struggle and contains a picture gallery of Gandhian movement. It was inaugurated by the first Prime Minister of India, Pt. Jawaharlal Nehru. This museum depicts the life and struggles of the Mahatma Gandhi and many of his things and painting are put in the museum for display.
Fourth Stop - Alagar Koil Temple, is a temple of God Vishnu who is also known as Lord Alagar. According to Hindu mythology, Lord Vishnu came to this place from his heavenly abode to give away Goddess Meenakshi in marriage to Lord Shiva. During the wedding ceremony of Lord Shiva and Meenakshi, Lord Alagar is carried in procession by the devotees to Madurai for the divine wedding ritual.
Fifth Stop - Pazhamudir Solai, is an important temple of Lord Kartikeya situated on the top the hillock ahead of Alagar Koil temple. It is one of the six abodes of Lord Muruga. We reached the temple around 7 pm and got the chance to attend the evening aarti.
After a tiresome day of temple and museum hopping, we again reached Meenakshi temple as it was our dropping point. As we were crossing the South tower we saw the lamps and lights lit in the temple corridor. So we walked towards the West tower to inquire about the timings of the temple. And yes it was opened till 9 pm and our clock was ticking 8 pm so we again visited the temple. The whole temple was lit with earthen lamps and was smelling of Jasmine flowers. It was a pleasant and soothing evening, we enjoyed sitting there till the temple closed.