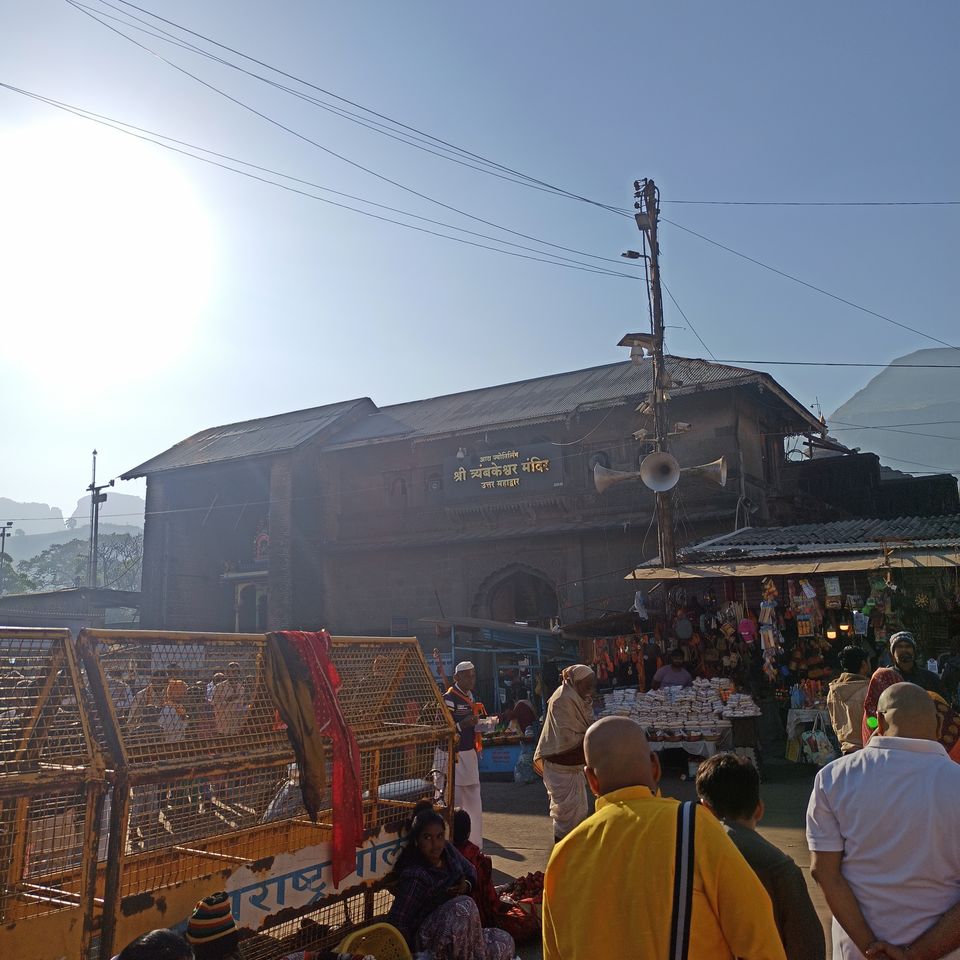 The plan was from pre covid times. We wanted to visit Nashik, Panchavati and Shridi before we knew the spelling of Covid. And eventually only now we were able to execute the plan. We finally visited one of the biggest cities of Maharashtra. The name Nashik came into existence after Lord Laxman cut off the nose of the demoness Surpanaka. It is believed that her nose fell here and so the city is called Nashik. The major happenings of Ramayana happened here in this city. The city in itself is a must visit for any history enthusiast or anyone who loves Ramayana, Rama and other characters in this epic.
Triambakeshwar Temple, Triambak
Nashik Darshan is coming up in the next post in detail. This post is all about places that can be covered on the way to Trimbak. Trimbak is just 30 kms from Nashik. And in Trimbak there is a very old Shiva Temple, one of the 12 Maha Jyotirlingas in the world. The presiding deity here is Triambakeshwar. The jyothirlingas are pillars of light. It is said that Lord Shiva took the form of an endless pillar of light for Lord Vishnu and Lord Brahma to find his origin and the end when they had an argument over who is the greatest.
While Lord Vishnu, took a form of wild boar and Lord Brahma took a form of Swan and they both set out to search the end and beginning respectively. While Brahma lied about seeing the origin of the column, Vishnu accepted his defeat. Shiva promised that Vishnu would be worshiped all over the world and Brahma would not have any temples due to his dishonesty. And the light from that column fell in so many places, some say 64 places and out of that 12 are considered more auspicious. And Triambakeshwar is one of the 12 famous Jyothirlingas.
The temple is on the foothills of Brahmagiri. The origin of Dakshin Ganga Godavari is from this place Triambak. Ganga descended as Godavari upon the penance of Sage Gautama. He was here in this place, serving people and many other rishis were jealous about the good deeds he kept performing. They wanted him to commit a sin. They plot against him in a way that he kills a weak cow. Accidentally it dies in his darba garden, and he was asked to perform difficult rituals to appease lord Shiva. He does it all and Lord Shiva appears in front of him to declare that he has committed no sin and was enraged to punish whoever plotted against Sage Gautama. The sage requested the lord to bless them all as he could have not seen him otherwise and asked him to stay in this place for the wellbeing of the world.
The lord was pleased by his devotion and stayed here forever. The name Triambak means three eyed lord or it can also denote the 3 superpowers of this universe Creator - Brahma, Protector - Vishnu and Shiva - Destroyer. The place is also said to have three holes representing the 3 superpowers. The parking lot is some 700 meters away from the temple. We took a cab from our hotel to Triambak. We walked through the streets of Triambak on a Monday morning around 8.30AM and the town had already become active and was in full swing. You could see a lot of petit shops selling all kinds of decorations, sweets. There are people around who can help you keep the Shiva tilak for free and if you wish to you can pay them. We loved having it on our forehead.
Our driver was very polite and professional and guided us till the ticket counter. We got our tickets, left the chappals in the free chappal stand of the temple and bought some fresh flowers. The majestic black coloured temple built by Peshwa Balaji BajiRao in 18th century welcomed us. Some sun, some cold wind, the surroundings were warm and welcoming. We had to wait in the queue for some 10 minutes as it was aarathi time. The sounds of bells, chipping of birds, the bhajans and the rhythmic claps gave us electrical impulses. Such a beautiful 10 minutes of life. The atmosphere was divine, calm but energetic and one would like to dance along with lord Shiva. The Sanctum welcomes you with the famous Maha Mithyunjaya Mantra engraved.
We had an amazing darshan of the lord with a silver crown and big, bright, black mustache. The linga was just stunning and Ma Gauri decorated beautifully in maroon saree and yellow flowers. And we came out to see the majestic Brahmagiri and the Kushawrat pond in the temple premises. Many people were singing and dancing near the pond. The pond inside the temple is also revered as the origin of Godavari, hence there is water in the pond forever. Behind the temple there is a stream of Godavari and if you happen to visit the temple in rainy or post rainy season you could see Godavari in full spree. It was empty now buy still the ambience was great. And after a soulful darshan we headed back to car after a simple breakfast and a walk in the streets of Triambak.
Anjaneri Hills, Nashik
Our next destination was Anjaneri Hills. It is just 10KMs from Triambakeshwar temple. There is a fort on the top and a small temple of Lord Hanuman. The place is revered as Hanuman's birth place. One can go for a mini trek to this hills to have a glimpse of top view from the top. As we went along with our Tod, we visited temple at the foothills. There was a huge Hanuman in a meditative state. Such a beautiful temple it is. Hanuman with sindoor allover and is absolutely beautiful. He looks majestic and calm. When we went there it was only us and Hanuman. Some moments to be etched in the spiritual memory pages.
Coin Museum, Nashik
And we headed to Coin Museum which is on the highways.. Just need to take an U turn in the national highways as it is in the same side of Anjaneri Hills. Coin Museum was silent, making no noise like a person with loads of knowledge. It had a lot to share for its visitors. A source of history. The museum not only had all about coins, it also had displays of musical instruments, playing cards, Indian hats some fossils. Great treasure to know from where we came, from coin age to where we are heading in this UPI era. If your kid is just in for history, they will be definitely be fascinated and if you are an history enthusiast you will be enjoy the place and will be in awe about the human journey as a whole so far. The entry is all affordable. Must visit if you are a history buff.
And all these we covered before 12.30PM in the afternoon and we heade
d back to Nashik City for our lunch, just to rejuvenate with a small nap before we headed for Nashik Darshan. Rest in the next post!
I did refer on Triambakeshwar temple org website and few other blogs on Jyothirlinga of India to get some hints on the origin of Triambakeshwar and history of the place.
References:
https://www.hindubhagwan.com/trimbakeshwar-jyotirlinga-story-in-english
https:/ashik.gov.in/tourist-place/trimbakeshwar-temple/
http://www.trimbakeshwartrust.com/