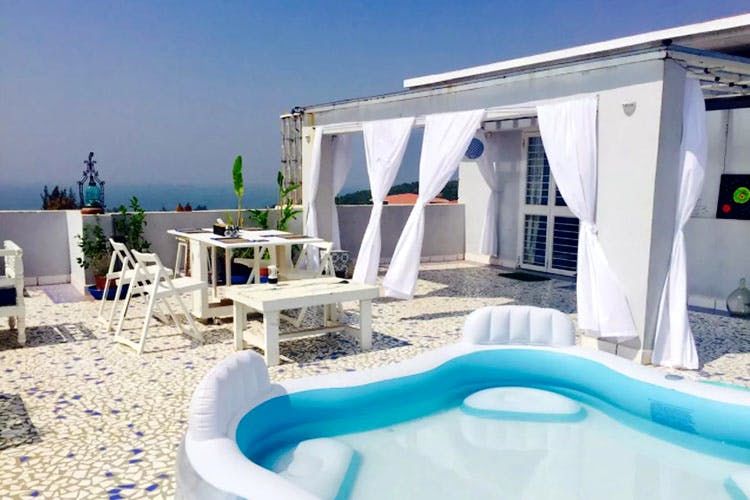 I'm sure we all agree that the idea of a quick weekend getaway in a snug homestay is a pretty cheery thought. Once you've booked an awesome place, and your weekend plans are sorted, doesn't the week go by faster? You're suddenly on top of your game and super motivated to power through the week. Yes, we all know that feeling.
However, the only annoyance lies in zeroing in on a place that can serve as the perfect weekend getaway. A place that is untouched by commercialisation and the swarms of people that come with it. And this is where we hit the wall and our plans don't progress, let alone materialise.
But worry not! We have discovered for you an absolutely magnificent Greek-style homestay at Malgund in Ganpatipule, a picturesque location on the Konkan Coast of western India. And I can guarantee that it will make you feel like you've been transported to an exotic Mediterranean location! And guess what? It's only 340km away from Mumbai!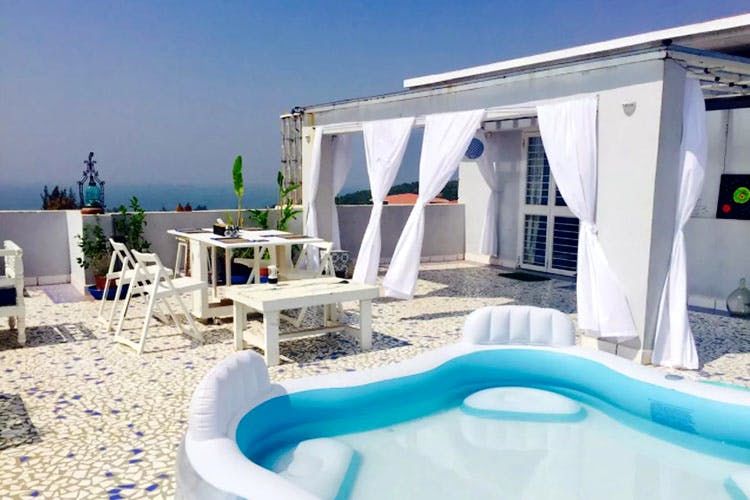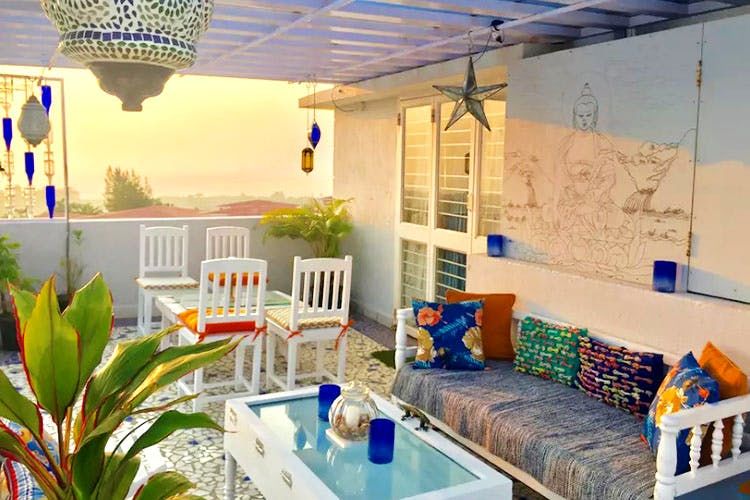 Ideal for
Since this is a cosy two-bedroom apartment, it is perfect for a group of four friends, or perhaps two couples travelling together. It could also serve as a great place to stay for families travelling with children.
About the property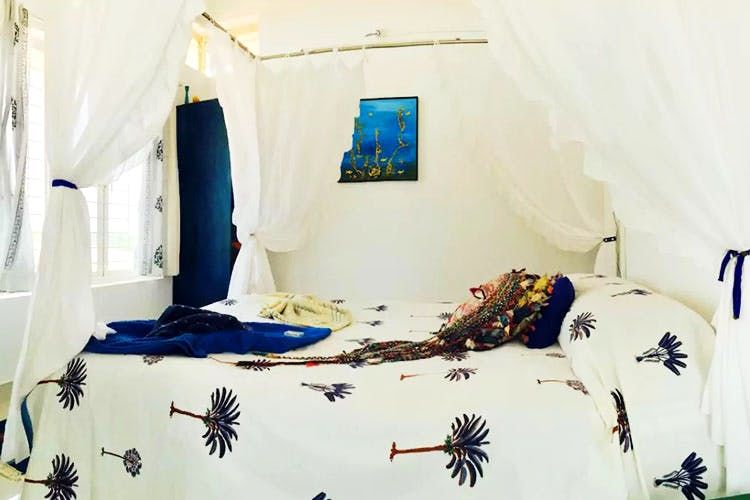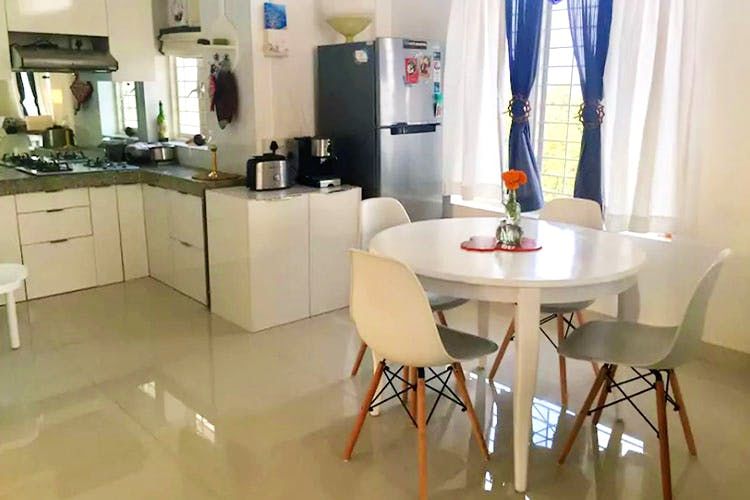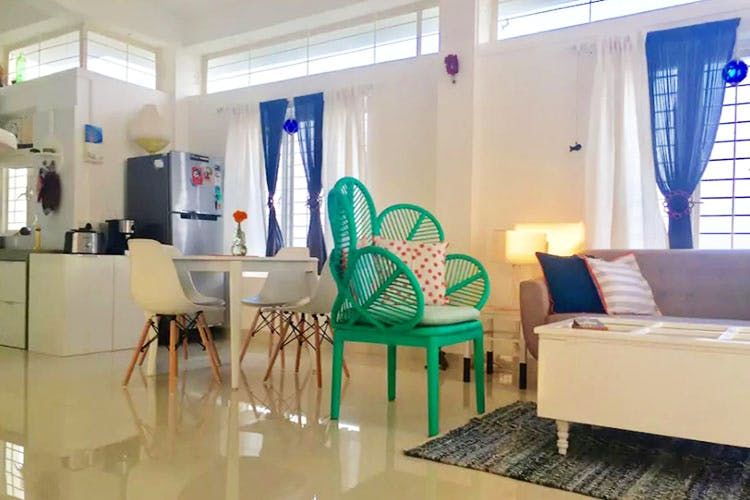 This Mediterranean-themed two-bedroom apartment is located in the small and sleepy village of Malgund in Ganpatipule, a town on the Konkan Coast of western India. Set amidst gorgeous views of the Arabian Sea on one side and the silent, thick Konkan forest on the other, The One has definitely nailed its location! An added bonus is that the property is pet-friendly! So your furry friends can tag along. The hosts Niyoti and Vinay are warm and friendly, and leave no stone unturned to ensure their guests feel the love and good energy the house is made with.
Staying at this exotic homestay, painted in Greece's national colours of white and blue, is sure to teleport you to Santorini without burning a hole in your pocket. The artsy apartment mimics Greek aesthetics authentically with its classy decor, complete with aquamarine hues and pristine white elegance. Silk curtains, whimsical antiques, four-poster beds, intricate mosaic flooring and a beautiful rooftop with a stunning view, make this place an absolute delight to stay in.
Cost
This unique apartment only offers two bedrooms, and you pay ₹6,049 per night for each room.
Click here to book the place.
Best time to go
If you're planning to visit, make sure you go between November to January because that's when the temperature is pleasantly cool. The sea is a bit rough during the monsoon season, in case you plan to go for a dip. Monsoons are usually over by October, after which the temperature drops. It would be best to avoid going in summer as the weather will be hot and sultry.
What to do here and around the property
This quiet little homestay is the perfect place to unwind. Make yourself a nice cup of tea and curl up with a book on the rooftop, and occasionally look up to soak in the natural beauty around you. Sounds like the perfect holiday, right?
If you do wish to step out, there are tons of things to do around Ganpatipule.
Marvel at ancient temples and learn their history
The Ganesh Temple at Ganpatipule is a must visit. This ancient temple is located right on the beach and is dedicated to Lord Ganesha. However, make sure you go early because it tends to get super crowded during the day!
Grab a beer and enjoy the view from this fort
Check out this coastal fortification that is located at the tip of a peninsula in Ratnagiri district, about 14km from Ganpatipule. Perched on a cliff, it offers a fantastic view. Grab a beer or two and enjoy the scenery and solitude. Don't forget to check out the lighthouse nearby, when you're here! Try and get here early, so you don't miss the sunrise. If you're lucky, you might even see wild jackals and boars en route.
Buy deliciously fresh fruits at the village market
Walk through the village market, which is a stone's throw away from The One, which is situated on a hill. If you're a lover of fruits, you'll feel like a kid in a candy store here. Since this is the heart of mango land, you will find some fresh produce in the market.
Getting there
The nearest metro city to Ganpatipule is Mumbai, which is around 340km and takes about 7 hours via NH 66.
By train: The nearest railway station is in Ratnagiri, about 50km from Ganpatipule. Trains regularly ply from cities such as Mumbai and Pune to Ratnagiri. Once you get off at the station, you can hire a taxi to get to the apartment.
By road: The drive from Mumbai to Ganpatipule is a scenic one! Take the NH-66 Goa highway route to Ganpatipule, and you will reach in about 7-8 hours.
If you know of similar homestays perfect for that much-needed weekend getaway, share them with the Tripoto community.
Frequent searches leading to this page:-
the one ganpatipule maharashtra, Weekend getaways goals in India, Weekend getaways near Mumbai, 2 days getaway from mumbai, places to visit near mumbai for 3 days, places to visit near mumbai for 1 day, places to visit near mumbai for 4 days, tourist places near mumbai within 100 km, weekend package from mumbai