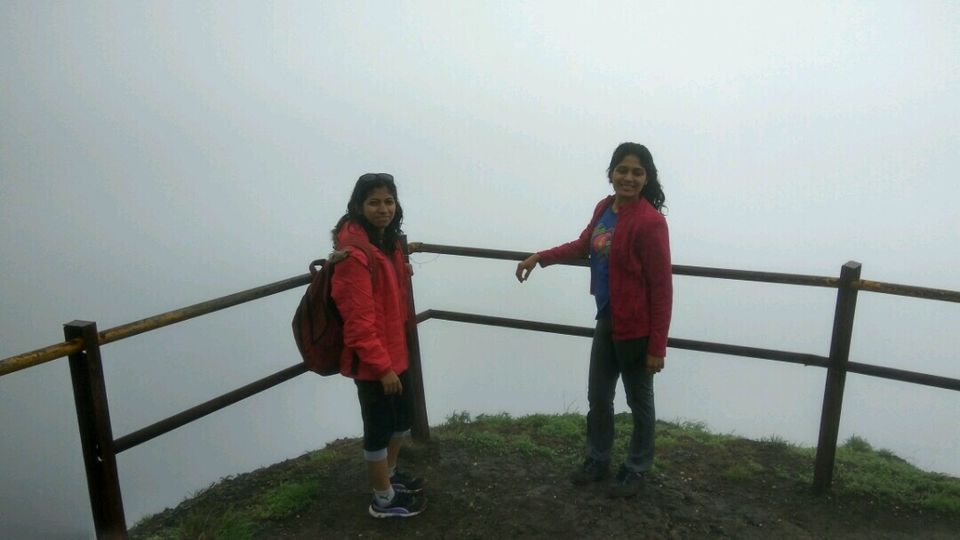 It was 23 June, I remember from last few days there was a heavy rainfall in many parts of City, but we were planning to escape for a while, Another reason was Kalsubai was on my mind since many days..so it was a golden opportunity to take this chance...
So Finally on saturday we left from Pune. The total group was of 30 people.It was raining heavily since last 2 days but it had stopped for sometime. I was accompanied with my 2 best friends, Rutuja & Ashish...and the other guy Akash whom we all had met during one of pur treks to Vasota.
The journey begin at Night..around 10.30 and soon we were all asleep. The only thing which we could feel were the up & down roads. It was impossible to get a view out of window..as nothing was visible. After few hours and few stops in between soon we reached the village..After sitting for so much time in bus..legs very already paining..We took our bags & started walking one after another. We reached a place which was similar to a small construction site. Even though there was no enough space for everyone..we tried to accomodate ourselves wherever possible.
We slept fpr almost 2 hours. It was only around 6.30 that we wake up and had breakfast & tea. The place were we had tea was a small place..which was already full of people from other trekking groups. This time we had went with "Beyond Mountains".
There was a introduction round and soon we started walking away from place were we had stayed. After few minutes of walking we were able to see a board pointing to Kalsubai peak & a small temple near by...
First the road was nice..with no big climb. After few short climbs there was were some stalls on the ways..we just stopped to take the view of Green Nature around us..it was tiring for all of us..as we were doing the trek after many days..
After few initial climbings and stopping in between whenver necessary we came to the first ladder..The part where climbing is difficult is supported by ladders for convinence.. when we crossed the first ladder it was magical..we were in clouds and the wind started getting harsh..i was shivering. There was also rains in between to increase the difficulty..visiblity kept on going low..
The view was not visible as everything was covered in clouds but yes it was beautiful at that moment i thought can heaven be different than this....
Afterwards it seemed that the peak was getting far & far away...There was a considerable distance between first ladder & second ladder.
Monkeys were creating another trouble..snatching the bags & food material of all the fellow trekkers. As the raining was there continously..the roads started getting slippery & was even more difficult with the monkeys troubling people. There was a huge queue of people on ladders.. I felt as if this space is not enough.
The real challenge was the third ladder it was getting difficult for us to stand as we had exhausted most of our energy and also third ladder was full of people. People travelling downwards & upwards at same time. There were some people who were trying to co ordinate..but with some many trekking groups and sunday rush..we had no option but waiting ....😏
AFTER the long wait of almost half..we were more than eager to see what was there on the top...there was a person who had a dog accompanied him..on the top & while coming down the ladder the dog was already frightened by the huge number of people. When the dog came down with his owmer there was a huge round of plaws..( for the paws..🐶).
We climbed the third ladder and reached the top. The wind had crossed all the limits of worseness...All were lined up one after another for getting down.. There was a long queue of people trying to come up..and at the same time there was a long queue of people trying to go down..the place on the top was very little..there was a small temple of Kalsubai devi..With so many people and jolly enviornment...it was not less that " JATRA"..
For the moment I named it as "KALSUBAI CHI JATRA" and smiled at my own silly idea...
We got very less time to be on the top & barely any photos...as the cold wind was forcing us to go in one direction...the atomosphere over top was clumsy...we were shivering....but the feeling of being on the "Kalsubai : Everest of Maharashtra " was not less than climbing the real everest....
We came down just in few minutes..the situation on 3rd ladder was worse. I feared there could have been a stampede...
After coming down..near a small well..there were stalls were we had tea & Maggi and the feeling was awesome...
Getting downwards was more difficult then we had imagined because the roads were muddy..small streams of water were started...Everyone was getting slipped because of the roads..
Finally we came down..around 4pm..we started around 7 in morning...reached by 10.30 and came down by 4pm.. but what i felt was the kalsubai would have been more nice..If ir would had been less people...
But overall experience was nice...about the trekking group " Beyond Mountains " i would never recommend it to anybody..as my experience was not good....
I had some of the best memories....making new friends..travelling..all the moments...



Other than this I would like people to visit this " Everest of MAHARASHTRA " atleast once in a lifetime.....💓