Next 80 kms was undoubtedly the best ride of entire journey.
Stunningly scenic coastal road from Ganpatipule to Ratnagiri, majestic palace of last king of Burma, birthplace of my childhood hero and day break at a divine ashram.
It is strange co-incidence that the last king of Burma spend his last days in solitary confinement in Ratnagiri and 'uncrowned king' from Ratnagiri had to spend prison days in Burma. Read on to know more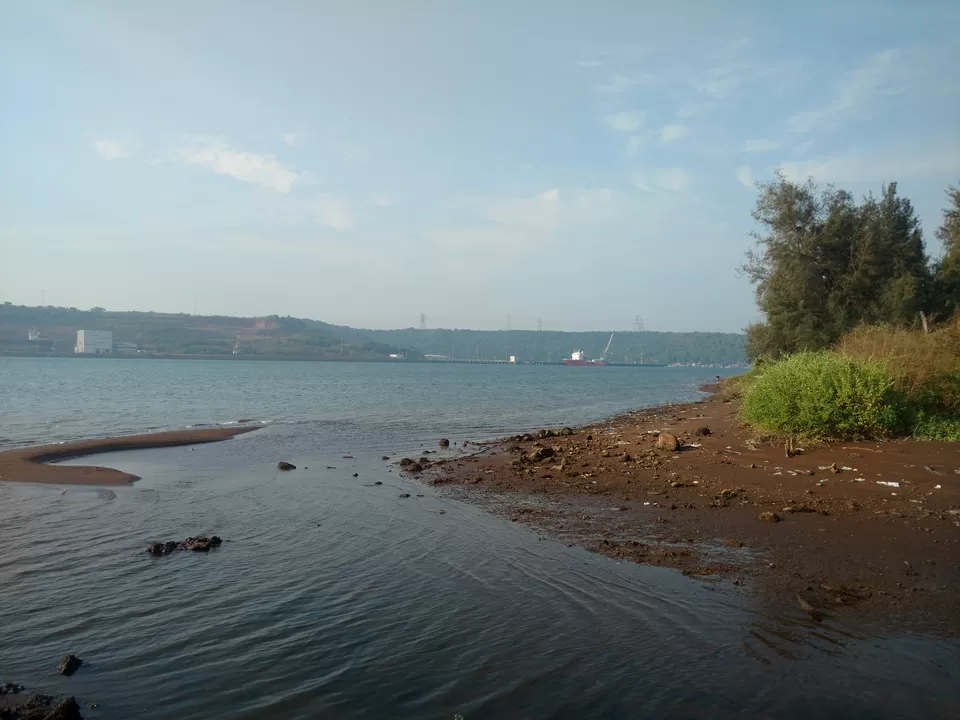 Fifth ferry crossing from Tawsal to Jaigad. At this cusp are two major ports, Angre Port owned by Chowgule's group and other is JSW Jaigarh Port.
Ganpatipule to Ratnagiri stretches about 26 kms. It's an absolute stunner. Hope the next few pictures will do justice
Blue waters, infinite horizon and cool breeze adds to the pleasure of the ride.

While my bike underwent basic maintenance, I wandered in by-lanes of Ratnagiri. Apart from finger licking street food. Two places were of great interest.
Thibaw, King of Burma (now Myanmar) was a unique personality. His educational achievement was marked with the Padhamarakyaw – a highest degree in Pali. Thibaw was the only king to achieve this degree in the entire Myanmar history. He had a great respect and love for Buddhist religion and monks. But his love for religion was not blind. He welcomed reforms. He invited suggestions from his courtiers and citizens for reforming religion and administration. Thibaw indeed loved his subjects. Publishing law books, creating a code of conduct for his officers and townheads are some of the examples of his orientation towards welfare. He spent considerable royal money for freeing slaves and for their rehabilitation. Such a steady progress of Myanmar in the reign of Thibaw was eclipsed by British machinations as the Britishers found Thibaw a major obstacle in their profitable trade. The warring British defeated Thibaw and captured him on 28th November 1885.
Apprehensive of a possible revolt from loyal followers of Thibaw, the British took him along with his family first to Madras and then to Ratnagiri. At first he was provided an accommodation in the rental bungalow. But as the space was inadequate the site for palace was selected by Thibhaw's choice, south of Kolhapur road in Ratnagiri. This site was further approved by British Government
Rs. 1,25,000/- was allocated for construction of the palace. During the same period Thibaw also constructed a Buddha temple in Ratnagiri for religious purposes. The construction work of the palace began in 1906. Thibaw took a great interest in planning and executing the construction. Thibaw visited the site almost daily to supervise the work, to which the British did not object. Thus, planning and construction of this palace took place entirely according to Thibaw's ideas and under his personal supervision. This palace was built with laterite stone in lime mortar and teakwood, an influence of Burmese architecture clearly visible till date. Thibaw inhabited this palace in 1910. His wife Su Paya Gale and Thibaw took their last breath in the same palace on 25th January, 1912 and 16th December, 1916 respectively. Their tombs are situated at Shivajinagar, Ratnagiri. (Source: Write up in the Palace)
Thibaw palace is now a State Protected Monument of Maharashtra. In poor state with litter in entire campus, this palace is undergoing restoration.
This is the birth place of Bal Gangadhar Tilak - Father of Indian Unrest as British described him. Fortunately, he has not yet been made a political tool (or at least I can't think of any instance)
A brilliant student and amongst first generation to receive a college education including LLB from Government college. Apparently he ha
d convinced Gandhi to enter freedom struggle.
He has many credits including starting his own newspaper, Kesari in 1880 which is still published to this day and Deccan Education Society which established New English School and Fergusson College.
He was also given the honourary title of 'Lokmanya', which means admired (or accepted) by the people
He also started the Swadeshi movement in India. Jamsetji Tata and Tilak started Bombay Swadeshi Co-op Stores to promote the movement. The store is now known as Bombay Store.
He was once asked what political position he would like to hold in free India. His reply was none and would like to return to academics.
Tilak was immensely popular through writing and through social work. His idea of national festivals took shape in Shivaji Utsav and Ganesh Utsav which were instrumental in bringing people together culturally - irrespective of their caste and creed. His trial and punishment led to national upheaval. But the British were careful enough to arrange everything in secret and the judgment was delivered at midnight and Tilak was taken under military vigil to be deported to Burma (present Myanmar, which was also under British control).
Similar strategy for two illustrious leaders – Thibaw and Tilak – to avoid unrest in respective countries.
A kind soul suggested Shri Swami Swarupanand Math for night's stay. Its 20 kms away from Ratnagiri. One of the blissful stay of this journey.
Night descended with spiritual chants and I had a long ride ahead of me tomorrow, 125 kms to Malvan
#solocycling #cyclethekonkan #konkancoast #kokan #solotravel #maharashtra #goa #goarivermarathon #adventure #marathon #yolo #travelsolo #travel #murud #janjira #murudjanjira #kashid #revdanda #mandwa #alibaug #kihim #mumbai #gatewayofindia #cycle2work #konkan #forts #ahmedganjpalace #navyday #bankot #bagmandla #harnai #suvrnadurg #harnaifort #harnaibeach #anjarlebeach #diveagar #harihareshwar #shrivardhan #dabhol #dapoli #guhagar #velaneshwar #ratnagiri #ganpatipule #thibawpalace #lokmanyatilak #pawas
www.bikatadventures.com