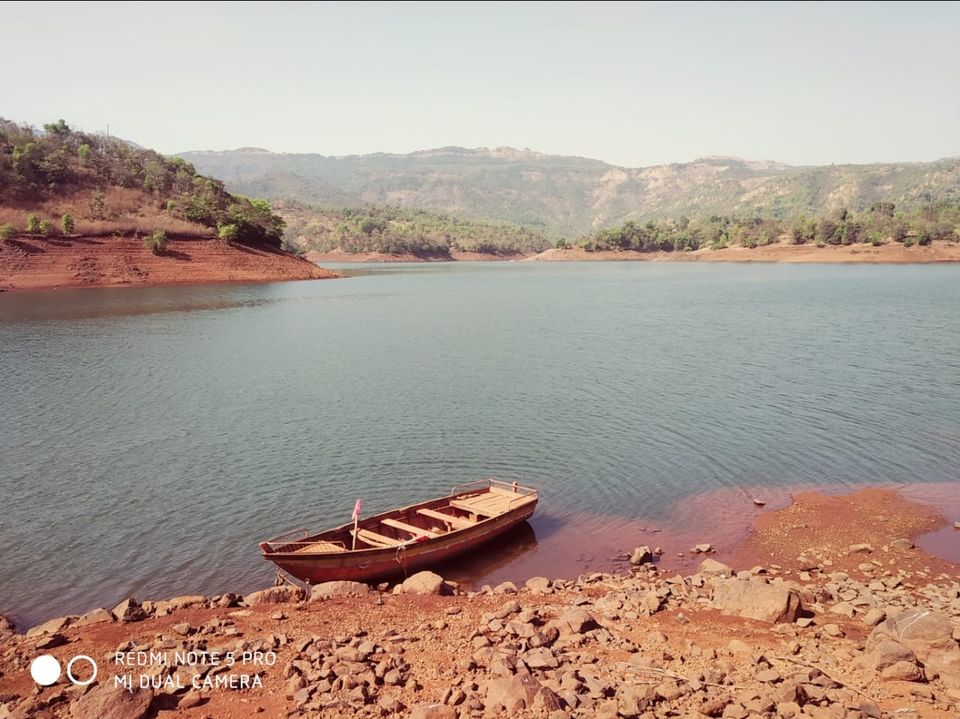 Ever since the travel bug bit me, I have been travelling the vast canvass of India. The far west and south of the country has been explored. Those were long trips and had been done leisurely at easy pace but this time around it was different. Hectic work schedule had taken a toll on me and what better way to relax than to travel. The only problem was time. Our gang of 4 persons all got along since all were desperately needing a break so going on a road trip made sense but we only had two days - Saturday and Sunday and we had been to the regular weekend destinations like Lonavala, Matheran and Khandala quite some times. The constraints in time, budget and need to explore a new place which would not be too hot ; mind you it was March and sun was breathing hot in this part of the country but it threw a new challenge at us and then came TAPOLA to our rescue. Not a lot has been known about this place but it is just an hour drive from the better known tourist spot Mahabaleshwar and just 150 kms from Pune and 300 kms from Mumbai. But we were looking at 350kms ride from nallasopara since we were starting from the outskirts of Mumbai but you know what , it was totally worth it.
23 March 2019
After much research, we had already booked Sakha niwas in harchandi village. It is a 10 kms detour from tapola. I couldn't sleep the night before, such was the excitement, rather I would say it was the idea to skip the routine was the cause.
So by 4.30 am in the morning, we started from nallasopara and soon got on Ahmedabad highway NH 48 and as our luck would have it, we found ourselves in a massive traffic jam owing to a tumbled truck and I was cursing my luck since we were looking to reach by 11 am but here we were stuck with no option but to hope that the jam clears soon. After a hour of hopelessness , we managed to move and reach Thane , where we had breakfast at RK snacks where you get 4 quality dosas in just 30 rs !! Freaking cheap but they maintain quality too.
So after gorging on the south Indian breakfast and a 30 min break our journey resumed and in some time we were cruising at the Mumbai Pune expressway at 80 kmph and after crossing Baner , chandni chowk near Pune the bypass led us to the Bangalore highway which was as usual peppered with bike traffic and the ongoing highway work made us crawl at slow speeds but after the WAI PHATA we turned towards Panchgani road where tragedy struck yeah ..a rogue biker broke our cars mirror , don't know if he got agitated due to we being from outside and he being local. He managed to run away and we had to keep up the picnic spirit high and move towards our destination. The expressway is wide and eggs you to cruise but the Panchgani road is narrow and scenic with ghats and numerous view points on the way.
The Mahabaleshwar checkpost was crossed and we took a left turn from the main market .
Untill now we were drained as the sun was merciless on us even with the car ac running full. But the narrower lanes started to take us in a different world altogether with the koyna river making an appearance and traveling with us parallel.
We had locked our location on the GPS as the host mrs more suggested since only bsnl sim works in that nature's Paradise but such was our luck that in the road rage chaos I forgot to charge my phone and by the time we realised, it was too late. My phone switched off and no other phones gps was working and since the route is so isolated that rarely you see vehicle let alone humans and as expected we missed the detour and ended up 10 KM's ahead where we found humans !! Literally! If the tragic incidents were left aside , this nature's trail is god's gift to be one with nature.
So , a kind hearted local villager guided us to the detour were the views were amazing but the road conditions were agonizingly pathetic. We were driving at 10 kmph.
But somehow reached the camp in harchandi village by 3.30 pm and since we took a package they were expecting us for lunch and we were literally starving.
Mr.more the host greeted us and led us inside.
We were allotted a Swiss army style tent with two beds and attached washroom and faux lawn. It was so rustic yet elegant and silent even with other tourists being there. The view from the tent was splendid where the camp was surrounded with mountains and we could see the koyna reservoir.
But all we cared was the food , we were famished and ran towards the cafeteria where our buffet was waiting for us. I was a bit apprehensive I must admit for the cafeteria looked very basic and the food too was home made , also the anxiousness was augmented by the previous experiences of eating at unknown places where we spent more time inside the washroom rather than exploring outside. But surprises never cease to end, they say. We were treated to a meal where calling it delicious would be a understatement. I literally felt like home away from home.
The menu fared simple eggplant or baingan bharta , chapati and bhakri, lentils , dal ,rice , salad, crisps, gulab jamuns which were outstanding and then the waiter brought chilled buttermilk which felt like elixir to our travel fatigued bodies with hot sun above and everything was unlimited..!! We had our tummy full and just lazed in our tent till evening.
With the sun going down and some power nap , we took hike downhill from the camp to the river were we did some casual boating in the water body and returned to have the refreshing chai ( unlimited ofcourse) . What better way to forget the stress of life?
It was evening and we were told to be in the cafeteria in an hour as the staff was about to start the barbecue.
We got grilled chicken and panneer tikkas for barbecue and the host was generous enough to keep offering us till our hearts content.
The dinner was lip smacking and home cooked affair .
We were told they will be taking us on a short trek in the morning but we chose to be our lazy self and spend the night chatting and bonding over our travel talks under the starry skies.
The day started with extreme drop in temperature and pleasing climate. We quickly got ready , had our Breakfast of Poha and omlettes and ran towards the river for another round of swimming. The other groups had gone for trek and we had the whole river to ourselves.
After some photo shoot we grabbed our life. Jackets and jumped in the water. It was mild not too cold but the shore was rocky so we had to be careful.
We did kayaking and swimming in deep water and did some crazy dives into the river . Ofcourse a staff was with us for our safety .
We spent an hour there and we got to know that they arrange mud baths too but we had 350 kms drive so we skipped that for another time and checked out with happy memories.
The return journey was not too different, as our car ac malfunctioned and we were left contemplating 300+ KM's of drive with no Ac.
Enroute we halted for a strawberry farm visit where we plucked some strawberries and bought some for home . We also had strawberry Cream which was good too.
This time we were in no mood to cruise since we were expecting traffic at the city's entrance and had to drive at 120 kmph but ultimately we got stuck in traffic and found that we were running on fumes , fuel was running extremely low and no petrol pump was to be found and after searching a lot in Navi Mumbai we refuelled and heaved a sigh of relief and completed the rest of journey without any hiccups on Sunday evening.
And so we found this little Paradise which the locals call "CHHOTA KASHMIR".