I never thought that I CAN,
• Scale a 5000+ feet peak
• Walk 15 km without feeling tired
• Instantly socialize with strangers
• Achieve my dreams in spite of my health issues
All these things would've sounded like a joke six months ago. But things never appeared the same after my first trek.
I am someone who has very less physical fitness and endurance since childhood. I also struggle with Acrophobia (fear of heights). When I saw the email notification from CognoVenture about a Trek to Rajmachi, I didn't think about any of my chronic illness. With my friend Harshitha backing me up, we both decided to join the event. We had very little idea about treks and assumed it to be a cakewalk in the mountains.
Finally, the day arrived and it was the peak of monsoon season. During such seasons, it's quite common for me to develop mild skin cracks underneath my feet (something like an infection). Little I knew that this is going to be the game changer. Harshita and I timidly boarded the train as we were surrounded by complete strangers. We passed through the night and got down at Karjat next morning. While walking to the Taxi stand, the cracks in my foot started playing its spoilsport by inducing mild pain. I became nervous and tried to walk firmly so that no one would notice my problem. However, within few moments our Trek Leader (Kishore) recognized my unusual walking style and enquired whether I am alright. I feared that they wouldn't take me for the trek owing to my sore feet. So, I cooked up a story to convince him.
Half an hour ride in the taxi took us to the base of Rajmachi (2710 feet). The climate was overcast and everything around me was green. I was totally carried away by nature's beauty. The trek was a happy beginning with the trail being almost flat and many fellow participants being lively. It was like a movie set and I enthusiastically moved ahead in the trail without paying much attention to my foot pain. We encountered a waterfall and everyone in the group went crazy about it. With the environment being frenzy, I lost my balance while crossing the waterfall. With the help of fellow trekkers, I was safely pulled out of water. This marked the beginning of my hardship.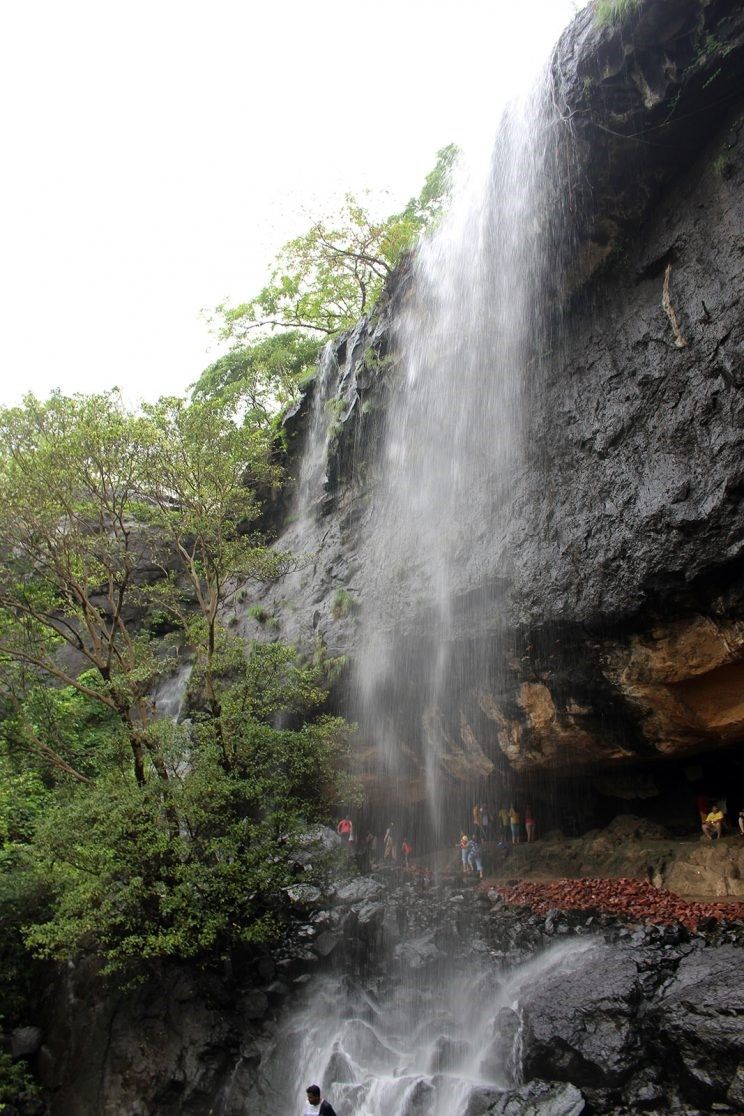 After a short lunch break near the waterfalls, we resumed the trek. From here on, inclination of the trail further increased. With every inch of altitude gain, my endurance was steadily dropping off. My backpack felt heavy and my confidence reached a new low. As I was about to give up, there appeared a bunch of helping hands for my rescue. I never met these individuals before and didn't even initiate a conversation with them until then. But, their selflessness was overwhelming and taught me the first lesson of the trek – Humanity. Rahul who was already carrying a huge rucksack took the additional burden of carrying mine. Krishna lent his hand to help me climb. I was like a child holding her father's hand while following his footsteps. Meanwhile, weather turned sensational when the rain came pouring heavily. Unfortunately, I was not in a state to enjoy any of it. After three hours of ordeal, I eventually reached the settlement at the top. It was a much needed break and I felt my muscles relaxing. I cleaned up my feet and slept peacefully for the night.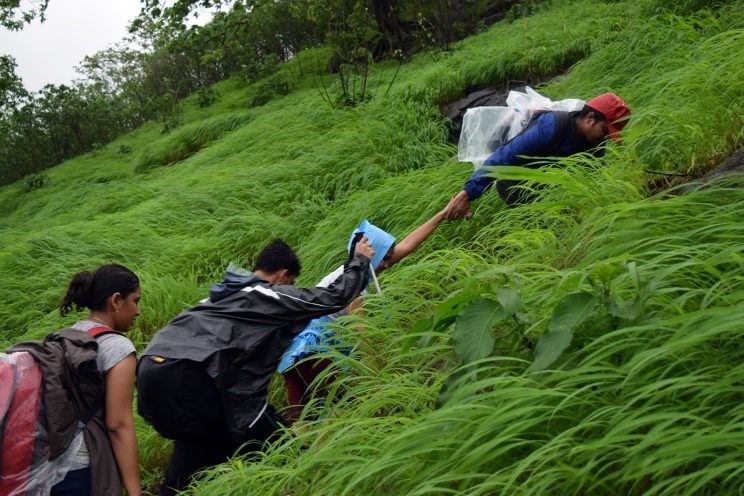 Our next day's target was the Fort and we all started around 04:30 AM in the morning. It was pitch dark and we all trekked with the help of our torch beam. Krishna once again turned up as my guide by helping me ascend. The wind & fog around that time was too good to be enjoyed. However, the cracks in my feet opened little more and prevented me to relish any of them. Adding more to my woes was acrophobia. It made me shiver to take a look at the scenic beauty of Sahyadris. I can still remember Haritha's (the other trek leader) words while she held my hand tight, "You are here to enjoy the nature and not to fear". After some clicks, Krishna once again helped me to gradually descend and reach our camp.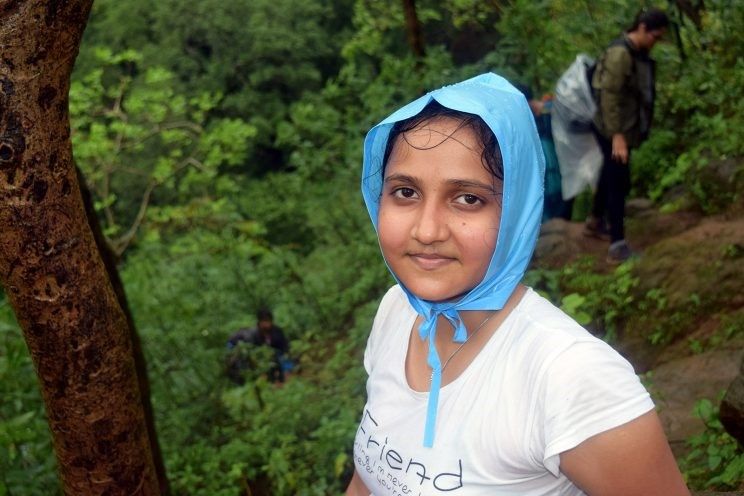 As Kishore hurried everyone to pack their stuffs for the journey to the base, I had only one thought running in my mind. "How to get down??" I heard many people saying descent is little more complicated than ascent. Nevertheless, I ditched those thoughts and packed my bag quickly. As we all were about to begin, Kishore insisted me to take the first position as I was slow. For some reason, I felt my energy was replenished and I was going at good pace. While moving ahead, we observed that the overnight rain has changed quite a lot of things. The trail wasn't visible anymore as it was all submerged in water. After couple of kms, Kishore realized that we are in the wrong trail and we had to walk back again to find the correct trail that is submerged in the waters.
The additional distance we walked brought back my agony. I realized my cracks became even worse now. Kishore tried to get me down faster as we already lost time lot of time to catch the train. But my foot cracks started bleeding and tormented more. I used every possible opportunity to slide rather than walk to alleviate the pain. By this time, Kishore understood that I can't reach on time to catch the train so he signaled Haritha to get rest of the folks down without us.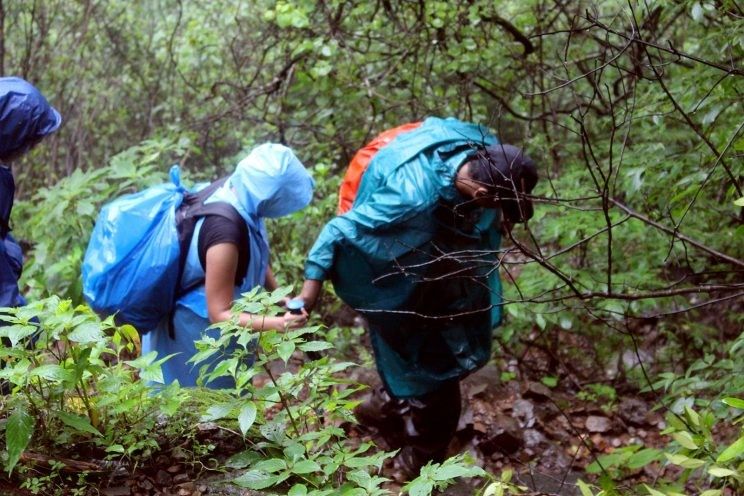 From then on, I felt as if I was walking on a bed of spikes. Every baby step I took, the bleeding in my foot punished me. Kishore gave his pole for support but I didn't know the art of using it. So he took my backpack and watched me drag myself slowly. After a point, we caught up with Rahul who was helping another participant to get down slowly. Kishore left me under the guardianship of Rahul and went running down as he wanted to instruct other participants near the base to leave and catch the train. I hit the rock bottom of my misery, when Rahul and I missed the trail again. A group of Mumbai trekkers who were coming in the opposite direction informed us that we are in the wrong trail. It was a moment when I wanted to burst in tears. We didn't know whether to trust them or not as the trails in Rajmachi appear confusing in monsoon. Since, we didn't have much options, we decided to trust and trek with them. After some distance, Kishore found us again. It felt like a million dollar happiness when I saw his face.
We rested for some time and began the last stretch of the trek. I thought if I trek faster then I need not bear the pain for long time compared to the gradual movement. I set a stiff target of reaching the base without taking breaks anymore. Though it pained like hell, I was undeterred. Finally, I reached the base and took one good look at Rajmachi again to digest the thought that I did this trek. Our mobile networks started working and we got to know that our friends boarded the train and they were on the way to Hyderabad. Kishore and Rahul took me to Pune and made the travel arrangements through bus. They even dropped me safely at my hostel before heading to their respective destinations the next day. I owe a lot to the ones who helped me in every little way during that event.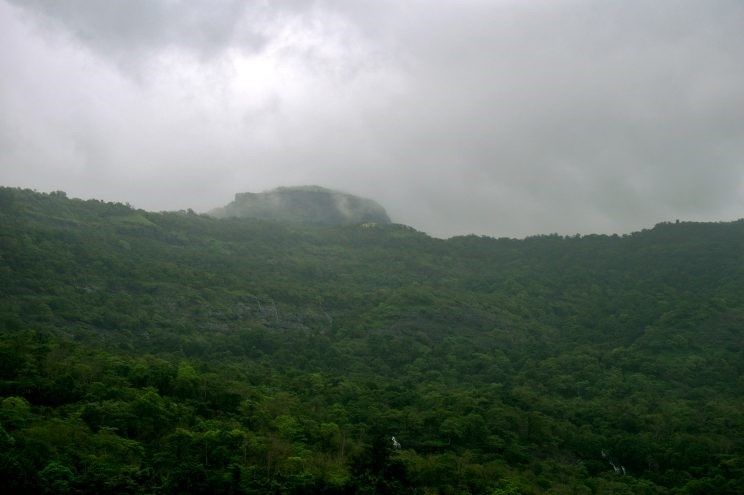 It's quite obvious for everyone to assume that I wouldn't ever think of trekking again. The whole series of events were painful and embarrassing. But, I wished that I could win the battle against my fears and disabilities. I prayed for a chance to rewrite whatever happened in Rajmachi. Within a week, I got a call from Kishore offering me a slot for Matheran trek. It was a mixed feeling as I couldn't understand why he would trust me for another trip after such a bad experience. At the same time, I was overjoyed for the much needed second chance. This time I prepared well from the learning I took from Rajmachi. Before starting the trek, I properly secured my feet with plasters to avoid any possibility of swelling or bleeding. I took some help while climbing in this trek as well. But a lot has changed in me after that.
The second chance helped me to regain the lost confidence. I took many lessons for life from both these treks. I realized that I can do better with my strength if I prepare well. Earlier, I was very choosy with food. Now, I became flexible to accept & appreciate whatever I got to eat. Exposure to varying climate of mountains improved my body resistance. Lost in the wild made me to become proactive. However difficult the trek was, I didn't stop but managed to reach the top. Similarly, in life l stopped thinking about the hurdles instead I push ahead to reach the pinnacle. Rajmachi helped me to find myself and since then I never looked back.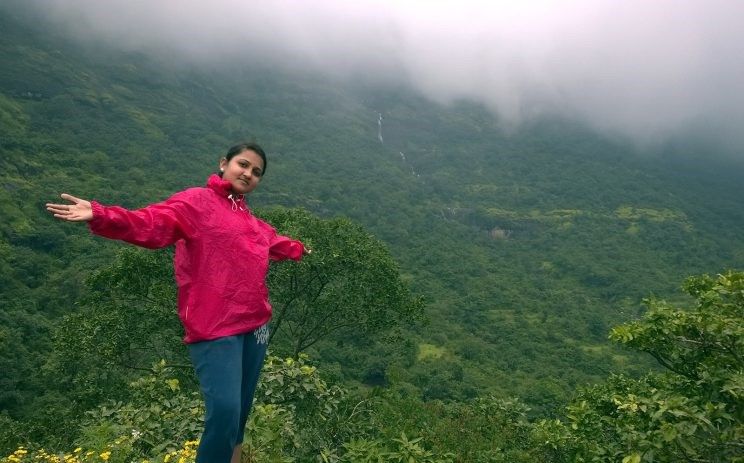 Post Matheran, I went on to conquer Kalsubai (5400 ft Maharashtra's Highest Peak), Kumaraparvatha (5735 ft Karnataka's Toughest Peak) and Ratangad (4256 ft). All these treks I did on par with my senior trek buddies. I believe this is just the beginning of a new chapter in my life. There are more pages waiting to be written.
Before becoming a trekker, I was a dreamer. Now, I am a dream achiever.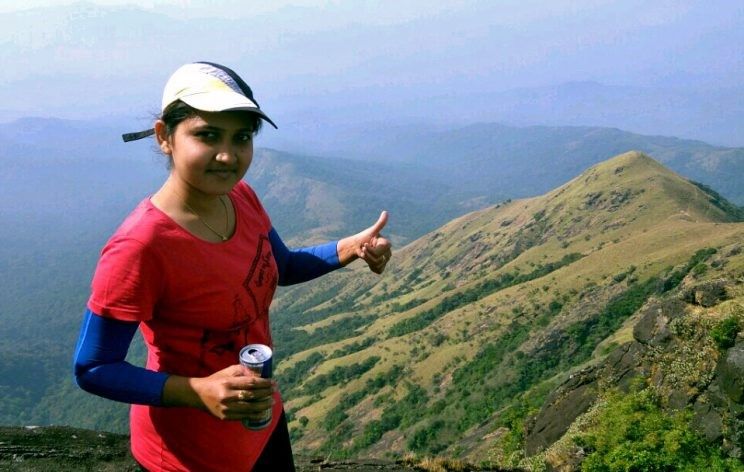 Rajyalakshmi a.k.a RJ
A Trekker who follows her dreams