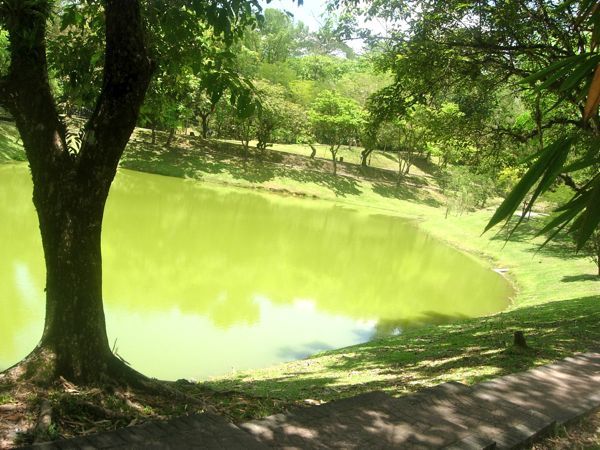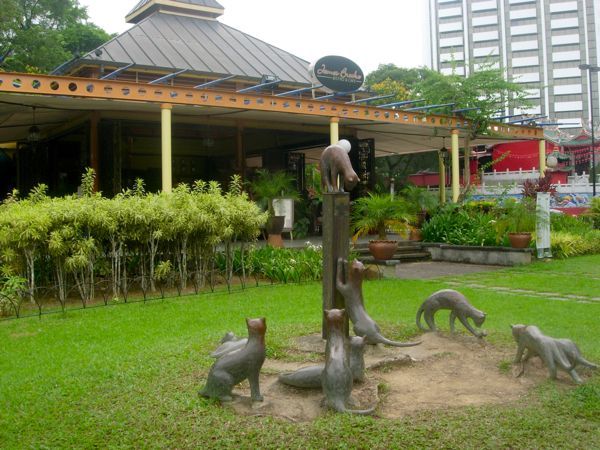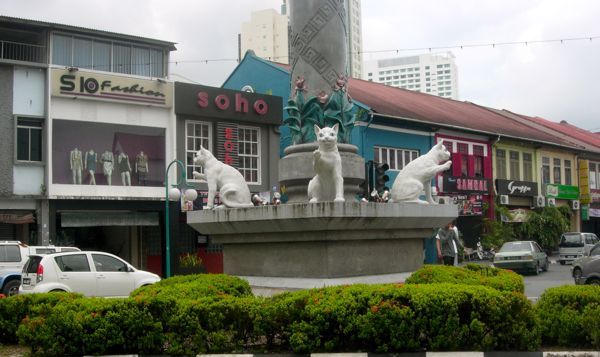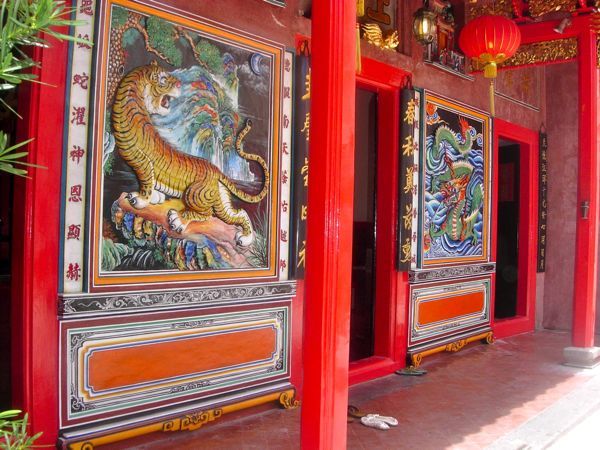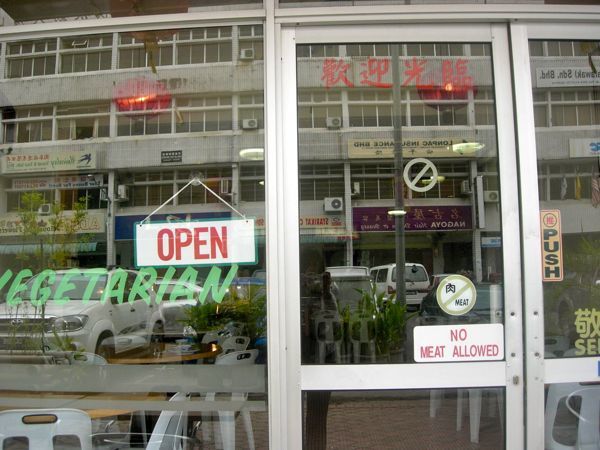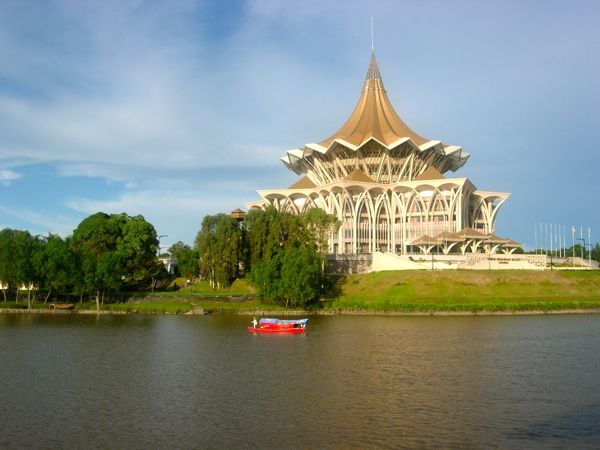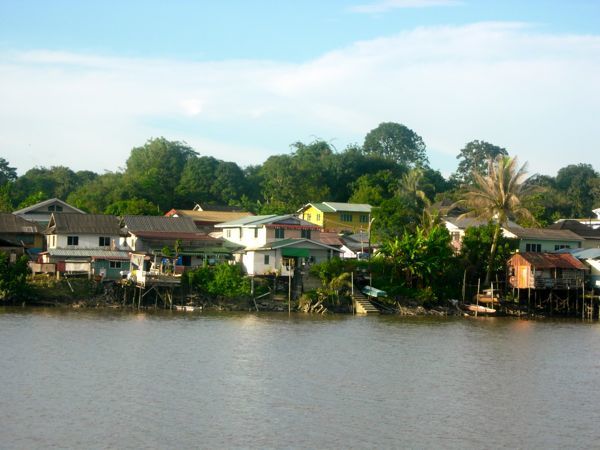 Kuching is a bustling city on the banks of the Sarawak River on the island of Borneo.  There are tourists inevitably, but it's off the beaten track enough to be exotic and not like anywhere else, making it an interesting city to explore. The bench-lined river promenade is a great place to start sightseeing or to sit and watch the colourful boats.  I was lucky enough to chance upon the annual regatta. There are long sunset river cruises culminating in a show performed by exquisite traditional dancers.  People squealed as a small crocodile swam along the surface close to the boat.   If you feel up to braving a smaller (infinitely more capsizable) boat and forget about the aforementioned crocodile there are short expedient rides to take you across to the grassy residential shores of the opposite bank, the site of the Astana.
A Singaporean friend had recommended that I try the local delicacy 'midin', an edible jungle fern native to Sarawak and I found it in the cafe 'Zhun San Yen' near the river. After having the delicious samphire-like vegetable along with lots of other delicious dishes at this cafe run by Bhuddists I became a semi-regular (bolstered by my calamity of forgetting to take any money on my second lunch and the owners being totally cool with me bringing it when I came down later).  All the dishes are vegetarian, some using the traditional Chinese style of cooking with faux meats and they are all delicious.  The self service buffet is charged by weight (economical and handy for the budget conscious) and the staff are charming.
Away from the river the town is a busy hive of streets.  Apparently it's uncertain whether the word 'Kuching' derives from the Malay word for cat 'kucin' or from the Chinese word for port 'Cochin' but there are numerous cat statues and even a cat museum (I know where I'd put my money).   Around town there are lots of interesting buildings, temples both Chinese and Indian and a magnificent mosque as well as a colourful dragon-filled Chinatown.
Take the opposite direction from river, setting out from the Pullman hotel and a twenty minute or so stroll from the city centre (anyway you'll need a map but they are easy to come across)…At night the river esplanade seems to be the real heart of the city, it's full of people taking the air, strolling or sitting at the food stalls. However; if you find exploring the city on foot thirsty work and want something a little stronger there are places around that serve cocktails, beers and wines.  Larger hotels and some cafes and restaurants sell alcohol, but not all of them, this being a muslim country.  My Rough Guide recommended a 'lifestyle bar' called 'Tao' on Jalan Padungan. After an walk around streets filled with little shops selling hardware and tiny restaurants selling Indian or Malay food, amongst the hustle and bustle of city life, people sitting at the front of their shops enjoying the cooler balmy nights.  I found the address, now called 175 it was a really cool place; friendly staff, healthy food with vegetarian choices and smoothies but cocktails and wine and beers too; music, sofas, a couple of floors and discrete areas and best of all a free fish pedicure for every customer while they sip their drinks.
You will find plenty of unique shops, cafes and restaurants (unique apart from a branch of that nasty virulent golden arch chain) and there is big bargain department store (go here especially if you are in need of a new rucksack for the rain forest).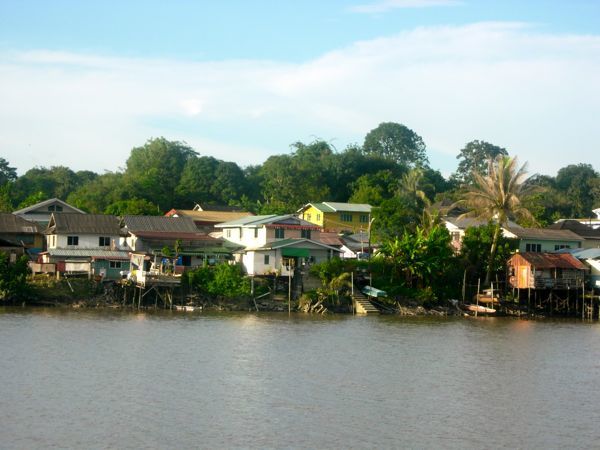 The residence of the Sarawak governor built by a certain Charles Brooke in 1869 and where via loud speakers there is sermonising on the word of the prophet Mohammed.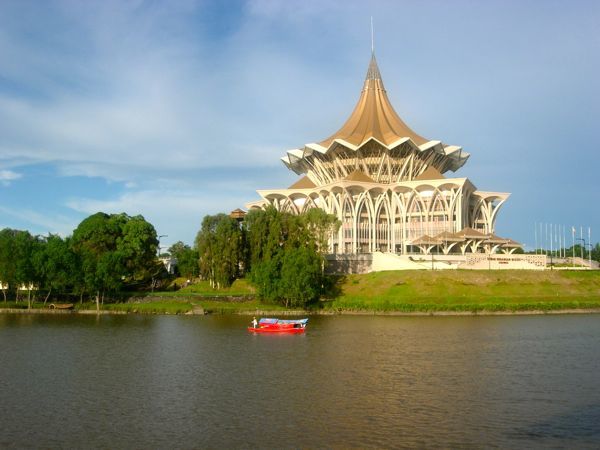 The breathtakingly beautiful Reservoir Park was a spectacular find.