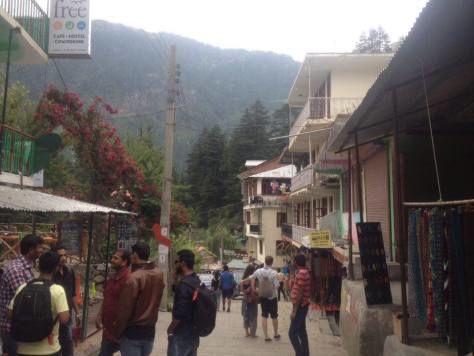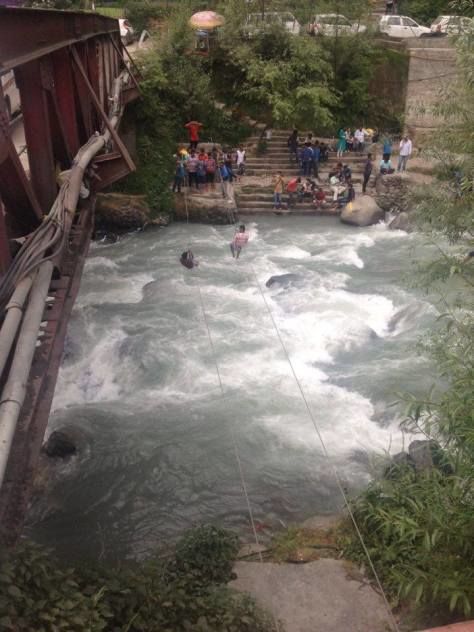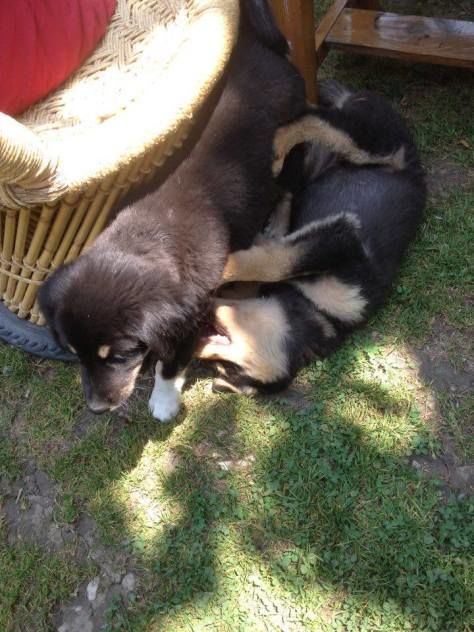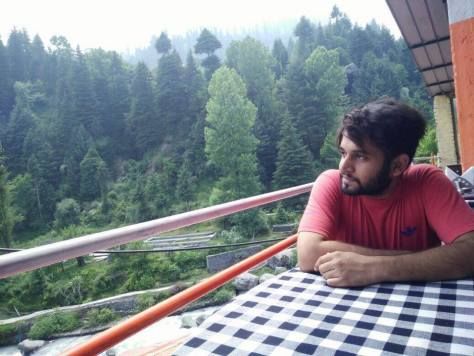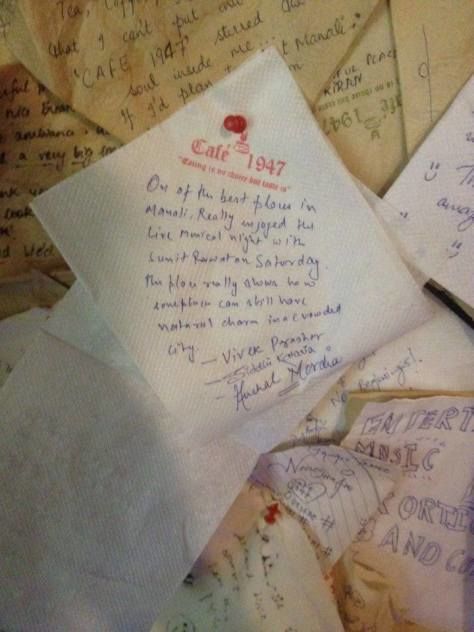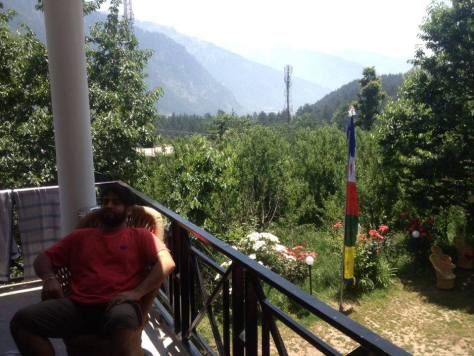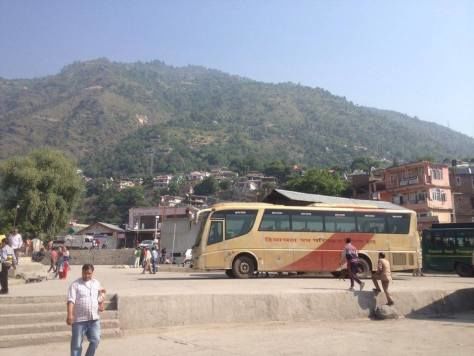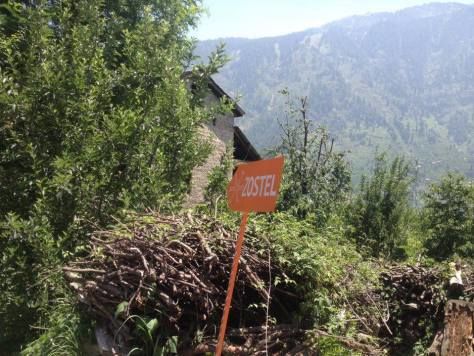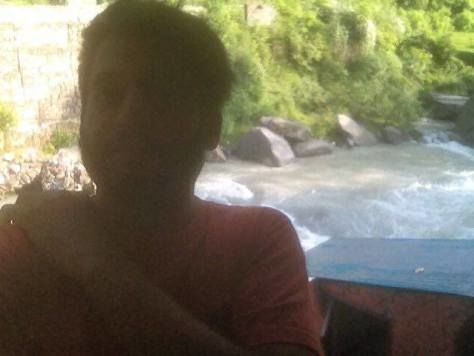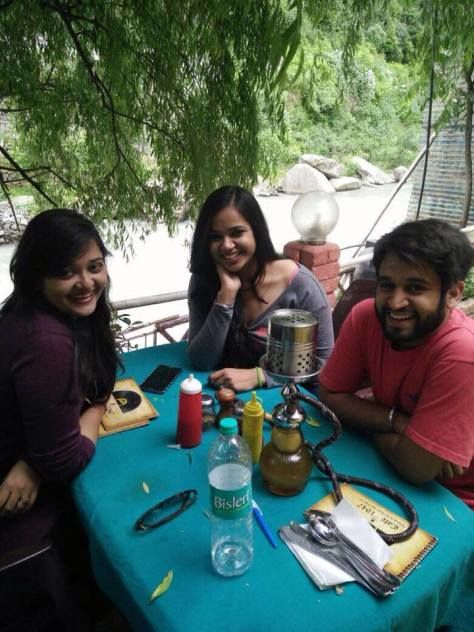 A Magnificent atmosphere, beautiful lanes and stunning mountains, these are some of the things that make Manali a surreal destination. You experience a kind of serenity that you can only imagine in your dreams. Surrounded by beautiful Himalayan range, you can see the snow-capped mountains covering the sky from the distance.

Kullu Bus stand on the way to Manali
Manali is famous not only amongst the 'trip'idos and the famous weeders but also amongst the one who seek peace in the lap of nature. You can indulge in many activities there like river crossing, trekking or even yak riding. But one thing that will help you forget everything and lay there without any tension has to be the riverside cafes. With live musical shows at night, you not only return to the nostalgic lanes of your memories but feel like a king on the top of the world. Here are some awesome cafes to visit in Manali.

Cafe Kathmandu is based just on the sides of River beas
1. Cafe Kathmandu: One of the first places we visited in Manali, Cafe Kathmandu is a riverside cafe with stunning views to devour outside. The cafe seems shoddy and needs some renovation, but the people and the cafe owners are friendly and serve you with a smile. Order sheesha when you go inside and have fun puffing the flavored hukkah leaving all your tensions at home. The food is eatable and you won't have any regrets visiting the place.

Sitting in the cafe Kathmandu.
PS: Don't forget to have a hearty talk with Kamal Khan who hasn't been to school at all and still speaks an accented English.

We had fun and we let them know about it!
2. Cafe 1947: One of the best cafes we visited during our short stay, the cafe looks a like magnificent little wood box, with various artists singing away to the glory. Neighbouring the Cafe Kathmandu, this cafe is also placed near the River Beas, giving it an awesome ambience and a delightful natural feel. You even have the option to sit outside, with chairs and tables places just alongside the flowing river. Food is good and the staff gels along with you quite well.

Can it get more beautiful than Cafe 1947?
PS: If you love retro Hindi songs then don't miss Sunit Rawat singing there live at any cost. We sat there for 4 hours enjoying our food and humming songs with him.
3. Dylan's cafe: Although, I didn't visit the place but one of the friends I made there told me that it is the most chilled out cafe in Old Manali. You can sit there for as many hours you want and watch movies of your choice in the common room built inside. But the best way is to order a coffe or a snack and chill there with other travelers making it there second base.

It's on the same lane where all the famous cafes are!
PS: Situated just on the bridge that takes you to the Old Manali, the owner has some amazing stories to tell.
When it comes to accommodation in Manali, I had quite a time at the Zostel which is located just at the end of the land and encompasses the views that are just spell-binding. I talked to more people there in 1 and half days then I had ever in my office time and mind you I spend 9 hours daily at the office. Th beds are clean and the managers are too good to be 'managers'. They mix amongst other visitors with ease and never let you feel like you are a stranger. Here are some other options you can try while in Manali.

Way to the Zostel. Based in the village, you will have no distractions other than hills and valleys
Tiger's Eye: Located in Old Manali, Tiger's eye can be the second option for you if you like to talk to the other travelers and make friends with the unknown people. Most foriegners prefer this place as it was opened quite a long time before the concept of travel hostels even existed in India.

Bigger one is names Drogo and little one Frodo. They welcome you to the Zostel with low pitched barks.
Born Free Cafe: Quite a recent inclusion to the concept of travel hostels, the Born Free Cafes give you opportunity to work away from home in the hills of Manali. You get to work with other people who share the passion for entrepreunership and travel. You can book beds and lodgings cheap rates and get clean , comfortable places to sleep.
Drifter's Inn: All of the mentioned hostels are located in the Old Manali and they are value for your money. Drifter's Inn is the ultimate destination for all the solo travelers. Perched in between various other cafes and inns, Drifter's have made there presence felt with affordable accomodation and delcatble food.

Often, people travel to a hill station, they rush to see new things every now and then. But, that can be the anti-thesis of traveling for fun. Learn to travel slow and chill at a place for some time so that you can take in the experience and move forward when you have had enough with it. Me too, with two lovely friends I made there chilled at Zostel and various cafes for hours and hours while we were there and trust me it gave us all a lot of moment to cherish later on. With so many cafes to visit in Manali and accomodation available at cheap rates, get ready to experience the nature from close quarters.

Another one in Zostel. Although, you can't see it in the photograph, but the mountains in the background are covered in snow and it makes stay here delightful.
PPS: Don't even think of visiting 'New' Manali if you don't like the crowded places. It's just like Chandni Chowk in Delhi sans good food.
Visit the place and see how it soothes your soul. Happy journey in the hills to you. Share your experiences with Wandering Vivek if you find anything more interesting in Manali.
This post was originally published on 'Wandering Vivek'.