"Lets go Goa", i have heard this term more than I can remember and I believe it is the same with you.
But this time it was different, when my friend asked me whether I would like to join her to Goa for the weekend, it was an opportunity that I was not willing to let go and I said "YES".
So here is the thing, I have recently bought a motorbike (Bajaj Dominor 400 UG to be exact) and i was eagerly waiting for an opportunity to test myself and my bike for my first road trip, Pune to Goa on bike, this smelled like the perfect opportunity.
My plans:
Day - 1: Reach Kolhapur (250 kms), Dinner at Dehaati Hotel and Stay at Soham Hotel and Lodging.
Day 2: Reach Mapusa by 8:30 am, Hotel Check-in and GOA Sight-seeing.
Day 3: GOA to PUNE
So lets start "My Solo Bike Trip":
20th December 2019, Friday DAY 1 :
My ride was all ready :
1. Gave the bike the cold-start (always before going on a long trip)
2. Got it polished a day before (to reduce the impact of dust particles on the body)
3. Mounted the saddle bag (easiest way to carry luggage) and mobile holder (Easiest navigation)
4. Chain all cleaned and lubed (should be done in every 600 kms)
5. Proper gears worn (Safety first bro)
I left from Tingre Nagar at 3:15 with my trip meter set to ZERO. And with the more than usual traffic it took me an hour to leave Pune (40-45 kms), and also roads were pretty bad till Khed-Shivapur which made me take my first break a lot sooner than i planned at 74 kms.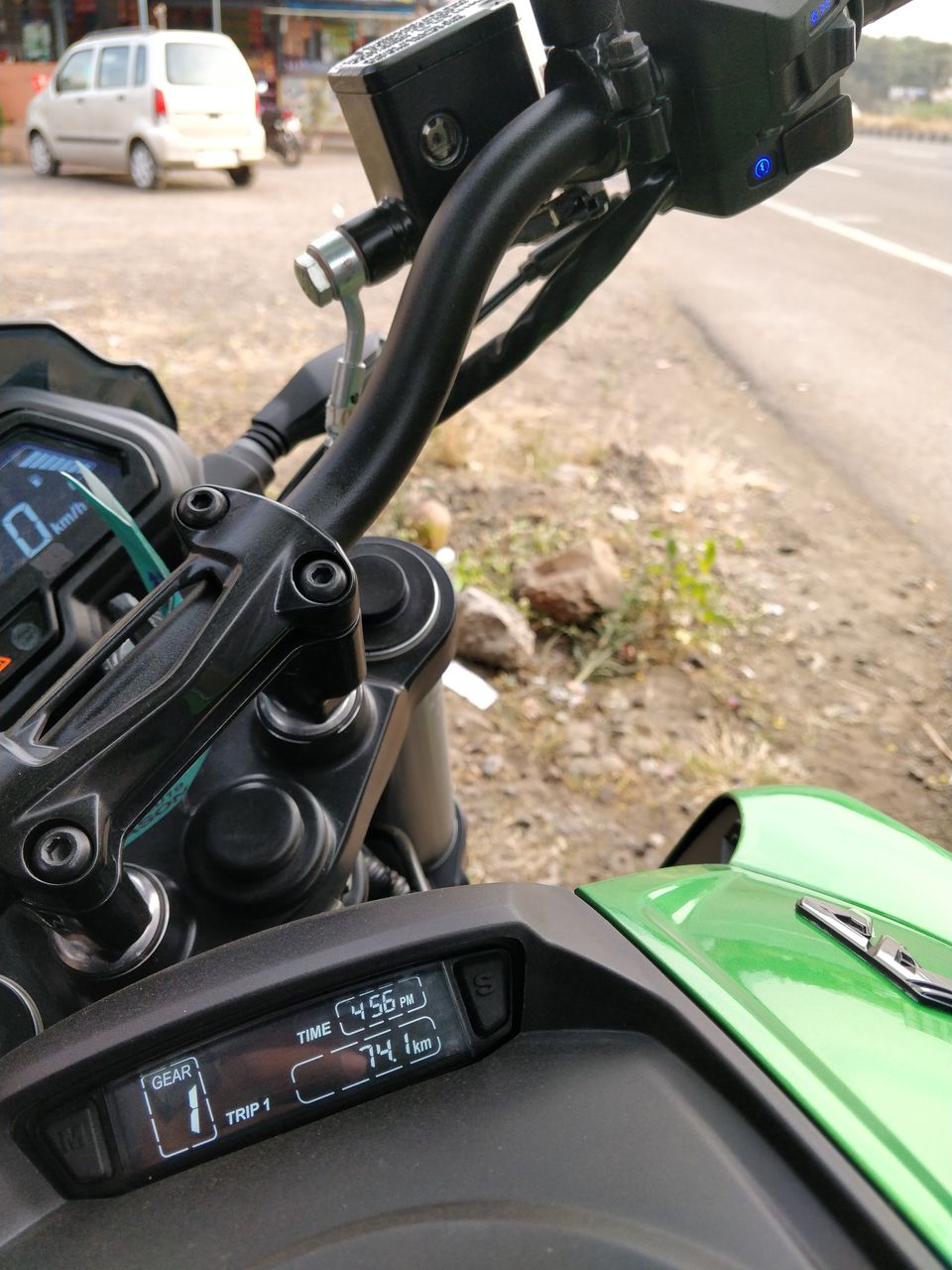 I had heard a lot about NH48 (Pune to Kolhapur Highway), and only words cant describe the beauty of that highway, just take your bike for a short ride and you will understand for yourself.
I was easily cruising at 100-110 km/hr without any hassle because of the 3-lanes and smooth highways.
Soon it was getting darker, and this was the point i realized i made a big mistake.
For your reference, check out my helmet in the first pic.
What do you see? the visor?? you say? yes it is "tinted".
A "ROOKIE MISTAKE" but i realized it too late, as nothing can be done now and i will have to ride without my visor on this speedy highway. While some of you might say that it happens but i called it a mistake because i had my entire ride planned for rides at night so this wasn't helpful at all.
I reached Kolhapur by 7:30 PM , covering 250 kms in 4 hours with an average speed of 66 km/hr.
I am a foodie, and i wanted to know what Kolhapuri cuisine has to offer my taste buds.
So here I am at one of the renowned and traditional Kolhapuri Restaurant Dehaati.
In the picture, Mutton Masala thali, and i will tell you this they served a perfect dish, mild spicy and with a whole lot of flavors that binds perfectly with each other to produce this mouth-watering platter. Tambara and Pandara rassa being the highlight of the dish. they also give you choice of bread (chapatti or bhakari) and they end it with rice topped with fried onions, Cumin with fresh coriander on top of it.
And by the time i was done with this it was already 9 PM, now time to check in my hotel.
When I decided I am taking the trip I started looking for a place which is close to the highway and also is affordable. #OYO helped me with it as i got a room for just 537/- and was just 100 meters from the highway.
21st December 2019, Saturday DAY 2 :
I woke up at 3ish, left my hotel by 4 am and i was on the highway by 4:20 am, there's something with early mornings that makes it the best time to ride cold breeze, no traffic, fresh mind and body.
I was enjoying my ride, till i left the highway and took a turn towards Amboli Ghat, one of my friend did tell me about the first patch or Jungle. Roads were not that great here, no human soul to be seen, no lights and the path covered with dense forest; in all it was a scary experience for 50-55 kms.
After surviving that patch, i was greeted with Bikers Paradise curved roads, cool weather and mesmerizing scenes.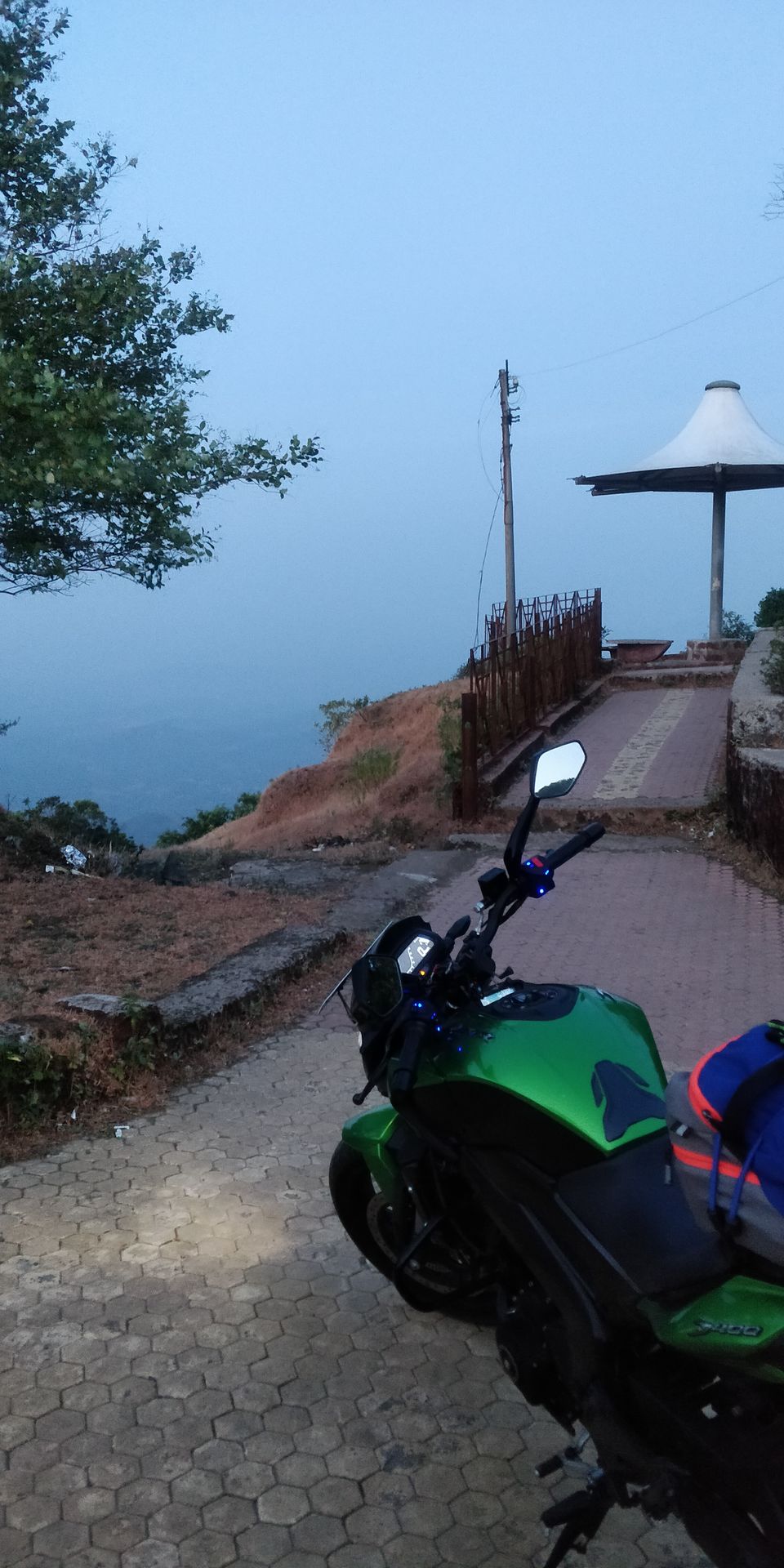 These roads were bliss, and were by far the the most adventurous roads i have ridden on. One has to be careful though as the curves don't provide much visibility so would suggest if you are a biker, plan it in such a way that you are here as soon as the roads are getting brighter, by doing this you won't encounter traffic.
This patch is of around 20-30 kms of wonderful roads and also would suggest take your own time on these roads, no need to rush as there is plenty of nature (mountains and waterfalls) that you can capture.
I reached Mapusa by 8:30 am, covered a total of 175 kms in less than 4 and a half hour. it was as usual a busy road with tons of buses.
I then ditched my luggage with a friend and went to see THE CHURCH to be precise IMMACULATE CONCEPTION CHURCH, we all have seen this church so many times in Bollywood movies. Clicked few pictures, then got my bags and headed towards my hotel.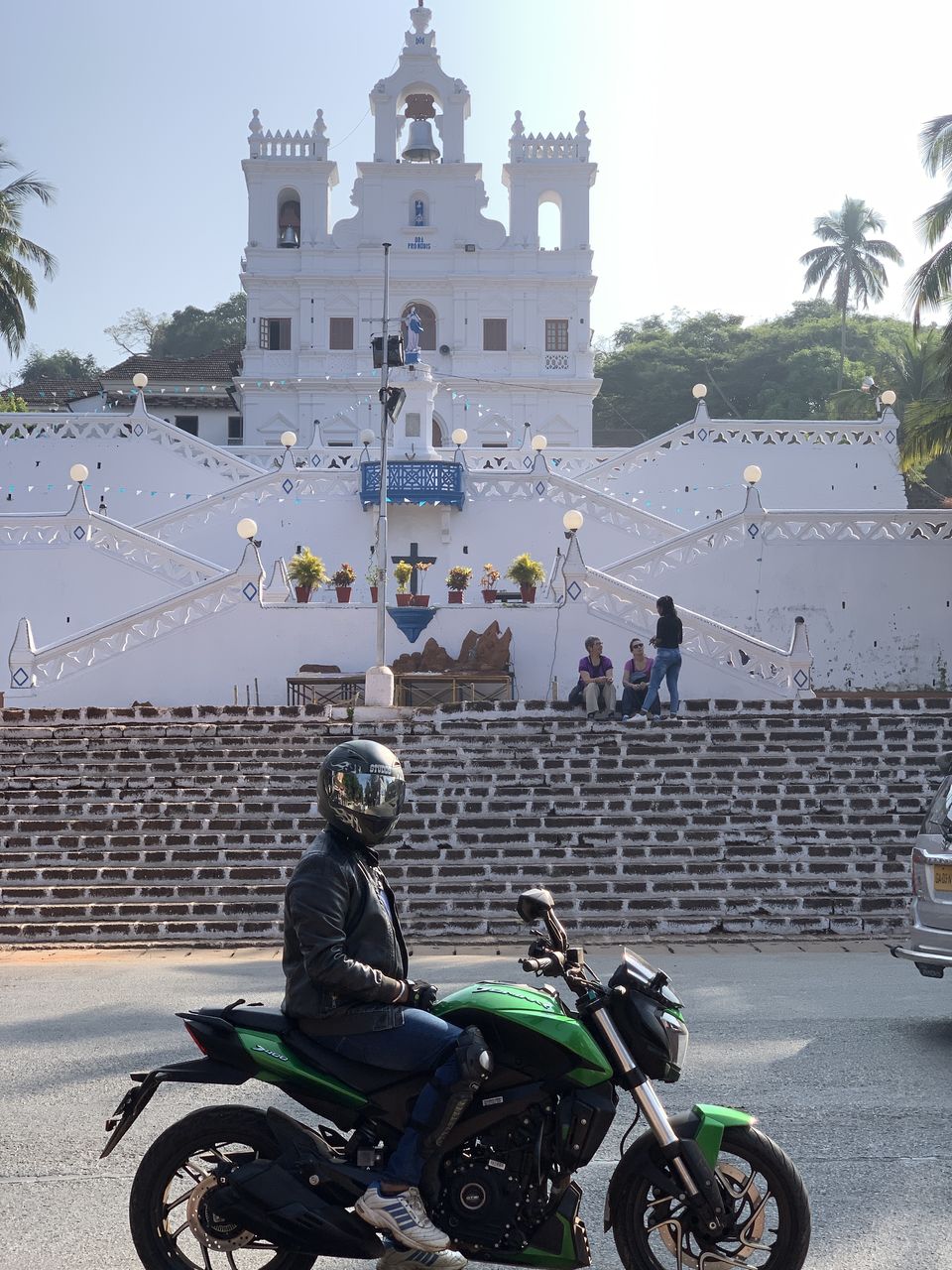 I checked into my hotel room by 12 pm, wanted to relax for some time before moving out for my lunch. One of my friend suggested me this property as she had also booked a room in the same building. It was a residential building with most of the flats used for renting purposes. It had a good parking facility with a security guard available 24/7, and the room was fully-furnished 1BHK. One would say its a good deal but what made it even perfect was an Infinity Pool with a view of Chapora Fort, Morjim Beach, Palm trees and the SEA.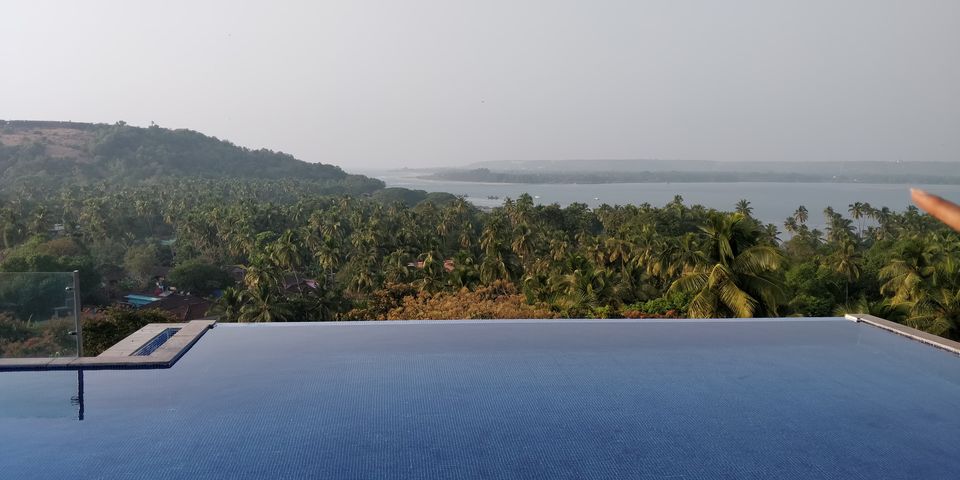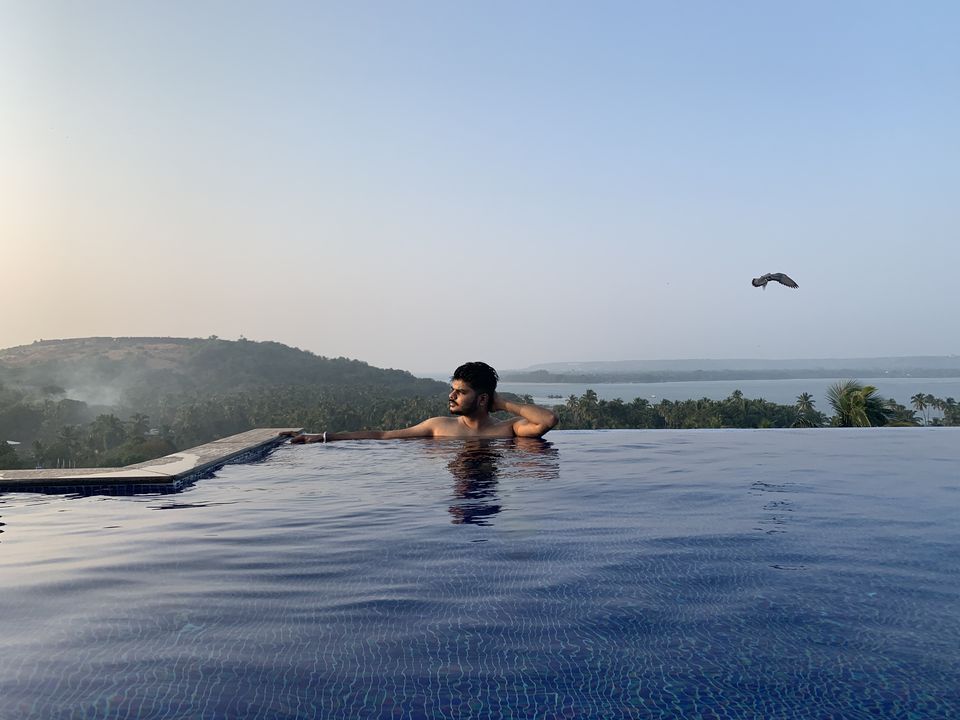 After relaxing in the pool, i got ready for my next stop, 'SHAMEES' it is located near Condolim Beach and they serve authentic home cooked Goan Cuisine. The owners (husband & wife) are the perfect host and the Fish Thali they gave me was a complete package, a perfect dish with lots of flavors blended together in a perfect harmony. It is one of those times "when your tummy is full but your heart is not".