It's been four months since I've been there and today I felt like putting down my experience of Mauritius here. I was quite excited about the trip and so I explored some places through net before starting the trip. Since, many friends had been there I got many reviews of the place and sort of had an idea what to expect there.
We had a morning flight to catch from Mumbai and our friends PS and Monu were really sweet to stay awake with us all night and drop us off to the airport in morning. Rajan and I were totally in sleep when we got there. We completed all the procedures and boarded the flight. The flight took off and so our excitement! It was a 6 hour journey, we couldn't see much of the ocean below due to clouds and passed our time in flight. Rajan is really fond of books and so am I, so we had our kindle with us and he started reading some pretty interesting books. In between, he kept on telling me some interesting things from the book (He always does that and I enjoy it so much!). So, I had the window seat and after some good 6 hours I saw a small island in distance. And oh god, it looked so beautiful!!And then Mauritius came into view :D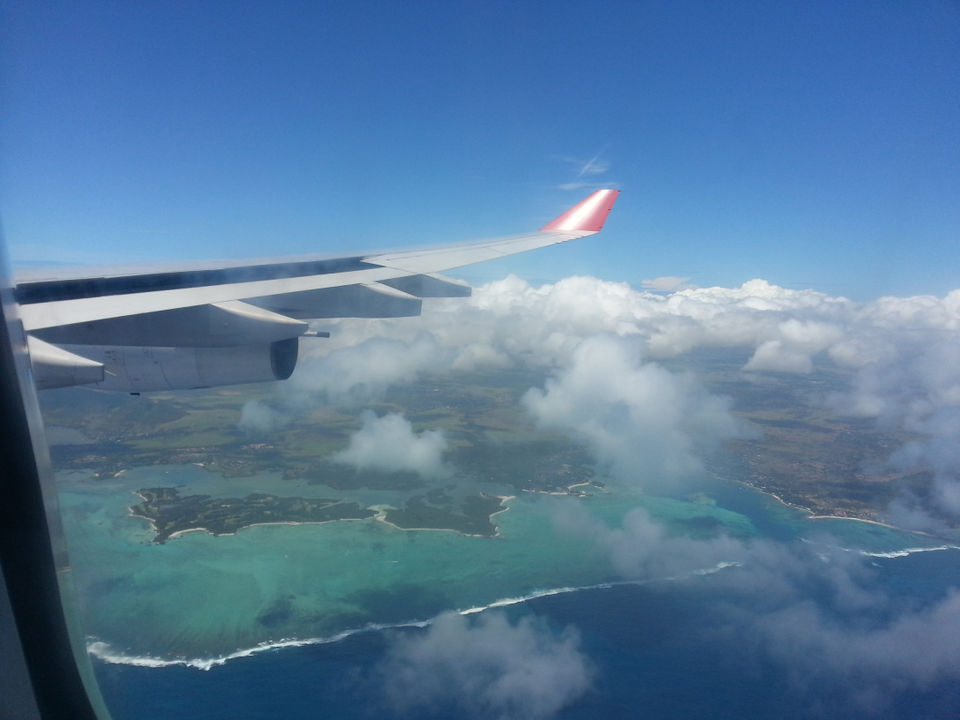 Mauritius airport is in south and since we came from north, we got to see major part of it from above. After all the surfing for Mauritius we had done before coming, I didn't really anticipate that seeing it in person will be an overawed feeling.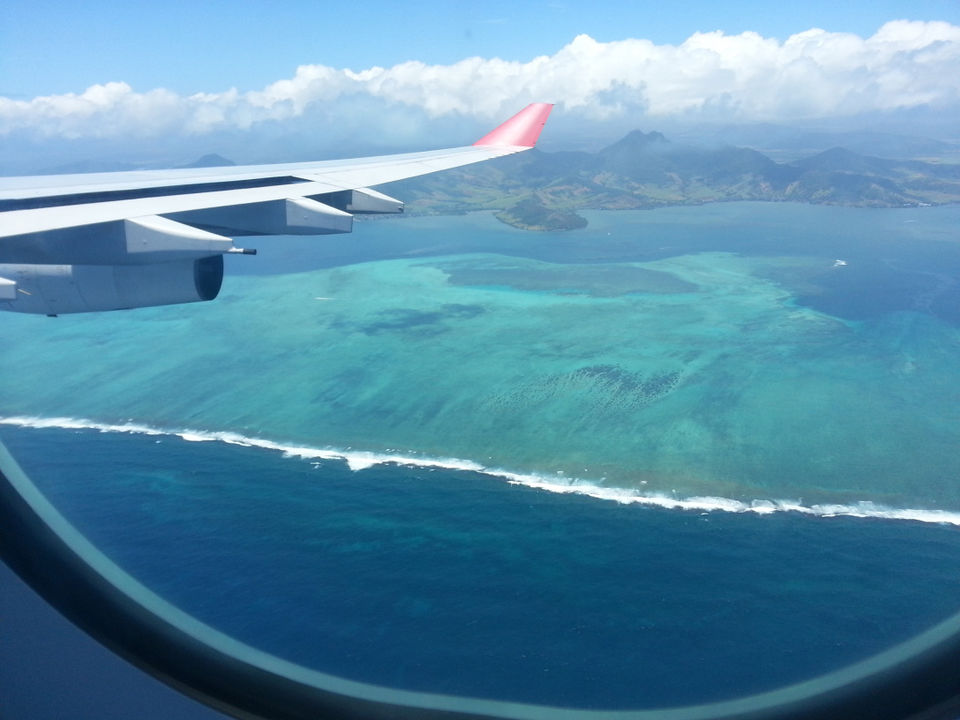 We had our stay planned such that we as much close to the beach as we can. Trou Aux biches, was just a walk away from our stay so it was really convenient for us to go to the beach whenever. One of the surprising things about Mauritius was that many Indians lived there and also they had a Hindi radio channel that streamed Bollywood songs.
So, we explored the south on first tour day. Our first spot was an Indian temple there, that has a lake beside it names "Ganga ghat". Majority of the people were in traditional Indian attire. This was a bit of surprise for us since we did not expect it here.
We went to a famous crater then after. It was a scenic spot.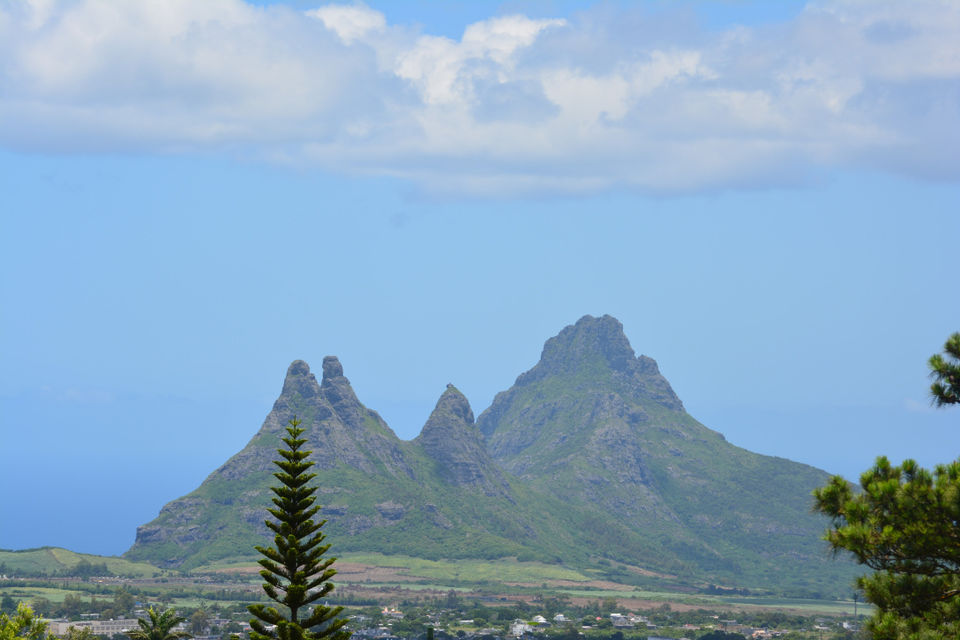 Then we moved on to second spot, the national park. Meaningless to explicitly mention that the roads and small forests we saw there were just so beautiful(every road there had scenic view!). This was our first national park visit. We chose to explore it by ourselves with a map. We first spotted a peacock there and it was roaming around freely in open sapce, very near to us. One thing we noticed there was animals were very friendly and were not afraid of coming near humans. It was us, who had to maintain a distance. Also, we were allowed to touch some animals like tortoises. There was a giant one in an open space. We carefully went near and touched him.He(assuming he was a male) was in his own world, eating the grass and bothered to look up once when we touched him and then went back to what he was doing.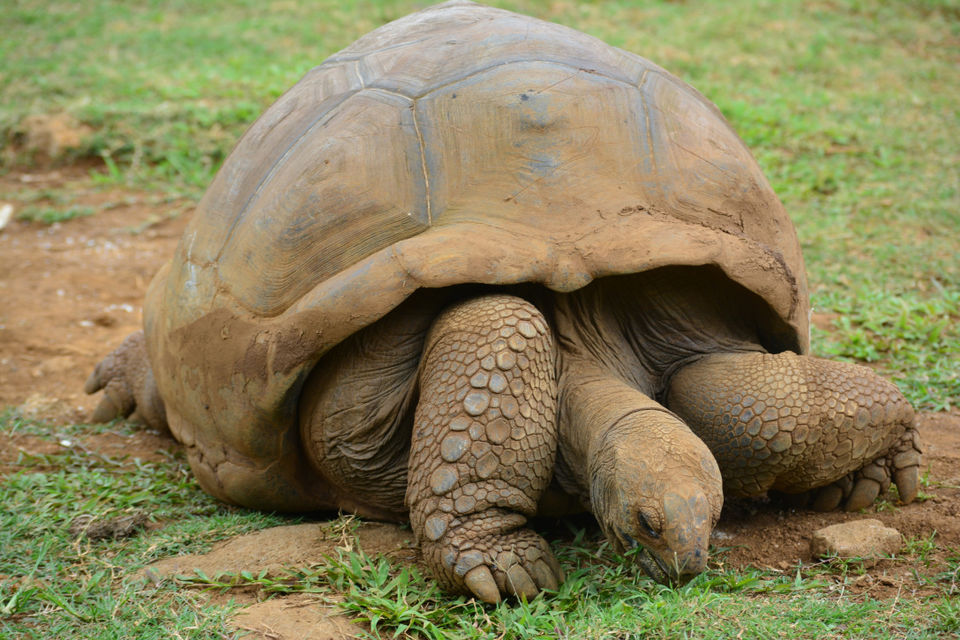 Going further we started seeing some beautiful landscapes, there were some waterfalls, so many new kind of trees, mountains and then when you climb some height you get to see the ocean! Every thing we saw in our entire trip seemed more beautiful then previous. It was a bit tiring roaming on foots and was worth every thing we got to see there.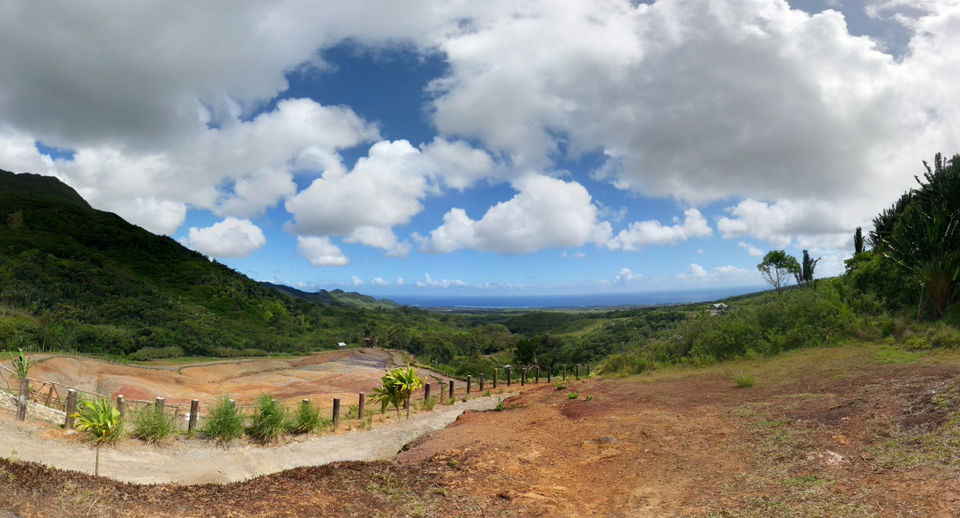 On our way back home we met some other couples and had good bonding, so we decided to do one day ocean trip together.It included exploring five south islandsin a speedboat. It all seemed ordinary before the boat started. Man! You have ocean around you, riding in a speed with some really good music system and soft drinks. we were totally blown when it all started and exclaimed "Coming here was the best decision ever"! We went really closed to a waterfall that was on our way in a village called "Two sisters".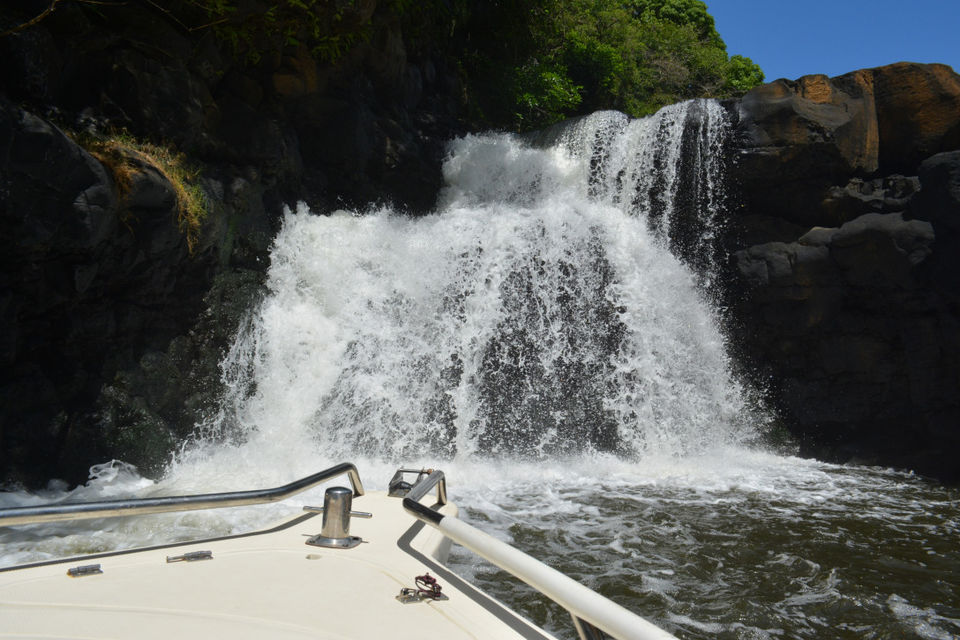 Ocean around was colourful, blue, dark blue, green, turquoise, dark green and white near the sand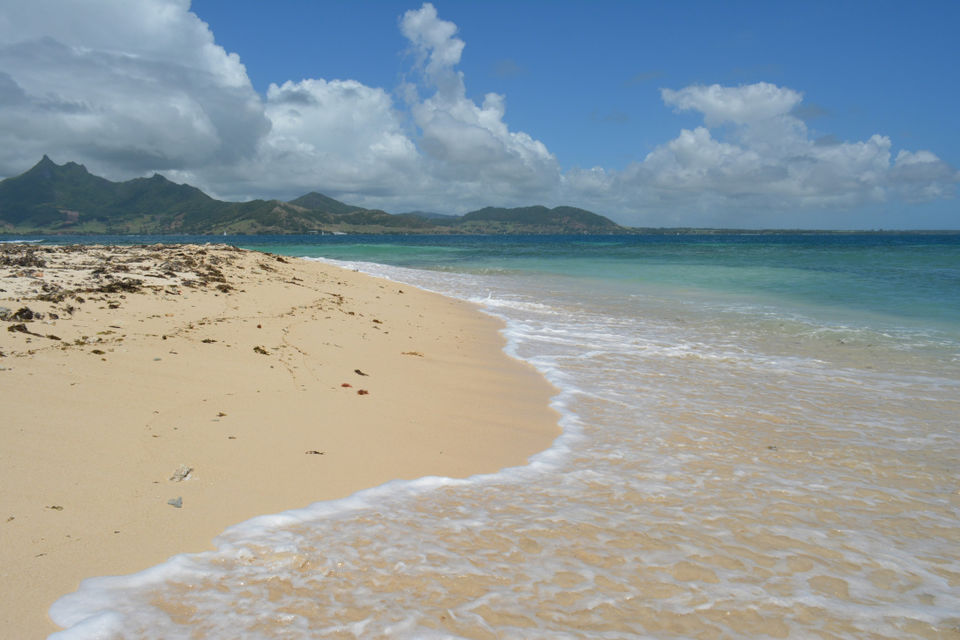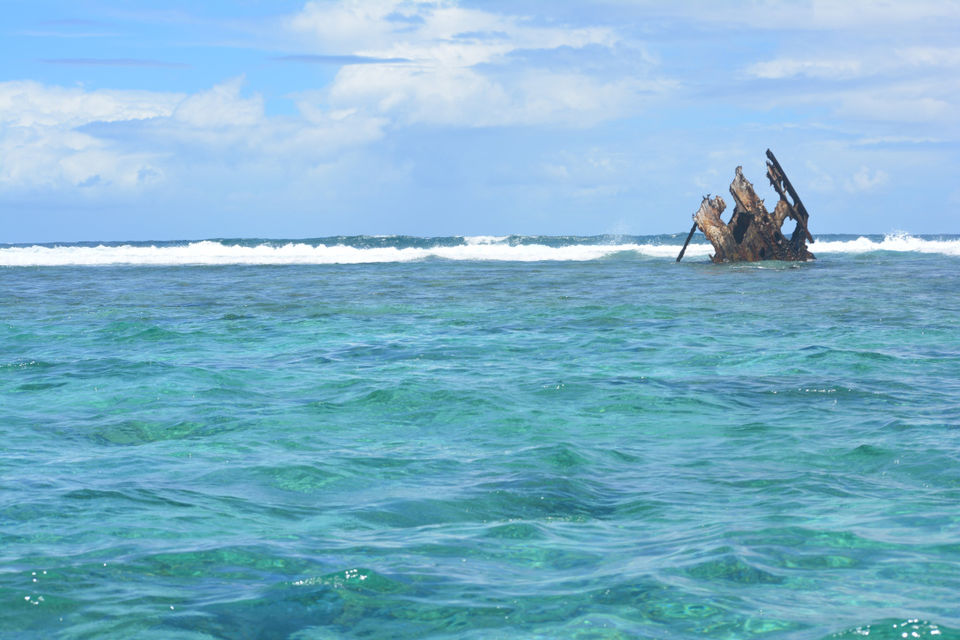 We then went on the islands. it was good. Then we stopped at one spot, somewhere in the middle of the ocean for snorkelling. What we saw under the water so beautiful that I can not describe it precisely. The corals, fishes all so colourful.Awesome!
I had expected tanning due to whole day spent in the ocean but then I got sun burns even after good amount of sun lotion. Then we went to the capital on another day, which was good. explored the city and on evening we laid down on the beach. That's what we did most of the time when we were not exploring sights. The sunsets were so pretty there, so surreal.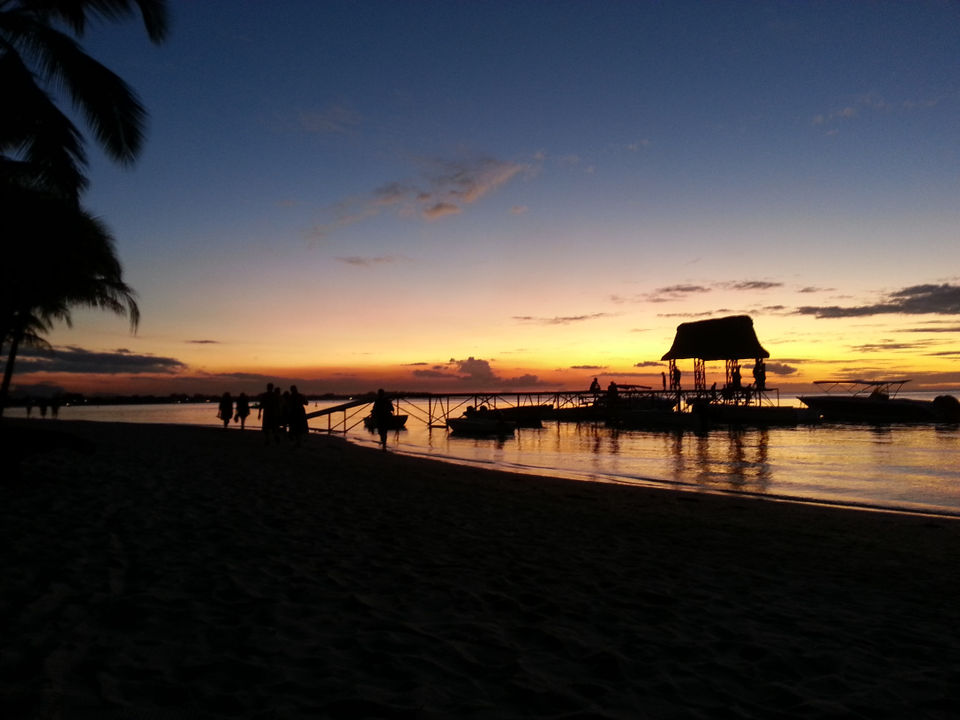 Next day, we decided to do scuba dive. Honestly, I was a bit afraid. but then the trainer was with us for sometime in a swimming pool, explaining things. We got eased into the costumes and the breathing. Then we went into the ocean and the dive began. It was uncomfortable at start to breath though mouth but it got smoother by time. We went inside and explored. We had some bread, so fishes came really near and we even touched some.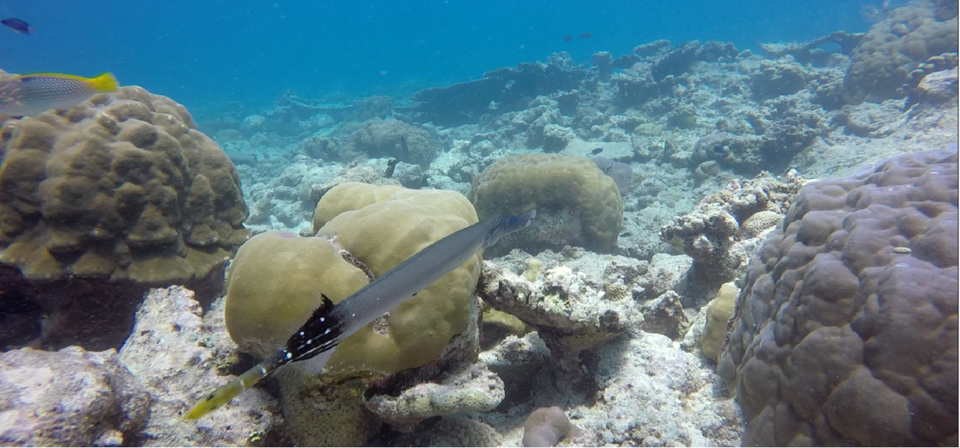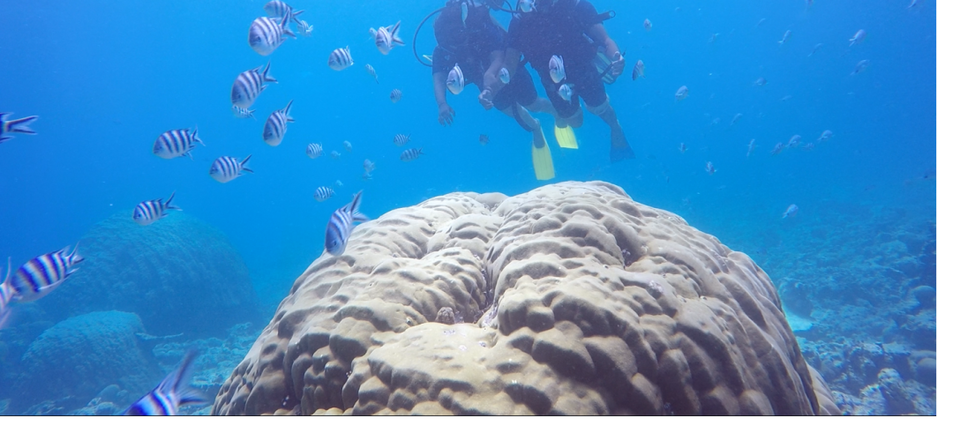 We were approx 3 meters inside at that time, then we decided to go deeper. The pressure on ear grows as you go deep. It was a bit painful but worth what we were seeing. we saw colourful corals, some fishes that we were seeing for the first time, some seaweeds that I do not know what kind, were moving as if breathing or opening inwards and then closing. This world was new to us and we were so elated seeing them. I miss this! We have thought of doing a whole one week diving course there so we can go even deeper. We went 6 meters deep that day and were totally awestruck seeing, those little and giant things that were so amazingly beautiful.
We did explore some more places on a bike by ourselves. Some popular beaches, christmas tree farms, landscapes on our route that looked like those old windows XP wallpapers.
I still feel, I cannot explain the experience entirely. Mauritius will be my favourite since it was our first international trip and also because of the whole experience.
Mauritius you beauty, I will visit you someday again!
Thank you for reading my blog. If you have anything to add or if you like the blog, feel free to write it down below.
Keep Exploring!