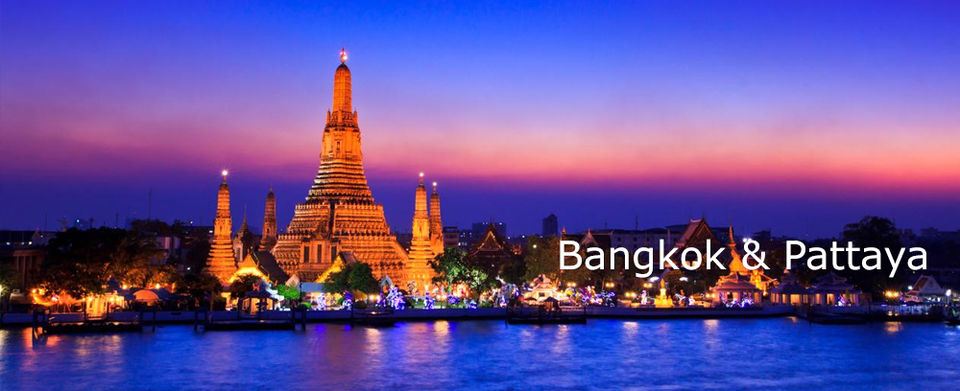 Our 1st international trip, to Thailand (Bangkok/Pattaya) concluded on a high with several memorable experiences, and it was wonderful. And yes, it was with my family :)
Please find my itinerary below - Hope it is useful for others.
Important points:
1) Had pre-booked most of my tickets (for Chao Phraya River cruise, Siam Ocean world, Alcazar show) through Hotels2Thailand at discounted rates that I found quite less & reasonable compared to the actual rates. Booked Madame Tussauds through OrientalEscape (another good site I found whilst browsing in Bangkok).
2) 7/11s are available almost everywhere for you to buy almost everything you need. It's better to buy a 6 or 12 bottle pack of drinking water and keep it in your hotel because it comes out much cheaper, especially for the BKK heat. McDonald's is also almost everywhere with an interesting selection of food.
3) If travelling by BTS and River Taxis, it's convenient to keep a map with you - print one after searching online.
*** Day 1:
We arrived at Don Mueang Airport (DMK) at 4 AM. Had asked for an early check-in at our 1st hotel (8:00 AM) and started for the hotel at around 7 AM after waiting for a while at airport itself. Verify and negotiate your check-in times in advance with the hotel.
We took a taxi (pink) for about 600 Baht including toll fee (Note: We were 5 people on this trip, but owing to our sizes, we were able to adjust in one taxi for short trips) and it took about 35 mins to the hotel. However, it is recommended by most not to bargain with taxis and go for metered ones.
Tip: Better carry a map of your hotel(s) for showing to the driver as it is helpful and saves a lot of time.
I had picked P&R Residence for our 1st night in Bangkok (BKK) especially for its proximity to the River Taxi pier.
Hotel review: Although we stayed here only for 1 night, it was an amazing stay. We were given free upgrade to Deluxe room (3 rooms); Large clean rooms, AC worked fine, TV with limited channels, Warm shower, Clean bath. The ladies at the reception desk were wonderful, really helpful (especially Mika). Elevator is also there. The hotel is just 5 mins walk from the Si Phraya pier (I couldn't believe it's so near) where we can catch the water taxi for most river side sightseeing. River city mall is also around 7-10 mins slow walk away - Here's where we caught the Chao Phraya river cruise. Wi-fi was good. And the nice folks also had complementary fruits & tea/coffee downstairs. This hotel exceeded our expectations & we couldn't have asked for a better start to our 1st trip to BKK.
We freshened up and set-out for the temple tours planned for the day. Si Phraya pier was just a 5min walk away, and River city mall is also nearby (8-9 mins). We didn't book a tour or take a guide as we just like to explore and take pictures on our own. We took the orange flagged Water Taxi from pier (as it stops at most places) - Chao Phraya Express ticket was 10 baht and can be bought onboard.
Tha Chang is the stop for Grand Palace.
Wat Pho is nearby.
Wat Arun is across the river.
We really liked the temples, great architecture and some really wonderful and beautiful designs. It's worth a look, especially the reclining Buddha at Wat Pho. Note: You need to make your way out of the Tha Chang Pier through a market and follow a white wall that you will see straight ahead to the left till the entrance. Witnessed our first scam when a random stranger told us that the temple was closed (ignored him, and obviously the temple wasn't closed).
Evening, had booked Chao Phraya Princess Cruise for 7:30. We arrived at River City mall a bit early for looking around and for exchanging tickets. We were put on the 8 PM slot as there were a lot of Indians and it served Indian buffet. It's a 2 hour cruise down the Chao Phraya river, and we really enjoyed it. We had booked the tickets through Hotels2Thailand at a much cheaper rate as we found the original rates too high (you could try some agent as well). We reached the River City Mall Pier a little early to exchange for the actual tickets. Although ours was scheduled at an earlier time, since the Chao Phraya Princess IV Cruise was serving Indian buffet, the cruise people checked with us and shifted us to the above mentioned boat. In the end, we were glad since the food served was quite good. I guess we got lucky ;) The lower deck is AC, but you always have the option to come up and see the sights whilst getting some fresh air. The temples were all lit up for the cruise, and made for a magnificent sight. Loved the experience :) PS: There can be a bit chaos while getting onto the ship. But it all got sorted out soon in our case and all was well. And about the ambiance, well since we were a group of 5, we had a table all to ourselves. So it was kind of intimate. Yet it was nice having a group of lively people around us as well.
It was a wonderful and pleasant experience; and a good 1st day in BKK.
*** Day 2 and 3:
We took a tuk-tuk (100 baht) to Robinsons Mall near the Saphan Taksin BTS. We did quite a bit of shopping. We checked out of hotel at around 12 noon, and took a metered taxi to Ekkamai Bus Station (near Ekkamai BTS). It came to about 100 baht. 1 PM bus to Pattaya (124 baht/person – The government blue and white bus). Takes around 2 hours and we reached the Pattaya Bus Terminus.
Took a Taxi to 2nd hotel Areca Lodge for about 200 baht.
Hotel Review: Booked 2 rooms for 2 nights and we had a wonderful stay. A little trouble interacting with the staff in English, but they were helpful & also we didn't require much assistance. Room was really well-made, clean beds, clean bath (with bath tub), complementary bottle of Water (the ones kept on top of the mini-fridge). The safe was big enough to hold Laptop. Hotel is right near all the action, but is quiet enough for a good night's sleep. Used 1 out of the 2 pools & they also have a Gym. Breakfast was awesome with plenty on the menu. Mike shopping mall is hardly 5-10 mins walk away & if you go through the Mike mall, you'll get Pattaya beach & Walking street on the other side exit.
Areca Lodge is located right where all the action is. During the day, Pattaya streets are like any other street, but it's a whole different story during nights. We went for a stroll; the roads were filled with great eating joints. And obviously lots of massage parlors. Mike mall was a 5-10 min walk away and if you go right through the mall, out through the exit on the other side, you reach the Walking Street and can see the Pattaya Beach.
Evening 7:00, had booked VIP tickets for the Alcazar show and it was quite good – great sets, wonderful costumes & nice performances. 1st day in Pattaya went well.
Next day was for sightseeing, lots to do but very little time. Booked a tour with the Hotel itself and went to the Pattaya View Point (awesome view of entire Pattaya), a Buddha temple and then to the Gem Museum. Evening went to Central Festival mall (where we got a fish pedicure) and Mike mall for some shopping. Pattaya night market is near to the Central Festival.
Pattaya has a lot of other things to do: Ripley's believe or not, Mini Siam, Nong Nooch gardens, Temple of truth. Best way to get around Pattaya is use the special local taxis called songthaew (How to use: http://wikitravel.org/en/Pattaya#By_songthaew).
*** Day 4:
Check-out at 11 AM. Kept the luggage with the Hotel and roamed around a little and last minute shopping and beach seeing. Taxi to bus station (200 baht) and 124 baht govt. AC bus back to BKK (Ekkamai station).
Took taxi to 3rd hotel Ramada Encore for about 200-250 baht.
Hotel review: Stayed 3 nights in 2 chill non-smoking rooms. The rooms had a modern, fresh feel. Wi-fi worked well, the bath was clean, the shower nice and warm. Hotel provides a Tuk-Tuk to the main road (but it's not as regular as it should have been). Otherwise its a 5-7 min walk to the main road. The Nana and Asok BTS stations are on either sides (another 5- 10 min. walk). Terminal 21 (a huge nice shopping mall) is near Asok BTS Station. We didn't include Breakfast as it seemed overpriced. The staff were pleasant. There was a Pool on rooftop, but we didn't use it. Anyways it was so small that it seemed more for relaxing and less for swimming. The price though a bit steep, but it seemed worth it. Overall, a nice stay.
Evening went to Terminal 21 mall nearby (huge mall with each floor themed on a different city). It's connected to the BTS Asoke. BTS Skytrain is the best way to travel in Bangkok because the evening traffic is quite bad. Can easily get the tickets from the ticket vending machines (Ticket machine usage: http://www.bts.co.th/customer/en/01-machine-ticketing-tvm.aspx).
Went to the MBK mall too (BTS National Stadium). Note: There are two BTS lines – Sukhumvit and Silom. To get to National Stadium, we need to get down at Siam (the interchange station for the two lines) and take train to National Stadium. Always ask if you are not sure which direction to catch train as you might end up at the wrong place. Asked for direction and made our way to MBK mall (It's huge, really huge. So, if you are really into shopping, you can spend the entire day here, or even a week).
*** Day 5:
BTS Asoke and BTS Nana were almost the same distance from our hotel (10-15 casual walk). Took train from Nana to Siam.
The Siam station is connected to the Siam Paragon mall where the Siam Ocean World is located. Amazing experience. We had a really fun time at the Siam Ocean World, and the aquarium was neatly laid out & fun to explore. Got to see a variety of sea creatures. And the best part was going through the underwater tunnel, seeing the big sharks and all. Very clean & well organised. Its easy to reach as well since it's connected to the BTS Skytrain station. We went for the Glass bottom boat ride (very much like the name implies - going around a big tank in a boat with a glass bottom; was unique) and 5D cinema (could have been done better) as well. The only downside : The exorbitant published ticket PRICES. We booked ours though Hotels2Thailand at a much cheaper price :)
From Siam Paragon, walked through another mall and reached the 3rd mall Siam Discovery where Madame Tussauds is located. You must visit Madame Tussaud's at least once in your life to marvel and appreciate the great pain and work that goes into making some really wonderful WAXWORKS. Really had a fun time here, and took loads of photos. Although the number of Waxworks might be less when compared to others (say in London), but still there are a lot of them around for you to be clicking pics for 2 - 3 hours. Its east to reach as well since its near the Siam BTS Station. Tips: 1) Keep your camera batteries charged & memory space free to take a lot of pics. 2) We booked out tickets though Orientalescape at a much cheaper rate. There's also Hotels2Thailand. 3) Do it in the earlier part of the day so that your are fresh and energetic to walk around (you can club it with Siam Ocean world).
Really enjoyed both.
Evening, took the BTS from National Stadium (Siam Discovery is connected to the National Stadium station) to the BTS Udomsuk station. We wanted to go to Megabangna (another huge shopping complex where Ikea, Big C Extra, HomePro stores were located). There is a free shuttle to and fro for Megabangna from this Udomsuk station (takes about 20 -30 mins). Totally tired today from all the walking, but worth it :)
*** Day 6:
I feel that it comes out much cheaper if you plan a trip yourself instead of booking tours. All the tours mainly charge on a per person basis and that significantly (and unnecessarily) hikes up the cost.
Since we hadn't planned anything for today, it was either full day at Safari World BKK or booking a taxi to take us sightseeing to Kanchanaburi (mainly the Tiger Temple). I had asked for a quote to go to Tiger Temple from a tour agency and they said 12000 baht (for 5 people). No way! Luckily, we were able to find a taxi and a great driver for a wonderful trip.
First of all, the man who made Day 6 so special: Mr. Sombat K. Ph no: (+66) 081 772 9222.
We booked a bigger vehicle this time (Toyota Innova). The tiger temple is almost 160 kms from the city. So we started at around 7-7:30 AM. First up was the Floating market which was on the way. Some places tend to charge exorbitant rates just in the name of tourism. Since we hadn't purchased tickets before, we found out that the normal rate to get to the Floating market was 1500 per person for a 2 hour trip. We just needed a quick tour and decided to leave. Those people stopped us and started bargaining. After some 10 mins, we finally decided on 400 baht per person :) Overall, the market was a nice experience, but beware of the Vendors trying to sell overpriced goods which can be bought elsewhere at much cheaper price. The more touristy a place, the more costlier the items. For souvenirs in BKK, always check the cost in 2-3 places to understand the real price.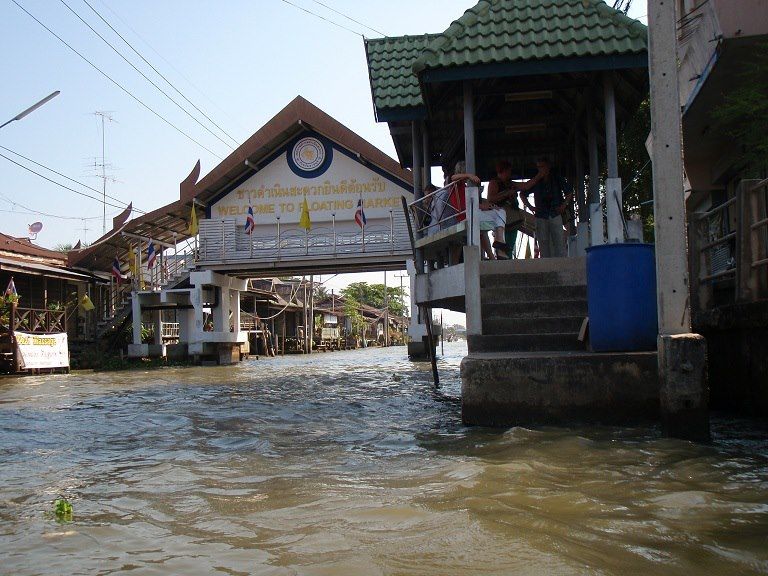 Next stop Tiger Temple. The ticker price is 600 baht per person and timing is from 12:30 to 3:30. What an amazing experience it was! Totally worth the long ride from Bangkok city to Kanchanaburi. We saw full grown tigers, cubs and took pictures with them. The staff seemed friendly, and knew what they were doing. Yes, we were a bit apprehensive after reading a few negative reviews online. But we never felt like the animals were mistreated. The infrastructure and the area could do with a bit of upgrading though. Being up close and personal with the Magnificent and Majestic Tiger is a memory that will last a lifetime and more !!!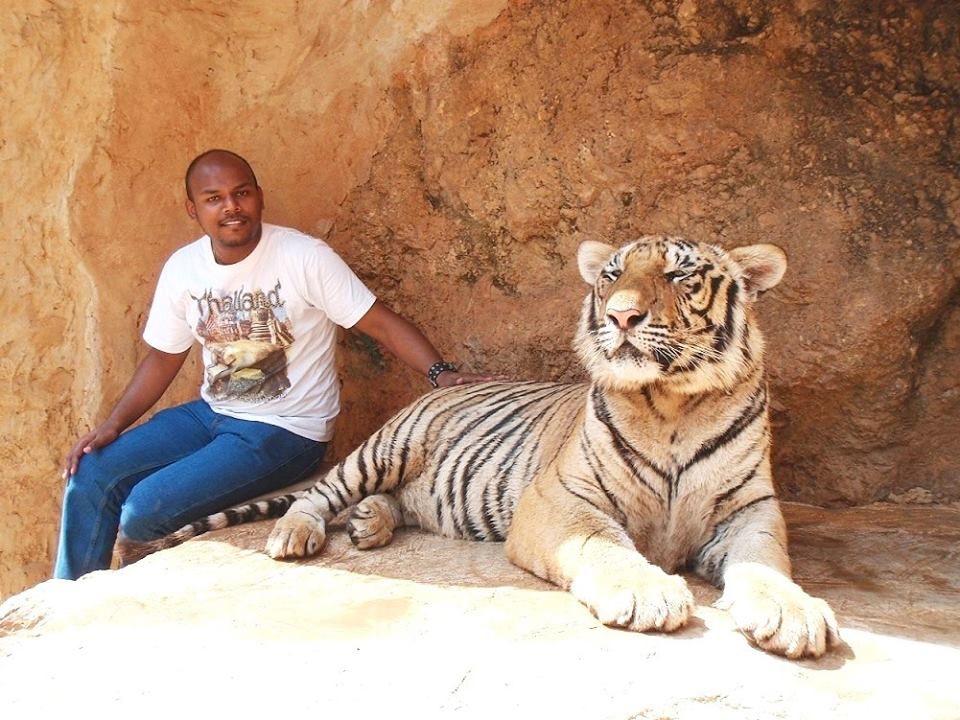 Final stop – River Kwai. We saw the Jeath War Museum, the bridge over River Kwai and did a bit of shopping too. It was great having visited such historical sites, and not to forget, the great photo opportunities.
Including all the tickets and taxi fare, we spent around 7500 baht and ended up seeing so much more than the Tour that thankfully we didn't book. Mr. Sombat was really helpful, giving us pointers and tips. Thank you Mr. Sombat :)
*** Day 7:
A wonderful trip was finally coming to an end. Checked out at 12 PM, but kept the luggage with the hotel and went for some last minute shopping/sightseeing. Today it surprisingly rained too, and it was nice seeing the BKK rain as well. Thankfully it didn't rain earlier in the trip :) A Robinsons mall was near Terminal 21. Came back at around 3 PM and took Taxi to DMK airport (around 700 baht). Some Duty free shopping. And we were on a flight back home :)
I had planned the entire trip myself for my family, and thank god everything went well. We travelled by all means of Transport: Plane, Taxi, Songthaew, Bus, Cruise ship, Water-Taxi, Tuk-tuk. And we explored BKK at our own pace and leisure. Can't wait to plan my next trip to Thailand :)
All the best to everyone travelling to BKK! Enjoy :)